CATALOGUE 66
ALSO OF INTEREST
MAIL BID SALE
Catalogue No. 66

1. Broadsides & Posters
1-1. A Revolutionary War Proclamation attributed to Sam Adams: "...God Save the United States of America."
Superlatively rare Revolutionary War broadside, with Proclamation of a "Day of Public Thanksgiving and Praise...," Nov. 17, 1778, signed-in-type by Pres. (of Continental Congress) Henry Laurens, and Sec. Charles Thomson. Below, a reiteration of the day by Massachusetts-Bay Council-Chamber, Boston, Dec. 5, including Artemas Ward, Caleb Cushing, et al. 11 1/2 x 16 1/2.
Its prose attributed to Sam Adams, commencing, "It having pleased Almighty God...to bestow great and manifold Mercies on the People of these United States...Resolved...to appoint Wed. the Thirtieth Day of Dec. next, to be observed as a Day of Public Thanksgiving and Praise; that all the People may with united Hearts...express a just Sense of his unmerited Favours...to support us in a just and necessary War, for the Defence of our Rights and Liberties, by affording us seasonable Supplies for our Armies; by disposing the Heart of a powerful Monarch to enter into Alliance with us, and aid our Cause; by defeating the Councils and evil Designs of our Enemies, and giving us Victory over their Troops; and by the Continuance of that Union among these States...It is also recommended that Recreations unsuitable to the Purpose of such a Solemnity, may be omitted on that Day...."
Predating America's first national Thanksgiving by some eleven years, December 1778 was a propitious - and tenuous time for the young nation. On July 2 of that year, Congress had returned to Philadelphia, just vacated by the British. A week later, seven states signed the Articles of Confederation. And on Nov. 11 - six days before this broadside proclaimed Thanksgiving - Tories and Iroquois had massacred settlers in Cherry Valley, N.Y. (Perhaps not coincidentally, Lincoln's enactment of the formal, national holiday of Thanksgiving also came amidst much blood, sweat and tears.) Once split at horizontal center fold, repaired with old cello tape on verso, with toning; wear at three fold junctions, mainly affecting one letter of text and "L" of "Laurens"; moderate chipping and minor browning at blank top edge, but original scalloped deckle at bottom undisturbed, else good, and dramatic for display. Revolutionary War-date broadsides are elusive and iconic. A purer form of Americana, articulating the inspiration for our very birth, and the fortitude of the Founders, could not be envisioned. Unrecorded by WorldCat. Lacking in Mass. History Society. Not found in Library of Congress' Continental Congress Broadside Collection. An underlying Congressional broadside (but not this present one) in Bibliographies of Special Subjects...Official Publications of the Continental Congress..., no. 193, published by Boston Public Library, 1890. Possibly a unique survivor, and certainly the earliest printed civil proclamation of Thanksgiving we recall handling. Off the market since at least the 1970s. $7500-9500

1-2. Reward for Three Slave Sisters Escaping – from the Nation's Capital.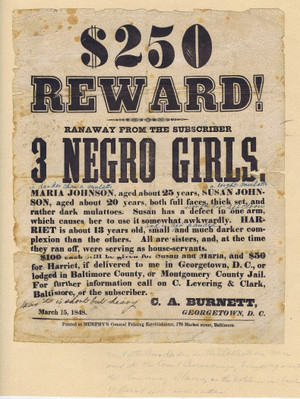 Exceptional and rare reward poster, representing a heretofore unique (among reward posters) appearance of a slaveholder presiding over an indoor "factory" – within the District of Columbia! With fascinating provenance, and profound subtext. "$250 Reward! Ranaway from the Subscriber / 3 Negro Girls...All are sisters, and, at the time they ran off, were serving as house-servants...For further information call on C. Levering & Clark, Baltimore, or the subscriber C.A. Burnett, Georgetown, D.C.," Mar. 15, 1848, 9 1/4 x 11 3/4. Slavery was not abolished in D.C. til 1850. "Printed at Murphy's General Printing Establishment, 178 Market St., Baltimore." Curiously, Levering & Clark were "importers of china, glass, porcelain sign letters, and Queensware" and "dealers in window glass and stoneware"--...Business Or Advertising Directory..., 1845. Burnett appears in a list of "factory system" vendors to the U.S. government, variously selling stockings, linen, blankets, sheeting, handkerchiefs, shawls, calico, cambric, domestic cotton, and related goods.
Old mounting on heavy cream, with pencil notation judged not later than about 1910: "Most of the Broadsides in this Collection were used in the Court Proceedings, brought against the Run away Slaves...." In period hand, in blue and brown inks, five annotations adding details of the girls' appearance: "(Maria) is darker than a mulatto," "(Susan) is a light mulatto" with "scar on her left elbow," "(Harriet)...is left handed," and "Harriet is short but heavy."
Women of all three names appear in an exhaustive printed Letter and report from Lincoln's Sec. of Treasury Salmon P. Chase, Feb. 16, 1864, listing "emancipated slaves in the District of Columbia," with names of their then-owners, and "compensation allowed for each slave," their freedom paid for by the government. The Letter (88 pp., included on CD) describes an Office of Commissioners to administer "An Act for the release of certain persons held to service or labor in the District of Columbia": "...Public notice was given through the newspapers of the city of Washington that the commission would meet daily...for the reception and examination of petitions for compensation [of slaveholders]...The whole number of servants for which compensation has been awarded is 2,989...The commissioners were impressed with the importance of having full information as to the value of slaves...There are few persons, especially in a community like Washington, where slavery has been for many years an interest of comparatively trifling importance, who possess the knowledge and discrimination as to the value of slaves...To supply it...an experienced dealer in slaves from Baltimore, Mr. B.M. Campbell [was hired]...In the disturbed state of the country...it would be difficult to assign value to slaves... Slaves, in fact, cannot be said to have had a current salable value since the commencement of the war...."
In all, the journey of these three sisters is more than dramatic – from their escape while slavery was still legal in D.C., to their apparent capture and return to servitude despite its abolition in the nation's capital, and to their freedom purchased by Lincoln, and beyond. It is a story that few original source materials tell with such gravitas.
Considerable wear at folds, with tear separating small blank triangular fragment from broadside, where mounted; moderate wear at edges, amber spotting more suggestive of perspiration stains than foxing, few fine creases, but still highly dramatic and very satisfactory, reflecting its intensive use - first in public display, then as an annotated legal exhibit. The only slave broadside we have seen over the years with such period annotation. Acquired from Parke-Bernet Galleries, antecedent of Sotheby's in New York, 1970s. With modern research. A special item. $6500-9000

1-3. "All loyal citizens should exert themselves to fill up this regiment."
Strikingly attractive Union recruitment broadside, "Come with us, and we will Do You Good!! Veteran Volunteers!!...," seeking men for Co. E, 20th Regt., Illinois Veteran Volunteer Infantry. 11 x 15 3/4. Signed-in-type by John A. Edmiston, Lieut. Commanding, Clinton, Ill., Mar. 26, 1864. On Mar. 14, Lincoln had issued another draft call for 200,000 men – for three years, anticipating the war could go to 1867 or beyond. "The usual bounties will be paid. Transportation, pay and clothing furnished from day of enlistment...All loyal citizens should exert themselves to fill up this regiment, and thus aid in bringing the war to a speedy close...." Imprint of Clinton Public. Evocative blend of oversize wood type, including solid, shaded, and outline, some seven styles in all. Unstated here is that Edmiston was a physician - at just 22 - first serving as hospital steward in Cape Girardeau, Mo., under the doctor who had trained him not long before. Promoted to Lt. on the very morning of Shiloh, at the time of this broadside, Edmiston's 20th Ill. Infantry had just returned from Big Black, Miss., where they had "tore up and thoroughly destroyed, by burning, twisting, &c., 1 2/3 mile of railroad track..."--Official Records, Chap. LXIV. Boasting an illustrious history, they fought at Corinth, Vicksburg, the Carolinas, the March to the Sea, and in innumerable campaigns. Occupying Columbia, S.C., the 20th was present at surrender of Gen. Johnston. Lacking blank upper left tip, evidently where once mounted to another sheet, perhaps for flipping in the local general store; old folds, minor edge tears, else clean and unusually fine. Unrecorded by WorldCat. No findings on Google. $800-1100
Unusual – and fascinating – variant impression of the Declaration of Independence
Possibly a press trial, by Force, from the Stone copperplate

1-4. Declaration of Independence.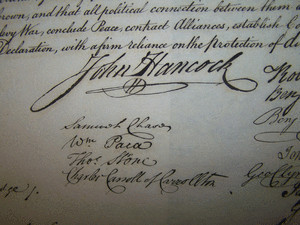 Unrecorded multivariant of a printing of the Declaration from Stone's copperplate of the original document. On rice paper – but never folded, and slighty taller than those bound in Peter Force's "American Archives" of 1843. The offered example measures 25 1/2 x 30 1/2, and is well centered, thus evidently withheld from folding and binding into Force's book. Most interestingly, the impression is graduated, from exquisite chocolate brown at left, becoming a deep, luxurious mahogany as the eye moves to the right, this possibly considered by the pressman as an advance "make ready" sheet.
In 1820, working from the actual Declaration, W.J. Stone, one of the leading engravers of the time, began the laborious task of creating a copperplate image. Stone was said to have used a wet transfer process. Done at the request of then-Secretary of State John Quincy Adams, copies would be given to Signers still living, including Thomas Jefferson, and Lafayette, Governors, and other dignitaries. In 1823, the plate finally finished, he prepared about 200 copies of the cherished document on parchment. (Of these, only 31 are extant.) For the next twenty years, the copperplate engraving, now the only mirror of the Declaration mortally damaged during his printing, lay in the custody of the State Department.
In 1843, Peter Force was allowed to borrow this copperplate to print additional Declarations, this time on rice paper, for inclusion with his Congressionally-authorized book American Archives. It was generally held that all of these rice paper Declarations were trimmed and folded, for placement into the book. The present example is untrimmed ... unfolded ... centered ... and slightly oversize.
"Although the Declaration was printed in most states after its adoption and many Americans were aware of its existence, the physical appearance of the document remained a mystery."--National Park Service. Stone's copper-plate - from which this example was struck - was the first actual representation of the Declaration, and acquainted America with John Hancock's signature. Stone's name in lower left corner as engraver. Found in Charleston in early 1970s, at that time having been rolled for many decades (perhaps a century or more?). 1 1/2" tear and two shorter tears at blank bottom margin, bottom edge browned with chipping, with loss of some blank fragments, all well away from live area; lesser fraying at blank right edge; some very fine creases at top, perhaps from original printing; two long horizontal creases below center, else otherwise fine, crisp, and unfailingly striking in impact. A folded example of a "Stone/Force Declaration" is occasionally encountered on the market and commands a substantial sum. This variant example – with its numerous curiosities and points of interest – is a wonderful opportunity to possess a unique example of the most important document in American history. Because of the original Declaration's badly faded ink, printings from Stone's copper plate are regarded as the only and most faithful form in which our founding document's original state can be beheld. $18,000-23,000

1-5. "The Price of Liberty - Public Debt."
Oversize statistical wall poster, "The Relative Growth of Population, Production and Wealth in the U.S.A.," prepared by Edward Atkinson, likely 1891, 24 x 38, by Photo-Gravure Co., 853 Broadway, N.Y., on thin glazed ivory. Perhaps for classroom display. With 11 sections, each with a descriptive bar graph highlighting population of countries, U.S. population by year 1860-90, "The Price of Liberty - Public Debt" 1860-86, miles of railway by year, grain crops by year, grain per capita, hay crop, pig-iron production, life insurance assets and policies in force, cotton production 1865-86, progress in wealth 1859-85 (dramatic), and map showing territorial growth of U.S. All within border with decorative corners. The thin paper with compound wrinkles in places, generally flattenable with great patience and care, else clean and ultimately displayable. Still a rare item. WorldCat locates only one other example, at Yale. $60-90
TO FIND OUT CURRENT HIGH BIDS,
OR TO PLACE BIDS,
JUST CALL 1-914-476-8500
OR e-MAIL info AT cohascodpc.com
(We do not currently use online bidding)
2. Colonial & Revolutionary War
2-1. Said to be the First Volley of the American Revolution.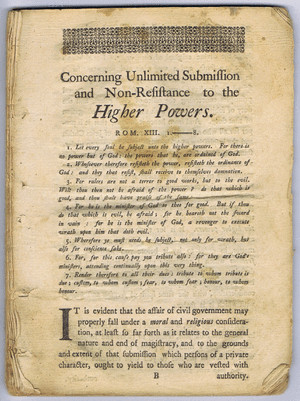 Incomplete but significant and excessively rare pamphlet, with variant title, "Concerning Unlimited Submission and Non-Resistance to the Higher Powers...," (by Jonathan Mayhew, noted New England minister who coined the phrase, "No taxation without representation"). Possibly Boston, 1750-75, 5 1/4 x 7 1/2, 2 + 54 pp. An historically important sermon, included in Claremont Institute's Founders' Library. Mayhew was minister of Boston's West Church. Lacking at least pp. 1-2, and final leaf (based on description of British Library's copy) (but text available online); some waterstaining, toning, and corner wear, else good plus. "The vigor of (this) sermon established his reputation...In Boston, John Adams remembered long afterward that Mayhew's sermon was read by everybody. Some would say later that this sermon was the first volley of the American Revolution, setting forth the intellectual and scriptural justification for rebellion against the Crown"--wikipedia. Termed a "conservative revolutionary," Mayhew embodied "the idea of resistance in mid-eighteenth-century Boston"--Massachusetts Historical Review, 2008. Evans 6549. An obscure cornerstone of American freedom. $275-350

2-2. The Man who was "Outrageously Insubordinate" to Benedict Arnold.
Manuscript D.S. of the celebrated Oliver Hanchet, Capt. 2nd Conn. At Lexington Alarm, captured in Benedict Arnold's disastrous New Year's Eve assault on the walls of Quebec, 1775; held as prisoner-of-war til 1777. Hartford, Apr. 7, 1778, 4 1/4 x 7 3/4. "Recd. of Com(mit)tee of Pay Table their Order on Treasurer for 300 pounds to raise a Company in Col. Roger Enos's Batt(a)l(ion)...." Pleasing cream toning, trivial short break at one fold, else fine. A brave and much-studied event, the American campaign to invade Canada proved a trap; a fierce snowstorm rendered their muskets useless. Attempting to top Quebec's 12-foot walls, the Americans were repulsed - then attacked from behind - trapping Hanchet and his many comrades. A troublemaker, historians variously cite Hanchet as an instigator, seriously threatening effectiveness of his unit, incurring Arnold's displeasure – and even "outrageously insubordinate" to Arnold--Connecticut's Dark Star of the Revolution: Gen. Benedict Arnold, by Willard Mosher Wallace, 1978. Perhaps Hanchet perceived something about Arnold.... $140-180

2-3. From the Gathering Storm of 1776.
A.D.S. of Elisha Porter, commander of the noted Porter's Regiment of Mass. troops in Continental Army, assigned to Benedict Arnold's Brigade. Hadley (Mass.), Oct. 25, 1776 - one day before Arnold's Brigade was redesignated as Poor's Brigade, 2 1/4 x 6 1/4. "Recd. of Lt. Gideon Stebbins Forty Dollars which he recd. of Capt. Holmes, Sutler of my Regiment to pay to me." Porter marched on the first day of the Revolution, upon the British attack on Lexington; he would lead his troops in Canada, Lake Champlain, and northern New Jersey. Fighting at Saratoga, Porter "escorted Gen. Burgoyne to Boston and at Hadley, his home, entertained the distinguished prisoner"--Lineage Book, National Society of D.A.R., 1897, vol. 3, p. 88. In tea-colored ink on cream, a trifle light but as penned, fold wear, else very good, and rare. With biographical information. $130-170

2-4. "Flower for the Colony of New hampshire."
Manuscript D.S. of Icha(bo)d Rollins, a leading patriot of N.H., here in Cambridge (Mass.), July 27, 1775, irregular 3 x 7 1/2. "Recd. of Joseph Trumbull Esq., Com(missar)y Genl., 4,183 pound(s) of Flower [sic] for the Colony of New hampshire." Son of Conn. Gov. Jonathan Trumbull, Joseph Trumbull had been appointed first Commissary General, to ensure rations for Conn. troops at Cambridge. For years, New England had not produced sufficient wheat, and in 1775 could not provide flour for the Army. Despite Congress' failure to prescribe regulatory measures when it created the office of Commissary General in Summer 1775, Trumbull's plan proved so effective that the Continental Army was well supplied. Trumbull had estimated that it would require 25,000 barrels of flour to feed an army of 22,000 men for seven months. It is likely that the flour described in this document was purchased from New York City, Philadelphia, or Baltimore. Signer Ichabod Rollins served in the N.H. Provincial Congress, "and bore a prominent part in the troublous times which followed"--The Granite Monthly..., 1895. He was a member of the revolutionary convention leading to an independent state, in Jan. 1776. "During the war a stock of powder and balls kept as a reserve were stored in his house...He owned slaves..."--The Granite Monthly..., 1882. Rollinsford, N.H. named for him. Old soft folds, irregular right edge where torn by the thrifty scribe from a precious larger sheet of paper, else darkly penned, appealing and fine. $120-160

2-5. A Spy and Officer in Paul Revere's Artillery.
Manuscript D.S. of Capt.-Lt. Thomas Newcomb (of Paul Revere's Artillery). "This is to certify that Saml. Weld & Saml. Hubbard (are) intitled to [Col. Ebenezer] Thayer's Small Stor(e)s from the 16th of Jan. 1779, in Capt. Lincoln's Comp. of Arti(ller)y. To Richard Devins, Esqr." Irregular 3 1/2 x 5 1/4. Docketed. Devins was Commissary Gen. for Mass. Bay. Newcomb served in Col. Theophilus Cotton's Regiment on secret expedition to Rhode Island, 1777. Later commanding Mass. troops at West Point and Peekskill, N.Y. at the time of this document, Newcomb was Capt.-Lt. in Col. Paul Revere's Artillery. Though desiring a military commission, "Revere was kept busy with such tasks as printing the first issue of Continental currency, (and) learning the process of manufacturing gunpowder..." (Boatner). Finally put in charge of artillery companies in Boston, Boatner continues, "the expression 'put in charge' is used advisedly, since Revere really had little 'command' over his men...Revere was accused...of disobedience...and cowardice...(In Sept.) 1779, Revere was...placed in house arrest" and ultimately court-martialed. Though acquitted, Revere's renown faded, a relatively unknown figure in American history until appearance of Longfellow's 1863 poem. A trifle light, some toning, else good. An intriguing item, with dual links to espionage and Revere. In a coincidental postscript, Samuel Weld's diary - recording Paul Revere's adventures - survives, emerging at Sotheby's in 1981. Weld is mentioned in the later works Paul Revere's Ride, by Fischer, and The Day of Concord and Lexington, by French. $200-250

2-6. A Woman Wine Merchant and Patriot asks for her Home back.
A significant item with fascinating subtext: Contemporary copy of letter of colonial wine merchant and patriot (Mrs.) Ann Van Horne, to British Col. (William) Phillips, probably the celebrated and controversial commander arrested for his "blustering arrogance" (Boatner) by American Gen. Heath, and just exchanged several months earlier for American Gen. Benjamin Lincoln. Evidently scribed by British Army aide to Phillips, also spelled Phillipse and Philips on separate docketed leaf, n.p. but likely N.Y., Jan. 22, 1781, 7 3/4 x 12 3/4. "By the Beginning of next May, I propose to move with my Family into this City. I am therefore under the Necessity of requesting that you will provide yourself with a House, so as by that Time you may be able to put me in Possession of my own. I flatter myself my good Sir that you cannot take Offence at this Letter, the writing of which has given me an undissembled Pain...." Docketed in hand of "L.M.," "...Same day Delivered the original to Col. Philips & at his request read it to him & required an answer, upon which he told me that the Gen. had put him in the House...and could give no answer...until the General had seen it...It will be necessary for Mrs. Van Horn to show she has a right to the House." The "General" may have been Henry Clinton, Cornwallis, or even Benedict Arnold, who later assumed command of Phillips' troops. While a prisoner, Phillips had been entertained at the Virginia home of Thomas Jefferson. Described by Jefferson as "the proudest man of the proudest nation on earth," Phillips died in Petersburg four months after this letter's date.
Van Horne, a widow, was a wine merchant whose wartime customers included – George Washington. "In Apr. 1776, just before Washington arrived in N.Y.C. to face the British ships that were gathering threateningly in the harbor, the steward and housekeeper in charge of setting up his headquarters ordered 37 bottles of wine from Van Horne...Van Horne had married into a family of New York merchants, one of whom was her husband, Garrit Van Horne, who had died by 1765. He seems to have respected her business abilities, since he made her a co-executor of his will. Advertisements in New York newspapers in the 1760s and 1770s show her managing his estate, selling Madeira, claret, brandy, sugar, and Cheshire cheese, and also substantial land holdings and a slave..."--Julie Miller, Manuscript Div., Library of Congress, in her article, "Buried in George Washington's papers is the surprising story of women's expanding role in the 18th century." Unusual pictorial "ProPatria" watermark on docketed leaf. Damp fraying and mousechew at edges of two folds, affecting only first letter of "Copy..." on docketing; some breaks but no separation at folds, short edge tear and wear, handling evidence, but still very satisfactory. $400-550

2-7. A Gunner of Greenwich.
Manuscript order signed by artillery gunner Moses Lockwood, of the prominent eponymous family, "to pay what money is due to me for serving as a Gunner in s(ai)d. Regt. Commanded by sd. Lamb, Allow(e)d for Depreciation." Greenwich, (Conn.), Nov. 17, 1780, 4 1/2 x 7 1/4. Lockwood also served in Col. Mead's Conn. Regt. Witnessed by Messenger Palmer, Justice of Peace. Old quarter folds, some handling wear, else darkly penned and a desirable and seldom-encountered usage and town on pay orders (and on any form of Revolutionary War document). $170-220

2-8. Receiving Four Guns while preparing to sign the Declaration of Independence.
Splendid manuscript document for guns received by William Williams, still in Mansfield, Conn., July 13, 1776 – two days after he received word of adoption of the Declaration of Independence – and two weeks before he signed it. 4 1/4 x 7 1/4. "Received of Col. William Williams, one of the Committee for Procuring fier [sic] Arms for the Colony of Conn., four Arms mark(e)d 'C.C.' on ye [?] in Addition to five we before Receiv(e)d by the Hand of Capt. Heze(kiah) Huntington, the Property of this Colony...." Huntington was musket maker to Connecticut's Committee of Safety, credited with 340 stands of arms between 1775-78--American Gun Makers..., Stackpole, 1953. Signed by Selectmen (Lt. Col.) Exp(e)r(ience) Storrs, who served at Bunker Hill, and Const(ant) Southworth, whose forefather was Treasurer of Plymouth Colony. Three lines on verso plausibly in hand of the Signer: "Recd. from Col. E. Wolcott / by Wm. Williams Esq. / 4 Guns." Commissioned a Col. upon outbreak of the war, in Dec. 1776 Williams resigned his commission in the 12th Conn. - under criticism - because of the pressures of the Continental Congress. Mansfield is close to Lebanon, where Williams was born, serving in local posts for some half century. Irregular lower edge where neatly separated by writers from a larger sheet, to save precious paper, old folds, offset of one signature at blank upper left, else very fine. Request image of docketing. $675-875

2-9. Preparing for Revolt by the Colonists – in 1768.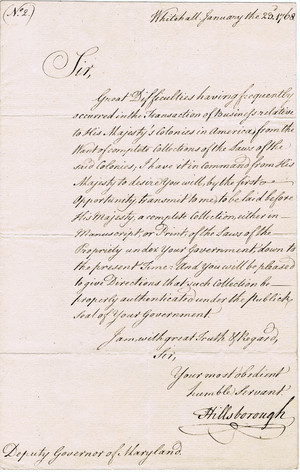 Dramatic Letter Signed of (Earl and Viscount of) Hillsborough, Whitehall (London), Jan. 23, 1768, 7 1/2 x 12, to Deputy Gov. of Maryland. Appointed this month by the King as first Secretary of State for the Colonies, Hillsborough writes, "Great Difficulties having frequently occurred in the Transaction of Business relative to His Majesty's Colonies in America from the Want of complete collections of the Laws of the said Colonies. I have it in command from His Majesty to desire you will, by the first opportunity, transmit to me, to be laid before His majesty, a complete Collection, either in Manuscript, or Print, of the Laws of the Propriety under Your Government, down to the present Time: And you will be pleased to give Directions that such a collection be properly authenticated under the publick seat of Your Government...." In this letter during a period seething with colonial dissatisfaction, the British lay the groundwork for constraining the Americans. The following month, Sam Adams composed the Massachusetts Circular Letter, protesting the King's hated taxes. Circulated among the colonies to unite the American position, "reaction to the letter brought tensions between the British Parliament and Massachusetts to a boiling point, and resulted in military occupation of Boston by the British," inexorably leading to the Revolution--answers.com. Hillsborough opposed concessions to the patriots, personally dispatching the period's first Royal troops to America. The tensions culminated in the Boston Massacre two years later. Inconspicuous original folds, else fresh and excellent. The magnitude of history-changing events set in motion by this letter cannot be overstated. A vitally important item. $1750-2250

2-10. The "X" of a Recently-Identified Black Soldier in the Revolution.
Excessively rare Revolutionary War order to pay black soldier Kay Cambridge, signed by him on verso with "His X Mark." Conn., June 1, 1782, 4 x 7 3/4, partly printed, with typographic ribbon and anti-counterfeiting border across top and bottom, "For the Payment of the Connecticut Line" - said to have been George Washington's favorite fighting unit. Cambridge's identification as a black soldier is a relatively recent discovery, unlisted in Connecticut's Black Soldiers 1775-1783, published 1973, and 2006's massive Forgotten Patriots – African American and American Indian Patriots in the Revolutionary War: A Guide to Service, Sources, and Studies, published by the D.A.R. (though he will reportedly be added to the D.A.R.'s upcoming sequel).
However, his ethnicity is unquestionable: some twenty years ago, the Hartford Courant - believed the oldest newspaper in continuous publication in America - published the following on him:
"Kay Cambridge of Middletown [Conn.] enlisted for a three-year hitch in the Fifth Connecticut Regiment in May 1777. The Fifth Connecticut fought at two important engagements, the Battles of Germantown and Monmouth. The unit was stationed at Valley Forge during that terrible winter that came to symbolize the extreme suffering that many Continental soldiers endured in support of the cause of independence. He also spent the brutal winter of 1779-1780 at Morristown, N.J. Members of the Fifth Conn. also took part, along with the Sixth Conn. Regt., in the capture of the fort at Stony Point. Despite having experienced three such harrowing years of military duty, when his term expired, Kay Cambridge immediately re-enlisted. He was still serving in the Continental Army at the end of 1781, but whether he survived the war is unknown. He was, however, dead by 1800, when his widow, Jane, who had since remarried, sought to receive for Kay Cambridge's only surviving son, Ishmael Cambridge, the land grant to which his father had been entitled for his service in the Revolution..."--"A Look at Blacks' Roles in the American Revolution," by Diana Ross McCain, Hartford Courant, Feb. 25, 1998.
Seven other signatures on verso, indicating Cambridge sold his promissory note, payable four years in the future "in Gold or Silver," to others, including Conn. Treasurer J(ohn) Lawrence, his son Wm. Lawrence, and R(ichard) Butler. William Lawrence and his wife Alice are mentioned in Washington's Spies: The Story of America's First Spy Ring, by Alexander Rose. Known as "the handsomest girl in Connecticut," she had been engaged to Nathan Hale, and possessed his only known portrait, a miniature of the martyred secret agent. It is speculated that Lawrence, her second husband, destroyed the painting in jealousy. Usual half-dollar-size hole cancel through center, affecting part of first letter "K" in Cambridge's name, pinhole wear at two fold junctions, else attractive and generally very good plus. Fascinating Black history - and seminal Americana. Documents signed, albeit with an "X," by Revolutionary War black soldiers, are the exception. $1600-2000

2-11. A Major Rarity of the Revolution: Commander of the Green Mountain Boys – and his Drummer.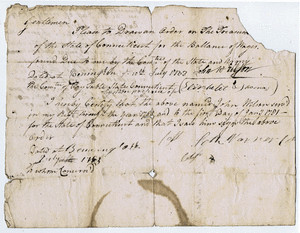 Manuscript Document Signed of Col. Seth Warner, a storied leader of the Green Mountain Boys - officially known as Warner's Regiment, notwithstanding the conspicuity of his fellow patriots Ethan and Ira Allen and Warner's cousin, Remember Baker. Outlawed by New York in 1774 - but never captured - Warner helped take Ticonderoga. Petitioning the Continental Congress, beginning July 5, 1776 Warner's Green Mountain Boys affiliated with the Continental Army, thence officially known as "Warner's Additional Regiment," Warner named its "Lt. Col. Comman
dant." The Green Mountain Boys - also called the Bennington Mob - helped guard passes and defend claims of settlers against New York authority in what became Vermont. Bennington, (Vt.), July 10, 1783, 6 1/4 x 8 1/4. "Please to Draw an order on the Treasu(rer) of...Conn. for the Balance of Wages, found Due to me by the Com(mit)tees of the State and Army," this passage signed by John H. Wilson – a drummer in Warner's Regiment (modern research accompanies). Following, in the same clerical hand, then signed by Warner: "I hereby certify that the above...serv'd in my Regt. through the year 1780 and to the first Day of Jany. 1781 for the State of Conn...Coll. [sic] Seth Warner." The corresponding text "(Dated at) Bennington 10th July 1783" also appears to be in Warner's hand. Docketed on verso, May 9, 1784, Wilson selling his wages to Seth Sherwood; witnessed by A. Fuller, Justice of Peace. A Capt., Sherwood had been captured four years earlier. Drummer Wilson is listed among Warner's men, in Warner's attachment to his 1780 letter to George Washington, now in the National Archives. Pleading for "cloathing" and money for his beleaguered Green Mountain Boys, Warner wrote, "The Difficultys my Regiment Labour under are many and great: This Winter has stripp'd them quite naked for Cloathing. My Men are entirely unfit for Duty, though in Health, for the Want of Shirts, Breeches, Stockings and Shoes. Some are entirely without Blanketts. Every Article of Cloathing in the Regiment is worn out..."--National Archives' Founders Online. Long carried in a pocket, 1 1/4 x 1 3/4 quarter-circular upper right corner lacking, but affecting only last two letters of "Treasurer"; considerable fold wear, some toning, soiling on part of verso, semi-circular coffee cup (or flask of rum?) stain at blank lower portion, Warner broadly signing in olive-brown, a trifle light but reflecting the ink alchemy of the Revolutionary War years, else satisfactory. Even in this modern era of fading familiarity with the fine details of history, the Green Mountain Boys remain vivid and ever-present in American culture. Warner retired on New Year's Day 1783, dying the following year at age 41. His autograph is rare, understandably lacking in all but a few fortunate collections. Ex-Prof. Andrew Griffin Collection, noted scholar at Berkeley. $5000-7000

2-12. A Mohegan Indian fighting under Col. Seth Warner.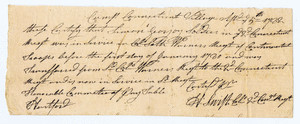 Exceptional Indian-related manuscript document certifying "that Simon Georjoy, Soldier in ye 2d Connecticut Regt. was in Service in Col. Seth Warner's Regt. of Continental Troops before the first day of Jan. 1780 and was Transferred from Sd. Col. Warner's Regt. to the 2nd Conn. Regt. and is now in Service in Sd. Regt." Dated "Camp Connecticut Village," Apr. 15, 1782, 3 1/4 x 8 1/4. To "Honorable Committee of Pay Table, Hartford." Signed by Col. H(eman) Swift, 2d Cont(inental) Regt. (Unsigned by Georjoy).
Accompanied by substantial file of 23 sheets of modern research from original materials and scholarly sources, affirming that Simon Georjoy, of New London, a.k.a. Simon Georgie, Georgia, Joy Jay, Choychoy, Joyjoy, and other variant spellings, was a Mohegan Indian serving in the Revolution. Independently recorded in Forgotten Patriots – African American and American Indian Patriots in the Revolutionary War: A Guide to Service, Sources, and Studies, published by the D.A.R. Serving under Cols. Heman Swift and John Durkee - known for his all-Black and -Indian company - Georjoy served at Bunker Hill. In the same small company with Gad Ashur, kidnapped from Africa as a boy, who became the slave of a Conn. carpenter, and evidently renamed for God Ashur, supreme deity of ancient Assyria (Assyria is said by some historians to have been the first nation to embrace Christianity). Under Durkee in 1776-77, Georgoy apparently fought at the historic Battle of Trenton on Christmas Day 1776, and at Princeton. Wounded during the war, Georjoy later became "incapable of much bodily labor"--Yale Indian Papers Project. Obliged to "sell his land to support himself in old age and infirmity," his petition reaching the desk of Sam Wyllys years later--The American Revolution in Indian Country..., Calloway. In dark brown on rich cream. Old pocket folds, else about fine. Identified American Indian soldier-related material of the Revolution is logarithmically rarer than even Black documents. Interestingly, an 1828 War Dept. document confirming Georjoy's service (modern copy accompanies) is signed with the "X" of his nephew, John Uncas, who fought beside him; he was certainly associated with the Mohegans of Uncasville, Conn., today a major casino and entertainment center. $950-1450

2-13. The Paul Revere of Connecticut.
Manuscript Document Signed of "Colo(ne)l" Saml. Whiting, (Capt.) James Burton, and on verso by Oliv(er) Wolcott, Jr., Stratford (Conn.), Aug. 10, 1779 - just a month after their defense of New Haven, 4 3/4 x 7 1/2, penned both sides. Paying Burton for "Carrying Orders to the Several Captains of Militia and Alarm List in the Township of Stratford, by Order of Saml. Whiting, Col. of 4th Regt. of Militia...Two Days, £12; To horse hire, 40 miles...£8; Expences for myself and horse, £9.12.0...." Three lines in Burton's hand plus signature, receiving payment - evidently not til December 14 - when statements on verso were signed by Justices of Peace Robert Fairchild and John Brooks, releasing payment. Burton's missions likely surrounded the terror of July's burning of Fairfield - to the ground - in Tryon's invasion of the area. (Fairfield and Stratford are proximate.) Burton is among the "list of Militia Captains whose companies turned out to (also) repel the enemy at New Haven, July 5, 1779"--Record of Service of Conn. Men, Part I (modern copy accompanies). Whiting was a member of Society of the Cincinnati. Stratford-born Fairchild was a colonial silversmith (like Revere), fighting in the French and Indian War; his house survives. Oversize auditing signature of Wolcott, Jr., Washington's Secretary of the Treasury, and son of the Signer, who led troops in New York in 1776 as Brig. Gen. Uniform pale mocha toning, short edge tear beneath but not touching Burton's signature, minor wear, else very good. Evocative content, and an unheralded hero of the Revolution. An extensive literature on the British invasion of the area exists. The 230th anniversary of the burning of Fairfield was subject of a months-long commemoration in 2009. $220-270

2-14. Signer Samuel Huntington makes good on a bill for Continental Army "Cloathing."
Group of three documents relating to Signer Saml. Huntington, Pres. of Continental Congress in year of this trio (and earlier years as well); said to have been second only to Trumbull in the estimation and confidence of George Washington: Manuscript draft in another hand, signed at conclusion "Test(ament) / Saml. Huntington, Clerk" of Council of Safety, Hartford, Jan. 20, 1783, 7 3/4 x 12 1/2. To "His Excellency the Gov. & Council of Safety," presenting petition of George Merrill of Hartford. "In...Dec. 1780, Chauncey Whittlesey of Middletown, Purchaser of Cloathing for this State and for the Use of the Continental Army...bought of...(Merrill) Sundry articles of Cloathing to the amount of about £1100 money...At the time (Merrill) consented to part with his said Goods, he had the strongest assurance from Whittlesey and some of the Members of the Council of Safety...that he should be paid...cash or something equivalent. That to his very great Disappointment and Embarrassment in his Business he was obliged to Receive...many Payments at a very great Loss...Now informed by Mr. Whittlesey that he has Nothing in his hands to pay...." Beseeching the Council to make good on the debt, "payable out of the two penny Tax" for the balance due of £41...." Above Huntington's signature as Clerk, it is resolved that the Council on Safety will pay. Slight smudge on "m" in "Saml." by his own hand, else fresh, attractive, and very fine. • Manuscript D.S. of Whittlesey, Middlebury, Jan. 16, 1783, certifying that a "ballance" of £41 "Lawfull Money" remains unpaid. 6 1/2 x 7 3/4. Delightful deckled edge. Excellent. A Yale-educated minister, Whittlesey was a "purchasing clothier" and supplier of rum for the Continentals. During John Adams' administration, he acted as buying agent for cavalry swords. • Attractive manuscript ledger sheet, 8 1/4 x 13, "State of Conn. in ac(count) with George Merrill...for Sundry Articles of Cloathing...," plus interest for 13 months. Boldly signed by Merrill upon receiving funds at Pay Table Office, Jan. 23, 1783. Curiously, the petition states the purchase was made in Dec. 1780; this sheet clearly states Dec. 1781. Pictorial "ProPatria / H K P" watermark. Very light toning at two edges, else fresh and excellent. $1100-1400 (3 pcs.)

2-15. Payment in Pisterines in "the Year the British became Master of the World."
Highly interesting group of six manuscript documents from the Seven Years' War, with vivid subtext, relating to an Engineers Regt. at Fort Royal, Guadeloupe, West Indies, Jan.-Feb. 1759. Discovered by Columbus, later in 1759 its two islands surrendered to the British - not knowing that a large French relief force was just days away. Five signed on verso by Will(iam) Cuninghame, "Commander in Chief" of this expedition that would make Britain masters of the world (see below), and by varying officers. Prepared for John Barnes, Commissary of Stores and Pay Master to Artillery. (Cuninghame appears in The Campaign for the Sugar Islands, 1759: A Study of Amphibious Warfare, by Smelser.) Comprising: List of names of Miners and Masons working at Fort Royall, with days and pay in Pisterines, 4 3/4 x 12. • List of "Ye names of Gen. Armiger's Working Party," Bastra Camp (probably a corruption of Guadeloupe's principal island, Basse-Terra), signed by "Benj. Paul, Ensign in the 68th Regt. of Foot." Balance of documents paid in pounds. • List of "Working Party Names of Gen. Armiger," signed by Lt. James Macke, 69th Regt. In pounds. Preceding three with pocket stains, fold wear, but satisfactory or better, and all interesting for display. • Larger size list of "Working Part of the King's own Regt.," 7 1/2 x 12 1/4, signed "J. Leslie, Lt. in the King's own or 4th Regt.," and on verso by "Winchester, Lt. in the King's own Regt." Light mottling, delicate quill but entirely legible, and very good. • "Return of the mens Names of Col. Watson's Regt. that are employed at the King's Works," including "1 Drummer, 1 Bricklayer, 39 Private(s)." Signed by Lt. John Anstruther, 63rd Regt. of Foot. Considerable handling, fold wear, some pocket stains, lacking blank lower left corner, but satisfactory. • L.S. twice of Will. Cuninghame, Jan. 31, 1779, 7 1/2 x 12 1/4. To Barnes, ordering that named "Capt. Lt." and Surveyor receive "their Pay as Engineers under me upon the Works at Fort Royal in the Island of Guardaloupe [sic]...." A week before, the British had opened fire on Basse-Terra, "reducing it to a heap of blackened ruins"--1759: The Year the British Became Master of the World, McLynn. By February, the British were "on the brink of destruction," with over 2,000 of their troops sick from the climate. Guadeloupe was returned to the French in 1763, in exchange for – Canada. Waterstains, damp fraying at blank lower left edge, else about good. A forgotten watershed of modern history, fascinating for further study. $550-800 (6 pcs.)

2-16. The Famous - but Elusive "Bon Homme Richard" Revolutionary War Print.
Choice example of the quintessential allegorical steel engraving known as "A picturesque view of the state of the nation for Feb. 1778 - Mal lui veut mal lui tourne dit le Bon Homme Richard, sujet mémorable des révolutions de l'univers." From Westminster Magazine, vol. 6, Mar. 1, 1778, p. 66. Live area 7 3/4 x 10 1/4, including nine callout captions in French. Tastefully "museum quality" framed in black by noted dealer W. Graham Arader III, his typewritten description on verso of frame: "The plate illustrates 'Le Commerce de la Grande Bretagne sous la Forme d'une Vache.' The American colonies, Holland, France, and Spain help themselves to the assets of the allegorical cow while a British lord, unable to wake the British lion from his deep slumber, mourns the demise of Great Britain's commercial monopoly of the colonies. In the background two soldiers idle in Philadelphia while a British ship [Aigle, i.e. Eagle] is bemired off the coast." Published in The American Revolution in Drawings and Prints: A Checklist of 1765-1790 Graphics in the Library of Congress, compiled by Donald H. Cresswell, 1975, no. 726. British Museum 5727 (variant, theirs with name on ship's stern, but lacking caption numbers). Possibly expertly cleaned, very light irregular stain at blank lower left portion, else fine plus, and a strikingly rich impression. Frame with trivial tip wear, easily retouched with black marker, else ready to hang. Excessively rare on the market and important. Worldcat locates just two examples: Library of Congress and Peabody Essex Museum. $2700-3400

2-17. From Riches ... to Rags.
Document Signed of Rob(er)t Morris, financier of the American Revolution. One of only two Founding Fathers to sign all three key documents, the Declaration of Independence (though first voting against it, on July 1, 1776!), Constitution, and Articles of Confederation, Morris was key in financing the war. Morris' ship The Black Prince became the first vessel of the new Continental Navy. He was among the investors backing the first American ship to visit the Chinese mainland. The very first reference to the Underground Railroad is attributed to a 1786 letter to Morris, from George Washington. When Philadelphia was the nation's capital during the Washington and Adams administrations, Morris' home was the actual Executive Mansion (see Lot 2-18). Ornate stock certificate in his ill-fated North American Land Co., Philadelphia, Oct. 15, 1795. 9 1/2 x 12 1/4. Also signed by Sec. James Marshall. As the foremost private personage in Revolutionary America, Morris' power and influence was surpassed only by George Washington. Morris was the first to use the dollar sign in official documents. Though he owned more land than anyone in the United States, the Panic - beginning one year after the date of this item - led to his financial ruin, and his incarceration for several years in the Prune Street prison for debt (see Lot 2-19). Chipping at left and top edges, affecting anti-counterfeiting design, few fine creases across "J" of James Marshall's signature, band of dust toning in top right quadrant, else about very good, margins slightly more generous than usually encountered, and with one of the best Morris signatures we've seen in some time, with only trivial traces of the characteristic ink erosion. $450-675

2-18. Robert Morris' Folly.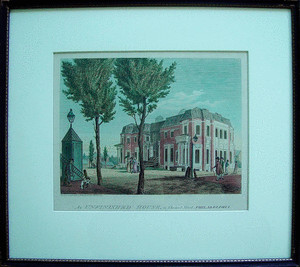 Rare hand-colored Birch print, "An Unfinished House, in Chestnut Street Philadelphia," under construction by Robert Morris. "Designed & Published by W(illiam) Birch, Enamel Painter," this example plate no. 14 from first edition (1800) of City of Philadelphia in the State of Penna., North America, as it appeared in the year 1800. About 13 1/4 x 16 1/4. In attractive, gold-beaded black frame, archival matting, under glass. The Robert Morris Mansion was designed 1792-93 - by Pierre Charles L'Enfant. Morris had bought nearly the entire block bounded by Walnut, Chestnut, 7th and 8th Streets. Never completed due to Morris' bankruptcy (and incarceration in the debtors' prison depicted in the other Birch print listed below), "Morris' Folly" was demolished c. 1800. Very good; request condition report. Other Birch views on abebooks at 8500.00 each. A seldom-seen set of all twenty-eight plates, but likely a later printing, sold at Sotheby's for $25,000 in 2014. $2400-3200

2-19. Robert Morris' New Home – the Prune Street Prison.
Rare hand-colored variant print of "Jail in Walnut Street Philadelphia," also known as the Prune Street debtors' prison, the very same in which Robert Morris spent three years, overlapping the time in which this view was first issued. "Designed, engraved & published by W(illiam) Birch, Enamel Painter," this example from second edition (1804) of City of Philadelphia in the State of Penna., North America, as it appeared in the year 1800, but not to be confused with the similarly-named print "Goal [sic] in Walnut Street...," also by Birch. Both Birch prints show the same jail, but from different perspectives. About 13 1/4 x 16 1/4. In attractive, gold-beaded black frame, archival matting, under glass. The first prison in America to include individual cells and work details, Morris' years there remained harsh and unforgiving. Two semicircular fragments lacking at blank lower left, not visible when matted, faint waterstaining traversing lower left quadrant, else about very good. Birch's engravings are significant in the annals of American city views and printmaking: when he began work on the series, Philadelphia was capital of the new United States. Subscribers included Thomas Jefferson, John Adams, Thomas Mifflin, architect Benjamin Latrobe, and other luminaries. Other Birch views on abebooks at 8500.00 each. $2900-4000

2-20. "That old Firebrand of Liberty" – on the First July 4th as a Victorious New Nation.
Unusual, complete, and probably unique gathering of six Revolutionary War pay orders, all dated "July 4th, 1783." Connecticut, 5 1/4 x 6 1/2, partly printed. All to (Capt.) Samuel Squire (of Fairfield) (though all signed by him on verso, as "Squier," a common variant spelling), for amounts between £5 and £100, totalling £195. Squire was known as "that old firebrand of liberty...he was 60 by the time the Revolution commenced its military phase in 1775, but he had been in the forefront of the Sons of Liberty long before that. On Dec. 29, 1774 he was elected a member of the Committee of Correspondence for Fairfield. He served as Rep. in the General Assembly for Fairfield from May 1774 through April 1780. Perhaps his most important contribution was as a commissary of supply for the Conn. Regiments of the Continental Army. Thomas Mumford wrote to Joshua Huntington at Groton in 1778, 'Capt. Squire writes me that I may certainly depend on 100 barrels (of flour) from him in 2 weeks.' Besides acting as Commissary, Squire also served as Justice of the Peace, 1776 to 1782. Too old for military service, he did not escape the consequences of battle. On the 7th and 8th of July 1779, the British under Gen. Tryon attacked and burned Fairfield. Samuel, Joseph, and Samuel Squire II all lost their homes and had their taxes later rebated by the General Assembly...[Samuel's son] John Squire assisted his father during the Revolution while...Purchaser and Assisting Issuing Commissary for Fairfield...." (Another member of the family, Joseph, was part of Washington's now-celebrated spy ring, operating a trio of whaleboats on Long Island Sound. "So careful were the members of the ring to disguise their activities that their true identities were not known until the 1930s...")--genealogy.com.
All six documents bearing three additional signatures: Oliv(e)r Wolcott, Jr., son of the Signer, led troops in N.Y. in 1776 as Brig. Gen., followed Alexander Hamilton as Washington's Secretary of the Treasury, and Gov. of Conn.; and by Fenn Wadsworth, Brigade Maj. to Gen. James Wadsworth 1776-79. Each with a second, double-size "O. Wolcott, Jr.," penned vertically as an auditing signature. Chocolate-brown ink offset from Wolcott's blotter, light wear at one vertical fore-edge, else with lovely cream toning, fresh, and very fine. • With a rare survivor: the original manuscript paper band which enclosed the six documents. 2 1/4 x 6 1/4, opening to 6 1/4 x 8, large pictorial watermark. Penned on filing panel, "...Recd. these Six orders of Jno. Squier 3d of Fairfield & gave him a note for £195. Recd. of Jo(hn) Lawrence a note in Jno. Squier's Name for 195 pounds in full for these Six orders...," signed by Israel Robbins(?), June 7, 1784. Toning along one vertical fold, else excellent. While the end of the war was proclaimed in April 1783, troubles remained. On June 30 - just five days before these documents were penned - Congress was obliged to convene in Princeton, following mutiny of unpaid soldiers in Philadelphia. These pay orders often remained afloat for years, trading like nearly-illiquid promissary notes by one patriot with another, as a postwar depression settled in. Revolutionary War-era July 4th documents are now thin on the market, and much sought after. This cohesive group, with their original wrapper, is the first such we have encountered. The double, oversize signature of Wolcott, Jr., and importance of the beneficiary patriot, add to their interest and desirability. $725-975 (7 pcs.)

2-21. The Milieu of a Revolutionary War Surgeon.
Group of five charming manuscript receipts relating to Timothy Darling (1731-84), Revolutionary War surgeon and Grafton's Town Clerk: four from Grafton, one from Foxborough, Mass., Sept. 1, (1770 else 1776), "Feb. ye 6, 1776," "Dec. ye 1, 1776," ""Jan. ye 14, 1779," and "July ye 23, 1779." All penned on eccentrically sized savings of precious paper, from about 1 1/2 x 7 1/2, to 3 1/2 x 8 1/4. Two signed by Darling (possibly receipts for payment for his medical services), and one each by Eph(rai)m Lyon (among the "Alarm Men," commanding an eponymous company of Mass. Militia), Isaac Morse, and Benj. Wood. Darling's receipt of 1776: "...Received of Capt. Luke Drury 3 pounds in full on the Balance of all Accounts...." Drury helped protect Grafton during the French & Indian Wars, marched his company to Lexington and Concord, fought at Bunker Hill under Artemas Ward, later playing a major role in Shay's Rebellion, over burdensome taxes. Drury became Darling's executor. • 1779 Darling receipt with internal tear removing most of his last name, fold wear, and some soiling; balance with minor toning and wear, and about fine. Their primitive appearance, two carefully torn by hand from larger sheets, render them delightful for display. The Drury Papers reside at University of Massachusetts, and other Timothy Darling receipts at Harvard's Center for the History of Medicine. Grafton "was originally one of John Eliot's 'praying villages,' reservations to Christianize and civilize local Indians..."--Drury Papers Finding Aid. Rare on the market. $375-550 (5 pcs.)

2-22. "Defender of the Northern Frontier."
A.L.S. in third person of M(arinus) Willett, "one of the truly outstanding American leaders of the Revolution...a fiery and effective Son of Liberty..."--Boatner. Oct. 6, (17)87, as Sheriff of New York, 7 3/4 x 10 1/2. Thanking "Mr. (Nicholas) Low" in advance "to have the inclosed bond executed and returned to the Sheriff's office at No. 36 Water St. (N.Y.)." Docketing probably in Low's hand, with intriguing, extensive mathematical computations in a very small hand on address-leaf, apparently involving large sums of English currency. Low was a wealthy financier, patriot, and abolitionist, beginning his career as clerk to Jewish colonial merchant Hayman Levy. Founding his own firm during the Revolution, Low was director of Bank of N.Y., 1785, and member of the N.Y. Constitutional Convention. Willett commanded Fort Constitution, opposite West Point, though ironically he became virulently anti-Federalist and opposed the actual Constitution. Later highly successful as Washington's personal representative, making a peace treaty with the Creek Indians, Willett is memorialized in Walter Edmonds' work, Drums Along the Mohawk. Semicircular fragment torn from blank portion where opened, still appended to red wax seal, some toning, else very good. With old-time dealer's file card, c. 1950s, perhaps earlier. $200-250

2-23. A South Carolinian's History of the Revolution – in French.
Two-volume work, Histoire de la Revolution d'Amérique, par rapport a la Caroline Méridionale. By fascinating South Carolinian patriot David Ramsay, "Membre du Congrés Américain." French edition, Paris, Chez Moutardier, 1796 – but clearly reflective of American Southern thinking: "The author was a resident of Charleston and of South Carolina during a greater part of the Revolution; this work is based on personal observation or on conversation with participants and reflects contemporary Southern thinking."--Larned 1470. 520 and 673 pp. Numbered folding copper-engraved plates by Picquet, including Fort Moultrie, 1776, and siege of York and Gloucester, 1781. Charming, inconsistent use of French first names of patriots (pp. 518-), including "Jean Hancock," "Olivier Wolcott," "Richard-Henri Lee," "Francois-Lightfoot Lee," et al. One of the first major historians of the American Revolution, Ramsay served as a field surgeon, and member of the South Carolina legislature, til captured by the British. Twice elected to the Continental Congress from South Carolina, during John Hancock's absence, Ramsay served as Chairman of Congress. Ramsay was related, by marriage, to Signers Arthur Middleton, Lewis Morris, and John Witherspoon, and to "Pres. of S.C." and Chief Justice John Rutledge. Modern historian Karen O'Brien (1994) argues Ramsay's History...was "one of the first and most accomplished histories to appear in the aftermath of (the Revolution). She says it challenges American exceptionalist literary frameworks by presenting itself within the European Enlightenment historical tradition, reflecting Ramsay's belief that the U.S. would have no historical destiny beyond typical patterns of European political and cultural development"--wikipedia. Caramel fabric over boards, leather spines with mocha and black spine labels, an old manuscript used to construct spine lining, visible where leather chipped at top! Old ex-library stamp; signature on title page, probably c. 1825. Rubbing and some discoloration of boards, edges and tips, internally crisp, clean, and excellent. Howes R-36. Nebenzahl Biblio 84-85. Sabin 67692. Turnbull I, p. 260. Wheat & Brun 597. Much-studied, among modern works on Ramsay are From a Revolutionary History to a History of Revolution: David Ramsay and the American Revolution by Messer, and To Be an American: David Ramsay and the Making of the American Consciousness by Shaffer. Rare on the market. $1100-1600 (2 vols.)

2-24. The Estate of the Man who delivered the First Public Reading of the Declaration of Independence – signed by his Executor, who voted against it!
Two manuscript documents relating to estate of John Nixon, first to publicly read the Declaration, on July 8, 1776. Signed by his executors, Philadelphia merchant and delegate to the Continental Congress Thomas Willing, and Nixon's prominent son, H(enry). Dec. 31, 1812. 7 3/4 x 12 3/4. "Sarah Cramond in account Current with...Exec(u)t(or)s of J. Nixon," including $10 for her share of monies "paid Capt. Hall for his Services in recovering a Tract of Land...," $303 for "her pct. of Income of J. Nixon's Estate," and other items, totaling $1,590.17. • With related document in same hand, 7 x 7 1/4, unsigned, affixed with small red wax seal. "Balance of Interest in favor of the Estate of John Nixon: As per Nixon & Walker's account, $3,602.01; J. Nixon's ac(count), 121.19...Jane Willing's, 58.12...Sarah Cramond...." Nixon & Walker were active in the West India trade. Old fine wrinkles at lower left corner second item, stain and modest wear at one fold of first, else both fine, crisp, and highly appealing. Thomas Willing was colonial Mayor of Philadelphia, forty-year partner of Robert Morris (Henry Nixon, co-signer of this document, married Morris' daughter), member of 1774 Committee of Correspondence, and Committee of Safety in 1775. As a member of the Continental Congress in 1775-76, he voted against the Declaration of Independence - though he later contributed £5000 to the revolutionary cause. Willing and Nixon were consecutive Presidents of the Bank of North America, Willing then the first Pres. of Bank of the United States. Henry Nixon too served as Pres. of Bank of North America. His history-making father, John, was an early opponent of the Stamp Act, and member of Penna.'s first Committee of Correspondence. As of July 1776, Nixon commanded the defenses of Philadelphia. On July 8 of that fateful year, he delivered the very first public reading of the Declaration. By some accounts, the response was underwhelming, notwithstanding the bells of the city ringing late into that night. Later in 1776, he served under Washington at Princeton, and subsequently at Valley Forge. Items relating to Nixon are very scarce. His reading of the Declaration is reenacted annually by the National Park Service in Philadelphia's Independence Square. $350-475 (2 pcs.)
TO FIND OUT CURRENT HIGH BIDS,
OR TO PLACE BIDS,
JUST CALL 1-914-476-8500
OR e-MAIL info AT cohascodpc.com
(We do not currently use online bidding)
3. Works of Art & Antiques
The Only Surviving Painted Portrait
of this Princess of the Renaissance


3-1. Bride of a Dynasty.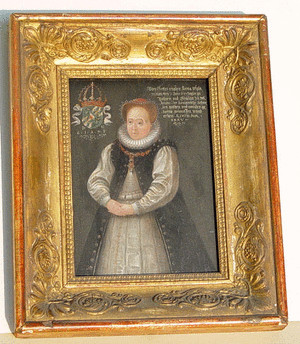 An exquisite treasure and recent discovery in the realm of art and royalty: Original painting of Crown Princess Anna Maria Vasa (1545-1610), daughter of King Gustav I (Vasa) and Queen Margaret of Sweden – the only known portrait of her, most likely a copy of about the 17th century, after a larger and older original painting (scholarship accompanies). 5 x 7 1/4, oil on board, lengthy title in contemporary opaque white, in German, identifying her as "Anna Pfalz," in 1580 - her 35th year - with bejeweled crown atop coat of arms in colors at left. In very old, hand-carved, gold-burnished heavy wooden frame, as found, 9 x 11. A striking portrait of the princess, in rich silvery-white dress and black cloak. The style attributed to an unknown German artist, made there when Anna married Georg Johann I, Pfalzgraf (Count Palatine) of Veldenz, Lauterecken and Lützelstein. Anna's marriage marked a merging of her royal family with George Johann's noble House of Wittelsbach. Despite the grand circumstances and importance of Veldenz, a significant State of the Holy Roman Empire, his passing left her with a debt of 300,000 florines. A massive sum, it reduced Anna to a humble life, beset by family squabbles over their land. She would cast a long shadow in history, however: the era of the Pfalz-Veldenz line lasted til about 1694. The Wittelsbach dynasty of her husband produced, all told, two Holy Roman Emperors, one King of the Romans, two "Anti-Kings" of Bohemia, and Kings of Denmark and Norway, Greece, and Hungary. It continues to this day; many of the House's magnificent palaces and castles survive.
With letters to consignor from Head Conservator of Bayerische Staatsgemäldesammlungen, Munich, 2001 (in German), and Curator of National Museum of Sweden, Stockholm, 2002 (in English), both confirming that this is indeed the Princess, and the only located (painted) portrait of her. (A monument in the church of Lützelstein in Remigiusburg, Germany, reportedly includes the sole identified sculpture depicting her. Elsewhere, a portrait of Princess Anna as a young girl, mentioned in the latter Curator's letter, is missing.) Circa 2010, a French researcher at the Societe d'Histoire & d'Archeologie de la Lorraine discovered the consignor's correspondence in the National Museum of Sweden's files – happily ending a ninety-year search by scholars. An image of this painting was supplied, debuting in an article in Les Cahiers Lorrains, journal of the venerable Société, 2011. Some old, understandable and unobjectionable cracks in pigment, evidently correlated to the grain and topography of the wood on which it is painted, else colors rich and evocative, and about fine. Minor professional conservation about fifteen years ago; frame with some wear and patina, else highly satisfactory, the ensemble an incomparable rarity, and a riveting conversation piece. Museum quality. Research file accompanies. Request additional images. $8000-11,000

3-2. From Seat of the Worship of Sin, the moon-god.
An excessively early example of human writing: Cuneiform tablet, Sumerian, hard clay. C. 1500 B.C.E. Stated by New York Metropolitan Museum of Art to bear receipts for beer, oil, and bread given to workers (likely including slaves) in the Temple at Ur of the Chaldees, the seat of worship of Sin, the moon-god, in ancient Babylonia, modern-day Muqaiyir, Iraq. About 1 x 1 x 1/4, convex, style of a Wheat Chex cereal. Finely inscribed in miniature hand, with columns of text both sides and on fore-edge. One of the oldest cities of Mesopotamia, Ur was probably settled as early as 4000 B.C.E. The birthplace of Abraham c. 2000 B.C.E., who led his family thence to Canaan, Ur was captured and destroyed several times. Restored by Nebuchadnezzar II, who subdued Judæa and twice captured Jerusalem, excavations began c. 1854. Flake at one fore-edge, else very fine, and fascinating for study and display. Among the very earliest form of "manuscript" available to collectors. Unconditionally guaranteed authentic and correctly imported decades ago. From the old-time collection of Alton Ketchum, celebrated advertising copywriter and creative director, author (biographer of Uncle Sam), Presidential speechwriter, collector, antiquarian, and scholar. With copy of his notes upon examination by Metropolitan Museum. $300-450

3-3. Vintage Handmade Book Stand.
Charming antique book stand for desk, tabletop, or display case. Quality-crafted, hand made, Early American style, judged c. 1895-1915, 11 3/4 x 11 3/4 closed. Original stain in pleasantly varied walnut tones. Tongue-and-groove construction, red-brass hinges, steel and brass screws, variously. Wood feet clearly hand-chiseled with primitive hewn character. Some light scuffing on edges, short stress crack on frame at one foot, old replacement screw, another foot rotates on its screw; superficial use, else hinges tight and arm sound, and generally good plus. Ready to use, for authentic display of your favorite old (or new) book, print, or framed item. Just found in Pennsylvania Dutch country, and made with care, plausibly by a local furnituremaker. $55-80

3-4. Porcelain-Face Pocket Watch.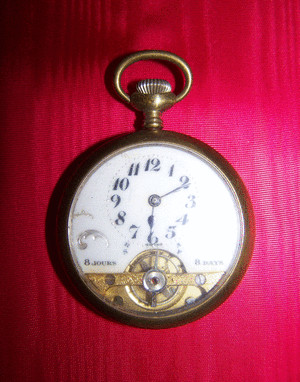 Charming pocket watch, Wyss Freres (of Geneva), judged c. 1890-1910. 1 15/16 diameter, open face. Distinctive exhibition escapement and balance wheel behind filigreed gilt bridge. "8 Jours, 8 Days," 7 jewels. Bezel, hinged back, suspension ring, and crown all yellow metal with pink flashes, possibly gold-filled over nickel silver. Arabic numerals. Snow-white enamel dial, with and four floral flourishes hand-painted in lustrous silver. Pin sets time, else not working. Some shallow depressions and colorless marks in back cover from use, fine scratches on inside movement cover from old watchmaker's attention, else cosmetically fine, the enamelled and silvered dial lovely, and a satisfying display piece, exuding patina and Old World craftsmanship. An uncommon design variant of this maker, established 1755, and noted for their stylistic and technical innovations (including notably long mainsprings). $100-140

3-5. Gentleman's Stovepipe Hat.
Genuine beaver top hat, c. 1900-15, with noted purveyor's name in ornate logotype on crown of inner lining, "J.P. Dugan, 208-210 River St., Troy, N.Y." About 6" high, 8 1/2 x 11 at brim. Outside band of fine black silk ribbon; white bowtied silk insert inside, tied to avocado leather band. Tears in paper liner; trifle crushed at 40° of top circumference but mitigated by the rich black fur. In all, extraordinarily clean and fine. Considered "one of the finest fur stores in the State," Dugan offered hats and "traveling goods." He appears on River St. in the Directory of the Hat, Cap and Fur Trades... as early as 1880; Dugan is also mentioned in The Clothiers' and Haberdashers' Weekly (1899), American Cloak and Suit Review (1914), Luggage and Leather Goods (1914), and The American Hatter (1915). (It is not impossible that this hat was made in Yonkers, once home of the largest mens hat factory in the world.) Elusive, and superb for display. $80-110

3-6. Child's Sword.
Judged c. 1870-90, in general style of an antebellum U.S. Model 1840 Heavy Cavalry sword (the "adult" version nicknamed the "Wrist Breaker," used in Civil War cavalry charges and the Plains Indian Wars to about the 1880s). Straight-fluted, dull, and rounded-tip iron blade 21 1/2", rich brown gutta percha grip, with brass guard comprising three elegantly curved branches with cast greenery motif merging into fasciculus, and separate brass pommel cap. No markings; not believed to have been trimmed with leather or retaining wire. Some free play (but not precision-made when new), uniform fine surface corrosion on blade, patination of brass parts from golden yellow to coppery brown, blade slightly bent in two places, but in all, good. Showing much character, and an example of a once-common item in boys' toy chests. A fresh find from Pennsylvania Dutch country. $90-120
TO FIND OUT CURRENT HIGH BIDS,
OR TO PLACE BIDS,
JUST CALL 1-914-476-8500
OR e-MAIL info AT cohascodpc.com
(We do not currently use online bidding)
4. Confederate
Varieties of Unrecorded Confederate Imprint, "List No. 1"
– Taxing the Leading Lights of the Capital of the Confederacy –


4-1. Excessively Rare Confederate Imprint – "Bank Notes...."
Partly-printed Confederate "List [Form] No. 1," "Tax on Naval Stores, Wines, &c., and Agricultural Products," Richmond, Sept. 30, 1863, 9 3/4 x 12 1/2, 2 leaves. Unrecorded in Parrish & Willingham's standard reference work, Confederate Imprints: A Bibliography of Southern Publications from Secession to Surrender.... Signed twice each by Confederate Assessor W.E. Johnson and Jno. A. Belvin, declaring "Bank notes or other currency on deposit, $2,200...." Taxed 1%, in this effort to raise funds "for the common defence and carry on the government of the Confederate States...." Also answers whether subject to taxation as "pawnbrokers ...keepers of hotels, inns, taverns and eating houses...circuses, jugglers, bowling alleys, billiard tables...apothecaries, photographers, lawyers, physicians, surgeons and dentists...and confectioners." With spaces to declare amounts of "Credits within Confederate States, Credits beyond limits of Confederate States, Money deposited beyond limits...," and attesting that he has listed all "naval stores, salt, wine, spiritous liquors, manufactured and unmanufactured tobacco, cotton, wool, flour, sugar, molasses, syrup, rice...." Belvin appears in the 1850 "Message of the Gov. of Va. to the General Assembly." Pleasant light patina due to high groundwood content of adversity paper, minor nibble at one blank margin, else about fine. This "List No. 1" Confederate imprint briefly mentioned in The Papers of the Bibliographical Society of America, 1906, but WorldCat today locates only one example (Boston Athenæum). Lacking in Duke University's celebrated 2,300-plus-item collection of Confederate imprints. Suitable for display. $130-160

4-2. Excessively Rare Confederate Imprint – The Tobacco of Richmond's Preeminent Newspaperman.
"List [Form] No. 1," "Tax on Naval Stores, Wines, &c., and Agricultural Products," Richmond, Oct. 7, 1863, 9 3/4 x 12 1/2, single-leaf variant. Style as above lot, but for "25 H(ogs) H(eads) Tobacco Stored in Petersburg, av(erage) wt. about 1,200 @ $35, Value $10,500...." Taxed 8%. Signed by Confederate Assessor W.E. Johnson and Wm. Ira Smith, one of Richmond's most conspicuous citizens: an antebellum member of the Richmond Grays, Smith was wartime proprietor of the Richmond Whig (whose pages were graced with some of the most eloquent prose we have seen in any American newspaper of the era). In 1865, Smith printed the oft-cited "Map of a part of the City of Richmond, showing the burnt Districts." Later a Main Street Richmond retailer of fine clothing - at the "Sign of the Big Flag" - Smith signed here on behalf of Shipley Roane & Co., Baltimore clothing wholesalers, "the pioneer of the Southern trade"--Industries of Maryland..., 1882. Pleasant oatmeal patina due to high groundwood content of adversity paper, trivial dust toning at one blank margin, else fine. Interesting research accompanies. $110-140

4-3. Excessively Rare Confederate Imprint – Gold Coins of a Father of Southern Literature.
"List [Form] No. 1," "Tax on Naval Stores, Wines, &c., and Agricultural Products," Richmond, Sept. 5, 1863, 9 3/4 x 12 1/2, 2 leaves. Style as above lot, but for "Gold coin on hand or on deposit, Amount 40, Value $300," together with "Bank notes or other currency on hand, $5,761; Credits within Confederate States, $25,000...." Taxed 1%. Signed twice each by Confederate Assessor W.E. Johnson and A.F. Harvey. Antebellum editor of Washington's The Spectator, Harvey's weekly newspaper was "one of the handsomest and ablest conducted in the country...the only really successful attempt to establish a standard Southern literary paper..."--DeBow's Review, 1856. (He undoubtedly knew such Southern poets as William Gilmore Simms; forty years ago, a Simms letter in our catalogue was resold by the fortunate buyer for $12,500!) Harvey later served as a postwar director of Piedmont Railroad. Pleasant oatmeal patina due to high groundwood content of adversity paper, else fine. $170-220

4-4. Excessively Rare Confederate Imprint – Confederate Currency of a Railroadman Supplying Tredegar.
"List [Form] No. 1," "Tax on Naval Stores, Wines, &c., and Agricultural Products," Richmond, Oct. 27, 1863, 9 3/4 x 12 1/2, 2 leaves. Style as above lot, but for "Confederate currency on deposit, $34,417.84...." Taxed 1%. Signed twice each by Confederate Assessor Jas. Kersey and D.S. Wooldridge, (Sec.-Treasurer) of Clover Hill Railroad Co. An obscure but vital narrow gauge railway hauling coal in the Richmond and Petersburg areas, the Clover Hill mine was one of the two suppliers to the Tredegar Iron Works, makers of munitions for the Confederacy. In 1862, Wooldridge oversaw delivery of 1,320 bushels of "Clover Hill lump coal" to Manassas. His railroad's 22 miles of track boasted three stations. Pleasant oatmeal patina due to high groundwood content of adversity paper, minor toning at folds, else fine. Within eighteen months, these assets would be worthless. Modern research accompanies. $150-190

4-5. Variant Confederate Imprint – Confederate Currency of a Richmond Gentleman.
"List [Form] No. 1," "Tax on Naval Stores, Wines, &c., and Agricultural Products," a further sub-type, intended for multi-Confederate-state use, with "Virginia" penned instead of printed within text, "List No. 1" at top in upper-and-lower case, with green rules instead of grey, and trim size slightly smaller, perhaps to conserve paper. Richmond, Nov. 24, 1863. 9 1/4 x 12, 2 leaves. Taxed 1%. Else as above lots, but for "Credits within Confederate States, $15,000...." Signed twice each by Confederate Assessor W.E. Johnson and James G. Brooks. "Many (Richmond) buildings still stand and have special stories. For instance, Richmonder James G. Brooks entertained Confederate congressmen and senators in his home at 11th and Clay. The home had been built in 1812 for John Wickham, the lawyer who represented Aaron Burr in his treason trial. Today it is the keystone of the Valentine Museum/Richmond History Center."--lynnseldon.com/article395.html. Pleasant oatmeal patina due to high groundwood content of adversity paper, some ink droplets from quill, else fine. Evidently reflecting expansion of aggressive taxation of the Confederacy's citizens, to finance the war, this printing variant even more elusive than the previous lots. $140-180

4-6. Confederate Loan Certificate no. 99.
Attractive example, $100, very low serial no. 99, in ink. 8%. Act of C.S.A. Congress Aug. 19, 1861, issued Richmond, Feb. 3, 1863, maturing Jan. 1, 1873. Portrait of Hunter. Signed by Ro: Tyler, Register of the Treasury. Criswell #35, rarity 7. Columbia, S.C. imprint. Sixteen coupons present, the last redeemed on Jan. 1, 1865; by the payable date of the next coupon, July 1, the Confederacy was lost. Pleasing uniform toast patina; on higher groundwood-content paper than other issues. Reflecting growing shortages in the South, the paper is speckled with tiny inflections of wood pulp. Small tack hole at each corner, light chipping at one blank edge, old quarter folds, else fine, and an interesting conversation piece. $110-140

4-7. Confederate Bond.
$1000, Act of Aug. 19, 1861, issued May 12, 1862. Vignette of Memminger. Signed by Ro: Tyler. Criswell #88. Rarity 6. Fifteen coupons present, the last redeemed on Jan. 1, 1865. Blind-embossed seal, "Confederate States of America / Tre(a)s. Dept." Original folds, usual fine handling wrinkles, pleasing warm cream toning, else about fine. A somewhat elusive type. $70-100

4-8. A Signer of South Carolina's Ordinance of Secession.
Heavy envelope, "Use this envelope only for money remittance by the Southern Express Co. - Said to Contain 17 Bonds value $2,850.00." Likely in a clerical hand, "Judge J(ames) P(arsons) Carroll, Columbia, S.C., Mch. 8, 1877," to Chas. Richardson Miles, Charleston. 3 3/4 x 9 3/4, three large red-brown wax seals on back flap (two sound), "The Adams Express Co., Columbia, S.C." Five days before Christmas 1860, a special convention in Charleston unanimously passed the Ordinance of Secession, dissolving "the Union now subsisting between South Carolina and the other states, under the name of the United States of America." Carroll, Chancellor of S.C., was among its signers. His home in Aiken is a State and National landmark. Creasing and wear, but penned in milk chocolate, and about very good. A very scarce South Carolina-related item. $55-80

4-9. Delivering the Confederate Mails in Virginia.
Fascinating newspaper, Daily Richmond Whig, Mar. 9, 1863, 18 x 23 1/2, 4 pp. With exhaustive list of Confederate mail route contracts to be awarded, filling entire front page, and 3 1/2 columns continuing on last page. Often-quaint details of some 96 routes for which proposals sought by "Confederate States P.O. Dept...for conveying the Mails of the Confederate States for four years...ending June 30, 1867...." Just one example: "...Route 2625 - From Lexington, by Summers and Longwood, to Roaring Run, 21 miles and back once a week. Leave Lexington Wed. at 5 A.M... (Return) same day by 8:30 P.M...." Among the hundreds of Virginia towns to be traversed are Turkey Cove, Big Stone Gap, Confluence, Luray, Nineveh, Overalls, Shenandoah Iron-Works, Water Lick, Fort Furnace, Seven Fountains, Leesburg, Harper's Ferry, Back Creek Valley, Cold Stream, Charlottesville, Big Lick, Pittsylvania, Moore's Ordinary, Double Bridge, Black's and White's, Lynchburg, Hocker's Bottom, "X Koads" (sic), Fancy Grove, Lovely Mount, Mack's Meadows, Piping Tree, thrice-weekly service from Richmond, and many, many more. A number of the towns are defunct. Elsewhere, Proclamation by Jefferson Davis for a day of "fasting, humiliation and prayer," the subtext appealing to the Almighty to preserve slavery: "...Our enemy, with loud boasting of the power of their armed men and mailed ships, threaten us with subjugation, and...even in our own homes and firesides, to pervert our men-servants and our maid-servants into accomplices of their wicked designs...." Editorial decrying impressments: "The seizure by agents of the Commissary Dept. of large quantities of flour in this city and Petersburg ...has created quite a commotion among all classes of town people...Many people are congregated and starving...Was it intense hate of the people of Va., on whom thus far the burden has mainly fallen? Was it intended to disaffect the whole population - to make them detest the cause of the Confederacy...or abandoning (Va.) to the mercy of the invader?...The recent exhibition of this insane tyranny, in this city and Petersburg, was supposed to be intended as a special insult and contempt to Congressional authority ...Mr. Pres. Davis is asking authority of Congress to suspend the great bulwark of freedom - the writ of habeas corpus, all over the Confederacy...." "The Late Railroad Disaster in the South," with loss of up to 100 passengers when the bridge failed over the Chunkey River in Miss. Commencement of Richmond Medical College, with list of graduates; extensive Northern war reports; fourth attack on Ft. McAlister; slave auction notices, and much more. Bean-sized hole at central fold junction on pp. 3-4, much handling with usual fine wrinkles and typical wear, else very satisfactory and suitable for framing: fully opened, the complete two-page list of postal routes can be displayed in one view. With 1967 inventory card of Barbara Stuhlmuller, pioneer newspaper dealer and founder of Newspaper Collectors Gazette. Now a rare title. The Library of Congress' Chronicling America database confirms only three examples of this issue (all in Va.), with "scattered issues wanting" in their own 1863 holdings and four other institutions. Splendid Confederate postal history association. $250-325

4-10. Liquor "will destroy more of our men than the enemy."
Southern Civil War homefront letter of merchant T(homas) N. Lindsey and "Mrs. S.C. L(indsey)," each filling 1 1/2 pp., Churchville (Va.), June 24, 1861, 6 1/2 x 8. To Mr. Wynant. "Churchville is quite lonesome these times. Except on Sat. when the Militia muster. The Governor has ordered them to muster once every week. They are drafting the Militia in Rockingham. There is some already gone to some point down the [Shenandoah] valley...I bought a few goods about the last of May. They were very scarce & high & I have sold nearly out of some goods already. I sold out of Bro. Cotton a few minutes ago. Prints is getting scarce. I am selling for cash & such produce as will bring the money. All the stores I understand in Staunton is now selling for cash. Small notes is getting quite plenty about here. Harvest has fairly commenced here this week...Wheat is quite good here...The People generally are well, in this neighborhood...Give me all the news about the expected movements of the armies, both North & South & how the people are divided, generally as near as you can ascertain out there." His wife writes, "I have been at the hall all evening helping to pack up clothes to leave in the morning. The young ladies were all there, busy fixing the pockets for the gentlemen...I was in Mosco(w) (Va.) a week ago to see Rebeckea...I am going to father's in a few days, to get cherries. Wish you were here to help eat them...Churchville is a changed place. It makes one feel sad...I understand George Hanger is taking two barrels of liquor with him. The ladies are all down on him; he had better not let it come this way. I consider it his worst enemy. It hope it shall not be used as a beverage; it will destroy more of our men than the enemy...." Minor fold wear, several ink drips, else about fine. Dinkle & Lindsey, "general dealers in dry goods, groceries, hardware &c." appear in an 1851 mercantile directory, together with Lynn & Hanger of Hermitage, possibly the liquor-toting individual mentioned above. As of 1855, Lindsey was Postmaster of Churchville. Dramatic flavor of the changing Old South, just months after Fort Sumter. Modern research accompanies. $150-180

4-11. "Gen. Jackson commanded our troops...."
Significant Confederate homefront letter from Virg(inia) Lucas, Clark County, Va., July 11, 1861, with likely family link to Confederate pirate and spy John Yates Beall. 4 1/2 x 7 3/4, 4 full pp., coffee-brown on daffodil yellow, lined in blue. To brother, apparently in the Confederate Army; "Direct to Halltown" (probably Va.) in her hand. "...A few lines this morning, to keep you advised of our movements. We arrived here yesterday at Col. Larue's...We left Pa very well, though somewhat fatigued with the harvest...They have splendid crops. The enemy's pickets were at Kearneysville [W.V.] and Walper's Crossroads, so we thought we had better leave the neighborhood...My colt is a perfect little beauty. Pa says it is the prettiest colt in the county...Give us an accurate account of the fight at Buchanan. We were alarmed at first, on your account, as that truthful paper the Sun, said Wise's brigade was all cut to pieces...I understood...that Gen. Wise was slightly wounded...Cousin Emeline is staying at the river, and cousins Sarah, Lex and Ellie and myself, are all here together...We are delighted with the place. Col. and Mrs. L. are very kind indeed, and we feel quite at home already...I suppose you have heard of our fight in Berkeley [W.V.]. Col. Harper's regt. and Capt. Pendleton's artillery Co., in all 380 men were overtaken by the enemy, 15,000 in number, and after killing about 250 and taking 59 prisoners (who are now in the Winchester jail) retreated in good order with the loss of 2 killed and 11 wounded, none of our acquaintances. Col. Ashby with 19 men only, killed 19 of the enemy and routed the rest (they had 65 in all)...but Richard Ashby his brother was badly wounded, and has since died...Unless you have seen Gen. Johnson's report, you might hardly credit such an extraordinary victory on our side. The Sun gives Patterson's official report in which he says they defeated Johnson's whole army with a loss of 2 or 3 on their side, and 1,300 on ours...Capt. Avis acquired great credit for his bravery...Gen. Jackson commanded our troops...." Though there were no fewer than 177 Confederate soldiers named Lucas in Virginia regiments, the addressee may well be Pvt. Benjamin F. Lucas, who had enlisted in the 2nd Va. Infantry on Apr. 18, 1861 – at Halltown, Va. He was dropped from the rolls three days before Christmas, and was declared AWOL the following April. The writer is likely the daughter of noted Judge Daniel B. Lucas, "the poet of the Shenandoah Valley." Moving from Charlestown, W.V. to Richmond in 1860, he joined Gen. Wise's staff in June 1861. "He ran the blockade to Canada, leaving Richmond...in order to assist in the defense of Capt. John Yates Beall, a college friend of his youth [at University of Virginia], who was tried as a spy at Governor's Island...and executed Feb..."--Seldens of Virginia and Allied Families, p. 561. Beall's request that Gen. Roger Pryor defend him was denied. Attracting nationwide appeals to Lincoln to spare his life, the one-time soldier in the 2nd Virginia, pirate, and secret agent Beall was hung by Lt. Andrew L. Tallman, proprietor of the Cohasco Building. In 1905, Confederate Veteran magazine thanked Tallman for the kindness he had shown to his prisoners, also including Pryor. Lucas became a U.S. Sen. in the 1880s. Eccentric brown geometric toning of p. 4 (but not p. 3), possibly imparted by another sheet over a period of many decades; darkening of first few words on six lines; small fragment lacking at upper edge, affecting part of sender's first name, but otherwise very good. Intriguing. $275-350

4-12. To the Fascinating Confederate Gen. Colston.
A.L.S. of Confederate Capt. Jesse A. Clement, (3rd N.C. Vol. Regt.), "Commanding Post, Peggens [Pickens?] Creek Battery," Apr. 6, 1862, 7 3/4 x 11. To Lt. Col. Archer. "I am directed by Gen. Colston to request you to send a waggon here immediately to take the baggage to Stone house Wharf tonight." Docketed in brown and purple. Born in France, Raleigh Colston graduated V.M.I.; as Prof. there (with Stonewall Jackson), he was one of the guards at John Brown's 1859 execution. Here leading a brigade under Longstreet in the Peninsula Campaign, Colston later commanded at Chancellorsville, Petersburg, and, at war's end, Lynchburg. Later an Egyptian Army officer, he fell from a camel on an expedition. Carried by litter out of the desert, back in America, crippled and impoverished, Colston worked as a clerk and translator. Two ink drops, else fine. Material related to Colston is rare. Writer Clements' papers reside in the University of North Carolina; his home is a landmark. $140-180

4-13. "I trust that the change to Tennessee may prove a pleasant one to you all."
Letter of Confederate Maj. & Chief Q.M. Claud McGivern, "Hd. Quarters, Dept. So. Miss. & East La.," Jackson, Miss., June 30, (1862) - just four days after his appointment, 5 x 8 1/4, 1 1/4 pp. To Maj. W.E. Dyer, Q.M. "The funds I wished to transfer to you were for the service of the Army of the West, but as your Division has now been transferred to another Dept., I cannot turn any of them over to you, but will turn over what I have to the Chf. Quartermaster of the Army of the West. I regret very much that all of the stores sent did not reach you, but hope that all may yet be found. I trust that the change to Tennessee may prove a pleasant one to you all. Please remember me to Genls. McCown and Cabell." Just ten days earlier, Gen. McCown had taken command of the Army of the West; Cabell had originally been sent by Jefferson Davis from Montgomery, to organize the Confederacy's commissary and quartermaster departments. Some fold wear and toning, curious albeit indistinct black circular offset on blank page, perhaps a receiving office stamping, small fragment lacking at blank area, else about very good. Rare thus. $180-220

4-14. Alabama Legion at Big Creek Gap.
Letter of Confederate soldier "Clayton," "Camp 1st [Infantry] Battn. Ala. Legion," Big Creek Gap, Tenn., Mar. 28 (n.y. but probably 1863), 7 x 9 1/4, 1 1/2 pp. To father. "I suppose you are aware that today is my birth-day. I am 22 yrs. old. It don't seem that it has been 16 years ago since I saw Joe Trowbridge...I have become acquainted with a young Capt. Q.M. from New Orleans. He knew Aunt Eliza & Henry Parsons in N.O. He was also acquainted with Joe Trowbridge...This Capt.'s name is 'Camack,' Post Q.M., Clinton, Tenn...You will hear of stirring events from Middle & East Tenn. ere long. It is believed that Rosecrans is trying to flank Bragg and it is the intention of Gen. Johnston to let him do so and there fall in his rear. Withdraw the forces from these Gaps along Cumberland Mountains to hold old Rosecrans in check, while the Bragg's Army cuts off his supplies, reinforcements &c. And will before the last of April bag the Dutchman and his whole Concern. Things seem to look very promising and will no doubt turn out well. We leave here in a few days still direct to Big Creek Gap...We are not going into Kentucky right away. You will find out in time...Joe Wyatt will be with the Battn. before two weeks...Could you procure for me a nice Gold pen...I have a splendid Gold Pen holder. I merely want the pen...." Some pocket stains along folds, irregular left margin where writer separated blank portion of lettersheet to conserve paper, affecting no text, handling wear, else good plus. An incompletely documented unit, the Alabama Legion was also known as Hilliard's Legion. At Chickamauga, 70% of the 1st Battalion's men were either killed or wounded; it is possible that the writer was one of them. Rare thus. $225-300

4-15. Fightin' Joe – at the Waldorf.
A.L.S. of Confederate Gen. Joseph Wheeler, on gold-engraved lettersheet, "The Waldorf-Astoria, New York," Nov. 24, 1900, 4 1/4 x 6 1/2, 1 1/2 pp. To Col. Blackmor(e), Boston. "I cannot thank you enough for your kind words & the high complement you gave me. I appreciate it more than words can express...." Uniform warm cream toning, two mounting hinges on verso, else fine. Noted for his hard-hitting tactics and thrice wounded, Wheeler served again in the Spanish-American War as Maj. Gen., fighting at San Juan Hill, for a time commanding Teddy Roosevelt and his Rough Riders. Wheeler may be the first, and perhaps only former Confederate General to appear in a motion picture, playing himself in the primitive Edison silent film "Surrender of General Toral," in 1898. • With envelope in Wheeler's hand, elegant "W-A" within gold-engraved wreath on flap. Minor postal wear, else about fine. $180-220 (2 pcs.)
TO FIND OUT CURRENT HIGH BIDS,
OR TO PLACE BIDS,
JUST CALL 1-914-476-8500
OR e-MAIL info AT cohascodpc.com
(We do not currently use online bidding)
5. Black History
On a fateful day presaging Revolution,
a renowned letter of George Washington auctioning 90 slaves
- An event that would haunt him for the rest of his life -

5-1. "The Negroes, Horses, and Stock, have all sold exceeding high..."
Superb and noted Autograph Letter Signed of George Washington, its whereabouts unknown to scholars since 1986 – now rediscovered. From "Shannandoah" (Va.), Nov. 30, 1774 – a key date on the road to Revolution. 7 1/4 x 9, 2 full pp. To planter and patriot John Tayloe.
"Dear Sir,
"I was sorry to find by your favr of the 16th Instt that I was not likely to receive any assistance from you in the Sale of Colo. Mercer's Estate, and was equally concern'd at the cause of it. We closed the matter this day to the amount of £1412.0.2 which is a greater Sale than I expected, as there were only 90 instead of 110 Negroes, and a proportionate difficiency of Horses & Stock; & few or no Plantation utensils—the Land in this County (that is Frederick) sold for much less than it was valued at in the year 1767; and yet, I do not think it sold much under the intrinsic worth, as there is a good deal of exceeding poor & broken ground in it. Colo. Mercer, & the mortgagees, will, I doubt not, be a good deal surprized to find this Land valued at so much more in the year 1767 than it would sell for at this day; but there was no help for it; every thing that could be done, was done, to dispose of it to the best advantage, in attempting which, I had three Lots of the Land (by endeavouring to raise them) left upon my hands. The Negroes, Horses, and Stock, have all sold exceeding high; and we have done every thing in our powers to secure payment at the day; but yet I am far from expecting punctuallity, or even from thinking there may not be some Insolvency's, although I have taken every precaution in my power to get good Security to the respective Bonds.
"In the purchase of Bills (when Cash is receiv'd for this purpose) every precaution, no doubt, will be taken to get those which are esteem'd good, but I will never, by any Indorsation of mine, make my Estate liable to be rent & torn to pieces, if they should prove otherwise. I return, inclosed, the Letters you sent me from Colo. Mercer; & with hopes, that you are by this, perfectly recovered, I am with, best respects to Mrs Tayloe & the Family Dr Sir Yr Most Obt Hble Servt
G: Washington"
Col. George Mercer had served under Washington in the French & Indian War. Traveling to London as an agent for the Ohio Company, Mercer briefly revisited his native Virginia in 1765, "for a brief and troubled tenure as stamp officer." Returning to Europe for the rest of his life, while sharing title to the family's Virginia lands with his sons, he did not know that multiple mortgages had been taken on the properties. Washington's friend George Mason declined further involvement in representing the Mercers, and addressee John Tayloe fell ill, leaving Washington to personally conduct the auction described in this letter.
A significant item, its full text featured in the National Archives' Founders Online (founders.archives.gov), quoting from The Papers of George Washington, Colonial Series, Vol. 10, pp. 191-192, published by University Press of Virginia. The letter's first - and last - appearance on the market was at Sotheby's, N.Y., Dec. 1986, fresh from the Mercer family (catalogue pages accompany), and has been off the market for thirty years since.
The estate sold here by Washington was vast, comprising some 3,500 acres twelve miles from Leesburg, and 6,500 acres on the Shenandoah River. Encompassing "six plantations, well improved for cropping, 110 slaves, and very large and choice stocks of horses (some of the dray breed), black cattle, hogs, and sheep, which, together with the crops of corn and wheat now growing (expected to be upwards of 2000 barrels, and 5000 bushels)...Among the slaves are two good blacksmiths, two carpenters, and an exceeding trusty and skilful waggoner. The aged black cattle and grown hogs will be fattened for slaughter. Purchasers above 25 pounds will be allowed credit for 12 months..."--Washington's advertisement in Virginia Gazette (courtesy National Archives). Running ten days, Washington later estimated that the sale's proceeds were "upwards of £14,000 & was thought scarce sufficient to answer the Mortgages upon it in England & Virginia." Before he left for Boston, he sought to have Tayloe take over collection of the money owed by the buyers, but without success.
Addressee John Tayloe II was one of the wealthiest planters in Old Virginia, his servants including a band of musicians, and his grounds with its own mile-long horse racetrack, deer park, and bowling green. During the Revolution, his iron works supplied the Virginia Navy with cannonballs and pig iron. Tayloe's portrait collection is still considered one of the finest of the genre in America. His daughter married Signer Francis Lightfoot Lee, and his granddaughter, Francis Scott Key. A pivotal time in America, in July 1774 Washington had chaired the meeting adopting the Fairfax Resolves, calling for convening the First Continental Congress. In Oct., Congress adopted the Declaration of Rights and Grievances, and vowed to discontinue the slave trade after Dec. 1 – fortuitously one day after this letter.
And on the very day of this letter, Nov. 30, two events occurred, cementing Washington's place in history: one of the driving forces for independence arrived in Philadelphia from England – Thomas Paine. By Washington's own admission, it was Common Sense that dissuaded him from his "abhorrence" of independence. And on this same Nov. 30, King George III opened Parliament with a speech condemning the colonies--The Beginnings of National Politics: An Interpretive History of the Continental Congress, by Rakove. In less than a year, Washington would be appointed Commander-in-Chief of the Continental Army.
Yet long after the guns of war were silenced, the sale of which Washington here writes lingered on: Because of Virginia's loss of public records during the Revolution, and disagreements between parties on all fronts, Washington's well-intended sale of his friend's slaves in 1774 became a tortuous situation, occupying him for years. Of the Mercer saga, leading autograph dealer Paul C. Richards noted, "Washington was indeed a friend to Mercer and his estate through thick and thin. What is fascinating to note is that even at the height of the Revolution, Washington would take the time from his busy schedule to attend to the affairs brought on by the complications of settling this estate. Even when the pressures of being the Commander-in-Chief of the American Armies must have been immense...once charged with a responsibility, Washington carried through his duty until its completion. [This letter] provides excellent insight into this quality of Washington's character...[and his] sense of duty and loyalty..." (full text accompanies, 1989). Indeed, the claims of Mercer's creditors would remain unresolved at the time of Washington's death, to the end loyal to the legal and emotional complications of his friends' affairs - and slaves.
Washington's views on slavery changed during the war. "...Probably beginning with his encounters with free blacks in the course of the American Revolution, he became uncomfortably aware of the irreconcilable conflict between the public principles of the American experiment in liberty, the equality proclaimed by the Declaration of Independence and guaranteed by the Constitution, and the stark realities of human slavery. At various points during his public career he considered the prospects for gradual, legislative abolition of slavery - which appeared doubtful - and also pondered paths he himself might take, as a slave-owner, to resolve the contradiction of his own position."--H. Weincek, quoted by N. Hurrelbrinck, virginia.edu/gwpapers/slavery/inside.html. In 1794, Washington "quietly sought to sell off his western lands and lease his outlying farms in order to finance the emancipation of his slaves, but this plan fell through because enough buyers and renters could not be found. Also, Washington did not want to risk splitting the new nation apart over the slavery issue."--wikipedia. "By July 1799, when he compiled the full census of slaves at Mount Vernon, his and Martha's joint property was found to include 316 persons, at least a third of whom were evidently too young or too old to work...In his will, Washington stipulated that his slaves should be freed at Martha's death. No slave was to be sold 'under any pretext whatsoever,' older slaves and orphans were to be clothed and fed at the expense of his heirs, and younger slaves were to be taught to read and write and trained in a marketable trade...In the eyes of one scholar, Washington's will, stipulating the emancipation of all his slaves on Martha's death, constituted 'a rebuke to his family, to his class, and to the country...' 'His last legacy does serve to confirm...that George Washington stood squarely on the side of emanciption'--George Washington and Slavery: A Documentary Portrayal, Hirschfeld, p. 6."--Credit: Christie's, sale of 1799 Washington A.D.S. listing his slaves, Sale 2751, N.Y., 2013, $245,000.
Enormously attractive, in warm nutmeg brown on medium mocha toned leaf. Light wear along old folds, eccentric mottling to brown sugar, else about fine, and superb for display. Washington letters with content have been inexorably drying up. Over the last half century, many have been absorbed into institutional collections, leaving fewer and fewer on the market. It is possible that this public offering will be its last. Washington's receipts for and documents relating to slaves have emerged in the past. However, his letters with slave content are now rare and desirable. The present item further reflects his loyalty and character. Fitzpatrick, Vol. XXXVII, pp. 507-508. $32,000-40,000
5-2. King Cotton, Riverboats ... and Slaves.
Letter from planter, slaveholder, and future Confederate Captain H.M. Purifoy, Washita County, Ark., Apr. 7, 1847, 7 1/2 x 9 1/2, 1 1/2 pp. To John H. Dawson, New Orleans, hand carried "by Mr. Gulley." "I want you to advance for me $550 on my next crop...for a negro fellow...I am willing to pay 10% on the money and will obligate myself to send down my cotton at the first running of boats next fall. If you can accomodate me you will pay the money over to Mr. Gulley and take his receipt...I am willing to give a lien on as many negroes as will satisfy any man. As for my cotton, if you have not sold it I want you to sell it when you think it will be to my advantage...I ordered the cotton shipped to you and to you alone...I knew that you could tell best when to sell, as you received the news from Liverpool much oftener than I did...." Docketed "Ansd. (Apr.) 12th." 2 1/2" strip lacking from address leaf just touching few letters of docketing, but no other text; curious light blue marks, from writer's blotter, mentioned by him ("Excuse my blocked sheets as I am very weak and very nervous"), else good. As Capt. in 15th Ark. Infantry, Purifoy served in Tenn. The bearer of the letter was likely John Gulley, noted Ala. and Ark. planter, evidently related to Purifoy, and namesake of a modern family history, John Gulley Genealogy..., 1991. Antebellum material from Arkansas with both slave and cotton content is elusive. A post office named Purifoy existed as of 1904. $150-180

5-3. "Everything for Your Minstrel Show."
Scarce catalogue, profusely illustrated with blackface cartoon drawings, T.S. Denison & Co., Chicago, 1930, 4 3/4 x 7, 40 pp. Offering everything from complete orchestrations, skits, stage garb, props (30"-long imitation razor), various wigs ("Negro wig," "Fright wig," "Uncle Tom wig," etc.), minstrel posters, sheet music, window cards, advertising cuts, and more. "A Sure-Fire Laugh Carnival - Old Virginia Minstrel...featuring an Intelligence Test," showing blackface man puzzling over math questions: "1/2 of 1%? 1/10 of 2%?" Other complete shows offered include "Darktown Minstrel, in which two very dumb Endmen wrestle with the intricacies of the law and the French Language." Lengthy descriptive list of dozens of minstrel skits and scripts for sale, 30¢ each; a single script includes "a cootie monologue, darky sermon on the cause of the World War, speedy sidewalk sketch, lots of come-backs...." Large photo of Chicago radio personality, pianist, and composer Fred Rose, who "has joined the Denison group of authors" of minstrel material. A highly graphic artifact of social history. Very fine. $65-90

5-4. The New State of Deseret – and the Mormons' "negro hatred."
Two consecutive issues of anti-slavery newspaper, The Pennsylvania Freeman, published by Penna. Anti-Slavery Society, Philadelphia, Oct. 18 and 25, 1849, 13 1/4 x 21, 4 pp. ea. Period name in one margin in ink, "E. Lewis." With a wealth of passionate anti-slavery news and opinion. On page one, Oct. 18: "A New State Coming...The Mormon settlement in the Great Salt Lake Valley of Interior California, have formed a State government, elected a Representative to Congress, and petitioned for admission into the Union...Members of the legislature are required to be free white male citizens...The declaration of rights provides: 'That all men have a natural and inalienable right to worship God according to the dictates of their own consciences...' Their respect for the American basis of Republican equality, as evinced by that word 'white,' shows them to possess one important qualification for membership of this slaveholding Union, viz. negro hatred. They have chosen for their contemplated State the quaint name of the State of Deseret, which implies, according to the Mormon history...the 'Honey Bee'...." Also, lead column, "Religious Bigotry and Clerical Arrogance," describing "a scene worthy of the times of Cotton Mather...It occurred in the American Union Missionary Association, a body which seceded from the old anti-slavery Missionary Society, on professed anti-slavery grounds. Its anti-slavery...is of the 'new organization' 'anti-Garrisonian' stump...."
Fascinating chart comparing Colonization with Abolitionism; the former seeks "to remove from our community a useless and burdensome class of people...would remove 500,000 people...and give the gospel to 130 millions of degraded heathen!" Abolitionism raises the sin of slavery "above the law of the land...It claims for the descendants of the African race...an elevation to equal privileges with the white population, in all the relations of life...." Response to a clergyman who had apologized for American slavery to a French audience: "...You must be aware that the Florida war, which lasted six years, and cost the nation a vast expenditure of blood...was waged at the instance of slaveholders, for the purpose of recovering a few hundred slaves, who had taken refuge among these generous and hospitable savages... Whatever may have been the pretence for the unrighteous and costly war lately concluded between Mexico and the U. States, it would never have been waged if Mexico had not abolished slavery...The District of Columbia, which is entirely under the control of the U.S. Congress, has upon its statute books some of the most barbarous laws that can be found against the colored people...One of its enactments is that if any colored person shall be convicted of arson, he shall be hung...and the head severed from the body, and the body quartered, and each quarter put in some public place...A law in D.C., made by Congress, grants to any person that may wish for it, for...$400 per annum, the right to trade in human flesh under the very eyes of the Capitol...." Account of a slave catcher in Maryland "that we canot find language to describe... the poor negro's fear of being sold into Slavery, and their love of freedom." Frederick Douglass' description of his recent lecture tour in western New York: "...Scarcely anything remains to be combated, but open hostility, in the shape of a guilty church and pro-slavery priesthood...." "More Slaves for California - ...On board...three slaves, who are bound to Calif. with their masters...to work in the mines. There are now quite a number in Panama...." "Slave catching telegraphs" in Maryland: "The public sentiment should everywhere brand with infamy the telegraph or rail road companies...who knowingly give any aid to the men-thieves." 1 x 1" crumpled tear at left horizontal fold, with loss of parts of five lines per page; small internal tear at paragraph 2 of Mormon article; old quarter folds, average wear, else good plus. • Oct. 25: Account of Penna. Anti-Slavery Society's Annual Meeting, their Business Committee including Wm. Lloyd Garrison. Presenting one of the most philosophically detailed and conclusive defenses of freedom to be found in any contemporary source, filling over two full pages of closely set type.
"The ultimate object of this society...is the abolition of slavery in the United States...A people that can convert, as by magic, boundless tracts of forest into fertile fields, that can summon into sudden existence flourishing cities...must have some other reasons than that of inability for not putting an instant end to a system which is the product of its own creation...It has not the desire...Our enterprise is entirely a moral one. We discard all resort to physical force...The constitution of the U.S. we regard as the pillar and safeguard of slavery...If the slave escapes, it provides for his recapture...." Second issue interestingly printed on different paper, with uniform toast toning. Horizontal center fold of first leaf (only) frayed, affecting several words each side; some large tea(?) stains, light wear, else about V.G. Only one example of these issues found in Library of Congress' Chronicling America database (Cornell, in "unspecified" format). Very rare. $325-475 (2 pcs.)

5-5. "The bread that the...Negroes chiefly eat" -- Cuba, 1673.
Newspaper, The London Chronicle, July 28-30, 1763, 8 1/4 x 11 1/2, 8 pp. Front page account of Cuba: "Have been making a tour into the country, which a few leagues from hence wears a much better face than near the town [of Havana]. The sugar plantations are very beautiful...The indigo shrub grows here wild in great plenty, but is made no use of. Further back in the country they have cassada plantations...the root of which they make the bread that the Spaniards and Negroes chiefly eat. The tobacco plantations would be of infinite service to the island, had they any trade...It is almost come to nothing, as his Catholic Majesty reduced the price so low that the planters could not live. Some leagues from this town are orange woods...and their scent in an evening is so strong that it almost overcomes one...Everywhere the soil seems to call out for a more industrious hand than the Spaniard." From Charleston, news of peace between the Choctaws and Britain, "and the intended evacuation of all the French Forts on this side (of) the Mississippi...." From Hamburg, "It is hoped at the Court of Wolfenbuttel, that the Duke Antony-Ulrick of Brunswick, with his family, who have been for long prisoners in Russia, will soon be set at liberty...." Rome: "The Pope has resolved to fill up two of the vacant Hats...." From the London docks, "Thursday were entered 40,000 ounces of silver, and 500 ounces of gold coin for Flanders, i.e. Dunkirk, for the use of our Nobility and Gentry at Paris." Jailing of "Mrs. Coxen, who keeps a notorious bawdy-house in Tennis-Court...committed to Clerkenwell-Bridewell...and likewise two of the Ladies who lived in her house." Advertisement for "Manuscript Sermons...warranted Originals, and written in a fair hand...at a Guinea and a Half per Doz." Tear at blank top margin, old folds, average wear, else good plus, and highly interesting reading. An early account of Cuba. $75-100

5-6. Crusader against Slavery in Africa, America – and India.
Two items: Lengthy A.L.S. of (Sir) T(homas) F. Buxton, "54 Devonshire St.," Mar. 11, 1837, 2 pp., 7 1/4 x 8 3/4, to Rev. Dyer of Christian Instruction Society. A wealthy brewer, Buxton was one of the foremost abolitionists of his day, helping form the British and Foreign Anti-Slavery Society (1823); succeeded Wilberforce as leader of abolition movement in Parliament. Author African Slave Trade and its Remedy. "I send on the other side a copy of the letter I felt myself obliged to return to an application similar to yours. I cordially acknowledge the value and importance of your Society, but in this busy world, if good is done, it will be ...by each man keeping to his own work, & therefore must decline your proposal...." • With contemporary clerical copy of the 2-pp. letter to Dyer referred to above, Feb. 25, 1837, declining meetings as his "health suffered so much by the labours of the last session (of Parliament) that it is the decided opinion of my medical friends that I ought to resign my seat in Parliament. This I cannot do while such questions as 'The West India Apprentices,' 'The Aborigines,' 'The Slave Trade,' and 'Slavery in India' remain unsettled...." Fine foxing, else V.G. and attractive for display. By this date the abolitionist movement on both sides of the Atlantic was in high gear; it would ultimately ignite the Civil War. $125-175 (2 pcs.)

5-7. The World of a Pioneering Black Sportswriter - and Hampton Institute.
Unusual group of letters, some moderately lengthy, to John Bruen, self-educated grandson of a runaway slave, who rose to become a highly popular Orange County, N.Y. boxing and horse racing sportswriter, newspaper columnist, chronicler of the black experience, local historian, and Pres. of the Du-Rite Club, Goshen, N.Y. 1941-67. With concluding page of signed, holograph draft of letter from Bruen to The Ring: "...Make him know that you're proud of him even though his skin is colored. Too many times a worthy champion's deeds are recognized too late...I want to show this to so many of the Schmeling boosters...I can't say all this to them because they won't give me the chance, but they'll read it...Ever a Ring reader...." • From a delighted reader, 1959: "...So-o-o - that's why you handle the boxing column so well. You know the game from the ground up!...We have quite a bit in common. I wouldn't be anything but a Republican...." • Two letters, Fall 1941, from Ernestine Manuel, a student helped by the Du-Rite Club, beginning her second year at Hampton Institute in Va. "...Words cannot be found to show you how thankful I am for all that you have done. Hampton Institute is a beautiful place...I have gotten over my homesick-ness, and am getting down to some good hard studying...I like it here and will try to come through with colors." • Letter from local woman: "...Colored folks of my acquaintance are so busy with church work and trying to make a living, that they have no time to be vituperative...." • "I like best the term 'colored' - not solely because the NAACP sanctions it, but in this modern day, it is more correct. You, for instance, have a trace of Indian blood. I have also. In my case it shows only in facial structure, high cheekbones...I noted in Ebony that Jallulah refers to the Negroes in the South, and there is an article, 'The Negro in Russia.' You sure get around...to cover such greats as Ingo and Rocky [Marciano]. I recall having been at Roscoe one season when Braddock had a training camp nearby...You would get a great kick out of some of the things which have happened to me through colored friends...." • Letter (lacking close) from a white reader, Summer of 1967: "I am glad the way you feel about yours and my People (I am white) but not proud of it. What is a white skin, when underneath a person is rotten to the core? I have many Friends among your People...but acting with a hate, destroying property and looting doesn't make it any easier. I'm sure that the colored people want the Whites to fear them, as I'd like to have my people and yours being One, and live together in Peace. The preaching of Stokely Carmichael and Hubert Brown is just filling your people with deathly Poison...And with the dope, LSD and others no one knows what will happen next...." Mention of Father Divine and more. Some minor wear, else generally very good. Bruen's story is inspirational; items relating to self-help in pre-Civil Rights Act black communities are rare. Notwithstanding the large volume of mail he received over the decades, these are the only Bruen-related items we have encountered. Neither ArchiveGrid or WorldCat record anything by or about him. His life is worthy of scholarship. With his obituary. $120-150 (14 items, most with envelopes)

5-8. Reconstruction-Era Humor, entirely in Black Dialect.
Lew Simmon's [sic] Joke Book, published by A. Winch, Philadelphia, 1871. "A Collection of Original Jokes, Witty Sayings, Stump Speeches, Burlesques, &c., as related by Lew Simmons, the far-famed comedian and business manager of Simmons & Slocum's New Arch St. Opera House...Compiled and arranged by H. Angelo." 3 3/4 x 6 1/4, 72 pp., sewn, tan covers with woodcut cartoon of two blacks, one with banjo, relating a story to another holding a carpetbag, an incredulous expression on his face. "'Suppose that a man should buy a pair of chickens, at 12 1/2¢ a pound, and the chickens weighed 7 pounds and a quarter; what would they come to?' 'Was it in de morning?' 'Why, what has that to do with it?' 'A great deal, because if it was in de mornin' and my wife bought 'em, I know exactly what dey would come to...A chidken pot-pie, and a mighty sudden disappearance'...." Advertisement on inside back cover for "Negro Melodies - No. 1, The Happy Contraband," including "Raps at Folks and the Times," "Sherman's on de Track," "The Happy Darkie," and more. On outside back, lengthy offerings of other song books, including nos. 2 through 10 of "Negro Melodies," a dime each. Tear at upper left corner cover and first leaf, some handling wear and creases, some tips dogeared, several stains at bottoms of text, else internally good plus. WorldCat records no copies. Perhaps a unique survivor. $170-220

5-9. Black-Themed Chromolitho Advertising.
Folding chromolithographed storyboard, advertising Rising Sun Stove Polish, c. 1885, 3 1/2 x 5 3/4, opening to 7 x 5 3/4. On one panel, a black housewife thrusts a subpar brand of stove polish at her dismayed husband, gesturing toward the dirty stove: "No Dinner? Look yere, old man! What kind o' stove blacking you call dat? Ise been rubbin' on dat stove all morning'...." On back panel, an effusive greeting after using "de genuine Rising Sun Stove Blacking"; the stove glistens, and a delicious dinner awaits on the table. Inside, sales copy for the Canton, Mass. manufacturer, in sepia brown. "Beware of being humbugged by peddlers" with inferior polishes which "fill the house with a poisonous and sickening odor when heated...." Four hinge thin spots at blank corners on text side, not affecting two color panels on verso. Brightly colorful and V.G. $50-70

5-10. Black Dialect - for the Revolution's Centennial.
"The Bunker Hill Songster, containing National and Patriotic Songs..., (by) Murphy, Printer and Publisher, Franklin Book Store, 384 Pearl St., N.-Y.," probably the same Murphy known for his patriotic envelopes. N.d. but c. 1875, 2 3/4 x 4 1/2, 34 pp., black on variant pale yellow covers with full-size woodcut of a peg-legged veteran of the Revolution, wearing "76" three-cornered hat, waving to reader, against a theatrical curtain held by a scarecrow-like character. Woodcut ornaments. Including lengthy "The Yaller Busha Belle" in black dialect, "Liberty for Me," "The Green Mountain Boys" by William Cullen Bryant, and more. "Her face was so black, you couldn't see well...Nigger see'd her eat a pumpkin all de day, Dat she should be too dignified, I didn't care to see, Kase I'm de ansom nigger from de elbow to de knee...." Trivial cover toning, else New Old Stock and choice. $45-65

5-11. "The Funny Fruit" – and King Cotton.
Pamphlet, "California Prune Industry - History and Importance...Methods of Cultivation, Varieties, Picking, Curing, Packing, and Production," by B.M. Lelong, Ex Officio Chief Horticultural Officer (of Calif.), Sacramento, 1892. 5 3/4 x 9, 33 pp. Thirteen simple line drawings of varieties of prunes, and 4 full-page diagrams of methods of planting prune trees. Covers foxed, text uniformly toned, else very good plus. • "The Story of Cotton," by Inez N. McFee, School Classic Series, Dayton, 1912, 5 1/4 x 7 1/2, 32 pp., brown and black on cream cover. Numerous photos and drawings, including "Loading Cotton, New Orleans," blacks gathering cotton, "Baling Cotton, Memphis," cotton mill in Fall River, Mass., and others. For fourth-graders. "In the old slave days this work was done entirely by hand; today it is done by a machine...." Listing "Songs from the Old Plantation...'Old Black Joe,' 'Dixie Land'...." Some wear, else good plus. $45-60 (2 pcs.)

5-12. Lincoln's Nemesis – and a Landmark Address on Slavery.
Two items: "Speech of Hon. S.A. Douglas, of Ill., on Kansas Territorial Affairs, Delivered in the Senate," Mar. 20, 1856, 6 x 9, 18 pp., sewn. Including heated debate with fellow legislators, bitterly blaming "New England emigrant aid societies" for provoking violence on the question of slavery in Kansas. "...A movement should not be called 'revolutionary' when its origin, progress, and aim consist in nothing but revolution! It should not be called 'rebellious' when its authors...avowed their 'ultimate determination' to be rebellion! It should not be called 'insurrectionary' when its first act...proclaimed violent resistance to the laws of the Territory, even to 'a bloody issue!'...What experiment? That of settling the slavery question?...It was the 'right' and 'duty of the slaveholding States to send men to Kansas to acquire the right to vote, and thus control the elections and establish slavery in the Territory...The...consequence of the nature of the experiment was to produce violence by bringing into dangerous contact and collision inflammatory elements!...The violence of their language against domestic slavery anywhere and everywhere created apprehensions in the minds of the people of Missouri, that they also meditated a relentless warfare upon the institution of slavery...." Two years earlier, Douglas had drafted the Kansas-Nebraska Bill, leaving the slavery issue to the territories. The "Bleeding Kansas" saga played a major role in the impending Civil War. Toning, minor corner wear, else good plus. Scarce. • With pamphlet of biting anti-"Little Giant" oratory, "Judge Douglas - The Bill of Indictment - Speech by Carl Schurz," Cooper Institute, N.Y., Sept. 13, 1860, in the final stretch of one of the most fateful Presidential races in history. 5 3/4 x 9, (24) pp., (N.Y.) Tribune Tracts, No. 9. Within two months, Douglas would be defeated by Lincoln; much of the campaign - and the famous debates - focused on slavery. "What is it that entitles Judge Douglas to the high-sounding appellation, 'the champion of freedom'? (laughter)...The Judge has his Free-Soil record - what Northern Pro-Slavery man has not?...Need I remind you of the unwavering solicitude with which he defended the Border Ruffians...his foot upon the will of the people...Just so long as Slavery had a chance in Kansas, Douglas stood upon the side of Slavery...Suppose Mr. Douglas' notions had prevailed, and he had been President...clothed with the discretionary power he demanded... Put Mr. Douglas in the Presidential chair, and give him as he demands, the power of the French Emperor...." Toning, 3" clean tear at bottom of first leaf, with no loss of text, last leaf with creases and stains, else internally clean and good. WorldCat locates no copies. $90-130 (2 pcs.)

5-13. "...We are going to try a mulatto girl now. I can't abide Irish girls...."
Charming correspondence on life in rural New England. Ten letters, one July 9, 1863, balance 1866-70. From Berlin Falls, Stark, and W. Milan, N.H., Amherst, Mass., Portland, (Maine), and Leland Pond(?), Vt. Three in pencil. One 6 1/4 x 7 3/4, balance about 4 1/2 x 7; 22 pp. in all. At least some relating to Cole family. To "Friend Clara," "Dear Brother," and one to Mrs. Burlingame. From Sister Eliza, Sister Emily, A(bner) K. Cole, C.L. Cole, et al. Sister Eliza writes from Amherst - presumably the University of Mass. - in 1863: "This week is commencement & I have attended most of the Lectures. Went yesterday to Rev. Seelye from Albany; gave us a temperance, Negro, war speech. Well there, it was perfectly disgusting to me to hear him run on...while he was telling about the southern religion, suspecting the sincerity of it. He said some thought Stone Wall Jackson [sic] had gone to heaven...We hoped he had gone where we should not be troubled with him...." • Abner, a railroad agent in W. Milan, N.H., writes "Friend Clara," Dec. 29, 1866: "The weather looks a little dubious for the sleigh ride Mon. eve...The trains were very much delayed last night on account of snow...It might not be very pleasant for a sleigh ride & so you would not expect to see me over New Years Eve...I desire to spend that holy day eve in your most agreeable company...I will venture if the weather is not too ruff to...take advantage of your good graces as to come over without permission. I hope you will not at least be displeased...." • A month later, Abner pens, "I am at my writing desk in the ticket office...instead of where I most desire to be...The unpropitious state of the weather prevented it being any disappointment to you...I have before me a little image with a full round roguish looking face, bright black eyes & curling, raven tresses, but it will not speak, laugh, or acknowledge my presence...I am obliged to content myself without the 'cheery voice' whose musical tones are so very, very pleasing to me...I can fancy that this little image smiles, its eyes twinkle...no wonder...how delighted I should be to sit with the original. I wish I might be sitting in the rocking chair this eve...(I) was here in the office all night. The passenger train did not arrive til 1/4 past 3 this morning...The snow storm a week ago was terrible all along the N.E. coast...Bad iron on this road keeps them behind time every night...Saw Miss Evans...She coughed considerable. I should think she would leave the factory once (and) for all. The work is so injurious to her health...." • Woman's pencilled list of clothing purchased over one year, 1 1/2 pp., including "Morning Dress, $1.35; Hat, 2.92; Waterproof Cape, 2.30; Print & Brilliant, .60; Slippers, 1.00; Ribbons & Edging, .50; Summer Hat, .50...," totalling $82.47. • From Portland, sister writes, "...We are going to try a mulatto girl now. I can't abide Irish girls. I had experience enough in that line last winter...." • "We are keeping house making rugs... Abner, do you want 8 or 10 lbs. of Mother's Butter, such as you eat when you were up here?...Please send up a wooden pail...." • "I am going to spend this week with Sarah Robinson...Let me whisper to you that I am not anticipating a very good time. Her children are pretty enough but I don't love them much...." It seems that Clara and Abner married, as two later letters to her also send regards to him. One waterstained, one with considerable handling wrinkles, some other minor defects, others very good to fine. $160-220 (10 pcs.)

5-14. From Publisher of "The Slaveholder."
A.L.S. of H.C. Craig, "Pub(lisher) Slaveholder," Cahaba, Ala., Jan. 16, 1860, 6 1/4 x 8 1/4, 1 full p. To Jno. C. Rives (publisher of Daily Globe). "Some time ago, I inserted in The Slaveholder, the prospectus of the Daily Globe, hoping to get an exchange for so doing. I have not received it. Why so? It is nothing but just that I should get the Daily for my trouble. Will you be so kind as to send it?" Interesting all-over basketweave watermark, with intricate blind-embossed stationer's crest of crowned arms. Old pencil notation "Ed(itor?)" and "X" at bottom above writer's name, some cream toning, modest soiling at lower portion, else good. Unusual. Evidently demonstrating that The Cahaba Slave-Holder and Bulletin, or its forerunner, was being published prior to the Feb. 1860 inaugural date cited by the Library of Congress' Chronicling America database; just a single issue is recorded (at Duke). Very rare. $170-220

5-15. An Anti-Black, Anti-Lincoln Mayor in Pennsylvania Dutch Country.
Extensive Civil War-date manuscript document, "Number of drunken and disorderly persons, and Vagrants arrested, examined and committed by the Officers of the City of Lancaster (Pa.)...," May 4-July 30, 1864, 8 x 12 1/2, 7 pp., bound with brass grommets in goldenrod file wrapper, signed by controversial Mayor George Sanderson at conclusion. Listing over 150 individuals - many women - with date of their offense, sentence, legal fee per case (between 43¢ and 86¢, the lower range if discharged, higher if committed), and Commissioner to be paid. The Mayor generally received a cut on each case, between 40¢ and 68¢. "...Maria Green, Disorderly conduct, Committed...Mary Jane Selvert, (same)...John McCarty, drunk & dis., Com(mitted) for 20 Days...Squire, Vagrancy, Committed...." Check attached, "Military Fund," Commissioner's Office, Lancaster, Aug. 1, 1864, to Sanderson, for "Mayor & Constable fees in vagrant cases," bearing nine signatures of Lancaster Commissioners and clerks; woodcut of dog holding key, guarding safe. Highly interesting social history, with many Irish and some German names. Original folds, else very fine. An interesting character, Sanderson has been described as a "borderline peace Democrat...(with) a bitter conservatism on matters of race that apparently played well with Lancaster City's German and Irish...A direct and severe stance against the equality of African-Americans dominates many of Sanderson's speeches and editorials. Republicans especially loathed Sanderson for his fierce criticism of Lincoln and the war effort..."--LancasterAtWar.com. $120-150

5-16. The Marriage of Blacks Frank and Easter – with Judaic Association – and a Twist.
Unusual partly printed marriage certificate for two free blacks, Talbot County, Georgia, Aug. 22/23, 1867, 8 1/4 x 10 1/2. "To any ordained Minister of the Gospel, Jewish Minister, Judge, Justice...You are hereby authorized to join Frank Heath, a freedman, and Easter Murphy, a freedwoman, in the Holy State of Matrimony...." Signed by Marion Bethune, "Ordinary [Court]." Their names, with "freedman" and "freedwoman," repeated in lower portion, in hand of Justice of the Peace. "Printed at Office of the West Georgia Gazette, Talbotton, Ga." Ornate paisley border. On tissue, probably in the interest of post-Civil War economy, fine creases, some edge tears and ink erosion, else very satisfactory, and a conversation piece. In view of the rural Southern composition of this legal form, the inclusion of "Jewish Minister" is unusual. Though there were a number of Jews in the South spanning the war years, the number of "Jewish Ministers" (i.e. rabbis) in Reconstruction Georgia was very tiny indeed. Signer Bethune is among the rarified ranks for the briefest term in Congressional history: he was Representative for a nine-week period in 1870-71, before returning to Georgia, living til 1895. Bethune was also "a member of the Constitutional Convention of Georgia at the time of repeal of the ordinance of secession"--Congressional Record, Vol. 132, 1991 (modern reference accompanies). $160-200

5-17. Man, Woman and Child Slaves.
Manuscript "Inventory of the sale of the Negros and land belonging to the Estate of George Powell...Thomaston (Ga.)," "first Tues. in Jan. 1860," 5 x 7 1/2, on water-blue. "Nepton [Neptune?], about 46 years old, sold to William Stephens, $1406.00; Har(r)iet & Child Mark, to F.F. Mathews, $1630.00; The land, 100 acres more or less, to Jas. G. Whatling, $606.00." It is possible that the three slaves were a family, broken up upon sale. Docketed twice by Wm. A. Cobb, "Ordinary [Court]." An Indian fighter in Florida in 1836, Cobb is described as a "small country merchant" in The Roots of Southern Populism: Yeoman Farmers and the Transformation of the Georgia Upcountry, 1850-90 (Oxford University Press), and was an antebellum founder of Thomaston Railroad (modern citations accompany). Some fraying at blank left edge, else very good, and suitable for display. $110-140

5-18. A Woman Born Free.
Manuscript "Affidavit of Sampson DeLashmutt," Frederick County, Md., Apr. 20, 1832, 6 1/2 x 8, attesting that "Tenacy Hardman was Born Free, that she was the Daughter of George Gowens and Lucy Goings, that Lucy was a free Woman. Tenacy Hardman is a mulatto Woman about 36 years of age, 5 ft. 2 or 3 in. high...Born in the Neighborhood of Trammels Town where she continues to live." Signed by Daniel Duvall, Justice of the Peace. Toning at top and bottom horizontal folds and right edge, 1" tear at top, minor wear, else very good. $110-140

5-19. A Slave in Revolutionary War Connecticut - Captured aboard a British Privateer.
Rare manuscript "bill of sail" for "Negro wench" Jin, Jan. 20, 1781, signed by (Capt.) Saml. Lockwood of Greenwich, Conn. Sold to Smith Weed of Stamford, for "£30 Connecticut Money." Witnessed by Oliver Ferris and John Hait, Jr. 8 1/4 x 9 1/2. "...Unto the s(ai)d Smith Weed and to his heirs & assigns forever a Negro Girl named Jin...Captured on board an Armed Vessel Commanded by Capt. Ketchum in June 1780 and Legally Condemned by the Maritime Court of sd. County...I the sd. Saml. Lockwood do...Defend the sd. Negro Girl to him...against all Claims & Demands whatsoever...." Modest stains, toning, and ink erosion, else very good, and suited for display, the caramel ink on rich cream paper attractive.
From personal collection of Alton Ketchum, celebrated advertising copywriter and creative director, author (biographer of Uncle Sam), collector, antiquarian, scholar, Presidential speechwriter – and, living in an old house built by one of Capt. Lockwood's soldiers, apparent descendant of this document's Capt. Ketchum. With folder containing 15 pp. of Alton Ketchum's manuscript research notes, typewritten working draft, and issue of Greenwich Historical Society Newsletter, 1980, containing the finished article on this fascinating document; excerpt follows:
"...Slaves in Greenwich and Stamford? That was enough of a stopper...The ship in which Jin was traveling when captured was the British privateer St. Andrew, mounting six guns, Isaac Ketchum, Master. It was taken on the Sound by Capt. Ebenezer Jones of Stamford...commander of the armed boats Greenwich and Spitfire. One can be sure that the St. Andrew did not strike the Union Jack to the whaleboats without a struggle and the burning of much gunpowder...Who was Samuel Lockwood, and how did he get into the picture?...In 1775 he answered the Lexington alarm...In Oct. 1779... Lockwood...with about 50 men, (is) recorded as 'plundering the Greenwich tories property worth 20,000 pounds'... Apparently Capt. Lockwood took a flyer at whale-boating himself, which may be how Jin happened to become his property...What of Smith Weed?...engaged in the service of military supply...His tally included over 180,000 rations, as well as large amounts of wheat and rye flour. In such an operation there would have been plenty of work for a bright, pert slave girl like Jin. What happened to her? Did she marry and somehow buy her freedom? Many did. Or perhaps did Smith Weed give her a writ of manumission after the war, in recognition of her services for the cause of independence?...A slave would hardly have been traveling alone. Chances are she was a lady's maid...Could her owner have been killed...during those desperate moments when the Yankee tars ran alongside the St. Andrew and poured over the bulwarks, yelling, firing small arms and swinging their cutlasses?..."
Witness (Capt. and Q.M.) Oliver Ferris, "did good service in the Conn. Militia, and after the Revolution came over to Tarrytown and purchased the historic Maj. Jacob Van Tassel place...." Ferris' son sold the 10-acre property to Washington Irving--Souvenir of the Revolutionary Soldiers' Monument Dedication, at Tarrytown..., 1894. Witness John Hait, Jr. fought in Col. Waterbury's Regt. in 1776. And Lockwood, seller of Jin, appears in the modern work, Abductions in the American Revolution: Attempts to Kidnap George Washington, Benedict Arnold and Other Military and Civilian Leaders, by Christian McBurney. It appears Alton Ketchum was on the right track! A fascinating item. $450-600 (with file of scholarship, published article, plus modern research)

5-20. "A Bark having on board 25 Italian slaves..." – and 40 Tons of Gold.
Group of seven consecutive issues of the world's oldest continuously published newspaper, The London Gazette, June 16-July 11, 1670, during the reign of the Merry Monarch, Charles II. 7 x 11, 2 pp. ea. Filled with the fury of battle and intrigue throughout much of Europe; it nearly seems that everyone was at war with someone. Including: Arrival in London of the ship Olive Branch, "richly laden from Smirna...Five other English ships from Puglia laden with Oyls"; in Genoa, "a Bark having on board 25 Italian slaves, which about three months before made their escape from Argior, and have since been wand(e)ring up and down the sea with various fortune." "...The posture of the Turks, Tartars, and others of their neighbors made it necessary to enter into some strict alliance with some potent Princes...many Letters in Cypher being lately intercepted...." "The Squadron of Corsairs which were Cruising in the Seas...are gone for Tripoli...for the security of our Trade." "The Countess of Ossory...attended into this City [Dublin] by a Train of above 60 Coaches, most of them with Six Horses, and about 200 Gentlemen on Horseback... where she received the Compliments of all the great persons of the Town." "His Excellency being informed of several violences, murders and robberies..." offering a reward of £20 for each "brought into the Sheriff where he shall be killed." In Poland, "the Gentry and Nobility of every Palatinate and Circle are to appear in Arms...for their Rendezvous under pain of death...From Ukrania they find that the Cossacks are not like(ly) to accept of the Treaty offered them by the Poles...." "The forces employed by the East India Co...have...taken prisoners four of the little Kings, his confederates, with a great booty, to the value of 40 Tuns [sic] of Gold...The Arabians had taken four Portuguese ships richly laden...." "Gen. Spork had intelligence of 5,000 Hungarian Horse which were in the Field with an intention ...The Diet at Ratisbonne [in Bavaria] is...considering how to regulate Coins...." In Madrid, "His Catholick Majesty has recovered his health...to the great joy of this whole City and Kingdom. Several of the Grands...came this night in Mascarade to the Palace, with Torches in their hands...." In Rome, "The Pope caused the usual distribution of Moneys amongst the people, but the scramble proved somewhat Tragical to the people, two of them being killed...The people are in great apprehension of a new Impost upon Wax and Salt, which causes no small murmurings amongst them...." In Paris, "His Majesty has ordered a considerable force...amongst others, two Companies of his Musqueteers...." Much, much more. Soft horizontal fold predating old binding stitches, occasional minor toning or stains, else crisp and very good to fine. $140-180 (7 pcs.)

5-21. Founder of seven Colored Regiments.
A.L.S. of Union Gen. William Birney, on his law office letterhead, Louisiana Ave., Washington, Oct. 29, 1890, 5 3/4 x 9 1/2, 1 full p. To "My dear General." "I have not heard of Col. Fellows since the war...I recommended Holman for Col. of the 1st U.S.C.T., raised by me...for convenience of enlistments and to enable me to resign my New Jersey appt., I was commissioned Col. of the 2d. My duties as Supt. of recruiting, mustering, and equipping Colored Troops absorbed my time and I had a nominal connection only with the 2d. You will find in Belford's Magazine of some 18 months ago a full account of the formation of the Colored regiments in Washn. and Maryland...." Some edge wear and handling creases, several at signature area, 1/4 x 3/4" fragment at blank top remounted with old tape on verso, else good plus, and suitable for display. An avid Alabama-plantation-born abolitionist, Birney was named one of the three superintendents in charge of enlisting black troops. He raised and sent to the field seven colored regiments. As the sun set on the South, Birney, leading a division of colored troops, pursued Robert E. Lee on the road to Appomattox. $200-250

5-22. Organizer of Black Troops.
Endorsement Signed of Adjt. Gen. L(orenzo) Thomas, on verso of letter to him from Penna. Congressman James T. Hale, Harrisburg, (Pa.), Mar. 12, 1863, 5 x 8, 2 of 4 pp. written in all; displayable when opened. "...the case of Lt. Henry L. Beck of 13th U.S. Infantry. He was appointed 2d Lt. on 26 Nov. last year but from some oversight I presume his name was not sent to the Senate for confirmation. As he is a brave & gallant soldier, faithfully serving his cause, I trust the mistake will be duly corrected...." On verso, "Respectfully returned to Hon. Mr. Hale, who is informed that Lt. Beck was confirmed...He is in error in supposing the nomination was not made...." In clerical hand, then signed by Thomas. Evidently once separated at spine, reinforced with white strip to tip in letter-book; two horizontal folds reinforced with old strips of glassine tape, else good plus. The following year, Thomas was stripped of his title of Adjt., some say for calling Sherman insane; in retribution, he was sent South, to organize black troops. Playing a key role in Andrew Johnson's Reconstruction drama, it was Thomas who precipated the impeachment: he personally delivered the President's notice of dismissal to Stanton. Stanton refused to vacate his office, and had Thomas arrested. $100-140

5-23. "Slave Dance" – and "Truffled Mousse of Gooseliver."
Delightful collection of seven colorful menus and programs from Holland-America Line's celebrated S.S. Rotterdam, Aug.-Sept. 1936, South America and West Indies cruise, 3 1/2 x 5 to 5 1/4 x 8, 4 pp. ea., on cream vellum cardstock. Including: three deck luncheon menus. • "Jockey Club" program, including "Turtles' Speed Race - Our guests in the front rows are kindly requested to remain seated during the Turtle Races." Cartoon drawing of a turtle crossing finish line on a gridiron mat. • Revue program, 11 P.M. show, the Rotterdam Orchestra showcasing acrobatic dance, a songstress from New York radio station WOR, soft shoe, opera, a tenor from Hollywood's Trocadero, "specialty" by Paul Bartels of Radio City Music Hall, "a few minutes with Arthur Lloyd, International Entertainer," and more. • Gala Farewell Show, including "Slave Dance, Jeanne Gordon of Chez Paris, Chicago." • Farewell Dinner menu, a feast including "Truffled Mousse of Gooseliver in Jelly," "Fried Marinated Calf's-brains à l'Orly," "Coupe Fantaisie" Ice Cream, and Farewell Cake. Vacationer possibly E.M. Lytle, Washington. Old white label strip hinge on blank versos, one program with very soft half crease, else excellent, the graphics highly attractive. A lost world; the ship, built in 1908, was scrapped in 1940. $65-90 (7 pcs.)
TO FIND OUT CURRENT HIGH BIDS,
OR TO PLACE BIDS,
JUST CALL 1-914-476-8500
OR e-MAIL info AT cohascodpc.com
(We do not currently use online bidding)
6. Civil War Autographs
From a Major Collection of Confederate & Union Signatures
– Part II, "C-D" –
Between the 1890s to 1920s, William M. Shaw, a Sherman, Texas merchant,
formed a collection of autographs of Civil War Generals. In many cases,
despite the paucity of autograph dealers in those early days,
he was successful in locating examples of officers killed in action.
For others, he sought their signatures by mail. Shaw precisely mounted each item on a rigid white
linen-embossed card, 3 1/2 x 5, usually with a typewritten biography mounted on verso.
Some cards are toned; the signatures are almost invariably unaffected.
Such magnificent collections seldom come to market at this late date;
whether you are beginning a collection, or filling in names,
the Shaw Collection represents a special opportunity.
Letter of provenance accompanies each Shaw item.
A small number of names were lacking in Shaw,
and added from another old collection in the 1970s.

6-1. Geo. Cadwalader.
Of Pa. Union Maj. Gen. - one of the few holding this rank since the Mexican War. Commanding Baltimore during its May 1861 revolt, he was second in command in the advance into the Shenandoah. A founder and Commander-in-Chief of Military Order of the Loyal Legion of the U.S. Close of a document, with "Maj. Gen., Comd'g. Dept." and "Philadelphia, May 23, 1865" in two other hands. Mounted on cream Strathmore, some toning, one old horizontal fold, else about very good. Lacking in Shaw, and added from another old collection in 1970s. $60-85

6-2. John C. Caldwell.
Of Vt. Union Maj. Gen. Though he had no military experience, his rapid ascension to Brig. Gen. has been attributed to his demeanor as a recent school principal. First fighting in the 11th Maine, he "fought in every action of Army of the Potomac from its organization until Grant took command in 1864"--Boatner. Often controversial, wounded at Antietam, and twice at Fredericksburg, it was at Gettysburg that he made history. Caldwell "conducted the largest Union assault of the three-day battle," later serving in the honor guard for Lincoln's funeral train. In deepest purple, with "Maj. Gen. U.S. Vols." in his hand. Mount toned, trivial superficial crease at blank upper right, perhaps from postal handling c. 1905, else fine. $65-90

6-3. Lewis D. Campbell.
Of Ohio. Union Col., 69th Ohio Infantry. Congressman, serving under Whig, Republican, Know Nothing, Free Soiler, and Democrat banners - at different times. His 1854 abolitionist filibuster, with its anti-Southern invective, led to weapons being brandished on the floor of the House. His 1856 election, won by a 19-vote margin, was contested by none other than Clement Vallandigham, who unseated him. Minister to Mexico during reign of Emperor Maximilian. On leaf from pocket-size autograph book, older collector's pencil notations at blank left, slight smudge by Campbell's hand on last letter of "Ohio," else very fine. Lacking in Shaw, and added from another old collection in 1970s. Unlisted in Boatner and Seagrave. $50-75

6-4. Ed(ward) R.S. Canby.
Of Ky. Union Maj. Gen. Boasting an unusual Civil War resume, one month after Fort Sumter, Canby "commanded the Dept. of New Mexico, holding that territory for the Union and preventing a Confederate invasion of California..."--Boatner. "Commanding Gen. of the city and harbor of N.Y." in aftermath of the Draft Riots, he was later severely wounded by guerrillas in Miss. With one of the most geographically and administratively varied careers during the Civil War, it was Canby who accepted surrender of the last Confederate force, Gen. Edmund Kirby Smith's Trans-Miss. Dept., at Galveston, June 2, 1865. In 1874, Canby was murdered by Modoc Indians while unarmed, attempting to negotiate a peace treaty, becoming the only Gen. slain during the Indian Wars. In olive brown, with "M.G. Vols." also in his hand. Two ink spots at edge of blank mount, light toning, else about fine. $110-140

6-5. Ellison Capers.
Of S.C. Confederate Brig. Gen. Math teacher-turned-Major upon bombardment of Fort Sumter, Capers was later wounded at Jackson, and led at Chickamauga and Franklin. Capers Hall at The Citadel named for him. In rich brown, "Lt. Col. & Col. 24th S.C.V. / Brig. Genl. C.S. Army," with flourish. On verso, also in his hand, he lists his wounds: "Wounded: Jackson, Miss., May 14, 1863; Chickamauga, Ga., Sept. 20, (18)63; Franklin, Tenn., Nov. 30, (18)64." Dated in pencil in another hand Dec. 14, 1899. Card toned to honey, else very fine, appealing, and unusual. Not mounted, as are many other Shaw items, but possibly from his collection. $275-350

6-6. E(ugene) A. Carr.
Of N.Y. Union Maj. Gen. Severely wounded as an Indian fighter, and three times more at Pea Ridge, Carr refused to leave the battlefield, bandaged while astride his horse, for which he received the Medal of Honor. "Continuing in the Regular Army, he fought in the...Cavalry from 1868-91, with such success against the Cheyennes, Sioux, and Apaches that he is chiefly remembered today as one of the great Indian fighters. His Indian opponents called him 'War Eagle.'"--Boatner. Carr's military nickname was "The Black-Bearded Cossack"! In his hand, "Washington, D.C., Mch. 27, (18)93, I am yours, most truly...B(vt.) M(aj.) G(en.) U.S.A." Mount toned, else very fine. $80-110

6-7. Joseph B. Carr.
Of N.Y. Union Maj. Gen. Leading at 2nd Bull Run, his brigade "bore the brunt of the second day's fighting at Gettysburg"--Boatner. Wounded and distinguished for gallantry there, he and his men "stubbornly held their ground near the Peach Orchard"--wikipedia. Because of procedural difficulties with his appointment, Carr was actually junior to his own subordinate commanders. In jet black also in his hand, "Major Genl., Dec. 4, 1890." Mount toned, else very fine. $70-100

6-8. Julian S. Carr.
Of N.C. Confederate "High-Pvt." in the storied Hampton's Cavalry Corps, soon under Jeb Stuart - though honorifically known later in life as "Gen. Carr," for his support of veterans affairs. Important and controversial Southern businessman, his tobacco firm known worldwide for its Bull Durham trademark. "An outspoken white supremacist, who boasted that he 'horse-whipped a Negro wench...for having publicly insulted...a Southern lady' 100 yards from the site of a monument to Confederate soldiers" on the UNC campus--wikipedia and Time, Feb. 6, 2015. A founder of Duke University, gifting land for their campus, 1900 Vice Pres. nominee, and major financial backer of Sun Yat-Sen's Chinese Revolution. An exceptionally odd signature, on verso of his steel-engraved card, Durham, N.C. Old pencil notes on verso, else excellent. Lacking in Shaw, and added from another old collection in 1970s. Very scarce. $110-140

6-9. John C. Carter.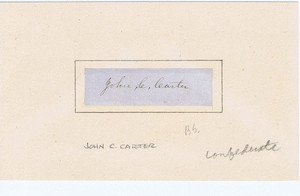 Of Ga. Confederate Brig. Gen. A major rarity, killed at age 26. Rising rapidly in the Confederate Army, Carter led the 38th Tenn. at Shiloh, Chickamauga, and Chattanooga. Given temporary command of Cheatham's Division at Jonesboro, he was mortally wounded leading a brigade at the bloody Battle of Franklin, Tenn. In warm brown, on powder blue, 3/4 x 2 1/4, evidently clipped from a letter. Wide margins, inlaid long ago on larger sand felt-finish card, some biographical notes neatly pencilled in lower portion and verso of card, else fine. "A very rare signature"--Autographs of the Confederacy, Reese, published by Cohasco, 1981; and Seagrave, 1994. The only example we recall handling in at least fifty years. Lacking in Shaw, and added from another old collection in 1970s. $2200-3200

6-10. Thos. W. Carwile.
Of S.C. Confederate Infantry Capt. On ivory card, "Capt., Co. D, 14(th) S.C.V. / C.S.A." Promoted in one day from Private to Capt., for his gallantry at the Battle of Frayser's Farm: "...To carry the flag in that hail of bullets meant almost certain death...Carwile...stepped forward and grasped the flag. A headlong charge was made with Carwile in the lead...and the battle won...One of the first to assist in organizing the U.C.V....the Gen. commanding the Palmetto Div..."--obituary in Confederate Veteran. One foxing spot in center, else very fine. With modern copy of photo as "[U.C.V.] Gen." $70-100

6-11. Silas Casey.
Of R.I. Union Maj. Gen. Casey's contribution to the Union victory was arguably as important as Grant's and Sherman's: his three-volume Infantry Tactics for the Instruction, Exercise, and Manœuvers of the Soldier... - popularly known as Casey's Tactics - was used to train thousands during the Civil War and beyond. Ironically, despite serving continuously since the 1850s, and adoption of his manual in 1862 by the War Dept., Casey saw major action in just one clash, at Fair Oaks, where he was "severely engaged." From 1863 onward, he headed a board evaluating white officers for command of black troops. In these war years he also wrote Infantry Tactics for Colored Troops. In a spidery hand, in rich brown. Light mount toning and glue stain, else very fine. $65-85

6-12. Jas. R. Chalmers.
Of Va. Confederate Brig. Gen. A States Rights Democrat at Secession Convention of Miss., Chalmers led at Shiloh, wounded at Stones River, commanded District of Miss. and Eastern Ark. Fighting in Franklin and Nashville campaign, by Feb. 1865 he took command of all cavalry in Miss. and West Tenn., surrendering as commander of the 1st Div. of Forrest's renowned Cavalry Corps. A Reconstruction Congressman from Miss., he was embroiled in disputes over his right to be seated – three times. Also in his hand, "Friars Point, Miss." Very light mount toning, else about V.F. $170-220

6-13. J(acob) P. Chamberlain.
Of N.Y. Congressman, 1861-63. A Bucktail Democrat turned Whig, then joining the Republicans in its earliest period. A leading light of Seneca Falls, he was one of the signers - with Frederick Douglass - of the Declaration of Rights and Sentiments at the historic 1848 Seneca Falls Convention, calling for equality for women. Headed by Elizabeth Cady Stanton, and modeled on the Declaration of Independence, Chamberlain was one of just 32 men to sign. He may have been the man most closely linked to Stanton and her family: they were neighbors. A local newspaper termed the women's rights declaration "the most shocking and unnatural event ever recorded in the history of womanity." From close of letter, "Sir, I am Yours Truly...," 1 3/4 x 4 1/2, curiously mounted on period wrapper, "Rebellion" in contemporary pencil at side. Some edge glue stains, else about fine. Lacking in Shaw, and added from another old collection in 1970s. Scarce. Chamberlain is prominently recognized by the National Park Service's Women's Rights National Historical Park. $60-80

6-14. J(oshua) L. Chamberlain.
Of Maine. Union Maj. Gen. Medal of Honor recipient for Little Round Top at Gettysburg. Wounded so grievously before Petersburg that his death was actually reported in some newspapers, Chamberlain not only recovered, but continued to defy danger. While commanding Union troops at the procession of Lee's infantry surrendering at Appomattox, Chamberlain initiated one of the most dramatic scenes of the Civil War, by ordering his men to come to attention, out of respect for the capitulating Confederacy. Superior signature, from a letter, "Yours truly...," in olive-brown on blue-lined cream. Light uniform marginal toning of mount, else choice. $550-750

6-15. B(enjamin) F(ranklin) Cheatham.
Of Tenn. Confederate Maj. Gen. Descended from the founder of Nashville, Cheatham went West in '49 for the Gold Rush. Corps commander at Franklin and Nashville, he was wounded at Shiloh, and again at the Battle of Ezra Church. On blue-lined white slip, with "Maj. Genl. C.S.A." in his hand. Minor ripples from old mounting on buff, else very fine. With printed photograph from an old book, trimmed and mounted by Shaw on larger card. $250-325 (2 pcs.)

6-16. N(orton) P. Chipman.
Of Iowa. Union Brig. Gen. and Congressman. Served in 2nd Iowa, "nearly mortally wounded and carried off the battlefield, leading his commanders to report him as dead at the Battle of Fort Donelson"--Baltimore Sun, Mar. 31, 1871. Working under Stanton, Chipman prosecuted Henry Wirz, culminating in his 1865 hanging. Author of The Tragedy of Andersonville: Trial of Capt. Henry Wirz, 1911. Declared very first Decoration Day, 1868, as Adjt. Gen. of G.A.R.; funded completion of Washington Monument. Close of an A.L.S., with portions of five lines on verso, "...failed me...." Old vertical fold, else very good plus. Lacking in Shaw, and added from another old collection in 1970s. In 1970's Emmy Award-winning movie, The Andersonville Trial, Chipman was played by William Shatner. $45-65

6-17. T.J. Churchill.
Of Ky. Confederate Maj. Gen. Captured in the Mexican War, in 1st Kentucky Mounted Rifles. Leading in 1862 at Wilson's Creek, his surprise attack led to naming of a ravine as Churchill's Draw. Later forced to surrender when, without his knowledge, some of his men raised the white flag. Promoted to Maj. Gen. less than a month before Appomattox, Churchill followed Kirby Smith to Texas to make a last stand, unwillingly surrendering there. Postwar Gov. of Ark., credited with standardizing the pronounciation of his state (and repaying missing funds from the treasury!). "Compliments of Maj. Gen. T.J. Churchill / C.S.A." Smudge of an ink drop by his hand, on florid last letter of "C.S.A.," mount toned, else very fine. $120-150

6-18. John B. Clark (Sr.).
Of Mo. Confederate Brig. Gen. in Mo. State Guard. Antebellum addressee of Governor's infamous Extermination Order, that Mormons be "exterminated, or driven from the state." Believed the only U.S. Congressman who fought in a Civil War battle – against the Union – while in office. In July 1861, Clark himself was expelled - from Congress - becoming Sen. and Rep. in the First and Second Confederate Congresses, respectively. "Fayette, Mo." in his hand. Light card edge toning, else about very fine. Obscure and rare. $130-160

6-19. T(homas) L. Clingman.
Of N.C. Confederate Brig. Gen. Member both U.S. and Confederate Congress, as antebellum Sen. from N.C., upon outbreak of the war Clingman refused to relinquish his seat, expelled in absentia. Commanding his eponymous Brigade, he was wounded at Cold Harbor, and severely at Weldon Railroad, recuperating just days before the Confederate surrender at Greensboro. Some dust-toning at blank right edge of card, else bold and excellent. $120-150

6-20. Howell Cobb.
Of Ga. Confederate Maj. Gen. An antebellum Gov. of Ga. and Whig Congressman, Cobb "was an outspoken foe of sectionalism and urged loyalty to the Union and compromise in the slavery situation"--Boatner. Sec. of Treasury under Buchanan. After Lincoln's inauguration, however, Cobb advocated secession, becoming Chairman of the Montgomery Convention. "Athens, Ga." also in his bold hand. Some mottled glue toning, else fine. With printed photograph from an old book, trimmed and mounted by Shaw on matching card. $80-110 (2 pcs.)

6-21. John Cochrane.
Of N.Y. Union Brig. Gen. Prewar Congressman; commanding 1st U.S. Chasseurs in Peninsular Campaign; fought at Fredericksburg, Antietam, and Williamsburg, resigning in 1863, some say as fallout from his maneuverings to remove Burnside. Chairman of 1864 Cleveland convention which nominated him for Vice President on Frémont's Radical Republican ticket; Attorney Gen. of N.Y. in late Civil War. With "N.Y.C." in his hand. Light marginal dust toning of mount, else excellent. Scarce. $45-60

6-22. Philip St. Geo. Cocke.
Of Va. Confederate Brig. Gen. A West Pointer and supporter of V.M.I., Cocke resigned the Army in 1834 to manage his seven plantations. A week after Fort Sumter, he was commissioned Brig. Gen. in Virginia's army, commanding the military district along the Potomac until mustered into the C.S.A., as Col. Leading at 1st Bull Run, Cocke was appointed Confederate Brig. Gen. on Oct. 21, 1861. Returning home "shattered in mind and body," he committing suicide the day after Christmas 1861. Close of an early war-date letter, apparently closely dateable between Apr. 21 and May 8, 1861. "I remain dear Sir, Very respy., Yr. obt. s(ervan)t...Brig. Genl. Comdg., Potomac Dept." 2 x 4, boldly penned in reddish brown on thin letter-book paper, with impression of text from facing page (not present) in his hand. Mounted on old slip, else about very good. "An extremely rare signature"--Autographs of the Confederacy, Reese, published by Cohasco, 1981. $500-750 (illus. left)

6-23. F(rancis) M(arion) Cockrell.
Of Mo. Confederate Brig. Gen. Fighting from Carthage, Mo. to Vicksburg, Cockrell led in the Atlanta campaign, in all wounded five times – and captured thrice! Noted in Battles of Big Black River Bridge and Champion Hill; captured Apr. 9, 1865. "His brigade was considered one of the finest on either side..."--wikipedia. Four-term postwar U.S. Senator from Mo., ironically succeeding Union Gen. Carl Schurz. U.S. Commissioner to reestablish boundary line between Texas and New Mexico. At the 1904 Democratic Convention, Cockrell received 34 votes in balloting for Presidential candidate. Card toned to amber, mounted signature bold and very fine. $110-140

6-24. W(illiam) Cogswell.
Of Mass. Union Brig. Gen. Went to sea "before the mast" while in his teens, returning to land to command in the Civil War, his role uniquely historic: "On Apr. 19, 1861, word reached Salem (Mass.) that the 6th Mass. had been attacked in Baltimore while on its way to defend Washington. Cogswell turned his (law) office into a recruiting station and in twenty-fours hours raised a full company, the first company in the country recruited for the war. This became Co. C of the 2nd Mass. Volunteers, with Cogswell as Captain in command"--wikipedia. In an historical long shot of the most remote order of probability, Cogswell also fought at Bentonville, the last battle of the Civil War. (Though several battles are anointed the "last" of the Civil War, it may be said that Bentonville was the last "major" battle, as opposed to a skirmish, in which the Confederates were able to mount a tactical offensive.) From close of an A.L.S., "I have the honor to be...Bvt. Bg. Gen." Mount uniformly toned, else very fine. Uncommon. $100-120

6-25. Geo(rge) E. Cole.
Of Washington Territory. A Gold Rush Forty-Niner; instrumental in establishment of Washington Terr., and its sole Civil War delegate to Congress, 1863-65; Gov. 1866-67. In his hand, "Walla Walla, W.T." On ivory card. Excellent. Lacking in Shaw, and added from another old collection in 1970s. $35-45

6-26. Schuyler Colfax.
Of Indiana. Speaker of the House, later Grant's Vice Pres. Pair of signatures, one as Speaker of the House (1863-69), the other "Vice President." "In 1865, Colfax [et al]...set out across the Western territories from Mississippi to the California coast to record their experiences in the new land. They compiled their observations in a book called Our New West, published in 1869... thus making Colfax a published author the same year he was inaugurated [as Vice Pres.]..."--wikipedia. Embroiled in the Credit Mobilier scandal, Colfax's political career ended abruptly. In mahogany brown on white slip, "Yours Resp(ectfull)y...Speaker H(ouse of) R(epresentatives) U.S." Slight smudge by his hand at "ax" and two letters of title, two mounting traces on verso, not detectable from front, else excellent. • In sepia brown on pale mocha card, "...Vice President." Band of dust toning at blank left margin, else fine. A serendipitous pair, for the completist. $180-240 (2 pcs.)

6-27. Charles H.T. Collis.
Irish-born Union Maj. Gen. Raised his eponymous company of black troops, Zouaves d'Afrique. Received Medal of Honor for Fredericksburg, wounded at Chancellorsville, commanded at Siege of Petersburg. Also in his hand, "Bvt. Maj. Genl. Vols." Pleasing mount edge toning, else excellent and highly attractive. $75-100

6-28. Alfred H. Colquitt.
Of Ga. Confederate Maj. Gen. Prewar Congressman and "extreme states-rights Democrat" (Boatner), delegate to Ga. Secession Convention. Commanding 6th Ga. at Williamsburg, Colquitt led his by-named brigade - under Stonewall Jackson - at Antietam, Fredericksburg, Chancellorsville, and the siege of Petersburg. Successfully defended Florida against Union invasion; postwar Ga. Gov. and Sen. Also in his hand, "Gov. of Geo. / Aug. 22/(18)79." Crease across blank mount, perhaps from box lid, uniform eggshell-cream toning, else about fine. $130-170

6-29. Roscoe Conkling.
Of N.Y. Civil War era Congressman, known for his eloquence - and for declining appointments of two Presidents as Associate and Chief Justice to the Supreme Court. Helped draft 14th and 15th Amendments, and leader of the movement for Grant's third term. A Radical Republican promoting equal rights for ex-slaves, Conkling was an early Presidential contender in 1876. Curious signature in an unusual shade of Concord grape, so watery that it appears faded but judged appearing nearly thusly when written, and otherwise very fine. On eggshell card. Lacking in Shaw, and added from another old collection in 1970s. $35-45

6-30. S(amuel) Cooper.
Of Va. Confederate Adjt. and Inspector Gen., one of just seven full-rank Confederate Generals, and the highest ranking officer in the Confederate Army, reporting directly to Jefferson Davis. "One of the few West Pointers of Northern origin who sided with the Confederacy... Cooper's high-level administrative experience before the war was of great use to Davis in organizing the Confederate War Dept. and Army. He fled with Davis after Richmond..."--Boatner. Cooper's last act was to preserve the official records of the Confederate Army, conveying a priceless archive for the ages. On parchment, with "Adt. Gen." in his hand. Trimmed from a document, 1 1/2 x 3 3/4 irregular. Light mount toning, some dust soiling of high spots of texture, else good plus. $120-150

6-31. H(enry) C. Corbin.
Of Ohio. Union Maj. in U.S. Colored Troops, later Capt. in 38th Infantry, a Buffalo Soldier regiment. Fighting at Nashville and Decatur, Ala., Corbin accompanied Pres. Garfield when he was shot. Adjutant Gen. of the Army, he commanded Div. of The Philippines, remaining in uniform til 1906. Also in his hand, "Major General / Adj. Genl. / Oct. 21." Toning of mount, else fine. $55-80

6-32. E(rastus) Corning.
Of N.Y. Civil War era Congressman; delegate to ill-fated 1861 Peace Conference. First Pres. of what became the largest corporation in America – N.Y. Central Railroad. Corning's iron works manufactured parts for the ironclad Monitor, growing to become the largest iron and steel works in the country. Franking signature clipped from envelope, 1 x 2 1/4. In dark brown, with circular grill cancel in pale grey on last four letters of his name. Very good. Lacking in Shaw. $70-100

6-33. Jno. M. Corse.
Of Pa. Union Maj. Gen. Severely wounded at Missionary Ridge, and leading during the Atlanta campaign and March to the Sea, Corse "received a great deal of publicity for his actions at Allatoona (Ga.)..."--Boatner. A critical Union supply depot, it held a million rations of bread. The main routes by which Allatoona could receive reinforcements had been cut by the Confederates, not knowing that Corse's men had arrived several hours earlier. "There followed an interchange of notes in which [Confederate Gen.] French called on the Federals to surrender 'to avoid a needless effusion of blood,' and Corse answered, 'we are prepared for the 'needless effusion of blood' whenever it is agreeable to you.'" In fact seriously wounded, Corse received a message from Sherman, which evolved into the popular ballad and colloquialism, Hold the Fort, for I am Coming. Also in his hand, "Bvt. Maj. Gen. U.S.V., Mch. 30, (18)91." Two vertical folds, else about fine. Lacking in Shaw, and added from another old collection in 1970s. Uncommon. $80-110

6-34. D(arius) N. Couch.
Of N.Y. Union Maj. Gen. Distinguished as a naturalist, exploring in Mexico with a Smithsonian expedition. Rapidly reaching Maj. Gen. - on July 4, 1862 - Couch led at 2nd Bull Run and Antietam, commanding the II Corps with distinction at Fredericksburg and Chancellorsville. Climbing the cupola of Frederickburg's courthouse, he could see the Confederates advancing. "Through the smoke they could see the mounting casualties, and Couch reportedly said, 'Oh, great God! See how our men, our poor fellows, are falling"--...Glory Road, Bruce Catton. Commanding the newly-created Dept. of the Susquehanna at Gettysburg, Couch directed a skirmish at Sporting Hill, one of the Civil War's northernmost engagements. Also in his hand, "Maj. Gen. U.S.V." Some mount toning, else V.F. $70-100

6-35. S(amuel) S(ullivan) ("Sunset") Cox.
Congressman from both Ohio, 1857-65, and N.Y.; succeeded Lew "Ben Hur" Wallace as Ambassador to Ottoman Empire. Known as the "letter carrier's friend," promoting a 40-hour week for postmen, who collected money for a statue of him in Manhattan's Tompkins Square Park. In his hand, "M.C. / N.Y." Old mounting paper on verso, else excellent. Lacking in Shaw, and added from another old collection in 1970s. Uncommon. $60-85

6-36. Wm. R. Cox.
Of N.C. Confederate Brig. Gen. Antebellum planter, Cox commanded the 2nd N.C. at Chancellorsville, wounded multiple times during that battle, again at Kelly's Ford – in all, eleven times during the war. Personally commended by Robert E. Lee for his bravery, Cox led a division at the surrender at Appomattox, later serving in three U.S. Congresses, and Secretary of the U.S. Senate. "...Cultured and courtly, and his political choices indicate wisdom as well as character"--D.A.B. Minor toning, pale glue stains at edges and bottom of onlaid card, else fine. $120-150

6-37. Jas. Craig.
Of Pa. Union Brig. Gen. Congressman from Mo. 1859-61; commanded District of Nebraska, Dept. of Kansas 1862-63, in charge of overland mail routes in those states. Boldly penned, with "St. Joseph, Mo." in his hand. Light mount toning, else very fine. $65-90

6-38. Thos. T. Craven.
Union Navy Commodore. Boasting a long naval career back to 1823, Craven became Commander of Annapolis. Commander of U.S.S. Brooklyn early in war, aiding capture of New Orleans in 1861. Rear Admiral postwar. In medium brown, "...U.S. Navy" on card. Uniform light-toning around periphery, perhaps from an old envelope, else about very good. Very scarce. $80-110

6-39. S(amuel) W. Crawford.
Of Pa. Union Maj. Gen. A graduate of University of Penna. Medical School, serving as an Army physician in the Southwest, Crawford was the surgeon on duty at Fort Sumter on the first day of the Civil War. Led at Cedar Mountain, routing Stonewall Jackson's own unit. (Crawford's victory was short-lived; the Confederates counterattacked, inflicting 50% casualties on Crawford's brigade.) "Severely wounded at Antietam, he was back in action at Gettysburg, where his division drove the Confederates out of 'Death Valley' beside Little Round Top, with Crawford dramatically seizing the colors and leading from the front. Although this was a relatively minor engagement, Crawford tried for years to become officially acknowledged as the sole savior of Gettysburg, but without success. The preservation of the battlefield, however, is largely due to his efforts..."--wikipedia. Present at Lee's surrender, Crawford was one of the few - of millions of soldiers - present at both the very beginning and effective ending events of the Civil War. Close of letter, "Very truly yours...Brig. Genl., Comdg. Division." Old vertical fold before mounted, minor toning, else about fine. Scarce. $150-180

6-40. T(homas) L(eonidas) Crittenden.
Of Ky. Union. Commanding a division in Army of the Tennessee, breveted for gallantry at Stones River. "...A very wild-appearing Maj. Gen., but quite a kindly man in conversation"--Boatner. Signature from postwar document, 2 x 5 1/4, with rank in his hand, "Col. 17(th) Infantry," "Commanding the Regt." Crittenden's Army career spanned the Mexican War, as aide to Zachary Taylor, til 1881; he led the 17th from 1869 til his retirement. Coffee-and-cream ink, else excellent. Lacking in Shaw, and added from another old collection in 1970s. $55-80

6-41. Tho(mas) T. Crittenden.
Of Ala. Union Brig. Gen. The first cousin of both Union and Confederate Generals, joining the 6th Indiana days after Sumter. Captured in 1862 - with his entire command - by Forrest's cavalrymen at Murfreesboro, his career was ruined. Realizing "he was no longer viewed with confidence," he soon resigned the Army--wikipedia. Postwar Mo. Attorney Gen., Congressman, and Gov. In his hand, "...of Missouri." Mount toned, contemporary water droplet on "M," else fine plus. Elusive. $160-200

6-42. George Crook.
Of Ohio. Union Maj. Gen. Colorful figure, wounded in prewar Indian fighting by a poisoned arrow; wounded at Lewisburg, commanded 2nd Cavalry Div. at Chickamauga. Commander of Dept. of West Va. Developed lifelong friendship with his subordinate – Col. Rutherford B. Hayes. Captured late in the war when Confederate cavalrymen entered Cumberland, Md. at night wearing Union uniforms; held in Libby Prison. "After the war he earned the reputation of being the most successful Indian fighter the Army ever produced...called 'Gray Fox' by the Indians"--Boatner. Commanding Arizona Territory, photographs taken upon Geronimo's short-lived surrender to him "are the only known photographs of an American Indian while at war with the U.S."--Journal of Arizona History, Autumn 1989. Geronimo escaped, costing Crook is command. In his hand, "Maj. Gen. U.S.A." In medium brown on tan card. Excellent. Not mounted, as are many other Shaw items, but possibly from his collection. $200-250

6-43. A.G. Curtin.
Of Pa. Civil War Governor, nominated in 1860 in the expectation that he would help carry the Keystone State for Lincoln. Close confidante of Lincoln, visiting the Executive Mansion several times during the war. Credited with establishing the cemetery at Gettysburg, Curtin was on the platform as Lincoln delivered his immortal Address. Considered for Vice Pres. in 1868; losing out to Colfax, he later became a Democrat. In his hand, at his birthplace, "Bellefonte, Penna., 2 June 1882." On eggshell card. Trivial edge toning, old mounting paper on verso, else excellent. $35-50

6-44. Greely S. Curtis.
Of N.H. Union Brig. Gen. Serving in 2nd Mass. and 1st Mass. Cavalry. Close of letter, "Very truly, Yr. obt. Svt...." In light sepia brown. Mount toned, else excellent. In Boatner, but obscure and rare. $65-90

6-45. N(ewton) Martin Curtis.
Of N.Y. Union Maj. Gen. Fought at 1st Bull Run, Cold Harbor, and Petersburg. Six feet 7" in height, Lincoln quipped to him, "Mr. Curtis, how do you know when your feet are cold?" Medal of Honor and Thanks of Congress for Fort Fisher, N.C. Throwing shovels at the Confederates nearby, Curtis had shouted, "Dig, Johnnies. I'm coming for you!" He did, becoming "the first man...to pass through the stockade and for leading the assault on the traverses, sustaining four severe wounds" – and losing an eye. End-of-war Chief of Staff for Dept. of Va. As Congressman, Curtis sought insane-asylum reform and abolition of capital punishment. Also in his sprawling hand, "Brig. Genl. U.S. Vols." Dust toning and colorless rubber-band outline - evidently the card on top of a stack for decades in the early 20th century, likely improveable with an art erasing pad, else good plus. $75-100

6-46. Saml. R. Curtis.
Of N.Y. Union Maj. Gen. Early Republican Congressman, considered for a post in Lincoln's Cabinet. Upon outbreak of the war, commanded Southwest District of Mo., Army of the Southwest, Dept. of Kansas, and Dept. of the Northwest. Victor of Battle of Pea Ridge; occupied Helena after a thousand-mile march through difficult terrain; blocked Price's Raid in Mo. Curtis' abolitionist views clashed with the Gov. of Mo. His life was marked by tragedy, losing both his daughter and son during the war - the latter to Quantrill's Raiders wearing Union uniforms. Also in his hand, "Keokuk, Iowa." Very light dust toning of mount, else excellent. $65-90

6-47. L(ysander) Cutler, with rare Detroit war date.
Of Wis. Union Maj. Gen. A self-made businessman, the burning of his Maine woolen mill followed by the Panic of 1857 led to his ruin. Starting over in Wis., as a mining claims investigator, he was often ambushed. Commanding a unit of the famed Iron Brigade, Cutler served under Abner Doubleday. Severely wounded clashing with Stonewall Jackson at Brawner's Farm, Cutler's brigade was the first Union infantry on the field of Gettysburg – on the first day of the battle. Wounded in the face at Globe Tavern in 1864, he never recovered. Signature from military document, "Bvt. Maj. Gen." in another hand, Detroit, May 6, (18)64 – the final day of his command of the 1st Brigade, 4th Div., V Corps, and first day leading its entire 4th Div. 1 x 3 1/2. Perhaps the only war-dated item signed by any general officer at Detroit we recall handling. Once glued on a sheet, some tan toning at right, else very good, and excessively rare thus. Lacking in Shaw, and added from another old collection in 1970s. $180-220

6-48. J(ohn) A. Dahlgren.
Of Penna. Union Admiral. "Father of American Naval ordnance," and inventor of Dahlgren Gun, its shape lending the nickname "soda-water bottle," becoming the Navy's standard armament by 1856. Took command of Washington Navy Yard following Fort Sumter, and led South Atlantic Blockading Squadron at the war's zenith. Clipped from a letter or document, "Apr. 6, 11 A.M." also in his hand. In rich brown on ivory. Old soft horizontal crease below, few light handling wrinkles, else fine and attractive. Lacking in Shaw. $130-170

6-49. S(amuel) G. Daily.
Of Neb. Delegate from Nebraska Territory, friend of Lincoln, and Congressman for the entire war - minus five weeks. An outspoken abolitionist, Daily was one of the first declared Republicans in Neb. On card, "Nebraska" also in his hand. "S.G.D" slightly smudged by his hand, glue spot at blank upper edge, perhaps where once lightly hinged, else very good. Lacking in Shaw. $30-40

6-50. G(eorge) B. Dandy.
Of Ga. Union Brig. Gen. Distinguished in capture of Morris Island, Fort Wagner, and Fort Gregg, at Battles of Drury's Bluff and Deep Bottom, and Siege of Petersburg. Postwar, Dandy built Ft. Kearny at foot of the Big Horn Mountains, and Ft. Abraham Lincoln in North Dakota. Close of a letter, "Yours respectfully...Bvt. Brig. Genl. U.S.A." Light glue toning at lower right, rippling of card mount, else fine. Uncommon. $60-85

6-51. Jno. W. Daniel.
Of Va. Confederate Adj. Gen. on Jubal Early's staff - including at Gettysburg; known as the "Lame Lion of Lynchburg," for his crippling wound at the Wilderness. Postwar Sen. from Va., Presidential elector 1876, and supporter of U.S. intervention in Cuba in 1890s, citing Spanish cruelty. Presentation signature, "Washington, D.C., July 28, 1892 / Very Truly Yours...U.S.S. Va." Old horizontal fold above signature, two convex dimples at sides, mounting evidence, else fine for display. Lacking in Shaw. $80-110

6-52. H(enry) E. Davies, Jr.
Of N.Y. Union Maj. Gen. "One of the few nonprofessional soldiers in the Union cavalry in the Eastern theater" to be made Gen.--wikipedia. Fighting in the first "real" land battle of the war, Big Bethel, Davies served under "Kill Cavalry" Kilpatrick, then at 2nd Bull Run, and commanded in raids on Richmond. At 1864's obscure Battle of Haw's Shop, Va., his saber was cut in half by a Minié ball - and his horse's tail shot off! Haw's Shop was "one of the bloodiest [cavalry engagements] of the war," with victory claimed by both sides. The clash - including George Custer - was also unusual because it was fought by dismounted cavalry. Davies went on to lead cavalry at Petersburg and Appomattox. One of Sheridan's most trusted men, penning his biography decades later in the "Great Commander" series. In brown on shell grey, "Bvt. Maj. Gen." also in his hand. Centering and wide margins suggest this was signed for Shaw. Fine wrinkles, perhaps from postal handling, dust-toning of card mount, else very good plus. $80-110

6-53. H(enry) G. Davis.
Of W. Va. Entering local politics in last year of Civil War, rising to Sen., 1871-83; 1904 Democratic candidate for Vice Pres. A self-made millionaire, his Davis Coal & Coke Co. controlled 135,000 acres, with over a thousand coke ovens, became one of the largest coal companies in the world. Minor soft crease at blank upper right tip of cream card, else excellent. $30-45

6-54. Jef(ferson) C(olumbus) Davis.
Of Ind. Union Maj. Gen. An Artillery Lt. at Fort Sumter during the bombardment, this "other" Jeff Davis led at Wilson's Creek, Pea Ridge, Corinth, and Booneville. By 1862 a Brig. Gen., Davis had been "brooding over a rebuke given him by his commanding officer, William Nelson. Davis accosted him...in a Louisville hotel lobby and, after 'high words,' he crumpled a card and threw it in Nelson's face, whereupon Nelson slapped him. Davis left to return with a revolver and mortally wounded Nelson...He was never punished...and shortly restored to active duty, partly on his military abilities and partly on the political influence of Gov. Morton, who had accompanied him during the altercation...Recommended for Maj. Gen. by Rosecrans and Grant, he never attained this rank and bitterly resented this slight, although he never regretted killing Nelson..."--Boatner. In another horrific event, Davis ordered a pontoon bridge removed before black refugees following his men in Georgia; "several hundred were captured by Confederate cavalry or drowned in the creek, attempting to escape"--Jefferson Davis in Blue..., Hughes and Whitney, L.S.U. Press. First Commander Dept. of Alaska. "Bvt. Maj. Gen." in his hand, in warm brown on blue-lined cream. Some card mount toning, else fine. $130-160

6-55. W(illiam) G.M. Davis.
Of Fla. Confederate Brig. Gen. An antebellum cotton speculator, raising and financing the 1st Fla. Cavalry in 1862, Davis commanded provisional forces in eastern Fla. Soon sent north, he led Dept. of Eastern Tenn. until resigning in 1863 to become a blockade runner between Wilmington, N.C. and Nassau, Bahamas. Curious signature on 1 1/4 x 6 3/4, likely from a letter, in a shaky hand in brown, evidently over pencil. It is unknown whether Davis or Shaw retraced it in ink (Davis lived til 1898), but a conversation piece. Perhaps Davis' pen ran out of ink, and he finished in pencil, then retracing it before mailing. Old vertical mailing folds, small light stain at blank lower portion, else about very good. Scarce. $75-100

6-56. W.W.H. Davis.
Of Penna. Union Brig. Gen. First enlisting in local militia – at age 10 – he raised the 25th Penna. twenty-four hours after Fort Sumter. Nicknamed the "First Defenders," Davis led the first troops to pass through Baltimore after the anti-Lincoln, anti-draft riots. Leading in North Carolina, St. Helena, Port Royal, Folly, James, and Morris Islands, and commanded District of Hilton Head. Wounded near Richmond while successfully recovering his unit's colors from a chaotic battlefield, and again in the siege of Charleston. Appealing card penned both sides in his hand: "...Col. & Bvt. Brig. General, U.S. Vols., Commands: Company, Regiment, Brigade & Division / Wounds: rifle ball, in left elbow joint; musket ball, left breast, slight, and lost fingers, right hand, piece of shell & was Capt. in Mexican War." Trivial smudge by his hand, else excellent. $150-190

6-57. (P.) R(egis Denis de Keredern) de Trobriand.
Of France. Union Maj. Gen. Son of a famed baron, "he engaged in duels, wrote poetry, and published a novel before coming to America [on a dare]..."--Boatner. Commanding widely, including the French-speaking 55th N.Y., he was distinguished at Gettysburg. His defense of the Wheatfield against Confederate onslaughts was successful - but at a price: every third man in his brigade was a casualty. Replicas of his skillful paintings of friendly Indians he encountered during his postwar command in North Dakota remain on permanent display there. His history of Army of the Potomac - in French - "is one of the better histories of the war." Signature from a document, with "Washington, D.C., May 9, (18)64" in another old hand, "correcting" "Brig. Genl." in de Trobriand's hand to "Major...." (de Trobriand was not breveted Maj. Gen. til Apr. 9, 1865). Double rule in pink around sig., presumed also by old-time collector. Mounted on onionskin, light waterstain, else about very good. The antiquity of the collector's "curatorship," done long ago, reflect a time when the rest of such documents thought superfluous! Probably added to Shaw in 1970s. $90-120

6-58. Chas. Devens.
Of Mass. Union Brig. Gen. Nearly killed at Ball's Bluff, he was wounded yet again at Fair Oaks and Chancellorsville. Commanded at Cold Harbor - from a stretcher while crippled with inflammatory rheumatism. Devens later served as Attorney Gen. under Pres. Hayes; Camp Devens named for him; his statue reposes on the Mass. State House lawn. Signature from Army form, 1 x 4 3/4, rank below in a contemporary hand, "corrected" from "Brig." to "Major (Gen.)" by the assiduous old-time collector seen in previous lot. In red ink in old hand, "Boston, June 13, 1864." Double rule in pink around signature. Removed from old scrapbook, thin spots behind signature, with a crescent tear affecting "ven" of name, and another below just touching last letter of "U.S.A.," else satisfactory, and a conversation piece. Probably added to Shaw in 1970s. $55-75

6-59. A(rthur) F. Devereux.
Of Mass. Union Brig. Gen. Moving to Chicago to start a business at about 16, his partner was – Elmer Ellsworth. Both young men became fascinated by the Zouave precision drilling technique, with its showmanship and ornate uniforms. Wounded leading at Antietam and 2nd Bull Run, Devereux's "regiment met 'Pickett's charge' head on at Gettysburg, and when the smoke cleared Devereux had four C.S.A. colors draped over his arm"--Boatner. Here his unit fought, in "a pandemonium of hand-to-hand combat," at the high-water mark of the Confederacy - the furthest position reached during their charge. "The failure of Pickett's charge is regarded as the major turning point of the Civil War"--wikipedia. Close of letter, "list & send to you. Resp(ectfull)y...[To] Genl. Wm. Tilton." Toning of signature and card mount, else very good. Unlisted in Sanders and Seagrave. Elusive. $150-180

6-60. John A. Dix.
Of N.H. Union Maj. Gen. First fighting in the War of 1812 - at age fourteen - Dix remained in the Army to support his mother and her eight children. Studying law with the encouragement of his friend John C. Calhoun, the young Dix rapidly climbed the political ladder, becoming Sen. 1845-50, then Sec. of Treasury under Lincoln. Two weeks after his appointment, in Jan. 1861, Dix decreed his famous American Flag Dispatch: "...If anyone attempts to haul down the American flag, shoot him on the spot." On outbreak of the war, Dix rejoined the Army, commanding widely, then overseeing Dept. of the East - crossing paths with Lt. Andrew Tallman of the Cohasco Building. With date "16 Mar. 1874" in his hand, as Gov. of N.Y. Pale glue spot on "74," else fine. $65-85

6-61. G(renville) M. Dodge.
Of Mass. Union Maj. Gen. Creator of precursor to the modern Intelligence Corps of the U.S. Army, funded by captured cotton; many of his hundred-plus secret agents' identities remain mysteries to this day. From Dodge's war room in Corinth, his network captured the "Nathan Hale of the Confederacy," Sam Davis. Wounded at Pea Ridge (and in July 1861, when his pistol discharged in his coat pocket), then hit in head by a Confederate sharpshooter while peering through a breastworks eyehole during the siege of Atlanta. Postwar Chief Engineer of Union Pacific, planning the route of the Transcontinental Railroad, and one of the two men shaking hands in the immortal photograph of the Golden Spike ceremony. Namesake of Dodge City. "Maj. Gen." also in his hand. Light dust-toning at blank left of card mount, some light amber mottling, the mount (only) trimmed at right, probably by Shaw when it would not fit into one of his storage boxes, else very good. $90-120

6-62. J(ames) R. Doolittle.
Of Wis. Senator 1857-69, switching from Democrat to Republican following the Missouri Compromise. Delegate to ill-fated 1861 Peace Conference. Headed 1872 Democratic National Convention, nominating Horace Greeley. On tan slip, old mounting on ivory. $25-35

6-63. Neal Dow.
Of Maine. Union Maj. Gen. and "Father of Prohibition." Dismissed from the Quakers for his wartime activities, Dow commanded in District of West Fla., twice wounded at Port Hudson. While still recovering, he was captured - on the very evening when he first remounted a horse - and sent to the infamous Libby Prison. 1880 Prohibition Party candidate for Pres. Also in his hand, "Portland, 1 Nov. 1886." In his characteristic medium-blue ink. Toning, probably from long storage against one of Shaw's mounting cards, "Maj. Gen." pencilled just above his signature in an older hand, else good plus. $50-70

6-64. P(eter) M. Dox.
Of Ala. New York-born delegate to 1865 Alabama Constitutional Convention; Reconstruction Congressman. Free-franked envelope, addressed in his hand to former Confederate statesman and lawyer "Hon. S.D. Cabaniss, Huntsville, Ala." Black c.d.s. Washington, "May 14" (no year). Interesting half-dollar-size oxblood wax seal on verso, "House o(f Representatives)," partly obscured by spread of wax before it hardened. Few fine cracks, two small edge chips; cover opened at right but text unaffected, uniform cream toning, handling soiling, else very satisfactory and suitable for display, Dox's royal-purple ink attractive. Lacking in Shaw. Scarce. $45-70

6-65. B(asil) W. Duke.
Of Ky. Confederate Brig. Gen. Leader of The Minute Men, a pre-Sumter, pro-secession militia in Missouri, Duke eventually indicted for arson and treason, escaping to Ky. "Brother-in-law of John H. Morgan [namesake of Morgan's Raids], he was nearly hanged as a spy by both sides..."--Boatner. Wounded at Shiloh - by a Brown Bess musket - and left for dead at Elizabethtown during Morgan's Christmas raid of 1862. Morgan's Raiders' principal trainer for mounted combat, Duke was captured in their daring Ohio raid the following year. After Lee's surrender, Duke and his cavalry escorted Jeff Davis from Charlotte til his capture. Escort of the Confederate Treasury train in 1865, and member of the final Confederate War Council in Abbeville, S.C. on May 2, he did not surrender til a month after Appomattox. Presentation signature, with "Very Respectfully, Your Obt. Svt...Brig. Genl., C.S.A." in his hand. Double-cross of "t" of "Svt." from blotter, edge toning of card mount, else very fine. $220-270

6-66. S.F. Du Pont.
Of N.J. Union Admiral. Nephew of founder of the Du Pont business empire. First going to sea on a gunship at age 12, he advanced quickly, credited with helping modernize the Navy, studying steam power. Superintendent of the first World's Fair in the U.S., Du Pont soon sailed to Arabia, China, and Japan, his trip a breakthrough in opening Japan to Western trade. In June 1861 Du Pont was named Pres. of board convened in Washington to plan the war's naval operation. The first U.S. naval officer assigned command over armored ships, the Ironclads, his 1863 defeat at Charleston colored the rest of his naval career. A desirable example, "Rear Admiral, U.S. Navy" also in his hand. Light ivory toning, else fine plus. $170-220
TO FIND OUT CURRENT HIGH BIDS,
OR TO PLACE BIDS,
JUST CALL 1-914-476-8500
OR e-MAIL info AT cohascodpc.com
(We do not currently use online bidding)
7. Civil War: From incipience to Gettysburg
7-1. Beats of the Drum and the Meaning of Militia – 1836.
A Concise System of Instructions and Regulations for the Militia and Volunteers of the U.S., "Comprehending the Exercises and Movements of The Infantry, Light Infantry, and Riflemen; Cavalry and Artillery: Together with The manner of doing duty in Garrison and in Camp, and the forms of Parades, Reviews, and Inspections..., Prepared and arranged by Bvt. Capt. S. Cooper, Aid(e) de Camp and Asst. Adj. Gen., Under the supervision of Maj. Gen. Alexander Macomb, Commanding the Army of the U.S." Cooper became the highest ranking General in the Confederacy; born in Hackensack, N.J., he was one of the few West Pointers to side with the South, later fleeing Richmond with Jeff Davis. Published by Robert P. DeSilver, Philadelphia, 1836. 4 1/2 x 7 1/4, 303 pp., full calf, gilt-stamped red spine label. Among its pages, many woodcut figures of maneuvers, samples of six forms including morning report, muster roll, pay roll, provisions, clothing and equipage, and 23 pp. of music, including beats of the drum and sounds for the bugle, for retreat, quick step, reveille, run, tattoo, commence firing, rally on the battalion, boots and saddles, to horse, the charge, and more. Variant binding with 10 pp. testimonials at front, some dated the following year. Interesting perspective on the meaning of militia: "In this country, the Militia, from the nature of the government, must be depended on principally for repelling sudden invasions, and suppressing domestic insurrections. It ought, therefore, to be properly organized and instructed...The books published for the regular army are too voluminous and diffuse to supply this want...." Front cover detached, crescent waterstain at lower right first eight leaves, ribbon of writing ink on two fore-edges, likely from encounter with a quill, some text with light uniform toning, else internally clean and about fine. A significant work, building upon von Steuben's landmark manual of the previous century, and the text used to train the future general officers who would fight the bloody war that lay ahead. $90-120

7-2. New York's Tin Pan Alley of the Civil War.
Scarce ephemeral patriotic song sheet, "Those Stripes and Bright Stars!," by H. De Marsan, "Publisher of Songs and Ballads, Paper Dolls, Toy Books &c.," 38 & 60 Chatham St., N.Y. - near what would become Chinatown. N.d. but 1861, based on last year for this address in New York City directory. Crudely printed on pulp, 6 1/2 x 10. "Horned imp" at top, with woodcut border of plump black woman and three George Woodhouse-ian men, at four corners of starred streamer. "...The Southerners we'll humble, and if Rebels still defy!...Then, drink for success to the warriors for right, Who have left happy homes, as our Fathers of yore...." Light waterstains at blank bottom, uniform toning, else very good. Imprints of this purveyor are seen much less frequently than those of Magnus. $65-85

7-3. A Deserter and "Scoundrel."
Letter of Union soldier Charles H. Keenan, "Co. Cay [K], Sevent(h) Ma(i)n(e) Ridgement, Camp Lion" [sic], Baltimore, Oct. 13 (n.y. but believed 1861), 4 3/4 x 7 3/4, 3 pp. On patriotic lettersheet, "1776-1861," Miss Columbia in hoop skirt and crown of stars, holding large flag; printed verse below, "Take this banner, and beneath / The war-clouds encircling wreath...." To his wife. "I want you to rite to me as often as you can...I don't get eny letters from you very often...We have bin to Church all day and have to go every Sunday...Tell Mother...to rite to me...It is a long time to stay out here in this lonesome hole...." Two thin spots at right edges, likely from adhesion to envelope gum, affecting few letters only, else fine and clean. The writer deserted the following March, around the time of the Peninsular campaign; his service record is marked "Scoundrel." Ironically, three weeks after his desertion, the 7th earned the personal thanks of Gen. McClellan for their gallantry at Williamsburg. One wonders what he told his daughter Mary, whom he addresses in this letter, upon his premature return to Maine. Modern research accompanies. $100-130

7-4. "The first single gentleman you shake hands with...."
Humorous Civil War homefront letter dreaming of romance, from student Sue Johnston, St. Andrew's Hall (possibly in or around Newburgh, N.Y.), Jan. 9, 1862, 4 1/4 x 7, 4 full pp., the first page cross-written. To her friend Martha Haney, Lansing, Iowa. On interesting basketweave-watermarked lettersheet. "I have an hour this evening to do as I please, because Mr. Whittingham is ill and will not be able to hear the German class tomorrow, so I shall not have to study my lesson...What did you have for Christmas?...I had several very pretty presents. The one I valued most was Mrs. Browning's poems in three volumes...and a very handsome box of paints...We had a weeks vacation Christmas which I spent at Bainbridge...I must tell you something which will be to your advantage. So prepare to listen. You must count 40 white horses (different ones of course) and the first single gentleman you shake hands with is deeply in love with you. After you count a hundred white horses, the first g(entleman) that kisses you (which by the way is a very improper action) will be your future husband. I have counted 29 but do not dare to count the hundredth. All the girls are counting every white horse they see, and some of them are so anxious to get 100 that they count white dogs. Ha ha...When you write please be more plain in what you say concerning our Friend L.H., for you must know that I am very stupid, cannot take hints...Pleasant dreams." Very light wear at three folds, else very fine. • With petit ladies envelope, Scott #65 socked-on-nose partial strike, possibly Newburgh, N.Y. "Union" crest blind-embossed on flap, verso edged in red and blue. Postal wrinkles at blank upper left corner, else about fine. Research reveals that the addressee did get married four years later, having six children. $70-100 (2 pcs.)

7-5. "I look with apprehension on an experiment at this late hour."
Superb, eloquent A.L.S. of Union Gen. J.H. Martindale, followed by holograph notation and signature of Brig. Gen. F.J. Porter. Head Quarters, 1st Brigade, Porter's Div., Hall's Hill, Va., Mar. 6, 1862, 7 3/4 x 9 3/4, 2 1/2 pp., on powder blue lettersheet. To Gov. E.D. Morgan of N.Y. "...I send to you a copy General Orders No. 63 [not present] of the Army of the Potomac, containing the trial and sentence of the late Col. Kerrigan of 25th N.Y.S.V. I have now to recommend that Lt. Col. Charles A. Johnson be appointed Col. vice Kerrigan's dismissal, & that Maj. Henry F. Savage be appointed Lt. Col...The officers named are preeminently qualified for these positions...The uniform kindness...from you have disposed me to discredit the rumors which I have heard from time to time, that a Commander for the 25th Regt. would be appointed without consulting the wishes of the Generals of this Division. I confess it would be a severe blow to my expectations for that regt., if, in the vital matter of selecting a Col., our recommendations...should be disregarded. In some degree my personal reputation has been staked on the elevation & improvement of that regt.; and what judgement and success my efforts have been directed, the present efficiency of the regt. ought to disclose. I look with apprehension on an experiment at this late hour to take from me the present intended & able Commander, who has zealously cooperated with me in faithful exertions to prepare it for service, and to substitute in his place an untried, and to me an unknown man...To write more would be veritabl(y) 'beating the air'...." Beneath Martindale's close is Porter's notation, "Respectively forwarded, earnestly asking for a speedy approval and action. F.J. Porter, Brig. Gen., Comdg." Interesting docketing in ink and red and orange crayon pencils. Minor wear at fold junctions and one fold, else fine. Hall's Hill had formerly been slave quarters of a large plantation; after the war, the land was sold to the newly-emancipated freedmen. Martindale resigned in 1836 - at age 21 - disappointed that he could not enter the Corps of Engineers. Investigated on charges - brought by Porter - that he influenced his men to surrender at Malvern Hill, he was exonerated. Breveted Maj. Gen. for his service at that same battle, Martindale resigned a second time - in 1864, because of ill health. Porter had his own problems, relieved not long after co-signing this letter, for "disobedience, disloyalty, and misconduct in the face of the enemy." He was finally reappointed – in 1886! Martindale letters are very scarce, certainly one linked to his nemesis, Porter. $300-425

7-6. Praising himself and his men – for "coolness & courage" at Williamsburg.
Foreboding letter of Union Capt. J.F. Littlefield, Co. H, "Camp of 2nd N.H. Regt.," May 20, 1862, 4 3/4 x 7 3/4, 1 p. To Col. G(ilman) Marston, his commander, the "Fighting Congressman." "I wish to recommend my entire command to honorable mention by you in any report you may have to make, for the coolness & courage displayed at the Battle of Williamsburg. Both officers & men manifested that same readiness & willingness to obey every command that is usually manifested on Dress parade as other ordinary duties...." Later that year, Littlefield was wounded at 2nd Bull Run and died. The 2nd N.H. was led by future Sen. Gilman Marston who had his arm shattered at 1st Bull Run, refusing amputation. At Gettysburg, the regiment endured two-thirds casualties in under three hours. Noted for their grey uniforms with "spiketail" dress coats trimmed in red, the 2nd refused to switch to Union blue for the entire war. The 2nd N.H.'s other engagements comprise a rather staggering chronology, including Fredericksburg, Gettysburg, Manassas, Cold Harbor, Petersburg, and the occupation of Richmond. Marston enjoys the rare distinction of serving in combat while a sitting Congressman: his initial terms ran from Mar. 1859-Mar. 1863, and reelected to another term 1865-67. Docketed. One old vertical fold, minor creases, edge toning, else fine and attractive. $170-220

7-7. "The wind from the battle field came surging over our heads...."
Cinematic letter of Union soldier A(lbert) Everett, soon to be wounded at Gettysburg, where his 15th Mass. Infantry was known as "Pickett's left wheel." Fair Oaks, (Va.), June 27, 1862, 5 x 8, 4 full pp. To parents. ""The regiment of Baxter's Zouaves is yelling as though crazy. Yesterday a battle commenced, near 400 lost away on our right beyond Porter, up in the direction of Hanover Court House. It continued til about 9 in the evening. The cannonading was terrific, was awful, greater by far than we ever have heard before, either at Yorktown or any of the battles this side. At 9 the news came being telegraphed to Heintzelman from Little Mac, that the enemy had attacked McCall and suffered a bad defeat. And our men had been driving him since sunset. The bands & the drums which had kept still ever since we came here struck up and the boys cheered as though crazy. Gen. Sumner had just ridden along and the boys cheered him. The cannonading this morning from light til six was as hard as yesterday. It kept growing further off as we drove them, and could scarcely be heard at the last. Troops are marching here in our lines this morning. I should not much wonder if the rebels skeedaddle before two days are over. Bands are playing this morn again regardless of the nearness of Rebel batteries...Orders came 10 minutes ago to hand in letters but the mail bag is still hanging up and will write more while I sit where I can watch it...There will be a thunderstorm and rain...There almost always is after our battles. I suppose the cannonading creates a good deal of commotion in the atmosphere and indeed the musketry does too...The wind from the battle field came surging over our heads and through the woods by our side, as though it was the advance of a hurricane. The trees bent...That battle was all about a mile on our left, but did not reach us...Yesterday the regt. worked down there building a powder magazine and was there when the fight commenced...Everything is still now." Later in Summer 1862, Gen. George McCall was captured and sent to Libby Prison. Writer Everett is mentioned in From Ball's Bluff to Gettysburg - and Beyond. Light wear, else about fine. • With cream envelope, to Whitinsville, Mass. Scott #65, imperf at left, lacking lower left corner, likely separated thusly when removed from sheet of stamps. Old Point Comfort c.d.s. Insect spots, some postal soiling, else satisfactory. $170-220 (2 pcs.)

7-8. "We are anxious to fight it out."
Letter of Union soldier Nelson Danes, (Bakerstown), "Meriland, 7 Miles from Harpers Ferry," Sept. 26, 1862, 5 x 8 1/4, 3 pp. To his wife. Misspelling retained for flavor: "We have had no fiting [sic] since I rote you last. We have moved down towards Harpers (Ferry)... Everything is quiet, but don't know how long it will remain...We are anxious to fight it out so we can come home if living through it. I want you to send me a five Dollar treserry note. I am out of money...My helth was so poor that (I) bought what I lived on at a hi price, cheese 90 cts., butter 75 cts., mackerel 50 cts. a lb., bread 50 cts. a lofe, conden(s)ed milk 75 cts., half pint cracker 30 cts. If the war don't close when we go into winter quarters, I shall try to come home & make you a family visit...Don't tell any boddy there's money in it. Now days we must be car(e)ful & smart...We are now at camp at Bakerstown...." Two leaves separated, breaks at folds, nearly separated on p. 3, else about very good. The writer, from Bath, N.Y., was an artificer in the 1st N.Y. Light Artillery, especially noted for their fighting in the siege of Petersburg. $70-90

7-9. A Union Scout sleeping under a Confederate Blanket.
Letter of "Zebulon," Union soldier from Brooklyn. In Suffolk, (Va.), Oct. 24, 1862, 5 x 8, 3 pp. To father. "...You said that my mother was a going to send her likeness. I would like to have it very much and I will send mine home as soon as I get paid off... We have not been paid in 4 months...Enjoying myself first rate out here, going out 27 miles every other day on a scout. Night before last we caught the Capt. and Serg. of a gurilla [sic] Band. We was about 4 miles this side of the Black Water, agoing to stop there that night, and 5 others and myself was agoing to stand picket. We were arunning our horses...They must have thought we had discovered them, and they jumped off their horses and ran in the woods and let their horses go. As quick as we saw them we raised an alarm and the company came up. They sent us after the horses and they went in the woods after the men. We chased the horses about 3 miles before we caught them...both fine horses...I got a large shawl that fell off the Capt. where he got off his horse...I use it for a blanket and it kept me warm every night. I was offered $8 for it by the Capt. of Co. B...We have got log houses built and...fire places built in them so we will not freeze this Winter...." Fine handling and postal wrinkles, light toning at folds, else about V.G. The writer might be Zebulon Brower of Brooklyn, a 90-day Lt. in the 127th N.Y. Infantry, resigning just before Thanksgiving, 1862 - one day before typhoid struck their camp. $80-120

7-10. Penned aboard Union Ship.
Letter of ill-fated Union soldier Lawson H. Rogers, (Co. H, 122nd Ohio Infantry), "On Packet, near the Orange & Alexander R.R.," Oct. 28, (18)62, 5 x 8, 4 full pp. To parents. "...Heavy frost this morning. We received Orders last night that we could rest for a few days. The emergency was over...We have marched every day or night since the 10th...Mother, you wished to know if I liked the people about Culpeper...Culpeper was a small town, situated near the Railroad...My boots will cost me $6.50...Lt. Taylor is still in Richmond...We are 5 miles from the Rappahannock. The Rebles are laying still at this time...The boys are very lively...." In milk chocolate ink on pale ivory, but penned with a very delicate quill, many letterstrokes thin and somewhat challenging to decipher at first pass, but upon study, about 90% legible; minor wear, otherwise very good plus. Just before Christmas 1864, Rogers was taken prisoner, succumbing to disease at Charlottesville, Va. Also see Lot 8-4. $75-100

7-11. "I would rather have Uncle Sam's square pies than all the cakes in Brooklyn."
Letter of "Zebulon," Union soldier from Brooklyn, in Suffolk (Va.), Nov. (no day), 1862, 5 x 8, 4 full pp. "...This letter I wrote last week and I did not send it because I have no stamps...." To "Granmother." "...I also get plenty to eat and drink and plenty to ware [sic] for I have got 2 pair of pants, two jackets, a large over coat, 5 pair of stockings, 4 shirts, 4 pair of drawers, 1 pair of boots, 3 caps...a good Board Bed with a straw Mattress, 4 Woolen Blankets...Wat more could a soldger want...We get fresh Bread every day, fresh meat 2 a week, salt...pork, potatoes, onions, Beens, Rice, peas, soup, so you can see that we live 1st Rate, and as for catching Coald the wether is too warm out here for that. We are glad to go in our shirt sleaves all day...You said that Steve Jordan was getting sick of soldgerin. I suppose he is, for he is in Infantry and that is harder than in Calvery, but if he had to sit in the saddle 48 hours he would get a great deal sicker of it...There is a man in our company, a new Recruit, and he is so homesick that he is almost dead, but it is no use for he cannot get home...If you send me (a box) do not put any eatables into it as they only make me sick, and besides I would rather have Uncle Sam's square pies than all the cakes in Brooklyn. You may send me a pair of gloves if you like...the fur ones...and a pair of Calvery Boots with large legs...Cheap dark shirts as cheap as you can get for I only want them in Cleaning my horse...Got a letter from Aunt and Uncle Brower...." The writer might be Zebulon Brower of Brooklyn, a 90-day Lt. in the 127th N.Y. Infantry, resigned just before Thanksgiving, 1862 - one day before typhoid struck their camp. Old folds, ink blot on pp. 3-4, else very good. $80-110

7-12. "Enjoy the world as you go along...A Colerd boy to cook for us...."
Interesting letter of Union soldier M.[?] Waite, 1st Wis. Vols., 28th Brigade, 3rd Div., Camp Dixon, Bowling Green, via Louisville, Ky., Sept. 14, (18)62, 4 3/4 x 8, 4 pp. To his brother in Hortonville, Wis. "...I have been to such places and had my fun and I want to you to have yours. Enjoy the world as you go along, for if you do not you may inlist as I have...and if you do you will think your fun is over...and them that lives to see through it will only have to make up for lost time...Charles L. Ballard, my old pard(ner) 4th and 5th Corporals, we have got a Colerd boy [sic] to cook for us. He gits up a meal of Sweet potatoes and other fixings good enough for any king. His name is John Brown. He often speaks of the Original John Brown that was hung at Harpers Ferry. Our regt. has not been in any fight yet but if we do, I will assure you...we will make food rough for the turkey buzzards in Kentucky for forty years to come. I have been in the service 1 year the 8th of next month, and six months from this time I think will tell the tale what power they is in the blue tailed Yankees...I would like to hear how the bees git along. They is some bees down here and we manage to git hold of a little honey...If Ezra keeps the green backs yet, if he has a chance to exchange it for gold or silver by paying a small percentage I wish he would do it. I have seen more of the world since I have been a Solgering and more singular things...than I ever expected to see in my lifetime. So much a man gits by being employed by a business man. Uncle Sam is doing a good deal of business...We had general inspecktion of Canteens and haversacks, knapsacks and guns with our white gloves and Silk Stockings on...." Some handling evidence, else very good. • With patriotic cover, large red, white and blue woodcut of Miss Columbia holding tome, "The Union Forever and Ever," with large globe, the U.S. covered in red, presumed representing the war's casualties. Fine Scott #65, tied by Louisville c.d.s. and 6-bar round grid fancy. Serrations at right edge and bottom where painstakingly opened, old rubber band mark, soiling and wear, but very satisfactory. Good Wisconsin Civil War material is uncommon. $140-170 (2 pcs.)

7-13. One of the Fighting McCooks.
Splendid, sprawling signature of "A. McD(owell) McCook / Bvt. Maj. Genl. U.S.A.," in rich brown on eggshell slip, 2 x 5 1/4. Mounted on modern nutmeg-brown mat, dealer's lightly pencilled identifications, else excellent. (Also see McCook carte, Lot 14-11.) $55-80

7-14. "While the truculent Mussulman was steadily drawing nearer...."
Eloquent patriotic pamphlet, "No Party Now, but All for our Country - Address by Francis Lieber," read at Loyal National League, N.Y., Apr. 11, 1863, printed in Philadelphia. 5 1/2 x 9, 12 pp., black on grey wrappers, fine vignette of Old Glory against a halo of stars, decorative border. "Two years ago, when reckless arrogance attacked Fort Sumter, the response to that boom of treasonable cannon was read...in the flag...In pledging ourselves thus, we know of no party...Let us not be like the Byzantines, those wretches who quarreled about contemptible party refinements...while the truculent Mussulman was steadily drawing nearer...We must have the back of the South, or else those who will not reunite with us must leave the country...They are ready to...introduce slavery...into the North...Make up your minds...Either the North conquers the South and re-establishes law, freedom...or the South conquers the North by arms, or by treason...and covers our portion of the country with disgrace and slavery...Slavery melts away like snow before the rays of rising civilization. The South envied the North for getting rid of slavery so easily...the poisonous root of this war...We declare our inmost abhorrence of the secret societies which exist among us in favor of the rebellious enemy...." Cover separating at top of spine, short tear at top edge, chipping of bottom tip of last five leaves, else about fine. $40-65

7-15. Prelude to Gettysburg.
Letter of Union soldier John Blentlinger, Washington, N.C., May 28, 1863, 5 x 8, 3 pp. To his wife and daughter, Shady Grove, Franklin Co., Penna. "...The time...is sliding along that we will get home again if God spares our lives. We expect to leave here about the 16 of June and come to our one State again if we can get transpotashion [sic]...Here is a song for Mary. It is of the queer names of the men in our regiment. It was composed by Col. Troscol...Give my love to my cinde old mother...." The writer did not foresee that his homecoming would be in time for the Battle of Gettysburg. He is unlisted at civilwardata.com. Some handling evidence, small fragment lacking at blank top of two pp., else very good. • With orange envelope, Scott #65 at upper left, socked-on-nose with moderately distinct Newbern, N.C. c.d.s. Very good. $55-80 (2 pcs.)

7-16. "At the Round Top - The Valley of Death."
Group of Gettysburg stereoscopic views: four with highly ornate imprint "Stereo Gems of Gettysburg Scenery - Photographed by W.H. Tipton, Gettysburg, Pa.," brown on yellow (3) or lime green (1). Two with promotional text on verso for "Tipton, the Battle-Field Photographer": "My personal attention has been given to photographing the field of Gettysburg ever since the great battle in 1863. My collection is larger than...all others combined...." Depicting "Federal Breast works on Culp's Hill, position carried by Confederates, July 2, '63." • "Effects of Union shot and shell on Culp's Hill." • "Southern entrance to Devil's Den." • "At the Round Top - The Valley of Death." • Together with, "Battle of Gettysburg," by H.L. Roberts, Philadelphia, an artist's scene of carnage, with cavalry, bayonets, hand-to-hand, and plumes of smoke from gunfire. • "General View of National Cemetery," Mumper & Co., Photographic Artists, Gettysburg, Tipton's name neatly penned below theirs. Extensive list of other Gettysburg views on verso. • "Capture of Confederate Color Guard," J.F. Jarvis, Washington, "Sold only by Underwood & Underwood...El Paso, Texas," caption also in Spanish, likely for sale in Mexico and Cuba. Varied modest surface and edge wear, two lighter than others but very satisfactory, balance with rich milk-chocolate toning, and generally good to very good. Tipton stereos have sold for up to 195.00 each. $375-500 (7 pcs.)
TO FIND OUT CURRENT HIGH BIDS,
OR TO PLACE BIDS,
JUST CALL 1-914-476-8500
OR e-MAIL info AT cohascodpc.com
(We do not currently use online bidding)
8. Civil War: From turning point to its legacy
8-1. A Showcase Bible of the Civil War.
Deluxe parlor Bible printed during the height of the Civil War: Hardings' Fine Edition - The Holy Bible, containing the Old and New Testaments, "Translated out of the Original Tongues...The Text comformable to the Original Edition of...1610, and the American Bible Society's Original Standard Edition of1816." Printed by William W. Harding, Philadelphia, 1863. 9 1/2 x 11 1/2, eccentrically paginated but about 768 + 116 pp. Apocrypha, 41 pp. Concordance, and 22 pp. Psalms of David in Metre. All edges gilt. Full morocco, impressively decorated front and back with Gothic frame containing complex floral sprays in gilt, hubbed spine with five intricated gold-stamped compartments, and complete, unbroken solid brass hasp. Copper-engraved frontispieces of "Boaz and Ruth" and "Moses with the Tables of the Law." Publisher's stamping of buyer's names (only) rubbed and indistinct, but possibly "J.H. & S.K. Partridge"; all other gilding bright and unaffected; modest table wear at edges, tips, and hinges, else covers highly attractive; endpapers at inside front hinge broken but binding sound and fairly tight; plates with some foxing and light waterstaining at gutter; some uniform toning of latter portion of text, else internally surprisingly fresh and clean, and in all, fine-plus. This printing unlisted on abebooks. WorldCat locates just one copy, at Lincoln Memorial University Library. A barn-fresh find from Pennsylvania Dutch country, new to the market. $120-160

8-2. From the Hit Parade of 1863.
Very scarce Civil War sheet music, printed in Chicago before the fire of 1871. "Daisy Deane," "one of the biggest musical hits of the war years"--AndoverLestWeForget .com. By cousins Lt. T.F. Winthrop and James R. Murray of Mass. Volunteers. Root & Cady, 95 Clark St., 1863. 9 1/2 x 13, 6 pp. Splendidly decorative back cover, with "circular list" of this Chicago publisher's other songs, cleverly typeset in unusual circular fashion, this alone suitable for framing. Including "President's Emancipation March," "Gen. McClernand's Grand March," etc. Much printed matter of every description in Chicago was devoured by the Great Fire of 1871. Minor mousechew at blank lower edge, light foxing and wear, else very good and attractive. $40-55

8-3. On Splendid Regimental Patriotic Stationery.
Letter of Union Pvt. F(ranklin) M. Rose, Co. E, 8th Conn. Vols. – killed in action the following year at Walthall Junction, Va. On very scarce ornate pictorial stationery, with a printing error, "Head Quarters / 8th Regt. Conn. Vols." in ribbons, portrait of Gen. Burnside within wreath. At bottom in curled ribbon, seven battles and dates in which the 8th engaged: "Rondoak Is. [sic], Feb. 8, 1862 / Newbern...Fort Macon...South Mountain...Antietam... Fredericks-burg...West Branch - Battery Suffolk [Va.]...." 5 x 8, 2 pp. "Near Portsmouth, Va.," Oct. 18, (18)63. To Mr. Frost. "I received your letter containing the ten dollars yesterday. It had been so long since I sent for it that I had nearly made up my mind that it was lost. Our regimental or brigade mail carriers steal all the letters that they think contain money, but they seldom steal one coming this way unless it is coming from the paymaster. We made a raid on a guerrilla camp near South Mills last week. The guerrillas themselves escaped, but we burnt the camp and took five prisoners." "Rondoak" is a typographical error: it is Roanoke Island, N.C., where Confederate Gen. Wise suffered a significant defeat, some 2,500 being taken prisoner. Amber staining from old glue mounting affecting last three lines on verso (only), front largely unaffected, else very good plus. Highly attractive. $190-230

8-4. "...my buttons & plates in my belts the brightest."
Letter of ill-fated Union soldier Lawson H. Rogers, (Co. H, 122nd Ohio Infantry), Camp Jes(s)ie, Hampshire Co., Va., Dec. 5, (18)63, 5 x 8, 2 pp., in pencil. To sisters. "We had general inspection this Evening. We passed a very good inspection. I took the praise for having my buttons & plates in my belts the brightest. We have marching orders...123 Regt. Ohio, one Cavalry, one artillery...We will know something about soldiering...Ringold's Cavalry captured 12 rebel Cavalry on Wed...We have a nice green carpet in our tent made out of pine. I will send you a little present of my own making...Tell me how much corn we had...." Two lines of text at folds faint and smudged, balance legible; handling evidence, minor foxing, else very satisfactory. Just before Christmas 1864, Rogers was taken prisoner, succumbing to disease at Charlottesville, Va. $110-140

8-5. "A piece of Gold ore from the celebrated Culpepper Gold Mine...."
Rather horrific letter of Union soldier Robert Stewart, "Camp near Mountain Run," Dec. 9, 1863, 5 x 8 1/2, 3 pp. To his brother. "The Paymaster has just paid us off and I send you $50 for yourself and $5...to Braker the Ledger man for my dues at the tribe...Bill Mann and Hesser's brother was down here to get his body but that's impossible for there was a couple of deserters come into our lines and told us that after we fell back, the Rebels dug Hesser up and stripped him and threw his body into a swamp. They sold his boots for $150 in grey backs and got some fabulous prices for the other articles of his clothing. That's a fine prospect for any people who expect to ever get their friend's body after this war is over...Ask John Mellen if he ever got the Rebel muster Roll I sent him...Tell George Garrett that I got a piece of Gold ore from the celebrated Culpepper Gold Mine on the Rapidan River and that I will send it to him...Send me some chewing tobacco...It will not cost any more if you wrap it up nicely so that the P.M. can't see it. That's the way this army gets two thirds of their tobacco...I am almost frozen writing (this letter) as these tents are not the thickest walls in the world and we have got no stoves...." With postscript, "I want some postage stamps." Some foxing, light wear, else V.G. The writer was likely from Philadelphia, a Sgt. in the 72nd Penna. Infantry, which "suffered much from sickness at the siege of Yorktown, as its camp was in an unhealthful location and the constant rains and exposure in the trenches bore heavily on the command..."--Official Records: Series I, Vol. 27, Part I. At Gettysburg, the 72nd suffered "grievously on the third (day), both during the great artillery duel, and in Pickett's historic charge," fighting "immediately behind the 69th." The poor soldier referred to was apparently Lt. Col. Theodore Hesser of the 72nd Penna., killed in action just after Thanksgiving 1863 at Mine Run, Va. $160-200

8-6. Before the Storm.
Letter of Union soldier "Allen D.," "Camp of 7th Regt., C(onn.) V(ols.)," Portsmouth, Va., Mar. 3, (18)64, 4 x 6 1/4, 1 p. To cousin Lille(?). "I am in our old Camp once more...Only a small cold...We had a fine trip from Conn. to Fort Monroe...It is getting nearly roll call...." Imminently, the 7th Conn. would be embroiled "in the most arduous and trying duties at the extreme front." By May "it was almost continually engaged...in the advance on Richmond, losing 205 men..."--Regimental history, by Capt. William H. Pierpont. Interesting large oval blind-embossed cameo-style bust. Very fine. $55-75

8-7. "Kilpatrick with 12,000 Cavalry have gone into Richmond" – and Steamy Scandal on the Homefront.
Lengthy letter of Union soldier identified as Sgt. Oliver C. Benton, on printed letter-sheet of "Camp of 17th N.Y.V. Battery," Fairfax Court House, Mar. 4, 1864, 5 x 8, 4 very full pp., concluding around edges. To his wife, Cora S. Benton, Albion, Orleans County, N.Y. "...And how do you do?... Gen. Kilpatrick with 12,000 cavalry have gone into Richmond, released the prisoners and destroyed the town, and that Butler is between Richmond and Gen. Lee, and Meade moving on Lee from the front. If so, what will become of the Rebel army in Va.? Gone to the shades. True or not I know not, but this is the kind of reports that is got up in or about the 17th Battery in order to get up an argument amongst the boys and to have something to talk about. However there is a movement in the Army of the Potomac...All high Officers think that the coming campaign will about close this Rebellion...Since the paper came...the last rumor from Kilpatrick is that he has destroyed the R.R. at Hanover Junction and also the Fredericksburg Road and was within 12 miles of Richmond...Orders...to recruit 30 more men for this, the great 17th Battery, more the better...We had the pleasure again yesterday of drilling in the mud for the purpose of showing ourselves to some Officers' Ladies, a very large thing I must say...." Thanks for photograph of "our darling Children...I love to look upon it, so that I can see more plainly the improvement as they grow older & I trust wiser...Jennie Anderson...I pity her really but she knew better than to go and have a man sleep with her. She has seen the effect of such things time enough. She knows better than to go to bed with a man, and now that the thing is did she must try and keep up good courage until she has got through with her job...." Minor toning at original fold, else V.F. • With orange-yellow envelope, printed cornercard "17th N.Y.V. Battery," postmarked Washington, concentric rings on Scott #65. Some perfs approaching top edge turned, else fine and clean. $120-150 (2 pcs.)

8-8. "The government grub was not fit for me...."
Letter of Union soldier N. Stewart, Martinsburg, Va., June 25, 1864, 4 3/4 x 8, 2 full pp. To sister in Coshocton, Pa. "...Sol Shroyer has got leave of absence of 10 days...We heard the news about Andrew Sigley[?]...Will Edwards is not getting much better...Jacob Hanks is not well but Sol will report all about the Co...When I hadn't much of an appetite (in fact the government grub was not fit for me), I bought something that would suit me. You need not send much. I can eat Uncle Sam's grub now but need a little for material to write. Stamps will do as well...John is hearty...." Soiling at one edge each side, and at folds, two fold breaks but no separation, else good plus. Lt. Solomon Shroyer and Pvt. Jacob Hanks enlisted in Zanesville - on the same day the month before - in the 160th Ohio Infantry's Co. E, guarding supply trains, and skirmishing with Mosby's guerrillas. It is almost certain that the writer served in the same unit. $70-90

8-9. "I can act a woman when I get home. I can make the best coffee...."
Pair of letters, to and from Union soldier John H. Snouffer (133rd Ohio Infantry), the former curiously written from a member of the same Company - in the same camp! To him, from (Capt.) E(llis) H. Heagler, attributed to the same Company at Fort Powhattan, Va., June 25, (18)64, 5 x 8 1/4, 2 pp., in pencil. "Under a brush tent in a stooping posture, I'll try to write you a few lines...Doing 'garrison' duty...a very pleasant place of encampment. The duty devolving upon the men is quite heavy now. On Picket and fatigue duty, but from what the men say of the veterans they saw at Bermuda Hundred, we are faring very finely. John had been detained at Point of Rocks...He was detailed to take care of Ammunition. He is...a good soldier as he has always been ...N.Y. papers give us more information than we can get otherwise, although we are within about 30 miles of Richmond...." • From Snouffer, Ft. Powhattan, July 10, (1864), 4 x 6, 2 pp., in ink. To sister. "...I suppose you had a fine time [on July] fourth. I would like to have been there, so to have some of the nice things, such as pies...I like soldiering if it wasn't for one thing, that is to have a man say what you may do and what you shall not do. Although we have good officers but I would rather be free from any of them. I was sorry to hear that you was so mad. You must avoid that if possible. I have found that flying up was useless...I suppose you are having plenty of music. I will (be) there to help you sing before long. I think that I can act a woman when I get home. I can make the best coffee and milk & wash. I expect when we get home the women will have us do the work while they rest. I must close my boozy composed letter...." Both with original folds, average wear, else very good. Snouffer served just under four months; at Powhattan the 133rd repaired telegraph lines. $110-140 (2 pcs.)

8-10. "The Artillery Men thought it was the Rebs cheering, and poured into us with a vengeance."
Lively letter of Union officer "Benjamin," (attributed as Lt. Benjamin T. Wright), 10th Regt., Conn. [Infantry] Vols., Henrico Co., Va., Aug. 19, 1864, 5 x 8, 2 1/4 pp. In artists' pencil. To (wife) Abbie. The excitement described corresponds to the 10th's action at Deep Run, Va. "Thanks to kind Providence we are still all right. We had a pretty rough time last night. I had three men wounded...Ringrose the most severe, he was struck by a piece of shell on the left Breast. For a moment I thought he was a goner, but he was not wounded very severe. After he recovered the shock he was able to walk off. The other two were Patrick Barrett, a recruit, slight(ly) wounded in the knee, and Samuel Loyd, hand...Hawley's Brigade had left. Part of our Regt. had gone on Picket, the remainder were formed in a Skirmish line in the rear of the works, to take possession of the line and hold it so as to cover the retreat. Just as everything was ready, the Rebs opened on the whole length of the line and attempted to carry the assault. At the same time our Artillery in our rear opened with a Spherical Case, Grape and Canister. As we shoved the Rebs back, some of the troops cheered. The Artillery men thought it was the Rebs cheering, and poured into us with a vengeance. Several were killed right in front. Four shells struck within a few feet of me. The fire in the rear produced a panic, and for a few moments I thought everything would go. They attempted to leave the works en mass...The break was immediately in my front. Everything was got right back at last, and we kept them up at the point of the bayonet. The Rebs made several attempts, but were repulsed every time...We are today on Picket nearly as far as we were before. The Rebs are close to us. What is to be the future, I am unable to learn...." Interesting "Avondale" blind-embossed stationer's crest. Varying from light but legible to satisfactorily dark, as his pencil was turned, minor handling evidence, else very good. With transcript. $170-220

8-11. "I would not be single for all this world. You are the one I wanted...."
Touching, lovelorn homefront letter of wife M.E. Vannest, Rowsburg, Ohio, Sept. 27, 1864, 7 3/4 x 10 1/4, 3 1/2 pp. To her husband Sgt. J.P. Vannest, 120th Ohio Infantry, St. Charles, Ark., "via Memphis, Tenn." "You just ought to see me when I get a letter from you...I was busy washing when they came...They hardly ever come from the east...I wish you would come along that way some day but it is nonsense for me to think so...The draft went off yesterday...My brother John was drafted but I guess will try and get a substitute...I can't hardly tell you what kind of a fellow Dave is. He is a real slouch. For one thing I don't think he is overstock(ed) with money...One day Father went to Wooster and Ann was tending grocery and they sent Ann to the cellar for beer, and while she was gone Dave took the gin bottle and off they went...We draw some money last week. I got $14...That is not fair...I don't think they do what is right...I look over the papers most every week...So much rain...I am afraid the potatoes will all rot...I have canned some tomatoes. If you come home I'll give you all you can eat...I intend to pay my rent this week and will rent til Spring...Your uncle Peter Vannest and his lady are in a visit...She is quite a lady...She don't seem one bit grand...If we get together again and we will enjoy ourselves again as we did last winter...I want you to feel easy about me. I'll try and do the best I can...just so you live to reach home again. Dear Joe, I don't believe there was ever a woman in the world that thought more of her husband than I do of you. All Summer I felt awful discourage(d). I thought I could not stand it, but have got over it...I am married and can't expect anything else but to have children...I would not be single for all this world. You are the one I wanted, and now I feel satisfied. You are the only one I ever loved and you are the one for me...Hope this rebellion may soon come to a close. Well I must confess I don't think much of old Abe. I think he has been there long enough to have done something...I think you ought to know which is the best man...," presumably referring to McClellan. Light wear, else fine. • With goldenrod cover, "Rows / O[hio]" c.d.s. and four-ring concentric fancy in greenish blue. Postal wear, good. The writer endured a long wait: Vannest, by then a Lt., was not mustered out til late June 1865. He appears in the modern work, A Visitation of God: Northern Civilians Interpret the Civil War": "...Raised in a family of dyed-in-the-wool Democrats, Joseph Vannest went to war to preserve the old Constitution...He shortly felt betrayed by the Emancipation Proclamation...." $120-150 (2 pcs.)

8-12. Capturing "several hundred Negroes" – and Confederate Post Office's Datestamp.
Unusual A.L.S. twice of Union Maj. Gen. N(apoleon) J(ackson) T(ecumseh) Dana, Hd. Qrs., District of Vicksburg, Natchez, Miss., Oct. 7, 1864, 7 1/2 x 10, 1 1/2 pp. To Brig. Gen. M.K. Lawler, "Com(manding) at Morganza" (La)., penning text of a telegram to be sent. "Please send the following telegraphic dispatch immediately to Gen. Canby at New Orleans...'My cavalry attacked the enemy at Woodville yesterday at 7 A.M. Enemy 250 strong, with a battery of three guns. Our forces Killed forty of the Enemy, and captured the battery. With it, Capt., a Lt., and fifty-four men. Woodville Post Office and Telegraphic Office and Richmond dates of 4th and instruments taken. I send you the rebel telegrams and some dispatches...We have not lost a man, thus far, and only four horses were killed. Our spoils, together with several hundred head of stock and several hundred Negroes, all at Ft. Adams in safety. Scott was making preparation for an attack on my forces this morning.'" The latter was evidently Gen. Thomas M. Scott, mortally wounded soon after at Franklin, Tenn., the charge called "the greatest drama in American history"--Horn, in Boatner. Wounded and left for dead on the field in the Mexican War, Dana was again wounded at Antietam. Fighting in Texas, he landed at the Rio Grande, driving the Confederates to Laredo. In command of the area in which the steamboat Sultana exploded near Memphis, Dana investigated the tragedy; no one was brought to trial, and Dana was sent home by Grant. Light stains, perhaps a few raindrops, minor wear, else about fine. Uncommon. $275-375

8-13. Likely Involved in Capturing and Transporting Deserters and Confederate Prisoners.
A.L.S. of Union officer James (F.) Grimes, on printed lettersheet "State of N.-Y., Office of Act'g Assist. Provost Marshal General and Supt. Vol. Recruiting," Albany, Oct. 27, 1864. 4 3/4 x 8, 2 pp., with close on p. 3. To his wife in Hillsborough Center, N.H. "...I have had a terrible head ache...and as I have been alone, I have been obliged to work...I shall not go to the office tonight if they send for me, because I am in no condition to work, and shall very soon retire to my peaceful couch for the night. Not the lounge, for as a general thing I prefer a bed...What does my little wife prefer? I believe she likes a lounge...." Very fine. The first from his New Hampshire town to enlist after the bombardment of Ft. Sumter, Grimes enlisted as a Capt., in both the 10th and 17th U.S. Infantries. Wounded at Spotsylvania, his unit suffered egregious losses at Cold Harbor, Gettysburg, the Wilderness, Weldon Railroad, and Chapel House. By the latter, his regiment could only produce 26 men to bear arms. Commanding at Hart Island, off the coast of The Bronx, he was soon sent to Texas, marching hundreds of miles to Austin. Appointed Judge Advocate under Maj. Gen. Macook's military commission, Grimes next commanded in Nacogdoches. Breveted Lt. Col. in Mar. 1865, he served til 1871. Modern research, with photograph, accompanies. • With cover, full printed franking of "Office...," "Official Business" neatly ruled out, and Scott #65 precisely affixed at upper left. Nearly socked-on-nose four-bar "Pepsi-Cola"-style round fancy, almost certainly made by hand from cork; another impression at right, with indistinct c.d.s. Band of pale pink toning at left, else very fine. Provost Marshals such as Grimes were sometimes involved in covert activities, including transport of deserters, political prisoners, spies, and commissioned Confederate prisoners-of-war. The latter were occasionally treated as civilian prisoners, and given comfortably furnished quarters and special courtesies. $110-140 (2 pcs.)

8-14. Sewing Machines at War.
Group of 24 Civil War-date letters to Singer Manufacturing Co., N.Y., from their agents and customers in New York State. From Singer's Aug.-Dec. 1864 letter-book, various sizes from 5 x 8 to 7 3/4 x 12. 11 all-manuscript, plus 13 on letterheads (one 2 pp.). From Albany, Brooklyn, Buffalo, Elmira, Greene, Poughkeepsie, Prattsville, Rochester, Syracuse, Vista, and Watertown. Ordering an array of sewing machines, parts, and thread. "Send me...1 doz. bobbins for the old Family Machine...." • "Please send us No. 35 Feed Dog complete...." • Machine shipped to Carthage, N.Y. damaged in transit. "If much broken, will probably have it sent to you." • On ornate letterhead of General Supt.'s Office, U.S. Telegraph Co.: "...a present to my sister living in Homer. The Machine is imperfect in some way. Mr. Babcock who sells your Machines, worked at it until he gave it up...I persuaded her yours were the only perfect Machine, and feel some pride...that it shall prove as I recommended. This one she cannot use at all...It was not right when it came...." • From Buffalo agent, hoping to extend exclusive on Penna.counties awarded them. • "Have you any good Territory that you want canvassed...I have some means & am 29 years of age...." • From Buffalo agent, "Please send ...5 'A' Machines mahogany...also envelopes, bill heads, note and letter paper...." • From Elmira, "Please send us 2 Letter 'S' Machines with Blk. Walnut table finished in oil...1 Folding Top, Walnut...50 Needles Nos. 1 & 4...." • "I have an order for a No. 2 cloth machine with Quilting Gauge...to bind overcoats with broad-cloth...." • From Wall St. shipping agent: "The Steamship Erin...will take Sewing Machines at 25/- per 40 cubic ft." Unusual oversize "Improved" patriotic shield watermark. • Order for 18 machines, "packed one machine in a box." • "Please send immediately 2 'A' Machines Mahogany, 2 Rosewood." • "I send you today by N.Y.C.R.R. one No. 2 machine to be repainted and some slight repairs...Steel slides... She thinks the brass one hurts her eyes...." All with Singer's usual brown mounting strip on verso, varied condition, from fair to fine, some with edge defects, but most V.G. or better. By the turn of the century, Singer was an international ambassador of American industry, the name known worldwide. The Singer Building, on lower Broadway, was one of old N.Y.'s most ornate skyscrapers. $140-180 (24 letters)

8-15. Civil War Venom: "It is sickening to think of ever having lived in the same Government such a people...."
Anti-Copperhead pamphlet issued by Loyal Publication Society, 863 Broadway, N.Y. "How the War was Commenced...Southern Documents especially quoted." Tract no. 46, 1864, 5 1/2 x 9, 16 pp. Quoting and rebutting Southern newspapers between Jan.-Apr. 1861, in the earliest days of hostilities, pinning propaganda on the "Vallandigham Democrats." "It is a favorite game of the Copperheads to charge that the war...was got up by the 'Abolitionists.' But the subject needs no discussion...having taken place under the Administration of James Buchanan...." Listing dates of secession and "revolt" of Southern states, it asks, "Now, who got up the rebellion? Under which king?...It has been asserted that the anti-slavery agitation in this country was injurious to the South, injured slave property, and provoked the Southern people into an ungovernable rage...The first time a hostile gun was fired at a vessel covered by the flag of the Union...by American rebels, was on Jan. 9, 1861, when the Star of the West was fired upon from Morris Island...The next case of artillery practice on American vessels was... at Vicksburg, Jan. 13. The boat was the A.O. Tylor...given in the Vicksburg papers with immense braggadocia at the time...." Quote from Houston Patriot just preceding Fort Sumter, proclaiming, "(The North) have been forced to eat dirt, and bow down to the dominant Southern race, and their shrieks of rage are the only sounds heard from the North...The cowardly 18 millions North told us we should not leave the Union. We did it openly and boldly...They shouted the praises of the Stars & Stripes...We have torn it down. We have placed in its stead the flag of the Confederate States...It is sickening to think of ever having lived in the same Government with such a people...." Cover and last page toned with light stains, some corners dogeared, minor handling, else V.G. • With pamphlet, "Hinton Rowan Helper's The Impending Crisis - A Digest of the Book by the South's Best-Hated Man," condensed. Haldeman-Julius Publications, Girard, Kans., 1945, 5 1/2 x 8 1/2, 27 pp., sulphur-yellow covers, newsprint text. Showing the lasting impact of one of the most influential books of the antebellum era. "...It is expected that the stupid and sequacious masses, the white victims of slavery, will believe...whatever the slaveholders tell them...." Waterstain at bottom edges, text uniformly browned, else very good. $45-65 (2 pcs.)

8-16. Keeping the Peace in the 1864 Presidential Election.
Two items of Union Maj. Gen. J(oseph) R. Hawley, an organizer of Republican Party in 1856 Conn., led at James Island, Morris Island, St. Helena, Florida campaigns, and siege of Petersburg; sent to New York City with a hand-picked brigade to keep peace during the Nov. 1864 Presidential election; Chairman of 1868 Republican National Convention; Pres., Centennial Commission, planning and running the 1876 Exhibition; postwar Gov. Conn.; Congressman and Sen. for over 25 years. Comprising: A.L.S. of Hawley, Senate Chamber, Feb. 20, 1897, 7 3/4 x 9 1/4. To Daniel Morgan, (Treasurer of U.S.). "...Concerning the delay in confirming the nomination of a Post Master of Fairfield (Conn.), I am informed that charges have been made against Mr. Kinsella that the Committee cannot fail to notice. What they are I do not know. If they are to influence the case, Mr. Kinsella ought to know what is said and have an opportunity to explain...." Trimmed at top, feathered loss just touching "F" of date when removed from Morgan's autograph album, else very good. • A.L.S. of Geo. D. Curtis, Hartford, Apr. 26, (18)83, 5 x 8, in purple ink. To Morgan. "I take pleasure in handing you herewith, autograph of Gen. Hawley, for your collection. Feeling gratified that I have been enabled to thus accommodate you...." Neatly mounted at upper left, a signature of Hawley in storm-grey ink, from close of a letter, with wide margins. Very fine. $140-180 (3 pcs.)

8-17. "Tell the Northern fanatics, To let the slaves alone...We are all true conservatives...."
Pictorial song sheet, "Cling to the Union," by H. De Marsan, "Publisher of songs, ballads, toy books, &c., 54 Chatham St., N.Y.," n.d. but 1861-64. 6 1/2 x 9 3/4. On pale cream vellum, with stylized bombardment scene of fortress at top, sailor climbing a mast at right; at left, soldier brandishing sabre and flag, leading a charge, as another lies wounded beside caisson, and three cannonballs fly overhead. At bottom, smaller woodcuts of men pulling the lyricist's allegorical wagon, and soldiers drilling. "There is a right and wrong in parties, And the right is on our side; So let us mount the wagon, And let the Union ride. The nation is the wagon, and the people are its springs; Every lover of his country, For the Union sings...We tell the Northern fanatics, To let the slaves alone. The Southern fire-eaters, Had better hie unto their home; We all are true conservatives; Whatever may betide...." Several heavy diagonal creases at lower left quadrant, lesser but noticeable creases elsewhere, tear at top where once posted, some edge wear, but still very satisfactory. Dramatic and very scarce. $80-110

8-18. "...the number of deserters & Refugees from the South...."
Civil War homefront letter of J. Shoins, 936 Race St., Philadelphia, days before Appomattox - Apr. 4, (18)65, 5 x 8, 4 pp. "...Doing as well as could be expected in these novel times...[His son] is but 6 weeks old...Has more than he can eat of the natural food...I am not surprised to hear of the movements of H.G. Kelsey...We are yet boarding but are going to housekeeping soon...I am glad to hear of the welfare of Col. Jones. He is a rising man...I am glad you are rid of a draft for it is not likely with the recent victories by our troops, that there will be another call for men...Yesterday the news came that Richmond was captured beggars all description... Business stopped & the whole city took a holy day. There was a grand illumination...The Spring is opening beautifully. Grass is springing up...I have a pretty close time to get along but I keep out of debt. Labor is cheap here from the number of deserters & Refugees from the South...." Break at one fold, else fine. $65-85

8-19. "The Johneys is deserting every nite...."
Letter of Union brothers Jacob W. and Henry H. Otto, citing "very heavy cannonading" continuing in Virginia over two weeks after Appomattox. Privates in Co. C, 205th Pa. Infantry, penned by the more literate sibling on behalf of both. Camp near Hancock Station, Va., Apr. 24, 1865, 4 1/2 x 7 3/4, 3 pp. To John W. Otto. "...The Johneys is deserting every nite...They are in the man(n)er of starving. They are massing their trupes on the left of Petersburg. They want to break through our lines. I think they will have enough to do if they try that. I heard that Samuel Otto and Jacob Wilt enlisted...It rained for three days and the roads is in a bad condition. The teams can hardly get along. There is 36 Johneys past while I am writing and this morning there was 18 past here. There was very heavy cannonading on the lines today. The Johneys said they ate the last time in Petersburg this morning and that they would leave...If they don't enlist they will be deaf too...They cheated us of our men...We are kept in idleness so if anything takes place we can be ready in a moments notice...." Soiling of p. 1, uniform cream toning, but about very good. $120-150

8-20. "These are great days we live in."
Letter of one Union brother "E.F.D." to another, "J(ack) S.D.," Philadelphia, May 12, (18)65, 7 1/2 x 12 1/2, 1/2 p., with full p. closely written accounting of their affairs on verso. "...I expect that you will be shortly mustered out of service as there were 2 Regts. & the Vol. Reserve Corps discharged in Washington. The Army is to be cut down to 4 Corps, one Regular, 1 Vol., and 2 Colored Corps. Peace appears to be the idea, but I think that there is so much malice and longing for more contracts that peace will die hard. The false and foolish rumors in big types of the daily papers in this neighborhood indicate that the political hacks are all not dead yet. These are great days we live in. I send you the account between us since the Rebellion broke out as I believe we never squared it up regularly...." On verso, over 75 dated entries, many payments to Louisa, others to "City taxes," "Cash - Adams Express," "E.G. Lee," et al, amounts from 5.00 to 1026.00. Split at center horizontal fold, irregular fragment lacking at lower left with loss of three lines of entries, edge tears and chipping, but satisfactory. With some luck, identification of the parties may be possible. $55-80

8-21. The Future Medical Director of the Navy – 1865.
Letter attributed to Union Navy Asst. Surgeon Aaron S. Oberly, aboard "U.S. St(eame)r Santiago de Chile, Potomac River," May 25, 1865, 7 3/4 x 10, 4 pp., signed "A." To "My Darling." "...Underway, and at present are directed for Charleston. At noon today the party consisting of 22 persons came on board and immediately we started...Sec. Welles & wife & son; Mr. Dennison (Postmaster Gen.), wife & daughter; Mr. Warner & wife (from Hartford); Messrs. Day & Jackson with their wives (also from Hartford); Mr. Faxon, Chief Clerk of Navy Dept.; Mr. Morgan and sister; Mr. & Mrs. & Miss Meritt from N.Y...My love teaches me too well not to know what tends to make you happy and cheerful. Yesterday I witnessed the Review of Gen. Sherman's army...I enjoyed witnessing the troops that for so long a time troubled those in rebellion and eventually by their doings brought about a resolution of affairs. In numbers & in stamina, I think the troops were far ahead of those reviewed on Tues. Few of the regiments were decimated as much, and the indications were that their long march was good exercise. In the army of Sherman's were Eastern as well as Western men...From the manner of the army's marching, there was an air of self-confidence & a determination to win in case resistance offered. To the foreign Diplomats the past few days must have offered some suggestions in case a foreign power should attempt to assail the U.S...There is a great deal I like about the city [D.C.]. Society is much different from what we find in our Northern & Eastern cities. There is less formality on first acquaintance. But as the vessel is shaking a greal deal I will...come quickly to a close...By the way ...we have a fine musician, who is to perform on the piano while the party are eating...." Joining in July 1861, Oberly went on to a paramount medical career at sea, becoming Chief Fleet Surgeon with Adriatic Squadron, then Medical Director of the Navy. He appears in the brand new work, The Civil War on the Mississippi... by Tomblin, and many other sources. Toning at two fold junctions, else about fine. Letters of Civil War Naval surgeons, penned aboard ship, are very uncommon. $250-300

8-22. Anatomy of a Busy G.A.R. Post – with 37 Pages - and 27 Signatures - in the Hand of a Teenage Medal of Honor Recipient.
Collection of four manuscript record books of G.A.R. (Lt. H.H. Hoagland) Post #170, Catawissa, Columbia County, Pa., with related items. Containing mention of Gettysburg, the Johnstown Flood, Confederate monuments, a contemptuous response to a request for funds to preserve Andersonville, and many other causes. At some point, almost every position in the Post was held by Capt. I.H. Seesholtz, who participated in nearly every battle of the Army of the Potomac, in the 35th, 99th, and 118th Pa. Infantries; wounded at both Shepherdstown, W.V. and Peebles' Farm, Va.--Modern bio accompanies. Comprising: Their first record book, Jan. 16, 1880-82, 6 x 15, about 163 pp. written, the last 31 pp. in pencil, green mottled paper over boards, glazed saddle-brown leather binding. Listing Seesholtz as their first P(ost) C(ommander). Principally in the hands of G.W. Reifsnyder, a Pvt. in 30th Pa. Infantry and 3rd Pa. Heavy Artillery, and J(ames) M(onroe) Seitzinger of 116th Pa. Infantry, awarded Medal of Honor at age 17, for bravery at Cold Harbor, seizing colors when their bearer was shot, and carrying them gallantly in a charge against the enemy. Joining the Army with his father, they also fought side by side at The Wilderness, Spotsylvania, and Petersburg. Though nominated for the Medal on Aug. 25, 1864 - the day he was wounded at Reams' Station, Va. - James did not receive it til 1906! In all, in Seitzinger's hand, 19 pp. in ink, 18 pp. in pencil, with 13 Seitzinger signatures in ink, and14 in pencil.
The saga begins, in the first book: "By the direction of Gen. J.M. Vanderslice, A.A.G., the Soldiers in the vicinity of Catawissa assembled in the Hall over Gilbert & Kline's store this eve for the purpose of instituting and organizing a Post of the G.A.R...." Including: "...aid for a monument to be erected in Fairmount Park in honor of the late Gen. Geo. G. Meade & his fallen comrades..."; Erie Post's petition to Congress for Soldiers & Sailors Marine Hospital; support for raising pensions of the "United States Maimed Pensioners League...organizing a League of One Legged & One Armed Union Soldiers"; July 23, 1881 "Resolution of Sympathy with Pres. Garfield...on motion that this Post send $10 to the Sec. of Mrs. Garfield..."; Sept. 24, 1881 "motion that this Post fire a salute on Mon. every half hour during the day in commemoration of the burial of our Late Pres. James A. Garfield" and that the Post attend a divine service for Garfield; and more.
• Account book, in period pencil on inside front cover "Co. G, 188th Pa. Vols.," commencing the Post's founding date Jan. 16, 1880-Jan. 2, 1886, 178 pp., 7 1/2 x 12, red, blue, and yellow fishscale marbled paper over boards, black calf tips and spine. Beginning with "1 Charter $16.00, 1 Bible $6.00...Cash $2.56...," showing a page for nearly each member of this substantial and busy post, though more than a few would be noted "suspended for nonpayment" as the years passed. First leaf removed but apparently complete, correctly beginning with tab for "A-B-C-D."
• "Record of the Relief Fund, as provided by the Charter...," 1884-92, 8 x 12 1/2, 242 pp. (last leaf dated 1917, and nested loose at rear). An exhaustive chronicle of the patriotic and devotional activities of the Post, pp. 1-173 in the clear hand of H.C. Thomas, Adjt., balance penned by his successor C.F. Harder (evidently a Pvt. in 132nd Penna. Infantry, discharged 1863 for disability). Including memorial for "Comrade John R. Brobst, killed on Cata Branch of P.&R. R.R..."; donations toward equestrian statue of late Gen. Logan in Washington, D.C.; thanks to Exchange Hotel for picture of their building as it appeared on the last G.A.R. Day; funeral for Flemons Jacoby, killed on the P.R.R., Sunbury, and eloquent eulogy to his widow; aid to "Johnstown (Flood) sufferers"; "Headstones for ex-soldiers" to be ordered from Washington; July 13, 1889, "Circular #6 from Board of Comm(ittee) on Gettysburg Monuments, with Act passed by Legislature relative to participants in fight at Gettysburg of Penna. Regts. attending at unveiling of monuments, free of cost as far as transportation is concerned"; "A communication from agent for Stereopticon show of views of the War for the Union, wishing to show here, was read and motion that Post accept the terms and engage the parties, was voted down"; "An appeal from Mrs. Jensie Wells of Alma, Crawford Co., Ark., for funds to enable her to pay for the defense of her husband, convicted of murder...An order for $2 to be drawn and forwarded, with request that we be notified...whether she succeeded...or husband liberated"; "A series of resolutions opposing the erection of rebel monuments on the Gettysburg battlefield"; "A picture, handsomely framed, showing Confederate dead as they fell in front of the 132nd Regt. P(a.) V(ols.) at the battle of Antietam was presented by Comrade George Harder, Surgeon. S.M. Brobst made presentation speech in some well chosen remarks, giving incidents of battle..."; fundraiser for "purchasing property and erecting home for Old Soldiers and their wives at Brookville, Pa. Corps #48 will have some sort of a Lunch box entertainment..."; "Communication from Dept. of Georgia stating that Old Andersonville prison pen ground had been purchased by the Dept. and asking contributions with which to repair and care for the property, was read and a motion carried that it be accepted and thrown in the waste basket"; petition for "equestrian statues to Gens. Meade and Hancock on the field of Gettysburg"; support of prohibition of sale of intoxicating beverages on Memorial Day 1890-91; objection by Naval Post #400 of Philadelphia that 80% of pensions will be eliminated of residents of Erie Soldier's Home; and more.
• "Accounts of Money Loaned &c. from Beneficial Fund of Post #170...," Aug. 4, 1884-Apr. 8, 1893, 7 3/4 x 12 1/2, 23 partially written pp. of 225 in all. Fishscale marbled paper over boards, rich brown tips and spine. Loans by Henry Geese, William Berninger, August Bohnart, et al. Four books with some spine and board office wear, inner hinges cracked, else about good, internally generally very good to fine.
With ten items nested inside: "Roster of the G.A.R., Dept. of Pa., Headquarters City Hall, Philadelphia," 1929, 5 1/2 x 8 1/2, 12 pp., pumpkin orange wrappers. • G.A.R. General Orders No. 4, Philadelphia, Sept. 30, 1926, flag in color at top, 5 1/2 x 8 1/2, 3 pp. Recommending inspection of each post by its Commander; "...the occasion should be one of fraternal and social enjoyment." Reporting on 60th Annual Encampment, Des Moines, Wis. (sic?), "entertained handsomely by the citizens...." With specimen inspection form, listing 18 questions to be answered: "Are the members uniformed?..." In original envelope, with Sesquicentennial postmark. • Manuscript receipt for $110 for administration of Post 170, in hand of J.H. Seesholtz, 1887, 5 1/2 x 7 1/4. Intentionally torn at bottom, to form a second receipt for $5 interest. • Printed card of words and music to five "Odes and Hymns," 5 1/4 x 8 1/2. "...Bearing high the noble banner, Stained with blood of patriot sires, We will ever on our altars, Keep alive fair freedom's fires...." Mousechew, no loss of text, worn and soiled, but satisfactory. • Typographically ornate invoice, C.H. Campbell, Register and Recorder of Columbia Co(unty), Bloomsburg, Pa., 1893, 7 x 8 1/2, "For satisfying mortgage...to Post 170...25¢." • Two manuscript receipts, 1893, for Post monies, one for over a thousand dollars, the other for 40¢. • Large sheet of kraft, with arithmetic in pencil, evidently calculations of Post loans due 1889-93, about 12 x 18. Varied wear, but good to fine. Once one of the major groups in the American consciousness, in the 1930s the G.A.R. held their last encampment, and by the World War II era was an anachronism. Likely the lengthiest manuscript of any Medal of Honor recipient we have ever handled; a simple signature of Seitzinger is offered by gunauction.com at 125.00; this lot contains 27 of his signatures. Because he was an enlisted man, the likelihood of additional manuscript material emerging is slim. $1900-2500 (14 pcs.)

8-23. "She showed us the marks of the rebel bullets on her furniture...."
In the Defences of Washington; or, The Sunshine in a Soldier's Life, by Stephen F. Blanding, Providence, R.I., 1889. 6 x 8, 54 pp., sepia rotogravure plates, olive brown linen. Breezily written memoir of a former Navy man, reenlisted in the 3rd Mass. Heavy Artillery on Christmas Eve 1864. Stories of "Pat Maloney and his Haver'sock," "Escape of Two Bounty Jumpers," "Mud, Everlasting Mud," "Assassination of Pres. Lincoln," "A Lock of Hair from the Head of a Dead Rebel Sharpshooter," Jubal Early, and more. Ex-lib, old bookplate, 1901 acquisition markings. Front inner hinge cracked; endleaf, frontispiece plate, and title page loose but present; two marginal creases of title page, uniform toning of dark cream laid text, else good plus. $40-55

8-24. Showing 35 Union Corps Badges.
Colorful oversize blotter depicting 35 Union corps badges, with advertising message of attorney W.E. Moses, Denver, his photo in center, (1916), 4 x 9 1/4. Showing logos of the 1st through 25th Corps, plus nine others and G.A.R. "Wanted - Soldiers' Homesteads...I pay spot cash...." Blank blue verso with creases, not seen on front, else about fine and rare. • Unused reply envelope. • Oversize kraft mailing envelope, postmarked Denver, 1916, with sound 1¢ green Washington coil, jumbo margin at imperf top, into frame at bottom. Envelope much worn, but satisfactory. $60-80 (3 pcs.)

8-25. Civil War Reunion – at Sea!
Highly unusual program, almost certainly for a reunion cruise of Civil War veterans: "Farewell Dinner on board S.S. Veendam..., on her West Indian Cruise, Feb. 11, 1928," 7 x 10. Comprising magnificently copperplate-engraved, stiff paneled ivory card covers with portrait of Lincoln, bordered by vignettes of covered wagon with couple dancing amidst wild flowers, free blacks, Miss Columbia, and Union centurion slaying the dragon "Rebellion." Enclosing 4 pp. program and menu, including "Cream Lincoln," "Timbale Gettysburg," "Sirloin of Beef Gen. Lee," "Escalops of Sweetbread à la Richmond," "Granité Bull Run," and "Vicksburg Cake." Musical selections included Sousa's "The Stars and Stripes" and "The Sunny South - Selection of Southern Plantation Songs." Red, white and blue braided cord tie. It is entirely possible that Confederate veterans were also welcome on the cruise: beneath Lincoln's likeness, two hands clasped in "Union." Envelope dust-toned with some wear, ballpoint notation "Shipboard material," insect spots on verso; program with two short perpendicular creases at spine, light marginal toning, else fine. Three months later, this famed Holland-America liner collided in heavy fog with another ship, putting it out of commission. Items relating to Civil War veterans' cruises are elusive. With modern research. $90-120 (2 pcs.)

8-26. Civil War Remembered – 1936.
Substantial, cast solid bronze marker in shape of G.A.R. pentastar logo, 6 1/4" span. In center, "GAR / 1861 / 1865," in relief on hammered background. In triangular lobes of stars' points, crossed rifles, crossed cannon and cannonballs, bugle, anchor, and crossed swords. Cast in relief on verso, "Presented by Schuylkill County [Pa.] Commissioners, 1936." Three integral eyebolt-style protrusions, two plain, for flag, and one threaded, for rod. One gouge at blank bottom edge, some minor surface nicks, else very good. The final Gettysburg reunion would take place just a few years hence. Certainly a storied memento, acquired around time of Civil War Centennial. Modern reproductions sell for up to 75.00. $100-130
TO FIND OUT CURRENT HIGH BIDS,
OR TO PLACE BIDS,
JUST CALL 1-914-476-8500
OR e-MAIL info AT cohascodpc.com
(We do not currently use online bidding)
9. First Ladies
9-1. "What would Christmas be...."
A.L.S. of Bess W. Truman, on engraved personal stationery, Independence, Mo., n.d. but envelope (also in her bold hand) postmarked Jan. 12, 1954. To Mr. and Mrs. William Simmons, Arlington, Va., 1 full p. "What would Christmas be without some 'Simmons cookies'! How wonderful of you to remember us again this year...Thank you so very much for adding to our Christmas happiness. We miss all of you and I get pretty homesick for Washington at times. The best of everything to you both for 1954." Simmons was Truman's White House aide and appointments secretary, who famously allowed a peach queen visiting Washington to sit in the President's chair. Soft evidence of clip at blank top margin, else both very fine. $110-150 (2 pcs.)

9-2. With Mourning Border.
Free-franked envelope front in hand of "Lucretia R. Garfield / Free / Ladies / Guilford House / Western Reserve University / Cleveland / Ohio." Cleveland postmark "Nov. 27 '9" over "Lucretia," with wide diagonal design passing through balance of signature. Lacking lower right corner, but still very good and entirely collectible. $80-110

9-3. A Future First Lady Uses Senate Letterhead.
A.L.S. of Florence Kling Harding, wife of future Pres. Warren Harding, unusually using her husband's U.S. Senate letterhead, 3 pp., undated but between 1915-21. To Mrs. Knowles, about a visit. "...We took our train about 2 A.M...Mr. Harding is always grateful for the loyal friendship of yourself and husband, and I should like you to be assured of mine as well." Very fine, and interesting usage. $200-250

9-4. Wife of Pres. Grover Cleveland.
A.L.S. of Frances F. Cleveland, Feb. 23 (1891), 2 pp., to Mr. Barrett. "...We are looking forward most eagerly to seeing you...When you write Mrs. Anderson you will remember me most cordially to her...." Pencil notation on verso states date including year. Tape mend on verso, tear on page 2, else very good. $130-150

9-5. Mrs. Herbert Hoover.
T.L.S., Washington, Feb. 26, 1923, while Hoover was Secretary of Commerce. To "Miss Lane." "...I should be delighted to be with you...March 8th - and I feel very touched by the honor of your invitation...." Signed "Lou Henry Hoover" above typewritten "Mrs. Herbert Hoover." Cockling from old album paste mount on verso, thin spot at blank upper left, else very good. $50-70

9-6. A Touching Letter from Mrs. Harrison.
Second wife of Pres. Benjamin Harrison. A.L.S. "Mary Lord Harrison (Mrs. Benjamin Harrison)," 5 1/4 x 6 3/4, 4 pp., June 21, 1940, on letterhead with her E. 64 St. Manhattan address. To Rev. Howard Wilkinson, St. Thomas Church, Washington. "I want to thank you very much for being with us at Rock Creek Cemetery and for the prayers committing my dear Sister's body to her last resting place, and her soul into God's Keeping. My sister Elizabeth Scott Parker was a very lovely woman and a Christian never shirking her duty. Her life was very interesting, and with her husband Capt. Parker, they lived all over the world...." Crease at blank lower right edge, perhaps from postal handling, else V.F. Desirable double form of her signature. Ex-Paul C. Richards. $160-200

9-7. "[Mr. Coolidge] isn't very long on the social line."
Lengthy, domestic A.L.S. of Grace Coolidge on notepaper with her "GC" monogram engraved in blue, Adams House, Boston, Apr. 17, 1920, 5 1/4 x 6 3/4, 4 pp., to Mrs. Smith. Writing as wife of Gov. of Mass., soon to be nominated for Vice President. "My plans for May are necessarily somewhat indefinite. The good woman who takes charge of my little domicile in Northampton has the promise of three weeks vacation which she will spend with her daughter. Said daughter lives in an apartment in Mt. Vernon, N.Y. and cannot accomodate many guests at one and the same time. She now has her husband's mother visiting her and if that good lady takes her departure so that my housekeeper can go to her for the last week in April...then I can be back here in plenty of time for your party. But if mother-in-law stays on she upsets more plans than she will ever know...As for Mr. Coolidge, I am sure he will feel that although he would like to be there he must decline. He isn't very long on the social line...." Trivial edge toning, else very fine. Ex-Paul C. Richards. $180-220

9-8. Ike is "still trying to wake up Americans."
A.L.S. "Mamie E." on both sides of steel-engraved "Mrs. Dwight Eisenhower" note card, opening to 4 1/2 x 7, Apr. 16, 1963. To Mary Naiden. "...We are still here on the Desert. Plan to leave here the 28th arriving home May 1st. John has been here a week working with Ike on the book. Ike is very happy with his new civilian status. So are all his family. Sentimentally, was a wrench to leave the service but he has had this idea for several years. Yes, I too like Ike's last article in Saturday Post. He's still trying to wake up Americans...." The book being worked on was Ike's Mandate for Change, published later that year. In interesting shade of slate-grey ink. Very fine. Ex-Mary A. Benjamin, with her file card and transcript. $175-225

9-9. "Been so busy since Ike has left me...."
Lengthy and especially voluble A.L.S. of "M(amie) D. E(isenhower)," on notepaper of Schloss Guest House, Heidelberg, Dec. 10, 195(0?), 5 3/4 x 8 1/4 , 2 pp. To Mrs. (Caroline) Lent, apparently her personal assistant. "Am not in Germany. I just swiped this stationery...Enclosed is check for Goldsmith Bros...Please tell me how much I owe you for candles. Did you have to send check with orders? The Nevins arrived last Wed. & will be here until after Xmas - so good to have them here. Am up to my neck in Xmas cards...Very hard & expensive to buy things here... Guess #60 was a good place for us all. Rose is going to Iceland...That will be my Xmas gift to her (her ticket I mean). Been so busy since Ike has left me. I'll feel my right arm is gone...Must get busy...." Light marginal toning, else very good. Goldsmith Brothers was probably New York's preeminent commercial stationer, as late as the 1970s, with a vast building on Nassau St. $200-240

9-10. Mrs. Roosevelt's Taste in Music.
Attractive T.L.S. of Eleanor Roosevelt, as First Lady, on gold-engraved White House letterhead, Oct. 8, 1936, 6 x 9 1/4. To Harry E. Woodring, Secretary of War. "I have just written to Mr. Thurlow Lieurance thanking him for his record 'By the Waters of the Minnetonka.' Thank you for suggesting to him that he send this on to me." Interesting "Whiting's Angora" watermark. Old clip depression at blank upper left, "No Ans(wer)" in pencil by recipient, trivial toning, else fine. • With envelope, matching gold-engraved cornercard, fine postage stamp neatly affixed. Bottom horizontal half uniformly file-toned, else fine. $250-325 (2 pcs.)

9-11. "...About to leave for a trip to the west coast...."
Pleasing T.L.S. of Eleanor Roosevelt, 29 Washington Sq. W., N.Y., Mar. 13, 1946, 6 x 7. To (Harry) Woodring. "Your telegram came just as I am about to leave for a trip to the west coast, and I have no free time before I go in which to see the gentleman about whom you wired...I have so much work to do and am so busy at the present time I could not undertake any new interests...." Signed in purplish black. Very minor soft crease at blank upper left, else very fine. $225-300

9-12. Eleanor Roosevelt: "I cannot send buttons...."
T.L.S. of Eleanor Roosevelt, 55 E. 74 St., N.Y., Sept. 23, 1961, 6 x 7. To Maud McConnell, Danville, Pa. "I wish I could send you a button but I am sorry to say this is not possible. Many people make similar requests and since I cannot send buttons, etc. to everyone, I have had to make it a rule not to send anything...." Cancelled 5¢ purple postage stamp neatly affixed at blank upper right of letterhead. Light handling traces, else V.F. • With envelope, N.Y. address printed on flap but postmarked Kittery, Maine. Rubber-stamped free-frank. $200-250 (2 pcs.)

9-13. Mamie's Clothes Woes – and Ike plays Canasta.
A.L.S. "M(amie) D. E(isenhower)," on notepaper of Trianon Palace, Versailles, Mar. 7, (19)51, 5 x 7, 2 full pp. To personal assistant Mrs. Lent. "Guess this Franklin Simon [an upscale Manhattan store] thing is as you say 'another one of those things.' I haven't been in N.Y. since before Xmas and...all the buying of clothes I did in Washington. We have had so much trouble with them that I wish you would tell them to close my acct. Just yesterday I went over my credit slips and they were all so ancient that I tore them up...Rose nor I cannot think of which dress this might be. Could it be one we had trouble with before?...The comforters came okay and I am warming once more. Weather has really been vile...Gorgeous grounds. Can just see the children out there playing. We expect to have a grand garden and a putting green for the General...Saw the West Point Story night before last...Did you know Mother has pneumonia?...We have the General playing canasta. The Snyders and ourselves play most every nite...." Minor creases at one corner, else fine. $275-325
TO FIND OUT CURRENT HIGH BIDS,
OR TO PLACE BIDS,
JUST CALL 1-914-476-8500
OR e-MAIL info AT cohascodpc.com
(We do not currently use online bidding)
10. Lincolniana
10-1. A Midnight Dispatch on the Martyred President – with a Page-One Typo.
Scarce, relatively early edition of The New-York Times, evidently printed soon after midnight on Sat., Apr. 15, 1865, less than two hours after the news reached them. The latest of two reports on Lincoln's condition bearing a conspicuous typographical error at head of the article, reflecting the frantic activity in the press-room: "Fri., Apr. 14, 12:30 A.M." (sic). Significant is that subsequent text states that the news did not reach the Times until 10:45. 15 x 21 1/4, 4 pp., uncut and opening to huge press-sheet about 30 x 43, rushed to the street before trimming, to save precious minutes. Still alive when page one had been laid out, a single paragraph hurriedly updates the sad outcome, and thick black rules added between columns. "Awful Event - Pres. Lincoln Shot by an Assassin - The Deed Done at Ford's Theatre Last Night - The Act of a Desperate Rebel - Attempted Assassination of Sec. Seward - Rumored Attempt on the Life of Mr. Stanton - Details of the Dreadful Tragedy." "The President was shot in a theatre tonight, and is, perhaps, mortally wounded. Sec. Seward was also assassinated...A sharp report of a pistol was heard...suggesting nothing serious, until a man rushed to the front of the President's box, and exclaiming, 'Sic semper tyrannis,' and immediately leaped...and mounting a horse, fled. The screams of Mrs. Lincoln first disclosed the fact to the audience that the Pres. had been shot...The excitement was the wildest possible...." Beneath, "Another Account" of 11:15 P.M.: "A stroke from Heaven laying the whole of the city in instant ruins could not have startled us as did the word from Ford's Theatre a half hour ago that the Pres. had been shot...." At conclusion of this first dispatch, a single paragraph inserted out of chronological order, with no separation from the earlier account:
"Midnight. The President is reported dead. Cavalry and infantry are scouring the city in every direction for the murderous assassins, and the city is overwhelmed with excitement. Who the assassins were no one knows, though every body supposes them to have been rebels."
Inside, the only mention in the vast tracts of text in "News of the Day" is a brief passage, shoe-horned in column 3 between black rules: "The events of last night in Washington will strike with profound horror the whole American people. At this moment of writing, we have only a partial announcement of the facts, and have neither the data nor the spirit for comment." Elsewhere, much end-of-war news, reporting "Rejoicings at Cincinnati," "Gen. Lee in Richmond - The Oath of Allegiance," and account from Richmond adjoining the assassination, with blissfully unwitting counterpoint to the biggest story of the century, written by the Times' Richmond correspondent two days before: "The stunning effect experienced by all who found themselves mixed up in the tornado of wondrous events which have just swept over this part of the world, has nearly subsided. People are gradually regaining their senses, becoming convinced that all they have seen and heard was not a wild dream, but sober reality, and the frenzy of joy over past and passing events is succeeded by calm and deliberate calculation for the future...telling you how the patient is progressing to new and more vigorous health...." Old eighth folds, to fit coat pocket of J.C. Dalrymple, Morris County, possibly the assessor and member of Bethlehem Township's Board of Health, Hunterdon County, N.J., who has signed twice in margins. Two outer panels (of eight) with toning to light caramel, balance with staining; minor mousechew at blank periphery of bottom and upper left margins; wear at two fold junctions but with only slight loss of (non-Lincoln-related) text, creases and toning at right vertical edges, understandably with much handling evidence befitting one of the most momentous events in American history, but very satisfactory, and good, with enormous character. Excessively scarce thus; a later edition, with a dispatch of 2:12 A.M., is offered by a specialist dealer at 2850.00. Core Americana, one of the then-most respected newspapers in the vortex of the story of the century, and in the elite group of "newspapers that shaped the world." WorldCat locates about 20 examples of this date, but the number of this early, Midnight edition are certainly fewer. $850-1450

10-2. Account of Lincoln's Funeral Procession in Newark.
Civil War era manuscript journal of Isaac B. Hedden of Clinton, later Newark, N.J., served in 2nd N.J. Regt., Essex Brigade, here writing as a civilian, evidently working for a local sword maker. Occasional entries, Jan. 1-May 17, 1862, then resuming, by chance, days before Lincoln's assassination, with entries Apr. 11-June 24, 1865, and June 10-July 3, 1866, variously. 5 3/4 x 9, 15 written pp. in all, balance of thick book blank, marbled paper over boards, unusual diamond-patterned brown leather spine. On New Years Day 1862, he begins, "I butchered my pig with Father's help this morning...Went down to see the Lubin Brothers. We were all very pleased with our visit...I have got my job pretty well along. We had two extra steel scabbard(s) come to us this afternoon...I lost a half day in order to meet for military business...I have been at work in the shop all this week with good prospects...At a meeting of Co. C, 2nd Regt., Essex Brigade, it was resolved to form a uniform Co...to be called the Jefferson Guards. Thurs. eve. we met at the shop of Mr. Laforg on the road to Elizabeth & elected four Sgts...." On Apr. 15, 1865, he pens, "Today will be a day long to be remembered. The country was this morning startled by the announcement that Pres. Lincoln was last night shot at Ford's Theater, Washington. I don't remember when I have felt much worse. It is to us a very strange dispensation of Providence but has no doubt been presented for some wise purpose. The news came that the Pres. died this morning at half past seven o'clock. Sec. Seward is reported to be very low. His son Frederick is reported dead. There is also a report that the murderer of the Pres. has been caught. Andrew Johnson was today sworn into office as the Pres... Today there has been no work at the factory on account of the Funeral ceremonies of the late Pres. I think the procession was the largest I ever witnessed...Our Pres. is indeed mourned. I do not suppose the(re) was ever a Pres. since the days of Washington so universally loved as Mr. Lincoln." Apr. 24: "This morning the remains of Pres. Lincoln came through Newark. There was a great many people gathered on the line of the rail road from Chestnut St. to Market St. standing with covered heads as the train passed through. The body is to lie in state this afternoon & tomorrow in N.Y. when it will proceed on its way to Ill. Apr. 26: "...Been trying to make arrangements to open the meat shop on the corner of Columbia & Green St...Think I will not start it...Thurs. the news came that Booth, this murderer of Pres. Lincoln, was shot, & his companion Harrold captured alive. This evening's paper reports the surrender of Johns(t)on's army to Gen. Grant...." May 27: "...I hired a colored man to hoe out my potatoes in the garden...." June 1: "There has been no work in the factory. It will be the day set apart for services in connection with the late President's death. I planted some cucumber seed in the garden." Bottom halves of six 1862 pages from rather to exceedingly light, his ink thinning as he wrote, but entirety of 1865 pages in dark brown. Flaking of about half of spine leather, some tip wear, else internally sound and very good plus. With full transcription and modern research. $325-425

10-3. Southern Sympathizers in Lincoln Family's Early Hometown.
Manuscript note of Union Lt. Col. T(homas) B. Fairleigh, "Hd. Qrs. Mil. Cmd.," 26th Kentucky Infantry, Louisville, Sept. 8, 1864, 3 1/4 x 7 3/4. In dark pencil. To Capt. Burks, Provost Marshal, Elizabethtown, Ky., original home of Lincoln's parents and sister. "Send charges & proof against Dr. McKee and Lewis at once." Docketed in lighter pencil, "Approved By order of Brig. Gen. [Hugh Boyle] Ewing...." Moderate handling, else very good. Fairleigh variously commanded Louisville's Executive Mansion and the post of Bowling Green. Two dramatic telegrams from Lincoln to Fairleigh are recorded in the Collected Works of Abraham Lincoln. $75-100

10-4. "The most important (election) ever held..." – 1864.
Interesting group: Holograph check of Perkins Bass, Lincoln's 1864 campaign manager in his home state of Illinois. Boston, 1895, to Herlihy Bros. Penned in darkest brown on intricately watermarked Wedgwood blue. Very minor staining, one of two hole cancels just touching ascender of "B," else good plus. A major property owner in Chicago, Bass was appointed by Lincoln as U.S. D.A. for Northern Ill. Scarce. • The Daily Herald, Newburyport, Mass., Nov. 7, 1864, 4 pp., including eloquent, pro-Lincoln editorial on the eve of Election Day. "The Election tomorrow will be the most important ever held in this country, if perhaps we except that of 1860, which inaugurated a new policy for the government, when the slave power was overthrown...Since then we have gone through years of the most devastating war, such as has nowhere else been known in modern times...The people have risen in their might...poured out their blood like water, and their money like worthless dirt...Now in the midst of this great strife and struggle they are called to vote...In Mr. Lincoln is represented that past...and in McClellan...they declare that they were too fast in not listening to the terms of the South, that the war is a failure... and that compromise is the only safety... The South is fighting for independence, and it will only succumb when it can put no more armies in the field...." On p. 1, impassioned editorial on the Union cause. "Shall we tamely concede the invincibility of the South?...Is this the selected moment to talk of an armistice, when Sherman is marching...in the very heart of Georgia...O where is our manhood, where is our patriotism, where is our faith pledged to the noble men who have fought our battles...What justice or mercy can we look for from men capable of murdering by hundreds helpless soldiers surrendered as prisoners of war, and whose only offense was, that, being black, they had presumed to take up arms for their country?..." Item on forged soldiers' ballots. Old eighth folds, tears at center junctions, light toning, handling wear, but good plus. • (1909) Lincoln memorial postcard, unused. • 1948 F.D.C. of 3¢ blue postage stamp commemor-ating 85th anniversary of Gettysburg Address, on dark brown-engraved cover. Fine. $90-120 (4 pcs.)

10-5. "It was a very mournful sight...."
A.L.S. of eyewitness Ellen M. Dwyer to Lincoln's funeral procession when it visited Albany, N.Y., en route to Springfield. To noted Lincoln collector John Boos. Albany, Aug. 11, 1938, 6 1/2 x 9. "...I was 13 when he was assassinated and viewed his funeral on the steps of a stoop on Broadway, facing Spencer St. It was a very mournful sight, the car being drawn by white horses with black netting and black plumes. The funeral cortege came out to Broadway from Steuben St., and marched up to cor. of what was then Lumber St., and entrained for the journey home...." • With numbered leaf from Boos' bound volume of eyewitness letters, on "Colonial Superfine"-watermarked linen, and small printed photo of building of Albany undertakers who played a role on that day in 1865. Boos' typewritten statement: "It was an excessively hot day in Aug. 1938 when I met Ellen M. Dwyer, and she was moving on toward 90 years, though she was very active...and had a fine collection of antiques... She willingly wrote how she saw Mr. Lincoln's funeral procession, and I left her feeling I had met an old-fashioned, very honest schoolmarm who still tried to keep up with the times." • With following leaf, bearing a slightly more polished version of her letter, this on Boos' manual typewriter, then boldly signed by her. "...Soldiers also marched alongside of the caisson, with the muzzles of their guns pointing back toward the ground...I have read many kind acts of this man...He surely lived up to the writings of the third book of Proverbs...." Old 1" tape stain on two letters, not touching her signatures, cream edge toning, else fine. Once perhaps the most extensive collection of eyewitness accounts of Lincoln, Boos' treasures have long been dispersed into the market. $110-140 (3 pcs.)

10-6. By the Printer of the Union's First Patriotic Cover.
Two Lincoln-related pamphlets: Excessively rare "Eulogy on Abraham Lincoln, Late Pres. of the U.S., Delivered before New England Historic-Genealogical Society, Boston, May 8, 1865," by Rev. Elias Nason. Published by William V. Spencer, Boston, 1865 (credited by Harvard as printer of the first Union patriotic envelope – on the day before the attack on Ft. Sumter). 5 3/4 x 9 1/2, 28 pp., tan covers. Masterful use of the English language: "...The long, slow-moving funereal trains, the sable robes and decorations, the flag depressed...the organ's deep and solemn peal...Assassinated by the ruthless hand of a godless rebel!..." With fascinating and infrequently encountered period analysis of Lincoln's genealogy, and anecdotes of his youth, which, recited here in a contemporary source, are useful to today's researcher. "...But let us turn a moment from this outward life, and see what Lincoln, in the structure of his mind and temper, really was...." A quite beautiful tribute. Cover with uniform dust-toning, else little-handled and internally very fine. WorldCat records only one copy, in the British Library. • "Life of Abraham Lincoln in Verse," Benj. J. Gunn, Girard, Kansas, 5th ed., 1914. "Delivered by the Author at Lincoln's Tomb (on) the 30th Anniversary of his Death." 3 1/2 x 5 1/4, 32 pp., black on robin's-egg blue cover. Endorsements include Kansas Gov. Capper and numerous prominent Kansas Masons. Very light cover dust-toning, else New Old Stock, and excellent. $130-160 (2 pcs.)

10-7. A Future President Writes of Lincoln?
Intriguing oversize envelope-front, in pencil, in hand of by then-former Pres. Calvin Coolidge, to foremost collector of eyewitness accounts and personal reminiscences of Lincoln, "John E. Boos, 21 Dudley Heights, Albany, N.Y." 6 1/2 x 8 3/4, trimmed, probably by Boos, leaving fragment of Coolidge's return address, this in ink and also in Coolidge's hand, "(Bo)x 8, (Northa)mpton, Mass." Postmarked Boston, Mar. 10, 1930, tying 10¢ Monroe. Old half fold, some chipping at top edge, with damage to stamp, light dust toning, else good plus. Born some eight years after Lincoln's assassination, it seems almost certain that Coolidge was replying to Boos' letter; it would be fascinating indeed to know his words on the Great Emancipator. Unusual association. $50-70
TO FIND OUT CURRENT HIGH BIDS,
OR TO PLACE BIDS,
JUST CALL 1-914-476-8500
OR e-MAIL info AT cohascodpc.com
(We do not currently use online bidding)
11. The Frontier & Old West
11-1. "A little nugget of gold, not bigger than a bean...."
Quite exciting signed pamphlet, "Oration by Alfred Wheeler, Esq., and Poem by Dr. Washington Ayer, delivered before the Society of California Pioneers, at Laurel Grove, San Rafael, on the 32d Anniversary of the Admission of California, Sept. 9, 1882, Published by order of the Society," San Francisco, 1882. 5 1/2 x 9, 32 pp., woodcuts of the California bear. Sand wrappers, inscribed at top of cover by speaker, "(To) Horace Davis, with respects of Alfred Wheeler." A colorful Gold Rush pioneer, lawyer, landowner, and farmer, Wheeler represented his San Francisco district in California's first legislature. Davis was a Congressman outspoken on the Chinese question, and early Pres. of University of Calif. Wheeler's eloquent perspective likens the growth of California to "the belief of the Hebrews...during the long migration to Palestine" and to other great movements of history, and recalls the severe hardships faced by the Golden State's pioneers in their quest for gold and a new life: "The great and sudden flow of pioneer population to this State was an illustration of a philosophical principle: the potency of a dominant idea in human affairs; and it is my purpose today to show how that...may be applied, by you Pioneers, to... promoting the good of Calif...The existence of gold in Calif. had been known long before the war with Mexico. That knowledge had produced no practical results...For nearly 200 years, the only inroad of civilization, upon the unprogressive savage life, was that which the Jesuit order...had made by the Mission establishments founded near the sea...Mining was not encouraged by the priests...A little nugget of gold, not bigger than a bean...has revolutionized the finances of the world...accelerated the advancement of science and the growth of knowledge...You well remember, when the news crept across the continent that gold could be gathered by the pound...It was the free soil of America whose open treasure box invited the dreamer to reality...." Blind-embossed seal of American Antiquarian Society. Old soft vertical fold, back cover detached, pleasing light toning, else very good. WorldCat records only two examples (Yale and Huntington). Perhaps unique with inscription. $160-220

11-2. "Old Times" in California.
Two related A.Ls.S. of James William Denver, namesake of the eponymous Colorado city, signed "Will," Washington, Feb. 14, 1878, 8 x 10, 1 p. Both to his wife. "...Very busy on those old Cal. land cases. Every time they get into the hands of a new man the whole ground has to be gone over again and a new brief prepared &c. I sometimes wonder if I will ever get half paid for my labor in these cases, even if we win in the end...I am delighted with Kate's school report. It is very creditable to her. I wish Willie would produce such a report. It would rejoice me very much even if he would show above the average of his class...Tell Kate there is not a portfolio such as she wants in town, but I will try and have one made for her...." Very light wear at top edge, else fine. • Sept. 2, 1878, 2 pp. "I arrived at Vienna [Ohio] in due course of time. The old lady in the Buss proved to be a Mrs. Johnson of Washington C.H. and a sister-in-law of old Judge Jimmy Johnson of Placerville, Cal. whom I knew well, and who was a good friend of mine in old times. So we passed the time very pleasantly talking about old times, California &c. Took supper at Vienna (Harrison's), and reached Chillicothe about 8 P.M...Met several old friends...Delayed several hours this side of Parkersburg by a broken down freight train...Things here in very much of a muddle...I have ordered Kate's music. Had to send to N.Y. for some of it...Hand the enclosed slip [not present] to Capt. Betts. Don't fail. He wants to go to an encampment before the time comes for ours...Kisses to the children." Light dust-toning at two folds on verso, else very fine. $900-1200 (2 pcs.)

11-3. With Canadian Mounties and Texas Rangers Content.
A Noble Company of Adventurers, by Rufus Rockwell Wilson. Drawings by May Fratz. Published by B.W. Dodge & Co., N.Y., 1908. 5 x 7 1/2, 219 pp. Handsome all-over pictorial cloth, green and opaque white on variant powder blue grosgrain buckram. Depicting cowboy in camp, astride his steed, smoking a pipe, his covered wagon in background. Teacher's inscription, "To Wm. Burn, From Miss Davies, 1910, for best attendance in S(ocial) S(tudies)." Frontispiece plate of "A cowboy when he gets dressed up." Chapters including, "The Canadian Mounted Police," "The Cowboy of the Plains," "Work of the Texas Rangers," "The Gold Seekers of the Rockies," "The Men who Hunt for Oil," "Tales of the Fire Fighters," and "Life in a Logging Camp." A significant work in the genre, the stories quite fascinating. Hinge at title page cleanly showing original gauze reinforcement, cover trifle shaken, average light shelf wear, minor foxing at blank rear endpapers, else internally fine, and suitable for bookcase display. Six Guns #2422. Scarce. $120-170

11-4. Dancing School for Denver's Children.
A.L.S. of James William Denver, namesake of the eponymous Colorado city, customarily signed "Will," Washington, Jan. 31, 1875, 8 x 10, 1 full p. To his wife, mentioning "the estate." "...We will authorize your father to act for us. I received a letter from Kate yesterday but she does not mention whether she received the music I sent her. What is the reason that women almost always neglect to acknowledge the receipt of anything so sent? They seem never to think that necessary. As to Walt Jones and the sword. The last sword is a straight one – regulation Brig. General's – and if Walt will take good care of it and return it in good order I have no objection, but I hardly think he will fill the belt. The broken sword is or was a French cavalry sabre...If they get up a dancing school I think you had better send all three of the children. If they were here I would certainly send them...." Very fine. Denver laid out the Western city bearing his name, then part of Kansas Territory, of which he was Governor at the height of the slavery debate. His exciting life captured the flavor and excitement of America's formative century: A Virginia-born adventurer, he was a Shakespearean actor, fought in the Mexican War, and traveled overland to California early in the Gold Rush. A rapidly rising political star, he prevailed in an 1852 duel with a California critic, which in Denver's own estimation cost him the nomination for the Presidency. Fighting at Corinth in the Civil War as a Brig. Gen., his later visits to Denver were met with disappointment at the "little affection" shown him by the inhabitants of the city bearing his name. $550-750

11-5. A Pioneer on San Francisco Bay – during the Civil War.
Civil War-date letter of pioneer G. Taylor, Woodside (now San Mateo County, Calif.), Feb. 22-23, 1862, 5 x 8 1/4, 4 pp. On San Francisco Bay's southwest shore, San Mateo was not plotted til the following year. To "Friend Bucknam." "...Disappointed to hear that you was not Married. I am afraid that your case is a desperate one...Gibbs went home last fall...I said that he should see you when he was in Portland...We have had more rain here than ever...The water cut a channel through this side of the Bridge and gutted the road...way up into the bank to Tripp's fence...We had our house burnt down clean the 18 of Jan. It caught under the hearth. Brick was laid on the floor boards...The wind blowed hard. The fire was all under the house before we knew it. It was four in the morning. There was not a stick...left...(I) lost about $500...We saved the wood shed and live in that. Cook John Baker is a Butchering here. I have sold the slaughter house to them...Hamilton is here. He says...he thought you should of got married by this time. He is hard after Robert Greer's Girl. Thomas Knights is after Anetta McCormick. Simon had his house tore down by a slide in the night. One child drownded. The hills are all tore to pieces by the land slides...The Boys are all leaving here...for Salmon River. There is nothing adoing in the Shingles trade. They cannot get $2 per M...Posts is $11 per hundred. Wood is from 5 to 8 per C. The wood was all swep(t) of(f) from the Sacramento...I done very well last year in the wood trade. I hauled 450 cords and sold it very well... This season is my last in the wood trade...George Winthrop is after lawyer Teague's next daughter. Why don't you come back and try to get a prize. You do not seem to have good luck there among the Girls. What is the trouble with you...Gilbert has failed. Dr. Stormbough has the Mill now...." The writer may be half of the firm of Buckley & Taylor, which opened a shingle mill in 1861. The "wood traid" discussed included first-growth Sequoia redwoods and Douglas fir. Much of the materials used to build the boom town of Gold Rush San Francisco - and its rebuilding after the earthquake of 1906 - came from Woodside. Today Woodside is one of the wealthiest towns in America, home to Silicon Valley nouveau riche, baseball great Willie McCovey, Joan Baez, et al. Very fine and highly unusual. $225-275

11-6. A San Francisco Pioneer and Alaska.
Two items: Uncommon form of stock certificate, Alaska United Gold Mining Co., San Francisco, Nov. 1, 1895, 7 1/2 x 10 1/2 oblong, sapphire blue border, gold mining vignette and winged allegorical female in black. American Bank Note. Shareholder "Metropolitan Trust Co. of the City of N.Y." preprinted in Old English; redeemed 1896. Signed by Pres. William Alvord and Sec. A.T. Corbus. In 1850 Alvord traveled from N.Y.C. to Gold Rush California, soon opening a hardware business in Marysville, becoming "Mr. San Francisco." A prominent California brewery, financial, mining, railroad, and sugar magnate, he served as Pres., Bank of Calif., and Mayor, Park, and Police Commissioner of San Francisco. Corbus, a fellow member of San Francisco's Blue Book society, was also Alvord's partner in Alaska Treadwell Gold Mining. Six remaining dividend coupons below, one reattached with old cello tape. Neat vertical hole cancels, minor tear at left edge, else about fine. With modern transcript of Alvord's impressive obituary. • Signed, retained copy of T.L.S. of 1st Lt. G.B. Wilson, Paymaster, Fort Davis (outside Nome), Alaska, Jan. 25, 1904, 8 x 10 1/2. To C.O., 8th Infantry, reducing pay due three A.W.O.L. Privates. Highly unusual Vulcan Bond watermark. Uniform ivory toning, fine. $90-120 (2 pcs.)

11-7. "Colorado Outings."
Pamphlet by James Steele, issued by Passenger Dept., Chicago, Burlington & Quincy Railroad, 1898. "By way of the Burlington Route...Best Line from Chicago or St. Louis to Denver." 6 x 9, 48 pp., red and brown-black on enamel cover, black on enamel text. Folding map tipped at rear, "Bird's Eye Map of Colo., showing Tourists' Resorts," apparently never opened. Profusely illustrated with photographs, some full-page. Breathless text, praising the state's beauty: "Glimpses of a Mountain World - Colorado: For thirty years no geographical name has been oftener written in connection with the phrases that express height, vastness, space, clearness and a colossal beauty... The grandeur is over all...And at Salida, at five o'clock in the morning, when the mountain world is filled with the turquoise blue...Of nooks and corners and little valleys and waterfalls' grotesque shapes there are almost thousands...It is all on a scale of inconceivable immensity...There are two view-points for Colorado, as there are for a woman who has two great endowments: wealth and personal beauty...In 1897 she produced something more than 30 millions in yellow gold...." Wrapper tears at lower spine, several cover edge tears and creases, dust toning back cover, inside front hinge's glue perished, old very soft vertical fold, minor handling, else internally about very good, the map excellent. The prose among the most luxuriant we have noted in a promotional effort of that era. Scarce. $160-220

11-8. A Foreigner buys Land in the Canadian Wilderness.
Three letters of Manfred Freeman of Sherlock, Freeman & Co., General Merchants, Lethbridge, Northwest Territory (Canada), Nov. 14-Dec. 17, 1892, 8 1/4 x 11, 3 pp. To Dom(inion) Land Agent, Regina, then the capital of Northwest Territories, and headquarters of Canadian Royal Mounted Police. Protesting the increase in per-acre price from $2.50 to $3.00 while correspondence was underway. With his third letter he enclosed "$800.25 in scrip cheque and stamps. Please send me the Certificate of Ownership...." Each with blue received stamp of Dominion Lands Office. Edge toning, else very good. • Letter of Charles E. Butler, "Complete House Furnisher and Undertaker," Qu'appelle, Sask(atchewan), May 1, 1907. To Land Commissioner. "A resident here...made application for the N.W. 1/4 of 24-17-15 and you informed him that if nobody went upon it till then, he could homestead it. He now says there is nobody upon the place...Kindly write me and I will explain to him as he is a foreigner...." Purple received stamp, Regina. Some edge wear at blank upper left, trimmed at right, perhaps to fit envelope, with no loss of text, else very good. $40-60 (4 pcs.)

11-9. Dakota Territory Token.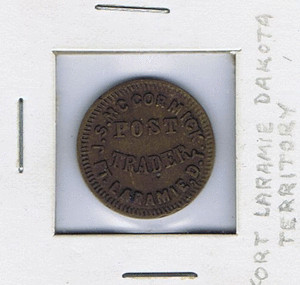 Rare and historic trading token, "J.S. McCormick / Post Trader / Ft. Laramie, D(akota) T(erritory)." On reverse: "Good for 10 cts. in Goods." No date but 1870s, probably copper, 3/4" diam., milled border. In this frontier period, Ft. Laramie was a fur trading post; such tokens also purchased liquor, food, dry goods, cutlery, guns, and other items. Buffalo hides were fashioned - by Indians - into buffalo robes, and shipped by stagecoach and steam packets, together with elk hides, and deer and wolf skins. Tiny perfectly round depression just above "10," perhaps from manufacture, few trivial edge nicks at 5 o'clock on "Post Trader" side, else sharp and at least extremely fine. Pleasing olive-and-tobacco tone, with flashes of luster, especially on "Post Trader" side, and a fresh example, unlike the dug specimens which occasionally reach the market. This 10¢ example unlisted by National Token Collectors Association. Incomparably superior condition to the 50¢ example sold at Stack's, 2007, for 1,121.25. Elusive, and wonderful Americana. $1200-1600

11-10. Via Salt Lake City Private Post.
Wells, Fargo printed frank, "...Over our California and Coast Routes," Type E. Blue oval Wells, Fargo handstamp, lightly struck on #U83 entire, 3¢ green, Apr. 24-27, 1871. To "A.T. Green Esq., 3 & 5 Front St., San Francisco, Cal." On verso, aquamarine circular handstamp, "Hasdel & Co. / Paid / Salt Lake City, Utah...," and oval received stamp of Green upon delivery. Very fine and highly attractive. $80-110
TO FIND OUT CURRENT HIGH BIDS,
OR TO PLACE BIDS,
JUST CALL 1-914-476-8500
OR e-MAIL info AT cohascodpc.com
(We do not currently use online bidding)
12. Social History & Immigration
12-1. A Most Unusual Polish-American College Yearbook.
Corona, published by the all-Polish-American (plus one Polish-Canadian) graduating class of 1928, St. Mary's College, Orchard Lake, Mich., comprising a hefty album, bound with braided cord wrapped with fine gold wire, gold and blue class colors gilt stamped on midnight embossed buckram, 9 x 12 oblong. With double-thick board leaves, fitted with magnificently silk-textured silver gelatin photographs of faculty and graduates (the group photos in sepia), most 3 1/2 x 5 3/4. Cold-pressed steel-grey surrounds, floral frames deeply stamped in cloud grey, matching grey linen hinges; facing each photograph a whimsical bio of the student. Cover gold-stamped "L(eo) A. Perlinski," Shenandoah, Pa., one of the class of just 40. Stirring class history, the industrious wholesomeness of college life nearly unrecognizable today. "Class Will," giving "undying loyalty and friendship" to their alma mater, "signed"-in-type by "Joseph Lenin Trotzky, X.Y.Z. Sandino, Benito Scoopshevelowsky, (and) Jesse Nicephor James." Creative and exciting "Class Prophecy" for 1948, with 5-pp. Orwellian short story of the graduates some twenty years hence: "...Then it happened: The lights went out...Suddenly the radio emitted a squawk. Somebody began to speak...'This is the Master...Master of all of you...I have come to rule this nation...I shall need competent assistants. [After naming some graduates, by then in exalted positions in life]...See that they are on top of the Woolworth Building at the appointed time....'" The quality of photography, pressman-ship, materials, and assembly are unsurpassable; even a book for such a modest number of graduates must have been costly then. In all, an enduring commemoration of this class from a lost world - one year before the Crash. The College continues today, its Catholic core curriculum emphasizing philosophy, theology, and great works of Western Civilization. Some tip and cord wear, internally fine. $90-120

12-2. The Immigrant Experience in America.
Large collection of about 65 books, magazines, and pamphlets for Eastern European immigrant readership, 1903-1956 but much prewar, all printed by immigrant presses mainly in Chicago and Philadelphia, some N.Y.C., Yonkers, and Scranton, together with Cleveland, Lawrence and Worcester, Mass., Plymouth, Pa., and Stevens Point, Wis. Principally in Lithuanian, some Ukrainian, together with Polish, Russian, and one in Slovakian. Including: Lithuanian-American yearbook, 1933, hammer and sickle cover border. Inside, full page photo of U.S. Communist Party's white and black ticket in 1932 election: for Pres., Wm. Z. Foster; for V.P., James W. Ford. • Lithuanian yearbook, 1948, Chicago, large portraits of Marx and Engels. • Lithuanian-American magazine "Tiesa," Philadelphia, 1929, on pulp, "monthly circulation 1,000." Mention of Jack Sharkey-Tommy Loughran fight at Yankee Stadium, with photos. • Lithuanian magazine "Tiesos Balsas" ("Voice of the Truth"), Lawrence, Mass., 1933, primitively printed. Fine 1 1/2¢ Harding postage stamp on cover. Ads of local businesses, including "Old Country Club Beverage." No issues of any date located by WorldCat. • Magazine, "Margutis - Lithuanian Semi-Monthly Press Review and Journal of Music and Humor," Chicago, four issues, 1932-33, one an extensively illustrated memorial issue for Steponas Darius, celebrated Lithuanian-American aviator, second-longest nonstop flight by distance, and pilot of first official airmail shipment from U.S. to Europe; promoter who introduced baseball and basketball to Lithuania. Killed with his co-pilot having nearly completed a nonstop N.Y.C.-to-Lithuania flight; both appear, with their plane, on a Lithuanian banknote. • Eight large-format Carpatho-Russian/ Lemko and Russian Brotherhood Organization of U.S.A. almanacs, St. Mark's Pl. (N.Y.), Ohio, Philadelphia, and Yonkers imprints, 1934-45, variously. War date with flattering photos of F.D.R. and MacArthur; anti-Hitler cartoons. • Yearbooks of Carpatho-Russian American Center, Yonkers, N.Y., nine issues (two duplicates), 1947, 1950-54, 1956, softbound, 6 1/2 x 9 1/2, typically 160 pp., some photos, Stalinist cover artwork with laborer, tractor, factory, and other themes. Ads spanning Tristate area, many northern N.J. • Magazine for "Lemko-Russians," 1929, anti-Semitic woodcut on cover. • Large folding "Map of Lemkovina or West Carpatho-Russia," printed by Lemko, Phila., 1929, pink and black in red card covers. No examples located by WorldCat. • Russian Almanac, printed in Phila. by Russian Brotherhood Organization of U.S.A., four issues, 1930-36, softbound, 6 x 9 1/4, 190-254 pp. + ads of Russian-American businesses in Pa., N.Y., N.J., and Conn. 1932 issue with full-page photo and lengthy obituary for Thomas Edison, in Russian. WorldCat locates only one almanac (1940) at only one library (Yale). • Ten different yearbooks, Ukrainian Workingmen's Association, Scranton, 1928 (with article and two full-p. photos of Lindbergh and plane) to 1951. Large photo of "Ukrainian A.C." baseball team, "Federal League Champions, 1929." • Jubilee Book of the Ukrainian National Association, Jersey City, 1936, 752 pp., handsome pictorial cloth, including shaking hands beneath flags of U.S. and Ukraine. • Pamphlet, songbook with patriotic American flag motif, imprint of Ukrainian Book Store, 34 E. 7 St., N.Y. • Chemistry text, pamphlet, Plymouth, Pa., 1904, 116 pp., 36 small drawings. • Polish-American magazine "Jaskótka" ("The Swallow"), Stevens Point, Wis., 1931 and 1933, color covers of woman skating on frozen lake, and couple on country road, the woman holding rake - barefoot. No issues of any date located by WorldCat. • Slovakian home medical reference, Pittsburgh, 995 pp. • Plus, "Ukrainian National Assn. - Past and Present, 1894-1964," 160 pp., Jersey City. Some with subscriber's names and addresses. Understandably with varied wear and handling, but satisfactory to V.G., and generally good. Many items excessively rare. Request set of photocopies of covers, 15.00. $375-525 (46 almanacs and magazines, 13 pamphlets, 5 books, 1 map)

12-3. Chronicle of a Young Immigrant's Life.
Identity card ("Carte photographie d'identite"), Paris, Mar. 20, 1896, comprising extensive manuscript entries in several fine hands, for a young boy of Paris, chronologically listing his eleven street addresses in the U.S. between 1889-1915. Postage-stamp-sized sepia photo affixed shows him seated at school desk, about 14 years of age. Beginning in Philadelphia, young Francois Poulard changed to a Germantown school in 1900, then began employment as a petroleum inspector for Continental Oil Shipping Co. in Philadelphia. In the early years of World War I he was employed in Passaic, N.J. 2 3/4 x 4 3/4, brown checkerboard-embossed leather over flexible boards, gilt imprint of Paris photographer. Old fine linen reinforcement edging, understandably much wear, but very satisfactory and an unusual form. $40-60

12-4. To the United States of "Ameriky."
Two passports for same traveler Lambert Emr: Czechoslovakia, evidently issued 1920; journeys to "Ameriky" in 1923 and 1926, last entry 1932. Police rubber stamps at Zironice (Slovenia; also spelled Zirovnica) and other places. 3 1/2 x 5 1/4, grey buckram, 5 of 52 pp. used. Boards with diagonal pocket crease, wear, but about good. • Republika Ceskoslovenska, three-language passport, 4 1/4 x 6 1/2, paper wrappers, issued 1926, 10 pp. used. Elaborate all-over pictorial security design all pages, with Czech arms within Beaux Arts floral design in pale pistachio. Photo affixed with brass grommet, tied with purple official stamping. Here possibly a jeweler, living in N.Y.C., also intending to tour Europe except for "la Russia." Stampings at Cherbourg ("Transmigrant"), Prag, and German Consul in N.Y. - a foreshadowing of the Czech relationship with the Germans which would presage World War II. By 1930, Emr was back in America, recorded in the Census. Covers worn, front cover detached, first leaf nearly so, else satisfactory. $80-110 (2 pcs.)

12-5. Chinese-American Postal History.
Unusual cover with purple cornercard handstamp on desert rose-pink, "Tong Sing Co. / Chinese Merchant...Bakersfield, Cal.," with Chinese characters. Bakerfield duplex cancel, Feb. 19, 1910, tying 2¢ carmine. To "Tong Chong Gunk Co., 760 1/2 Clay St., San Francisco, Cali.," in two shades of ink; manuscript Chinese characters at left. Short tear at bottom edge, some postal creases, else about fine and striking. A conversation piece. $30-40

12-6. Yiddish Wood Type of Yesteryear.
Assemblage of 9 antique Yiddish wood block letters, used c. 1890s to 1940, for hand-setting of headlines – one letter at a time – in an old Lower East Side printing establishment of yesteryear, possibly a Jewish newspaper such as the Morgen Journal. Assorted sizes and letters, from 1/2" to 5" height (nominal 36 to 360 point), mostly in lower range, each on its original hand-sawn wood block (shoulder). From lightly used to heavily so, showing various stages of wear and ink patination, else very good, usable, and highly decorative. $70-100 (9 pcs.)
TO FIND OUT CURRENT HIGH BIDS,
OR TO PLACE BIDS,
JUST CALL 1-914-476-8500
OR e-MAIL info AT cohascodpc.com
(We do not currently use online bidding)
13. Transportation
13-1. Cycle & Automobile Trade Journals – 1907.
Group of 9 issues of this preeminent magazine of the horseless carriage world, Jan.-Mar., May, July, Aug., and Oct.-Dec. 1907. Including some motorcycle and truck content. Typically several hundred pp. per issue, profusely illustrated with articles and advertisements. Usual varied wear, some covers loose, bindings with characteristic chipping and average wear, else good and better. Even single early issues of this magazine have dried up on the market; a series of early issues seldom becomes available. No issues prior to 1912 are located in the Henry Ford Museum, New York Public Library, New York State Library, or Smithsonian. Ex-Melkonian collection, noted antique auto old-timer, collecting since the 1940s. $850-1050 (9 issues)

13-2. Cycle & Automobile Trade Journals – 1908.
Group of 8 issues of this preeminent magazine of the horseless carriage world, Jan., Mar.-July, Sept., and Nov. 1908. Typically several hundred pp. per issue, profusely illustrated with articles and advertisements. Usual varied wear, some covers loose, bindings with characteristic chipping and average wear, else good and better. The Sept. issue lacking in University of Michigan's major collection. An Oct. 1908 issue sold on eBay, Jan. 2015, for $182.49, with 10 bidders. Ex-Melkonian, as above. $750-950 (8 issues)

13-3. "The lowest priced 4,000 lb. capacity truck in the world...."
Sales folder for Traffic Truck, built in St. Louis. Dateable as late 1920-1921. Opening to 10 1/4 x 13 3/4, red and black. Three photos. Purple Philadelphia office handstamp. Some dust toning, else very good. Absorbed two years later by the maker of Dixie Flyer, Jackson, and National cars, and Old Hickory trucks, the Traffic found an export market in El Salvador and Guatemala. $55-75

13-4. Pontiac's New Sister Car.
Unusual sales folder for Oakland, the sister marque of Pontiac, printed by their distributor in Denmark - marketing to European motorists: "Der neue Oakland - General Motors International, Copenhagen," Cosmopolitan Six, c. 1928. 8 1/2 x 11, 4 pp., darkest brown on ivory. Half fold, old archival hand stamp in Danish, eight holes punched for binder, through some small text, but very fine and scarce thus. $45-60

13-5. The Car of Gangsters – and Police.
1925 Lincoln Book of Instruction, 6 x 9, 98 pp., green embossed cover, black and white text, large folding lubrication chart, 38 illustrations, index. 5th ed. Among the cars that personified the Roaring Twenties, the powerful, 358 cubic inch Lincoln was used by both gangsters - and the police flying squads in pursuit. For more sedate buyers, available with bodies from a long list of coachbuilders, all surviving cars today Full Classics. 1925 saw introduction of the Gorham-supplied leaping greyhound radiator ornament. Some wear of linen spine, minor waterstain, fore-edge soiling, else very good. Fascinating reading. $65-85

13-6. Bugatti.
An oddity: Promotional sheet for Bugatti train, powered by two Bugatti Royale auto engines. 8 1/4 x 10 1/2, printed one side in blue. C. 1938. In French. Crisp photo of complete, streamlined rail car, plus the exquisite motors, and detail of wheels. Minor wrinkles, else fine. $50-70

13-7. "By a New York Designer."
Set of three original factory sales folders for 1920 Apperson automobile, "A Manufactured Custom Made Car," Kokomo, Ind. Each 3 1/4 x 6 oblong, 4 pp., mint green, black, and orange. Each in matching style, for Sportster for Four, Four Passenger Sedanet, and Touring Car for Seven. "The Eight with Eighty Less Parts / The Apperson is the 'Jack Rabbit' Car...Its body and equipment are by a New York designer, so in it is combined rugged Hoosier chassis construction with a style dress from the world's metropolis." Interestingly, two of the three models were offered in Thistle Green only; the Sedanet boasts imposing, locomotive-like coachwork. Minor wear, else very good. Ex-Henry Mathis Collection. $90-120 (3 pcs.)

13-8. Working on the Railroad....
T.L.S. of Chauncey M. Depew, general counsel and Director of the entire "Vanderbilt System," and Chairman of Board of N.Y. Central and Hudson River Railroad. On blue-engraved letterhead as N.Y. Sen., but datelined "Grand Central Depot, N.Y.," Nov. 28, 1904, 8 x 10. To F.C. Stevens, Pres., National Commercial Bank, Washington. "...(I) congratulate you on its propitious opening and fine promise for the future. I am sure under your management it will be a great success. Anything I can do to assist in that line will be gladly done." A renowned after-dinner speaker and wit, Depew garnered 99 votes for the Presidential nomination at the 1888 Republican Convention; he delivered Benjamin Harrison's nomination speech in 1892, and nominated Teddy Roosevelt for Gov. at 1898's State Convention. Two file holes at blank top, original mailing folds, light handling, else fine. $175-225

13-9. Costing up to $6,000.
Factory sales sheet for 1911 Austin (Grand Rapids, Mich.) automobile. 4 1/4 x 6 3/4, probably distributed at motor shows. Mocha and black duotone, with mocha caption on white enamel. Showing full side view of 1911 Model "45," 6 Cylinder, 4 3/4 x 5 1/4 bore and stroke, 45-60 H.P., 5-Passenger Touring Car. Thin spots, not readily apparent on front, from erasure of old markings on blank verso, else very good, and a seldom-seen marque. Austins were high-grade cars, costing up to $6,000. Important provenance, from one of the foremost private collections of auto literature in America; when possible, he had literature for every year and every make. Such is its scarcity that this was one of only two Michigan Austin items of any description in the collection. $55-80

13-10. Made for One Year Only – 1923.
Factory sales folder for 1923 Courier automobile, Sandusky, Ohio. 8 1/2 x 11, 4 pp., orange-red and black on stiff matte enamel. Four Passenger Sport. "A Good Husky Six - Striking Body Design that Commands Attention Everywhere - The Most Completely and Conveniently Lubricated Car in America...Custom Built in the Courier Shops." Smaller photos of Sedan, Coupe, and Phaeton. Very minor soiling p. 1, some soiling p. 4, else very good. Successor to the Maibohm, the Courier was made for one year only. Ex-Mathis. $80-110

13-11. A Single-Year Marque – 1910.
Rare sales folder for 1910 Detroit-Dearborn automobile, its only year. 7 3/4 x 10 3/4, (4) pp., black and white on enamel. Full-page photos of chassis and "D-D" Touring Roadster, Nike Model; specifications of Nike and Touring Torpedo Minerva Model. Staples suggest a cover is lacking, however text seems complete. Some soiling and edge tears, else satisfactory, and still rare. Important provenance, in succession from two of the foremost private collections of auto literature in America; the only Detroit-Dearborn item of any description in either collection, nor have we handled another for this one-year-only marque. $90-120

13-12. Models A and A-1.
Catalogue for 1914 Detroiter automobile, Briggs-Detroiter Co., Detroit. 6 x 9, (16) pp. catalogue, terracotta and black on grey cover, terracotta and black text. "Export Edition." Models A, A-1, A-3, A-5, A-6, B-1, B-3, B-5, B-6. Archival deaccession stamp, else a New Old Stock copy in choice condition. Important provenance, in succession from three of the foremost collections of auto literature in America; when possible, these had literature for every year and every make. Rare, especially in this condition. $160-220

13-13. As the Edsel Drew Near.
T.L.S. of Henry Ford II with forboding subtext, on steel-engraved stationery "Office of the Pres.," Ford Motor Co., June 25, 1956, 7 x 10 1/2. With close "Very Sincerely" also in his hand. To Charles A. Pearce, 270 Madison Ave. "Thank you for sending me a copy of the U.S. Air Force edition of Right Down the Line. I found it to be an interestingly simple exposition of the leadership concept. It is difficult for me to judge the book's potential value to the management of business and industry. Many companies, including this one, publish booklets of a similar nature...There is a growing tendency to avoid the use of generalized material...It is not nearly effective as presentations which are tied directly to the situation of a particular company." Stray filing marking in ink in margin, very light edge toning. Ford Motor Co. had just become a publicly traded corporation that Jan., and plans for the Edsel were in full swing. Despite the car's perception today, its first-year sales were the second-best ever for a new nameplate (the 1929 De Soto held first place). But in all, Ford lost up to $350 million on the Edsel, the name entering the lexicon for a dud. Perhaps the book on leadership being offered them would have been beneficial. One of the better Ford II letters we have handled. • With signature on mint-green index card of Robert S. McNamara, one of Ford's "Whiz Kids," often blamed for the Edsel debacle, later J.F.K.'s Secretary of Defense. Excellent. $65-85 (2 pcs.)

13-14. Very Low Production Pennsylvania Steam Car.
Promotional blotter, c. 1919-21, "Compliments of the Season / Gearless Motor Corp. / Washington, Pa.," comprising full side view of their Christmas-red touring car, on thick celluloid, white-dipped brass clasp affixing it to double-thick ink blotter. Unused. 3 x 5 3/4. Black fenders, red wood-spoked wheels. Made in Pittsburgh, Gearless had completed five prototypes by Nov. 1920, when its patentholder abruptly resigned. In 1924, he and two others were found guilty of conspiracy and mail fraud, involving $1 million in Gearless stock. New Old Stock, and charming for display. All material of this automaker is understandably very rare. $60-85
TO FIND OUT CURRENT HIGH BIDS,
OR TO PLACE BIDS,
JUST CALL 1-914-476-8500
OR e-MAIL info AT cohascodpc.com
(We do not currently use online bidding)
14. Carte Photographs
14-1. Uncommon Kentucky Imprint.
Carte photograph of L.M. Maus, contemporary notation on lower mount, in purple ink, "Reverential and Ministerial...." Shoulder boards indicate 1st Lt. Gold-leaf imprint on pistachio verso, "J.B. Heffner, Frankfort, Ky." Absence from Civil War rolls suggests subject is Indian War period, perhaps c. 1880 (such cartes are much scarcer than Civil War images). An Army Surgeon of this name (often misspelled "Mans"), by 1896 a Major, served at Fort Sam Houston. A Col. at Fort Riley as of 1904, he spoke on "The Philippines from a Medical and Sanitary Standpoint" (modern research accompanies). Light handling toning of card, some unobjectionable streaking of sepia tones on jacket from photographer's chemistry, else about fine. $60-85

14-2. A Surgeon's Photo, Signed Twice.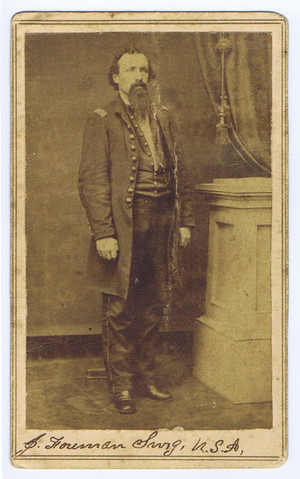 Desirable full-standing pose signed on both front and verso, the latter with inscription in his hand, "Very Respectfully Yours, J(oseph) Foreman, Surg(eon) 3rd Ky. Infy., Wood's division, Crittenden's Corps, Rosecrans' Army." Poignant studio pose, his long beard accented against white shirt. Here serving exactly six months in 1863, Foreman later joined the 34th Kentucky Infantry just before Thanksgiving 1864. Two soft vertical folds, several softer horizontal creases, possibly from being carried in a pocket or wallet for some time, moderate corner wear, else pleasing contrast, and good. Signed photographs of surgeons, Union or Confederate, are rare. With the 3rd Kentucky's over 300 recorded deaths in battle, and from wounds, accidents, and disease, Foreman's job was a grim one. $160-220

14-3. Posed with Rifle, Bayonet, Knife, and Revolver.
Engaging full-standing pose of Union rifleman at attention, bayonet fixed, knife and revolver in his belt. In studio. Unidentified, on plain eggshell mount. His expression, especially under magnification, is shockingly stirring. Minor toning of card, light bump at upper left tip, else about very fine. An exceptional image, communicating the tenor of the war. $110-140

14-4. Full-Standing Pose.
Wearing Army kepi but in civilian clothes, perhaps a recently mustered-out soldier. A tough but expressive countenance - his face mirroring things he has seen - in studio beside luxuriantly-tufted chair. Imprint of R.J.M. Little, Locust St., Columbia, Pa. Deepest mahogany patination. Two top corners diced, some staining of mount, else good. $45-65

14-5. Gen. Carl Schurz.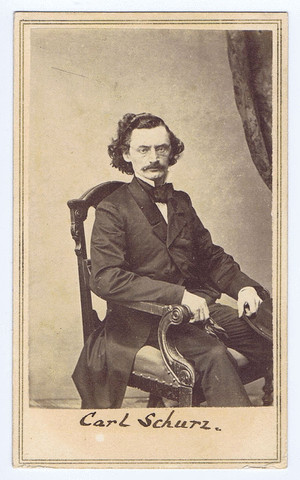 Carte of Union Gen. Carl Schurz, Anthony-Brady. Seated in elegant Gothic Revival armchair, in long satin coat, his surprisingly slight frame here apparent. The personification of adventure, Schurz joined the 1848 German Revolution, escaping to Switzerland, going back to rescue a teacher facing life imprisonment, then migrating to England and America. A Union General, Schurz campaigned for Lincoln in 1864; Horace Greeley's newspaper correspondent in Washington. Tap at lower right, else very fine, with uniform warm mocha toning. A superb pose. $80-110

14-6. Gen. Felix Zollicoffer.
Carte of Confederate Gen. Felix K. Zollicoffer, by Anthony. A noted newspaperman and antebellum Congressman from Tennessee, he was killed "under peculiar circumstances" at Logan Cross Roads, Tenn., in 1862. An interesting combination of photography and watercolor textures. Because of his very brief military career, this may have been made as a memorial likeness, in absence of a photograph of sufficiently flattering quality to merit commercial sale. In old pencil on verso, evidently in Portuguese: "...Brigadeiro Confederao / No. 187." Curious perfectly formed tiny hole in lower mount, perhaps done by above as an identifier. Thin spot on lower verso, possibly where revenue stamp removed, affecting last line of imprint; some cocoa-toned mottling, minor soiling, else about very good. $130-160

14-7. Gen. Franz Sigel.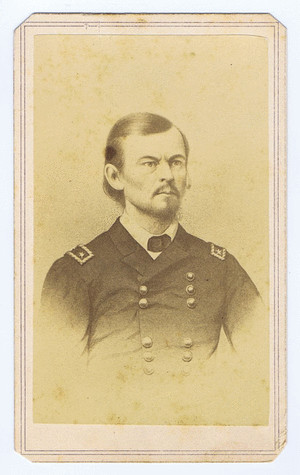 Piercing portrait of the former German Army soldier, by Appleton. "Although he was an inept general, his ability to rally the German element to the Federal colors had been important..."--Boatner. Yet ironically, of all the hundreds of Union Generals, his name has remained in the forefront to generations of New Yorkers today: the park overlooking both the old and new Yankee Stadiums in The Bronx is named for him. Corners neatly diced, light abrasion at top fore-edge, barely noticeable from back only, else pleasing coffee-and-cream toning, and very good. $75-100

14-8. Gen. John B. Magruder.
Regal pose, with elegant handlebar moustache. By Anthony. Nicknamed "Prince John...for his courtly manner" (--Boatner), Magruder was the victor at Big Bethel, the first land battle of the Civil War. His name in small type removed from an old book and neatly pasted beneath portrait, shallow band of toning on blank verso, else trivial wear and very fine. $80-110

14-9. Maj. Gen. George Sykes.
Earnest pose of "Tardy George," with sepia halo behind. No imprint, but dated Mar. 10, 1864 in old blue pencil. Commanding at 1st and 2nd Bull Runs, Antietam, Snicker's Gap, Gettysburg, and numerous other battles, in 1864 Sykes was sent to the comparatively serene Dept. of Kansas. Trivial tip wear, else very fine plus. Very scarce. $130-160

14-10. Maj. Gen. John A. Logan.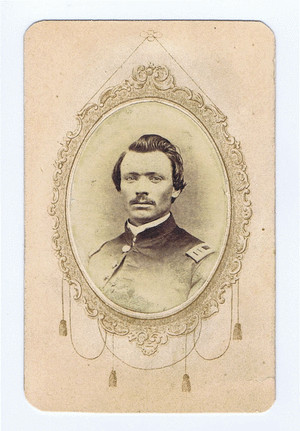 Highly unusual form of his carte, an oval photo mounted within intricately ornate golden-brown lithographed Baroque frame, with printed cords and tassels. Attractive circular imprint on verso, "Gallery of the Cumberland / 25 Cedar Str't., opposite the Commercial Hotel / Morse & Peaslee, Nashville." Attractive bronzish tones, on light mocha card. Relieved by Lincoln; "while feeling that Logan was a first-rate combat soldier...he expressed deep contempt for the necessary though tedious logistical preparation of an army"--Boatner. Logan was Grover Cleveland's running mate in 1884, one of the organizers of G.A.R., and the originator of Memorial Day. Corners rounded, evidently as made. Semicircular vertical crease, only perceptible when viewed from verso, some handling evidence, else very good. Rare thus. Work of this studio seldom seen. $150-180

14-11. Maj. Gen. Alexander McCook.
Interesting error carte, a choice rich-brown image – but trimmed and mounted by Anthony very much off-center. Such photos almost never escaped the studio, especially such a paramount emporium. Double gold-leaf border. One of the ten Fighting McCooks of Ohio, he was commissioned just days after Sumter. Blamed for the Union fiasco at Chickamauga, McCook was exonerated, and went on to command in Arkansas. Trivial tip wear, else clean, fresh, and excellent. Almost certainly the most off-center carte we recall handling. A conversation piece. $110-140

14-12. Maj. Gen. Edward Ord.
Surprisingly elusive carte, by Anthony. In the 1859 expedition to suppress John Brown; Ord was wounded at Hatchie, Miss., and again at Fort Harrison. Some waterstaining, most conspicuous on verso, several tiny pinhole depressions at lower edge of emulsion, average tip wear, else good, and scarce. $90-120

14-13. Brig. Gen. James Winning McMillan.
(Spelled "McMillen" by Phisterer.) Carte in civilian clothes, by Anthony. Commanded in Army of the Shenandoah. 1/2" bottom of card trimmed, just beneath emulsion, light waterstains, convex dimple at blank lower left, else good plus. A rare name. $110-140

14-14. Maj. Gen. "Uncle John" Sedgwick.
Creative small-town carte variety: a fine-screen halftone, printed on eggshell paper with sheen simulating a photograph, precisely trimmed and mounted (upside-down) on pale grey card. Imprinted on verso, "J.W. Sellars, Photographer, Bellaire, Ohio / Negatives Preserved." A small-town entrepreneur's creation, in absence of a true photograph to memorialize the Union hero. Twice wounded, then leading at Gettysburg, Sedgwick was killed by a sharpshooter at Spotsylvania. "...The most deeply loved of all the higher officers in the entire army...there are statues to him at Gettysburg and West Point..."--Boatner. Some marginal toning of mount, else fine and attractive. Likely very rare thus. $120-150

14-15. Brig. Gen. Albert Pike.
Charismatic pose of the Confederate, in civilian clothes. By Anthony. By outbreak of the war, Pike was an internationally known writer, poet, and newspaperman – and lawyer who had won $140,000 for the Creek Indians. In Summer 1861 he was sent on a mission to sway the Five Indian Nations to the Confederacy. Successful, Pike led the South's Dept. of Indian Territory - with a force of Confederate Indians - in the Battle of Pea Ridge. Resenting authority, he resigned, "thereafter regarded with suspicion by both sides..."--Boatner. Light mocha tortoise-shell foxing, semicircular nick at 12 o'clock where once pinned for display, else good plus. $80-110

14-16. Maj. Gen. Leonidas Polk.
Carte by Anthony-Brady. A relation of Pres. Polk, he was persuaded by friend and old classmate Jefferson Davis to accept a Confederate Army commission. Besting Grant in an early-war victory at Belmont, Mo., upon his death at Pine Mountain, Davis exclaimed that Polk's passing equaled that of Stonewall Jackson. Trimmed about 1" top and bottom, and tips diced by an admirer to fit an album, uniform light caramel patina, else good plus. $45-65

14-17. Hero of Ohio Infantry.
Mezzotint carte-style portrait of Col. James Washburn, 116th Ohio Vol. Infantry. Double gold-leaf border. Wounded at Snicker's Gap, Va. in 1864, Washburn lost his right eye. Very soft horizontal crease, handling soiling, else very satisfactory and rare, possibly locally produced. $50-70

14-18. James Garfield.
Postwar carte of James Garfield, still youthful, looking left. Elaborate banknote-quality imprint on verso, black on pink, "Jackson & Nickerson / Photographers / Rich Hill, Mo. / Negatives Preserved." Two top tips rounded as made, reduced about 1/8" at bottom, two lower tips slightly diced, likely to fit into an album. Interesting butterfly-shaped trim of emulsion, obviously a sheet of images folded then cut by studio with scissors; blind traces of "Garfield" pencilled on lower blank portion, then erased; smudge at upper left, else very good, and still attractive and desirable. Evidently a rare imprint; neither google nor WorldCat contain a record of the firm. $80-110

14-19. Maj. Gen. Horatio G. Wright.
Carte by Anthony-Brady. Wright's first Civil War task came a week after Sumter, a failed attempt to destroy Norfolk Navy Yard's dry dock before its evacuation by the Union. Leading at Gettysburg, Wright soon succeeded Sedgwick (see Lot 14-14) upon the latter's death. Among his many postwar accomplishments was overseeing completion of the Washington Monument. Some parallel diagonal light-sepia lines across lower portion, microfine blind rub on most of balance of image, both possibly from abrasion against a book or textured surface; trifle trimmed at top, two lower tips slightly diced, else satisfactory, with warm contrast and flattering darkness. $50-75

14-20. Napoleon Bonaparte.
Carte by Anthony-Brady. Double-ruled gold-leaf border. Pouting gaze of le Petit Caporal, one of the most important figures in modern history. Contentiously considered "a defender of principals of (the French) Revolution and democracy, (by) others as an adventurer and despot..."--Webster's Biographical. Very light speckling, else very fine, a fascinating visage. Somewhat scarcer as an Anthony-Brady image than many Civil War personalities, and a fitting addition to their photographic output. Napoleon's military exploits were within the lifetimes of many Civil War officers; of all things, they must have guarded against their own Waterloo. $60-85

14-21. Commander in Chief George McClellan.
Original photograph, probably a carte, height trimmed to 3" to fit in ambrotype case (present, but lacking cover). A less-common pose, near-profile, in warm olive-sepia tones, set off by blind-filigreed copper mat. Blind-tooled case with stylized Gothic-Maltese cross, surrounded with flourishes. Not examined out of case, but case good, and photo appears at least very good. Perhaps set in by a nineteenth-century admirer, to afford "Young Napoleon" a more resplendant presentation than a simple carte would. $35-45
TO FIND OUT CURRENT HIGH BIDS,
OR TO PLACE BIDS,
JUST CALL 1-914-476-8500
OR e-MAIL info AT cohascodpc.com
(We do not currently use online bidding)
15. World War I
15-1. David Lloyd George.
Signed vintage sepia photo of one of the most important statesmen of the twentieth century, Britain's World War I-era Munitions, War, and Prime Minister (and the only Prime Minister for whom English was a second language – he was Welsh). 4 1/2 x 6 1/4. Signed in darkest purple-black. Fine. Presiding during the fall of Russia's Czar, and collapse of the Ottoman and Austro-Hungarian Empires, he declared, just two days after taking office, that he wanted a major British victory - preferably the capture of Jerusalem. Lloyd George was instrumental in the Balfour Declaration, advocating a national home for Jews. "He was a major player at the Paris Peace Conference of 1919 that reordered Europe after the defeat of Germany...So confident was he of this peace, that in August 1934 (following Austria's transition to fascism) he insisted Germany could not wage war, and assured European nations that there would be no risk of war during the next ten years..."--wikipedia. Calling Hitler "the greatest living German," Lloyd George wrote a newspaper editorial praising him, believing Hitler to be "the George Washington of Germany," and assuring the world that "the Germans have definitely made up their minds never to quarrel with us again," Notwithstanding his prognostications, in 2002 he was recently named one of the "100 Greatest Britons." $225-300

15-2. "War Map of Europe."
Dramatic Tennessee-printed World War I map, with advertising, "Compliments of American Lava Co., Chattanooga, Tenn., German Lava Acetylene Burners & Ignitors - Tack or paste this in window or wall where your customers can follow the course of the war...." 20 1/8 x 27, printed by Brandon, Nashville, evidently early 1916. Two ornate residential lamps in red. Printed red circle around Nuremberg, "Source of German Steatite from which all good burners are made." Showing entirety of Europe, from Arctic Ocean to Mediterranean, and from Spain to Russia's Ural Mountains. On verso, five columns of closely-set and quite fascinating text and tables, "The European Conflict and Conditions that Brought It About." Much arcane information, including number of drummers in British Army, men in Royal Flying Corps, Isle of Man Volunteers, French Saharan companies, Austria-Hungary Horse Artillery, German Empire dreadnoughts, Italian submarines, and much more. "The Montenegrin is a born warrior; he never lays his weapons aside...Cannot be surpassed in practice of guerrilla warfare...." Population by decade of European countries, including Liechtenstein, Andorra, and Monaco. Tear at one fold junction, 5" tear at edge, some edge tears and wrinkles, but moderately colorful and good plus. Suitable for display. Rare thus. $65-90

15-3. The War to End All Wars.
Group of 59 Player's Cigarette cards, "Army, Corps & Divisional Signs, 1914-1918," issued 1924-25; incomplete set. Including black swastika on blue field (two), identified as "Euphrates Defences...in existence from Aug. 1916 to Dec. 1918...commanded by Brig.-Gen. F.R.E. Lock... from the Shinefiyah Lake...to Fao on the Persian Gulf..."; white on green swastika, "6th (Indian) Cavalry Brigade...serving on the Mesopotamian Front...," Australian, Canadian, "General Headquarters B.E.F.," "Persian Lines of Communication," and many British units. Interesting text on versos. Varied wear, some creases and soiling, few duplicates, else generally good and better. Fascinating for wall display, with a wide array of graphic devices and designs. $50-80 (59 pcs.)

15-4. A Suite of "World's War" I Souvenirs from Augusta, Georgia: "America first."
World War I-era souvenir pillowcase of Camp Hancock, Augusta, Ga. Home of the 28th Keystone Div.; some 3,000 of its men contracted the Spanish flu, another 130 perishing in a maritime disaster. 15 1/4 x 15 1/4 satin center, plus 3 1/2" scalloped and fringed pumpkin and black felt border; solid black felt backing. Bisected with pink and white satin panels; red and white silk ribboned frame, with repeating blue stars, enclosing beautifully embroidered white eagle atop flag, with bold embroidered script, "America first." Silk-screened with detailed artwork of "Our Infantry," marching in doughboy hats, with rifles. Spanning white satin triangle, "Camp Hancock," stencilled in black, hand-infilled in blue. • With four different sheer silk handkerchiefs, 14 1/2 x 14 1/2: red and white silk ribboned frame, with repeating blue stars, matching pillowcase above. Across top, "Greetings from Camp Hancock...." In center, large scroll embellished with flowers and firing cannon, "When the golden sun is sinking, And your mind from troubles free, While of others you are thinking, Will you sometimes think of me." • Another, crossed flags enclosing greeting, "Remember Me," doughboy at left, a pretty girl bearing garlands of flowers at right. "...And all thy path be decked with flowers." • Two different smaller handkerchiefs, each 11 1/2 x 11 1/2, with sentiment, "World's War Service, Camp Hancock, Ga." One with turquoise border, flowers in robin's-egg blue and fuchsia; other with butterfly in shades of purple, darkest grape border, butterflies and flowers in lilac and pale green. All with old folds, else clean, excellent, and lovely for display. Handkerchiefs in period box for Chevron Lawn stationery (worn with defects but satisfactory), green, gold, and mocha embossed design, with inscription "Hannah Reed...Mahanoy City, Pa.," likely the young lady who received these souvenirs. Such items are seldom encountered in such splendid condition. Unusual period usage of term "World's War"; the phrase "World War I" did not, of course, enter the lexicon until ... World War II. $150-200 (6 pcs.)

15-5. " I suppose that we will be spread to the four corners of the earth...."
Interesting gathering of World War I-era items, 1915-19, relating to Mrs. Seward (Emma R.) Heidelbach of Cincinnati and N.Y.C., in the Y.M.C.A. War Work Service "Over There," "a lady of high refinement and thoroughly entertaining" (--letter of introduction, present). A wealthy society woman, in France to purchase Christmas gifts for men of the 16th Infantry, collecting war souvenirs, serving as Ambulance Corps auxiliary, and boosting morale. Including items to or about her, or otherwise from her files, both in Europe and back home: 8 letters, 7 circulars and forms, 12 postcards and 23 envelopes (some interesting postal history), 9 pp. soldiers' original typewritten poetry, 16 newspaper clippings, 4 anti-German handbills in French, 2 French song sheets, 4 receipts, 2 poster-stamps, 1 pamphlet, and 2 other items. Married into the noted investment banking family Heidelbach, Ickelheimer & Co., she traveled the same Jewish charitable circles as the Rothschilds, Seligmans, Strausses et al. Her husband, Seward, active in banking, womens' clothing manufacturing, and iron and steel, briefly became one of the great missing-persons cases of the century; leaving a Manhattan eatery, he became a sudden victim of amnesia, wandering off to Europe. His family thought him lost, and sold off all of his business interests. Including: T.L.S. of American soldier R. Jones, Fravaux, France, Dec. 22, 1918, 4 full pp., to Mrs. Heidelbach, on red lettersheet of 411th Telegraph Battalion. "...I would have been delighted to have been in Verdun when you were there, but it was some time after the Armistice was signed before we went to that town. What did you think of it after four years of shell fire...Did you get a trip through the underground city?...If I can't get to Nice I am going to try for Bordeaux, and I shall be very pleased if I can see you again...I had to throw most of my souvenirs away at Imecourt, as I did not know where we were going...I managed to hang on to some French 1 lb. shells...If you get an extra heavy package at your hotel one of these days you will know what it is. I had a sack full of German helmets which I threw away when we left Imecourt...I will tell you all about the wonderful afternoon I had when I got them, watching the scream of the German shells coming over our lines...." • To her from Stewart Hudson, France, Aug. 17, 1918. "I forwarded to you today a German 'gas mask' in a French contaner. These I picked up on the field a short while after a battle between the French & Germans. Hope that you have not gotten one of these already...." • Two letters to her from Alfred C. Christiansen, Paris, Sept. 7 and Oct. 12, 1918, 6 pp. "Everybody in aviation has moved out of Paris now and there are only two sailors (including myself)...A roll of posters to leave at the hotel for you...safely locked in your suite...Left Paris a few weeks ago on convoy duty...Oh! I must tell you of the good luck I had in finding a room with a French family. I am living with the proprietor of the jewelry store at 39 Champs Elysees. It is quite like home...Would just as soon live here forever...." • Y.M.C.A. Movement Order for her to proceed to Meuse, Nov. 6, 1918 – five days before the Armistice. • Unused envelope, "Par Tube Pneumatique" (Paris). • American Y.M.C.A. cover, her signature as part of return address in her hand, franked by her "Soldiers Mail"! • Registered cover to her in Paris, from Cincinnati, with 9 postmarks on verso, and numerous markings, trying to catch up with her. • Printed notice, 5 x 6 1/2, 1917, H.Q. A.E.F., Office of Base Censor, Intelligence Section, listing reasons for return of mail, including "Effects of hostile fire, Criticism of our own service, Correspondence with strangers..."; sender's offense was "Postcard to Allied country." • Purple-carbon copy, "Regulations for Auxiliary Service," serving with Ambulance Corps. "Paint, powder, lip rouge, and jewelry of any kind is strictly forbidden...." • T.L.S. to her from (Lt.) B.P. Donnelly, Commander U.S. Naval Forces in France, Aviation Section, and his wife Suzanne, Nov. 21, 1918. "Would like to have visited you at Pauillac...to deliver the bayonet in person but sent it by Ensign Goldman...Your watch I returned by hand also...The game is practically played out here now and I suppose that we will be spread to the four corners of the earth or the four winds in Heaven...Your friend...." • Humorous 2 pp. mimeographed "Orders" of A.E.F. Headquarters' Statistical Section, with tongue-in-cheek account of their nocturnal adventures in Bordeaux, Oct. 13, 1918. • Notice on her family firm's steel-engraved stationery, requiring her signed declaration "by virtue of the law enacted by Congress for regulating trading with the enemy...." • One printed invitation to meeting on "Les Crimes Allemands" with two mousechewed portions affecting few letters only (in V.G. envelope to her); other varied wear and defects, understandable for a large group, but generally V.G. and better. In May 1950, a gas explosion rocked a fourth-floor apartment on Manhattan's East Side. The blast shattered plate glass windows in five stories across the street. Mrs. Heidelbach survived her husband's disappearance and the War to End All Wars - but tragically, not the gas leak in her kitchen. A dramatic saga. With modern research. $275-375 (about 90 pcs.)

15-6. Black Jack, with Inscription to a Fellow Hero.
Splendid signed photograph of Gen. John J. Pershing, inscribed in cream lower margin, "To Col. Frank C. Burnett / With cordial regards...." Evocative warm sepia, full standing pose, 7 1/4 x 10 1/2, imprinted "Signal Corps / USA." Infantry Col. Burnett "commanded, with distinction, a battalion of the first American regiment to occupy trenches in France, and participated in the repulses of the first raid made by the enemy upon American troops..."--Official Register, State of Iowa, p. 374 (modern copy accompanies). With a storied career, from the last of the Sioux uprisings, to San Juan Hill and Pancho Villa, Pershing's life changed when his wife and three of his four children perished in a Presidio of San Francisco fire. The only General in American history to be promoted within his lifetime to "General of the Armies," Pershing had sought to continue World War I and occupy Germany, to permanent destroy its militarism. Old pencil on verso, possibly negative number. "John" light, his quill reflowing for balance, uniform edge toning, else about fine, and superbly suited for display. $550-675

15-7. World War I Era Passports – in Yiddish.
Group of three intriguing passports, one for a Jewish shoemaker. All issued by Germans occupying town of Wilkomierz, Lithuania. Dated 1917-18, both before and after Lithuania proclaimed independence, but all showing "Deutsches Reich" at top and bottom of each page. Printed in German and Yiddish throughout. 3 1/2 x 5 3/4, (8) pp. ea., blue-green paper, elaborate honeycomb security watermarks. Comprising: Elias Kunigis, born 1894, "Religion: Judisch," occupation "Schumacher." • Teenager, occupation "Arbeiter" (worker), in heavy work clothes. • A 31-year-old named Wolk. Each with photograph, fingerprint, ink notations, numerous stampings and signatures. The town is today known by its local spelling, Ukmerge. Understandably with considerable wear, creases, and soiling, but satisfactory. $90-120 (3 pcs.)

15-8. "One of the foremost hospitals of America's Armies."
Lithographed poster-style bird's-eye drawing of a vast 1100-bed World War I hospital complex in Nantes, France. "Aero-Plan, Base Hospital 34, U.S.A., American Expeditionary Forces / Architectural Dept...," by Stern & Hoke, Apr. 17, 1918, 22 x 30, "Sheet No. 16-1," though complete as is. With legend identifying some 26 buildings and departments, including Kitchen Wing, "Chateau retained by Priests" (a magnificent gabled and spired building, even more dramatic from this aerial perspective), Person(n)el Toilet Bath Building, Operating Bldg., X-Ray, "Labratory [sic] & Morgue," Isolation Ward Bldg., "Shops Bldg.," Guard House, Gasoline Storage, and others. Almost certainly lettered by a French draftsman, numerous words misspelled, such as "Personel Mess Hall," "Patiets Effects & Sanitary Dept.," and "Labratory Animals Building." 5" tear at blank edge, much handling and fold wear, few small stains, marginal sun-toning, else satisfactory. Conveying the enormity of the American involvement in the War to End all Wars, and the organization and expense devoted to care of the sick and wounded. "One of the foremost hospitals of America's Armies," its history is chronicled in Base Hospital 34 in the World War, 1922, and other sources. Organized by the Episcopal Hospital of Philadelphia, it was closed just nine months after this drawing was prepared. Rare. $90-120
"I don't think I ever realized how far away I was until then...."

15-9. Leader of the Hello Girls.
Splendid group of letters and items of Grace Banker, Chief Operator of Telephones of the A.E.F., and head of the thirty-three civilian phone operators from New York City – the Hello Girls – who ran the First Army's switchboards at Pershing's Paris headquarters and at the front, sometimes in trenches with gas masks. The Hello Girls continued working even under heavy German bombardment, but none were ever injured. She later remarked that "the secrecy surrounding their operations gave it an aura of romance..."--In Uncle Sam's Service: Women Workers with the A.E.F., 1917-19, by Zeiger. Comprising: A.L.S., "Telephone Unit, U.S. Signal Corps, G.H.Q. A.E.F.," Apr. 18, 1918 - soon after arrival in Paris, 4 full pp., 5 1/4 x 7, in French, likely to flatter her French-speaking friend Georgette Poulard, in her hometown of Passaic, N.J. Mentioning her "chores nouvelles," "notre voyage sur le mer...calme et tranquille," "le dangers de guerre," and more. Excellent. With A.E.F. "Soldier's Letter" envelope, signed with her full rank and unit. Censor markings. Browned, brittle, and worn, but satisfactory. • YMCA envelope, with Banker's holograph return address in purple, to her friend in Passaic. Censor and postal markings. Enclosing 12"-long newspaper clipping (in two sections), "Miss Banker is Home from France - Awarded Distinguished Service Medal...," her photo at top. With miniature plain envelope evidently in her friend's hand, "My Four and Five, and Six leaf clovers," these preserved inside. Varied wear and browning. • A.L.S., "Tel. Unit...A.P.O. 774," Sept. 10, 1918, 4 3/4 x 6 3/4, 4 pp. "...Time to write is pretty scarce these days. Then too I didn't have the heart to scribble many lines when I heard of my Father's death. I don't think I ever realized how far away I was until then. However, so many homes are grieving these days that I feel as if I have no right to think over much of my own sorrow...This town is situated in just as beautiful country as the other [post] was, only it is deep down in a valley. One of the many canals you find in France runs through the heart of it...We are living in a French house here. Madame Marguerite who does our cooking comes in each morning making a great clatter with her wooden sabots...." Fine. With envelope, purple censor and postal markings. Good plus. • Splendid photograph, olive sepia, in uniform, signed across lower mount, on mottled decorative design. 5 x 8 1/2 overall. Also signed in pencil by photographer "Cullen." Same pose as the accompanying newspaper clipping, mounted on flap. Both flaps separated but present; photograph fine. • Two envelopes (only) in Banker's hand, both signed with rank in cornercard. One with purple censor and postal markings, other franked "Soldiers Mail" by her. Good and fine, respectively. Ironically, Banker's Hello Girls were not considered soldiers at the time. Lacking discharges or even certificates of service, it was not until 1977 that Congress recognized Banker and her brave operators as veterans. In all, 8 signatures of Banker. Unusual and excessively rare. Neither Google nor WorldCat locate any of her autographic material. $325-550 (10 pcs.)

15-10. World War I Victory Lamp.
A fascinating artifact with an "explosive" provenance: Large military shell incised, "Victory - Nov. 11, 1918 / 75 mm Shell"; on copper band wrapping around lower barrel, "They shall beat their swords into plowshares, and their spears into pruning hooks; Nation shall not lift up sword against nation, neither shall they learn war any more" [Isaiah 2:4]. 13 1/2" high, from base to top. During the war years, these "U.S. Government French-American" shells were made by the T.A. Gillespie Loading Co., Morgan, N.J. The huge plant had been hastily built in 1918, to load TNT and other explosives into a range of artillery shells and casings. Beginning on the evening of Oct. 4, their factory erupted in a cascade of horrific explosions, lasting several days. Over 100 fatalities ensued. The leftover shells that did not ignite - such as this one - were reworked into lamps by a Jersey City iron works, and sold as a memorial to the dead, both of the disaster and the Great War. Each shell was finely polished, then finished in ebony baked enamel. Original statuary-finish spun brass base and finial (lacking pictorial lampshade, but copy of period photograph accompanies). Modern cord and lamp socket added by consignor, and in working order (the lamps were originally offered in the buyer's choice of electricity, oil, or gas!). Light patination of base, else V.G. A conversation piece. $120-160
TO FIND OUT CURRENT HIGH BIDS,
OR TO PLACE BIDS,
JUST CALL 1-914-476-8500
OR e-MAIL info AT cohascodpc.com
(We do not currently use online bidding)
16. World War II
16-1. Preparing for War.
Collection of 36 professional-quality candid photographs showing light tanks, guns, and soldiers in 1st Army Field Artillery training maneuvers at Fort Drum, Plattsburg, N.Y., 1941, taken in that last Summer before America entered the war, for publication in Standard Oil's memorable house organ, Lamp. 8 x 9 3/4, doubleweight glossy, olive sepia. Some with pencil identifications on verso, some with touch of humor, and plugging Esso petroleum where possible. In period Standard Oil envelope bearing note of Alton Ketchum, celebrated advertising copywriter and creative director, author, collector, antiquarian, and scholar: "When Ralph Stein and I covered, for Standard Oil Lamp, first big Army maneuvers just before the U.S. got into the real thing. This was at Pine Camp (now Fort Drum), north of N.Y. state by the Canadian border. Ralph took these pix - I shot movies." Ralph Stein is believed the noted automotive photographer, his postwar work featured in Automobile Quarterly and fine antique car books. Subjects include: "Mechanized cavalrymen put their 'Hell Buggy' armament in shape for the 1st Army maneuvers." • Light tanks in field and on roads. • "Squadron commanders and staffs 'orient' their positions on the strategical map." • "Gun crew of 'E' Battery, 104th Field Artillery, climb aboard their 1 1/2-Ton truck. The last one in is (not what you thought), but is going to have to sit on that box of '75' ammunition. Hope the driver doesn't hit the bumps too hard." • "Crew of camouflaged combat car...with headlights dimmed...." • "Machine gunner ready for action. Man at left is supplying unlimited moral assistance." Many fine closeups of tanks, caissons, trucks, and soldiers with accoutrements. The angles, exposures, and cropping of photos lend a lively quality, presaging Stein's future renown at his craft. Small number of duplicates, showing different exposures. Some with editorial stamping, "Blue(print) and Hold." Some glue mounting evidence on versos, light corner wear, else generally fine. $300-450 (37 pcs.)

16-2. "Back the Attack!"
Choice, vivid World War II home front poster, with dramatic title, "Back the Attack! / Buy War Bonds." 20 x 28, G.P.O., 1943. Full color litho, depicting just-landed American paratrooper at the ready, holding machine gun, covering for his comrades filling the sky above him. Artist Schreiber. Form no. WSS 829-A. Minor airspace and tenting at fold junctions from original printer's folds for distribution, else never exhibited, little-handled, and a superb, New Old Stock example. Seldom found in this condition, and splendid for display. $90-120

16-3. Two of the Most Momentous Days in Modern History.
Two issues of The Bee, Danville, Va.: May 7, 1945, 16 1/2 x 22 1/2, (16) pp. "Nazis Surrender Unconditionally - Capitulation of Reich made to Eisenhower at his H.Q.s - Surrender Made in Red Schoolhouse...." Large photo of Ike, "He Dictates the Terms." "Allies Now to Press Jap War to the Limit." Immortal - and timely - front-page editorial, "The Guns are Still": "The note of craven humility which marks the final address to the German people by the military leaders throwing in the sponge once and for all is the most striking utterance ever made by Germany...Up until the very end there had been some typical Prussian arrogance even while the ruins of a mad dream empire toppled down over the bodies of the men who made eighty million people toe the mark so easily and for so long...The fighting and the bloodshed may be over but the war in the name of civilization is not over yet, nor will it be until we have found guarantees against the surging tides of political ambition and the fanatical lengths to win personal power." • Aug. 15, 1945, 12 pp. 3 1/2"-high letters, "Peace!," outlining a returning troop transport, a camp scene, military cemetery, and Statue of Liberty. "Japs Quit; World Rejoices - 'Cease Fire' Order Spans Pacific - Nips Accept Unconditional Surrender - Jap Cabinet Resigns...." "Blasted and frightened into defeat, Japan has accepted unconditional surrender. Thus the world entered a new era of peace today. Along the enormous battlefronts of the Pacific and Asia the mightiest forces of destruction ever assembled rolled to a victorious halt around the prostrate, vanquished empire of Japan...." Handling and wear, some edge tears, but good plus, the patina reflecting the riveting attention of their readers. $65-90 (2 pcs.)

16-4. Thirty Seconds Over Tokyo.
Dramatic printed typescript of Medal of Honor awardee Gen. James H. Doolittle's "Personal Report, Chungking, China, May 4, 1942," signed at conclusion on page 2. 8 1/2 x 11, prepared and signed c. 1984. His fast-moving narrative of the first American air raid on Japan, from takeoff from the Hornet, the earthshattering Raid on Apr. 18, through the raiders' landing in China. Doolittle's raiders, hitting Tokyo, Kobe, Nagoya, and Yokohama, shocked the Japanese and were a tremendous morale boost on the home front. "...The air full of planes north of Tokyo...Flying as low as the terrain would permit...Pulled up to 1,200 ft., changed course to the southwest and incendiary-bombed highly inflammable section. Dropped first bomb at 1:30...Lowered away to housetops and slid over western outskirts into low haze and smoke...No bombs left. Decided not to machine gun for reasons of personal security...Made landfall somewhat north of course on China coast...Pulled up to 6,000 and then 8,000 ft...Decided to abandon ship...Left ship on A.F.C.E., shut off both gas cocks and I left. Should have put flaps down...Requested Gen. Ho Yang Ling, Dir. of Branch Govt...to have all sampans and junks along the coast keep a lookout for planes that went down at sea...Early morning of 20th four planes and crews, in addition to ours, had been located...Discussed possibility of purchasing three prisoners...from Puppet Government and endeavoring to take out the three in the lake area by force...." It is estimated that the Japanese killed 250,000 Chinese while searching for Doolittle's crew. On the day Doolittle's report was compiled, the Battle of Coral Sea began; with Midway's victory four weeks later, the Japanese advancement in the Pacific was halted. One of the most exciting missions of the war - planned and led by Doolittle; the events described here were the subject of a book and movie. Excellent. $175-250

16-5. Doolittle Signed Cover.
Homemade patriotic envelope, with photo from wartime magazine showing two American planes releasing bombs, captioned "Laying the Eggs." Postmarked Dubuque, Iowa, Sept. 19, 1943. "Football" slug. Two green 1¢ stamps, "Freedom of Speech and Religion, from Want and Fear." "J.H. Doolittle" in blue, signed postwar in curiously blank address portion. Probably prepared by a patriotic postal worker at 3 A.M., explaining the absence of a destination. Very soft crease along top horizontal edge, light toning, else very fine and attractive. An obviously unique design, and unusual usage. $125-175

16-6. Curtis "Bombs Away" LeMay Signed Cover.
Homemade patriotic envelope, with seven color drawings from wartime magazines showing planes, a tank, and ship, plus three stars, all precisely silhouetted and artistically mounted. Signed in blue in center, "Curtis E. LeMay, Gen. U.S.A.F.," postwar. Postmarked (town light) Ky., Jan. 10, 1944. Evidently designed by a patriotic postal worker, explaining absence of a destination; the cancel was intentionally applied lightly, so the plane beneath would not be marred. Very soft crease along top horizontal edge, light old clip impression, uniform cream toning, else very fine. An obviously unique design, and unusual usage. Nicknamed "Bombs Away LeMay" and "Old Iron Pants," LeMay personally led a raid of 146 B-17s over Germany, beyond the range of escorting fighters. He once declared, "I will be in the lead plane on every mission. Any plane that takes off will go over the target, or the crew will be court-martialed." Orchestrating massive incendiary attacks on some 67 Japanese cities, including the Mar. 1945 firebombing of Tokyo, the single most destructive run of the entire war; LeMay's initial planes marked the target area with a flaming "X." Later initiating the Berlin Airlift, key in the Cuban Missile Crisis, and reorganizing the Strategic Air Command in the heat of the Cold War, he transformed it into a 24-hour, all-jet force. LeMay was the youngest four-star General since U.S. Grant. He also made his mark in the political arena, as George Wallace's 1968 running mate under the American Independent Party banner, winning 13% of the popular vote. $90-120

16-7. A Secret Mission for F.D.R.
T.L.S. of Vincent Astor, on letterhead steel-engraved in black on unusual cream laid with oversize diagonal watermark, "Bankers Linen." 23 W. 26 St., N.Y., Aug. 10, 1933. To G. Alan Chidsey, Great Neck, a noted lawyer, book dealer and designer, and contributor to The New Yorker. "I shall be very glad to keep the attractive little book which you sent me, and enclose my check for $10...Many thanks for supplying me with so nice a memento of the various Nourmahals." The Nourmahal was Astor's yacht; in the prelude to World War II, he sailed it to Japan "on a secret civilian mission for Pres. Roosevelt to gather intelligence on the Marshall Islands..."--wikipedia. The craft was later adapted as a gunboat for both the Coast Guard and Navy, til 1943. (His previous yacht became a Navy patrol boat in World War I.) Descendant of America's first multi-millionaire, Astor was born in his grandparents' townhouse at 350 Fifth Ave. – future site of the Empire State Building. His father perished on the Titanic. Astor later sold family-owned slums to New York City under generous terms to become early housing projects. Fascinating personalities. Foxing, else good plus. $55-75

16-8. "Only a madman...."
Early Nazi propaganda pamphlet, "German Workers! To Work! Speech of Chancellor Adolf Hitler at the opening of the work offensive, Mar. 21, 1934," 5 3/4 x 8 1/4, 11 pp., black on pulp. Printed by Liebheit & Thiesen, Berlin, in English, as propaganda. "...The fight to save the middle classes is, above all, a fight against unemployment. This is the most gigantic problem that we have to solve and which takes precedence of all others...Over 2,700,000 unemployed have been put back to work...in the first working year of the National-Socialist Administration...Only a madman therefore can shamefully...offend against the common need...We have an example in the Reich motor roads...May the other peoples and their statesmen realize that the desire and will of the German people is none other than in freedom and peace to help in creating a better world...." Minor edge chipping, else excellent. Rare on the market. $120-160

16-9. Inspiration for Rosie the Riveter.
Attractive group of the technical journal Fasteners, published by American Institute of Bolt, Nut, and Rivet Manufacturers (name later changed to Industrial Fasteners Institute), Vol. 1, Nos. 1-4; Vol. 2, No. 4; Vol. 4, Nos. 3-4; and Vol. 6, Nos. 1-2, 1944-49. 8 1/2 x 11, 16-22 pp., full-color covers with specially commissioned art; first issue showing medley of planes, a light tank, Navy ships, streamlined ocean liner, red, white and blue railroad cars, purple automobile (not unlike the Hupmobile Skylark), submarine, and machine gun - all built with fasteners. Other issues depicting an unnamed Rosie the Riveter at work, prow of a cargo ship, dramatically streamlined ruby-red locomotive with bubble canopy over engineer passing an "antique" engine on a trestle, outdoor dynamo, and after the war, an assembly line of refrigerators, freight train, Art Moderne perspective of machining of an engine block, and Paul Manship-esque artwork of steelworkers riveting massive steel beams. Illustrated. Light handling, signature on covers of first three issues, else fine. Arguably the foundation of American victory - and certainly of postwar industrial prominence: without fasteners, little else would have been possible. Rare. WorldCat notes scattered issues at M.I.T. Library and three other institutions. $90-120 (9 issues)

16-10. Days after Israeli Independence – termed "Assyrian-Zion."
Rare partly printed receipt issued for 600 Lire contribution to obscure Italian campaign to resettle Israel, May 19, 1948, 4 1/2 x 7. Black on cream, Italian and Hebrew text, signed in Hebrew. "Il Comitato Territoriale Italiano per Gli Assirè-Zion...." (Italian Territorial Committee for Assyrian-Zion). Star of David at top. Three large underprints, showing stylized Israeli soldier holding flag of the brand new nation, a settler within outline map, and another Magen David in crenelated tower. Old quarter-folds; area with name of donor much faded, evidently carried in a pocket or wallet for some time, else about very good. A fascinating Independence-period name usage for the Jewish State, proclaimed just five days before. Neither Google nor WorldCat find anything mentioning this organization. $75-100
TO FIND OUT CURRENT HIGH BIDS,
OR TO PLACE BIDS,
JUST CALL 1-914-476-8500
OR e-MAIL info AT cohascodpc.com
(We do not currently use online bidding)
17. Presidents & Politics
17-1. Republican Campaign – 1888.
"Regular Republican Ticket," (1888), "[Benjamin] Harrison and [Levi] Morton." 4 3/4 x 12, to be posted on a wall or in shopkeeper's window. Salem, Mass. Listing numerous Presidential Electors from Mass. cities and towns, plus Gov. Oliver Ames and local Republican candidates, including "Register of Probate and Insolvency." Dust toning at top, old folds, else good plus. There was little debate then of eligibility: Morton's eponymous ancestor had joined the Pilgrims in New England in 1623. $65-80

17-2. The Green Mountain Whigs – and the 1840 Hard Cider Ticket.
Witty antebellum letter of merchant M.W. Beardsley, who in 1864 would play a dramatic part in the northernmost action in the Civil War. From St. Albans, Vermont, Oct. 19, 1840, 8 x 10, 3 pp., blue ink, integral address-leaf with clear St. Albans c.d.s. and manuscript "25." To attorney M.H. Swift, Ottawa, Ill. A fascinating split-personality handwriting, alternating between slanted and upright styles, with frequent underlinings: "...I have at length cast anchor permanently among the Green Mountain Whigs. The inhabitants are universally Whigs. Men, Women & Children go the hard cider ticket...I am again occasionally in the society of her who in days gone by occupied a considerable share of my thoughts. I met her after a lapse of six years, but observed no particular change in appearance...I have formed a mercantile business connection...under the name of Burton & Beardsley in the village of St. Albans...The P(ost) Office is to be kept in our store. I am appointed Asst. P.M...You proposed my engaging in the study of the Law. I fear I should not be a very great acquisition to the profession...Whether the climate is the most congenial to my passions, sentiment, & general constitution, I do not know - but at any rate I presume it is not contrary to the Constitution of the United States...Doct(or) W. Beardsley...wrote that he and Doct. Waters intended to go to Fort Ann [N.Y.], probably after Ore...." Beardsley's place in history came 24 years later: he was cashier of the Franklin County Bank when 22 Confederates entered the town, in the notorious St. Albans Raid. After an exchange of greenbacks for gold, a gun was drawn, and he was ordered to bring out all money on hand, some $70,000. Beardsley and a colleague were locked in the vault, terrified that they would perish if the town was burned as threatened. They were released a short time later, but the raid remains a fascinating sidebar to the Civil War. Few items associated with the St. Albans Raid appear on the market. Circular tear where opened at red wax seal, affecting ends of five lines on last page, minor edge toning, else about fine. $140-180

17-3. At the Threshold of History.
Holograph check signed by L(afayette) S(abin) Foster, the man who nearly succeeded Lincoln: elected President Pro Tem of the Senate just six weeks before Lincoln's assassination. One of the conspirators, George Atzerodt, intended to also kill Vice Pres. Johnson, but failed to act. Had he done so, Foster would have become President – and the person remembered for bringing the Civil War to a close. Norwich (Conn.), May 7, 1853, 2 1/4 x 7, with ornate anti-counterfeiting design at edge framing the word "Connecticut," black on blue. Two blind cross cancels just touching signature, but inconspicuous and otherwise very fine. An obscure sidebar in Lincolniana. $75-100

17-4. An Ode to Pres. McKinley.
Lovely slender volume, A McKinley Romance, by Alice Danner Jones, Canton, Ohio, 1901. Published before his assassination, recounting in verse the courting and marriage of the McKinleys. "...There were suitors, whose hundreds and thousands, Could have added rich wealth to her own; But, in fancies and dreamings of girlhood, Ever, somewhere, the lawyer's face shone...." 6 x 7 3/4, (30) pp., turquoise silk over flexible boards, gold-stamped with floral spray arching over title, all-over gold-leaf vinery on endleaves, pale ivory enamel text, silk cord tie. Numerous photos of McKinley, his mother, wife, buildings in Canton from his life there, "McKinley as Pres.," and "Mrs. McKinley in Inauguration Dress." • Mounted at rear, a manuscript poem, composed following his assassination, "...The beautiful Romance is ended...," unsigned but nominally in the same style as Jones'. One leaf shaken, another with ownership mark(?) trimmed from blank bottom portion, some toning of covers, else good plus. Unique thus. $50-75

17-5. "Say that Gen. Garfield has listened to your prayers...."
Memorial pamphlet, "The Life and Assassination of Pres. Garfield, together with the Life of the Cowardly Assassin, Guiteau...." Barclay & Co., Philadelphia, (1881), 5 3/4 x 9 1/2, 112 pp., illustrated; teal wrappers, with separate large woodcut portraits of Pres. and Mrs. Garfield. Dramatic full-page woodcut on last leaf, showing young girl presented by his troops, prostrate before the future President on his horse. He proclaims, "Go to your poor old father, child, and say that Gen. Garfield has listened to your prayers, and will always temper justice with mercy. His life shall be spared." With much on his Civil War service, and exhaustive account of the assassination and its anxious aftermath for the nation. Cover handling wear and soiling, lacking one corner front cover and two tips of back, else internally very good, and generally very satisfactory. A rare ephemeral survivor. No copies on Abebooks. $70-100

17-6. Grover Cleveland and the "Sure Cure."
The New York State Almanac / Diary and Gazeteer, published by Wells, Richardson & Co., Burlington, Vt., manufacturers of "Kidney-Wort" remedy, "Butter Color" for dairymen, and Diamond Dyes. 1883, 5 3/4 x 9, 32 pp., original braided string for hanging. Ornate decorative cover, black on apple green, with woodcut portrait of Gov. (Grover) Cleveland, surrounded by ethereal allegorical goddesses, State Seal below. Inside, exhaustive sales copy for their products, facing monthly calendar-diary. "...A Sure Cure...Contains no mercurial or mineral poisons to taint the system...." The unending flow of copywriter's puffery, together with charming and delightfully varied typography, offers a fascinating exemplar of merchandising in post-Civil War America. Pencilled at top, "Calvin B. Hall, Jr. / 1888." Cover with some toning, edge chipping, few insect spots, else internally about fine. $40-55

17-7. With Specially-Commissioned Copperplate of Washington.
"17th Annual Banquet / Empire State Society - Sons of the American Revolution - Commemorative of the Evacuation of N.Y. by the British," Waldorf Astoria, Nov. 26, 1906. 6 1/2 x 9 3/4, 4 pp. on untrimmed double-size press sheet, red and black on deep cream laid, between cold-pressed ivory covers, gold-engraved seal of the Society, bearing magnificent copper engraving of specially commissioned pen-and-ink drawing of Washington on horseback, his men and the 13-star flag behind him. Tied with white, yellow, and blue grosgrain ribbon. Address by N.Y. Gov.-Elect Charles E. Hughes and other dignitaries. Some marginal dust-toning of covers, spot at blank lower left, else fine and rare ephemera. Lovely for display. $45-65

17-8. The 1936 Democratic Convention – and America's Rendezvous with Destiny.
Massive wall chart, "Seat Location Plan, with relation to Speaker's Stand - Democratic National Convention, Philadelphia, June 23, 1936, Howard Leland Smith, Architect," 29 1/2 x 43 1/2. Black on heavy eggshell vellum. Showing placement of Speaker's Platform, flanked by seats for Committeemen and Committeewomen, Chairman's Box, Secretary's Box, vast acreage of seats in Balcony and Balcony Boxes, and spaces for Delegates and Alternates on the floor. The first convention allowing nominations by a majority vote, rather than two-thirds. In his acceptance speech nearby, Roosevelt famously uttered, "This generation of Americans has a rendezvous with destiny." Obviously posted and used at the Convention - a prewar visit by the Democrats to Philadelphia. Some fold wear, very light foxing at some folds and outer panels, else good, and a superb item for display. Rare thus. $90-120

17-9. Photo Finish for President.
T.L.S. of Thomas E. Dewey, two-time Presidential candidate, the first to employ his own team of pollsters, and subject of one of history's most famous headlines, "Dewey Defeats Truman"; still talked about today for his prosecution of Murder, Inc. in the 1930s. On his notepaper, 100 E. 42 St., N.Y., Feb. 20, 1940 - during his first quest for the Republican Presidential nomination. 6 1/4 x 7. "Please accept my warm thanks for your kind letter of Jan. 8...I am deeply grateful for your message of encouragement and support." Corner wrinkles where mounted on old green album leaf, light toning, else about very good. $55-75

17-10. Following his Landslide Presidential Loss.
T.N.S. of Gov. Adlai E. Stevenson [II], on letterhead "Stevenson Campaign Headquarters," Springfield, Ill., Nov. 20, 1952 - soon after his loss in a landslide to Eisenhower. 6 x 10. To Miss Jacqueline Parsons, 8 W. 40 St., N.Y. "My heartfelt thanks for your understanding message. It was good of you to think of me and I am most grateful." Original folds, light handling, else fine and attractive. With envelope, torn when opened, repaired with old tape, folds, and fair. Notwithstanding an even bigger landslide loss to Eisenhower in 1956, historian Arthur Schlesinger observed that Stevenson "turned the Democratic Party around in the Fifties and made J.F.K. possible...." America's man on the spot at the U.N. during the Cuban Missile Crisis, in late 1963 Stevenson warned Kennedy about going to Dallas. The rest is history. $90-120 (2 pcs.)
"...The corrupt practices that have been carried into the elections of the country
exceed anything of the kind ever heard of before in America."

17-11. "Traced to the very door of the White House...."
Fascinating, lengthy retained copy of provocative and significant 23 pp. letter of James William Denver, entirely in hand of his daughter following an accident affecting Denver's ability to write. Wilmington, Ohio, Nov. 19, 1884, 7 3/4 x 12 1/4, bound with original string tie and two brass clasps at top. To Rev. John W. Shields, Xenia, Ohio, where Denver had first practiced law. In Denver's unique, bold perspective, interpreting America's political history from the duelling ideals of Hamilton and Jefferson, through the ages of Jackson, Van Buren, Harrison, and Tyler, focusing on rapacious business and corrupt government before, during, and after the Civil War, to the Garfield administration. Some of Denver's themes are echoed in today's political discourse. "...The injury I received at Columbus by the breaking down of the Speaker's stand, on the 20th of Sept., disarranged all my plans...Let me remind you that it is now just forty years since you and I did the battling for the democracy in Greene Co. when some of the issues then presented were precisely the same as those now before the country. Since that time...we have had to deal with many disturbing elements. The principles which developed under Hamilton and Jefferson at the first organization of our government have never ceased to be the guide and doctrine...Hamilton wished for a strong government...Jefferson insisted on giving the greatest possible liberty to the people consistent with order...Naturally all those who had no faith in republican institutions...fell in with and supported the Hamiltonian doctrine...
"So violent were the feelings of the Federalists of that day against the general government that they did...convene the Hartford Convention for the purpose of devising ways...to withdraw from the Union...They had also shown great hostility to foreign migration and passed the Alien and Sedition Laws...The Whig Party...elected Harrison and Tyler on a mere howl for a change...Then followed another defeat in 1852 and the Whigs...joined the Know Nothings, a secret organization, narrow and fanatical...hostile to one of the Christian churches, to all naturalized citizens and to emigration from foreign countries. This organization vanished almost as soon as its secrets were exposed, and a new party was organized combining all those who were opposed to the democracy...They took the name of Republicans, but in their first efforts were defeated in 1856. For some time before this the Abolitionists in the North and the Secessionists in the South had been giving the country a good deal of trouble...Madness reigned! Moderate men and wise counsels were thrust aside! War followed...a civil war! The worst of all wars!...While this war was going on...followers of the Hamiltonian doctrines were...forc(ing) an overproduction of manufacturers...an absolute injury to the country, for it withdraws from other pursuits a large number of laborers and impoverished them. Formerly we had mechanics and artizans, tradesmen of all kinds, scattered all over the country. Now it is a rare thing to find a shoe maker, a tailor, a cabinet maker...because their pursuits have been taken up by large establishments and even the knowledge and skill required to produce such articles is largely denied to the people. The large shoe manufacturing establishments employ men to work by the piece, but no one man is allowed to make up a whole shoe or boot - one will prepare the soles, another the uppers...
"Instead of protecting home industry, the general policy of the republican administration...has been to destroy it, or make it dependent on capitalists...It is high time the legislative power should...hold such corporations to a proper responsibility and prevent them from abusing their power over the people...A portion of our country will contribute all its rents and profits to the nobility of England...It has always been the American policy to invite European immigration to our shores...In the last 20 years business corporations have made immense strides toward domineering over the people and controlling the government...The combination of capital has begotten combinations of laborers, so that there is a continual conflict going on between capital and labor...The capitalist is continually striving to reduce the wages of the laborer...The poor laborer gets the worst of it...Thus the rich are constantly becoming richer, and the poor poorer. Capital is becoming rapidly concentrated in a few hands...The morality of no country was ever more broken up than...since the republicans obtained control...Gen. Grant allowed things to drift along...and immediately set to work to obstruct the prosecution... traced to the very door of the White House...Our Navy has been almost entirely destroyed and no one seems to be able to tell what became of it...All that is left of it, is a few vessels used for junketing purposes. In short, every department of the government has been permeated with corruption...The corrupt practices that have been carried into the elections of the country exceed anything of the kind ever heard of before in America, and it is high time that a stop should be put to these things if we wish to preserve our Republican institutions...At the close of the war the white people of the Southern States were very generally inclined to unite with the Republican party, but they (the Republicans) would not trust them and attempted by enfranchising the freedmen to domineer and over power the white people...This drove the Southern white people...into the Democratic party...and resulted in the 'Solid South'...
"My attachment to the Democratic party is fundamental, because I believe that the Constitution should be adhered to...that economy and justice should prevail in the administration of government, that violators of the law should be punished, that all people should have equal rights...that corruption of every kind...severely punished...." Several leaves with clean 3" tears, some handling evidence, dust toning p. 1, else about very good. A remarkable exposition by one of the nineteenth century's keenest observers. One of the finest political manuscripts we recall handling. Presumed unpublished. Ex-Robert K. Black, well-known N.J. autograph dealer, 1968, off the market since then, in collection of a Pres. of Manuscript Society. $350-425

17-12. Denver likened to Moses.
Pamphlet from Denver's files, "What Led to the War, or the Secret History of the Kansas-Nebraska Bill," by Col. John A. Parker of Va.," praising Denver. Inscribed at top of cover, "With Kindest Regards of The Author / 8th July[?] (18)80." Printed by Thompson & Moreau, N.Y., 1880, 6 x 9, 14 pp., sewn. "Reprinted from the National Quarterly Review...." Years earlier, Parker was sent by Andrew Jackson on a secret mission to Texas; 1860 Consul to the Hawaiian Islands. Here, he seeks to "correct the error and unveil the mystery" behind the Kansas-Nebraska Bill, which "led directly to the conflict between North and South...fanning into a blaze the embers which had been smoldering so long...Our civil strife was not altogether disastrous...It demonstrated...that our people love their republican institutions and are ready to shed their life's blood in their defence...." Parker maintains that Stephen A. Douglas, widely believed the author of the Kansas-Nebraska Bill - "the most important which ever passed the Congress" - was not: it was "President for a Day" David Rice Atchison. Also invoking the names of Breckenridge, Buchanan, Calhoun, Jefferson Davis, Pierce, Polk, Van Buren, et al. "...A prudent man was required to act the part of Moses...a man of unflinching courage... Hon. James W. Denver...a distinguished and gallant veteran of the Mexican war, a noble man and a statesman...loved and respected by all...To him the country owed the pacification of Kansas, and the crisis for the time was satisfactorily passed...." Two parallel folds, perhaps from Denver's coat pocket, cover toning, else about fine, and likely unique thus. WorldCat locates only five copies. $130-160

17-13. The World Denver Left Behind.
Lengthy, Peyton Place-esque A.L.S. of Denver's sister, E.A. Johnson, sarcastically datelined "Castle Dismal," (Wilmington, Ohio), May 28-30, 1849, 7 1/2 x 9 3/4, 4 very full pp. + additional wrapper bearing postscript signed a second time by her, with Wilmington c.d.s. and bold "10" handstamp. To her brother, attorney James W. Denver, Platte City, Mo. "I was happy to hear of your recovery from Cholera...We sold out in Wilmington some six weeks ago to Thomas Wrathe and had to give immediate possession which caused me a good deal of labour and fatigue, together with poor health and broken spirits...There is no record of any loss of love and affection I owe my Brothers or Sisters. Indeed my life is wrapped up in theirs...Frank Denver is at home...He has not been able to undertake to work much yet...He is doing himself an injury by his indecision, as to what to go at. My advice to him is to stick to his trade...Fortune rarely, if ever, visits anyone, unless there is an effort...Jacob Jenkins died last week and left all his children sick. Perhaps if you will come back now, you may get one of the 'gals'...his pretty Phoebe...Joe Hackney and Posey and Co. have gone to Va. to raft timber to Cin(cinna)ti. I must now tell you of the Marriages that are agoing to be...Mr. Frank Denver and Miss L. Rombach. Now I think Wilmington is doing very well in that way...Dr. Jones is going to leave us in a few days ...in Sandusky City. His friends are very much opposed to his going, and blame his wife with it all, and the poor woman is nearly bereft of what little sense she once possessed. Do you recollect your farewell visit to her & Louise?...The Cholera...is raging all around in Cin(cinnati). Business is stopped... Mr. McLane's barn was burned to the ground in daylight, containing all his farming utensils...hay, corn... all his meat, wagon...Fire had been commenced in the woods, back of the house, which drew all the family ...While they were putting it out the barn was set on fire, which they did not discover until some minutes after their return...William Hebben is supposed to have done it. The Sheriff has offered a reward of $40 for his apprehension dead or alive. David H. is in the Penitentiary. Bill had broke jail previous to his being here...." On postal panel, "Ans(wered) June 26, 1849" in Denver's hand. Letter with light fold wear, else about fine; address wrapper with edge tear where opened at red wax seal, some toning and wear, else good plus. Denver would arrive in Gold Rush Calif. the following year. $110-140 (2 pcs.)

17-14. 1840 Whig Campaign Medalet - Brilliant Uncirculated.
Lustrous gold-tone brass, 7/8". On obverse, "Maj. Genl. W.H. Harrison / Born Feb. 9, 1773," with civilian bust. Reverse, log cabin with flag flying from roof and large cider barrel, "The Peoples Choice / In the Year 1840." Harrison became the first Presidential candidate to campaign on his own behalf, giving rise to the chant, "Tippecanoe and Tyler too!" The log cabin and cider barrel symbolized his common-man image. Some honey patina along parts of periphery, lending lovely coloration, else Brilliant Uncirculated. Uncommon in this condition. $90-120

17-15. 1840 Whig Campaign Medalet.
Variant, 7/8". As above, but with military bust, conspicuous epaulettes. Holed. Obverse with dark frosty gold tone with chocolate spotting, though probably unworn; reverse better, with rich bronze patination, and overall fine plus. $55-75

17-16. 1896 Republican Campaign Button - Unworn.
"For Pres. / Maj. Wm. McKinley," with pensive photo in black on ivory. Believed pre-Convention, before McKinley's emergence as the Republican choice. 13/16". Whitehead & Hoag paper insert on verso. Excellent. Not in Hake. Elusive, especially in this superior condition. $70-100

17-17. Womens' Rights on 1920 Republican Campaign Button.
"My First Vote is for Harding." Red, white and blue. 5/8". The slogan is an allusion to women voting for the first time under the new 19th Amendment. Interestingly, the slogan was revived for Reagan's race. Corrosion on verso, else very fine and uncommon. Hake 61. $50-70

17-18. Democratic Presidential Candidate - 1904.
Three letters of Alton B. Parker, noted jurist, losing the 1904 Presidential contest in a landslide to fellow New Yorker Theodore Roosevelt. T.L.S., on finely steel-engraved letterhead "...Court of Appeals, Judges Chambers," datelined Rosemount, Esopus, N.Y. (his home and focus of his "front porch campaign" for the Presidency), July 9, 1904. All to Daniel N. Morgan, future Treasurer of the U.S. and avid autograph collector, here probably in Bridgeport, Conn. "Just a word to thank you for your very kind message of congratulation...," evidently upon his nomination. Parker's first speech as 1904 Democratic candidate, touching on Turkish, Moroccan, and Philippine affairs, was considered so lackluster that his campaign never got off the ground. The Democrats then turned to criticizing Roosevelt as "dangerously unstable." Parker is history's only losing Presidential contender never to be subject of a biography. He did make history though, delivering the keynote address nominating Wilson for the Presidency in 1912. • T.L.S., on letterhead of Parker, Hatch & Sheehan, N.Y., Nov. 30, 1908, 8 1/4 x 10 1/2. Regarding "Mr. Curtis' invitation to attend the Annual Banquet of the Conn. Society Sons of the American Revolution...I would most certainly accept but for the fact that quite a long time ago I accepted an invitation of the University of Virginia to deliver an address on that day...." • A.L.S., 3 S. William St., N.Y., "Thurs.," marked Dec. 3, 1908 in contemporary hand, 5 x 8. "None of our clients are investors in manufacturing enterprises. And neither my partners (n)or myself would know where to look for $50,000 for such an investment." Minor postal handling, else very good to fine. A fascinating political personality. $130-160 (3 pcs.)

17-19. Connecticut's Top Democrat raising money for 1892 Election.
Group of five letters of Simeon E. Baldwin, three on typographically elaborate letterheads as Pres. of State Democratic Club of Conn.; also Gov. of Conn., a founder and Pres. of American Bar Association, and 1912 Pres. candidate, receiving 20 votes. All to Daniel N. Morgan. Comprising: A.L.S., New Haven, 1890, enclosing $1 to advance work of Democratic Club's Publication Committee. • A.L.S., Sept. 16, 1892, 1 1/2 pp. "...I shall expect you to say something, among others...I believe we can do effective work in sending leading Conn. newspapers, particularly those favoring a Constitutional Convention, into close towns, to doubtful men, and I wish we could raise $2500 for the purpose...You can put me down for $150. Will the steamer make two return trips?...If the Hartford men leave at 9:13, they must miss the last speeches." • A.L.S., Sept. 21, 1892. Enclosing his $150 "to the campaign work of the State Democratic Club, & I should beg to have it used for the dissemination of local newspapers, dailies, in close towns...." • T.L.S., New Haven, Feb. 10, 1910. "With pleasant recollections of our political associations in years past...." • A.N.S. on card, 3 1/2 x 4 1/4, New Haven, Feb. 6 (n.y.). "I should be glad to see you at lunch at my house...to meet a few of the signers of the enclosed call, who are coming here to attend the meeting." Mounting remnant on verso; letters with light file wear at blank top edges, else all fine. The great-grandson of Signer Roger Sherman, Baldwin founded aviation law, publishing "The Law of the Airship" in 1910. $80-110 (5 pcs.)

17-20. "My son-in-law...desired to be shown through the vaults of the Treasury."
Two letters of Judson Harmon, as Attorney Gen. under Cleveland issuing "the most explicit statement of what became known as the American doctrine of absolute sovereignty"--wikipedia. A.L.S., on blue steel-engraved lettersheet "Office of the Attorney Gen.," Jan. 23, 1897, 4 3/4 x 8. To Daniel N. Morgan, Treasurer of U.S. "This letter will introduce you to Edmund Wright, Jr., my son-in-law, who desires to be shown through the vaults of the Treasury and I will be pleased if you can accommodate him." Oversize watermark "Cranes Parchment Vellum." V.F. Scarce. • T.N.S. as Gov. of Ohio, Columbus, Nov. 21, 1910, 8 1/2 x 11. To Morgan, Bridgeport, Conn. "Your letter of congratulation added greatly to the pleasure of success, for no achievement is worthwhile unless its results extend beyond the narrow bounds of self." Ironically, it was this 1910 reelection to the Governor's Mansion that pushed the losing candidate to later run for the White House ... Warren Harding. Harmon himself was nominated for Pres. in 1912, with 148 votes on the first ballot; his position dwindled by the 39th ballot, handing the post to Woodrow Wilson. Crisply blind-embossed State Seal. Signature a trifle light, else fine. $90-120 (2 pcs.)

17-21. Namesake of Foreign Policy toward Cuba.
Two letters of O(rville) H. Platt, his name borne on the eponymous 1901 Amendment "requiring Cuba to enter into no foreign agreements contrary to interests of the U.S., and to grant the U.S. the right to intervene in Cuban affairs, if necessary to keep order"--Webster's Biographical. Comprising: L.S., Senate Chamber, Washington, May 8, 1886, 5 3/4 x 9. To Daniel Morgan, Bridgeport, Conn. "...While I have not come to a conclusion about the matter of which you write, I am giving it my attention." • A.L.S. on mourning stationery, Meriden, Conn., Nov. 23, 1893, 4 3/4 x 8. "...I appreciate the friendly interest which prompted it. The way on seems dark to me, and the assurance of friends that they would be glad to brighten it, touches me very much." Light mounting evidence from Morgan's autograph album, else both fine. One of the "Senate Four," Platt notoriously voted against the Sherman Anti-Trust and Eight-Hour Labor Acts. $55-75 (2 pcs.)

17-22. "...All that is interesting in the Treasury Dept."
Two T.Ls.S. of Hoke Smith, Georgia Sen. and Gov. Both as Sec. of Interior, to Daniel Morgan, Treasurer of U.S. June 22, 1895, 7 3/4 x 10 1/2. "Col. J.H. Estill, Editor of the Morning News, Savannah, a warm, personal friend of mine, is in the City with a party of friends. They are desirous of seeing everything of interest and would like to be shown through the Treasury Dept. I will appreciate...such courtesies as will enable them to view all that is interesting in the Treasury Dept." Masthead curiously light, perhaps highly unusual under-inking by engraver, else signature dark, and fine. • Dept. of Interior, Apr. 30, 1896, 4 3/4 x 8. "Yours...requesting an article, for a friend in Bridgeport, in relation to clams and scallops...It would give me pleasure to comply with your request, but...it was...published by the U.S. Fish Commission." Curious edge at right, suggesting the lettersheet was printed upside-down, and the unwanted blank panel on the right - instead of left - was trimmed by the sender. Very fine. A pioneer in personal injury cases, Smith dominated Atlanta courtrooms, representing a winning percentage of railroad accident victims. His practice netted $25,000 yearly, then a princely sum. In the 1896 Presidential race, Smith deftly managed to support the Democratic Party - but not its platform, balancing his friend Grover Cleveland's sound-money policy against Bryan's Free Silver. $75-100 (2 pcs.)
TO FIND OUT CURRENT HIGH BIDS,
OR TO PLACE BIDS,
JUST CALL 1-914-476-8500
OR e-MAIL info AT cohascodpc.com
(We do not currently use online bidding)
18. Personalities
18-1. One of the Fireside Poets - and a Poem about Fruit and Flowers.
Pleasing A.L.S., with initials, of poet and abolitionist J(ohn) G(reenleaf) W(hittier), Amesbury (Mass.), Quaker dating "29th 9th Mo. 1860," the year he was an elector for Lincoln. 5 x 8. To Haskell (editor of Boston's Evening Transcript). "I have been hoping to see the Ahern(?) place this Summer or Fall. I send thee a copy...H.M. Kimball, say for our Village Fair. It is too good to be lost so I send it for the Transcript which is the place for all good things. Ever thy, J.G.W." Harriet McEwen Kimball had composed "A Harvest Hymn Written for the Amesbury and Salisbury Agricultural Exhibition" of twelve days earlier, earning Whittier's praise. A founding member of the American Anti-Slavery Society, his 1833 pamphlet, demanding immediate freedom, alienated both Northern merchants and Southern planters. Most of his early poems dealt with slavery; while editor of The Pennsylvania Freeman, their office was torched by a pro-slavery mob. Helping found the Liberty Party in 1839, later evolving into the Free Soilers, he attended the World Anti-Slavery Convention - but his health failed, returning to Amesbury, where he spent the rest of his life. Attractive blind-embossed stationers' crest at blank top. Minor handling evidence, else fine and clean. Delightful content. Modern copy of poem accompanies! $200-250

18-2. A Great American Poet - on the Meaning of Poetry.
A.L.S. of poet and diplomat J(ames) R(ussell) Lowell, Elmwood, (Mass.), Nov. 21, 1889, 4 1/2 x 7, 1 1/4 pp. To Oliver Dyer, noted reporter and author, about poetry. "I am glad to see that you have divined the inner meaning that underlies the more obvious & pictorial expression of my fancy. But to explain a poem is as ruinous as to explain a joke. A poem does not state, but only suggests, & the more elusively this is done, the better. Poetry is for those & those alone who find its comment in themselves...May I ask of you the further kindness of sending me half a dozen copies of that number of the [New York] Ledger in which the poem is printed?" Dyer devised the first shorthand system used in America, becoming the first Congressional shorthand reporter; his method was also used to record the 1848 Free Soil Convention. Campaigning against the saloons and immoral establishments in Gotham's underworld, Dyer's exposé dubbed one dance hall proprietor as the "wickedest man in New York." As editor of the Musical World and Times, he hired Fanny Fern, the first woman in America with her own newspaper column; by 1855, she was the country's highest-paid reporter. Pleasing medium brown on cream, obscure "Crane...No. 31" watermark. Minor handling darkening at center and blank panel folds, else fine, with splendid poetic content of this colleague of Longfellow, and member of Hall of Fame. $250-350

18-3. The Man with the Golden Arches.
Signature on F.D.C. "With best wishes - Richard J. McDonald," co-founder of the eponymous restaurant chain; his name became not only a brand - but part of the world's lexicon. Bearing block of four United Nations Economic Commission for Europe 4¢ postage stamps, postmarked U.N., N.Y., May 18, 1959. Finely steel engraved in blue. Trivial soft bend at upper right tip, else excellent. Sometimes unappreciated is the fact that McDonald and his brother named their first McDonald's in 1940, debuting the forerunner of "fast food" service in 1948; they did not even meet Ray Kroc til 1954. Richard McDonald also designed their golden arches. Uncommon, other McDonald material sometimes appearing on the market at four-figure prices. $250-325

18-4. The Man of Mystery.
Large, variant check of E(dward) A. Burke, a man of intrigue who arrived - penniless - in Louisiana during Reconstruction. As Treasurer of Louisiana, New Orleans, May 2, 1879, very low no. 35, "Current School" account. Claiming to be a former Confederate officer born in Kentucky, the actual side on which he served and his place of birth remain a mystery. Rapidly rising in New Orleans' inside circles, Burke exchanged pistol fire on a New Orleans street with the Gov. of Louisiana in a fizzled coup d'état. Promoter of the World Cotton Centennial, a postwar Southern world's fair, Burke again became mired in controversy. Linked to the corrupt Louisiana Lottery, he actually moved it from Louisiana to Honduras, generating still more scandal. Helped negotiate the Compromise of 1877, ending Reconstruction; elected State Treasurer, and as publisher of the New Orleans Times-Democrat, his power exceeded that of the Governor. Indicted in the following decade for embezzling over $1 million in Louisiana bonds, he fled to Honduras, repeating his climb to power, and living in luxury in the tropics. It was there that he welcomed Charles Lindbergh, on a goodwill flight through Central America in 1928, seemingly eons after the Civil War from which he had emerged. Printed in red; large attractive New Orleans bank "Paid" stamp in purple. Re-endorsed by merchant H(enry S.) Leverich, noted New York-New Orleans purveyor of cotton, sugar, pepper, ginger, rice, tobacco, wine, brandy, raisins, rum, and more; before the war, the Leverich firm was linked to Dr. Stephen Duncan of MIss., perhaps the largest cotton planter in the world. Leverich's brother and business partner was Pres. of the Bank of New York. Rather surprisingly, Leverich is interred in a churchyard on busy Queens Boulevard, in N.Y.C. Very fine. Two fascinating characters. $110-140

18-5. New York's Foremost Builder, Autographs – and Cups and Saucers.
Two items: T.L.S. of John D. Crimmins, nominally New York City's "Donald Trump of the Gilded Age," contractor of over 500 buildings in Gotham, builder of part of the early Els, and laid the first conduits for telephone and telegraph wires in Manhattan. 624 Madison Ave., Nov. 24, 1908, 8 1/2 x 11. To D(aniel) N. Morgan, Bridgeport, Conn., former Treasurer of U.S. under Cleveland, and a fellow autograph collector. "...Speaking of autographs. Your collection every year becomes more valuable. Contemporary autographs do not bring large prices. My own judgment is that if I had a collection to sell, I would entrust it to the Anderson Auction Co., 12 E. 46 St. They advertise very widely and every collector reads their catalogues. There are other auctioneers, such as Stan V. Henkels, c/o Samuel T. Freeman...and the Merwin-Clayton Sales Co., N.Y." Interesting "Franklin Linen Ledger" watermark. Pleasing uniform toning, fine. Also an autograph collector, who had loaned items to the Irish Industrial Exhibition at 1904's St. Louis World's Fair, Crimmins was "N.Y.'s oldest and best known contractor"--wikipedia. Pres. of Second Ave. Railroad Co., his posh home host to Pres. Cleveland et al. His payroll numbered 10,000 workmen, with never a labor dispute, though some N.Y. neighborhoods were lawless. Rare New Yorkiana. • Letter of B.H. Collins, with large stylish rubber stamp, "...Dealer in Fine Coins, Rare Jewelry, Curios, Etc., 1108 G St., N.W., Washington, D.C.," Nov. 4, (18)95, 5 3/4 x 9. To Morgan, as U.S. Treasurer. "...Call & see my addition of 4 exquisite Cups & Saucers, one a Capo de Monte - extremely rare ware & all exquisitely & artistically decorated. Prices right - sure." Very fine. Both suitable for display. $110-140 (2 pcs.)

18-6. Scion of Du Pont Chemical.
Partly printed D.S. of Pierre S. Du Pont, May 28, 1912, 6 1/2 x 8. Appointing his attorneys George Loomis and F.C. Stevens of Attica, N.Y., to vote his stock in Telephone Improvement Co., of Attica. V.F. • With typewritten carbon copy list of shareholders voting by proxy, listing Du Pont's 15 preferred and 60 common shares. 8 1/2 x 11, additional names in crayon-pencil. V.G. Du Pont was Pres. of eponymous business empire 1915-19, and Pres. of General Motors at nearly the same time. Interesting insight into financial file of one of America's foremost tycoons. $60-80 (2 pcs.)

18-7. The Man who Imprisoned Mandela.
Signed photograph of B(althazar) J. Vorster, 3 1/2 x 5 3/4, in rich blue on white margin. In another hand on verso, "Ex-Prime Minister, R(epublic of) S(outh) A(frica)...," with his address. Active in a pro-Nazi, anti-British organization during the war, as later Minister of Justice, Vorster oversaw the sentence of Mandela to life imprisonment. As Prime Minister, 1966-78, he promoted the complete abolition of nonwhite representation, and confronted the Soweto Riots. Implicated in a secret slush fund, Vorster resigned in disgrace. Very fine. Uncommon. $55-75

18-8. Space Pioneers.
Fascinating collection of autographs of key scientists and personalities propelling America's early space program: Signed photo of Robert R. Gilruth, (first) Director, NASA "Manned Space Craft Center" in his hand. Upon formation of NASA in 1958, Gilruth was appointed head of the Space Task Group, then Project Mercury Director. His mission: beat the Soviets in putting a man in space. When this proved unattainable, it was Gilruth who urged J.F.K. to up the ante, and land a man on the Moon. Upon birth of the Apollo Program, Gilruth became head of the new center which ran it. Some creases, else fine. "Beyond the limelight occupied by astronauts, flight directors and former German rocket scientists, the reticent and laconic Mr. Gilruth stood aside when the cheering started, puffing on his pipe..."--The New York Times, Aug. 18, 2000; modern copy accompanies. • 19 signatures on variety of home-made covers and cards variously bearing rockets, NASA logo, atomic age motifs, and portrait of John F. Kennedy: Edgar M. Cortright, Deputy Associate Administrator for Space Sciences, 1966. • Kurt Debus, Surveyor 1 Program, Hughes Aircraft Co. • Prof. Harry C. Gates, MIT space scientist. • W.C. Gibberson, NASA space scientist. • Alan M. Hazen, Navy Commander, recovery ship. • Walter J. Kapryan, Director Apollo-Soyuz, signed on Day of Launch cover, postmarked Kennedy Space Center, July 15, 1975. • George M. Low, Deputy Director of NASA Manned Space Center in 1964, head of Project Apollo, modifying spacecraft following fire. • Hans Mark, NASA director. • Bruce C. Murray, Exploration Geologist, Director of Jet Propulsion Lab 1976-82. • John J. Neilon, Director, Unmanned Launch KSC. • Dr. William Pickering, Director, Jet Propulsion Lab. • Miles Ross, Director, Kennedy Space Center. • William C. Schneider, Flight Director. • Dr. Martin Schwarzchild, Princeton astronomer, launched Stratoscope from Balloon Base, Palestine, Texas. • Sheldon Shallon, Chief Scientist, Surveyor 1 Program, Hughes Aircraft Co., June 1966. • Bob Sharp, spacesuit test engineer, McDonnell Aircraft. • Gene Simmons, space scientist. • Fred L. Whipple, astronomer, inventor of Whipple Shield, which protects spacecraft by vaporizing small particles. In green ink. Signature cards generally very fine to excellent. Outstanding ensemble of the men who transformed the age-old dreams of space travel into reality. • With, album "Out into Space," Brooke Bond Tea, containing complete set of 50 colorful cards, each neatly mounted beneath caption. No date but c. 1960. Brown ink stain at blank top fore-edge, average wear, else good. Rare as full set. $250-300 (20 pcs.)

18-9. Scriptwriter for Buffalo Bill.
Signature of Charles King, "Faithfully yours," with parts of 13 lines in his hand on verso. An Indian War fighter wounded at Sunset Pass, Brig. Gen. in Spanish-American War. Collaborator of Buffalo Bill, writing scripts for his silent movies. Author 1885 classic Famous and Decisive Battles of the World – and over 60 other books. Vertical fold, else very good. $45-65
TO FIND OUT CURRENT HIGH BIDS,
OR TO PLACE BIDS,
JUST CALL 1-914-476-8500
OR e-MAIL info AT cohascodpc.com
(We do not currently use online bidding)
19. Newspapers
19-1. "...the badness of the waves."
Group of four consecutive issues of the world's oldest continuously published newspaper, The London Gazette, Mar. 5-19, 1676. 7 x 11, 2 pp. ea. A wealth of news, quaint, evocative - and violent. From Pisa, "The Sap(p)hire and Pearl Frigates are arrived at Legorn, where they are to Careen...." Vienna: "...to the satisfaction of the Hungarians, a great many of the Malcontents had thereupon laid down their Arms...The Hungarians that have submitted will be incorporated [into Austria]...." Strasburgh: "The imperialists are providing in several places great Magazines for the use of their Army." Ghent: "The French have not as yet opened their Trenches... because their Cannon could not be brought from Conde by Land...by reason of the badness of the waves, occasioned by the great Rains...." Copenhagen: "...The Suedes [sic] have made an attempt to surprize Carolshaven...," listing some 33 warships, with number of guns of each. "On Sun. last, 6,000 French under command of the Sieur de Monclar, appeared before the Castle of Dachstein, which they designed to demolish...preparing to make themselves Masters of it by force...." Cleves: "...Several thousand men of the Garrison of Mastricht...intend to plunder and burn this Country, because we have not sent to agree about the Contributions for this next year...All sorts of people...are removing their Families and Goods...." The Hague: "...120,000 Crowns have been remitted...for the satisfying in part the pretensions of the Prince of Orange...." "From Messina [Sicily] we hear, that Provisions, and especially Corn, are not very plentiful there...those parts abounding in Wine and Oyl...." Cologne: "...The Duke of Lorraine is marching...towards the Rhine...." Brussels: "...the Enemy advanced as far as the Market-place, killing all they met...but were at lengthy repulsed by reason of the Musqueteers...." Dust toning at top of first page and other edges, minor wear, else good plus. $70-100 (4 pcs.)

19-2. Showdown: "Equal distribution of property...release of all taxes..." – and Announcement of the Constitutional Convention.
Poignant and excessively rare issue of The Connecticut Courant..., Oct. 2, 1786, 10 x 16, 4 pp. From Annapolis via N.Y., a very early announcement of the Convention some seven months away: "...a general convention of deputies, from all the states in the union, to be held at Philadelphia, on the second Mon. in May next, to take into consideration the situation of the United States...to render the constitution of the federal government adequate to the exigencies of the union...Should this address have its effect, we may hope to see the federal union of these states established upon principles, which will secure the dignity, harmony, and felicity of these confederated republics, and not only rescue them from their present difficulties, but from that insolent hauteur and contemptuous neglect which they have experienced...since conclusion of the war, which established their independence...." Vivid "Account of the Insurrection in the State of New-Hampshire...The complaints of the unhappy people, who had contracted debts during the time of the too plenty of money...Specie, of course, ceased to circulate, and credit being thus injured, the money-holders turned their keys on that cash, which might otherwise have been loaned to the needy...Fully absurd...that the Legislature...could from a single touch, turn stones and sticks into gold...On the 20th, at four of the clock...about 400 men on horse back...entered the town of Exeter...armed with muskets and the others with bludgeons...They sent a paper into the House of Representatives, demanding an answer...Those of the mob...were ordered to charge with balls...The house proceeded to business as usual...Centinels were placed at each door, with fixed bayonets, and the whole Legislature were prisoners...The mob clamored, some paper money, some an equal distribution of property, some the annihilation of debts, some release of all taxes, and all clamored against law and government...By sun-rise the next morning the militia were marching in, well armed, with military music...The mob fled...to their lurking places, from whence they must be dragged to an ignominious death...How can we live without government, and shall we give ourselves up to a mob?..." Prof. Williams' "new Theory... respecting the motion and operation of heat in the solar system...(to) explain the appearances of the Aurora Borealis...." Letter "by an American," on "Establishment of the Worship of the Deity, essential to National Happiness." Report on plans to combat the "piratical states that infest the Mediterranean": "the Order of Malta shall be invited to undertake protection of all the contracting parties, sailing up the Levant...The tributes...paid to the Barbary States, shall cease...." "A black man, who goes by the name of Old Harry, arrived in (N.Y.)...This preacher is followed by an admiring multitude...It is strange... that the inhabitants of this city...should thus recede to...praying at the corners of the street...It has been a subject of rejoicing, that superstitious bigotry was done away...." Four-inch-high woodcut advertising the new 1787 Almanack. Leaves separated at spine, some fine press creases, edge and handling wear, else good. Annapolis Convention content is scarce. The Library of Congress' Chronicling America database locates just one issue of this date. $220-270

"Blustering ignorant men...have been attempting to push themselves into office...
and render our lives anxious and unhappy..."

19-3. The Unconstitutional Constitutional Convention – and Rationale for a U.S. Mint.
The Connecticut Courant..., Nov. 27, 1786, 10 x 16, 4 pp. Discussing the wisdom of a new constitution, and referring to the recent-concluded Annapolis Convention (see preceding lot). "...To suggest the propriety of submitting the federal system of government in general to a revision, or to be changed. That it does not fully appear whether they had it in contemplation to do away (with) the present system, and to adopt another on different principles, and with different features...to give it more strength and energy. If the former is intended, may it not be asked, if the public mind is prepared for it?...Several of the States consider such a Convention highly inexpedient, and some States unconstitutional, and not all the States are agreed even in the propriety of a Commercial Convention?...The first principles of government are to be touched with care and attention...." Extensive address before the Massachusetts House on the formative U.S. Constitution. "...Eleven States have substantially complied with the recommendation of Congress, of...1784, for vesting certain commercial powers in that body, and that the other two, New-Hampshire and North-Carolina, have failed only by going too far...All the States, except N.H. and R.I., had fully adopted the proposed alteration of the 8th article of the Confederation...As to the establishment of a mint...no great pecuniary advantage could be expected from it at present...but...it tends to give us a national feature, to render our circulating medium more pure...that much skill and attention is required in assaying the materials, mixing in the alloy, and in providing against counterfeiting the coins of the States of Union; that it may be doubtful whether the States will have full confidence in the coins struck by each other...the probability being, that more base money may get into circulation. For these considerations, and to save expence, it is to be wished that the coinage of money, at the federal mint, be made as extensive as conveniently may be...." Much on Indian affairs, comprising about sixty tribes and "10,000 warriors...It has been the policy of Congress, to keep peace with these tribes...Information was received fof the hostile disposition of several of the tribes...The Indians express a general uneasiness at our progress Westward...The hostile Indians must be brought to terms...Fort-Pitt will probably be the place of rendezvous for these troops...." Full text of Mass. "Act for suspending the privilege of the Writ of Habeas Corpus," signed-in-type by Speaker Artemas Ward. Lengthy text of six proposed amendments to Articles of Confederation, including: "The United States in Congress Assembled shall have the sole and exclusive power of declaring what offences... shall be deemed a treason...." Half column, referring to Shay: "Conventions and Mobs! What is their object?...the people a body of knaves...Since the war, blustering ignorant men...have been attempting to push themselves into office...and render our lives anxious and unhappy...Let Shays alone, and if he is a man of abilities he will establish such a government...the little finger of which will be thicker than the thigh of their present government...Let a mob destroy an old constitution and...the leader will make himself an absolute despot, in a few years...." Wanted ad, "Flax-Seed & Bees-Wax...highest price...in solid Coin, or part in excellent Salt...." Leaves separated at spine, some wear and edge tears, compound folds at horizontal center, else satisfactory. The Library of Congress' Chronicling America database locates no original issues of this date. Excessively rare. $200-250

19-4. The Constitution, Scurrilous Politicians – and mention of Islam.
The Massachusetts Gazette, Boston, Sept. 14, 1787 - three days before the Constitutional Convention completed its Herculean task. 10 x 15 1/4, 4 pp. Lengthy front-page "Essay on the Means of promoting Federal Sentiments in the United States," continued from preceding issue. "Unbelief of a future state is often the offspring of immorality...The corruption, that like a gangrene so rapidly dissolved the Roman republick, grew from that Epicurean doctrine dressed up...in all the beauties of poetry...Horace, who certainly was no bigot, laments the neglect of publick worship...The instruction of the lower class has been extremely neglected, til the frequency and enormity of crimes has at last forced a thoughtless government into expedients which might easily have been adopted long ago...But alas! nations, like silly individuals, are often intent on shew and pleasure...Irreligion is peculiarly baneful to republicks...it weakens or annihilates the sacredness of oaths...and may, especially in juries and elections, be considered as the bulwark of the constitution...I hope magistrates will not tender an oath...for a pound of sugar, and a quart of rum...Contempt for religion is by no means general in America; the great mass of people has rather a spirit of devotion...many learn absolutely nothing, others acquire absurd and dangerous ideas in religion...Such, says an America, is my veneration for every religion...I had rather see the opinions of Confucius or Mahomed inculcated upon our youth, than see them grow up wholly devoid of a system of religious principles...Without this generous association of religious professions...the scattered settlements will become very savage." Inside, "A few sketches of Lady Americana," a florid tribute to the new nation, with woodcut of eagle clutching arrows.
From Baltimore, over one column pleading for the Federal (Constitutional) Convention to nurture American manufacturing: "At the commencement of the arduous contest for our liberty and independence, we were excessive(ly) busy in framing resolutions for the establishing and promoting manufactures...and the newspapers rung with the exploits of our females. Long before the termination of the war, these resolutions vanished like the morning dew...Reduced to poverty, the consequences of folly stare us in the face...Great things are expected from the Federal Convention...They may...inform us of the real situation of the American States...and conduct our governments in future, on the most economical republican principles...Resolves on paper, on the best draughted schemes of legislation will be altogether ineffectual unless we ourselves put our hands to the plough...to practice the homely but necessary virtues of industry and frugality...We may see a small diminutive territory, by the ingenuity and industry of its inhabitants, become more valuable ...than wide extended kingdoms...."
Full-column letter of Cassius on the deceit of American politicians: "When the myrmidons of Britain first crossed the Atlantick to invade the rights of freemen...different parties arose in the United States...The greatest party was composed of those who meant to risk their lives and fortunes in support of the rights of human nature...[The politicians] set their herd of dupes and tools to work... spread sentiments of disloyalty...in hopes, perhaps, of stirring up another commotion...." Charming p. 1 ad for "Warranted Green Windsor Chairs," with large woodcut of two styles. Period inscription at top, "Mr. Joseph Storer," presumed in another hand. Old small red dot beside article on Convention, old kraft filing strips affixed to left margins, all of preceding possibly removable, intriguing inland deckling effect at one corner of second leaf, a seldom-seen occurrence in primitive eighteenth-century papermaking; minor stains, else very good. Rare. $150-200

"...How tenderly concerned the President of the United States is
for the real interest, accomodation and happiness of the citizens...."

19-5. Establishment of the Post Office – and Seminal Rationale for the Second Amendment.
Newspaper, Gazette of the United States, N.Y., Oct. 14, 1789, 10 1/2 x 16 3/4, 4 pp. Front page editorial: "...It is a pleasing circumstance to observe legislators attempting to guard the liberties of their country by bills of rights, and checks and explanations upon the constitution...But all the political constitutions that the art of man can frame will never perpetuate the freedom of an ignorant people; nor can any original defects in a form of government subject an enlightened people to slavery. It is worthy (of) the serious attention of legislators to make provisions in all parts of the country for public schools...." Proceedings of the first session of the U.S. Senate, Mar. 4, 1789; only eight patriots were present - including Oliver Ellsworth and Robert Morris - "the number not being sufficient to constitute a quorum." In exasperation, a week later they sent letters to the absent members. "...No arguments are necessary to evince to you the indispensible necessity of putting the Government into immediate operation...." Then a second, anxious letter was sent: "...No Senator has arrived. The House of Representatives will probably be formed in two or three days. Your presence is indispensibly necessary...." From N.Y. - then capital of the United States: "The Illustrious Pres. of the U.S. will set out on a Tour to the Eastward...He proposes to go as far as Portsmouth, N.H...The ocular demonstration which this opportunity will afford, of the peace and harmony of the people under the new Constitution...will serve to animate the ruler of our rising country...(and) how tenderly concerned the Pres. of the U.S. is for the real interest, accomodation and happiness of the citizens...." Lengthy letter from a Fayetteville, N.C. patriot, anticipating that state's ratification of the Constitution. "What a spirit of free enquiry pervades the U.S.! A universal toleration in matters of religious opinion has done more to unfetter the human mind in a few years, than whole centuries of bigotry and superstition... The right of the people to keep and bear arms has been recognized by the General Government; but the best security of that right after all, is that military spirit, that taste for martial exercises...A spirit of emulation is excited; and not only in cities and towns, where the people being more compact, can... carry their plans into execution...Such men form the best barrier to the Liberties of America...." Fascinating letter from Vice Pres. John Adams while in Holland ten years before, giving his own concise history of the rise of the U.S., then noting "the war is already twenty years old," tracing it back to 1759. "...In 1773...the inhabitants of Boston tried every measure to send the ships back...but not being permitted to pass the Castle, the tea was all thrown into the sea...." An Act, signed-in-type by Washington and Adams, allowing compensation to members of Senate and House, "provided always, That no Senator shall be allowed a sum exceeding six dollars a day...." The final item, at bottom of last page: "An Act for the temporary establishment of the Post-Office...There shall be appointed a Post-Master General...forming contracts for the transportation of the mail." Old folds to eighteenths, some fold wear, sun-toning at one band on p. 1, numerous pinholes along parts of blank margins and one at 12 o'clock, the newspaper evidently being of keen interest at the time and displayed, else about very good. A splendid issue, reflecting the modest start of the new Federal government. WorldCat locates about eleven copies. Ex-Walter Dougherty, old-time newspaper dealer, 1972. $325-450

"The idea of the legislature having a right to make any alterations in the constitution,
was repugnant to the feelings of every freeman, and to the principles of the revolution...."

19-6. "A crowd of the President's creatures in the house...."
Fascinating suite of three consecutive issues of Pennsylvania Packet, and Daily Advertiser, June 24, 25, and 26, 1789, 11 x 18, 4 pp. ea. Exhaustive news from the new First Congress, then in New York, including debate by Sherman, Madison, et al, revealing Americans' profound distrust of the Federal government. The subject discussed in fact belied a dread of the institution of the Presidency usurping liberty: "Continuation of the Debate on the question of investing the President with the power of removal from office...Mr. Jackson...was convinced of the necessity of energy in the executive, but he was sure the liberties of the people deserved equal attention and care...It would establish a fatal system of influence in the government...a crowd of the President's creatures in the house...He might...be seized with a fit of lunacy...We had already...seen a king...a lunatic, and the same might be the case with our President, and although it was improbable that a majority of this house should be lunatics, it was by no means impossible...We might bid adieu to liberty...Could we be sure who would succeed him? Might not a man come into the office who carried a Pandora's box in his breast?...It would be entirely frivolous, he said, to call the people together every four years to choose a President...The clause would establish a dangerous power in the hands of the President...." Extensive remarks by James Madison, his brilliance immediately shimmering: "...[On] the question before us...will depend perhaps the preservation of the government on that equal balance which the constitution designed...I consider that a prime object of the constitution was to maintain a marked distinction between the legislative, executive and judicial departments...The danger to liberty, the danger of despotism has never been found to spring so much from the difficulty of procuring virtuous men to fill the offices of government, as the difficulty of displacing those who have been found unworthy of trust...It is the opinion of all great civilians and political writers, that the great department[s] of government ought to be preserved separate and distinct. That in any case where they are blended together, it ought to be under special restrictions and guards...essential to liberty...If an unworthy man be not displaced by the supreme executive, the house...may at any time impeach him, and he may be removed in spite of the Pres...." "The committee appointed to view the rooms in the Federal Hall, had proceeded in that business...." • June 25: Elbridge Gerry on the above question "...as inconsistent with the constitution as any set of words...By the operation of the clause there would be a clashing of powers...treason against the constitution...If the people of the U.S. supposed that it is in the power of the legislature to give constructions to the constitution, they would revolt from it. The idea of the legislature having a right to make any alterations in the constitution, was repugnant to the feelings of every freeman, and to the principles of the revolution...." Uncommonly large woodcut of a fish, illustrating lengthy advertisement for fishing tackle shop "near the Old Coffee-House...." • June 26: "I consider it as the most important question that has been yet considered...except that of adopting the constitution itself in the convention of Virginia...The Pres., I conceive, will have all the power of a monarch...If you go once beyond the boundaries of the constitution, where can you draw a line...The people must grant further powers ...We can neither enlarge nor modify them...In the state from which I came, if its advocates had not maintained this principle, it would never have been ratified...The people of this tract [Va., Kentucky, and "Carolina"] are in such a situation as that a single spark from this House would kindle a flame which it would be difficult, if not impossible, to extinguish...Do not forget that the worst of presidents are often established in the best of times. We may give the power to a particular man in office, because he will not abuse it; but we cannot take away that power from those who may succeed him...If the Pres. should get the purse...what would he not be able to do?...He would always be able to secure his election perpetual...Farewell Liberty!..." Pleasing uniform toning, trivial wrinkles at blank lower edges and right tips, else remarkably fresh, and excellent. $325-450 (3 pcs.)

19-7. Vermont Joins the Union – and John Adams' defense of the Constitution.
Two consecutive issues of Gazette of the United States, Oct. 9 and 13, 1790, 10 x 16 1/4, 4 pp. ea. Admission of Vermont into the U.S., to be partitioned from New York, describing the new boundary of the Green Mountain State; signed-in-type by Alexander Hamilton et al. Two-part front-page review of John Adams' "A Defence of the Constitutions of the Government of the U.S...": "The American revolution has produced many theories and speculations on government and politics...It is much to be doubted whether speculative politicians are fit to direct the affairs of men...A mixture of the three powers, the regal, the aristrocratical [sic], and the democratical, properly balanced, composes the most perfect form of government, and secures the greatest degree of happiness...In every country we have found a variety of orders...In America there are different orders of offices, but none of men...All men are of the same species, and of one blood; there is neither a greater nor a lesser nobility...Mr. Adams contemplates... the most celebrated states and commonwealths of antiquity, Carthage, Athens...The American revolution has given elasticity and energy to the minds of the inhabitants...Jefferson has excelled in philosophical researches, Paine in political speculations...." Treasury Dept. notice on "provision for the debt of the U.S.," by issuing Loan-Office Certificates. Lengthy specifications of lighthouse to be built at Cape Henry, Va. Detailed Treasury Dept. notice, this too signed-in-type by Alexander Hamilton, on proposals to supply rations to forts and outposts on the Ohio, Mississippi, Tenn., and other Rivers, many of these then considered the "West." Chipping at bottom of last leaf, with loss of part of three lines; uniform browning, very light marginal waterstain, else good plus. $170-220 (2 pcs.)

"Resolved, That the general government of the U.S. ought never to impose direct taxes...."

19-8. South Carolina ratifies the Constitution – Virginia to follow.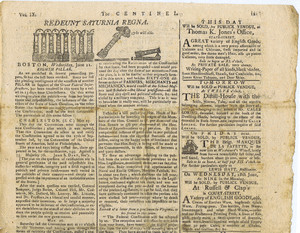 Massachusetts Centinel, June 11, 1788, 10 x 15 1/4, 4 pp. Interesting oval woodcut of Miss Columbia holding Liberty pole and olive branch, not unlike motif on pre-Federal coinage. Front page "Amendments of the proposed Constitution, by the Convention of South-Carolina": "Whereas it is essential to the preservation of the rights reserved to the several States, and the freedom of the people...that the right of prescribing the manner, time and places of holding the elections to the Federal Legislature, should be for ever inseparably annexed to the sovereignty of the several States...a perpetual and fundamental right to the local, exclusive of interference of the general government...This Convention doth also declare, that no section...of the said Constitution warrants a construction that the State do[es] not retain every power...Resolved, That the general government of the U.S. ought never to impose direct taxes...." Sharing page 1, a letter to Ethan Allen, accusing him of plagiarizing a book written in 1693! "I have been informed...that you take a singular pride in being an original in your late performance. That you disdain the notion of having borrowed any of your bright ideas (as contained in your book)...From your great exertions in republishing this book, that you have really adopted the sentiments...of the author, without being acquainted with the tragical effect they had upon him [suicide]. To prevent a similar fate, this information is sent you...Ambition for virtue, produces hypocrisy...For he who would desire to appear to know more than other men, is ready to contradict the reason and sense of all men...And thus it comes to pass, that weak and vain men often make profession of greater infidelity than in truth they are guilty of...Ask yourself this serious question, whether you did not betray your religion in compliment to yourself...." Inside, unusual woodcut of pillars, each bearing name of a state which has ratified the Constitution; "Virg." is shown at an angle, labeled "It will rise"; only N.H.'s pillar remains on the ground, awaiting ratification.
With lengthy account from Charleston of the Palmetto State's ratification, noting "The yeas on the question...are in general gentlemen of the most respectable character...deeply impressed with the importance of an inviolable union of the States...." A procession in Charleston announced, including "61 different orders of Farmers, Merchants and Mechanicks...the School-Masters and Scholars - the liberal professions...and closed by a military company...." Letter from Virginia: "The Federal Constitution will be adopted by us...They have agreed to speak well of it. A few hypocrites and old tories, whose approbation we do not value a straw, remain unconverted. North-Carolina generally follows this State, and it is probable she will join us in the decision of this great national and all-important question...." Letter from "A Federalist": "To every friend to the prosperity and glory of America, the prospect of our political affairs must be pleasing and satisfactory. Encountering with patience, through a long and bloody war...it was natural for the Americans to expect...the great object of the contest: Not only peace - but real National Independence...Unfortunately for our country, the principles and conduct which produced the revolution, were not adapted to answer the purpose of acquiring those blessings...On this ground alone can be account(ed) for the opposition to the federal Constitution...Ability, political integrity and resolution, being opposed to each other, by their mutual friction have produced sparks of information...adapted to the situation of America, as an Independent Empire...It is honorable to our State, that she was the first to give it [the Constitution] this investigation. Her example has been followed by Maryland and S.C...." Letter from "Probus": "An efficient Constitution is nearly adopted... Add to this the vast fund in our western territory...220 millions of acres...by the Treaty of Peace, transferred to the Federal Government...." From Philadelphia, "It having been reported to Congress...that many millions of dollars, advanced by the U.S. to sundry persons during the late war, have not been accounted for...."
Ads for the new Perpetual Laws of...Mass., printed by Isaiah Thomas; and "Fire-Arms - Musquets, with or without Bayonets, also, Rifle-Guns, very cheap...." Highly interesting, extravagantly deckled edges, especially at bottom, highlighting the still-primitive craft of papermaking in America. Moderate wear at old half-fold, light handling toning, else V.G., and well suited for display. $200-250
TO FIND OUT CURRENT HIGH BIDS,
OR TO PLACE BIDS,
JUST CALL 1-914-476-8500
OR e-MAIL info AT cohascodpc.com
(We do not currently use online bidding)
20. Rare Books, Imprints & Publications
20-1. "The first really important American magazine."
Group of one plausibly-complete issue, plus varying portions of incomplete issues of The American Magazine, 1743-46(?), (Rogers and Fowle, Boston; their Philadelphia seller was Ben Franklin). About 5 3/4 x 7 1/2; ornamental mastheads on two front pages. The fifth magazine published in America, but termed "the first really important American magazine" by Mott, and "the first American magazine to outlive half a year"--A History of American Magazines 1741-1850, Vol. I, complete book accompanies. Modeled closely after Britain's Gentleman's Magazine and London Magazine, The American Magazine offered reports on politics, speeches of colonial figures, articles on arts and sciences, and poems and commentary reflecting the new American sensibility, its editorship attributed to Jeremiah Gridley. Comprising: June, 1744, (34) pp., probably complete; original sewn binding. With "Proceedings of the Political Club," evidently including members of Parliament, here considering "the Subject of the Hanover Troops...The circumstances of our Country are such at present...if I do not set the Dangers we are now in...in a clear and strong Light...We have unnecessarily and fruitlessly wasted the small Remains of our Treasure in our War against Spain... We had by our blunders in the Treaty of Seville, or by showing a greater Regard to a certain foreign Interest, than to any Interest of our own...." The orator proceeds to dissect the convoluted alliances and fractures in Europe's royal houses, beset by incessant strife, the Queen of Hungary bearing frequent mention. "For Godsake my Lords, what can this prodigious Number of Land Forces be designed for?..." Essay, "Perpetual Motion in Matter, Exercise and Temperance necessary to Health...." "Man's Life a continual Round of Hurry and Amusement...The overrunning of Provinces and the plundering of Nations are to him [the warrior] but taking of the Air, and he kills, burns, and ravages, to pass away the Time...." From a meeting of the Royal Society, charming, lengthy description "of the Insect called the Fresh-water Polypus." Article, "The Art of Not Thinking, being a Satire on the Sensuality and other Vices of the Age...Never walk alone; never be in a Coach alone; visit often, and often receive Visits...Never say the least Prayer, for there is not a more dangerous Thing in the World than praying...It is a common Observation that great Talkers are often little Thinkers...." Light nibbles at blank lower edge, last leaf lightly waterstained and nearly separated, else remarkably fresh, and fine plus. • Portion of issue of Aug., 1744, comprising 5, 2, and 3 consecutive leaves, respectively. Lead article, "Christianity not founded upon Argument...As Religion is of the highest Importance to Mankind, our Enquiries about it ought to be the most free, and impartial...." Poem on India: "I sing of India an extensive land, Whose numerous states a hundred kings command; Here the Mogul a spacious empire sways; around his golden feat the dazzling blaze, Of diamonds, rubies, sapphires strike the eye...." Bottom margins mousechewed, but not affecting text, some foxing and waterstains, but very satisfactory and rare. • Leaves from four assorted issues (at least one of which evidently 1743): 5 consecutive leaves, 4 consecutive, 12 consecutive, and 3 non-consecutive. Content including: Lengthy, fascinating colonial retrospective, "Of the late wonderful Discoveries, and Improvements of Arts and Sciences: The World, but a few Ages since, was in a very poor Condition, as to Trade, and Navigation...It was a Green-headed Time...They had Philosophy without Experiment; Mathematicks without Instruments...They made War without Powder, Shot, Cannon, or Mortars...They went to Sea, without Compass...and their richest Robes were the Skins of the most formidable Monsters...Russia perfectly unknown, as much as China beyond it...America was not heard of, nor so much as a Suggestion in the Minds of Men...Coffee and Tea, those modern Blessings of Mankind, had never been heard of...What's now discover'd, only serves to show, That nothing's known, to what is yet to know." "Petition to His Majesty for a Supply of Cannon and other Warlike Stores...to this Province" [of Mass. Bay]. "Observations on Friendship"; "An Essay on Self-Love and Bigotry"; "A Letter against Persecution"; "Of Decorum in Behaviour"; lengthy description of "A Species of Milk-white Indians...You will be surprised to hear, I found a white Mistress among these People [the Mosquito Indians], whiter than all the Beauties in Christendom, and whose Modesty never stain'd her Cheeks with a Blush. There are many Families of these People wholly of this Colour...much like that of a white Horse...Sluggish and dull, (they) retire in the Day-Time, yet when Moonshiny Nights come, they are all Life...running abroad and into the Woods, skipping about like wild Bucks...The Copper-colour'd Indians seem not to respect these so much as those of their own Complexion, looking on them as somewhat monstrous..."; "The Art of Story-Telling"; "Of true Happiness, and how to attain it"; "A Comparison between ancient and modern Wits"; and much more. Some light stains, foxing, bookworming, and other defects, but about good and better. In one margin, "Ruth Bond"(?) in a contemporary hand, apparently a young girl practicing her penmanship. Ford, Check-List of American Magazines Printed in the Eighteenth Century. Lomazow, American Periodicals: 3. Richardson, A History of Early American Magazines, 1741-1789. Isaiah Thomas, History of Printing in America, II, p. 255. An important imprint, showing with surprising clarity the emerging culture and outlook of the new America. Rare on the market. • Classic book, A History of American Magazines 1741-1850, Frank Luther Mott, 1930, 6 x 9, 848 pp., illustrated, index. Plum cloth. Very light shelf wear, else a clean, handsome copy. $350-475 (1 plausibly-complete issue + 1 partial issue + 24 leaves from four incomplete issues, and book)

20-2. "At the Signe of the Three Pigeons...."
Excessively rare sermon, "The Blinde Ephesian: Or, Ignorance Unvail'd...," by Humphrey Sydenham, London, 1637. "Printed by John Beale, for Humphrey Robinson, at the Signe of the Three Pigeons in Paul's Church-yard." 5 1/2 x 7, (40) pp. "Nothing so much debaseth man and brings him downe to Beast, as a wilfull neglect or ignorance of morall and sacred principles...." A later biographer notes, "A person of a quaint and curious style...he was so eloquent and fluent a preacher that he was 'commonly called Silver Tongue Sydenham'"--Wood. Triangular fragment lacking at upper left of title page, with varying loss of four letters, some waterstains, toning to nutmeg, corner and fore-edge wear, spine repaired with cream paper tape judged second half 20th century, else satisfactory and charming. Perhaps the only surviving copy; WorldCat locates only two examples of a larger compilation incorporating this sermon. $80-120

20-3. Psalms in Hebrew and English - Dedicated to the King.
Psalterium Ecclesiæ Anglicanæ, Hebraicum: the Hebrew Psalms, divided according to the Verses of the Psalms in the Liturgy. "Also the Scriptural parts of the morning and evening prayer, and the common service in their original tongues." London, 1804, both the type and page design considerably ahead of their time in refinement. "Published for John Reeves, one of the Patentees...Office of King's Printer," and dedicated to the King. 3 3/4 x 6, [310] pp. Early copper-engraved bookplate of E.N. Thornton. Full contemporary ruby morocco, tulip ornaments stamped in gold between raised hubs, all edges gilt, detailed fine geometric gilt decoration of covers. Mid-twentieth-century bookplate at rear, text in Greek. Hinges with average wear, top of spine worn, deep purple-red toning of spine, covers brighter, internally fine, with uniform creamy rich ivory tone. Rare edition. A presentation copy sold at Christies East, N.Y., 1998. $140-180

20-4. Rare Early Work on "Electrical Technology" – 1872.
Exposé des applications de l'Electricité, by Th. du Moncel. A comprehensive compilation of the latest knowledge at the dawn of the electrical age, with much on its application in industry. "Tome Premier Technologie Electrique" (First Volume, of five), 3rd ed., Paris, 1872 (first issued c. 1860). With bold signature on title page in red-brown ink, "Victor Hugo 1879," and bearing an old dealer's pencil notation "Hugo's Book / $350.00" on facing blank leaf; the signature does not closely match the example in Rawlins' book, but in all events an intriguing inscription in this important pioneering European title on electricity. 516 pp. + lengthy advertisement section, complex Gothic ornamentation stamped in black on plum cloth, gilt title, 98 illustrations and tables, folding illustration of an electrical apparatus at rear. Well into the twentieth century, some of the finest engineering and machinery in the world was French, much of which would not have occurred without this underlying work on electricity. Front cover separated, some cover edge wear, uniform toning of text, else good. An elusive title. $125-175 (1 vol.)

20-5. The Posthumous Papers of the Pickwick Club.
Wonderful illustrated edition of the Dickens classic, 1910, and first edition thus of the very scarce New York imprint, E.P. Dutton & Co. (though actually printed in England). A richly produced confection, featuring 24 color illustrations by Cecil Aldin, including two frontispieces. Two volumes, 450 + 457 pp., chocolate brown amd gilt on sand buckram, moss-green pictorial glazed linen on spine. Tissue guards with titles, numerous delightful black and white woodcuts within text, top fore-edge colored brown. Some cover wear and handling soiling, occasional very light foxing but not affecting the enamel used for color illustrations, else generally very good, and internally excellent, the gloss and brightness of the letterpress plates especially pleasing. Podeschi B25. An unrecorded binding variant of the Dutton edition. $120-160

20-6. Isaiah Thomas' Weather Predictions: "Uncomfortable weather unless by the fireside."
Fascinating issue of a bellweather of early America, (Isaiah) Thomas's Massachusetts, Connecticut, Rhode-Island, Newhampshire [note usage] & Vermont Almanack...for the Year of our Lord 1795...From Creation, According to the Scriptures, [Hebrew year] 5757...matters curious, useful, and entertaining. Published by renowned printer Isaiah Thomas, Worcester, Mass., (1794), 4 1/2 x 7 1/2, (48) pp., delightful woodcuts, sewn. A vast aggregation of information sought by citizens in young America, including "Thomas' Lawyers' and Justice's Calendar..."; solar calculations, with weather forecast (Jan.: "Pretty windy, and something cold. Uncomfortable weather unless by the fireside...Look out for a long storm of snow...." Apr.: "Spring begins to smile. We shall have a long storm which will wash the ground, and prepare it for vegetation....") "Chronology of Religious Institutions...," in perhaps the smallest letterpress type we have ever seen, certainly prior to the mid-nineteenth century. "Effectual cure for the (kidney) stone," concocted by a "negro man," comprising "the juice of horse mint and of red onions." Customs duties on vast list of imported goods, including cannon of brass, cheese, chocolate, "dolls, dressed and undressed," "lace of gold and silver," teas from China and India, and much more; many items taxed at 15%, some higher. Full-page list of "Religions of European States": "...Ireland, a kingdom, all religions tolerated...Venice, a republic, Papists, Greeks and Jews...." Fascinating table of varying Dollar-to-Pound exchange rates within the new United States; New York and North Carolina curiously share the same rate. Article admonishing "the use of cradles (is) pernicious to Children...." "Roads to the principal towns on the continent, &c. from Boston, with the names of those who keep houses of Entertainment." Drake 3538. Evans 27052: "Isaiah Thomas announces in this issue that he has lately built a large paper mill in Worcester for the purpose of manufacturing all sorts of paper, particularly those kinds proper for printing the various sizes of Bibles." Thomas delivered the first public reading of the Declaration of Independence in Worcester, and published the Massachusetts Spy, today coveted by collectors. His Worcester press produced "most of the Bibles and school books that were used in (America) at that time"--Appleton's Cyclopædia of American Biography. Thomas' epic History of Printing in America... is still relied upon today by scholars and researchers. His collection of early newspapers was donated to the American Antiquarian Society – which he founded and ran for some two decades. Margins of first and last leaves rather browned and closely trimmed, but with no loss of text; few bookworm holes, some edge fraying, toning to pleasing sand shade, first and last four leaves with varied foxing, but in all, very satisfactory. $180-220

20-7. "The Prisoners' Friend."
Six consecutive issues of early monthly magazine dedicated to prison and criminal justice reform, Jan.-June 1853. Charles Spear, ed., Boston. 6 x 9 3/4, 48 pp. ea., pale yellow wrappers with dramatic pictorial frame, showing cobwebs around woodcut of a prisoner shackled to his prison cell, border of chain broken by a hatchet, a well-dressed man in jail kneeling before the radiant sun, flanked by cherubs, and more. In each issue, extensive, closely-set content on all aspects of the criminal justice system in antebellum America. Just one issue includes: "Fifty Years Ago," "Capital Punishment in Rhode Island," "Imprisonment for Debt," "Wrongs Done to Criminals and their Families," "Poetry - The Felon," "Army Punishments," "Distinguished Writers on the Abolition of Capital Punishment," "Examining a Witness," "The State Prison Convict," "Jails of Mass.," "A Curious Case of Circumstantial Evidence," "Plea for Vagrant Girls," and more. "...The vagrant girls who throng the streets of our large towns and cities are well known...They are a numerous class and annually increasing, and add a large quota to our statistics of crime. They prey upon the very vitals of the community...May not some institution for reform be established, that these girls may not, for trifling violations of the law, be sent to Houses of Correction, or Jails, from whence they return upon the community seven-fold worse than before?...Shall their children become our citizens, and wield in their misguided hands the destiny of our nation?..." Also, "Recollections of a Police Officer," "The Little Dandelion Girl," "Executions in N.Y.," "The Great Source of Crime" (rum and grog-shops in N.Y.), "Capital Punishment incompatible with Divine Law," and much else. Dark tea(?) stains at portions of three issues, bottom of one cover crumpled but flattenable, mousechew at blank margin of one issue, other varied dust stains and wear, else satisfactory to very good, most text surprisingly fresh and clean, perhaps unread. Until the last quarter of that century, American jails were often appalling, with men, women and children commingled, the juvenile apple thief finding himself beside bloodcurdling characters and pestilence. Prison reform took center stage with such causes as temperance, especially after abolition of slavery; pre-emancipation prison reform material is uncommon. $110-140 (6 pcs.)

20-8. With All 19 Paint Chips.
Palliser's Model Homes, "Showing a variety of Designs for Model Dwellings: also, Farm-Barn and Hennery, Stable and Carriage House, School House, Masonic Association Building, Bank and Library, Town Hall, and Three Churches...A very valuable book for everyone who contemplates building." Palliser, Palliser & Co., Architects, N.Y., 15th Thousand, 1883. 6 x 9 1/4, 116 pp. + duplex advertisement leaf for Lucas' Ready-Mixed Paints, with twelve rectangular paint chips artistically mounted in three squares, and on verso, seven elongated paint chips mounted and shaped as a striped artist's palette. "Lucas' Colors, Greens, and Vermillion Substitute - The Most Brilliant and Permanent / We use no benzine - No sickness results from the use of these paints." Pictorial green cloth elaborately tooled, showing charming wooden house combining Gothic, Queen Anne, Stick, and Victorian cues, identified inside as a cottage in W. Stratford, Conn. Including 32 pp. illustrated ads for building supplies and trades. Many residences are identified by location where already built, including Scooba, Miss., Birmingham, Conn., Chelsea, Mass., Tazewell, Va., New Albany, Ind., and more; a number are in Connecticut. Old waterstain at lower left of rear board, with local fraying of cloth and warping, waterstain of lower corner of text beginning around p. 64, light wear, else about V.G. Very scarce in all editions, and rare with its full complement of paint chips. Similar to Hitchcock 918. $350-450

20-9. A Landmark Work on West Point - Inscribed to a Distinguished Mississippian.
History of West Point [and its Military Importance During the American Revolution; And the Origin and Progress of the United States Military Academy], by Bvt. Maj. Edward C. Boynton, (apparently the first ed. of 1863). 6 x 9 1/4, 408 pp. + 12 pp. publisher's ads, dark blue buckram impressively blind-tooled and gold-stamped, soldier in suit of armor above crossed rifles and swords on spine, an original West Point building in wreath of flags and cannon on front cover. Inscribed on pale yellow endleaf (old soft fold), to "Hon. James M. Howry, from the Author, 1867." On facing endpaper, signed, believed in pencil, by "Judge J.M. Howry, Oxford, Miss."; Howry was active in University of Miss. from its founding in 1844. The Grand Master and High Priest of the Masons in Miss., he appears in the papers of both James Polk and Andrew Johnson. Members of the Howry family were personal friends of Varina Davis, and prominent in Miss. politics, no doubt figuring in the milieu captured by local resident William Faulkner. Descendants were on the social A-lists of Presidents Taft through Eisenhower, variously. Both folding maps present, following pp. 86 and 283. Defective: lacking frontispiece and title page, evidently fallen out when front hinge split. Else modest shelf wear, lower tip of back cover and rearmost leaves tapped, some foxing straddling folding maps only (because of their different groundwood content), pleasing uniform cream toning, and internally fine. A keystone work in the literature of West Point, very scarce, and usually found with condition issues (one copy on Abebooks, unsigned, at 605.00). Bradford 487. 23 Decker 25. Gephart 7120. Howes B-678. Sabin 7150. $325-425

20-10. The Opening of Japan.
Narrative of the Expedition of an American Squadron to the China Seas and Japan, "performed in the years 1852, 1853, and 1854, under the command of Commodore M.C. Perry, U.S. Navy...Compiled from the original notes and journals of Commodore Perry and his officers...," by Francis L. Hawks. Washington, 1856. 9 3/4 x 11 3/4, 537 pp., with incomplete suite of 40 full-page mezzotint plates (of 89), in appealing caramel and black, and other color combinations, together with folding maps (pp. 243 and 513), and some 76 smaller woodcuts. Voluminous chronicle of the journey that would transform world history - "with a Description of the Country, its Commerce and Arts, and the Manners and Customs of the People." Midnight blue cloth, blind-embossed with rendering of Perry's ship at harbor in Japan. Gilt spine. Somewhat shaken, lacking pp. 445-446, some leaves loose and edges tattered but principally at rear, these with uniform toning; several internal splits at gutter, else majority of text and plates clean, sound, and fine or better. In all, suitable for research, display, or breaking for prints. If complete, several times our estimate of $80-130

20-11. America's Pioneering Business Journal.
Hunt's Merchants' Magazine and Commercial Review, Apr. and July, 1858, Vol. 38. 6 x 9, (376) + 400 pp. Contemporary pencil signature on endleaf, "H.D. Burkett / 1858," evidently bound for him in "full sprinkled sheep"; Burkett was a stock trader, at 73 Worth St., in Manhattan's old textile district. Black-and-gilt spine labels. Large folding mezzotint panoramic "View of Baltimore," opening to 8 1/4 x 25. Exquisitely steel-engraved plate of Lt. Gen. William Pepperrell, with his crest in microminiature. Beginning with the sad news of founder and sole editor Freeman Hunt's passing the previous month. Credited with pioneering, if not evolving, the United States into a market society, through economic journalism, Hunt transformed population statistics into market statistics. As included here, his work "not only reflected the dramatic economic changes which were taking place in American society...but rather played a crucial role in bringing them about by shifting America's wealthiest businessmens' attention away from foreign lands and towards the vast potential profits which could be reaped from the energies of the American people and the resources of American land"--Draft monograph on Hunt, by Eli Cook, Harvard. Hunt "discovered his life's calling: To assist American merchants and financiers by serving them a healthy dose of facts, figures and charts...to supply American businessmen with all the information they needed to capture new markets, make smarter capital investments, take advantage of novel financial instruments such as manufacturing or railroad securities, follow their real-estate holdings and, in short, maximize their profits. For the next two decades, Hunt's became the magazine that no serious financier, merchant or manufacturer could afford not to read. And at the heart of this periodical lay not colorful anecdotes or moralistic catechisms, but statistical reports. In the early decades of the nineteenth century, most Americans not living on slave plantations did not depend on commodities for their sustenance and had only limited encounters with markets. Most of the materials they ate, wore or used as shelter had not been procured through a market exchange. By the time of the Civil War, this was no longer the case. Throughout the 1840s and 1850s...the U.S. was transformed from a society with markets, to a market society, in which nearly all aspects of Americans' everyday life had become embedded in the mechanisms of private, profit-seeking, market exchange...." Considerable bookworming of two blank flyleaves and one contents leaf, but no loss of text; lesser worming at fore-edges of about six additional leaves; folding view foxed but easily restored; average shelf wear, else internally very good to fine, and clean. Excessively rare: WorldCat locates no holdings of this volume in North America, and only three worldwide (British Library, University of London's Senate House Libraries, and Bibliothèque Nationale de France). $100-130

20-12. Pennsylvania Dutch Child's Primers.
Charming quartet of children's books, in German, all printed in Philadelphia, one 1832, others n.d. but c. 1830-50, about 4 1/2 x 7, 35, 35, (33), and 143 pp., paper over boards. Three with pictorial covers, depicting Martin Luther with Bible and rooster on back, two with interpretations of harpist in antiquity, and alphabet. Occasional delightful woodcuts within. Comprising: Hoch-Deutsches Lutherisches ABC- und Namen-Buchlein für Kinder..., published by Schäfer und Koradi, c. 1832. Variant brown spine. Primer first published in 1758. Interesting, large blind-embossed impression of Reading, Pa. bookseller. Scarce. • Reformirtes ABC und Namen-Buchlein für Kinder..., Schäfer und Koradi. Variant nutmeg-brown spine. Very scarce. • Another printing, different cover, Conrad Zentler, 1832. Old hand-stitched repair, front cover with marginal bookworming nearly detached (again). Rare: this printing unrecorded by WorldCat. Not in Shoemaker. • ABC, Buchstabir und Lesebuch...für deutsche Schulen..., published by Schneider, Cleveland, but printed in Philadelphia. Evidently rare. Overall, considerable patina and wear, some waterstains and other defects, but satisfactory, and delightful Americana. Freshly discovered in Pennsylvania Dutch country. $250-350 (4 pcs.)

20-13. Manners, Manufactures – and Serpents – of Old New York.
First edition of the first New York State gazetteer, A Gazetteer of the State of New-York..., by Horatio Gates Spafford, Albany, 1813. 5 1/4 x 8 3/4, 334 pp., appendix, original still-handsomely burled full calf, spine with red label and five gilt rosettes. Folding frontispiece copper-engraved map of New York State, "drawn by Mrs. B.C. Spafford, engraved by P. Maverick, Newark, N.J.," opening to 8 1/4 x 10 1/2, charmingly capturing the flavor of the state in the era of Rip Van Winkle. Lacking two plates cited by Sabin, but these were not bound into all copies. An exhaustive, closely-set exposition of the Empire State, likely the most comprehensive work on New York at the time. With text and tables on its towns, natural features, "climate, seasons and winds," "wild animals, fishes, birds, and serpents," government, military strength, fortifications, religion, manners and customs, manufactures, natural curiosities, Indians, and much more. "The manners and customs of the people of this state, are rendered somewhat peculiar...A very large proportion were Dutch families...with all their love of neatness, order, industry and frugality, with the same long pipes...The revolution produced great changes...a principal theatre of the war...The amusements of the theatre are confined to large cities...Dancing has long been a favorite amusement... The vast number of inns, taverns, and groceries, licensed to retail strong drink, is a growing evil... There is hardly a street, alley, or lane, where a lad may not get drunk for a few cents...Disparities of wealth, degrees of opulence, are also essential to the general good...The allodial tenure of lands in America...by an undivided profit to cultivators, forms a better guarantee for domestic happiness...." Including the first use we have seen of "York-Island" for Manhattan (p. 86); "we are lost in wonder when we contemplate the future grandeur of this commercial Metropolis of North America...." Short tear at one fold of map, pleasingly graduated caramel toning, spine scuffing, lesser of covers, brief foxing, else tight, internally surprisingly fresh, and fine plus. US-iana S-802. Sabin 88844. $90-120

20-14. The Biblical Roots of the American Experiment.
A History of the United States of America, "With a Geographical Appendix, and a Chronological Table of Contents, for the Use of Families and Schools," by Frederick Butler. Printed by Lazell & Francis, Buffalo, N. Y., 1826, 4 x 7, 420 pp., leather. "The history of all the nations of the earth...shows that they all had their origin in a state of barbarism ...except the Israelites...A pure religion, as the basis of pure moral virtue, was the immediate cause of all the happiness and prosperity of the Jews...So long as a pure religion and a pure moral virtue, continue to be the basis of the happiness and prosperity of the United States...we shall flourish as a nation; but whenever these shall be prostituted to the lust of ambition, then we may expect calamities directly proportioned to our moral and religious degeneracy...The design of the author, is not to favor any particular sect or denomination of Christians; but to urge the importance of a national religion..." Much discussion of the Revolution and its causes, still fresh in the minds of the writer and his readers, together with early explorers, Pilgrims, Indians, colonial wars, "the country formerly known (as) North Western Territory," and more. Front hinge cracked but not detached, leather dry but improveable, vertical crack and light flaking of spine but intact and presentable, minor marginal toning, else a good-plus copy, with that unmistakable patination of originality. Elusive on the market: no editions listed at abebooks; consignor reports copies last offered in 1940 and 1945. $110-150

20-15. Aquatints of Old England.
Arrestingly attractive, superlatively rare copper-engraved aquatint plates of nineteenth-century people, life, and trades in Georgian England, comprising 120 (of 121) numbered plates by renowned artist W.H. Pyne, distinguished for their highly unusual warm red-brown tone, and remarkable depth and detail. On blind-paneled cream paper, in Microcosm; or a Picturesque Delineation of the Arts, Agriculture, Manufactures, &c. of Great Britain, "in a Series of above a Thousand Groups of Figures for the Embellishment of Landscape: Comprising the most interesting Subjects in Rural and Domestic Scenery in external and internal navigation, in country sports and employments, in the arts of war and peace. The whole accurately drawn from nature by W.H. Pyne. To which are added Explanation of the Plates, and Essays relating to their various Subjects, by C. Gray." London, R. Ackermann, second edition, 1822-24. Two oblong folio volumes, 11 1/2 x 13 3/4, mauve linen with leather spines, top edge gilt. Vol. I, with 30 pp. text, sequentially printed from Jan.-Dec. 1822; Vol. II, with 36 pp. text, printed 1823-24. The range of subjects is extensive, forming a magnificently drawn, engraved, and tinted panorama of life in England paralleling America's Federal period. The plates include military, "technological" and industrial, maritime, household, agricultural, games (including 9-pins), "Gipsies," and many, many more. Fascinating description penned on front endpaper in mid-19th-century hand, possibly that of period owner R(obert?) C. Waterston, this the popular Boston clergyman, poet, lecturer, and antiquarian: "...Pyne...acquired...discriminating taste and lively fancy. He published the first part of this work in 1803, and completed it in 1806. There are here over 600 [or 1,000?] groups of small figures, full of spirit and life...the eye of a skillful artist, a real love for nature...We have sketches of common life without vulgarity, and there is no exaggeration...He was long connected with Ackermann...." Vol. I: lacking Brickmakers plate, else warranted complete; rear board water-damaged and buckled near spine, with treatable localized old mold affecting about last 10 plates (only); elsewhere, some moderate waterstains at gutter, minor foxing at some fore-edge margins (though many plates clean and fresh). Vol. II: Some board tip wear, variable toning or foxing of plates, mainly at blank right margins (the plates were printed over a period of years, on slightly varying lots of paper), but this volume not waterstained, and internally fine to very fine. Rare on the market. Abebooks lists no printings of any year. WorldCat locates just one copy of Vol. I (in the British Library), one of an intermediate 1823 single volume (Peabody Essex Museum), and just one of the 1822-24 set, as offered here (McGill). In all, a high-calorie treat for the eyes, combining art, pressmanship, and a pictorial tour of life two centuries ago. $1750-2500

20-16. The House of Hubbard – and one of the Most-Read Books in History.
Delightful collection of materials from the press of Elbert Hubbard's Roycroft Shop, East Aurora, N.Y., together with three of his autographs - one referring to his immortal A Message to Garcia - plus postcards and related association items, 1898-1921. Hubbard revolutionized the printing arts, with his marriage of classic, Beaux Arts, and avant garde typography, layout, paper and ink synchrony, and pressmanship. Also a witty, erudite - even brilliant - writer, he authored A Message to Garcia, an inspirational tale set in Spanish-American War Cuba. Within fifteen years of its publication, it had sold 40 million copies. To this day, Hubbard's work remains one of the most-read books of all time, and is required reading for new Marine Corps recruits. Comprising:
The Philistine, "A Periodical of Protest," June, July, and Nov. 1898, 4 1/2 x 5 3/4, 32 pp. + 8 to 16 pp. advertising wraparounds on kraft; orange or red and black on ivory laid text, butterscotch covers. Whimsical bookplate laid in at rear of one. One issue evidently a shop sample, unstitched with top edges uncut; others trimmed-three-sides with fine braided tie. Widely varied content, including Judaica: "Moses Fagin - it is always 'Fagin the Jews'...Forster, the critic, and best friend Dickens ever had, wrote to him begging him to undo the mistake he had made. He called Dickens' attention to the fact that the founder of the Christian religion was a Jew...Dickens then rusht into print with a card to the effect that he respected & honored the Hebrew religion and the Jewish people as well - that Fagin was simply by nationality a Jew...." • Attractive check in Hubbard's hand, Buffalo, Sept. 21, 1908, to Charles H. Field. Boldly signed in brown. • Period printed pencil portrait of Hubbard by Gastard, sepia, with Hubbard's facsimile signature. 4 x 5 1/2. Mounted on later evergreen mat. • Golden yellow envelope with large pictorial cornercard of The Roycroft Shop, postmarked East Aurora, 1919, to Tulsa Art & Gift Shop. Precancelled stamp faded to palest pink, postal handling, else pleasing and good plus. • Cream reply envelope to "Elbert Hubbard II..." in Arts & Crafts lettering. Precancelled stamp affixed (also faded), but postally unused. Tipped to evergreen mat, and fine. • Four color postcards, postally used, three postmarked E. Aurora, one Corning, 1909-21. Showing Roycroft Inn, Reception Room, street view with early cars, and Shop and Lawns. One message: "This is a perfect place - so quiet & peaceful." • Five issues of Little Journeys..., Sept. 1907, Jan., May, June, and Aug., 1911, 6 x 8, variously about 20-30 pp. + supplemental wraps. The stories of Theodore Parker, Franklin, Jefferson, Daniel Webster, and John Jay. Four with top edges uncut. Varied but modest wear, including overhanging covers, else generally good to very fine. • T.L.S. on exquisitely typeset letterhead, "The Roycrofters - Deluxe Books and Things...," Mar. 25, (19)07, 7 1/4 x 10 1/2, gold and black on deep cream. "I hand you herewith a page of M(anu)s(cript) from the Message to Garcia, which please accept with my regards. I am just in from a Lecture Tour...So here is a hand-grasp over the miles...." Handling wear, break but no separation at center fold, minor soiling, else good plus, and still attractive. • A.L.S. on flamboyant notepaper of Bingham House, Philadelphia, Mar. 1, 1901. To Dr. Mack. "Your kind letter...has just caught up with me here. The date of Tues., Mar. 26 is agreeable...for the lecture. Subject will be 'Roycroft Ideals.'" Some edge creasing, lacking blank lower right tip, else about very good.
No collection of graphic, visual, or advertising art, or American literature is complete without examples of Hubbard's work. He perished on the Lusitania in 1915. $425-575 (18 pcs.)

20-17. "Bears, Wild Cats, Crows, and Foxes" in Old New Hampshire.
Journals of the Honorable Senate, of...New-Hampshire...at the Capitol in Concord, Commencing June 4, 1834, printed by Moses G. Atwood, 1834, 5 x 8 1/4, 117 pp. Bound with Journals of the House of Reps., same date, 203 pp., loden green wrappers. Charming woodcut of State House on back cover. A wealth of fascinating content on the Granite State in the Jacksonian Age. Contents at random (pp. 53-73): "...An act allowing a certain premium for killing bears, wild cats, crows, and foxes...An act to prevent the destruction of pine and other timber trees...An act to incorporate the Great Falls Cadets...An act...for the purpose of building a bridge over Connecticut river in Haverhill...Shall this bill be read a third time?...An act relating to enlargement...of the Columbian artillery, also...appointing a Librarian of the State Library... $1500 for the education of the deaf and dumb, and $500 for...blind children...An act relating to banks and banking... Mr. Brown proposed...in the 6th line, after the word 'in,' add 'gold and silver money'...." Much more, with insight into the discussions and debates ensuing. Manuscript notation at top of cover, "Clerk of Danbury [N.H.]." Considerable waterstaining, wear, some foxing, but overall satisfactory. $45-65

20-18. Early Account of Cuba – 1850.
Cuba, and the Cubans; comprising a History of the Island of Cuba, its present Social, Political, and Domestic Condition, "also, its Relation to England and the U.S.," "by the author of Letters from Cuba" (Richard Kimball), N.Y., 1850, believed first edition, 5 x 7 1/2, 255 + 7 pp. advertisement for Knickerbocker Magazine; appendix. Blind-tooled Gothic crests on variant brown cloth, frontispiece map (including Guantanamo). "No excuse is deemed necessary for publishing a volume on Cuba, at a time when the attention...is directed toward that island with eager interest. Political events have transpired so rapidly within the last two years...They will continue to multiply. The conservative and the radical...are all overwhelmed...How will the U.S. relish possession by [England] of a point which commands the Gulf of Mexico and mouth of the Mississippi?..." Even then, decrying deprivation of Cubans of "the right of life, liberty, and the pursuit of happiness" (p. 165). Somewhat shaken, shelf wear, lacking a 1/4" square fragment at lower spine, but good. Uncommon. Sabin 37766. Smith, American Travelers Abroad K21. $110-140
TO FIND OUT CURRENT HIGH BIDS,
OR TO PLACE BIDS,
JUST CALL 1-914-476-8500
OR e-MAIL info AT cohascodpc.com
(We do not currently use online bidding)
21. Postal History Including Civil War
21-1. A Friend of the Jews – on a Royal Christmas Day.
Christmas Day envelope-front in hand of King George III's son, Prince Augustus Frederick, Duke of Sussex. "London December twenty-five 1837 / [To] Charles Taylor Esqr. / Engineer / Manchester / (Duke of) Sussex...." Oversize ornate "2" and boxed "To Pay 2 Only" handstamps. Trimmed to 2 3/4 x 4 1/2, mounted on old card, in turn removed from album. The ninth child of the last King of America, he was Pres. of the Royal Society at this time, having keen interest in the Bible and Hebrew. His personal library contained some 50,000 theological manuscripts, including Hebrew. Marrying the same woman - twice - both times without his father's knowledge, the Prince was Patron of the Jews' Hospital and Orphan Asylum, continued today by Queen Elizabeth II. The favorite uncle of Queen Victoria, he gave her away when she wed Prince Albert. Soiled but about good. $55-75

21-2. Polish World War II Postal History.
Souvenir postcard with British postage stamp, neatly cancelled U.S. Army Postal Service A.P.O., Nov. 28, 1942. With large pictorial label, "Poczta Polowa / Polish Fieldpost / 1st Polish Army Corps," red and dark blue on light blue, showing tank, bomber, and paratroopers, tied with unit's purple Polish c.d.s., "...Nr. 1...." No addressee or message. • American patriotic cover with 5¢ Polish flag stamp, Dec. 7, 1943. Large, vivid cachet: "Freedom - Its Light Must Again Shine on Poland," with crossed flags of U.S. and Poland, and Statue of Liberty. Fine. • Patriotic, with detailed drypoint-style etching of a Polish allegorical male kneeling on swastika atop map of Poland, reaching up toward flame of freedom and Polish flag, as an eagle guards the caption "Poland." 5¢ Polish flag stamp, postmarked Newark, not later than 1944. Fine. $45-60 (3 pcs.)

21-3. Polish-American Postal History.
Pulaski postage stamp on cover postmarked Pulaski, Tenn., Jan. 19, 1931, with charming postage stamp-style cachet in orange, inset of Pulaski, "1748-1799 / Collect Stamps." The latter date was an expensive typo; Pulaski was killed twenty years earlier, in 1779. To noted philatelist A.C. Roe, Newark. • Pulaski postage stamp on cover postmarked Pulaski, N.Y., Oct. 11, 1932. Large oval purple cachet, portrait of Count Pulaski, "Centennial of Incorporation, Pulaski, N.Y.," prepared by Pulaski Stamp Club. • Souvenir First Day sheet, 4¢ and 8¢ Paderewski stamps, pictorial cancellation Washington, Oct. 8, 1960, 4 3/4 x 6. Polish seal and flamboyant facsimile signature thermographed in red. Two light brown speckled fields, probably bits of printer's ink. • Pulaski memorial brochure, signed by S.S. Schnittman, sculptor of the superlatively flattering Pulaski portrait bust shown, dated in his hand "(19)64." Printed by Pulaski Federal Savings, Little Rock, Ark. 4 1/2 x 8 1/2, 4 pp., deckled edge. A specialist in monumental statues and heroic figures, Pulaski's is in "transparent academic black (bronze), the richest of all black-bronze patinas," weighing 2,200 pounds. Lengthy Pulaski bio printed inside, sculptor's bio on verso. • Postcard to Warsaw, N.Y., with received postmark 1907. On message side, large colorful artwork of an American Indian holding feathered pipe, "Thought I'd better get a move and smoke up." Corner and handling wear, else good plus. All balance very fine and clean. A splendid group! $50-75 (5 pcs.)

21-4. Stamp Tied by both Address and a Fancy Cancel.
Sulfur-yellow Union cover, in a florid hand to "Mr. Rufus P. Deane, Collegiate & Commer(cia)l Institute, New Haven, Conn." Unusual use of Scott #65 affixed before addressing, then tied by both the manuscript destination and a four-ring fancy cancel. Positioned at left, beneath "Watervliet Arsenal, N.Y." black cornercard. "West Troy / Oct 11 / N.Y." c.d.s. Period notation on verso, "Recd. Mon., Oct. 13, 1862...." On New Year's Eve 1863, the recipient enlisted in the 7th N.Y. Heavy Artillery, his unit the subject of the work, Carnival of Blood: Civil War Ordeal of the 7th N.Y. Heavy Artillery. Modern research accompanies. Neatly trimmed at left by recipient, uniform dust toning, else about very good, and a conversation starter. $45-60

21-5. Confederate Usage with Green Cancel.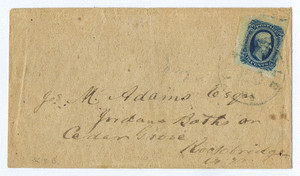 Adversity cover with Confederate #12, 10¢ dark blue. Jumbo margins at left and top, wide at bottom, just clear at right. Tied by lightly applied green town cancel, possibly Farmville, Va. To "Jos. M. Adams, Esqr., Jordan's Baths[?] on Cedar Grove, Rockbridge Co., Va." Old-time dealers' notations in pencil, "#859-F / EHB..." Soft creases outlining original contents (not present), else fine. Adams in Cheson's Co., Rockbridge County Infantry. Attractive. $80-110

21-6. To Tumbling Shoals, in the Last Month of the Confederacy's 5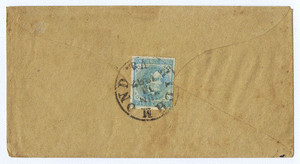 ¢ Rate. Interesting adversity cover, machine-made but from light brown kraft, with Confederate #6, 5¢ light blue neatly affixed to seal back flap. Tied by distinct, black "Richmond / Jun(e) 11, 1862" – single use before rate change to universal 10¢ rate on July 1 of that year. To "Mas(te)r Elliot McKnight, Tumbling Shoals, So. Ca." Some toning and waterstaining suggestive of raindrops, old traces of hinge glaze on front, where once displayed; stamp with minute foldover at lower right tip where struck by postmaster's barrel, else good. Perhaps the first cover to Tumbling Shoals we recall handling. $90-120

21-7. With Unusual Flap Arrangement.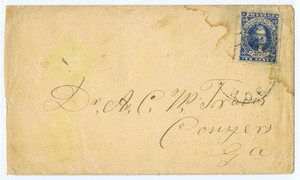 Confederate #2, Hoyer & Ludwig (first stone), 10¢ dark blue, with faults, on curiously crafted handmade cover to "Dr. A.C.W. Travers, Conyers, Ga." Flap nearly the full height of envelope, then tucked in for mailing. Tied by indistinct black "...dor...." Waterstain across entirety of stamp, scuffs, short tears at three margins, possibly incurred in handling by sender, two old hinges on verso, considerable wear, but an interesting example, undoubtedly with its own story of the Civil War. $110-140

21-8. Soldier to Soldier Cover - on a Confederate Quarter Master's Form.
Vertical pair of Confederate #7, 5¢ blue, on verso of cover fashioned from unused Confederate Quarter Master's Dept. form. Neatly manuscript cancelled with single line each. Bold black "Linton Ga. / Oct. 23" c.d.s. on face, overwritten by postmaster "24." To "Iv(e)y W. Duggan, Q.M. Sergt. 49th Ga., A.N.V(a)." With mandated military docketing, penned in same hand, perpendicularly, "49th Ga. Reg., Thomas' Brigade, Wilcox Division," likely denoting official Confederate business. Lacking blank upper right tip, trivial waterstain at lower left, else fine and an interesting conversation piece. $140-170

21-9. Uncommon Double Rate, with Green Pair.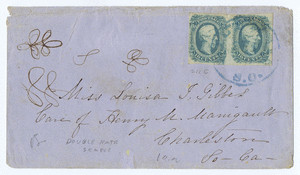 Horizontal pair of Confederate #12, 10¢ green, tied by blue Charleston, S.C. c.d.s. On powder-blue cover, to "Miss Louisa I. Gibbes, Care of Henry M. Manigault, Charleston, So. Ca." Ornamental flourishes, perhaps by recipient. Left stamp in at left, as trimmed by sender; flap double-folded to accomodate thick contents (not present) and torn but complete, moderate handling toning, else about very good. Louisa is mentioned in the modern work Science, Race, and Religion in the American South by Stephens. Manigault was certainly a scion of the eponymous famed family of Charleston, dating to colonial times. $160-190

21-10. From an Ill-Fated Jeff Davis Legion Cavalryman.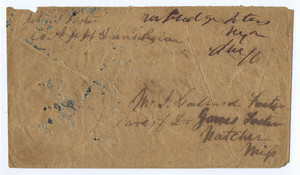 Adversity cover, first addressed to "Misses Early, Madison C.H., Va.," then turned, and sent to "Mr. I. Gaillard Foster, Care of Dr. James Foster, Natchez, Miss.," by "John S. Foster, Co. A, Jeff Davis Legion," the renowned Mississippi Cavalry Battalion. Manuscript "Rockbridge Baths, N. Va.[?]...Due 10," dating item as Mar.-Apr. 1863. Lacking inside postage stamp and flap, greenish scuffing at left third of front, the thin paper showing much handling and postal wear, but very satisfactory and dramatic. The new work, Stepping Lively in Place: The Not-Married, Free Women of Civil War-Era Natchez, by Joyce Broussard (University of Ga. Press), sets the stage with the Foster family: "In 1869, Mary Martha Gaillard, a married white woman living in Texas with her husband and two children, wrote a whispered letter to her unmarried half sister, Sinah Foster, who lived in Natchez, Miss., with her not-married sisters...the daughters of a prominent slaveholding doctor, James Foster - women who remained single their entire lives. Mary Gaillard's letter depicts a marital scene that must have caused her sisters to wonder if the spinsterhood to which they seemed destined, what with the wartime deaths of so many potential husbands, might be preferable to marriage after all...." Alas, the sender of this cover, Pvt. John Foster, personified the tragedy: on Sept. 28, 1863, while accompanying the Army of Northern Virginia near Stevensburg, Va., in its advance toward Manassas, he was killed. Several of his letters survive in the Miss. Dept. of Archives and History. $180-220

21-11. Leaving College for the Confederacy.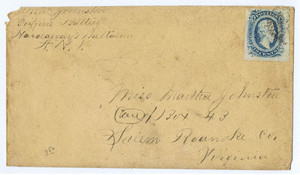 Confederate soldier's cover, with Confederate #11, 10¢ blue, on buff, with light Army of Northern Virginia field cancel. From (first name indistinct but believed Nathaniel B.) "Johnston, Griffin's Battery, Hardaway's Battalion, A.N.V." To "Miss Martha Johnston, Care of Box 43, Salem, Roanoake Co., Va." A wartime student at Hampden-Sydney College, Johnston left school to enlist in the Salem Flying Light Artillery. Johnston surrendered at Appomattox on Apr. 9, his battalion's gunners "firing one of the last shots before Lee's surrender"--wikipedia. Upper left tip frayed, affecting sender's first name, some handling soiling, else good plus, the stamp with one ample and three wide margins. $80-110

21-12. Rare Confederate Judaica.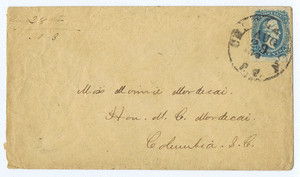 Attractive sand-colored cover, with Confederate #11, 10¢ blue, tied by black "Charleston, S.C. / Aug. 29..." c.d.s. To "Miss Minnie Mordecai, Hon. M.C. Mordecai, Columbia, S.C." Daughter of Moses Cohen Mordecai, termed "the most prominent Jewish Charlestonian of the 1850s and '60s"--The Jewish Confederates, Rosen, University of S.C. Press. "Aug. 28 / 30-3" penned by recipient over return address. Owner of his eponymous steamship line, importing fruit, sugar, tobacco, and coffee, M.C. Mordecai served as member of the S.C. Senate. Originally opposing secession, it was the Isabel, one of his ships named for his wife, which removed the besieged Capt. Robert Anderson from Fort Sumter on the first day of the war. Vertical margins of stamp adequate, top and bottom generous. Two old hinges on verso, tears at flap and where opened at left, light uniform toning, else about fine. Another cover to Minnie, lacking holographic content and her father's name, with #9, sold for 850.00 at Robert A. Siegel, 2011. The present cover has been off the market since the mid-1960s. $175-250

21-13. Usage in the first month of the Confederacy's Provisional Government.
Attractive apricot-orange U.S. 3¢ star-die entire #U26, used with (much-lightened) red straightline cancel of the "Mary-T" sidewheel packet boat in first-month Confederate mail service. To Messrs. Carroll Hoy & Co., New Orleans. "P.O.D. U.S." watermark stepped-and-repeated. Confederate use proven by enclosed partly printed receipt of "Steamer Mary T," Normans, Feb. 28, 1861, 3 x 8, for "1 Sack Corn, 1 B(a)g Coffee, 2 Bbl. Flour, 1 B(a)g Bacon...," shipped by V.Z. Chatlain. Cover flap torn where opened, several fine pin holes affecting first line of address only; "Mary-T" cancel faded to orange-pink, with yellow halo, else about fine. Receipt stained at left margin and upper right tip, some wear, else about very good. Listed in Dietz; Klein 346. Built for the New Orleans, Coast & La Fourche Transportation Co., "the steamboat Mary T in 1861 had a mail contract that required it to make stops at Vicksburg, Warrenton, New Carthage, Grand Gulf, St. Joseph, Rodney, Waterproof, Natchez, and all intermediate Mississippi River landings"--Exhibition of Confederate waterway mail, monograph by leading authority Patricia Kaufmann. Seized by the Confederate Army in 1863, the Mary T was renamed, and converted to a gunboat, protected by cotton bales. Rare and early Confederate usage; the provisional government of the Confederacy had just been formed on Feb. 4, but its first Postmaster General would not join Jeff Davis' Cabinet til Mar. 6. Ex-renowned Knapp Collection, sold at Parke-Bernet 1941-42. Off the market since mid-1960s. $1100-1500 (2 pcs.)

21-14. To a Confederate Surgeon's Wife, with Uncommon Brown Town Cancel.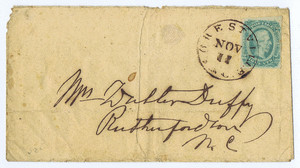 Confederate judged #12c, 10¢ greenish blue, tied to ivory cover by rich brown "Forestville S.C. / Nov. 11." Addressed in nearly matching chocolate brown to "Mrs. Walter Duffy, Rutherfordton, N.C." In pencil on verso, presumed by recipient, "Nov. 16, 1863 / 5 undershirts, 2 tablecloths, 1 pr. sheets, 5 towels, 4 large handk(erchief)s, 5 other kinds...." Walter Duffy was a Confederate surgeon, in the 50th N.C. Infantry. Resigning in May 1863, he had long been home at the time this cover was repurposed as a shopping list. Curious round paper inclusion, reflecting adversity conditions. Old quarter-folds, toning, some (rain?) spots at blank left, else a war-weary cover with much patina, and very satisfactory. $160-200

21-15. Ye Olde Mail Coach.
Precursor of mail service: Charming partly printed duplex document headed "Lowell and Petersham [Mass.] United States Mail Coaches, Way-Bill," Mar. 10-11, 1842. 9 3/4 x 16, printed both sides, each with two tiny woodcuts of a horse-drawn coach at speed. Listing passengers by last name - and "Lady," where from and to, and fare paid. The first U.S. postage stamp was still some five years in the future; there was intense competition among private posts, provisionals, and others carrying letters. Minor edge wear and toning, else fine and attractive. $60-80
TO FIND OUT CURRENT HIGH BIDS,
OR TO PLACE BIDS,
JUST CALL 1-914-476-8500
OR e-MAIL info AT cohascodpc.com
(We do not currently use online bidding)
22. Numismatica
22-1. Tycoon Henry B. Plant buys Coins.
Doubly-rare invoice of Beebee & Co., N.Y., an early coin dealer, and one of America's most prestigious - albeit doomed - bullion and exchange houses. Aug. 15, 1853, 7 x 8 1/2, selling "$200 new 1/4 doll., $300 new 1/2 doll., $73.17 Span(ish) 1/4 doll.," adding 1% markup. A signed notation at bottom in blue ink by buyer H.B. Plant, creator of the Plant railroad and steamer empire in Florida and Texas, and one of the wealthiest men in the South: "I could not get all New Coin." Minor edge wear, else very good. In the year of this transaction, Plant and his wife left New York for the then-tiny town of Jacksonville, Fla. for health reasons. Organizing Southern Express Co. at the dawn of the Civil War, his firm became the Confederacy's agent, while structured to continue doing business in the North as well. Postwar, Plant built hotels to accomodate his railroad travelers, including a $3 million Tampa Moorish palace, the first building in Florida with an elevator, and electric light and a telephone in every room. Plant's Fifth Avenue mansion in Manhattan is now the home of Cartier. Beebee collapsed in the Panic of 1857, impoverishing many of their clients who had thought them as safe as a bank. Splendid numismatic and business history. Both Beebee-related material and Plant autographs are rare. $275-325

22-2. Cryptic Countermarks on a One-Year-Type Coin.
1790 Mexico, silver, Mo FM 2 Reales, Charles IV. KM-90. Cr-73.7. The one-year type with legend of Charles III, instead of Charles IV. On obverse, intriguing composite countermark, probably executed with at least three dies: a dot precisely encircled by fifteen more, linked to a hook-like design, in all forming a nearly closed figure-eight. On reverse, a smaller, cruder, solid version of the quasi-figure-eight, very deeply stamped. Date, some edge lettering, and bugle plainly legible; central portion of obverse, and about half of reverse worn smooth, probably polished smooth before countermarking. An oddity defying conventional grading, but collectible, about Good±, and a compelling conversation piece. $35-50

22-3. "$5 gold pieces for the Secretary [of State]" on Christmas Eve.
Boldly penned A.N.S. of Frank A. Branagh, Chief, Bureau of Accounts and Disbursing Clerk, Dept. of State, on blue-engraved notepaper, Washington, Dec. 24, (18)96, 4 3/4 x 8. To D(aniel) N. Morgan, (Treasurer of U.S.). "Please give me $100 in $5 gold pieces for the Secretary." These Half-Eagles were evidently desired by Secretary of State Richard Olney for Christmas gift-giving. If the recipients were lucky enough to receive the 1896-S mint mark in MS-65, each would be worth about $25,000 today. Minor toning at blank top edge, else very fine, and splendid numismatic association for display. $90-120

22-4. A Classic Work on Greek Coinage – with Exceptional Provenance.
Historia Numorum - A Manual of Greek Numismatics, by Barclay V. Head, G(eorge) F. Hill, et al. The personal, (lightly) annotated copy of Sir Hill, pioneer numismatist, Keeper of Coins and Medals Dept. of British Museum, then its Director and Principal Librarian. "New and Enlarged [Second] Ed.," Oxford, 1911. 6 1/4 x 9 1/2, 966 pp. + 5 plates of alphabets, 399 illustrated pairs. Addendum, bibliography, 6 indices, including geographical, inscriptions, and others. Variant apple-green glazed linen, period label of "L.S. Forrer Ltd., Numismatic Booksellers, 175 Piccadilly, London." Contemporary bookplate of Hill, here given extensive credit by the author, one of the three who "read the proof-sheets of the entire volume." To this day, a stunning work in scope and scholarship. Spine sun-toned to pleasant yellow-green, minor fray of one tip at rear board, fore-edge of pp. 931-962 lightly impacted from shelving long ago, else clean, tight, and about very fine. Uncommon, and likely unique with this provenance. $275-375

22-5. An Edict on Copper Coins - as the Holy Roman Empire came under Siege.
Printed official broadside, Vienna, Austria, Apr. 15, 1797 - in the last decade of the thousand-year Holy Roman Empire, dating to the coronation of Charlemagne on Christmas Day in 800 A.D. 7 3/4 x 12 1/4, signed-in-type by Franz [Josef] Graf von Saurau, Gov. of Vienna, and variously Minister of Finance, Ambassador to St. Petersburg and Florence, and Gov. of Milan and Lombardy. Intended for posting in public places. "Circulare" of State Government proclaiming "...the time makes it necessary to circulate copper small change in a great quantity...In consequence of the highest court decrees, which had so far only been approved for Trieste...in the value of half a Kreutzer...in the common trade...." As Napoleon approached in 1797, von Saurau pursued "a violent campaign of repression...against the entire intelligentsia. The most innocuous books and magazines were banned..."--wikipedia. This circulation of coinage was probably related to von Saurau's evacuation from Hungary of the state treasury. Once comprising some 300 territories, each with their own princes, today Liechtenstein is the only vestige remaining of the Holy Roman Empire. Attractive Blackletter, on handmade laid oatmeal-shade sheet, with partial oversize pictorial watermark. Old dust-toning and wrinkles at blank right corner, else excellent. Rare. $70-100
TO FIND OUT CURRENT HIGH BIDS,
OR TO PLACE BIDS,
JUST CALL 1-914-476-8500
OR e-MAIL info AT cohascodpc.com
(We do not currently use online bidding)
23. Americana
23-1. Whiskey, Rye, an Indian Blanket - and the Discovery of Pennsylvania's "Black Gold."
Substantial, seminal gathering of portions of six manuscript account books for pioneer coal, ore, a general store, and a well-known constable in Pennsylvania Dutch country, 1806-16, variously, including transactions of John and Benjamin Pott and John Boyer, namesakes of Pottstown and Boyertown, respectively. Shedding light on local anthracite mining, thought to have ceased during the War of 1812, but recorded here. Ledgers include entries for Necho Allen, the local hunter credited with discovering coal in Pennsylvania's anthracite region, setting off a decades-long rush for the region's black gold – 97% of America's supply. Legend tells how Allen fell asleep one night in the foothills of Sharp Mountain - also appearing in these pages. Awakened by intense heat, his campfire had ignited an outcropping of the clean but hot-burning coal. Comprising:
• Account book of an exceedingly busy general store, Sept. 4-Dec. 18, 1806, plus some leaves dated 1816. 6 3/4 x 16, (6) pp. index with hand-cut tabs + 32 pp. accounts + 24 pp. unwritten; sewn, believed never bound. Extensive purchases, penned in a neat hand in milk chocolate brown, many for beef, mutton, and butter, together with tallow, "cabeches" (cabbages), honey, "cornd beef," rye flour, tobacco, pork, rum, suet, potatoes, whiskey, turnips, molasses, coffee, sugar, buckwheat, "cyder," and rye straw. Also including "washing & making 1 Shirt, $1.50," "1 pair shoes, $1.33 1/2," "hauling 1 L(oad) Hearth Stone from Reading to this place," "1 peck salt, $12.11 1/2," to David Jackson for "Reaming, Cutting & Pulling in hearth at Furnace," "1/2 Quire Paper, 25 1/2¢," and more. On page 23, "6 Pair Mens Shoes, $6.40," sold to John Pott, and on p. 26, "1 Indian Blanket, 75¢" to William Britton. Many price extensions to half a cent, and some to 1/4¢ and 3/4¢ - conventions infrequently seen. (Curiously, sales to Davis & Ives are shown in Pounds.)
• General store account book, July 15-Dec. 24, 1810, 6 1/2 x 15 3/4, (2) + 29 pp. Half page of John Pott's accounts, all essentially for "Sundries." Plus 4 pp. from 1816, including "stone coal," casks of plaster, and iron; these torn and chipped at top and bookwormed, with some loss of text, but satisfactory.
• 10 pp., 6 1/2 x 16 1/2, sewn, Nov. 30, 1814-Mar. 12, 1816 (in at least two hands, somewhat discontinuous, probably to save paper, and heavily edited to note payments), with old typewritten label, "Greenwood [Iron] Works, Pott (grist) Mill, Account Book...," though also includes 1812 general store entries. "Jacob Biddle, 2 Old Shoes, 1.00...Robert E. Hobert, making pick, 90¢...." Customers include D. Boyer, et al. Some chipping at top with loss of text, else very satisfactory.
• Unusual double-ended account book: "Greenwood," Nov. 16-Dec. 26, 1810, (17) pp., 6 3/4 x 16. Including items not seen in previous books, such as "pint spirits," almanac, "4 white cups & saucers," pepper, "1 1/2 yard calico," mittens, pen knife, mackerel, sweeping brush, womens combs, flannel, "winter glasses," and much more. When turned over and upside down, a separate series of entries for "Benjn. Pott, Dep(ut)y Constable of Norwegian Township," (13) pp. With names of plaintiffs and defendants, and his charges for serving summonses - usually between 8¢ and 18 3/4¢ - plus 3¢ per mile. "Justice 23¢...Execution 97 1/2¢...Debt 10.50...."
• "Account of Ore Raised by George Craig on Waggoner's Land," Jan.-Aug. 1816, 8 x 12 1/2, pp. 1-16, then advancing to 87-94, though sewn. Inside, "Account of cord wood Taken up for Furnace," "Account of Coals received... near Mill Creek, Delivered to Furnace," "Acct. of hauling done by John Pott, Jr.," "...by John Pott Sen(r).," and "Account of Ore Raised by Peter at Sharp Mountain," this a ridgeline in the heart of Pennsylvania's anthracite coal region. Sharp Mountain is regarded as the site of Necho Allen's serendipitous discovery; a three-panel mural linking him to the locale hangs in a local bank. Some fine worming.
• Ledger of ore, "cole," and wood harvested, Apr. 6, 1812-Jan. 8, 1816, 8 1/4 x 13 1/2, (40) pp. An extensive, and likely important record of the fledgling Pennsylvania coal region during the War of 1812, variously including "on whose Land" the raw materials were found, and "by whom hauled," usually with "waggon." Outer leaves wormed, several extensively, but most sound and about fine. Stubs of a number of leaves are seen within, but they are flanked by unwritten leaves, the thread shows much patina, and the chronology drops back from 1815 to 1812, therefore some blank leaves may have been removed as valuable writing paper, and each segment here may be complete. In all, varying wear, edge chipping, and defects, but most leaves complete, and very satisfactory to very good plus.
In 1807, John Pott rebuilt the Greenwood Forge and Furnace, also called Greenwood Iron Works, near the headwaters of the Schuylkill River. It had been thought that the Works closed during the War of 1812, but the ledgers here - especially the last described - may shed new light. Laying out part of Pottsville on his land c. 1816-17, it became "the center of the Schuylkill anthracite coal trade"--Hagley Museum and Library. The excitement generated by the coal fields documented here, would shortly bring a rush of adventurers and fortune-seekers to Pennsylvania, decades before California and its '49ers. Pottstown would become the center of the bonanza. The fruits of Necho Allen's discovery, and the pioneering settlement of John Pott would drive the Industrial Revolution, propelling America's prosperity well into the twentieth century. Indeed, the region's coal-bearing properties owned by the Reading Railroad would make it the largest corporation in the world by 1871. A "barn fresh" discovery in Pennsylvania Dutch country, certainly unpublished, and of interest to the scholar and historian. $750-950 (6 account books, containing over 175 pp.)
23-2. Superb Daguerreotype of a Fireman.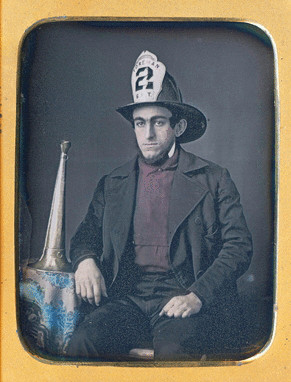 Choice, rare daguerreotype of foreman of fire engine company 2, 1/4-plate, c. 1846. Shown seated wearing helmet, beside table with metal fire trumpet; brocade tablecloth hand-tinted in turquoise, and his shirt evidently colored in rich eggplant-purple. On his cap, "Foreman / 2 / S.P.T." Deep mahogany-brown case blind-embossed with pansies(?) within decorative motif, strawberry-pink satin lining, finely spiral-threaded copper border. Very light case edge wear, fraying at inside hinge, some golden-yellow spots of discoloration of satin, traces of silvering around periphery of image, else the live image essentially unimproveable, with superb contrast and brightness, and an absence of flaws within the live area. Among the finest condition daguerreotypes we have handled over the years, this with lovely coloration and a desirable subject as well. Exceptional. $700-950

23-3. Author of Southern Lore.
Two items of Thos. Nelson Page, prolific Virginia-born author, his plantation-genre titles including In Ole Virginia, Two Little Confederates, The Old South, and Robert E. Lee..., idealizing the antebellum South. A.L.S., Washington, Dec. 7, 1897, 4 1/4 x 7, 2 full pp. To Daniel Morgan, Bridgeport, Conn., recently Treasurer of U.S. "I regret very much that my book has been so long delayed. I certainly intended sending you a volume from N.Y. last Spring; but as I very often fail to do what intended I assume I did not...I could not find a volume in town. Whether that is a compliment to me or not you shall have to judge...I...now have the great pleasure of sending it to you...." Light handling evidence, else fine. The book here was either Social Life in Old Virginia or his novella, The Old Gentleman of the Black Stock. • With flamboyant signature on eggshell-white card. On verso, also in Page's hand, "Light Infantry, Armory, Washn., D.C., May 8, 1895." Morgan was an assiduous autograph collector, and must have requested Page's two years earlier. Light mounting traces, else V.F. Though descended from two First Families of Virginia, he grew up in poverty after the Civil War. Page's model of Southern heroism was Robert E. Lee, under whose university presidency he studied. $90-120 (2 pcs.)

23-4. "The American-Spanish War" - with a Chickamauga Imprint.
Large chromolithographed photo-broadside of 6th U.S. Volunteer Infantry. Boldly headed "The American-Spanish War - 1898" – perhaps the first such contemporary usage we've seen on a patriotic item. 21 1/2 x 27 1/2, on original cream canvas backing. Crossed flags clutched by eagle, above olive branches. By Chickamauga Photograph Co. Mounted sepia photograph of a portion of the 6th, 9 x 12 1/4, the first row of men leaning on their rifles, the balance presenting them. At bottom, portrait of McKinley, with scrolls, "War for Humanity's Sake / 'Remember the Maine' / 'Cuba Libre,'" in sepia and robin's-egg blue. Spaces for names of company officers and members not filled in. Interior tears at top and bottom, but held together by backing; photo light coffee-and-cream-tone but faces discernable; long rolled in its original tube (details follow), else generally satisfactory, the colors bright. • Original paperboard tube, to "Mrs. John W. Lowe, 7332 E. Centre St., Mahanoy City, Pa.," with two red 2¢ postage stamps (incomplete). Some storage wear, else about good. Popularly known as the 6th Immunes, its men declaring upon joining that they believed they were immune to the deadly Yellow Fever. Mustered at Camp Wilder, Knoxville, they proceeded on July 30, 1898 to Camp Thomas, on the grounds of Chickamauga Park, site of the Civil War battle. This photo and certificate were prepared locally. "At the time of arrival of the 6th...Camp Thomas was in the worst condition possible...a city of over 30,000 men with inadequate supplies and sanitation. Disease and illness were rife...While the regiment was at this camp, on Aug. 12, 1898, an armistice was reached between the U.S. and Spain..."--spanamwar.com. Leaving for Puerto Rico in Oct., the 6th was dispersed over the island, its commander, Col. Lawrence Tyson, serving as its Military Governor. With modern history. $90-120 (2 pcs.)

23-5. "Those engaged in the Autograph Trade" – 1843.
Interesting letter of H(enry) Davis (docketed "Rev. Dr. Davis"), an early autograph collector, clergyman, and Pres. of Middleburg College, Vt., and Hamilton College. Clinton, (N.Y.), Dec. 15, 1843, 7 3/4 x 10. To Rev. (John Parker Boyd) Storer, noted Unitarian clergyman in Syracuse, and a collector. "...I presume that most of the letters which I sent you, your friend will regard as of little value. I regret that I can find no letters in my possession from Pres. [Timothy] Dwight [of Yale] with Mr. Finney. I never had any correspondence. I send you several duplicates, recollecting that my friend, Dr. Sprague, has somewhere remarked that such communications are desirable to those engaged in the Autograph Trade." Honey toning of old tape at left edge touching one letter only, two strips of tape stains on verso, else fine. Charming for display. The pioneer American autograph dealer has generally been considered to be Charles Burns of N.Y.C., commencing business not before 1860. At the time of this letter, autograph collecting was an informal hobby; the writer's friend "Dr. (William) Sprague" was the first to amass a complete collection of Signers, together with nearly 100,000 other autographs, and is considered the "Patriarch of American Collectors"--American Presbyterians, Presbyterian Historical Society, Spring 1986. $70-100

23-6. The Prisoner of Greenwich Village – 1799.
Letter of inmate James Corsa in "[Newgate] State Prison" (N.Y.'s first penitentiary, located in Greenwich Village), July 1799, 2 pp., 6 1/4 x 7 3/4. Integral address-leaf, hand-carried by the prisoner's wife to Gen. James Miles Hughes, noted N.Y. lawyer, and Continental Army aide-de-camp to Gen. Gates; his father said to have ghost-written the famous letters from Brutus, during the newspaper wars on the Bill of Rights. "...From the known goodness of your Character as a man of feeling and humanity I have no doubt but you will cheerfully intercede for me with the Executive...When you have considered my long sufferings in a closed confinement I have no doubt but you will think me an object of your pity, especially as I was not led into this Error from a vicious disposition to prey upon Society but for want of consideration. Gov. Crawford, in whose family my wife lives...has promised to do everything in his power for me...." Penned in an especially fluid hand, not dissimilar to George Washington's! Newgate was novel, boasting light in cells, bathing water, family visits, and training. Recipient Hughes is mentioned in a letter to Alexander Hamilton in the National Archives' Founders Online. Fine and rare, the only letter from Newgate we recall handling. $100-130

23-7. Edison's Electric Boats.
Fascinating trio of items relating to Harold Hooper Smith, worked with Edison, and invented electric battery for use in submarines: His printed commencement program, Polytechnic Institute of Brooklyn, College of Engineering, 1909, 8 x 10 3/4, 4 pp., deckled edge. One of just two cum laude graduates, Smith's thesis is shown as "The Automatic Telephone." Foxing, else good. • Steel-engraved certificate for Smith's initiation as "a Brother in Alpha Chi Rho...," 1905, ornate crest at top. Dust soiling, edge tear, but satisfactory. • Extravagantly lithographed church certificate for his future wife, richly detailed border with Biblical scenes in genuine gold leaf, Allegheny, Pa., 1893, signed by Pastor of Deutsche Presbyterische, 9 3/4 x 12 3/4, her name, Gertrude Schwarzkopf of Newark, N.J., in manuscript. Pearl St. (N.Y.) imprint. Fold wear, but strikingly beautiful. $90-120 (3 pcs.)

23-8. His Last Letter - After Walking 300 Miles.
A tragic letter from Lewis Sprogell, Carrol Island ("20 miles below Baltimore"), Aug. 1, 1835, 3 pp., to sister Miss Ann Sprogell, "Care of Mr. Franklin Lee at Corner of Tanner & 3rd St., Philadelphia." Integral address-leaf with Baltimore c.d.s. and lilac manuscript "12 1/2" postal marking. A very sad missive from a dying man, telling of leaving his ship 300 miles below Baltimore, and trudging through wilderness the entire way north. Sleeping "in the sea marsh ground every night I was on the road...I have caught my death of cold...." He found himself at a doctor's house on the island, and has been told "that I must prepare for another world for it is impossible for me to get up...I will never get up again...I wish to hear from you again before I leave this world...Expect this for the last time that you ever will hear from your disobedient brother...." Remnants of black paper at left margin, where removed from an album, with loss of two fragments at margin affecting three words on p. 2, else very darkly penned and good plus. Decades later, a Princeton-educated Civil War officer, Patton Jones Yorke, would name his son Lewis Sprogell Yorke. The former fought in some fifty engagements, then living twenty years in postwar Louisiana; his son's name is so unusual that it was almost certainly after the ill-fated writer of this letter. With intriguing modern research. $70-90
TO FIND OUT CURRENT HIGH BIDS,
OR TO PLACE BIDS,
JUST CALL 1-914-476-8500
OR e-MAIL info AT cohascodpc.com
(We do not currently use online bidding)
24. Ephemera
24-1. A Custom Tiffany Window as low as $100.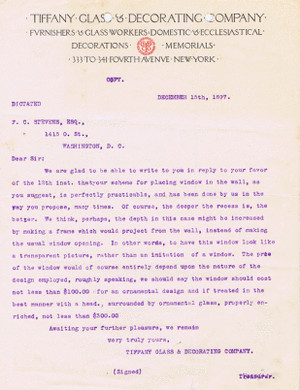 Splendid gathering of Tiffany invoices, 1897-1906, each a different graphic style. To F(rank) C. Stevens, variously Manchester, Mass. and Washington, attorney of Pierre Du Pont and friend of Pres. William Howard Taft. Comprising: "Tiffany Glass and Decorating Co., 333-341 Fourth Ave.," N.Y., July 31, 1907, 7 1/2 x 8 1/2. Black and red, ruled in blue. For "1 Hall Light Leaded Glass, 37 x 46 1/4, $100." • High-style, Will Bradley-esque "Tiffany Glass & Decorating Co., Furnishers & Glass Workers - Domestic & Ecclesiastical - Decorations - Memorials...," Dec. 15, 1897, 8 1/2 x 11. Lengthy letter in purple typewriting: "...Your scheme for placing window in the wall...is perfectly practicable, and has been done by us in the way you propose, many times. Of course, the deeper the recess is, the better...to have this window look like a transparent picture, rather than an imitation of a window. The price of the window would of course entirely depend upon the nature of the design...not less than $100 for an ornamental design, and if treated in the best manner with a head, surrounded by ornamental glass, properly enriched, not less than $300...." • Strikingly impressive billhead, "Tiffany & Co., Union Square...Manufacturers of Jewelry, Silverware...Cutters of Diamonds and Precious Stones...By Special Appointment to H.M. the King of England...the Emperor of Russia...." Jan. 18, 1904, 8 x 8 1/2. For "Diamond Brooch, $3650." • Manuscript letter on pale ivory "Tiffany & Co., Fifth Ave." lettersheet, with "Tiffany & Co. / Linen" watermark, Dec. 23, 1905, in hand of "J.W.C." "By express today we send you the opal left with us for setting. It was impossible to set it as you suggested so in order not to disappoint you for Christmas, we remounted it in the simplest way. The only other way would be in claws. If the present pin is not satisfactory, please return it after Christmas...." • "Tiffany & Co., Fifth Ave.," July 31, 1906, 7 1/2 x 8 1/4. For "1 Diamond Brooch, $200." • With Tiffany advertisement from The Independent, Nov. 1905, describing and pricing "men's and ladies' gold watches for Christmas." Two items with file holes at top, some light wear, else generally very good to very fine. A lovely assemblage. $275-350 (6 pcs.)

24-2. Gun and Ammunition Billheads.
Group of six attractive billheads, all but one illustrated, and all for goods purchased by Fuller & Parish, Norwich, Conn.: "John P. Moore's Sons, Wholesale Gun Dealers, 300 Broadway, N.Y.," Oct. 29, 1874, 6 x 8. With detailed red woodcut at top of a "Whitney Revolver." • Ornate invoice, "Sharps Rifle Co., Armory and Office, Hartford," Oct. 5, 1875, 7 x 8 1/4. Crisp bird's-eye view of factory. For "1 Rifle 44/32...75.00; 50 Shells...1.13...." • Hood Fire Arms Co., Norwich, Nov. 7, 1874, 4 1/2 x 8 1/4. Large woodcut of their revolver. For "3 Rev. 32, 3.00 (ea.)...." • "Merwin, Hulbert & Co., Manufacturers and Importers of Fire Arms, Ammunition, Sportsmen's Goods, etc., 63 Chambers & 65 Reade Sts., N.Y.," Sept. 7, 1874, 8 x 8 1/4. On lapis-blue. Unusual crown watermark, ruled in sea blue and purple. Large woodcut of rifle. "Manufacturers of Blue Jacket Revolver Nos. 1 and 2, and XL Revolvers, Nos. 1, 3, 4, 5 and 6." For "1 Dble. Gun Guard & Trigger, 15¢." • "E. Remington & Sons, Manufacturers of Fire Arms and Ammunition," 281-283 Broadway, N.Y., Aug. 30, 1875, 7 x 8 1/4. Fine view of their armory, Ilion, N.Y. For "1 Rifle 32 - 44/77, Checked Grip, Ex. St(oc)k...Spirit Level...73.00." • Union Metallic Cartridge Co., "Contracts taken for Military Ammunition in large quantities," Bridgeport, July 17, 1875, 7 x 8 1/4. Unillustrated but printed in dark pink and black, ruled in pink and lilac. Describing and pricing three lots of cartridges. Some minor wear or defects, else very good to very fine, and all suitable for display. $130-180 (6 pcs.)

24-3. Hudson River Ship Cards.
Delightful group of 21 (of 25) different chromolithographed cards, issued by Turkey Red Cigarettes (T-72) for the 1909 Hudson-Fulton celebration, showing charming variety of steamboats and watercraft plying New York's Hudson River. Uncommon plain backs, variant size 1 3/4 x 2 1/4, on calendared eggshell-white. Including the Albany, Dean Richmond, DeWitt Clinton, Hendrick Hudson, Highlander, Mary Powell, North America, Paragon, and Robert Fulton. Variously with sails, flags, and interesting detail, ranging from small workboats to magnificently tiered overnight liners, and even a view of Hudson's own Half Moon, and a square-prowed rowboat with manually-turned sidewheel. Best appreciated with a magnifying glass. Some tip wear, minor edge defects, but generally good and better, with pleasing color. • With, strikingly attractive partly printed receipt, "Philadelphia Steam Propeller Co., Swiftsure Line for the Conveyance of Merchandise &c. Via Delaware and Raritan Canal," N.Y., Apr.(?) 24, 1851, 7 3/4 x 9 3/4. Full-width detailed woodcut of their single-smokestack craft, flying flags fore and aft. "Received from J.I. Lamson, on board Ironsides, One Case Gum...Freight 53¢." Some handling evidence, else about very good. $80-110 (22 pcs.)

24-4. Cincinnati Centennial Exposition.
Early advance "Guide to Cincinnati and the Centennial Exposition, to be held at Cincinnati, July 4th to Oct. 27th (1888) - 100 Days," opening to 12 x 17 1/2, black on tan. Magnificently ornate typography on front panel; inside, full-width rendering of the "mammoth new buildings...650,000 square feet, the largest connected area and continuous roof ever used at an Exposition...The Cincinnati Centennial of the Ohio Valley and Central States, will commemorate events national in character: The Settlement of the Ohio Valley, the North Western Territory, the State of Ohio, the City of Cincinnati...In the very heart of the City...Living in Cincinnati costs less than in any other city...." Fully opened, a circular street map of Central Cincinnati, with 61 callouts, and Magnus-esque miniature detail in four bird's-eye views of Cincinnati past and present. Toning, waterstain at one fold and small triangular fragment lacking at 6 o'clock, some edge tears, few extra folds by fair-goer, else very satisfactory and wonderful for display. 1888 Cincinnati Exposition material is very rare; this is the first item of the Expo we recall handling in about forty years. WorldCat locates only two examples; a scanned copy is shown in the Smithsonian's "Visions of Tomorrow" online collection. $250-325

24-5. A Forgotten American Conflict: The "Banana Wars."
Unusual trio of panoramic realphoto postcards, postally unused, collected by a gunner's mate on destroyer U.S.S. Evans during its intervention in the 1919 Honduran Revolution, to protect Americans working for United Fruit Co. 3 1/2 x 10 3/4, sepia, each identified and dated Sept. (30), 1919 on verso in ink; imprint "Williams." "View showing mills and a part of the Honduras Sugar & Distilling Co. sugar cane farm near La Ceiba, Hond(uras)." • "Park, La Ceiba." • "...Harbour Bay Islands...," La Ceiba shore. Latter photo just a trifle light, else all fine. With modern digest of the ship's itinerary; the following April, the Evans sailed to Pearl Harbor, met the British Renown with the Prince of Wales aboard, and participated in smokescreens and maneuvers for the (silent) movies. Items relating to American involvement in the Honduran Revolution are very rare. $70-100 (3 pcs.)

24-6. Old Puerto Rico.
Ensemble of 10 pieces of Puerto Rico travel literature, c. 1935, found in old envelope addressed to E.M. Lytle, Washington, and originally in same album as the Rotterdam cruise lot. Most profusely illustrated. El Morro booklet. • Fort San Cristobol folder. • Old and New San Juan folder. • La Fortaleza pamphlet, 15 pp. • Pamphlet, "The Mountain Paradise...," Dept. of Agriculture and Commerce, 1935, 48 pp., airways map indicating San Juan to N.Y. in only 24 hours. • Booklet, "...Island of Enchantment," issued by Condado Hotel, (12) pp., local imprint, colorful covers. • Stiff card, green palm tree, "How to prepare a 'Puerto Rico' cocktail." • Palm card, "Do Your Shopping in Puerto Rico...Help Puerto Rico keep Uncle Sam's money at home...," promoting Puerto Rican needle-work and souvenirs. • Card, black script on eggshell, "The Governor of P.R. has the honor to invite you to visit and inspect La Fortaleza on Wed. afternoon next," with envelope. Unused. Obscure letterpress-with-relief process. Some light wear, old white label strip hinge on versos, else generally fine and better. Large envelope with much wear at corners; good 4¢ light brown Washington postage stamp. $60-85 (11 pcs.)

24-7. Patent for a Mop.
Group of five patent-related items: Original patent "for an alleged new and useful improvement in Mops," to Luther P. Creasy, Catawissa, Pa., Sept. 15, 1925, 8 x 12, stiff cream folder enclosing 3 leaves printed technical drawings + 2 leaves text, bound with blue satin ribbon and handsome blind-embossed Patent Office wafer seal. A complex affair, with guide rollers and an endless belt turning the mop, and a tank holding water or soap. Ribbon frayed at top grommet, postal creases, else very good. • Letter from his attorney Victor J. Evans & Co., Washington, with wildly ornate masthead, one day later, urging new patent-holder to also file abroad. "In view of the demand for American made articles abroad, American inventors...will be protected against unscrupulous persons in those countries...Special rate of $285 in cases that do not contain over one sheet of drawings...." • Booklet issued by attorney, "How to Obtain a Patent," 1925, 5 1/4 x 8, 86 pp. Cover art of an Indian on ledge, surveying a bustling modern city, as an airplane passes. Small drawings of 139 mechanical movements and 29 electrical, plus 6 steam engines, 4 gas, 3 biplanes, 3 flying boats, 1 submarine, and more. Photo montages of 20 famous inventors, including Goodyear, Westinghouse, Pullman, Ericson, Wilbur Wright, Otis, Edison, et al. Some handling, else very good. • Booklet issued by attorney, "Foreign Patents." Colorful artwork front and back covers, airplane over Eiffel Tower. 4 x 8, 36 pp. Charming spot illustrations conveying flavor of foreign lands, with patent costs for most countries in the world. "China, $100...This vast, thickly populated country...has at last awakened from its sleep of centuries...Will become a formidable competitor of the great industrial nations. Japan, $110...the 'Yankees of the Orient.' As a result of their victory over the Russians, they are now recognized as one of the great powers...Congo Free State, $130...One of the richest countries in the world...." Crease at corner of back cover, else fine. • All contained in attorney's large kraft envelope, five 2¢ red Washington stamps (damaged). Fair. $90-120 (5 pcs.)

24-8. Ben Franklin's 200th Birthday Party.
Deluxe program for "A Dinner given by the Pennsylvania Society in the City of N.Y. in Commemoration of the 200th Anniversary of the birth of Dr. Benjamin Franklin," N.Y., "Printed and Distributed (for) 7th Annual Festival of the Society at the Waldorf Astoria," Dec. 12, 1905. 7 x 10 1/4, (8) pp. in beautifully blind-embossed cream linen card covers, black, red, and brown to simulate parchment. Exquisitely steel-engraved portrait commissioned by the Society. White braided tie, two tissue guards. Menu entirely in French, including Mousse de Bass and Salade de Concombres. Toasts by Pres. (Theodore Roosevelt), "Franklin the Postmaster-Gen." by George Cortelyou, "Franklin the Diplomat" by Gen. Horace Porter, "Franklin the Scientist," "...the American," and "...the Man of Letters." • With thick card, 3 x 5 1/4, deeply steel-engraved in black with the Society's seal, lettered "President [J. Hampden] Robb." Banker, cotton broker, and N.Y. politician, Robb's home - the only true Stanford White mansion on New York's Park Avenue - still stands. Minor marginal toning, else minty. A lovely item. $60-80 (2 pcs.)

24-9. Medical Care in America – $4 per Day.
Two pamphlets: "26th Annual Report of Philadelphia Home for Incurables," 48th St. and Woodland Ave., 1903, 5 1/2 x 8, 87 pp., black on pale olive cover, numerous full-page photographs of Men's Ward, Sunday morning in Women's Ward, Children's House, the ornate building, and more. "The Home is always full...45 men, 77 women, and 26 children..."; another wing offers accomodations to boarding patients, "incurables who are not entirely without means, yet who cannot afford the comfort of a home, and the trained care of a hospital...In the Cancer Annex it always seems that the highest note is struck, of benefaction and blessing...The only place in the State where a home is provided for this most pitiful form of suffering...The Children's House is the joy of the whole place...Many happy hours are spent in their beautiful sunlit playhouse...At Christmas with their beautiful tree and the gifts...it is a privilege and inspiration to see their happiness...." Heartrending detailed description of Christmas in the Children's House. Detailed list of donations, including "Mrs. Milne - Ice cream and cake for 3 houses; Miss McMenamin - 93 boxes of candy; Mrs. Parker - 2 turkeys," and many more. Tears at top and bottom of spine and cover edges, else internally fine and clean. • "Report of the Executive Committee of the Hartford Hospital...," 1864, 5 1/2 x 9, 22 pp., light apricot wrappers. Woodcut elevation of building, and 2 pp. floor plans, showing "hot water radiating pipes," bathing room, dumb waiter, and other then-modern amenities. "Soldiers are admitted, who are discharged from the Army...The ordinary charge per week is $4, which includes medical and surgical care...medicine and nursing...." Ailments treated included "debility from liquor," "Dropsy of abdomen," and scarlatina. Laments that they have been so overcrowded that the center hall, not designed for patients, has been filled with beds. Spilled ink at two edge of cover, else about fine. $65-85 (2 pcs.)

24-10. Flags and Crests of a Vanished World.
Group of 19 colorful World War I-era cigarette cards, flags of British Empire and the world, 17 Player's and 2 Wills. Most also showing national crests or seals. Including Bavaria, Brazil, Channel Islands, England, France, Greece, Jamaica, Nicaragua, Sweden, Vatican State, Venezuela, and more. • Arms of British Empire, 18, Wills. Including Bombay City, Burma (two), Ceylon, Isle of Man (the three-legged symbol similar to Sicily's), Malta, New Brunswick, New Zealand, North Borneo, and more. • Arms of Foreign Cities, 17, Wills. Including Cologne, Dresden, Dusseldorf, Naples, Seville, St. Petersburg, and more. Some with metallic gold and silver. Varied wear, some creases and soiling, else generally good and better. Splendid for display. $50-70 (54 pcs.)

24-11. Kilts, Bagpipes, and All the King's Men.
Believed complete set of 50 British cigarette cards, attributed to "Types of the British Army," pre-World War I, chromolithographed, plain back. Richly detailed uniforms and accoutrements, the reds nearly fluorescent. Including seven in kilts, 20 on horseback; Royal Scots, Queen's Own Cameron Highlanders, Princess Louise's Argyll & Sutherland Highlanders, Black Watch Royal Highlanders, Irish Guards, Coldstream Guards, Royal Army Medical Corps, Field Marshal, Lincolnshire Regt. blowing bugle, Royal Munster Fusiliers, and more. Few with mounting traces on verso, occasional light tip wear, trivial edge toning, else very fine, bright, and strikingly attractive. $60-90 (set of 50)

24-12. Soldiers through History.
Fascinating group of British cigarette cards depicting soldiers from 17th to early 20th centuries. Including 10 Player's "Riders of the World" (1905) (including Crusader, Persian Shah, Turkoman, Herald Trumpeter, Canadian Mounted Police, Royal Irish Constabulary, Cossack, and Despatch Rider), 10 Godfrey Phillips' "Soldiers of the King" (1936), 15 Player's "Regimental Uniforms," 15 Ray & Co.'s "War Series - All Arms," 13 Woods' "Types of Volunteers & Yeomanry," and 2 others. Varied wear, some creases and soiling, else generally good and better. Fascinating for wall display. $50-75 (65 pcs.)

24-13. The Richness of British Regalia.
Group of 81 assorted cigarette cards of badges and flags of British regiments, drum banners and cap badges, military head dress, and ships' figureheads. Gallaher, Player's, and Wills, variously. Intricate designs, rendered in full color; text on versos. Varied wear, some creases, soiling, and other defects, else generally good and better. $55-85 (81 pcs.)

24-14. Animals in the World's Oldest Scientific Zoo.
Complete, mint set of postcards of animals, issued by Gardens of the Zoological Society of London, c. 1910. Black and white, letterpress, 3 1/2 x 5 1/2, numbered 1-32, inclusive. Including polar bears, European bison, panda, young hippo, baby elephant with children riding, Bactrian camel and young, English wild cattle, Japanese apes and young, young chimpanzees, hyena, crested porcupine, and many more, including now-obscure animals such as the kagu (one of the cutest birds imaginable, with plume and round belly). Choice condition, and rare as a set. $90-120 (32 pcs.)

24-15. Cuban Cigars.
Magnificent cigar box labels, turn-of-century: "Mibrand - Superior Havana Cigars," 4 1/2 x 4 1/2, aqua and yellow on white, gold leaf on tobacco, beaded gold outlining letters and dragon. Sanitary Cigar Co., Philadelphia. • Large, outer-box type for same, 6 1/2 x 10, with two ornate gold torchieres. "...Cuban Hand Made of the highest grade of Havana, with a pure natural aroma...." • La Paledo, golden horses flanking crest; red and robin's-egg blue. 4 1/2 x 4 1/2. • Large type, 6 x 10, two variants. Some light handling, but believed old printer's file samples, and else fine. $45-60 (5 pcs.)
TO FIND OUT CURRENT HIGH BIDS,
OR TO PLACE BIDS,
JUST CALL 1-914-476-8500
OR e-MAIL info AT cohascodpc.com
(We do not currently use online bidding)
25. Entertainment & the Arts
25-1. Signatures of the Stars – on their L.P. Record Jackets.
Splendid, varied connoisseur's collection of L.P. record albums signed by their performing artist(s), with original records inside. Including "Follies in Concert," autographed by Stephen Sondheim, Carol Burnett, Elaine Stritch, Betty Comden, Licia Albanese, et al. With lengthy souvenir folder. Some signed on dark area, and silhouetted in clear varnish topcoat. • "George M!," signed by Joel Grey, Bernadette Peters, et al. Signatures silhouetted in clear varnish topcoat. • "The Incomparable Hildegarde," signed by her, on verso, "Bless you...." • "Lost in the Stars," signed by Todd Duncan, the first Porgy. Breaks at top and bottom of jacket, but Duncan-signed material - especially on a record album - is very scarce. • "Porgy and Bess," original Broadway cast album, "1935-1995 / Best Wishes, Todd Duncan." • "Medea," boldly signed by Eileen Farrell on verso. • Rise Stevens, arias, Odyssey Records, 1972, signed in black on front, and red on verso. • "Sweet Charity," Broadway cast album, signed by seven stars, including Debby Allen, Cy Coleman, Bebe Neuwirth, et al. 1986. Superb for display. • Roberta Peters et al on Verdi's "Un ballo in maschera," c. 1978. • Lotte Lehmann on "Wagner - Die Walküre - Act I." Signatures silhouetted in clear varnish. • "Wagner - Große Stimmen - Berühmte Szenen," signed by Christa Ludwig, Thomas Stewart, et al. Signatures silhouetted in clear varnish. • "Wagner - Weltstars Singen," signed by Victoria De Los Angeles, Birgit Nilsson (in sprawling purple marker), et al. Signatures silhouetted in clear varnish. • Sophie Tucker on Decca Records double sleeve (this item only, lacking jacket and records), "To Bernice & Jerry / Love..."; some wear. Some others with tip wear, else generally very good to fine, and a fun collection. (Records not removed for inspection, but consignor states never played.) Further visual condition report gladly supplied. $375-475 (13 pcs.)

25-2. The First Million-Dollar Starlet?
Group of signatures of vintage actors and actresses, all on ivory cards: Maude Adams, "1899" in her hand. Born in Salt Lake City, she was the first to play Peter Pan on Broadway. The most popular actress in Gotham - and highest-paid performer of her era - at her zenith she pulled in over $1 million annually! Two album glue stains, crease at blank lower corner, else fine. • (Hortense) Rhéam, Belgian-born American actress. An early single-name star, flamboyantly signing with her last name only, 1885. Fine. Remarkably, she made her London debut with just a month's rehearsal to temper her heavy French accent and limited English fluency - in a Shakespeare production. • Louis James, 1905. Signed at stylish angle, "Yours Truly...1905," the "J" smudged by his hand, else very fine. Debuting with Laura Keene during the Civil War, he rose to stardom on the stages of New York and London. With biography. • Edw(ard) S(mith) Willard, oversize signature, 4" long. Very fine. "The celebrated English actor" and producer, making thirteen American tours.$60-85 (4 pcs.)

25-3. Elaborate Deco Design.
Deluxe French dance program, "Triana," a "Fantaisie Chorégraphique Sévillane," July 1929, featuring "Les Représentations de Madame Argentina, avec sa Troupe de Ballet Espagnols," at Théatre Marigny, Paris. 8 1/2 x 10 3/4, (36) pp., black on eggshell enamel. Four charismatic sepia plates of the dancers, by Parisian photographer d'Ota, hand-tipped within burgundy borders on rarified café double-laid paper. Cream cold-pressed cover, with tipped, colorful abstract onlay depicting a dreamy scene from the show. Blue braided tassel. Printed by L'Edition Artistique. Numerous advertisements, most with high-Deco design elements, including Parrish-esque Worth perfume, a stunning Delahaye coupé rendered in pen-and-ink, Graham-Paige - the cars seemingly 30 feet long, coachbuilder Letourneur & Marchand, and others. Some cover dust-toning, general handling evidence, center signatures shaken but held by tassel, else good plus, and a lovely exemplar of pure Deco sensibility - designed by Parisians, for Parisians - just before the Crash. Rare. Unrecorded in WorldCat. $120-150

25-4. Composer of "Rigoletto" and "Aida."
Very scarce carte of operatic composer Giuseppe Verdi, a poignantly posed closeup (with more than a passing resemblance to Robert E. Lee!), in elegant jacket and topcoat, undoubtedly by an Italian tailor. Moderately light waterstain from upper left to bottom center, minor wear at lower tips, else pleasing mocha tones, and very satisfactory. "Verdi is the voice of a world that is no more. His enormous popularity among the most sophisticated as well as the most ordinary listeners today is due to the fact that he expressed permanent states of consciousness in the most direct terms: as Homer, Shakespeare, Ibsen, and Tolstoy have done...After Verdi this is not heard in music again."--Isaiah Berlin, in New Republic, 1979. Such personages on cartes are sometimes more elusive than those of Confederate generals. $50-70

25-5. Hollywood Relives the French & Indian War.
Group of five colorful lobby cards for Allegheny Uprising, 1952, starring John Wayne. RKO Radio Pictures. 11 x 14. Each with different scene from this saga of the French & Indian War. At left, Wayne and co-star Claire Trevor and a battle scene in sepia, title in yellow on bright orange. The costumes, long guns, and accoutrements are splendidly rendered; especially interesting for historical reference are the furnishings (and bottles on mantle above the roaring fireplace) in a tense tavern meeting between a British officer and the colonists. Other period promotion termed Wayne and Trevor "America's First Rebel and his wildcat blonde in buckskin...Daring the peril path of wilderness in the danger days when Pittsburgh was 'way out West'...Riding the conflict of a nation aborning on a love that stood against the untold terrors of those turbulent times!..." Pinholes from theatre display, one with four short remnants of tape at blank top margin, two lacking upper right corner, some handling wear, but highly displayable and good. Perfect décor to complement a colonial room - or colonial collection. Uncommon. $70-100 (5 pcs.)

25-6. "D.W. Griffith Presents...."
Rare (albeit imperfect) silent-film window card, "D.W. Griffith presents Way Down Eas(t), based on Wm. A. Brady's Famous Play / by Lottie Blair Parker," (1920). In color, possibly stone lithography, on board, with evocative mezzotint texture, the pinks, greens, blues, and yellows especially alluring. Showing a handsome young man on green sofa, as three women flirt for his attention, a fourth at top overlooking the tableau, worried that she will lose him (Lillian Gish starred). 11 1/2 x 19 1/4, all but "Tue(s.)" of the top white panel lacking, and trimmed at right, removing the last letter of "East"; 2 1/2" tear at left in solid-black field; seven small holes, perhaps from tacks where hung; some edge chipping and short tears, but still with the vibrant colors that could not be replicated with letterpress or the later offset, and attractive for display. Such early motion picture graphics were ephemeral, and now elusive. From the same source as the "New Mildred [Pa.] Theatre" posters following. A presumably incomplete group of five lobby cards for this silent film realized 1,600.00 at Profiles in History, Morris Everett, Jr. Poster Collection, 2015. $160-220

25-7. John F. Kennedy's Father, the Movie Mogul.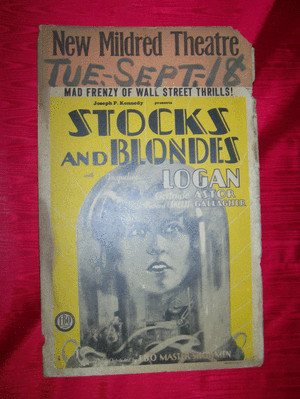 Very rare window card with Art Deco type, "Joseph P. Kennedy presents Stocks and Blondes," starring Jacqueline Logan, Gertrude Astor, and Richard "Skeets" Gallagher. "Mad Frenzy of Wall Street Thrills!" "FBO [Film Booking Offices of America] Pictures Corp. / Master Showmen of the World." 13 3/4 x 22, black and bright yellow, showing a blonde's reflection in a glass-enclosed stock ticker, absolutely mesmerized as the tape piles up, hectic scenes of traders in the background. Mounted at top, period salmon strip imprinted "New Mildred [Pa.?] Theatre," with handwritten "Tue(s). Sept. 18," (1928) - the height of stock mania - and the month before Kennedy's merger, giving birth to RKO. Kennedy, father of John and Robert Kennedy, was a major movie mogul: "In 1925 he was retained by the financially troubled owner of FBO, a 'Poverty Row' studio specializing in cheaply made westerns, to help find a new owner. Kennedy formed his own group of investors and bought FBO for $1.5 million. Subsequently, he moved to California in 1926 to focus on running the studio. At the time movie studios were permitted to also own exhibition companies (a practice that was stopped by a 1947 Supreme Court decision...), so Kennedy launched a hostile buyout of the Keith-Albee-Orpheum Theaters Corp. (KAO), which had more than 700 vaudeville and movie theaters across the U.S. In 1927 he acquired another production studio and film exhibitor, American Pathé...In Oct. 1928 he formally merged his FBO and KAO with RCA's Photophone Division, to form Radio-Keith-Orpheum (RKO)..."--famousfix.com/topic/joseph-p-kennedy/trivia. Showing long storage, heat toning at left vertical margin, waterstaining at right vertical and lower horizontal, fraying at upper right and lower left portions, but none affecting live matter, and still satisfactory and captivating for display. Relics of any of Kennedy's FBO Pictures' movies are few and far between on the market. One of the last movies produced under the FBO Pictures name; perhaps the sole survivor for this title. $275-350

25-8. Now a Lost Film.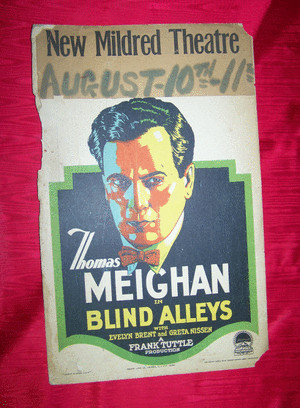 Rare window card for the silent movie, "Thomas Meighan in Blind Alleys, with Evelyn Brent and Greta Nissen - A Frank Tuttle Production." Paramount Pictures. Morgan Litho. Co., Cleveland. 13 3/4 x 22, posterized portrait of the bowtied star, in nearly-fluorescent yellow and orange, with green, blue, and black. Mounted at top, period salmon strip imprinted "New Mildred [Pa.?] Theatre," with handwritten "Aug. 10-11," believed 1927. A lively plot, recounted by imdb.com: "Capt. Dan Kirby (Thomas Meighan) of the merchant marine arrives in New York with his Cuban bride, María (Greta Nissen). Leaving his hotel to buy flowers, Dan forgets his billfold but meets Julio Lachados (Hugh Miller), a former admirer of María's. As Dan crosses the street, he is knocked unconscious by an automobile, and the owner, Dr. Webster (Thomas Chalmers), has him taken to a private hospital. Failing to find her husband and learning that an unidentified man has been hospitalized, María becomes innocently involved with two jewel thieves, who kidnap her...." Showing long storage, about 10" moderate chipping at blank upper left vertical, lacking two corners, but none affecting live matter; some dust toning, else very satisfactory, with considerable visual power. $110-140

25-9. Writing F.D.R. on Studying Gangsters – by Going to the Movies.
T.L.S. of Cuyler Reynolds, Albany, to Gov. Franklin D. Roosevelt, Mar. 20, 1932, 6 x 7 1/4, carbon copy but with bold signature. "Dear Franklin: You will discover that what I propose is more sensible than it seems. You listen to gangs of corruption, and study such cases seriously...You will thank me for presenting an opportunity to learn the views of men who have studied gangland and present the case of the police store-to-store rakeoff or else combustion, in a most realistic cinema picture. I do not mean the type shown by Edward Robinson, but as practiced by acute, developed politicians in a metropolis, a gangland reaching to Higher-ups. What you see in one hour will furnish a clearer understanding than what you could read in a week...I spoke to Manager Black at Proctor's Grand. He will furnish a box on orchestra floor; send two page-boys to clear the walk, and any other attention. The play is named 'Night Beat.' Ends on Mon...It is not to amuse you, but to shape your views and help your constructive convictions. Ticket 25¢...." Reynolds was a journalist, Albany City Historian, and first Curator of the Albany Institute of History and Art. Some carbon toning, blind clip impression at blank left, else good plus, and suitable for display. One of the more unlikely-content letters we have handled from Roosevelt's correspondence. $55-75

25-10. "That Girl from Paris."
Flamboyant oversize signature of Lily Pons, charismatic coloratura singer, and star of motion pictures including That Girl from Paris and Carnegie Hall. In Waterman blue on pale yellow, 3 1/4 x 4 3/4. Datestamped on verso June 23, 1942. Two thin spots where once mounted on verso, at blank edges, else fine and strikingly attractive. $45-65

25-11. Dracula!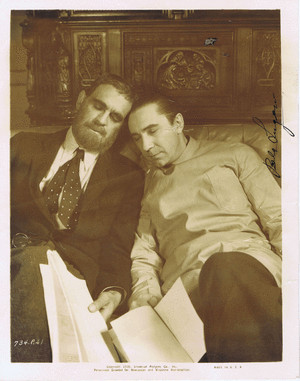 Signed sepia movie still of Bela Lugosi, the original screen personification of Dracula, also appearing in Mark of the Vampire, Son of Frankenstein, and numerous other horror movies. His vampire image crept into his real life, often giving interviews in character. 8 x 10, Universal Pictures, 1939, movie unidentified, showing Lugosi dozing beside a bearded character, printed leaves in their hands. Signed vertically at right, mostly within medium-toned area, in rich purple-black. Creases, some heavy, perhaps from postal handling, with puncture at Lugosi's ear, small scuff against wooden furniture behind him, else satisfactory, with a dark, very good signature. Still a collectible example of one of vintage Hollywood's more valuable names. A fascinating but tragic figure, in 1955 - the year of his final film project - Lugosi was shocked to find that his medical bills had been paid by someone he did not know: Frank Sinatra. See illustration, also enlargement on website. $850-1150

25-12. "Backwards and in High Heels."
T.L.S. of Ginger Rogers, on her green steel-engraved letterhead, July 9, 1956, 7 1/4 x 10 1/2. To Mr. Basch. "...I am not 'recording,' as the press quoted! Nevertheless thank you for your kind interest." Beneath a sprawling signature in blue - her underscore over 5 1/2" long and extending off the paper - she has typed, "Ginger Rogers Bergerac." Recipient's ink notation at blank upper right, multiple fine staple holes at blank left, lower left tip torn and crumpled, else very good. Her signature is more drawn than written. Once Hollywood's highest-paid actress, and later the highest-paid performer in the history of London's West End, Rogers revolutionized the world of dance, making 73 films. Nice conversation piece. $75-100

25-13. That's Entertainment!
Varied group of show business autographs and unsigned memorabilia, for the collector or dealer: Mimeographed program, "The Lambs [Club] Spring Gambol honoring Mr. Fred Astaire...," Apr. 7, 1962, 8 1/2 x 11, 4 sheets, stapled. Seating list includes Adele Astaire, "Mr. & Mrs. J. Bonanno" (of the crime family?), Alan Jones, Asst. Sec. of Defense Edward Sheridan, et al. • Strikingly attractive full-color pictorial letterhead, "Paramount's 'Gulliver's Travels,' Produced by Fleischer Studios / Paramount's Full-Length Feature Cartoon in Technicolor!," Oct. 13, 1939, 8 1/2 x 11, describing exclusive license to Hi-Lo Associates to use the cartoon characters in baking, dairy, and soft drink industry promotions. Superb large Paramount pictorial watermark. Very good. • Steve Allen, comedian. In-person signature, on index card, dated Mar. 1987 on verso. Very fine. • Elayne Boosler, comedian. Greetings above fan's note on card. • Betty Bronson, Silent-era sepia, holding her tiger-eyed cat, 5 x 7, printed signature. • Pete Fountain, jazz and Dixieland musician. 8 x 10 photo, posed with clarinet, in flamboyant garb c. 1968. Boldly inscribed, "To Ginga / Your Friend...." Holed area at lower left, 1 1/2" linear, possibly envelope gum adhesion; two creases at upper right, else very satisfactory. • Jim Jensen, CBS news broadcaster. On his notepaper, "...Sorry for the mixup! See you! Jim." With 8 x 10 photo. Blind clip embossing on both. • Maria Jeritza, opera star. Sepia postcard, seated at piano, with bold blue stamped signature. Berlin imprint. Top trimmed; on old pale blue album leaf. • Peter Lawford photo, unsigned, 4 x 5 1/4, Ossining photo stamp, Feb. 25, 1954. Whimsical, tying necktie in bathroom mirror. • Dorothy McGuire, of the eponymous Sisters. On pink album leaf, "To Stan." Mounting evidence on verso. • Debbie Reynolds, tightly cropped in-person signature, taped to verso of photo from program, 3 1/4 x 4. • Kay Starr, Big Band vocalist. Two signatures, on small white cards. • Jackie Vernon, comedian. "To Marcia...," on white slip. • Regina Wallace, vintage olive-tone photo, 8 x 10, unsigned. In pencil on verso, "...In The Show-Off at the Playhouse." Two marginal tears, some handling defects, but riveting. • Andy Williams, "Moon River" and more. Bold red signature on index card. Fine. • Other items. $80-120 (18 pcs.)

25-14. Songs that made America.
Graphic collection of sheet music, antebellum to late nineteenth century: "When Johnny comes Marching Home, As play'd by Gilmore's Band," by Louis Lambert. "To the Army & Navy of the Union." Published by B. Brainard's Sons, Cleveland, 1863. 10 x 13 1/2, (6) pp. in all. Lovely then-avant garde typography. Very light 1882 inscription, short edge tear where removed from volume, light handling, else fine and attractive. Very scarce on the market, and one of the most ubiquitous and significant songs in American musical history. WorldCat locates no examples of this printing. • "Tenting on the Old Camp Ground, with Brilliant Variations for Piano by Ch. Grobe," Oliver Ditson & Co., Boston, 1866. 10 3/4 x 14, (8) pp. Uniform toning, some edge chipping, else good. • "The Stars and Stripes Forever! - March by John Philip Sousa," John Church Co., 1897. 10 3/4 x 13 3/4, (6) pp. Strikingly bold cover typography, with mezzotint portrait of Sousa. Lilac rubber stamp of Concordia, Kans. seller with the unlikely dual business of "Pianos and Undertaking." Lengthy listing on back cover of Sousa's other marches, songs, suites, and operas. Much handling, long edge tears and defects, but still suitable for display, and about satisfactory. • "Eulalie Song," written by H.S. Cornwell, composed by Stephen C. Foster. Firth, Pond & Co., N.Y., 1851. 10 x 13 1/4, (6) pp. Some handling stains, lacking blank upper right corner of first leaf, removed from volume, else about good. • "Massa's in de Cold Ground, As sung by Christy's Minstrels," written and composed by Stephen C. Foster. Firth, Pond & Co., N.Y., 1852. 10 x 13 1/4, (6) pp. • "Old Folks at Home (Swanee River), with Variations by Louis Weber," Weber Brothers, Kansas City, Kans., c. 1915. Cover halftone of family of five blacks posing in their back yard, dog seated on ground. 10 1/4 x 14, (6) pp. Wear, edge tears, prices of seven other sheet music titles offered on last page delaminated by piece of tape securing poly bag (present for possible restoration), else fair. WorldCat locates no examples of this printing. $100-140 (6 pcs.)

25-15. The March King.
Group of six Sousa sheet music, plus one program, 1893-1925: "The Liberty Bell March," by Sousa. Church, 1893. 10 3/4 x 14. Handsome cover design, with flamboyant typography surprinted on mezzotint Liberty Bell, his portrait at upper left. Some edge tears, lacking lower left tip, handling, but about good, and suitable for display. • "El Capitan March," by Sousa. Church, 1894. 10 3/4 x 13 3/4. On back cover, "The Marvelously Successful Compositions of John Philip Sousa, 'The March King," offering arrangements for piano, mandolin, guitar, banjo, zither, military band, and orchestra, for "Hands Across the Sea March," "King Cotton March," "Liberty Bell March," "Manhattan Beach March," and others. Uniform toning, some edge tears and handling, else good plus. • "The Stars and Stripes Forever! - March by John Philip Sousa," John Church Co., 1897. 10 1/2 x 13 1/2. Variant cover typography, with mezzotint flag and portrait of Sousa. Edge chipping three sides, possibly trimmed, toning, else satisfactory. • Different cover layout. 1897. 10 3/4 x 13 1/2. Uniform toning, some edge tears, else about good. • Third layout, smaller 9 1/4 x 12. "1897," but judged later offset printing, perhaps W.W. I-era. • "Liberty Loan March, Compliments of New York Sunday American," 1917. 8 1/2 x 10 1/4. Large cover artwork of eagle flying above Statue of Liberty, warship, and Sousa. Newsprint browned, much chipped at left, else fair but collectible. • Program, "Sousa and his Band...Woodlawn Park, Trenton, N.J.," July 7, 1925, 6 x 9, (8) pp. Photos of "Giant Roller Coaster," ornate merry-go-round, and other Park attractions. Some wear, very good. Rare. $90-120 (7 pcs.)

25-16. Civil War Date.
Two handsome Civil War sheet music: "Flag of the Free - A National Ode," by H. Millard. Published by H.B. Dodworth, N.Y., 1863, "20th edition." 10 3/4 x 14, (6) pp. in all. Large litho motif of eagle clutching flag in navy blue and red. Stylized typography. Curiously, WorldCat's entries for an 1861 printing are also noted as "20th edition." Lacking blank upper left tip, light mousechew at right vertical edge, 3/8" band of dust-toning at blank top, else very good. Very scarce. • "Sheridan's Ride to Winchester, The Celebrated Poem by T. Buchanan Read...," published by P.R. McCargo & Co., Boston, 1884. 10 3/4 x 14. Decorative cover typography. Minor chipping at blank upper left, some handling and wear, uniform rich cream toning, about very good. WorldCat locates only three examples. Rare, and suitable for display. $140-180 (2 pcs.)

25-17. Beat of the Big Band.
Personable photograph of Tommy Dorsey, signed in bright green in light upper left field, "Sincerely...." In emulsion at lower portion, "Tommy Dorsey And His Orchestra / The Pier - Celoron Park [N.Y.], Aug. 21, 1941." 8 x 10. Delicate milk-chocolate and coffee-and-cream tones. The childhood home of Lucille Ball, Celoron Park was known as the "Coney Island of Lake Chautauqua." Some soft handling creases, part of "Sincerely" with graduated lightness, else attractive and about fine. $160-220

25-18. Cagney, Gable, Keeler and MacMurray.
Group of four diecut movie star stand-up-cards, probably intended for use on movie theatre ticket or refreshment counters, late 1930s, with charismatic photos of James Cagney ("A Warner Bros. Star"), Clark Gable ("A Metro Goldwyn Mayer Star"), Ruby Keeler (Warner Bros.), and Fred MacMurray (Paramount). Each about 7 1/4 x 7 1/4, crisp black-and-white photos on rigid high-gloss board, die-slit wings at bottom to fold back for counter display. One MacMurray wing lacking, light wear, else very good plus. Uncommon. $75-100 (4 pcs.)

25-19. From the Silent Screen to a King of Crime Drama.
Two letters and signed photograph of silent film star and sound-era film noir writer Crane Wilbur. Hero of the first cinematic serial, 1914's The Perils of Pauline, Wilbur later gained prominence as a king of crime drama, a pioneer of the police procedural, and "potentate of prison pictures," variously writing and directing He Walked by Night, Alcatraz Island, Crime School, Hell's Kitchen, and many more. It was Wilbur whose House of Wax "transformed Vincent Price from a supercilious cad into a horror movie star..."--Noir City article accompanies. Wilbur's career spanned over half a century, directing the classic Mysterious Island as late as 1961. Comprising: T.L.S., on letterhead of David Horsley Studios, Jan. 10, 1916, 8 1/2 x 11. A carbon copy, perhaps signed by mistake instead of top sheet. To a fan in Passaic, N.J. "...Appreciation such as yours encourages a player to do his best at all times...Am mailing autographed photo under separate cover...." Here under contract to David Horsley, who earlier had established the first film studio in Hollywood, produced the early "Mutt and Jeff" comedies, helped defeat Thomas Edison's movie patent monopoly, and founded Universal, becoming its treasurer. • Sepia photo on rich cream woven paper, 5 1/4 x 7, boldly signed "Your friend, Crane Wilbur." Stylized logo of photographer "Hartsook...L.A." Pinhole at top margin, wrinkles extending into his curly hair, corner wear, else good plus, and attractive. • T.L.S., on Horsley Studios letterhead, Jan. 3, 1917, 8 1/4 x 11. To same fan. "I am glad you liked the Spite Husband and also glad to know that I am well received by your grandmother. I like to be able to please the older folks as well as the young ones." Unable to send a photo of his recently deceased wife, "What few pictures I have of her I cling dearly to as part of the many sweet memories...so I think you can understand...." Very fine. $160-220 (3 pcs.)

25-20. A Pioneer of Film Noir.
T.L.S. of silent film star Crane Wilbur, on unusual self-mailing lettersheet of David Horsley Studios, postmarked on verso Los Angeles, 1917. 6 1/4 x 10, purple typewriting on cream. "...Four of my pictures which I enjoyed making very much, will be released beginning Aug. 1...The Eye of Envy, Blood of his Fathers, Unto the End!, (and) Devil McCare...Ask your theatre to get these pictures for you...." Minor wear, else very good. With article on Wilbur from Noir City. $55-75

25-21. World Peace – 1967.
T.L.S. of Theodore Bikel, Jewish actor, writer, folk singer, and composer, performing as Tevya the Milkman more times than any other actor, the underlying show Fiddler on the Roof winning nine Tony Awards. Sept. 11, 1967, 8 1/2 x 11, with bold, flamboyant signature. To a Canadian correspondent. "...Dag Hammarskjold has contributed most to 'World Peace' in the last twenty years. He was a man who was part visionary, part pragmatist, and he died before having to compromise. I did not choose my profession, it chose me...." Enclosing an autographed picture (not present). Uniform edge toning, some blind dots at top, minor handling evidence, else very good, and highly attractive. Co-founder of Newport Folk Festival, Bikel created the role of Capt. von Trapp in the original Broadway production of The Sound of Music. Rodgers and Hammerstein wrote the song "Edelweiss" specifically for him. $40-55

25-22. Celebrated Painter of Lords, Ladies, and Landscapes.
Excessively rare A.L.S. of Hen(ry) Edridge, British portrait painter who enjoyed great success in Georgian England, after attracting attention of King George III's painter, the fashionable portraitist Joshua Reynolds. "Margaret Street," (London's West End), Dec. 9, n.y. but judged c. 1800. "I should be very happy to comply with your request immediately with respect to the portraits, but as I have observed to you it is not altogether in my own power but must depend upon the time any of the parties are inclined to sit. When I can procure one you shall have it as soon as completed...I will execute it as expeditiously as I can...." Once tipped into a letterbook, his name twice in old pencil by a filing clerk, light uniform toning, else very good. A consummate artist, also proficient in miniatures and landscapes, Edridge's subjects included Lord Nelson and Prime Minister Pitt. Elected as an associate to the Royal Academy in 1820, his manuscript material is elusive, critically so with desirable art-related content. WorldCat locates no Edridge "archival material." The British Library website records a single letter only. $325-425

25-23. From Torino to Texas to ... Taft.
Group of three T.Ls.S. of monumental sculptor L(ouis) Amateis, Washington, May 29 and Sept. 19, 1907, and n.d., each 8 1/2 x 11. To Frank C. Stevens (Du Pont's attorney, in Attica, N.Y., and N.Y. Supt. of Public Works). "As you very kindly promised to recommend me to the Secretary of War, in order that I should be invited to compete for the proposed Columbus monument, I take the liberty to request of you an introduction to Sec. Taft. I know that by talking to him personally, after an introduction by you, it is more likely that my request will be granted...." • "I wish to thank you most heartily for your kindness in introducing me to Sec. Taft. Although I have scarcely any idea that my request will be granted. Twenty-five years ago, when I came to this country, the only thing required of an artist was political pull, and I am sorry to say we still are, sicut erat in principio...." • "Will you kindly tell me the name of the engineer who planned the first transcontinental railroad...." Born in Torino, Amateis began his American career as sculptor for architects McKim, Mead and White. In Washington, he founded the School of Architecture and Fine Arts at what is today George Washington University. Amateis' presentation to Taft may have been for the 1909 bronze doors for the main west entrance to the Capitol Building; his busts of Pres. Arthur, Gens. Hancock and Logan, and Andrew Carnegie are also well known. Executing a number of monumental works in Texas, four of his sculptures are in Galveston, including a Confederate monument in City Park, and 74-foot-high tribute to heroes of the Texas Revolution. His work is included in Art and Artists of Texas by Forrester-O'Brien (1935), The Outdoor Sculpture of Washington, D.C. (Smithsonian, 1974), and A Century of Sculpture in Texas by Hendricks and Reese (1989). One letter with mousechew at blank top and bottom right margins; top edge all letters with brown-toning, else about V.G. Rare. With copy of obituary. $140-180 (3 pcs.)

25-24. Blackface Crooner.
Unusual signature of Eddie Cantor, signed on two lines, in rich blue. Removed from T.L.S., "Cordially...." 2 1/2 x 7 1/4. Soft mailing fold through last name, some light handling evidence and few small spots, else about very good. $65-90
TO FIND OUT CURRENT HIGH BIDS,
OR TO PLACE BIDS,
JUST CALL 1-914-476-8500
OR e-MAIL info AT cohascodpc.com
(We do not currently use online bidding)
26. Maps & Atlases
26-1. California as an Island.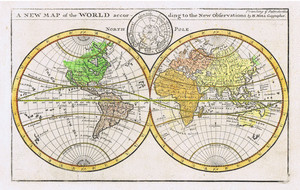 Splendid, double-hemisphere "A New Map of the World according to the New Observation, by H. Moll, Geographer," c. 1716-25. Rare never-folded, never-bound example, 9 1/2 x 13 1/2, somewhat larger than those appearing infrequently which were removed from his Atlas Geographus. Copper engraved, with circular inset of North Pole at top. Showing California as an enormous island, with "N. York," "Mary Land," Carolina, Virginia, Florida, "Misisipi R(iver)," "Lakes of Canada," "New Mexico," and more. Charmingly hand-watercolored in green, pale lilac, pink, butterscotch, and delicate yellow. Especially wide lower and right margins. Deckled edge. Trivial, insignificant occasional foxing, else uniform eggshell, fresh, and very fine. Perhaps unique thus. WorldCat locates only five examples, of slightly varying dimensions, dating them as "approximately 1700." Provenance: Noted Philadelphia map and print specialist Lyn Glaser, 1972. $900-1150

26-2. First Printing of an Iconic Map of the U.S.
Very rare first state of highly important map, considered the first general map of North America demarcating and using the name United States. "L'Amérique Septentrionale, ou se remarquent les Etats Unis," by Brion De La Tour, Géographe du Roi (Geographer to the King). Paris, Chez Esnauts et Rapilly, 1779. 23 x 33 1/2. Uncolored as issued. Delightful pictorial cartouche allegorically portraying the young United States. Expertly conserved years ago by the virtuosic restorer who also worked on the Declaration of Independence, employing sheer Japanese archival tissue, inlays at blank upper left and top margins, and a gentle cleaning. Some old edge toning, original soft vertical fold, else very good and splendidly suited for display. Few sale records found for this first state ("edition") within last quarter-century, one appearing at Bonhams in 1999 (£620), headlined by them "The First Map to Name the United States as such," our recharacterization above judged more conservative. In 2014, a second state example of 1783 at Old World Auctions bore an estimate of $1900-2300. While a number of 1783's second state are located by WorldCat, none of this 1779 edition is listed. One 1779 example resides in the Library of Congress. Seller & Van Ee 167. Ristow pp. 61-62. Important Americana, and a cornerstone item. $2400-3200

26-3. "The Most Disastrous Defeat ever Inflicted on an American Army"
(--John Marshall). "Plan of the Battle Fought near Camden (S.C.), Aug. 16th, 1780," "Engraved for Stedman's History of the [Origin, Progress, and Termination of the] American War, Jan. 20, 1794." 8 x 10 1/4. Blind-paneled on heavier rag. Positions and lines of march outlined in British red and Continental blue, the watercolors believed contemporary. Arched lettering, "Flight of the Americans." Locating "Volunteers of Ireland," "Infantry of the British Legion" (Greencoats), and seven other units. Indeed, the battle, north of Gum Swamp, was a fiasco: Boatner - in turn quoting "eminent authorities" - states that as late as 1900, Camden remained "the most 'total' or 'disastrous' ever sustained by an American army...." Starting under a full moon, then resuming at daybreak, the Battle of Camden proceeded "from bad strategy to worse tactics"--Boatner. Nebenzahl 90. Only a variant in Pre-Federal Maps in the National Archives: An Annotated List, theirs printed on same sheet as Guildford map (see next lot). Provenance: Noted Philadelphia map and print specialist Lyn Glaser, 1972. $450-600

26-4. Revolutionary War Battle Map - North Carolina.
Curious example of finely copper-engraved map of "Battle of Guildford, Fought on the 15th of Mar. 1781," in today's Greensboro, N.C. By important mapmaker Charles Stedman. Published in London (by T. Cadell), Mar. 1, 1787. Live blind-paneled area 8 x 9, intriguingly off-centered on press sheet about 16 1/2 x 11. Positions and lines of march outlined in crimson, pink, and golden yellow, the watercolors believed contemporary. Depicting "the Advance of Part of the Continentals who broke the British Center, and afterwards fell back to their original position." Pitting Cornwallis and turncoat Benedict Arnold against American Gen. Greene, the clash scattered the British, allowing the Americans to push on to Charleston and Camden, S.C. One of the five maps intended for Tarleton's A History of the Campaigns of 1780 and 1781, in the Southern Provinces of North America, however the extended blank expanse at left of map here suggests a binder's anomaly. (Interestingly, this blank left half was folded over the printed area when still wet, and bears a light offset impression.) Wearing not a red - but a green coat - Tarleton gained the monicur "The Butcher," becoming focal point of an American propaganda claim that his men massacred troops as they were surrendering in Waxhaws, N.C., birthplace of Andrew Jackson. Four parallel vertical folds, at least three of which are believed original, uniform warm cream toning, and about very fine. Howes T-37. Library of Congress Maps of North America, 1750-1789, no. 1516. Provenance: Noted Philadelphia map and print specialist Lyn Glaser, 1972. $550-750

26-5. A Massive Atlas of the Gilded Age.
Grosser Hand-Atlas des Himmels und der Erde, by H. Kiepert and C.F. Weiland. Published by Geographisches Institut, Weimar, 1874. 45th Auflage (Ed.). Elephant folio, 15 x 23 1/4. Variant loden-green cloth with brown leather spine. 2 pp. index, listing 67 double-page maps, each opening to about 23 x 30. Some lithographed, most copper-engraved on blind-paneled leaves, individually tipped and bound. Most embellished with rivers, boundaries, and features tasteful hand-watercolors in aqua, cobalt, strawberry, pale mocha, mint green, yellow, and pink, variously. Including maps of the heavens and Earth, in a multitude of perspectives: global, political, regional, small inset maps, and others. The microminiature quality of inset city plans rivals the work of Magnus. Period signature on blank front flyleaf of Emilie von Schaezler. Announcement of Gold Medal awarded to this atlas at 1871 Geographical Congress, stencilled in genuine gold leaf. Some wear and chipping at top and bottom outer hinge, minor cover air pockets, inner hinge open at one spread, slightly shaken but stable, one table of contents leaf creased, some coarse foxing on early leaves, much less in balance, else clean, and generally V.G. to about fine. A 16-pound triumph, certainly a foremost authoritative trophy in European libraries and institutions in the late nineteenth century. The geographical perspectives in this atlas shaped the German mind on the road to the War to End all Wars. Excessively rare. WorldCat locates one example of the 1874 edition (Universitatsbibliothek Mannheim). $650-800

26-6. Oversize Map including Lindbergh's Flight Route.
Oversize set of three wall maps, c. 1927, with splendid aviation and postal history content. 25 x 37 1/2, issued by Farm & Fireside, "The National Farm Magazine - More than 1,000,000 Circulation," (Springfield, Ohio). Bound at top with original black tin edging. On first sheet, "World Reference Atlas," with two-hemisphere map of the world plus insets of polar regions, 64 flags forming border, including the American Union Jack - with 50 stars on blue field, Irish Free State, U.S.S.R., Siam, and many more. Color-coded colonies and dependencies of Belgium, Britain, Denmark, Holland, France, Italy, Japan, Portugal, Spain, and the U.S. Seven air routes shown, including "Round the World Fliers, 1924," "Norge Trans-Arctic Flight, 1926," "Byrd-Bennett Flight North Pole, 1926," "Lindbergh N.Y. to Paris Flight, 1927," "Maitland-Hegenberger San Francisco to Honolulu, 1927," "U.S. Air Mail Routes," and "Brock-Schlee Round the World, 1927." The excitement engendered by the growth of air adventures and air travel in the Roaring Twenties was electrifying. On verso, "Index-Gazeteer of the World...." • On second sheet, "New Nations and Boundary Changes in Reconstructed Europe," with much interesting text. On verso, utterly fascinating "Parcel Post Map of the U.S.," rates effective 1925, with list of all towns shown, population (Las Vegas 2,304, Los Angeles 576,673), and "Parcel Post Unit number for each place" - a little-known precursor of the zip code. • On third sheet, exhaustively detailed Hammond map of Penna., including railroads, interurban electric lines, and "railroads discontinued." On verso, "Auto Route Distance Map" of U.S., with southern Canada and northern Mexico. Some tears at bottom edge, band of insect thinning at bottom 3" edge of Penna. map, else about very good, and suitable for display. Surprisingly rare. WorldCat locates just one example - of the first sheet only (University of Calif.-San Diego). $110-140

26-7. Map of U.S.
By Beers, 1874. 15 1/2 x 23 1/2. First year of appearance of inset of "Alaska to U.S.," largely barren of settlements except Fort Alexander, showing "Supposed Course of the Yukon," with sub-inset of tip of Alaska Peninsula. Much charming detail, including San Diego (New Mexico), Treasure City (Nev.), Brigham City (Utah), Indian Territory (Okla.), undivided "Dakota," numerous Western forts, and a maze of railroad connections. State borders delineated in golden yellow. On verso, tables of Mass. agricultural production in 1870, and Mass. population by county, 1790-1870. Uniform marginal toning, light handling wear and very minor occasional edge nicks, else very good. $110-140
TO FIND OUT CURRENT HIGH BIDS,
OR TO PLACE BIDS,
JUST CALL 1-914-476-8500
OR e-MAIL info AT cohascodpc.com
(We do not currently use online bidding)
27. Financial
27-1. First to Issue a daily Wall Street Market Letter.
Two T.Ls.S. of Thomas L. Watson, stock broker, Chairman of New York Consolidated Stock & Petroleum Exchange, his firm Watson & Gibson "the first to issue a daily Wall Street market letter"--The Successful American magazine, 1899; modern pages accompany. On dark blue-engraved letterhead "Watson & Gibson, Bankers & Brokers, 55 Broadway," N.Y., Nov. 1, 1898, 5 1/2 x 8 1/2. To Daniel Morgan, Bridgeport, Conn., former Treasurer of the U.S. "Can you give me any information regarding the present business standing...of Mr. Huston, who was one of your predecessors in the office of Treasurer of the U.S.? I have a business inquiry regarding him from a friend...." • Variant letterhead, rubberstamped in purple "Watson & Alpers, Successors to," June 15, 1903, 8 1/4 x 11. To Morgan. "Owing to the demands upon my time here I am not able to attend the meetings of the Finance Committee of the 'Old Home Week,' although in sympathy with the movement. Please explain this to the Committee and bear in mind that it was with the understanding that I would not be able to do any active work that I accepted the position...." Both with cream toning, one with cockling at blank top edge where removed from album, several letters of one signature smudged by his hand, ink a walnut mid-brown, else V.G. Autograph material of this Thomas Watson is rare. $180-220 (2 pcs.)

27-2. Specimen Gold Bond.
American Guaranty Co. of Chicago - one in a sordid list of promoters and thieves named in a 1911 exposé of get-rich-quick schemes in The World's Work. Surprinted "Specimen" in red, unissued. Western Bank Note Co., Chicago. Comprising handsome bond, payable in "$1,000 in Gold Coin," orange-gold and black, eagle and patriotic shield vignette. N.d. but pre-1910. Bound with original brown linen strip to sheet of 10 coupons, each with matching vignette in miniature. Original folds, light uniform toning, else very fine. Anything of this issuer is excessively rare. $80-110

27-3. Auto Stocks dated Same Day, to Same Buyer.
Interesting pair of first-year stock certificates of United States Automotive Corp., makers of the Lexington automobile, one preferred (orange and purple-black), the other common (green and purple-black). Both to same buyer, both for 2 shares, both on same day, Nov. 26, 1920. Vignette of a Minute Man holding long gun, an allusion to the Revolution (though the Lexington car took its name from its first home in Kentucky!). Signed by Pres. F(rederic) I. Barrows. A good year for Lexington, in 1920 their cars took first and second places in the daunting Pikes Peak Hill Climb. By the following year, lawsuits and the postwar recession took their toll. Fold and handling wear, fairly uniform toning, else good plus. An unusual duo for display. $110-140 (2 pcs.)

27-4. Movie Stocks dated Same Day, to Same Buyer.
Unlikely pair of stock certificates of The Crusader Films Corp. of America, one preferred (green and black), the other common (mocha and black). Both to same buyer, both for 5 shares, both on same day, Dec. 1, 1920 – and both bearing same serial number. Detailed woodcut of a Crusader of olde, on rampant horse. Surprinted in red "Crusader Films." Signed by Pres. F.T. Miller in apple green. Some fold and handling wear, else about very good. A rare name; such duality is an exceptionally rare occurrence - for any stock. $130-170 (2 pcs.)

27-5. From Riches to Rags.
Stock certificate of American Alkali Co., Philadelphia, June 1, 1899, with handsome vignette of American Indian astride a white war horse at speed. 7 1/4 x 10 3/4, terra cotta and black. Low serial no. 355. American Bank Note. Pair of green $1 plus 50¢ and 25¢ revenue stamps. Signed by Pres. W(illiam) W. Gibbs, colorful mega-promoter who had arrived in Philadelphia "with little more than a smooth tongue and gas-making equipment for sale...Gibbs quickly gained a reputation as one of the most persuasive men in the city, able to sell anything to anyone, especially influential men with money. Those around him realized that Gibbs had a real knack at setting up companies and issuing securities...(He) supervised creation of a network of factories and distributors to manufacture and sell electric batteries to big clients such as GE and Westinghouse...He became known - perhaps somewhat mockingly - as the man who sat on more boards of directors than any other man in America...In 1902, Gibbs' wheeling-dealing caught up with him, when one of his companies, American Alkali Co., was found out to be little more than a stock-jobbing scheme in possession of worthless patents. The company went bankrupt, and Gibbs was accused of concocting a 'fraudulent scheme,' in which he illegally pocketed over $350,000 in cash...It took another eight years for (Gibbs') downfall to reach its tragic finale. The Philadelphia Inquirer noted snarkily a few years after the Alkali scandal...that 'W.W. Gibbs is said to have made half a million in diamonds. He collected a big bag of them, laid them aside in his safe until the price went up 50 per cent, and then sold them out...'"--phillyhistory.org. Interesting Quaker dating of stock registrar. Uniform cream toning, minor file wear at blank bottom edge, else fine. With modern research. • With St. Lawrence and Adirondack Railway Co. stock certificate, 1901. Vignette with sidewheel steamboats and locomotive, evidently in rugged western N.Y. Low no. 111. Franklin-Lee Bank Note Co., N.Y. Original stub remounted. Handling wear, hole cancels, else good. $65-85 (2 pcs.)

27-6. A General commanding New York – with a Side Business over the Mississippi.
Ornate stock certificate of Mississippi and Missouri Rail Road Co., N.Y., Apr. 5, 1864, signed by John A. Dix as Pres. At this time, Gen. Dix commanded Dept. of the East, including the numerous New York Harbor forts and islands where Union and Confederate deserters, prisoners - and spies - were held. 6 1/4 x 10 1/2. Lithographed by Henry Seibert & Bros., N.Y. 100 shares, to C.R. Mann & Co. Vignettes of expansive railroad bridge across the Mississippi, and three cows on crest of a hill, a train crossing viaduct in valley below. 25¢ light pink revenue stamp, ink cancelled. Usual diamond cancels through signatures, one touching "o" in "John," another just touching the finishing flourish of "x" of "Dix"; band of amber toning at left vertical, where once glued in stock book, else about fine. An unusual instance of a Civil War general heading a business while on active duty. Established in 1852 in Iowa, Dix's railroad was part of a triumvirate building "the first bridge to span the Mississippi River and was the connecting link of a continuous...line of railroad, extending eventually from the Missouri to the Atlantic seaboard..."--Rock Island Employes' Magazine, Jan. 1922. Meeting strenuous opposition and much litigation, by 1866, Dix's venture was foreclosed upon. Very scarce with war date. $150-180
TO FIND OUT CURRENT HIGH BIDS,
OR TO PLACE BIDS,
JUST CALL 1-914-476-8500
OR e-MAIL info AT cohascodpc.com
(We do not currently use online bidding)
28. Advertising & Trade Catalogues
28-1. The Age of Electricity.
Fascinating group of electric supply catalogues from the zenith of the Age of Electricity: Triangle Conduit and Cable Co., Brooklyn, "Electric Wires, Cables and Conduits," c. 1936, 8 x 11, 48 pp., black on orange leatherette cover, enamel text. Profusely illustrated with electric wires of every description, including fire alarm cables, mining locomotive gathering reel cable, police cable (for burglar alarms and communications), radio wires, slow burning wire, shipboard cable, and more. • Century Motors, (St. Louis), five items, 1927, plus two original kraft envelopes, to Frackville, Pa. customer: Repulsion-Start Induction Single Phase Motors, sales folder, orange and black on ivory enamel, 8 x 10 1/2, 4 pp., photographs. 1/4 to 40 H.P. • Same motor, "Assembly" folder, illustrating and describing engineering features. Red, pink, and black. • Nested sales sheet, showing their ad in Electrical World, "Better Motors are Worth More." • Century specification and instruction manual, Repulsion Start Motors, 7 3/4 x 10 1/2, (24) pp., illus., with prices. • Century manual, Squirrel Cage Induction Polyphase Motors, 7 3/4 x 10 1/2, (24) pp., illus., with prices (75 h.p., 857.00). Minor postal handling, else very good to fine. $60-85 (8 pcs.)

28-2. Howlers for sale.
Benjamin Electric Mfg. Co., catalogue of Industrial Signals - including howlers "as used in factory calling and warning systems," 1925, 8 x 10 1/2, 16 pp., dramatic highly-stylized cover artwork of an industrial cityscape at twilight, the skies filled with ribbons of smoke, with three large factory horns superimposed, in aqua, midnight blue, and yellow; mint green and black text. Including photos of fire alarm howlers, visual signals, industrial bells and buzzers, and telephone and push button circuits, with prices. Photo of policeman at a street callbox, drawings of their howlers on factory floor, loading dock, turbine room, and in lieu of ringing telephones in noisy locations. Light cover foxing, else about very good. • Substantial catalogue of Condulets-brand wiring devices, Crouse-Hinds Co., Syracuse, Aug. 1922, 4 1/4 x 5 3/4, 714 pp., gold-stamped loden green flexible cloth covers, blue fore-edges, thumb-indexed. Profusely illustrated, including pictorial index. Astonishing array of electrical plugs, switches, industrial lamps, fixtures, floodlights, and arcane items of endless variety. Cover crease, tear at top of spine from bookshelf use, some colorless old dampstaining with occasional light adhesion, else very satisfactory. • "Oxy-Acetylene Tips," house organ of Linde Oxwelder, Div. of Union Carbide, Long Island City. "Keeping ahead of schedule in Hydro-electric Plant Construction," Dec. 1927, 7 3/4 x 10 1/2, greentone and black cover showing power plant, (20) pp., many photos, including Ohio River plant with 8,650-foot-long dam, calling for "engineering skills of the highest order." Some wear, soiling, but good. $45-70 (3 pcs.)

28-3. As Seen on the Monopoly Game Board.
Hardcover catalogue, "Locomotive Injectors and Boiler Attachments," William Sellers & Co., Philadelphia, 1920, 8 x 10 3/4, 96 pp., decorative mahogany cold-stamping on milk chocolate paper over boards, matching endpapers. The working copy from the Reading Railroad's Engine House, with much patina. Profusely illustrated with crisp photos and prices of these magnificently machined fittings, check and stop valves for locomotive steam boilers. Ancient clip marking page of a model the Reading evidently used. Also showing "Improved Locomotive Boiler Tester for roundhouses, boiler sheds, locomotive works and erecting shops," and locomotive fire extinguisher, delivering up to 10,000 gal./hour. • Inserted original blueprint, 1939, signed in white ink by Supt. of M.P.& R., with pinned note, Tamaqua, Pa., to "Foreman Engine House," "which the Sellers people furnished us..."; received signatures of several of the railroad's engineers. Somewhat shaken, some understandable fingerprinting and wear, partial adhesion last two leaves, but very satisfactory, its provenance lending much interest. In the nineteenth century, the Reading's predecessor railroad was the largest corporation in the world; ultimately bankrupted in 1971, the firm, now known as Reading Entertainment, today operates a chain of movie theatres! Rare thus. $100-130 (3 pcs.)

28-4. Sterling Silver Specialties in the Fabulous Fifties.
Salesman's databook of Lunt Silversmiths, Greenfield, Mass., featuring Sterling silverware, holloware, novelties, baby and child's flatware, and special order patterns, 1954-56. Comprising 60 leaves in silver-stamped black imitation leather ring binder, 4 1/2 x 7 1/4. Most sheets with full-height photograph of item; on verso, detailed price chart of each pattern's place settings, serving pieces, and specialty items, including cocktail or oyster fork, coffee spoon, cream soup spoon, pickle or olive fork, pie server, and much more. Some patterns represented by updated sheets. From Old World, to Early American, Victorian, and contemporary styles, including Paul Revere reproduction bowls. Trivial wear, else very fine and clean. $60-85

28-5. Timepiece References.
Fascinating Elgin Watch album, 1956-59, as supplied to a Pennsylvania jeweler for repair and servicing of their timepieces. Comprising burgundy binder, gold-stamped "Elgin Service Bulletin - Only Elgin watches have the DuraPower Mainspring," 9 3/4 x 11 3/4, eccentrically paginated but about 118 pp., burgundy and black text, profusely illustrated, matching burgundy tabs. Composite photos of all miniature - even microscopic - parts of their watches and movements; photos of factories. Description of Elgin Watchmaker's College: "Elgin is the only Watch Company maintaining its own astronomical observatory for computing exact time from the stars...to hundredths of a second...." Light handling evidence, else binder and contents V.G. • With 1959 trade pricelist of parts, old carbon copy of typewritten "Elgin Information" with table of size, grade, and stem, and yellow factory sheet on removing links in Elgin watchbands; some wear and tattering. • American Perfit/BB Crystal Co. "Watch Crystals Reference Book," c. 1963, 8 1/4 x 11, 64 pp. Line drawings of thousands of watch crystals, for brands including Bulova, Elgin, Gruen, Hamilton, Longines, and Wittnauer. Crystal cabinet, grinder, crystal lift, other items. Some cover wear, internally fine and clean. $70-90 (Binder + 4 pcs.)

28-6. Vintage Lighting Trade Catalogue.
Full-color catalogue of Lightolier Lamps, N.Y., 1924-25, 8 3/4 x 12 oblong, 18 pp., plus combination order form/color sheet of their best-sellers. Wide variety of high quality desk, table, floor, and torchiere fixtures from this transitional design period, with exquisite painted florals, fringed silk chiffon shades, and intricate classical detailing. List prices for table lamps up to $58.50, this most expensive with multicolor fringe, velvet banding, and "imported mirror pottery vase." Their line of boudoir lamps named the Schubert, Mozart, Liszt, Beethoven, Brahms, and Chopin. Striking selection of art-glass lamps, with hand-decorated scenic and floral designs. Their 63-inch-tall floor torchiere recalls Arabian Nights, richly detailed in antique gold and polychrome, with six panels of amber art glass. Perhaps exceeding this: the "Audubon" desk lamp, with a hand-painted ceramic canary, encircled with hand-worked gold leaves and Dresden flowers (priced at 23.75). Most of two margins of front cover perished, the nibbling just reaching solid chocolate-brown border; first two leaves of text, and back cover with up to 2" nibbling, not affecting live matter; some wear, else exquisitely colorful and very satisfactory. Still rare. WorldCat locates no copies. $70-95

28-7. "After Sunset - Lightoliers."
Oversize deluxe hardbound catalogue for the trade only, "Lightolier Sales Book," 569 Broadway, N.Y., 1922, 9 1/4 x 12 1/2, 112 pp., 12 in full color. Multi-level embossed pictorial cover in three shades of dark brown, showing a burnt-orange and powdered-gold sunset over silhouettes of homes. Text profusely illustrated with large, crisp photographs of their full line of quality lamps, with details, measurements, and prices. A full range of styles from this premium name, especially featuring chandeliers - some spectacular (and expensive) - together with sconces, ceiling fixtures, and more. Hand-painted, silver- and gold-plated, amber, art, cathedral, coral, cut, and opal glass, hand-hammered iron, enamel, and other special effects. At rear, 9 pp. of commercial fixtures, these instinctively familiar to readers remembering public buildings of the 1920s. Illustrated "handy order blank" laid in. First four leaves with 2" horizontal tear, blank edge strip of pp. 57-58 adhered to preceding leaf, some other light adhesion evidence from old colorless dampstaining, with occasional short tears and thin spots at last six leaves, else about very good. Invaluable for the restorer, decorator, architectural and electrical historian, or student of twentieth-century design. If perfect, twice our estimate. WorldCat locates only one example, at New York Public Library. $130-170

28-8. Lighting with a Bejeweled Effect.
Two deluxe catalogues of Philadelphia lighting fixture manufacturers: "Lighting Fixtures and Parts," Joseph E. Frechie & Co., Philadelphia, Apr. 1927, 8 3/4 x 11 1/4, 17 pp. (5 in full color) + 2 pp. pricelist. Printed letter to trade tipped at front, offering 25% commission for customers brought to their showroom. In handsome portfolio, red and embossed gold leaf on imitation parchment, brass clasps; green and black on cream enamel text. Featuring their Castilian Line of fixtures on full-color plate, the fixtures' metals exquisitely shaded in gold, olive, and crimson, giving a bejeweled effect; Mount Vernon Line, in Old English bronze; their Ivory-Pastelle finish, a magnificent taupe base subtly accented with other colors; and commercial and school fixtures. Short creases in letter at front, minor wear, else fine. WorldCat locates no examples of this catalogue. • Morris Sklar Co., Jan. 1924, 6 x 9, 79 pp. + pocket-size 12 pp. trade pricelist, detailed chandelier embossed in gold leaf on camel parchment cover, turquoise and black text. Profusely illustrating a wealth of original designs for residential and commercial chandeliers, sconces, floor, outdoor, and specialty lamps. A N.O.S. copy, heavily dampstained at lower spine, eroding a 2" circular area at gutter of all spreads, discolored extensions, but still rare ephemera and suitable for reference. WorldCat locates one example, at Columbia. $80-110 (2 pcs.)

28-9. With Outrageous Early Art Deco Styles.
Oversize trade catalogue, "Lighting Equipment," Public Service Electrical Supply Co., Baltimore, judged c. 1932, 9 1/4 x 12, 96 pp., 36 in full-color, some others in duotone or part-color. Forest green on sand laid cover, green-black on matte cream text. Extraordinary lighting offerings, including pink bedroom fixtures hand-detailed in strawberry and green, drum-style hall lamp with two glass disks decorated with Deco geometrics, "Golden Flake" Moderne with green and orange on pastelle gold, silver with hand-painted flowers, and much more. The stylings here are sophisticated and rewarding, with hints of the Greek and Egyptian motifs of the previous decade, meeting the startling angles of Deco, with profound use of color. Their "Modernistic Line for the modern building, theatre or shoppe" includes some jaw-dropping pieces; one can imagine their impact when new. Also including commercial fixtures, fireplace furnishings, and ready-made fireplaces. Staples rusty, light waterstaining at margins, some handling, else very good, the colors alluring and fresh. A significant contribution to design history. WorldCat locates one example, at Columbia. $175-225

28-10. "Queen of Transcontinental Trains."
Strikingly attractive deluxe color promotional booklet, "The Olympian - Queen of Transcontinental Trains," issued by Chicago, Milwaukee, St. Paul & Pacific (Railroad), July 1930, 7 x 9 3/4, double-thick cover, endleaf artwork, (24) pp. enamel text, centerfold route map linking Chicago and the Puget Sound. "World's longest continuous electrified ride... Matchless meals by Rector, Broadway's famous and favorite restaurateur...." A no-expenses-spared prospectus, probably intended for both travel agents and investors. Black-and-white and color renderings including interior decor "suggestive of old Spain," black waiter bearing tray from their soda fountain-buffet, a library, women's lounge, men's club, barber shop, open observation car through the mountains, scenic wonders, and mechanical features such as roller bearings. A New Old Stock example, minor crack along spine fold characteristic of very thick covers, else excellent, with vibrant colors and little handling. Rare. WorldCat locates no copies. $90-120

28-11. Once the Largest Ship in the World.
Promotional issue of "The Cunarder" showcasing the Mauretania, "the yacht of the Cunard fleet...with her speed record and Park Avenue atmosphere" – and sister ship of the ill-fated Lusitania. C. 1928, 8 x 11 oblong, (24) pp., green, orange, and black text, with green-black halftones, some full-page. "Fastest passenger ship on the ocean," averaging five days from N.Y. to Plymouth. "The man of affairs, the smart matron, the impatient debutante, all are fond of the Mauretania because she saves them time...." Describing the completely redecorated "D" deck, with brocaded silk, mahogany, walnut panels, carvings, the smoke rooms "hung with vivid and interesting sporting prints...that deep, exclusive atmosphere which men build up around themselves...," the lounge with its "hard wood dancing floor...(to) follow the rhythm of George Gershwin's latest triumph...," its hand-carved dining rooms offering "veal and ham pie...(and) a boar's head frivolously trimmed...." The passenger's automobile can be carried as personal baggage, for use in Europe. Controversially scrapped in 1934, protesters including Pres. Roosevelt. Some handling creases and evidence, else very good. Rare. WorldCat locates no copies. $140-170

28-12. School Days of Olde.
Advertising folder for Paragon School Desks, blackboards and erasers, c. 1878, 4 pp., 9 x 10 1/2, Buffalo (N.Y.) Hardware Co., with large illustration of factory, and six models of desks, for ages 4 to 20, with measurements. Ornate filigree side braces. Available with alternating slats of black walnut, ash, or maple. Testimonials and text, offering no-questions-asked replacement of parts broken in harsh service. On delicate groundwood, wear at original folds, several breaks but no separation, else good. $45-65
TO FIND OUT CURRENT HIGH BIDS,
OR TO PLACE BIDS,
JUST CALL 1-914-476-8500
OR e-MAIL info AT cohascodpc.com
(We do not currently use online bidding)
29. Sports
29-1. Meet the Mets.
Trio of items: 1967 program, believed July 1, besting Cardinals 6-4. 30 pp. Announcement of Oldtimers Night the following Saturday, with named players of 1960 Yankees, 1962 Mets, plus Hall of Famers Lloyd Waner, Joe Di Maggio, and others. Some handling evidence, else very good. • 1970 Official Year Book, 8 1/4 x 11, 64 pp., the first yearbook to have news of their momentous 1969 World Series win, here in full color. Casey Stengel, Gil Hodges, Yogi Berra, et al. Trivial wear, else excellent. • 1971 program, probably July 30, vs. Cubs. 34 pp. Photos of staffers Casey Stengel, Johnny Mize, and Cookie Lavagetto. Leadoff editorial on Manager Gil Hodges, with color photo. Some handling evidence, else very good. $85-115 (3 pcs.)

29-2. "Here Sunday – December 7th."
Fateful football program, Polo Grounds, N.Y. Giants vs. Washington Redskins, Nov. 23, 1941. With bold teaser on front cover: "Here Sunday – December 7th – New York Giants vs. Brooklyn Dodgers, 2:00 P.M." 6 3/4 x 9 3/4, (16) pp., navy blue on stiff white coated stock. Complete final page offers preview of the "battle" upcoming on December 7: "The grand climax of the Giants' home season comes on Sun., Dec. 7, right here at the Polo Grounds...Giant-Dodger battles need no element of revenge...But this one is going to be HOT...." On another full page treatment: "Dec. 7 Will Be (Tuffy) Leemans Day...That afternoon they will present a gift...which should pack the Polo Grounds to overflowing on Dec. 7." Ironically, Slingin' Sam Baugh, listed in this game's centerfold roster of Washington Redskins - his photo on following page - would, long after the war which exploded on Dec. 7, return to the Polo Grounds, as coach of the new Jets. Some handling wrinkles and cover soiling, else good. Historically significant. With modern copy of New York Times article, "Football Sunday, Dec. 7, 1941: Suddenly the Games Didn't Matter." $150-180

29-3. Funniest Moment of a Football Hall of Famer.
A.L.S. of four-time Super Bowl linebacker Ted (Hendricks), penned on lower half of a fan's letter, asking "What was the funniest incident that ever occurred during a game...?" He replies, "When one of our cheerleaders jumping up & down cheering for our wide receiver making a 67-yard T.D. run, and a pair of look like knee pads flew out of her top, and she went from a size 38 to a 32. The other cheerleaders surrounded her and put her back in place. Otherwise on the field we were too serious." N.p., n.d., to Hendricks "C/o Pro Football Hall of Fame... Canton, Ohio," 8 1/2 x 11. Original mailing folds, minor handling, else about fine. Member of four Super Bowl-winning teams, and the first Guatemalan in N.F.L., Hendricks was selected for the NFL's 75th Anniversary All-Time Team, their 1970s and 1980s All-Decade Teams, and is on The Sporting News' list of 100 Greatest Football Players. $40-55

29-4. Basketball in the Go-Go Years.
Group of 1965-67 Knicks ticket stubs, from the twilight years of the old Madison Square Garden: Feb. 13, 1965 (Knicks 123, Celtics 113) • Nov. 4, 1965 (Knicks 108, Baltimore Bullets 107) • Nov. 30, 1965 (Knicks 138, St. Louis Hawks 119) • Dec. 7, 1965 (Knicks 131, Lakers 127) • Feb. 26, 1966 (Knicks 95, Celtics 100) • and Feb. 28, 1967 (Knicks 127, S.F. Warriors 123). Variously blue and pink card. Some creases, but all good or better. New York basketball in those days attracted a somewhat highbrow crowd. With unusual letter of provenance. $50-70 (6 pcs.)

29-5. New York Football.
Group of four winning 1961-62 football Giants ticket stubs, Yankee Stadium: Nov. 12, 1961 (Giants 38, Eagles 21) • Nov. 19, 1961 (Giants 42, Steelers 21) • Oct. 21, 1962 (Giants 17, Lions 14) • and Nov. 4, 1962 (Giants 31, Cardinals 28). One folded twice, two with some soiling, but all good or better. With unusual letter of provenance. $45-60 (4 pcs.)

29-6. The Golden Years of Baseball.
Group of 1962-64 Yankee Stadium tickets, including two uncommon variants: May 18, 1962 (Twins 4, Yankees 3, home run by Killebrew, stolen base by Bobby Richardson) • May 25, 1962 (Tigers 5, Yanks 4, home run by Detroit's McAuliffe; lower box seat) • Apr. 16, 1963 (Tigers 7, Yanks 2, triple by Al Kaline; lower box) • Apr. 28, 1963, for guest to Yankee Stadium Club, (Yanks 5, Indians 0, home runs by Lopez, Whitey Ford(!), and Pepitone). 2 3/4 x 4. "Ladies will not be permitted in the club wearing slacks or abbreviated attire of any kind...Minors not permitted in upper bar room...Advance reservations for dining room service will not be accepted..." • May 23, 1964, seat coupon from season ticket book, lower box , blue and black on yellow paper (Angels 9, Yanks 5, Mantle double and home run, Fregosi triple). Two paper items wrinkled, else average wear, and all good or better. All with box scores from modern source, and unusual letter of provenance. $80-110 (5 pcs.)

29-7. Consecutive Tickets for 11-Inning Game.
Two ticket stubs, Yankee Stadium, May 16, 1959, for adjacent upper box seats. White Sox 4, Yankees 3, in 11 innings. Mantle double, Kubek triple. Dark pink. Horizontal crease, else bright, V.G. With modern box score and letter of provenance. $40-60 (2 pcs.)

29-8. The Bronx Bombers – 1959.
Group of ticket stubs, all from Yankee Stadium: Apr. 25 (Orioles 2, Yanks 1, in 11 innings, Skowron homer; lower box seat) • Apr. 26 (Orioles 5, Yankees 4, double by Mantle) • May 12 (Indians 7, Yankees 6, home runs by Colavito, Held, Mantle, Elston Howard, and Berra; lower box seat) • May 15 (White Sox 6, Yanks 0; stub identified by game number) • and June 19 (Yankees 3, Indians 2). All with box scores, and unusual letter of provenance. Average wear, good and better. $65-85 (5 pcs.)

29-9. Cincinnati on Cigarette Cards.
Three cigarette cards, T206, issued 1909-11, showing Cincinnati's (Bob) Bescher, (Harry) Gasper, and (Bob) Spade. First two Piedmont, blue back, white border; last Sweet Caporal, red back. Piedmonts with light clear mounting evidence on verso; Bescher card creased with upper left corner lacking, and only fair; Gasper with short edge nick, else fine +; Spade with light rub in solid orange background, else about fine. $175-225 (3 pcs.)

29-10. Philadelphia Phillies on Cigarette Card.
T206, issued 1909-11, showing "[Red] Doolin, Phila. Natl." (Phillies). Piedmont, blue back, white border. Very light toning on verso, corners somewhat rounded, else charming avocado-green background, and very good plus. $60-80

29-11. Philadelphia Athletics on Cigarette Card.
T206, issued 1909-11, showing "[Harry] Krause, Phila. Amer." (Athletics). Piedmont, blue back, white border. Very light toning on verso, light soft crease at top horizontal, else very fine. $90-110

29-12. Toledo on Cigarette Card.
One cigarette card, T206, issued 1909-11, showing "[Jerry] Freeman, Toledo." Sweet Caporal, red back. Charming batting pose. Corners rounded from wear, else colors evocative, and very good. Uncommon minor league card. $65-85

29-13. Seldom-Seen Yankees.
File of 10 original Acme and UPI press photographs featuring Yankees, 1940s-1960s, some in interesting off-the-field settings, and some obscure players whose material is infrequently found. Including: Montage of pitchers Pete Mikkelsen, Jim Brenneman, Bob Tiefenauer, Bill Stafford, and Jim Bouton (1965) • George Stirnweiss, stolen-base wiz (1943) • Harry Nicholas, signed by Yankees but released by Commissioner Chandler as he was still in school (1948) • J. Moore, in uniform (Apr. 1945) • Pete Gentile, in train bound for his first Spring training (1949) • Johnny Nelson with scout Joe McDermott (1959) • Ed Cereghino with scout Joe Devine (1951) • Jake Gibbs, "best player in Sugar Bowl"-turned-catcher, holding football trophy (1960) • Montage of Ryne Duren and Ralph Houk, involved in tiff on a train (1958) • Manager Bucky Harris boarding Pan Am airliner for Spring training in Puerto Rico (1947), artist's hand retouching. Various sizes, some trimmed, some with editorial markings, retouching, and press stamp markings, from actual newspaper use. From working library of a sportswriter at Central Press Association. $90-120 (10 pcs.)

29-14. Bronx Bombers.
File of 10 original press photographs featuring Yankees, 1940s-1960s, including: Ralph Houk and outgoing General Mgr. Roy Hamey (1963) • Bob Turley and Norm Siebern after 1959 season opener, latter with his newly-prescribed eyeglasses • Coach Jim Turner on stretcher, after being hit by Elston Howard's line drive (1957) • Johnny Meun and Larry McPhail (1946). Loss at blank tip • Ralph Terry, in tuxedo, with Giants pitcher Jack Sanford (1963) • Pitcher "Fireman" Joe Page reading in clubhouse (1949) • Page, splendid candid in locker room, 9" long caption on verso with bio, "(Most) Valuable Player Candidate...," likening him to Ted Williams, Musial, DiMaggio, and Jackie Robinson (1949) • Ed Lopat, Joe Coleman, Joe Collins, and rookie Frank Leja exercising in St. Pete (1954) • Rare photo of Yankees "early-bird conditioning school," Glendale, Calif., Dean Jones, pitcher Artie Schallock, and about a dozen others (1953) • Bill Sudakis, small official Yankees photo. Various sizes, some trimmed, some with editorial markings, retouching, and press stamp markings, from actual newspaper use. From working library of sportswriter as preceding lot. $90-120 (10 pcs.)

29-15. Whitey Ford Artwork.
Delightful, original india ink cartoon used in a newspaper, showing the famed pitcher's head and arm. Four date stamps on verso, 1958-60, variously. Editor's pencil markings on front. 4 1/2 x 6 1/2. From files of same sportswriter as two lots above. Unique and very good. $60-80

29-16. The Youngest Heavyweight Champ in History.
D.S. of Floyd Patterson, curiously penning his address as 51 Chambers St., N.Y. – the Municipal Building. May 24, (19)62, 8 1/2 x 11. Authorizing the "Hy Gardner Show" "to make a video tape recording of my participation in this program and...to broadcast...on Station WOR TV...I am to receive no compensation...." In 1952, at age 17, Patterson won both an Olympic Gold Medal and the Golden Gloves Middleweight championship; at 21, he became the youngest-ever heavyweight champion. Trivial stain at blank upper right tip, else excellent. $55-75

29-17. A Christmas Gift – 1905.
The Boy Fishermen, by Frank E. Kellogg, Saalfield Publishing Co., 1904, 5 x 7 1/2, 288 pp., teal and opaque white on green pictorial linen. Inscription on front flyleaf, "To John Scott from Grandmother, Dec. 25th, 1905." Uniform toning, very light shelf wear, else about fine, and elusive in this condition. $35-55

29-18. Bowling.
Official Bowling Guide 1945-46 - Official Rules & Records, American Bowling Congress and Woman's International Bowling Congress, N.Y., 5 x 6 1/2, 256 pp., pictorial wrappers, photos. Issued upon 50th anniversary of the A.B.C., with a wealth of history, facts, and trivia on the "great game of American tenpins." Including Who's Who in Bowling, humorous "Don'ts on a Bowling Alley," news of bowling leagues across country, and much more. "...The modern bowling palace is superlative in beauty, sanitation and convenience." Some tip wear, else very good. Bowling memorabilia is elusive. $40-60
TO FIND OUT CURRENT HIGH BIDS,
OR TO PLACE BIDS,
JUST CALL 1-914-476-8500
OR e-MAIL info AT cohascodpc.com
(We do not currently use online bidding)
30. Mediæval Manuscripts
30-1. Mediæval Manuscript from Plantagenet England.
Charming petit complete manuscript from Bagborough, Somerset, Nov. 9, 1311, 1 3/8 x 8 1/2 irregular. In Latin, on vellum. Recording sale by Robert Geldeyn for 40 marks, to Thomas de la Lode, of all his goods and chattels in "Baggeberwe" (Bagborough). Six lines in coffee-and-cream. Tag neatly looped for seal (not present). Interestingly, once folded in triangular shape; very light waterstain at lower left, uniform toning, else good plus. Mediæval manuscripts with complete dates are very much the exception. In the mid-14th century, the Black Plague reduced Bagborough's population to fewer than one hundred. $180-220

30-2. From a Mediæval Breviary – Saint Michael.
Portion of manuscript leaf from the Sanctorale, offices for Saint Michael ("Michahel Archangelus"). Probably Germany, c. 14th century. In Latin, on vellum. 5 3/4 x 7 3/4. Double column, about 16 lines, Gothic book hand in two sizes, with highlighted text and four double-line initials in unusual Persian orange. Recovered from a binding, some variable darkening, else very good. The combination of orange and rich chocolate brown inks on vellum toned to burnt toast is highly appealing. Michael is an archangel in three major religions. $80-110

30-3. From a Mediæval Breviary – Saint Bartholomew.
Portion of manuscript leaf from the Sanctorale, offices for Saint Bartholomew, one of the twelve apostles of Jesus. Probably Germany, c. 14th century. In Latin, on vellum. 5 3/4 x 7 3/4. Double column, about 13 lines, Large Gothic book hand, with several words of text and two double-line initials in unusual Persian orange. Recovered from a binding, toning graduated from butter to umber, else good plus. $70-100

30-4. From a Mediæval Breviary – Saint John the Baptist.
Portion of manuscript leaf from the Sanctorale, offices for Saint John ("Sancti Johis Bapte"). Probably Germany, c. 14th century. In Latin, on vellum. 5 3/4 x 7 3/4. Double column, about 15 lines, Gothic book hand in two sizes, with highlighted text, three double-line initials (two trimmed at left), and one three-line initial in unusual Persian orange. Recovered from a binding, toning graduated from butter to nutmeg, else very good. $90-120

30-5. Music from the Temporale.
Manuscript leaf, Germany, 14th to early 15th century, 9 x 12. On one side, eight four-line musical staves with neumes. Text in large formal Gothic book hand, embellished in tomato-red and the rarer blue, this variously faded to aqua to pale water blue. Moderately elaborate two-color plumework in four margins. Recovered from a binding, uniform coppery toning, else about very good, and a worthy example for display. $100-130
End of Auction - Thank You!