CATALOGUE 65
ALSO OF INTEREST
1. Colonial & Revolutionary War
1-1. In Washington's Christmas Night crossing of the Delaware.
Pay order to Revolutionary War Capt. Benjamin Durkee, Connecticut, 1784, partly printed, 5 1/4 x 6 1/2 , (unsigned by him). A veteran of Valley Forge, earlier accompanying Washington on the famously-painted crossing of the Delaware on Christmas evening 1776, surprising and capturing over a thousand of the caroling (and inebriated) Hessians, in the Battle of Trenton. "...The extremely arduous crossing was made despite swift currents, floating ice, bitter cold, and a storm of wind, hail, rain, and snow...The story of ragged, shoeless men leaving bloody footprints in the snow...The 1,200-man Hessian garrison was blissfully unaware of their fate when the shooting started at about 8 A.M. 'the morning of Dec. 26]...Some of (Washington's) troops had been engaged for as long as 50 hours...It may be doubted whether so small a number of men ever employed so short a...time with greater...lasting results upon the history of the world..."--various historians in Boatner. Durkee was then a 2nd Lt. in the 20th Continental, its titular top officer Benedict Arnold, though he never assumed command. Enlisted on First Call following Lexington; commanded Provisional Regt. Co. of Matrosses (special artillery). Signed by two additional officers present at Valley Forge: Eleazer Wales and (Jedidiah) Huntington (see biographical details in following lots), together with Sam. Wyllys, commander of a regiment at Siege of Boston, Col. in Connecticut Line from 1776 til end of war, and future Gov. of Conn. Light wear, else fine. Documents with matross or Christmas crossing association are scarce. A splendid item. $225-300

1-2. Commander during the Horror of the Fort Griswold Massacre - his 10-year-old son Taken by Benedict Arnold.
Pay order to Revolutionary War Capt. William Latham, Connecticut, 1784, partly printed, 6 x 6. Signed on verso, with "Capt. Artillery" also in his hand. With an utterly compelling story: previously at Valley Forge, Latham was Commander of Fort Griswold during the massacre:
"On the morning of the battle, Capt. Latham, who slept at home...went at once to the fort, taking his son William, Jr., who was ten years old, with him." Latham's slave Lambo brought his wife and children to a safe house, then returned to Capt. Latham, twice saving his life that fateful day in the fort, "once, by pushing a sword away, and in doing so losing the fingers of one hand. The second time, receiving the sword in his body, he fell dead at the feet of his master. Little William...worked all the morning fetching and bringing the powder horns from the magazine. Capt. Latham was severely wounded and the little 'Powder Monkey' lay with his arms around his father's neck all the afternoon. After the battle, Capt. Latham's wife, with her daughter and others, came...to find her husband and child...The search was carried on with lanterns and it was well into the night before she learned her child had been taken prisoner by Benedict Arnold. Early the next morning, Mrs. Latham crossed the river to New London, and going to Benedict Arnold, whom socially she had met many times...said, 'Benedict Arnold, I come for my child, not to ask him, but to demand him, of you.' 'Take him,' said Arnold, 'but don't bring him up to be a d-d-d rebel.' 'I shall take him,' she replied, 'and teach him to despise the name of a traitor'...The child never fully recovered from the dreadful scenes of that day, and was always sad and thoughtful... He...went to sea, never to be heard from..."--The Connecticut Magazine, 1905, pp. 400-401 (modern copies accompany). Part of the episode is also recounted in the modern work, The Untold Story of the Black Regiment: Fighting in the Revolutionary War, Burgan.
In April 1775, upon Lexington and Concord, Latham responded to the First Call for troops, serving as Lt. of Artillery. Later fighting in the Connecticut Line - said to be George Washington's favorite unit - Latham commanded an artillery company of Matrosses at Groton. Also signed by patriots Eleazer Wales and Oliv(er) Wolcott, Jr.: A physician and minister, Wales fought in the Battle of Bunker Hill; in 1777, he was an express-rider, delivering important messages to the Gov. of Conn. Joining the Connecticut Line, Wales wintered with Washington at Valley Forge, later seeing action at Stony Point and Monmouth. At the latter battle, he suffered a permanent disability in his right hand, but remained active in patriotic affairs, here serving on the Pay-Table. Wolcott would become Washington's Secretary of the Treasury; both he and his father, a Signer of the Declaration, were Govs. of Conn. Some fold and edge wear, else very good. A stirring saga, showing the prices paid for liberty. $425-550

1-3. A Physician in the Longest Winter.
Pay order to Revolutionary War Capt. - and homeopathic physician - John Warner, veteran of Valley Forge. Responded to Lexington Alarm; a Minute Man in the N.Y. Campaign of 1776; at Germantown with Regt. of Artificers - a unit of carpenters and tentmakers. Led at Battle of Bennington, there crossing paths with his brother, Seth, commander of the outlawed Green Mountain Boys. Conn., 1782, partly printed, 5 1/2 x 6, unsigned by Warner, but signed by two additional officers present at Valley Forge: Eleazer Wales and (Maj. Gen. Jedidiah) Huntington, together with Oliv(er) Wolcott, Jr. A physician and minister, Wales fought at Bunker Hill. Joining the Conn. Line, he wintered with Washington at Valley Forge, later seeing action at Stony Point and Monmouth. Huntington, a Son of Liberty, commanded Minute Men during the Lexington Alarm; also at Valley Forge, on court martial of Major André, and signed the Constitution of Conn. Wolcott would become Washington's Sec. of the Treasury; his father was a Signer of the Declaration. Warner moved to Vermont in 1792, becoming the first physician in St. Albans; he was "noted as the first to manufacture and vend pills in this section ...saying, 'If my pills don't do you any good, they won't hurt you,' which is more than can be said of many pills that are sold at the present day"--The History of Washington County in the Vermont Historical Gazeteer..., 1882, p. 1056. Warner's son married a young lady by the name of Experience Allen, a member of the Ethan Allen family. Some fold and edge wear, else very good. Documents combining medical, Green Mountain Boys, and artificer association are unlikely. Modern research accompanies. $200-250

1-4. "In Defence of America..." – 1776.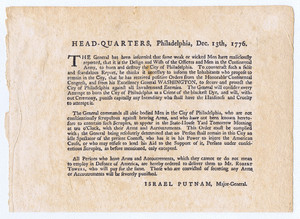 Significant, excessively rare printed broadside-style Continental Army order, "Head-Quarters, Philadelphia, Dec. 13th, 1776," signed-in-type by Maj.-Genl. Israel Putnam, 6 1/2 x 8 3/4 oblong. Its size and centering suggest this official imprint was intended for public posting, its overly wide margins unusual. With fascinating allusion to conscientious objectors, and shedding light on contemporary context for the Second Amendment. "The General has been informed that some weak or wicked Men have maliciously reported, that it is the Design and Wish of the Officers and Men in the Continental Army, to burn and destroy the City of Philadelphia. To counteract such a false and scandalous Report, he thinks it necessary to inform the Inhabitants who propose to remain in the City, that he has received positive Orders from the Honorable Continental Congress, and from his Excellency General Washington, to secure and protect the City of Philadelphia against all Invaderss 'sic] and Enemies. The General will consider every Attempt to burn the City of Philadelphia as a Crime of the blackest Dye, and will, without Ceremony, punish capitally any Incendiary who shall have the Hardiness and Cruelty to attempt it.
"The General commands all able bodied Men in the City...who are not conscientiously scrupulous against bearing Arms, and who have not been known theretofore to entertain such Scruples, to appear in the State-House Yard Tomorrow Morning...with their Arms and Accoutrements. This Order must be complied with; the General being resolutely determined that no Person shall remain in this City an idle Spectator of the Present Contest, who has it in his Power to injure the American Cause, or who may refuse to lend his Aid to the Support of it...All Persons who have Arms and Accoutrements, which they cannot or do not mean to employ in Defence of America, are hereby ordered to deliver them to Mr. Robert Towers, who will pay for the same. Those who are convicted of secreting any Arms or Accoutrements will be severely punished."
Thin spots at three corners and traces of very old linen hinges, only noted when held to light; slightly irregular left margin, suggesting previously bound or tipped; lightly mottled, with one honey-toned spot on text, two short tears at blank top edge, else very good, and highly appealing for display. Core Americana, ascribed by Evans to the press of John Dunlap, printer of the Declaration of Independence some five months earlier, his name also suggested by John Carter Brown Library. A key period in that fateful year, the month of December saw setbacks and hardships for the Americans; six days after this broadside's date, Thomas Paine penned, "These are the times that try men's souls." December 1776 was forever gilded in the glory of history by Washington's Christmas crossing of the Delaware. An example of this Dec. 13, 1776 broadside appeared at Sotheby's in 2012, inserted within a bound volume of newspapers, the whole selling for $722,500. Such 1776 broadsides are rarer than newspapers and newspaper supplements by (at least) several orders of magnitude. Evans 15181. OCLC 62821619, but all WorldCat listings are qualified as "Document type: ...computer file," evidently the Readex Early American Imprints series of facsimiles. An advanced search of Library of Congress database finds no examples. Provenance: from a major New England art collection. $3500-4750

1-5. The Other Tea Parties.
The Boston-Gazette, and Country Journal, Jan. 17, 1774. Broadsheet, 2 pp., 9 3/4 x 15, bearing Paul Revere's celebrated masthead design, showing seated Britannia freeing a dove of peace from its cage (Brigham plate 67). Red-hot discourse, just one month after the Boston Tea Party - termed the most influential event in America's formative history - its incendiary ramifications already seen here. Reporting an ill-fated East-India landing of tea on Cape Cod, and unusual mention of "Tea burning Parties" - bonfires in Lexington and Charlestown, Mass.: "...The Town-Cryer went about; those who had a Mind to part with their Tea, knew where to carry it; those who had a Mind to keep it by them, were left at Liberty...The Dealers in Tea in the Town of Boston, having agreed amongst themselves, that from and after the 20th of Jan. 1774, they will totally suspend the Sale of all Teas, until the Sense and Determination of the Sea-Ports and other Towns can be known...." News from town meeting in Medway (Mass.), Dec. 27: "...The East-India Co...exporting their Teas to America, subject to Duties payable on its being landed, for the express Purpose of raising a Revenue in America...To prevent the many Evils consequent upon the Success of this alarming and subtle Attempt of Inslaving of us, the Town...Resolves...imposing a Duty on Tea...is not only Unconstitutional, but its Consequences tends directly to involve us in Slavery...There is nothing in the Votes and Proceedings of the Town of Boston, at their several late legal Meetings on this alarming Occasion...We...in Conjunction with our oppressed American Brethren, exert ourselves...in the Support and Defence of our Constitutions, Rights, Liberties and Privileges...If any Head of a Family in this Town shall buy any Tea or Permit any to be used and Consumed...while subject to Duties...ought to be viewed as an Enemy to the Country...." Another correspondent in Milton, Mass. (home town of the Governor) defends the American position at length, concluding, "...Man is often the Instrument in executing the Purposes of Heaven for the Punishment of Man." Patriot "R.S." writes, "It is proper that the whole American publick should be made acquainted with the circumstances attending the East-India Company's Tea, ship'd on board Capt. Loring's vessel, which was cast on shore on Cape Cod...The Stamp-Masters by their resignation, made some atonement for their wickedness in suffering themselves to be made the instruments of carrying into effect a former parliamentary revenue act for the sake of filthy lucre...." Ads include sale of "A very likely Negro Man..." and auction of "A Neat Assortment of Guns, compleat with Bayonets...Pocket Pistols...." Several contemporary creases, one full width, all present when printed; some dust and brown toning, old waterstaining at left margin and feathering of blank lower margin, with no loss of text, else generally good plus. An enduring historical chapter, it has been said that the Boston Tea Party changed the course of history. At this time, there were fewer than forty newspapers in the colonies. Coverage of the Tea Party period in a Boston newspaper is ideal – and scarce on the market. This newspaper was called the "voice of resistance and mouthpiece of the Revolution"--dissertation by Sandra Moore, University of Houston, 2005. Notwithstanding the poignant content, newspapers with Revere's illustrations are now elusive. Of Revere's eight "newspaper and periodical cuts in lead" recorded by the American Antiquarian Society, this design, dated c. 1769, was his first. No copies this issue located by WorldCat. Only four copies located by Library of Congress' Chronicling America. $2400-3200

1-6. Prelude to the Boston Tea Party.
Historic manuscript warrant to attend a New England town meeting, Reading, Mass., Sept. 17, 1768, 6 1/4 x 10 1/2, signed by Brown Emerson, Town Clerk. To Constable Samuel Damon. "You are hereby Required In his Majestie's Name to warn the freeholders and other Inhabitants In your District...to meet at the South meeting house in s(ai)d Reading on the 21 Day of Sept...at 1 of ye Clock...To see if the Town will Concur with the Request of the Town of Boston in cho(o)sing...Men to meet with a Committee of Sd. Boston at Funnil 'Faneuil] Hall...to Consider of the Important affairs of this Province...Fail not & make Return of this Warrant with your Doings...By order of the Select Men." Constable's endorsement on verso, "...I have warned the Inhabitance sic]...to meet...." A fateful year, in June, John Hancock's sloop Liberty had been seized in Boston, setting off a riot; three weeks later, the Massachusetts House of Representatives refused to rescind Sam Adams' open letter promoting opposition to the King. The meeting referred to here was an historic one, with delegates from 26 towns drawing up a statement of grievances. A week later, two regiments of British soldiers landed in Boston to enforce customs laws – and the die was cast. Agitation by the colonists was inflamed, culminating in the Boston Massacre, and ultimately tea parties not only in Boston, but in other Massachusetts towns (see preceding lot). Small red wax wafer seal. Some toning, else very good, and splendid for display. The town meeting continues today, an American institution much older than the Revolution, albeit sans the warnings! $450-650

1-7. Relic of the Battle of Savannah, 1778-79.
Small, heavy iron component of "saluting cannon" found at the key Spring Hill, Ga. site of the Battle of Savannah's ill-fated Franco-American debacle, seeing the death of George Washington's "Commander of the Horse," Pulaski. Pencil-stand-shape, 1 1/4" square, 3" high, hole in one end. When strapped to wood or other material, these were used for signaling, saluting, and powder testing; a mixture, typically of sulfur, saltpetre, and charcoal, would be placed into recess, and lit through the touch hole. Just days after Christmas 1778, the British captured Savannah, losing just 3 men to the Americans' 83. Fortified by the French the following Fall, the Americans returned, Spring Hill becoming a fierce point of contention. The British built "a strong redoubt" (Boatner) on Spring Hill; a 4 A.M. march by d'Estaing's French was uncoordinated, and "badly shot up by grape as they moved across the open space...The second and third French columns shared successively the same fate, having the additional discouragement of seeing, as they marched to the attack, the repulse and loss of their comrades who had preceded them." Francis Marion's 2nd South Carolina Continentals "spearheaded the attack...and planted the Crescent Flag of the 2nd S.C. and the French flag on the parapet of the Spring Hill redoubt...While this fighting was going on, Pulaski was trying to force his way between Spring Hill and the works to its west...McIntosh arrived to meet a scene of bloody confusion...." One historian believes that as many as half of all allied troops at Spring Hill were lost. "d'Estaing had now failed the Americans at New York, Newport, and Savannah...Clinton greeted news of d'Estaing's failure as 'the greatest event that has happened in the whole war'...." Uniform tortoise-shell surface rust, else fine. Considerable literature may be found on Spring Hill and the Battle of Savannah. $120-150

1-8. Found at Fort Ticonderoga.
Group of four metal Revolutionary War period artifacts, found by noted archæologist Frank Kravic at Fort Ticonderoga, probably dug in the 1970s: Two shoe buckles, 1 x 1 1/4. • Oxen shoe, tapered curve, maximum 1 1/4 x 4. Two original hand-forged nails present. • Horse bit piece, Celtic cross-shape, 5 x 5 1/4. All with much corrosion, but recognizable, with immense patina for display and as conversation pieces. Captured by the Americans just weeks after the action at Lexington and Concord, the taking of Ticonderoga has been credited to Benedict Arnold and Ethan Allen, among others. Though called "the Gibraltar of America," it was retaken by the British in 1777; "American military leaders on the ground realized that Ticonderoga was impossible to defend..."--Boatner. $160-200 (4 pcs.)

1-9. Relics of "Continental Village."
Fascinating group of 17 Revolutionary War period artifacts, dug at site of "Continental Village," an encampment of huts in New York's Hudson Highlands used by 1st, 2nd, 3rd, and 4th Connecticut Regiments and many others, near Philipstown, just north of today's Putnam County line (modern map accompanies). Comprising: Pen knife (blade seized), simple shell-like cast ornamentation, 3"; lacking wood cladding. • Sheath of pocket knife. • One flank of pocket knife casing. • Portion of small chisel. • End of a key, 2". • Two pair of metal cufflinks, octagonal, joined with original wire chain. One 7/16" diam., other 1/2". • Cufflink, one piece. • Five different metal buttons: 1" round; 3/4" round concave; interesting crudely-made round, coarse deckplate design; small oval; small oval with suggestion of design, perhaps a horse. • Four coins, sufficient features remaining to identify as similar to English-made halfpence (having some resemblance, in this condition state, to postwar Connecticut coppers): Bust facing right. • Bust facing right, reverse basal state and identifiable only by a colonial specialist. • Bust facing left. • Bust facing left; soft bend. All coins relic grade, with much corrosion, probably cleaned, three lime-green, one deep chocolate. Most items (including two coins) with location markings neatly lettered in opaque white ("left ravine," "Road 92," etc.), corrosion varying from minor (cufflinks) to very heavy (majority), but entirely collectible, and splendid for display. With provenance providing context for further research; numerous original orderly books from Continental Village survive. $225-350 (17 pcs.)

1-10. Choice Uncut Sheet.
Strikingly attractive uncut sheet of four partly printed 1789 Connecticut receipts, "Received of Oliver Wolcott, Comptroller of the Public Accounts...Lawful Money...being the the interest on State Notes...." Hartford, Apr. 11, 1789 – three days after the just-organized First Federal Congress began discussion of revenue for the new government. Overall 7 1/2 x 12 1/4. Each signed by P.J. Egleton, Comptroller's-Office. Consecutively numbered. Ornamental printer's border separating each. Wolcott is presumed the son, who led troops in New York in 1776; later in 1789 he ascended to auditor of the U.S. Treasury, soon succeeding Alexander Hamilton as the second Secretary of the Treasury. Fine toning at fore-edges, imparting an almost drop-shadow effect, and pristine. Elusive thus. $100-140 (sheet of four)

1-11. Signed Twice by Court Clerk of the Salem Witch Trials.
Unusually fresh colonial D.S. of John Giles, Justice of Peace Steph(en) Sewall (signed both sides), Henry Sewall, and Daniel Gilbertt, Salem, Massachusetts Bay, Feb. 29, 1719/20, 7 1/4 x 11 1/2. Small wafer seal. Receipt of cordwainer Giles for "12 pounds Curr(en)t money of New England...," selling land in Salem to John and William Osburn. Stephen Sewall was clerk of court at the Salem Witchcraft Trials – presided over by his brother, Judge Samuel. A correspondent of Cotton Mather on the Trials, Stephen opened his home to one of the "afflicted" children, whose symptoms soon subsided. Sewall did not dispute the fact of witchcraft, only "the method of detecting and trying witches"--The Memorial History of Boston..., Winsor, Vol. II, p. 161, 1880 (modern copy accompanies). Very light old waterstain at one fold junction, lightening parts of several words, else very fine and pleasing. Very scarce thus. $225-300

1-12. "The Good Secretary" of Massachusetts Bay.
Lovely D.S. of J(osiah) Willard, Secretary of Province of Massachusetts Bay, known as "the good secretary," serving 39 years; Harvard Class of 1698, and scion of the founder of Concord. Boston, Oct. 1, 1731, 7 1/4 x 12 1/4, wafer seal intact. As "Judge of the Probate of Wills," concerning affairs of Mary Clark, deceased intestate in Medfield, Mass., granting power to son to administer estate. Also signed by John Boydell (Register of Court of Admiralty). Original folds, very light handling evidence, pleasing uniform toning, else very fine. $90-120

1-13. "Gentleman and soldier of the Revolution."
A.L.S. of American officer "Jno. Trotter, B(rigadier) Major," Brigade Head Quarters, n.p., Mar. 5, 1779, to Capt. 'James?] Flowers 'probably of a Conn. unit in Regular Continental Army]. 7 x 9. "Those of Col. Hammond's 'New York] Militia who have been most active in forwarding the works, you will give liberty of absence untill Monday morning next. They are not to draw any provisions while absent. You will apply to Lt. Cooper for as many of the Nine months as you shall need to forward the works. If you can employ the whole to advantage would have (you) proceed to do it. I also advise you to appoint as many of the most active of them as you shall judge proper, to superintend the rest. P.S. You may give the whole of the Militia liberty of absence, if they laboured faithfully the week past...." Col. John Trotter was a "gentleman and soldier of the Revolution..."--Historical Collections of the Joseph Habersham Chapter, D.A.R., Vol. 2, p. 337 (modern copy accompanies). A John Trotter commanded an eponymous Massachusetts company in Col. Rufus Putnam's (5th) Regt. Moderate waterstains on upper half, minor wear at three edges, else very good, and darkly penned. Interestingly, while letters of prominent Revolutionary War figures remain available (and costly), those of lesser-known field officers are now somewhat elusive. $225-300

1-14. "Ready to March...On the Shortest Notice...."
A.L.S. of American officer Zabdiel Rogers, "Colo. of 20th Reg.," Norwich (Conn.), Jan. 1, 1781, 8 x 12 3/4. To noted Capt. Elijah Backus. "Pursuant to Orders from Genl. Tyler You are Order'd Forthwith to Detach from the Company under your Command One Sergeant And have him Well Equip'd to Join a Company Form'd from this Brigade, to March to Horse Neck To be under the Command of Colo. Mead, or Office Commanding on that Station, to be Held in Service Two Months...The Captain will be from the 8th Regt., who will pay him before he Marches four Pence p(e)r Mile for his Subsistance Money...Have the Company under your Command Well Equip'd & Ready to March if Necessary On the Shortest Notice...." Backus served at Valley Forge, in the 7th Conn. In 1781, he commanded a company of Conn. militia defending New London. His Backus Iron Works assumed a vital role in the Revolution: in addition to two 1,200-lb. iron anchors, Backus, "a very ingenious mechanic, manufactured a number of cannon for the Revolutionary army; this he effected by welding together pieces of iron"--Connecticut Historical Collections..., 1837, p. 292. Docketed. Some minor chipping and one tear at top edge, two edges deckled, marginal toning, else good plus, darkly penned, and appealing for display. $275-375

1-15. "The prayer of your Loveing Wife."
Highly unusual, endearing letter of wife Mehitabel Wadsworth, Middletown (Conn.), "Dec. ye 16, 1771," to her husband, Capt. Jere(miah) Wadsworth - future Commissary General of the Continental Army, delegate to the Continental Congress, member of Conn. Convention ratifying the Constitution, and member of first, second, and third Federal Congresses. 5 3/4 x 7 1/2, 1 full p. Integral address-leaf, addressed to "...Hispaniola or Wherever he may be found." "Dear Sir, I am well as common as I hope this will find you. I have this day heard from Hartford. Our friends are all well there. The little Boy is Better tho he don't quite get rid of his turns of pain yet. The ear of these little dear Selves seems to be so grate in your absence that I hope you won't leave us again. May Heaven preserve you safe from all harme, prosper your voige 'voyage] and make it short, is the prayer of your Loveing Wife." Interesting coat-of-arms watermark. Arithmetic on blank inside leaf, apparently computing pounds, shillings, and pence, presumed in the addressee's hand, an apt prelude to his future post as George Washington's Commissary Gen. Only four years old when his father died, Wadsworth was trained as a sailor by his ship-owning uncle, and went to sea at age 17. Advancing to mate and then master, Wadsworth made a fortune sailing the West Indies. At the outbreak of the Revolution, his home became the commissary store and a rendezvous for soldiers. A six-month diary survives, describing the Wadsworth house overflowing with 20,000 flints, a hogshead of bread, "cyder" and rum, with pork by the barrelful cooking in the kitchen for the troops. At other times the house had been filled with 5,000 pairs of yarn stockings, and quantities of tin kettles for Army campsites. The Wadsworth house was a beehive of activity, with a constant flow of visitors; surely his wife never anticipated that she would not only be cooking for their six children, but for the Continental Army. Fragment lacking at blank left edge where opened at red wax seal, original folds, pleasing oatmeal toning, superficial dust soiling, else very good. American domestic letters from the Revolutionary War era (the Boston Massacre had taken place the preceding year) are now notably scarce. Delightful for display. $350-450

1-16. Printed at the Liberty-Pole, Boston.
Superlatively rare broadside containing ballad, "On the Death of Polly Goold" – one of the most popular elegies in young America. An overly obsequious eighteen-stanza ode to mortality of a young woman, attributed to Ezekiel Russel(l), printed at "'Rus]sel's Office, Liberty-Pole" (Boston), between 1781-1796. 7 1/2 x 12 1/2. Based on a woman of Weare, N.H. (see following lot), her woeful story became an evangelical hymn; music was even composed for its text by a Vermont singing master of the era. "Remember this ye mourning friends, Your loss is her eternal gain; With her all sin and sorrow end...." In heavily worn condition, evidently the long-read lesson of a schoolchild, backed with manuscript sheet c. 1840 on which they have practiced penning repeatedly "Design implies intelligence..." and "He that would think...." Much fold wear, broken but not separated at two perpendicular folds, with loss of about a quarter of large woodcut known to show a kneeling woman with a book; some bookworming, frayed at bottom, with loss of first words of imprint, uniform mocha toning - but still collectible and a rarity: WorldCat locates only a single example of this Liberty-Pole printing (at New-York Historical Society). $175-250

1-17. The First President of New Hampshire Orders "One Barrell" of Gunpowder in 1776.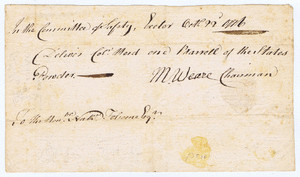 Manuscript D.S. of M(eschech) Weare, colonial New Hampshire jurist, Chief Justice of N.H. 1776-82, and first Pres. of N.H., 1776-84. Exeter, Oct. 22, 1776, 4 1/4 x 7 1/4. As Chairman of Committee of Safety. "Deliver Col. Mead one Barrell of the State's Powder." To Hon. Nath. Folsom. Docketed "Col. Hurd's Order...for Ranging'?] Company." Irregular quarter-size glue stain on blank portion, dollar-size stain on verso, some light foxing and wear, else darkly penned, the year "1776" and word "Powder" with thick accentuating strokes in rich brown, likely done to prevent alteration of the document. Weare may have set the stage for the Boston Tea Party: as a judge in the 1772 Pine Tree Riot case, the court's light fines were seen as encouragement for future acts of defiance against the Crown. He led drafting of the first formal constitution of any state, adopted in Jan. 1776; throughout the Revolution, as Chairman of New Hampshire's Committee of Safety, Weare occupied the seat of power when the legislature was not in session. $300-375

1-18. Applications of Revolutionary War Soldiers – in the 1920s.
Fascinating file of ten different partly-printed membership applications, National Society of Daughters of the American Revolution, Washington, 1921-26 (one not approved for six years), 8 1/2 x 14, 4 pp. ea., four with manuscript flaps or letter added. Each with numerous datestamps and signatures, as the application made its way through the approval process. Most for Fanueil Hall, Mass. chapter, plus one each Lisbon, N.H. and Oswego, N.Y. Exhaustive genealogical detail for the applicants' ten ancestors, variously born in Amesbury, Hardwick, and Sutton, Mass., Kittery, Maine, North Hampton, Rye, and Windham, N.H., White House, N.J., and Warwick, R.I. Distinguished service noted among manuscript entries, including "march(ed) to Cambridge on the day of the Battle of Bunker Hill," and "Priv. (in) Capt. John Grainger's Co. of Minute Men." Many had large families - two with thirteen children - their dates of birth (and sometimes premature deaths) also recorded. Two-hole filing punch, minor handling wear, light toning, else very good. These may represent a renewed interest in the Revolution as its nominal 150th birthday approached in the 1920s. $90-140 (10 pcs.)

1-19. A Literal Link to Benedict Arnold.
Hand-forged iron spike from the British Revolutionary War ship George, captured from the Redcoats in Quebec in 1775, renamed Enterprise and personally commanded by Benedict Arnold. 7 3/4 long, 7/16" thickness maximum. "Enterprise was, at first, the most significant warship in the Lake Champlain squadron - which was charged with maintaining American control of the lake early in the war - and at times she acted as flagship for 'Benedict] Arnold. Control of Lake Champlain and the adjoining Hudson River would have enabled the British to cut off vital supply routes between New England and the other colonies...." Fighting in the Battle of Valcour Island, near Plattsburg, N.Y., "the battle was a strategic victory for the Americans, as they had disrupted the British invasion into N.Y. such that it couldn't be mounted before the onset of winter. It was nearly a year before the advance could be renewed, eventually resulting in a decisive American victory in the Battle of Saratoga..."--wikipedia. Found in wreck of this Continental Navy sloop - the first American warship to bear the name Enterprise - burned to prevent capture in 1777. Understandable corrosion and flame-toning, imparting striking burnt-orange mottling, else good, and splendid for display. With modern research. Now rare. $100-130

1-20. French Hero of the American Revolution.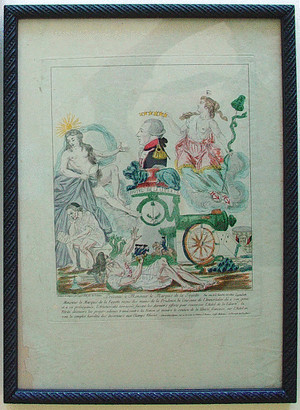 Delightful, hand-colored French steel engraving allegorically exalting hero Marquis de la Fayette, c. 1785. "Présenté à Monsieur le Marquis de la Fayette" by noted French architect Claude Mathieu de Lagardette, Paris. 7 x 9 1/4, plus margins. La Fayette on ornate pedestal, atop a seated lion, "Hotel de la Liberte." Flanked by the Godess of Truth, holding a mirror, and by Prudence, brandishing spear with a Liberty Cap, and crowning him with a halo of stars - the crown of immortality. Beneath his profile, a seated philosopher; caisson and cannonballs at right. In flattering modern black beaded frame, under glass, with gallery label on verso. Watercolor probably twentieth century. Fraying at blank lower left margin, matted or mounted on tan mat (not examined out of frame), some fine creases, else colors vivid, about very good, and charming for display. Frame unblemished and ready to hang. Illustrated at loc.gov/pictures/item/ 2013646550. No examples located on WorldCat, including search for variant French conventions. $120-150

1-21. Continental Currency.
Eight Dollar note, Philadelphia, May 9, 1776. Printed by Hall & Sellers. 13-stringed harp (representing the thirteen "United Colonies"). Two signatures, one in red characteristically faded to pink. Interesting mica inclusions in paper. One vertical fold, 3/4"-radius "U" in old ink at upper right of verso, else uncommonly light circulation wear, the tips only slightly rounded, imprint dark both sides, and judged very fine. $60-90

1-22. Smaller than a Continental Note.
Delightful miniature manuscript receipt for pay for a Vermont private. Freetown 'presumed Bristol County, Mass.], Oct. 24, 1777, 2 1/2 x 4 1/4. "Recd. Capt. James Hill in full for...Caleb Goff an Enlisted Soldier in his Company, the Sum of 18 Shillings Pay. Recd. from John Turner." In 1777, Hill's Co. of New Hampshire Militia was part of Col. Williams' Regt. Goff served in the Vermont Militia, in Capt. Bigelow Lawrence's Company during the alarm of 1780, and in the 1781 alarms at Cambridge and Saratoga. Docketed. Vertical fold, few edge tears in blank left margin, edge dust toning, else good plus. Perhaps the smallest complete Revolutionary War manuscript we've handled. $80-110
TO FIND OUT CURRENT HIGH BIDS,
OR TO PLACE BIDS,
JUST CALL 1-914-476-8500
OR e-MAIL info AT cohascodpc.com
(We do not currently use online bidding)
2. Confederate
2-1. Prelude to the Turning Point of the War: Lee's Delayed Ammunition, on the Road to Gettysburg.
Fascinating, thought-provoking A.L.S. of H.D. Whitcomb, (Supt.), "Office, Va. Central R.R. Co.," Richmond, June 20, 1863, 5 3/4 x 9, 2 full pp., penned in dark brown on mocha adversity lettersheet. To Dr. W.S. Morris, "Pres. &c." (of Southern Telegraph Co.). Casting light on the fatal shortage of Confederate ammunition which would impact the Battle of Gettysburg. On June 24 and 25, Lee crossed the Potomac with 80,000 men, preparing for the invasion of Pennsylvania. Whitcomb writes, "The relay at G- is most annoying to me. I am obliged by the exigencies of the horse to run my trains by telegraph West of G- and although I believe the operator does all he can, yet the most embarrassing delays occur. I must appeal to you to give us the through line even if you connect with Bg. when sending messages to that point...a switch or something of the sort. You do not know how much delay has occurred from this cause in the transportation of ammunition & other stores for Lee's Army. Besides this it causes us to use your line much more than we otherwise would, because the trains being detained make it necessary to move when trains moving in an opposite direction by telegraph, which would otherwise run by printed schedule. To avoid this uncertainty of the telegraph I have changed all my rules & will have the new system in operation in about a week. It will not be as satisfactory as the old...but it is far better than the present plan...It is the relay that I complain of and I really think that it should be avoided in some manner...." The Virginia Central endured repeated Union attacks, not only transporting men and ammunition, but helping stabilize the Confederate home front. Just five days after this letter, the Richmond Daily Dispatch reported, "Vegetables are becoming abundant and hucksters are losing control of the markets by the liberal supplies regularly brought in on the 'Virginia] Central Railroad, and sold in small quantities at the depot. Housekeepers should visit the depot and accrue supplies." The action never stopped: just a day later, one of Virginia Central's freight trains was fired on in Hanover County in "the Yankee raid towards Richmond"; the engineer reversed the train and escaped, but the Union gained control of the Road, cutting the telegraph wires, tearing up track, and destroying a bridge. (The Virginia Central rented some 300 slaves, some used as firemen and brakemen, but most in road gangs.) Whitcomb was, at various times, Virginia Central's Chief Engineer, Sec., Superintendent of Operations, General Supt., and Pres. One of their early locomotives was named for him, in 1856. Boasting a very long career, he appears as late as 1890 in The Official Railway Guide.... Uniform toning, light burn marks at two upper tips (from burning of Richmond?), else very good. Modern research accompanies. One may speculate on the degree to which the delays in delivery of "ammunition & other stores for Lee's Army," lamented in this letter, contributed to Lee's defeat at Gettysburg, marking the turning point of the war. $475-650

2-2. Signed Carte of Robert E. Lee.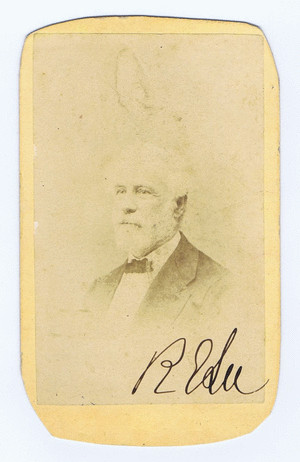 Charismatic postwar carte of the Confederate Commander-in-Chief, boldly signed at lower portion in deep brown. As President of Washington & Lee University. Dark pink imprint on verso of warm cream mount, "Boude & Miley, Lexington, Va.," likely the foremost studio of that city, known for photographing every Confederate personage of prominence who passed through. Elongated waterstain in blank field above head, corners unequally hand-trimmed, not infringing upon tips of image, two tiny nicks at left edge of emulsion, few spots of incidental foxing, coffee-and-cream image (almost certainly as developed), light toning, else good plus with a superb signature. New to the market, found in a cache of papers of a Tennessee family. $4800-6200

2-3. Homemade Miniature Confederate Flag.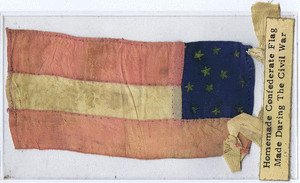 Petit 11-star Stars and Bars flag, hand-stitched, made during the Civil War. 2 x 4 1/4, comprising two red (now pink), one white, and one midnight blue piece of silk, primitively but neatly sewn together with dark pink thread, the stars hand-painted in muted gold. Two white silk ties, to affix to a small stick (not present); when viewed from obverse, the field of stars is on the right. Mottled with soiling (or perspiration) in left half, red (a fugitive dye) faded to pink, else good, with enormous appeal and character. Details of its condition suggest that it was carried - multiple times - by a patriotic Southerner, perhaps in a pocket, or secured to a hat band. Acquired by consignor in mid-1960s. Rare, likely more so than a full-size Confederate flag (which would fetch five figures). $450-600

2-4. Beauregard Writes, "I do not hold myself responsible for the results."
Significant telegram, in clerical hand, from Confederate A(jt.) & I(nspector) Gen. S(amuel) Cooper, highest ranking officer in the Confederate Army. On partly printed form of South-Western Telegraph Co., Richmond, Mar. 9, 1862, 5 1/2 x 8 1/2. To Gen. (P.)G.T. Beauregard, with lengthy pencil notes on verso in Beauregard's hand, signed twice with his initials, once crossed out by him, and again with paraph. Cooper writes, "The following officers have been nominated for your command, viz:- J.P. Brown as Maj. Genl. & J.M. Hawes, J.E. Slaughter & S.M. Walker as Brigs., Hawes for Cavalry, Ransom appointed Brig. Genl. & sent to North Carolina where his presence at this time is of the first importance. S. Jones is also nominated as Major Genl., but he cannot be spared from Mobile." On verso, six lines in Beauregard's characteristic hand, with corrections, one word in ink - and a second set of initials crossed out by him, where he added further remarks: "We have called for 10 Generals as indispensible, four are granted, & only two of these are present. The Enemy being already engaged with our left at New Madrid 'Tenn.], I do not hold myself responsible for the results. G.T.B." Beauregard has individually underlined each word in his final sentence, for unmistakable emphasis. In the same month as their bombardment of Fort Sumter - commanded by Beauregard - the Confederates began construction of positions at New Madrid and Island No. 10 in the Mississippi River, to block Union navigation. On Mar. 3, 1862, Union Gen. Pope arrived at New Madrid; ten days later, he commenced bombardment, the Confederates evacuating that same day. "Pope's victory opened the Mississippi to Fort Pillow, and gave him a reputation which led to his being selected by Lincoln...to command the Army of Va. (2nd Bull Run Campaign)"--Boatner. Intriguing pencil notations, in another contemporary hand, above some Generals' names. Amber staining from old tipping with glassine tape along most of right margin, chipping lending an irregular edge but no loss of text, uniform toning, else very satisfactory. The lengthiest Beauregard endorsement we recall seeing in about forty years. Believed ex-Thomas J. Madigan, celebrated pioneer New York autograph dealer, and author of "Word Shadows of the Great." With modern color copy of his inventory folder of Confederate telegrams. $950-1250
A Confederate Secret Service officer pens years later,
"By far too many of the rising generation do not hold the memories of their Fathers & Grandfathers
in as great reverence as they should & seem but too ready to excuse the course pursued
by their fathers & the people of the South. I will go to my grave proud
of the humble part I bore in that great & un-equal struggle & I have with my good old wife
always taught our children to love and venerate a Confederate Soldier and the lost Confederacy."

2-5. Tracking Down Confederate Floridians' Autographs in 1905.
Three fascinating, lengthy postwar A.Ls.S. of Confederate Lt. W(illiam) H. Sebring, previously of 2nd Tenn. Infantry and 10th Kentucky Cavalry. A remarkable story, culminating in the successful search for his unmarked grave – 83 years later. Wounded in the stomach, Sebring transferred to the Confederate Secret Service, becoming part of their shadowy but dangerous network of spies and saboteurs operating in the Mississippi River valley, and carrying military dispatches from the War Dept. in Richmond. Captured in July 1863, apparently at Jacksonport, Ark., he was tried as a spy and condemned to be shot. Sebring made a daring escape days later, filtering through Federal lines to Richmond. Elected Mayor of Jacksonville in a 1907 landslide, he was credited with making it the "Park City of the South," and was Pres. of the first Florida Exposition-Fair held there in 1909. From Jacksonville, July 22, Aug. 3 and 25, 1905, 8 1/4 x 10 3/4, 7 pp. in all, boldly penned in brown on his cream letterhead. Also signed twice more with initials, once in pencil, and once in ink. To William M. Shaw, Sherman, Texas, in the midst of building a massive Civil War autograph collection (the first installment appearing in Section 6 of this catalogue). With three envelopes, supplied by Shaw.
"I was greatly surprised to learn of Charley Finley's indifference to your request. After searching through about 200 letters I found 3 from my dear old friend, Gen. Jessey J. Finley (many others that I had have been lost)...I knew him from my Boyhood. I telephoned ex-Gov. F.P. Fleming on receipt of your letter & he says he will try & get me the address of Gen. W.W. Loring's nieces...Not a single Congressman or Sen. from Florida in the Confederate Congress alive (Sen. Maxwell the last in Fla. & last in Senate from South...) died two years ago. His son Judge E.C. Maxwell of Pensacola can give you a sketch of his grand old Father's life, for Sen. Maxwell was one of God's Great good & true Gen. Judge R. Fenwick Taylor of Tallahassee can give you data regarding Judge Jas. B. Dawkins (his brother-in-law) who was a member of the Confederate Congress. Ex-Gov. W.D. Bloxham of Tallahassee can give you information regarding Judge Hilton, another member of Confederate Congress. Gen. Robt. Bullock of Ocala can give you history of St. George Rogers... member of Confederate Congress...I have looked over a list of papers I have & find that Judge James M. Baker of this City was the other Confederate Sen...My good wife & self can give you quite a history of our lives & adventures from 1861 to 5...." • "I would to God that more of our young men of the South were imbued with the spirit that you manifest. By far too many of the rising generation do not hold the memories of their Fathers & Grandfathers in as great reverance as they should & seem but too ready to excuse the course pursued by their fathers & the people of the South. I will go to my grave proud of the humble part I bore in that great & un-equal struggle & I have with my good old wife always taught our children to love and venerate a Confederate Soldier and the lost Confederacy. You can keep Gen. Finley's letter. I have another...I would greatly prize the book by Southern Pacific R.R. containing Autographs of prominent Men of the South...I know Maj. George R. Fairbanks of Fernandina (Florida's Historian) can give you much information...." • "...You are in error regarding the Forney's living and dying here. Gen. Wm. H. Forney of C.S.A., & after the war Member of Congress lived & died at Jacksonville, Ala....I would greatly prize a copy of the 'Returned Battle Flags.' 'See Lot 2-9.] I did not go to reunion at Louisville...."
Ink erosion along one fold of first letter, affecting several words, mousechew at lower right tip of two leaves, barely touching one letter, else fine. Modern research accompanies, including copy of 2009 newspaper article on discovery of his grave, and account of the harrowing escape by Sebring and cohorts from prison. "...What Sebring was really up to during the war is quite another story. 'What we had planned to do makes my blood run cold,' one of his comrades commented years later. An odd event late in Sebring's life caused him to leave a paper trail..."--Review of Spies of the Mississippi, at civilwarstlouis.com. The arduous assembly by Shaw of his Civil War autograph collection - and its survival to the present day - are enduring evidence of the powerful sentiments expressed in these letters. Letters of Confederate spies, especially lengthy ones with rich content reflecting the core of Confederate convictions, are understandably rare. $675-925 (7 pcs.)

2-6. Confederate Currency.
$500 note, Richmond, Feb. 17, 1864. Criswell T64/489 variant. Keatinge & Hall. Stonewall Jackson at lower right, equestrian statue of George Washington and Confederate flag at left. Pale pink and black. Horizontal lines in background. Crisp detail. Wide margins top and bottom, just in to clear at left and right. Very light soiling, else never folded, fine to very fine, retaining some crispness. 4th ed. c.v. 200.00+, 1992. • $10, Feb.17, 1864. "10 Series." Criswell T68/552. Evans & Cogswell. Horses pulling cannon; R.M.T. Hunter at lower right. Darker pink and black. Blue verso. Top, right, and most of bottom margins; in at left. Some fine wrinkles, vertical fold, else very good plus. • With, U.S. fractional currency, 5¢, "Receivable for Postage Stamps at any U.S. Post Office...." National Bank Note Co. Sepia brown on yellow. Old soft quarter folds, some handling, else very good. $325-400 (3 pcs.)

2-7. Confederate Bond.
$1000, Act of Feb. 20, 1863, issued Mar. 2. 7%. Oval portrait of Stonewall Jackson; steamboat at bottom. Archer & Daly. Pink paper. With seven coupons. Criswell 122. Rarity 4. 2 1/2" vertical tear at top neatly repaired on verso with acid-free tape, usual fine wrinkles, else a pleasingly crisp impression on lilac-rose, suitable for display. $80-110

2-8. The "Swamp Rats" in Mississippi.
Confederate telegram, in field hand, from fearsome (Brig. Gen.) M. Jeff Thompson, on partly printed form of South-Western Telegraph Co., Senatobia (Miss.), June 21, 1862, 5 1/2 x 8 1/4. To Gen. Ruggles, probably at Grenada. That month, Ruggles was named commander of Louisiana east of the Mississippi, headquartered in Jackson. "The enemy have undoubtedly gone back over Cold Water but as I have but thirty men I will go to Panola to stay tonight and return as far as possible in the morning. Telegraph to me at Panola." Grenada, Miss. was on a key rail line; the previous day, Thompson had warned of an audacious attack by Union Gen. Lew Wallace (of Ben Hur fame). Docketed "R(eceived) 7 P.M." A Confederate partisan fighter, Thompson was a "colorful Virginian with Yankee mechanical ingenuity and a love of deadly weapons" (Monaghan). His "swamp rats" became part of the lexicon of the Civil War. Around the time this telegram was sent, Thompson was charged with mustering Mississippi's new Partisan Rangers, at Senatobia. Still in Senatobia three weeks later, Thompson wrote a letter (not present) to U.S. Grant: "...While to 'threaten' (is) unsoldierly...I would tell you to beware of the curses and oaths of vengeance, which the Fifty Thousand brave Tennesseans, who are still in our Army, will register in Heaven, against the persecutor of helpless old men, women, and children, and the General who cannot guard his own lines..."--The Papers of Ulysses S. Grant, Vol. 5, p. 193. Symmetrical waterstain along central fold and at lower portions, else very good. $375-450

2-9. Confederate Battle Flag Books.
T.L.S. of John F. Lehane, St. Louis Southwestern Railway Co. of Texas, Tyler, Oct. 3, 1905, "Cotton Belt Route" logo, 8 1/4 x 10 3/4. To Shaw. "...I am sending you under separate cover two copies of the picture of the Hon. John H. Reagan...Our supply of the Battleflag books is about exhausted but duplicates can be secured from the Buxton and Skinner Stationery Co., St. Louis...." (This may refer to the book, "Returned Battle Flags," mentioned in William Sebring lot.) Reagan was Confederate Postmaster General, Treasury Secretary, and imprisoned with Jeff Davis. Typewritten in purple on thin ivory manifold tissue. Light wrinkling from original folds, else very fine. With Shaw's reply envelope, pink 2¢ embossed Washington postal stationery. On verso, he has noted in pencil, "10 copies." $60-80 (2 pcs.)

2-10. Oath to Uphold Confederate Constitution – One Month before Surrender.
Partly printed form, Wilcox County, Ala., Mar. 11, 1865, in which Constable Robert J. Adams posts $1,000 bond, and pledges allegiance to the Confederate Constitution. 7 1/2 x 12 1/2, both sides. Signed twice by Adams and Probate Judge Z.S. Cook, and once by W.M. Blackmon and E. Williamson. "I...do solemly 'sic] swear that I will support the Constitution of the Confederate States, and the Constitution of the State of Ala., and that I have not...given...a Challenge...to fight with deadly weapons, either in or out of this State...." On precious laid tan paper, with stationer's crest, uniform toning, breaks but no separations at folds, chipping at three corners affecting no text, else very good. $70-100

2-11. "Such a purty day" in Virginia.
Letter of semi-literate – and wavering Confederate soldier Jacob B. Bodenhamer, soon to be a Unionist. "Camp near Arng 'Orange?] Court house, Va.," Apr. 5, 1864, 5 3/4 x 9 1/2, 2 pp. In cocoa brown on tan adversity paper. To cousin Miss L.A. Davis, Highpoint, Guilford County, N.C. "...It is ranin 'sic] and a halin here now and it is the mudest time I ever seen and we have had 2 snows in April. We are still in our winter quarters...Last Sun. I was at leave...for it was such a purty day and I would like to of seen Miss Lien very well and several others of the girls...I am in hopes that this crull war will stop sum of these times so as all of the boys can all be at home together. I would like to bee at another f(r)olick with you...Direct your letters to the Army of Northern Va. in care of Capt. Bitting, Co. K, 48 Regt. N.C. Troop, Cooke's Brigade...." Waterstains at folds and margins, but about very good. In Oct. 1864, Bodenhamer deserted to the enemy at Poplar Spring Church, Va. Brought to Washington for confinement, within a week he took the oath of allegiance to the Union. • With envelope, probably handmade, on adversity pulp, bearing 10¢ Confederate postage stamp, margins into design but apparently from being crudely torn from sheet prior to affixing; waterstain along bottom, else about good. $240-300 (2 pcs.)

2-12. "All things look rather blue...A calm before a storm...."
Superior letter of Confederate (1st Sgt.) Jas. H. Broun, Co. A, 3rd Regt. Alabama Vols., "Entrenched Camp at Oak Grove," (Va.), Feb. 27, 1862, 7 1/2 x 12, 2 full pp. In dark pencil on grey. To Mary Broun, Care (of) Messrs. A. Broun & Sons, Mobile, Ala. "It has been so long since I last wrote...I fear you all must think that I am dead and buried, or deserted - but the fact is, the even tenor of our way has been interrupted for the first time in nine months. Since the taking of Roanoke Island by Burnside, this neighborhood has been quite uneasy, inasmuch as it gives the Yankees the whole control of Albermarle Sound, and all of the rivers running into it - most of which are crossed by the only two Rail Roads running from this place, viz the road to Weldon, N.C. and the Petersburgh road, the cutting off of either of which would not only cut off our supplies, but take us in the rear. It is said that Burnside has received a reinforcement of 40,000 men, that added to his previous force, would overpower anything we could bring against him. Besides that, they could attack us with any force by water. As you see, all things look rather blue. It is said that there are 20,000 troops that could be concentrated here, in case of an attack, but I am afraid the number is overestimated. Where they are, I cannot tell. We were thrown into quite an excitement two weeks ago by an order to get ready to march. It was reported that the enemy were marching on Suffolk about 20 miles from Norfolk on the R. Road, and that we were to go there, and in all probability would have a fight in less than 24 hours. We were soon ready to march, taking nothing with us but what we could carry on our backs, unwillingly leaving all of our luxuries behind. We were marched about 9 miles to the rail road where we were halted...We are encamped on the R. Road about a mile from Portsmouth... This place has been used by a Georgia Regt. but the cabins they put up look so dirty, that I preferred my tent, and although rather cool with only one blanket...I manage pretty well by making a fire at the door of my tent, preferring the smoke to the cold. The boys are just learning what true soldiering means, and having had such an easy time for so long, it comes rather hard...I believe it is only a calm before a storm - that they will take this place soon...They will never attack us now except with overpowering numbers. No matter how large their force though, they will have to fight hard for it. I with about 25 others of our Co. have reenlisted for two years, or the War - being determined...to stand by our course to the last...Perhaps the next time you hear from me, will be from Fort Warren...I hope you will be able to read this. I am writing on a board on my knees...." Very light fold wear, pencil arrow pointing to a vivid passage, perhaps by the recipient, else about fine. • With envelope, blue Portsmouth, Va. c.d.s., "10" handstamps in both black and light blue, old glassine hinge on verso, flap tear, else fine and unusually clean. $325-400 (2 pcs.)

2-13. Confederate Patriotic Label.
Genuine pictorial label as used on envelopes during Civil War (now valuable and scarce). Postage-stamp-size, 25 x 30 mm, crimson red and water blue on eggshell white, showing Southern sailor nailing the fluttering 11-star flag to mast. The eleventh star was added after admission of Tennessee - the last state to wholly secede from the Union - on July 3, 1861. Two very wide margins, slender at right, and touching hairline border at top; interesting stray red printer's ink spot at lower left, else fine plus. Listed in 1959 Dietz catalogue as Type J-B-1 (now referred to as Type ST-4), even then valued at 40.00. $90-120

2-14. Ladies-Size Adversity Cover.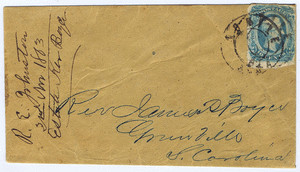 Confederate #12, greenish blue. Small kraft adversity cover, handmade from a scrap of lightweight wrapping paper, to "Rev. James P. Boyer, Greenville, S. Carolina." Endorsed at left, "(From) R.E. Johnston, 2nd Nov. 1863 / Estate K. Boyer." A Greenville attorney, thirteen years earlier Johnston had been a student at South Carolina College at the same time as States Rights Gist. Double-struck Mobile, Ala., no date. Stamp affixed at edge of cover, slightly rough-cut at left, light fraying at right, but three hairline margins, and generous at bottom. Two heavy creases (possibly present when made) just missing stamp, some fine wrinkles, else boldly penned, and about very good. Small adversity covers are less common. $110-140

2-15. Raleigh to Alabama.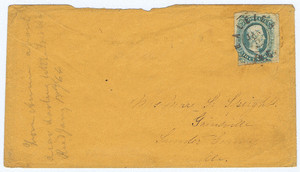 Confederate #11, greenish blue, on orange cover. Socked on nose "Raleigh N.C. / Jan 5 '1864]." To "Mrs. Marie S. Speight, Gainesville, Sumter County, Ala." In contemporary pencil, "From Annie about dear darling little Freddie'?]. Recd. Jan. 19/64." Lacking most of flap, stamp irregularly trimmed at lower left and bottom, but wide margin at right; hinge and mounting evidence on verso, flap originally sealed by sender with a strong mucilage, old-time collector's small six-pointed star rubber-stamped on verso, minor handling, else very good. $65-90

2-16. From Charleston.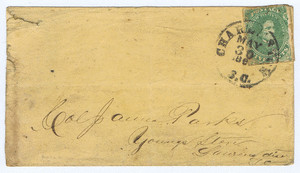 Confederate #1, lightish green, tied with black "Charleston S.C. / May 30, 186 'last digit not stamped]," on buff cover. To "Col. James Parks, Young's Store, Laurens dist., S.C." Several tears at left edge, stamp slightly rotated counter-clockwise, two corners extending off cover, dust-toning, else about good. $180-230

2-17. To a Lakeside Town of Georgia.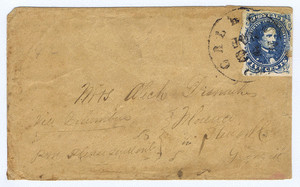 Confederate #4, dark blue, Stone 2, tied with black "Calhoun Ga. / Jan 24" on mocha cover. To "Mrs. Aleck Dismalus'?], Florence, in Stewart Co., Ga. / Via Columbus / P.M. Please send out." Blank verso browned, light waterstaining at edges, ink trifle light, irregular trim at lower left of stamp, stamp flush with right edge of cover but adequate margin remains, else satisfactory. $200-275

2-18. Uncommon Late-War Confederate Usage on Official Document.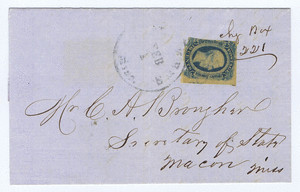 An interesting folded manuscript document, with integral address-leaf bearing Confederate #11, blue. Lowndes County, Miss., Jan. 30, 1865, signed by "Sheriff & Returning Officer" E.C. Eggleston, certifying "a Special Election held at 'Nichols' Shop' and 'Old Zion' in Police District No. 3...for One Justice of the Peace...to fill the vacancy caused by resignation of George M. Barksdale...," listing votes received. James M. Halbert won the election, with 22 votes, to his opponents' 11 and 9. To "C.A. Brougher, Sec. of State, Macon, Miss." Light Columbus, Miss. c.d.s., just touching bottom edge of stamp. Trimmed into design at left, feathered bottom but as affixed, adequate margin at top, wide with sliver of next stamp at right. Stamp affixed sideways, with generous margins. Very fine, clean, and attractive for display. $190-250

2-19. To a Remarkable Town in Virginia.
Confederate #11, ever so slightly greenish blue. Groundwood adversity cover, addressed in light pencil to "Mrs. Nannie G. 'Charles] Figgat, Fincastle, Va. / Via Lynchburg." Her husband, banker Charles, is almost certainly the eponymous enlistee in the celebrated 1st Va. Cavalry - commanded by J.E.B. Stuart - and detailed as a clerk to the headquarters of Stonewall Jackson and Jubal Early. Postwar Cashier of the Bank of Lexington, Figgat absconded with funds in 1870. In all, at least twelve members of the Figgat(t) family served in the Confederacy. Two pen cancel lines in topaz-brown ink. Four ample margins, but fragment lacking at lower right, just affecting corner design. Three lines in contemporary pencil on verso, but very light, requiring close scrutiny; cover browned, much worn, waterstained on verso, wrinkled but nearly complete flap, and overall fair but collectible. "Fincastle was something of the last outpost before the Western frontier, serving as a supply station for settlers heading West. From its inception until the Revolutionary War, Fincastle oversaw a massive governmental district that stretched to the Mississippi River and included parts of modern-day Wisconsin...Fincastle's courthouse was designed by Thomas Jefferson and today...contains a vast archive...George Washington, Patrick Henry, Jefferson and other prominent Virginians either appeared in Fincastle or sent their agents to lay claim to tracts of wilderness lands. Meriwether Lewis and William Clark departed from Fincastle when they were commissioned by Jefferson to explore the Louisiana Purchase..."--wikipedia. A survivor. $90-120

2-20. Confederate $20 Note.
1861 Series. Hoyer & Ludwig, Richmond. Showing sailor at capstan, and full-masted ship. Numbered in red. "Six months after the Ratification of a Treaty of peace...." Serial letter F-A. T-18/106. Three old parallel folds, circulation handling, one trivial edge wear, but tips perpendicular, nicely centered, margins ample, and very good. $50-70

2-21. Confederate $50 Note.
1864 Series. Keatinge & Ball, Columbia, S.C. Oval portrait of Jefferson Davis. Dual number stamped in black."Five Years after...." Serial letter W-A. 1st Series. T-66/496. Some minute edge tears and overfolds at top, closely trimmed at top, black border essentially present left and right, and somewhat unusual jumbo border at bottom, with up to 1/8" band of the pink and black of note below. In all, about very good, and interesting thusly. $50-70

2-22. Confederate $50 Note.
1864 Series. Keatinge & Ball, Columbia, S.C. Oval portrait of Jefferson Davis. Dual number stamped in black. "Five Years after...." Serial letter Z-A. 3rd Series. T-66/498. Quarter of red (T)reasury stamp on verso, applied at junction of four notes before cutting by printer (notes were also signed before trimming). Incidental wear at top and bottom edges, insignificant fine crease at left, trimmed a bit close at lower right vertical, else adequate margins, and fine plus. $55-75

2-23. Confederate $20 Note.
1864 Series. No printer. State Capitol at Nashville, and Alexander H. Stephens. "Two Years after...." Serial letter B. No Series. Two flourishes. T-67/504. Perpendicular folds, several stray ink flourishes, circulation handling, else strong pink background and very good plus. A pleasing note with character. $30-40

2-24. Confederate $5 Note.
1864 Series. Keatinge & Ball/"Lithogd. by Evans & Cogswell." State Capitol at Richmond, with oval portrait of C.G. Memminger. Especially fine imprint of fancy blue back. "Two Years after...." Serial letter C. Series 4. T-69/563. Trim partly in at bottom right, else ample margins, one vertical fold, and only light handling, else very fine. $40-55
TO FIND OUT CURRENT HIGH BIDS,
OR TO PLACE BIDS,
JUST CALL 1-914-476-8500
OR e-MAIL info AT cohascodpc.com
(We do not currently use online bidding)
3. Books & Publications
– Including a Selection of Scarce & Interesting Early Books on Law –


3-1. Handbook on Landlord-Tenant Law – 1741.
The Complete Court-Keeper: or, Land-Steward's Assistant. "The Nature of Courts Leet and Courts Baron...The manner of holding Courts...the Nature and Kinds of Actions, and of Pleadings; and Precedents of Declarations and Pleadings, and of Process... Precedents of Contracts...Leases for Life...Power and Authority of the Lord...Privilege of the Tenants...." By Giles Jacob. Fourth Edition. "In the Savoy": Henry Lintot, 1741. 4 3/4 x 8, 522 pp., original glazed calf, extensively blind-tooled, gilt-stamped fore-edges of covers. An especially pleasing blending of laid ivory paper with delightful display of the typographer's art. Some flaking at repaired crack of front outer hinge, expertly reinforced with complementary endpapers, suntoned block on front cover, some shelf wear and scuffs; very light dampstain at upper right tip of much of text, else internally very fine and clean, and in all, a rewarding example. Cited in "Critical Dictionary of English Literature...from the Earliest Accounts to the Middle of the Nineteenth Century," 1859, Vol. I, p. 859. Very scarce on the market. $275-375

3-2. A Bedrock of America's Founding.
The First Part of the Institutes Of the Laws of England. "Or, A Commentary upon Littleton, not the name of the Author only, but of the Law itself...," by Edwardo Coke. Considered one of the five greatest books of English law, impacting young America's Bill of Rights. London: John Streater, James Flesher, and Henry Twyford, 1670, 7th ed. 7 1/2 x 11 3/4, 395 pp. + extensive index of (69) pp. Original blind-ruled calf, red spine label "Coke Upon Littleton." Fascinating procession of some seven previous owners' signatures, rubber stamps, or bookplates, July 4, 1824 to 1966, the latter owner noting he paid $75; including noted attorney Edward Owen Parry (1807-81) and Oliver N. Heblich. Coat-of-arms sketched in old pencil in margin. Folding family tree showing legal definitions of descendants, with charming woodcut. An exhaustive reference work originally intended for barristers of Olde England, most pages with four columns: Latin text, English translation, extensive commentary in Old English type, plus case law citations in margin. Presenting, in 749 sections, essentially the cumulative entirety of Anglo-Norman and English property law as it stood three centuries ago; already mature, its precepts quickly took root in young America. "In American legal culture, Coke is a champion of the common law, constitutional liberty, and judicial review. Copies of Coke's writings arrived in North America on the Mayflower in 1620, and every lawyer in the English colonies and early United States was trained from Coke's books...the most famous of which was his property book, The First Institute... 'offered here]. Both John Adams and Patrick Henry argued from Coke treatises to support their revolutionary positions...Eighteenth-century colonists and later, twentieth-century historians invoked Coke to support the claim that the English common law and related liberties migrated to British North American colonies with British settlers...In 1610 Coke decided against the King's authority to make law by proclamation..."--The English Constitution and the Expanding Empire: Sir Edward Coke's British Jurisprudence, Hulsebosch, 2003. Indeed, "widely recognized as a foundational document of the common law, (Coke's treatises) have been cited in over 70 cases decided by the Supreme Court of the U.S., including several landmark cases. As recently as 1973's Roe v. Wade, Coke's Institutes are cited as evidence that under old English common law, an abortion performed before quickening was not an indictable offense. In the 1895 case of U.S. v. E.C. Knight Co., Coke's Institutes are quoted at some length for their definition of monopolies"--World Heritage Encyclopedia. Delightful mix of typefaces, itself a Herculean achievement. Boards detached and much worn, rear cover briefly used as a cutting board(!), with numerous scars; title leaf shaken, ancient paper strip reinforcement of margins of some Preface leaves, one leaf short-trimmed at wide bottom margin, no loss of text; browning and waterstains of early and late leaves, some foxing, else internally satisfactory to about very good. A charming and absorbing work, this particular example in nearly continuous service as a legal reference, through the present 21st-century consignor! Referenced by Wing C4928. $275-375

3-3. Legal Decisions in Merry Olde England.
The Decisions of the Lords of Council and Session, in Most Cases of Importance, Debated, and brought before Them; From July 1621, to July 1642..., "observed by Sir Alexander Gibson of Durie, then one of the Senators of the College of Justice." Edinburgh: "Printed by the Heir of Andrew Anderson, Printer to Their most Excellent Majesties...," 1690. 7 1/4 x 11 1/2, 900 + 43 pp. Index of "Pursuers and Defenders." Several ornamental woodcuts. Occasional manuscript notations in contemporary hand. Several thousand cases described, including the 1623 matter of Smith owed a debt by the Baillies of Elgin: "They suffered him to pass out, and repair in their free and publick Streets as a free Person...The Lords found it was not enough for the Magistrat(e)s to Incarcerat(e) and take the Rebel, except he were detained in Prison...until he were freed by order of Law...." Lacking front board; title and dedication leaves loose with chipped and toned edges, rear board and blank final leaf loose; early 20th-century reinforcement of front hinge with gummed paper strip; internally with subtle edge toning, scattered very light foxing, scorched blank margin with brittleness of about first two dozen leaves, else text very good to fine. Utterly charming and fascinating, the large Garamond type appealing and inviting untold hours of reading. WorldCat locates no copies this printing. Early English Books, 1641-1700, 762:4. $325-425

3-4. "The difference between Arbitrary Usurpers and...Laws of the Land."
Contentious, somewhat topical political volume, Arbitrary Government Displayed to the Life, in The Tyrannic Usurpation of a Junto of Men called the Rump Parliament, and More especially in that of the Tyrant and Usurper, Oliver Cromwell.... "In Which you have a clear View of the Arbitrary, Illegal, and unjust Proceedings, of those Persons under the Notion of Liberty...With the Characters and Lives of several of those Usurpers and a brief Account of the several Persons that suffered Death, and Imprisonment under them for their Loyalty to their King and Country, And By which may be seen the difference between Arbitrary Usurpers and Lawful Kings reigning by, and according to the Laws of the Land" 'the earliest appearance of this phrase we have seen]. Attributed to Sir Thomas May, M.P. London: printed for Charles Leigh, 1682. 3 1/2 x 6, 216 pp., six full-page engravings (one a foldout), beautifully burled calf, gilt rope frame. Two full-page "brass cut" frontispiece plates, one showing enormous Trojan Horse-size griffin, its body concealing ranks of a "standing army," with tiny representations of the "Magna Charta," "Laws," "Customs," "Statutes," and other stalwart traditions lying before its fire-breathing nostrils. Facing plate of "Oliver Cromwell's Cabinet Councell Discovered," showing a dozen men round a table - including "The Divell" (Devil) with enormous horns. At rear, folding plate of five clerics, and engraving of "The Powder Plot" mounted on inside board, both of latter possibly added from another contemporary source. An impassioned account of the tumultuous times of Oliver Cromwell, Lord Protector (chief executive) under a "constitution designed to establish balance of power between Parliament and protector," using his considerable pen to rule by ordinances--Webster's Biographical Dictionary. So hated did Cromwell become that he was hung from the gallows – after being disinterred from Westminster Abbey. Front inside hinge broken, signatures somewhat shaken, spine rebacked with goat-embossed leather, probably mid-20th century, red spine label; some tip wear, else about very good. A riveting reminder that current political discourse is nothing new, the prose's passion recalling that of the Revolutionary War period – and in some ways, today. Very scarce. WorldCat located only one copy in Great Britain (and three in the U.S.). $700-950

3-5. Capital Punishment.
The Dying Speeches and Behaviour Of the several State Prisoners That have been Executed the last 300 Years..., "and a Table shewing how the respective Sentences were Executed...." London: Printed for J. Brotherton and W. Meadows, at the Black-Bull in Cornhill, et al, 1720. 4 3/4 x 8, 495 + 1 p. publisher's advertisement. Rebound in milk chocolate library buckram, cream endleaves. From clerk William Thorpe (1407) and Sir Thomas More (executed 1535), to Mary Queen of Scots, Charles I, and many dozens of others, the words of the doomed in Old England. "I vow that I never sent Agents to Rome, or to any other Court...And 'tis well known...that Clergy-men (living in Countries where the Government is not of Roman Catholicks) are commanded by Rome, not to write to Rome..." (from "The last Speech of Mr. Oliver Plunket, Titular Primate of Ireland...executed at Tyburn...1681," p. 377). Some occasional minor foxing, else internally very fine, many passages fresh and clean, and binding choice. An unusual compilation, filled with eloquence and drama. WorldCat locates only four examples (Danish Union Catalogue, French National Library, and two in British Library). ESTC T11590. $175-250

3-6. Withholding "Meat and Drink" from Juries.
Excessively rare Georgian-period printing of book of Elizabethan-era legal commentary, Doctor and Student: or Dialogues Between A Doctor of Divinity and A Student in the Laws of England, "Containing the Grounds of those Laws, together with Questions and Cases concerning the Equity and Conscience thereof; also comparing the Civil, Canon, Common and Statute Laws...." Printed by Henry Lintot "In the Savoy," 1746. Compiled by Christopher St. German some two centuries earlier. 4 x 7, 328 pp. + lengthy appendix. Fine caramel polished calf, blind-stamped frame and ornaments, raised hubs, boards with gilt-tooled fore-edges, an uncommon touch. Dialogues on the Law Eternal, Law of Reason, of Man, and of England, attempting to reconcile faith and ethics with the law. "If a Fine with Proclamation be levied according to the Statute, and no Claim made within five Years...is the Right of a Stranger extincted thereby in Conscience, as it is in the Law?...If a Man find Beasts in his Ground doing hurt, whether he may by his own Authority take them and keep them till he be satisfied of the hurt...Whether it stand with Conscience to prohibit a Jury of Meat and Drink till they be agreed of their Verdict...." Discussing every facet of the law in Olde England, from the mundane – to murder. Though the backbone of both British and American law, such insight and wisdom seems distant from the practice of law today. Several light waterstains on front board, chipping at top of spine, four leaves lightly wrinkled at fore-edge, else internally remarkably fresh, tight, and overall fine plus. Sweet & Maxwell I, p. 25, #36, only two copies recorded at the time. WorldCat currently locates no copies this edition. $475-625

3-7. Beginning with the First Act of the First Session of the First Congress.
Significant work, The Laws of the United States of America. In three volumes. Philadelphia: Richard Folwell, 1796. A comprehensive chronicle of laws of the new America, commencing with printing of Constitution, large ornate eagle woodcut, signed-in-type by "George Washington, Pres. and Delegate from Va.," with names of all other delegates, and final resolutions of Constitutional Convention. Followed by all "Acts Passed at the First Session of the First Congress...begun and held at the City of New-York...fourth of Mar., ...1789...," through Second Session of Fourth Congress, the early Acts signed-in-type by Washington and John Adams, Vice-Pres. and Pres. of Senate. Original full calf (repairs noted below), 4 1/2 x 7 3/4, 494, 576, and (478) pp., respectively, the latter plus an exhaustive unpaginated Index, attributed to Zephaniah Swift. The full, contemporary text of laws, subjects including Aliens, Appropriations, Bank of the U.S., Coasting Trade, Copy-Right, Crimes, Debt of the U.S., Drawbacks, Duties, Fisheries, Seat of Government established, Relief in cases of imprisonment for Debt, Intercourse with foreign Nations, Intercourse with Indian Nations, Judiciary of the U.S., Legislature of the U.S., Military Establishment, Mint, Navy, Patents, Post-Office and Post-Roads, President of the U.S., Registry and Recording of Vessels, Seamen, Depts. of State, Treasury, and War, and Western Lands. Treaties, some with facing pages in French and Dutch; "Armistice Declaring A Cessation of Hostilities between the U.S. and Great Britain"; "...Treaty between the U.S...and the Sachems and Warriors of the Six Nations"; "Treaty of Amity and Commerce between His Majesty the King of Prussia and the U.S..."; treaties with "...the Head-Men and Warriors of the Cherokees" ("They shall also restore all the Negroes..."), Choctaw, Chickasaw, Shawanoe, Creek, and Delaware Nations, Emperor of Morocco, King of Spain, et al; Convention with His Most Christian Majesty 'France]. Also with printings of Declaration of Independence, Articles of Confederation and Perpetual Union, Northwest Territory Ordinance, and more. Volumes showing considerable shelf wear and use, scuffing, most tips rounded, foxing varying from absent to light to tortoise-shell. Vol. I: red spine label intact, wear at outer hinges, light mousechew at rear, else internally fine and clean. Vol. II: boards once detached, old repair with strips of brown linen, this glue now dry, title page reattached with old strip of white muslin, covering "U" of "United," upper right portion of title page lacking, internally lightly foxed to fresh in places. Vol. III: inverted geometric cross scribed on cover, spine and hinges recovered in old brown linen, a window made for spine label, title page reattached with old strip of white muslin, two edge fragments of title page lacking, but affecting one letter only; most of text fresh, notwithstanding use (interesting provenance). Evans 31356, 32973. Rare on the market, and core Americana. $950-1450 (3 vols.)

3-8. Classic Work on Trial by Jury and Capital Cases – 1702.
Tryals Per Pais: Or, the Law of England concerning Juries, by Nisi Prius. "Fourth Edition with Large Additions. To which is now Added, A farther Treatise of Evidence...Very useful and Necessary for all Lawyers, Attornies and other Practisers...By G.D. of the Inner-Temple, Esq." London: Rich. and Edw. Atkins, 1702. 4 1/2 x 7 1/4, 416 + unpaginated index + 41 pp. addendum on "...Capital Matters." Original calf, spine recovered by noted bindery with fine, supple caramel leather, red spine label; front inner hinge reinforced with cream muslin. The first eighteenth century edition of the first substantial treatise on the English jury and law of evidence, deservedly popular for over a century, bound with first edition of one of the earliest works devoted exclusively to capital cases (credit: Meyer Boswell Books). In-depth chapters on "the diver sorts of Tryals...when a Tryal shall be by a Jury, and when not: When by the Spiritual Law, when by Certificate, when by Battail, when by an Almanack, &c...The number of the Jurors, and why the Sheriff returns twenty-four, though the Venire facias mentions but twelve...Who may be Jurors, who not; who exempted, and of their Quality...Of what things Jury may inquire...when of a Mans intent...Evidences and Witnesses... Of a Tryal betwixt two Aliens by all English...How the Jury ought to demean themselves whilst they consider their Verdict; when they may eat and drink...What punishment the Law hath provided for Jurors offending, as taking Reward to give their Verdict...." Delightful typography, a mix of Garamond and Old English. Tips rounded, boards with superficial scuffing, foxing and mocha toning, one prefatory leaf shaken, else internally very good plus. WorldCat locates only three examples of this edition (British Library and two Dutch libraries.) Rare. $650-900

3-9. From Pirates to Poisoning: Over 5,000 Pages of Crime Drama.
Complete set of 6 volumes, A Complete Collection of State-Trials, and Proceedings upon High-Treason, and Other Crimes and Misdemeanours; From The Reign of King Richard II, To The End of the Reign of King George I..., London: 1730. Second ed., "with great Additions." A massive ensemble, in original full calf, 9 x 14, double gilt rules and blind-tooled ornamentation on covers, hubbed spine with elaborate gilt filigree, decorated fore-edges of boards, all edges scarlet. 998, 1,038, 1,027, 862, 858, and 308 + 60 pp. Appendix + unpaginated but extensive integral index to all six volumes, respectively. With an astonishing array of case law in the branch of English law which informed the American prerequisites for impeachment. Heading include Allegiance, Assassination, Habeas Corpus, Marriage ("Marrying a second Wife the first being alive, Felony"), Naturalization, Pardon, Prisoners and Imprisonment (including Sir Thomas More), Sir Walter Raleigh, Riots and Routs ("Lawful for private Persons to arm themselves to oppose Riots, Rebellions, or common Enemies"), Mary Queen of Scots, Treason ("It is the Imagination that is the Treason, the Overt Acts are but the Evidence of it"), Thomas Whitebread's plot to poison the King, Witchcraft, and many others. Content includes the controversial Judge Jeffreys trial of Titus Oates, "The Hand-writing of a Criminal prov'd by comparing it with other Writing of his," trial of the "German Princess" for bigamy, "The same Certainty is not requisite in an Impeachment as is required in an Indictment," vast number of entries for Capt. William Kidd's indictments for murder and piracy, with names of co-defendants and fellow pirates (including the aptly monikered Hugh Parrot), in the first recitation of otherwise-unknown pirates by name we have encountered; "Publishing any News-Books without License punishable." "...If a Servant go voluntarily with a Pirate, and accepts his share of the Booty, he was to be accounted a Pirate." "Musick, Dancing, Church-Ceremonies, and Men and Women's Hair offends Mr. Prynn; and he insinuates that we are returning to Paganism, and persuades People to fly their Country. Prynn affirms that he would rather die than put on his Maid's Clothes...." Thousands of other entries. With extensive trial transcripts, the combination of their antiquity and typography rendering them utterly absorbing: "...Gamble the Coachman swears, That the Night Dr. Clenche was killed, he took up three Men in Cheapside, set one of them down at Gray's Inn, and drove on to Dr. Clenche's House; the Doctor was not at Home, then the third Man came in again to the Coach, and he drove to the Blue-Boar's-Head, an Alehouse...and twas then about Eight of the Clock..."--Vol. 4, p. 505 (the prisoner was found not guilty). Both boards of Vols. 1, 2 and 6 detached but present, front boards of 4 and 5 loose, all boards and spines heavily worn, with varied scuffing, tip rounding, and defects; some spine labels present. Two endleaves and title page of Vol. 3 shaken but present; foxing of last two leaves of last volume, else text with very minor, occasional faults, but remarkably fresh, clean, and about very fine to excellent. Complete sets are scarce. $700-1100 (6 vol. set)

3-10. Early City Directory.
The Boston Directory; containing the names of the inhabitants, their occupations, places of business, and dwelling-houses, with Lists of the Streets, Lanes, and Wharves ...with other Useful Information. Pub. by Edward Cotton, 47 Marlborough St., June, 1809. 4 1/4 x 6 3/4, 168 pp., lacking map. Original hand-marbled wrappers, bearing oval printed bookseller's label of the period, "...Stationery Store, 66 State St...." A fascinating chronicle of early Federal-period Boston, reflecting the trades and crafts of newly-independent America, including mariner, housewright, paperstainer, truckman, shipwright, hairdresser, shopkeeper, chairmaker, cooper, cordwainer, labourer, wine seller, caulker, mastmaker, sealer of wood, tallow chandler, fisherman – and "Hancock, John, merchant, 8 Merchants row, house Hancock St.," likely a relation of the Declaration's most conspicuous Signer. Other vocations include hatter, baker, miller, bookbinder, goldsmith, brass founder, rigger, confectioner, victualler, woodwharfinger, school mistress, blacksmith, whitesmith, carver, sailmaker, perfumer, glassblower, teacher of music, and others, among thousands of listed Bostonians. Handsome pictorial bookplate of E. Loring Richards, judged c. 1910. Label with very short edge tear at top curl; covers with moderate handling and some creases; lacking marginal fragment of one leaf, affecting three letters only; light internal foxing, tip wear, else good. Early American Imprints, Second Series, no. 17067. WorldCat locates only one example. Very rare. $450-650

3-11. The Works of Ben Jonson.
A literary landmark: the first edition of the complete oeuvre of the first poet laureate – and the last of his folio editions. "...Formerly Printed in Two Volumes, are now Reprinted in One. To which is added A Comedy, called the New Inn, With Additions never before Published." London: Thomas Hodgkin, 1692. 9 1/2 x 14 1/4, 744 pp., original blind-tooled calf veneer expertly onlaid on mid-20th century full leather rebinding, with hubbed spine and endpapers; label of Gramercy Book Shop, N.Y., who likely commissioned restoration. The often-missing copperplate frontispiece portrait present, backed with transparent silk. Some of the English language's most proficient and artistic prose and verse, the period two-column layout in Garamond heightening the experience, presenting the poet and playwright's work as a wealthy 17th-century reader would have beheld it. Generally regarded as the first poet laureate, Jonson also trod the stage as an actor. Taps at two upper corners of modern covers, else very fine; text with pleasing, light uniform marginal toning, else very fine and clean. In all, an example with enormous appeal and charm. ESTC R15282. Hazlitt II, 320. Pforzheimer 561. Tannenbaum 673. Wing J-1006. $2900-3900

3-12. A Swashbuckling Novel – for Pennsylvania Dutch Readers.
An unusual item: Pennsylvania Dutch printing of the lively then-best-selling novel on brigands and robbers, Rinaldo Rinaldini der Rauber-Hauptmann. Eine romantische Geschichte unsers Jahrhunderts, in brey Theilen... 'Approximately, "Rinaldo Rinaldini the Robber-Captain. A romantic Story of this Century, in Three parts...."] (By Christian August Vulpius et al). Printed by Carl A. Bruckman, Reading, Penna., 1820. Stated first American edition. Original mottled paper over boards, calf spine. 4 1/4 x 7 1/4, three parts published and bound together, each with title page, 331 pp. in all. Five full-page woodcuts, all depicting Rinaldo as a womanizer. About a third of paper covering chipped from covers, exposing boards; frontispiece woodcut with tear across top, but repairable; spine worn and dry, somewhat shaken, text varying from light foxing to bright, and internally about very good to about fine. Delightful conversation piece, and a rare work, with the unlikely combination of early crime fiction – for German-American readership. The story showed remarkable durability, becoming a silent adventure movie in 1927, and, in 1968, a German television series featuring its titular Italian swashbuckler. No copies on abebooks. $150-200

3-13. Pennsylvania Dutch Biography of "George Waschington."
Very rare Pennsylvania Dutch volume for young readers, Biographische Skizzen des Durchlauchtigsten Generals George Waschington, gewesenen Presidenten der Vereinigten Staaten von America, und Ober-Besehlshaber ihrer Armeen, während dem Revolutions-Kriege..., (attributed to John Corry). Printed by J(oseph) Hartman, "Libanon" (Penna.), 1815. 4 x 6 1/2, 130 pp., original plain calf spine over moss-green boards. Front endpaper lifted from board, L-tear at bound edge of title leaf, extending into text, shorter tear at lower bound edge; about half of two rear blank endleaves lacking, some juvenile pencil scribbles, covers with much wear, internally some foxing, but in all, about good. Delightful item for the Washingtoniana completist, including discussion of July 4th, 1776. Early American Imprints, Second Series, no. 34453. No copies on abebooks. WorldCat locates only two copies, at Boston Athenæum and Pennsylvania State Library. $225-325

3-14. New York City - "the commercial centre of the Confederacy."
Pamphlet, "Grand Mass Meeting at the Cooper Institute - Nomination of Gen. Ulysses S. Grant to the Presidency, Dec. 4, 1867," printed by "Executive Committee," its members including William B. Astor, Peter Cooper, Hamilton Fish, Cornelius Vanderbilt, A.T. Stewart, Theodore Roosevelt (Sr.), and hundreds more. N.Y.: 1867, 5 1/4 x 8 1/4, 40 pp., sewn. "...As the first public demonstration in favor of Gen. Grant for Pres., it was a great success...A good number of ladies were present. The hall was tastefully decorated for the occasion with the Stars and Stripes, and the flags of the leading nations of the earth...." Speeches by Gen. Sickles et al, with "loud cheers" and "great laughter" noted as he spoke. Lyman Tremaine told the Manhattan crowd, "You are situated in the commercial centre of the Confederacy - the seat of wealth, intelligence and activity...As early as 1862, Grant approved of the Emancipation Proclamation...He did not desire peace until slavery was destroyed...." Toning of half of last page where once folded, some creases, else good plus. $60-80

3-15. Daguerreotype Reference Library.
Substantive collection of over 100 issues of The Daguerreian Newsletter, "Dedicated to the History, Science and Art of the Daguerreotype," from 1994 (Vol. 6, No. 1) to 2013 (Vol. 25, No. 3), lacking only about three issues. Published by the hobby's foremost society, heavily illustrated with daguerreotype history, news, finds, collections, and research. 8 1/4 x 11, 12-36 pp., variously. Clean and fine. Essential - and much enjoyable reading - for the collector, dealer, archivist, and casual buff. Discovery of a few key facts will pay for this assemblage. $450-750 (over 100 issues)

3-16. Directory of Daguerreian Photographers.
Three-volume classic directory of daguerreian photographers, Craig's Daguerreian Registry, "Being a unique compilation and cross-indexed reference to the Practitioners of the Art of the Daguerreotype in the U.S. from 1839 to 1860. Including as well as members of the Allied Professions, including casemaking, apparatus and accessory manufacturing and distribution, coloring, die-engraving, &c.," compiled and edited by John S. Craig, 1994 and 1996. Vol. 1: "The Overview"; Vols. 2 and 3: "Pioneers and Progress." 8 1/2 x 11, softbound, 368, 362, and (358) pp., respectively. Quintessential compilation for identifying producers and locations of early photographers who signed their work. Astonishing profusion of daguerreian artists, even some of the more obscure towns with multiple photographers. Light shelf wear, else fine and clean. Elusive on the market. $120-160 (3 vols.)

3-17. Original Context for the Second Amendment.
Excessively rare pamphlet, "The Militia Law of the State of New-Hampshire, Passed at Concord, Dec. 22, 1808...To which is annexed, the Militia Law of the United States," the latter signed-in-type by then-Pres. George Washington, Speaker Jonathan Trumbull, and Pres. pro tem of Senate Richard Henry Lee. Concord: 1808, 5 1/2 x 9 1/4, 34 pp., sewn. Detailing revised laws "for arranging, forming, and regulating the militia," the context informing today's much-debated meaning of the Second Amendment. "Each and every free able-bodied white male citizen of this State, resident herein...age 16 years, and under the age of 40...shall...be enrolled in the militia...It shall at all times be the duty of such Captain...of the company, to enroll every such citizen...." Excusing from military duty the Vice Pres., "all the officers, judicial and executive, of the Government of the U.S.," "post-officers," stage-drivers, ferrymen, mariners, "all officers or students of Colleges, Ministers of the Gospel, people denominated Quakers, and Shakers...," and physicians and surgeons. "Every citizen...provided with arms and accoutrements...." Officers "to be armed with a sword and pair of pistols, the holsters of which to be covered with bear-skin caps." New Hampshire's constitution was the first in the new United States; the State's clear language defining "militia" here offers primary source context for the Framers' original intent. Title leaf loose, final leaf torn at blank lower portion, foxing of outer leaves, toning, all edges deckled, with some chipping, else good. Perhaps a lone survivor: no copies located on either abebooks or WorldCat. $200-275

3-18. Rescuing Orphan Girls – and Drowning Victims.
Two pamphlets, reflecting Bible-based philanthropy in the new America: "Charity to Children Enforced, in a Discourse, delivered in Trinity Church, Boston, before the Subscribers to the Boston Female Asylum...," by Rector Samuel Parker, Boston: 1803. 5 1/2 x 9, 32 pp., sewn. Offering a prayer, with 25 of the orphan girls present, to "...make this Institution a blessing to the community...taking by the hand the female Orphan, whose fathers and mothers...have forsaken them, of preserving them from the snares and temptations of a vicious world... The great Jewish Legislator was saved from destruction by the generous compassion of a woman...Ye Daughters of Israel! Ye fond and indulgent Mothers! behold the distress to which your sex is liable... innocent Orphans...." Cover dust-toned, deckled edges, mousechew at upper right, but with no loss of text, else good. • "A Discourse, Delivered before the Officers and Members of the Humane Society of Mass.," by Lemuel Shaw, Boston: 1811. 5 1/2 x 9 1/4, 24 pp., sewn. Accounting of monies, certified by John Hancock - possibly a relation - including details of rewards of $2 to $10 to local rescuers. First few leaves foxed, tear in blank margin of one leaf, some tattering of right edge, else good. $45-65 (2 pcs.)

3-19. Biography of a Modern Woman in the Age of the Sun King.
The Memoires of the Dutchess Mazarine 'Hortense Mancini]...Together with the Reasons of her Coming into England, "Written in French by her Own Hand, Done into English by P. Porter." Attributed to Abbé Saint Real. London: William Cademan "at the Popes-Head...," 1676, 4 x 6 1/2, 130 pp. + Errata leaf, original plain full calf. Apparently first edition, with initial license leaf. A charmingly composed - and quite engaging account of her experiences in high society in the era of Louis XIV, his 73-year reign the longest in European history. "His court the most magnificent in Europe, French letters and arts in their golden age"--Webster's Biographical. "I know the chief Glory of a Woman ought to consist, in not making her self to be publickly talked of...I am descended from one of the most Illustrious Families of Rome; and that my Ancestors these three hundred years have held a Rank so eminent and considerable, that I might pass my days happily, though I had never been Heiress to the first Minister of France...But he was not the only man I had the ill Fortune to please. An Italian Eunuch, Musician to the Cardinal, was accused, for having a Kindness for me...He was also jeered for being in love with the beautiful Statues that were in the Palace M(azarin)...." Sicilian-born Giulio Mazarini (Mazarine) rose rapidly to Cardinal, then Prime Minister of France, his diplomatic policies paving the way for Louis XIV's successes. A patron of Balzac and Descartes, he engaged in other activities: "Whenever he had an opportunity he destroyed a feudal castle, and by destroying the towers which commanded nearly every town in France, he freed such towns...from their long practical subjection to the neighboring great lord..."--Britannica, 1958 ed., vol. 15, p. 129. Hortense, this book's author, was said to have been the most attractive of Mazarine's nieces who came to England in 1670, opening a salon for liaisons, gambling, and witty conversation. Spine perished, boards detached, covers and tips much scuffed and worn, first two leaves loose, early and late leaves with edge browning and toning, else satisfactory. Very scarce. Wing S 355. Esdaile, English Tales and Romances p. 299. Mish, English Prose Fiction 1600-1700, p. 52. $225-300

3-20. Robin Hood's Nemesis.
An intriguing slender volume, Roberte the Deuyll 'Devil], A Metrical Romance from an Ancient Illuminated Manuscript, London: I. Herbert, 1798. 5 x 7 1/2, 49 pp., original moss-green boards, dark red calf strip, spine perished. Unusual stipple copperplate engravings showing the life of namesake and relation of William the Conqueror, Robert II, Duke of Normandy, "surnamed for his monstrous birth and behaviour." The story, recounted in Middle English rhyming verse, of the birth, life, and death of the man who caused children to "take their legges, and away runne, To theyr fathers as faste as they maye, Roberte the Deuyll dothe come they woulde saye...To kill and Slea was all hys delyght...With hys speare at them dyd thrust, To fight euer more and more he had lust...Then Roberte rode into the countrey, And robbed and kylled many a one, Maydens and wyues he rauyshed pytteouslye, He pulled downe abbeys and houses of stone..." -- the Attila the Hun of Normandy. Disbound and shaken, covers scuffed and much worn; text with two deckled edges, very light foxing, pleasing uniform toning, one plate lacking blank corner, else internally very good. $85-125

3-21. Handbook for Physicians – 1765.
The General Dispensatory..., "to which are added, the Doses, Virtues, and Uses of the Simples as well as Compounds, and in what Cases they are attended with Danger. With a Design to render the Practice of Physic more Safe, Easy, and Successful." By R. Brookes, M.D. London: 1765. Second Ed. 4 x 6 3/4, 388 pp. + lengthy indices. Full original calf, gilt double-rule border. Pp. 1-133 devoted to alphabetical cyclopædia of materia medica - the building blocks of homeopathic medicine as practiced today. Together with many hundreds of formulas of preparations, elixirs, "medicated wines," honeys, "gellies," extracts, distilled waters, preserves and conserves, powders, electuaries, oils, salts, metallic preparations, rosinous and sulphureous preparations, pills, ointments and liniments. Including "Tincture of Wood-Soot: Soot has been esteemed to be of great Efficacy in the Falling-Sickness; and the meaner sort of Women in Germany use it frequently in hysteric Fits with Success...In the Epilepsy it must be taken three or four days before the New and Full Moon...." Among others: Sugared Iron ("Clean filings of Iron...as much as you please...Pour on them...Sugar thick enough for candying..."), Lunar Caustic, Flower of Brimstone, Vinegar of Squills, Oil of Bricks (to cure deafness), Mercurial Pills (quicksilver, turpentine, and rhubarb!), Ointment of Marshmallows, and many, many more. Exhaustive index, providing a panoramic glimpse of a doctor's cabinet in the eighteenth-century. Signature on half-title, "Daniel Morgan...Liber...1785." Signature on rear endleaf, "Dr. Charles Adams, 1786," with his elaborate calligraphic monogram penned on facing board. Contemporary manuscript formula on front endleaf, "...two ounces of salt Peter, half an ounce of Saffron...For the paroxysm of the Gout, take two tea spoonfulls...when you apprehend it...." Notation on front endpaper, "Purchased at Adams-Perkins auction 1925, Bessie Fenton Ellis." Old slip inserted, judged c. 1925, with user's pencilled notes of subjects of interest: "...snails, vipers, earth worms, hog-lice...." Boards separated, repaired with mid-twentieth-century frosted tape; spine cracked from use, text block in two main sections, with additional leaves and signatures shaken; considerable wear, internally with pleasing graduated toning to cream, else good plus, with some period provenance. An utterly fascinating view of the state of clinical practice around the time of the American Revolution. $250-325

3-22. "Pastry, Preserves, Puddings, Pickles."
Rare American edition of antebellum cookbook, The Cook's Oracle; and Housekeeper's Manual, containing Receipts for Cookery, and Directions for Carving.... "Also, the Art of Composing the Most Simple and Most Highly Finished Broths, Gravies, Sauces, Store Sauces, and Flavouring Essences; Pastry, Preserves, Puddings, Pickles, &c., with a Complete System of Cookery for Catholic Families...," by William Kitchiner. N.Y.: 1846, "Harper's Stereotype Ed...Adapted to the American Public by a Medical Gentleman / from the last London ed." 4 1/4 x 7 1/4, 432 pp., index, with detailed woodcuts of carving techniques; full original calf. An exhaustive compendium for cooks, with some 697 recipes, and chapters on boiling, baking, roasting, frying, broiling, vegetables, fish, pastry, bread, "observations on puddings and pies," and more. Many of the names, recipes, and foods are now largely absent from the American table - and from the marketplace, such as "Stuffing for Hare" (p. 265), "Forcemeat-Balls for Turtle...," "Boiled Salad," "Brain Balls," Oyster Ketchup, Tewahdiddle (table beer with brandy, brown sugar, and lemon peel), Hunter's Pie, Knuckle of Veal, Pounded Cheese, Bread and Butter Pudding, and a delightful and seemingly endless parade of pastry offerings. Inserted manuscript sheet with the reader's recipe for Snow Pudding, in pencil. Front cover detached, spine covering loose, leather powdering; binding shaken, some signatures loose, varied foxing, from very light to moderate, but a very satisfactory copy, clearly used to prepare countless delectable (and perhaps less so) meals in pre-Civil War America. WorldCat locates just three copies of this American printing (Harvard, New York Academy of Medicine, and University of Richmond). $300-400

3-23. Early Mail Order Catalogue.
Substantial "wholesale catalogue" of W.S. Jones, Clark and Superior Sts., Chicago, "Dry Goods, Carpets, Notions, Boots, Shoes, &c.," probably 1876. 3 3/4 x 6 1/2, (128) pp., black on cream covers, black and white text. Thousands of prices, including belts, black cashmere and merino, blankets, footwear, Brilliantine Alpaca, brushes, buttons, buckles, canvas, clothing, collars, combs, cotton, cuffs, denims, dress goods, elastic, fans, "farmer's satin," feathers, flannels, gloves, hats and caps, hickory striped shirting, hosiery, "Kentucky Jeans," laces, ribbons, rubber goods, silks and velvets, umbrellas, and much more. The tiers of qualities, descriptions, and prices (many in increments of 1/2¢), provide a fascinating panorama of the scope of popular merchandise in America's centennial era. Detailed woodcuts at rear showing trunks, valises, and traveling bags. Advertisements of "Books for the Million! - Goodspeed's Empire Publishing House," Chicago Ship Chandlery Co., and D.F. Bremner's Fine Biscuit Bakery, with retail and Grange prices. Evidently a New Old Stock copy, minor marginal tear where snagged by bindery's knife at one page, else excellent. Evidently rare. WorldCat locates nothing of this firm. Later retail powerhouses such as Sears and Woolworth's built their business models on this almost infinite coverage. $110-140

3-24. "...Wolves which howl upon these mountains."
Rare pamphlet, "An Adventure in Vermont: Or, the Story of Mr. Anderson," "New-Hampshire Religious Tract No. IV," printed by George Hough, Concord (N.H.), 1813. 4 x 6 1/2, 24 pp. "...As I was descending one of the green mountains of Vermont, my horse stumbled, and threw me to the ground...," describing his rescue by a farmer, attributing his survival to Providence. 1889 gift inscription at rear. Wrappers tattered and much worn, cover with internal bookworm hole just missing text, later resewing with red thread, text with some wear, first leaf lacking blank upper right tip, but generally clean and good plus. Early American Imprints, Second Series, no. 27695. Gilman p. 14, listing an 1825 ed. only. $55-85

3-25. Ode to Alcohol at the Inception of Prohibition.
The Sweet Dry and Dry, or See America Thirst!, by J.P. McEvoy, "Pitchers" 'pictures] by Frank King. P.F. Volland Co., Chicago, 1919, 4 1/4 x 7 1/4, (24) pp., pictorial boards in color, showing a snappily dressed man in checkered suit, leaning on a cow as he skeptically considers a glass of milk. Inside, quite funny cartoons in persimmon and black, lampooning newly-enacted Prohibition. Half-page cartoon of a black chef serving a free lunch at a bar. "...The sandwich fraught with gravy, Never more the heart will cheer, Gone the gracious appetizer, Gone the codicil to beer...They tell me this here prohibish', Is good for fowl and flesh and fish, That countless blessings ooze and flow, From flirting with the H 2 O, And highballs made of rain and dew, Are very good for me and you. Well, mebbe so, I dunno...." Covers with some foxing but suitable for display, binding glue perished, leaves loose but complete, some old damp at upper right tip, marginal toning, but still good plus. Very scarce. $40-55

3-26. The Mormons and the Jews.
Two Mormon pamphlets: Cowdery's Letters on the Bringing in of the New Dispensation," Free Press Print, Burlington, Wis., 1899. 5 1/4 x 7 3/4, 31 pp., side-sewn. Text of letters written by Mormon pioneer Oliver Cowdery during his travels with Joseph Smith in 1834-35. "Joseph Smith and Oliver Cowdery taught only in the schoolhouse of the Almighty...Mormonism is now a moral, a philosophical and a national element which imprints itself on the face of society everywhere... It is despised only by men who know next to nothing about it, or men of a past age. The generations coming have to look it in the face...Who shall stop its progress?...The Jews, who were possessed of the oracles of God, had divided into a great variety of sects and parties, each having its own particular faith...and they were unable to come together in the unity of the faith...tossed about by every wind of doctrine, carried away by novel and strange interpretations and unfounded theories...substituting the wildest opinions for the truth faith...So in the present age previous to the institution of Mormonism, the Christian nations were divided into more than 600 different sects, each having its own faith...." Some wear at upper right tip, cover soiling, fragment of rubber band(?) at bottom of cover leaf, else good plus. Rare. • "Joseph Smith Tells His Own Story," n.d. but judged c. 1940, published in Salt Lake City. 5 x 7 1/2, 24 pp. + list of Mission addresses around the world, from Argentina to "West Spanish-America" (Los Angeles!). Cover portrait, frontispiece photo of Smith's birthplace in Sharon, Vt., The Hill Cumorah, Palmyra, N.Y., and other photos. Lower right corner of cover folded over, neat underlining on p. 3, addresses and times of local church services in ink on outside back, cover foxed and toned, some uniform toning of rose coated text, else good. $80-110 (2 pcs.)
TO FIND OUT CURRENT HIGH BIDS,
OR TO PLACE BIDS,
JUST CALL 1-914-476-8500
OR e-MAIL info AT cohascodpc.com
(We do not currently use online bidding)
4. Postal History & Philatelic
4-1. Lindbergh takes his First Step.
U.S. Post Office air field receipt, Contract Air Mail Service, Springfield, Ill., Jan. 21, 1927 – the fateful day that Lindbergh sent a telegram to Aviation and Aircraft magazine, requesting details of the Orteig Prize. "He then approached a small group of aviation-minded St. Louis businessmen, who quickly raised $15,000 for Lindbergh's proposed flight. Any plane Lindbergh selected would be named the Spirit of St. Louis to give the investors' city positive publicity and a modern image"--Three Across: The Great Transatlantic Air Race of 1927, Finkelstein, 2014. First offered in 1919, it was not until 1927, when flying advancements and Lady Luck made the Prize - $25,000 for the first non-stop flight between New York and Paris - a tenable feat. Partly printed, for one bag of mail flown between Chicago and St. Louis. An "Air Mail Field" employee, evidently George C. Isbell, has "signed" "Lindbergh" as "Name of pilot" of "Airship No. 113." 6 1/4 x 8 oblong. Postmarked at upper right, signed by two clerks over carbon paper, and by Isbell directly in pencil. Apparently without knowledge of Conkling Field, Lindbergh had asked his two fellow pilots on this route to take over his flights, as he had this day formally commenced the journey of planning his solo Transatlantic flight, just four months away. Lindbergh remarked at the time that a solo flight to Paris seemed less perilous than flying the airmail at night in winter. Very fine. A superb Lindbergh-related item, probably unique, unlike the receipts actually signed by Lindbergh. $275-375

4-2. The Graf Zeppelin Returns Home.
Cover flown on first return flight, with large purple pictorial cachet "First Flight Air Mail - U.S.-Germany - Oct. 28, 1928." From Detroit, postmarked N.Y., Oct. 27, 1928. To Worms, Germany; backstamped Worms and Friedrichshafen. Scott #11 and 571. Soft postal crease, else fine. Sieger 22B. $60-80

4-3. With Message Mentioning the Zeppelin.
Card flown on first return flight, with large purple pictorial cachet "First Flight Air Mail - U.S.-Germany - Oct. 28, 1928." Manuscript "Via German Airship ZR-127 from Lakehurst, N.J." Double N.Y. postmarks on 3¢ and 50¢ stamps. Friedrichshafen postmark at lower left. To a friend in Nurnberg, "I gladly take the opportunity of the Zeppelin to send you my kindest regards. I sincerely hope you & yours are all right...." Some postal wear, else about very good. $65-85

4-4. Piece of the Graf Zeppelin.
Mounted on card imprinted, "Certified genuine piece of aluminized outer fabric of the Graf Zeppelin from a sheet presented to Clara Adams, the only woman passenger on its 1st flight to America, given to her by Dr. Hugo Eckener in Oct. 1928." 3/8 x 3/8. Prepared by noted philatelic specialist in 1989. Excellent. Holder of many aviation firsts for women, Adams paid the substantial sum of $3,000 for her Graf Zeppelin ticket; her mother had been the next-door neighbor in Germany of Count Ferdinand von Zeppelin. Splendid to accompany a cover. $50-70

4-5. First Passenger Flight of the China Clipper.
Highly attractive cover from first passenger flight of Pan Am's China Clipper (also termed first revenue flight), signed by pioneer woman air passenger Clara Adams within her self-address, "Clara Adams, C/o Pan Am Airways, Honolulu, H.I. / China Clipper first passenger flight." Double-postmarked N.Y., Oct. 14, 1936, backstamped Honolulu Oct. 22. Colorfully franked with 6¢ orange Winged Globe and 15¢ brown map air mails, 3¢ purple Charter Oak, and 1¢ green Franklin. Adams' Stroudsberg, Pa. label on verso. Also signed by G.R. Carter, Jr., Zetta B. Avevill, and H. Moncado, believed fellow passengers on the historic flight. The Martin Flying Boat - which some say spelled the end of the airship - had been named by Pan Am Pres. Juan Trippe, with Charles Lindbergh at his side. Fine. Now elusive: Adams material has been drying up on the market, especially since her Papers were acquired by the University of Texas at Dallas. $130-180

4-6. Airship Akron Crash Memorials.
Pair of variant covers: Large pictorial cachet, "In Memory - Apr. 4, 1933 - Rear Adm. Wm. A. Moffett and 11 other members of crew who died in the crash of the U.S.S. Akron." Postmarked "...Akron Crash" aboard U.S.S. Portland on the disaster's first anniversary, Apr. 4, 1934, tying 3¢ Byrd Antarctica Expedition stamp. Mellone 4/4/34-26 var. • Another, sans cachet. Mellone 4/4/34-26.4. Both excellent. • Plus, elaborate cachet in forest green, rendering of the blimp atop shield and wreaths: "In Memoriam - U.S.S. Akron & Blimp J-3 - Re(ar) Adm. Moffett and the Ill-Fated Crews...." Postmarked aboard U.S.S. Richmond, May 30, 1934, "Memorial - Habana, Cuba," tying 2¢ Battle of Saratoga. Moderate postal edge wear, seam toning, else very good. $60-80 (3 pcs.)

4-7. First Diesel-Powered Air Flight.
Cover with purple pictorial cachet of 9-cylinder radial engine, "First Air Mail Flight / Diesel Powered Airplane / Pontiac 'Mich.] to Chicago, June 26, 1930, Thompson Aeronautical Corp." Signed by pilot, F.E. Kelch. Postmarked Pontiac, June 26, tying 3¢ purple entire and 3¢ Lincoln postage stamp. Two Rahway, N.J. backstamps on following day. To noted airmail collector Bill Schneider, Jr., Rahway. Kelch was later aboard the inaugural flight of Pan Am's California Clipper to Manila, as an Inspector of the Civil Aeronautics Authority. Pleasing uniform ivory toning, else excellent. Very rare signed. $55-80
– Last Day of Service Cancels –
A fascinating collection of postcards and envelopes
from tiny towns across America
postmarked on their final day of postal service
– Reflecting the impact of the Depression on small-town America –


4-8. Last Day of Service - Lost Towns of Nevada.
Collection of 2 envelopes and 9 government postcards (Saint Thomas, Nev. present thrice: as postcard, and envelopes with variant bright green and purple postmarks), 1936-38, each bearing hand-stamped postmark, and cachet "Last Day Cancel / Effective...." A few signed by Postmaster, some with double hand-stamp on message side. Most with contemporary pencil notation on message side. Towns include: Roderick, San Jacinto, Simonsen, Rebel Creek, Hobson, Red House, Tybo, and Pahrump. A labor-of-love project of Clarence E. Reid, well-known philatelist and cachet artist, whose family founded the Charms Co., Newark, the famous makers of lollipops and hard candy; during World War II he became one of the most decorated Quartermasters in the Pacific Theater. Such a collection could never be assembled today; even single items are elusive. Small number of First Day of Service cancels possible. Ordinary postal handling, some toning, else generally good to fine. $90-120 (11 pcs.)

4-9. Last Day of Service - Lost Towns of New Mexico.
Collection of 4 envelopes, 14 government postcards, and 4 plain white specimen cards with duplicate postmarks (one in matching envelope), 1934-38, each bearing hand-stamped postmark, and cachet "Last Day Cancel / Effective...." A few signed by Postmaster, some with double hand-stamp on message side. Most with contemporary pencil notation on message side. Towns include: Holy Cross, Adobe, Flying H, De Vargas, Las Vegas (absorbed Mineral Hill Route), Contreras, Chiquita, Lockney, Crater, Eagle Nest, Chilili, Richland, Barton, Hill, Cherry Vale, and Clyde. A labor-of-love project of a prominent philatelist. Such a collection could never be assembled today. Small number of First Day of Service cancels possible. Ordinary postal handling, some toning, else generally good to fine. $150-200 (22 pcs.)

4-10. Last Day of Service - Lost Towns of North Carolina.
Collection of 11 envelopes, 10 government postcards, and 3 plain white specimen cards with postmarks, 1935-38, each bearing hand-stamped postmark, and cachet "Last Day Cancel / Effective...." A few signed by Postmaster, some with double hand-stamp on message side. Most with contemporary pencil notation on message side. Towns include: Bogue, Peoria, River Side (with autograph of just-deceased Postmaster - serving from 1880 to 1938 - affixed by his daughter), Bald Mountain, Revere, Big Laurel, Frosty, Gupton, Phoenix, Savage, Ready Branch, Erect, Tabor, Hightowers, and Bixby. Including 1 First Day of Service cancel. Ordinary postal handling, some toning, else generally good to fine. $160-220 (24 pcs.)

4-11. Last Day of Service - Lost Towns of North Dakota.
Collection of 1 envelope and 6 government postcards, 1935-36, each bearing hand-stamped postmark, and cachet "Last Day Cancel / Effective...." Plus 1 plain white specimen card with postmark. A few signed by Postmaster, some with double hand-stamp on message side. Most with contemporary pencil notation on message side. Towns include: Mona, Paradise, Mowbray, McConnell, Nelson, Ojata, Mound, and Judson. Ordinary postal handling, some toning, else generally good to fine. $60-80 (8 pcs.)

4-13. Last Day of Service - Lost Towns of Oklahoma.
Collection of 7 envelopes and 31 government postcards (no duplicates), 1935-38, bearing hand-stamped postmark, and cachet "Last Day Cancel / Effective..." (varying styles) or manuscript endorsement. A few signed by Postmaster, some with double hand-stamp on message side. Some with contemporary pencil notation on message side. Typewritten message of Welch, Okla. Postmaster: "Impossible to give impression of the cancelling...Hollow, Okla. P.O...completely destroyed by tornado...." Towns include: Olive, Reeding, Tomytown, Yarnaby, Beirut, Stilwell, Kusa, Neodesha, Oberlin, Long, Chaney, Phroso, Pearsonia, Sturgis, Scott, McBride, Keenan, Foreman, Bokhoma, Banzet, etc. Small number of First Day of Service cancels possible. Ordinary postal handling, some toning, else generally good to fine. $250-325 (38 pcs.)

4-14. Last Day of Service - Lost Towns of Oregon.
Collection of 7 envelopes and 33 government postcards, 1934-38, each bearing hand-stamped postmark, and cachet "Last Day Cancel / Effective...." Plus 1 plain white specimen card with postmark. A few signed by Postmaster, some with double hand-stamp on message side. Most with contemporary pencil notation on message side. Towns include: Burnt Ranch, Fife, Roosevelt Beach, Rainbow, Faubion, Big Eddy, Pedee, Glencullen, Fruita, Narrows, Clem, Palmer Junction, Portland Sta. C, Oregon Caves, Boiling Point, Zumwalt, Yocum (with unusual manuscript cancel in absence of handstamp, and postmaster's message on verso), Westimber, Bullrun, Persist, and more. Including several First Day of Service cancels. Ordinary postal handling, some toning, else generally good to fine. $325-425 (41 pcs.)
– End of Last Day of Service Cancels –


4-15. "The General Post-Office of America."
Delightful, excessively early U.S. Post Office document, Apr. 21, 1789 - predating Congressional creation of the Post Office Department in 1792. Partly printed, elongated 4 1/2 x 16 1/2, showing business at "The Post-Office at Stratford 'Conn.?] in Account with the General Post-Office of America." Listing weight and amounts in "Current Money" for "Postage of Letters which remained in the office Last Quarter, Postage of paid Letters sent from this Office this Quarter...Postage of Letters undercharg'd from other Offices...Ship Letters belonging to this Office, Postage of Dead Letters sent to the General Post-Office...Letters mis-sent, being forwarded to other Offices...." Manuscript attestation at bottom, "Coppy 'sic] of Bill sent to Genl. Post Office...Examined, W. Wetmore'?]." Center fold reinforced with tape on verso, fold wear, blank right margin tattered, ink light but legible, else very satisfactory and displayable. One of the earliest U.S.P.O. documents we have handled from the Federal period; indeed, Washington was inaugurated as first Pres. just nine days later. It would not be til Sept. 22 that Congress would provide for a Postmaster General. $150-225

4-16. "You have been reported...."
Lengthy partly printed letter from P.O. Dept., Appointment Office, Washington, D.C., Sept. 5, 1853, 1 p., 8 x 10, on slate-blue. To Postmaster, Ewing, Mass. "You have been reported by the Postmaster at E. Princeton, Mass. for failure to cancel a postage stamp...I also call your attention to the oaths of postmasters...All postage stamps affixed to letters, packets, or parcels of any description must be immediately and effectually cancelled...by the use of black printers' ink whenever that material can be obtained, and where it cannot...by making several heavy crosses or parallel lines upon each stamp with a pen dipped in good black writing ink...You will be more vigilant in future...." Floridly signed by clerk "St. Jno. B. Skinner for First Asst. Postmaster Gen." Several fingertip-size stains at right margin, original folds, else very good. Classic-era association, wonderful for a philatelic exhibit. $50-70

4-17. Press Proofs of the Royal Philatelic Collection.
Wonderful ensemble of eleven (of twelve) original, untrimmed press proofs of individual color plates of the stamp collection of King George V. Each 10 1/2 x16. Renowned even among non-philatelists for its 45 flat colors (some sources claim 53!), either number probably a record for an offset printing job. To avoid the aesthetic impurity of halftone dots, the shades were precisely matched using an array of exquisitely mixed transparent and opaque inks; each plate shows a color bar at top, its sometimes remarkably proximate hues combined to achieve glorious faithfulness to the original stamps. Including supreme rarities and philatelic treasures: four British Guianas, including the coveted magenta; Trinidad, Barbados, St. Vincent, Togo, and "Kamerun" overprints, Cape of Good Hope, 1854 India, Van Diemens Land, Mauritius, plates of original sketches of Queen Victoria for New South Wales issues, and others. The original book had 12 color and 60 black-and-white plates; published in 1952 by Viscount Kemsley at The Dropmore Press, Ltd., London, it was bound in full crushed levant niger morocco leather with the Royal arms in gilt, or in slipcased buckram. Such an enterprise, exhibiting the outermost limits of skill of lithographic camera work, pressmanship, ink chemists, and sheer numbers of passes, will almost certainly never be attempted again. The books now sell for up to 1,000.00. Trivial tip wear on a few, lovely uniform pale cream toning, else choice. Provenance: Ex-Gordon McHenry. $110-160 (11 pcs.)

4-18. The Grand Old Flag.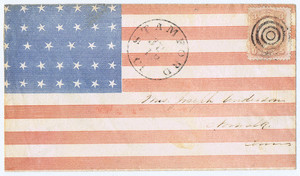 All-over Union flag patriotic, 34-star, with Scott #65, judged in the less common range of very pale brown red, socked-on-nose four-ring concentric fancy. Large black Stamford, Conn. c.d.s., "Jun 18." Margin very wide at right, adequate top and bottom, hairline at left. Addressed to Mrs. Joseph Anderson, Norwalk, Conn. Raspberry red stripes, field of stars ocean blue. Light water spot in unwritten stripes beneath address, very minor wear, old mounting evidence on verso, including paper- and cello-hinge remnants, else about fine, displaying nicely. Only one Joseph Anderson appears in the Connecticut rolls: enlisting in the 9th Infantry in 1864 (by which time a 35th state had joined the Union), he was captured at Cedar Creek later that year, then escaped from Charleston in May 1865. Walcott 2845. Ex-Robert Kaufmann, 1989. $180-240

4-19. Perf Curiosity on an Official Cover.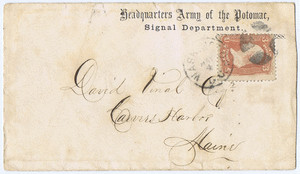 Military envelope with printed franking, "Headquarters Army of the Potomac, Signal Department," addressed to David Vinal, Carver's Harbor, Maine. #65, nuanced dull red, verging on a "fast perf" error, with perf at left well into design, and exceedingly wide margin at right. Tied by black Washington, D.C., May 4 c.d.s. and four-slice pie fancy. No fewer than ten members of the Vinal family of Maine served (the town of Vinalhaven bearing their name). Some soiling, postal handling, but good plus, the stamp combining a pleasing shade with eccentric perforations. $50-75

4-20. New Hampshire Design - to a Forgotten Manhattan Barracks.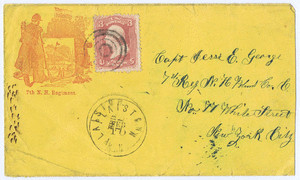 Pictorial patriotic cornercard, "7th N.H. Regiment," with unusually detailed woodcut scene of soldier on sentry, leaning on rifle, peering at tapestry showing a ship - probably a Union transport - draped over a cannon and flag. Dark pink on sulphur yellow. Scott #65, judged rose pink, neatly affixed at right of design, tied with four-ring concentric. Black Plaistow, N.H., "Feb 10 '1862]," postmarked twice at speed, the second, more distinct impression rotated. Arriving close to the addressee's Feb. 13 sailing for one of the more forbidding outposts of the Civil War -- Fort Jefferson, Florida. Addressed in midnight blue, "Capt. Jesse E. George, 7th Reg. N.H. Volunt(eers), Co. C, No. 77 White St., New York City," this an obscure barracks in an alleyway, unlike the more conspicuous soldiers home on nearby Howard St. The first cover or document we have seen with this address, unmentioned in the new Civil War Lover's Guide to New York City by Morgan; the current building was apparently built in 1888. (Now in ultra-trendy Tribeca, the area remained a sleepy backwater in lower Manhattan through the 1970s.) Though his regiment was a three-year unit, George served only five months, resigning in Apr. 1862. He may have been among the unit's 153 men contracting a virulent form of smallpox in Florida. "The recruitment and organization of the 7th Regt. was somewhat different from that of any other force raised in the State during the War of the Rebellion...Although the regiment was credited to New Hampshire, the authority to accept and provide for recruits, and the privilege to make all official appointments, was by direction of the War Dept. at Washington...The first experience of the 7th was as different from that of other regiments as the manner of its organization. It had already spent a month in camp at Manchester since its completion, engaged in drill, and upon its arrival in N.Y., the morning after its departure, it was ordered into quarters at White St. barracks, where it passed another month of comparative inactivity, relieved only by an occasional dress parade or drill in one of the city squares. Feb. 13 orders were received to embark for Fort Jefferson, Fla..."--Regimental history, by Lt. Henry F.W. Little. Old collectors' markings on verso, including "Laurence 1346" and "...'Scott] 1929." Two diagonal creases, not affecting stamp, edge and postal wear, but good plus, and colorful for display. $90-120

4-21. With Dual Hand-Colored Motifs.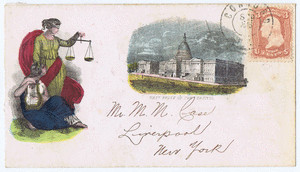 Strikingly attractive, richly hand-colored patriotic, with blindfolded allegorical female in golden robe holding scales of justice, as Miss Columbia - in Union-blue Zouave-style pantaloons - sits at her feet, holding a lyre. In center, highly detailed view of "East Front of the Capitol (Building)." Scott #65, judged dull red, tied with Concord (Mass.?) c.d.s., about 20% beyond cover, "Sep 22(?)." To M.M. Case, Liverpool, N.Y. Two remnants of brown paper hinges on verso at left and right; rectangular piece 3/4 x 1-1/4 cleanly removed from bottom of blank verso, perhaps where cover could not be freed from album page, but undetectable when viewed from front; very light postal handling, else very fine and a pleasing cover for display. If flawless, much more than our estimate of $200-350

4-22. Unlisted Design, with Confederate Flag.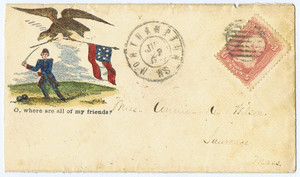 Union cover showing soldier in dress uniform, slicing in two the staff of a 7-star Confederate flag, clutched by an eagle. "O, where are all of my friends?" Handsomely hand-colored. Round 7-bar cancel on Scott #65 rose, attractively affixed at an angle. Black Northampton, Mass. "Jun 23(?)" c.d.s., 1862 or 1863. To Miss Annie R. Wilson, Lawrence, Mass. Old pencil notations on verso, "Lot 408, Apfelbaum" and "Unlisted." Nick at top right edge, uniform ivory toning, very light soiling, else highly suited for display. Excessively rare with postal use. $225-300

4-23. Bronze Metallic All-Over.
Bronze metallic all-over scene by Magnus, "No. 5 - Movement of the Army from Washington to Richmond," showing officer atop galloping steed, his saber thrust forward, as his men follow on foot. On flap side, Scott #65 rose, tied by indistinct but probably identifiable Va. c.d.s. Addressed in creative arching contour, following seams, to Miss Martha R. Flagg, Sterling, Mass. Lighter ink jottings by recipient, "Katie...$2...." Of 63 Mass. soldiers named Flagg, only one was from Sterling: Pvt. Albert H., a fortunate 18-year-old farmer, enlisting 1862 in the 53rd Mass. Infantry. His unit served at Baton Rouge, Algiers (opposite New Orleans), Brashear City, Bayous Sara and Alabama, and the assault on Port Hudson, in all suffering the largest number of lives lost of any nine-month regiment. Stamp defective, with small wedge lacking between 2 to 4 o'clock where passing over flap, perhaps snagged in handling, moderate soiling of address side, edge wear from a thick enclosure (not present), else the design iridescent, and overall about very good. Notwithstanding defects, a quality cover. $400-600

4-24. Gold Metallic All-Over.
Gold metallic all-over Magnus cover, featuring dual portraits of Maj. Gen. McClellan and (Rhode Island) Gov. Sprague, each bordered in Baroque frames, three soldiers and believed a seated sailor surrounding them, with two flags. On flap side, Scott #65, a light rose not shown in McClung, tied with Washington, D.C. postmark, Feb. 14, 1863. To Mrs. Isaac Sullender, Dundaff, Susq(uehann)a Co., Pa. Browned at margins, some light grey spots at upper left of design side, possibly cancellation smudges, wear-rounded at blank lower left tip, other moderate wear and faults, but very satisfactory, and a good design, especially with postal usage. $275-475

4-25. A Unique Variant?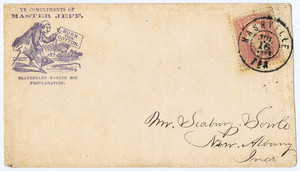 Lilac cornercard cartoon, "Ye Compliments of Master Jeff," depicting caricatured Beauregard dipping his three-cornered hat, holding a placard "Burn your Cotton," as flames consume buildings in the background. Captioned, "Beauregard making his proclamation." Scott #65 rose, complete full-black Nashville c.d.s., Jul(y) 16, 1863. To Seabury Soule, New Albany, Ind. Old pencil notation on verso, "W.M. Rawlins, 5-2-(19)39...Not listed in Laurence"; the dealer's hand may be recognizable to a philatelic old-timer. Light marginal staining and wear, slight rounding wear at two lower tips, else about very good. Also unlisted in Weiss. An intriguing find, off the market since the 1960s; the only other finding of this design is a red variant, stamp with short perfs, in a 1964 Robert A. Siegel sale of "A Grand Award Winning Collection of Civil War Postal History," even then termed "a scarce design." $300-375

4-26. New Hampshire Volunteers in Color.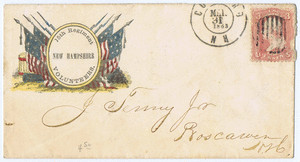 Highly attractive hand-colored design, "15th Regt. / New Hampshire Volunteers" in oval, with four American flags and four bayonets emerging behind drumhead. Round 7-bar cancel on Scott #65 rose, black Co(nco)rd, N.H. c.d.s., Mar. 31, 1863. To J. Tenny, Jr., Boscowen, N.H. The only Tenny serving the state was Simon A., of 2nd N.H. Heavy Artillery. Stamp extending beyond edge of cover, with feathering of right perfs and loss of design fragment at about 4 o'clock. In pencil on verso, "Scott 1929, 18.00 / L(aurence) 1369," "Ex-Walcott" (sic?). Part of flap lacking, probably when originally opened; old paper strip reinforcement, evidently predating 1929, handling creases, light toning, else good plus and vividly colorful. $75-100

4-27. Scenes of Fishing – on a Patriotic.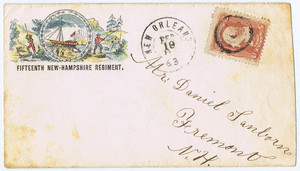 Delightfully charming hand-colored patriotic, "Fifteenth New-Hampshire Regiment," with unusually pictorial montage of a Navy ship docked at a wharf, men on the pier, flanked by a barefoot spear-fishing Indian, with a red three-feather headdress, and a white man fishing with rod, a water-powered mill in background. Both scenes evidently evoking home – New Hampshire. Scott #65, a more intense rose, not shown in McClung, very wide margin at top, generous at sides, in at bottom. With single-circle cancel, and occupied New Orleans c.d.s., Feb. 19, (1863). To Daniel Sanborn, Fremont, N.H. Both David and Joseph Sanborn, Jr. of Fremont served, the former a Pvt. in the 15th, the latter in the 11th N.H. Infantry, wounded at Poplar Springs Church, Va. in 1864. Some pocket stains at blank lower left and upper right, postal wear, else good plus, and one of the prettiest patriotics we have seen in some time. $110-140

4-28. From Occupied North Carolina.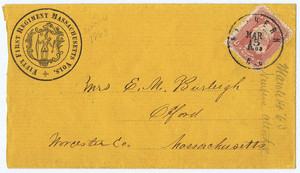 Aesthetically pleasing patriotic, round black cornercard emblem of "Fifty First Regiment Massachusetts Vols.," the Indian motif recalling the early Mass. cent. On burnt-orange cover. Scott #65, judged rose pink, affixed at a stylish angle, socked on nose with black Newbern, N.C. c.d.s., Mar. 15, 1863. To Mrs. E.M. Burleigh, Oxford, Worcester Co., Mass. Contemporary pencil notation, "...Newbern attacked." Charles H. Burleigh of Oxford, a mechanic, at this time served in the 51st Mass. Infantry, his company guarding Brice's Ferry; he later joined the 2nd Mass. Heavy Artillery, remaining in coastal N.C. Very light wear, else about very fine. With modern copy of photograph and service history. $60-80

4-29. Shade Study on a Hand-Colored Cover.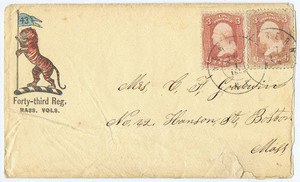 Rampant, crimson-striped tiger holding aqua "43" banner of "Forty-third Reg. / Mass. Vols." With two separate Scott #65s, one judged a rose pink variant, the other an especially pale dull red, neither shade illustrated in McClung. Tied with double Newbern, N.C. c.d.s., Jan.1, 1863. To "Mrs. C.F. Goodwin, No. 42 Hanson St., Boston." Curious envelope die design, with a high-rise vertical seam. Tiny purple rubber stamp on verso of collector "J.W.M." (the distinguished Dr. James W. Milgram?). Perfs of right stamp just overhanging edge of cover where opened, tear at blank bottom, postal creases, some light soiling, else very satisfactory. $75-100

4-30. Home Sweet Home - in Elk Creek.
Stampless pumpkin-orange cover, endorsed "Soldiers Letter, P.W. Smith, Col. 169 Regt., P.Q.M.'?]," to "Miss Julia A. Waitz'?], Elk Creek, Erie Co., Penna." Black "Due 3" at upper right, with manuscript "12" in pencil. Tears on verso where opened at left, lesser edge tears along top, postal wrinkling, else very good. $30-45

4-31. "Death to Traitors!"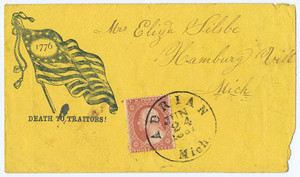 Dark blue flag on orange cover, "1776" within round field of 13 stars, fancy tassels on staff. Scott #26, Type II, judged dull red, very nicely centered. Tied by good Adrian, Mich. black c.d.s., "Jun 24, 1861." To Mrs. Eliza Silsbe, Hamburg Vill(age), Mich." Almost certainly from Pvt. George W. Silsbe(e), who had enlisted four days earlier in Adrian, in the 4th Mich. Infantry. Fighting gallantly at Williamsburg, the 4th was lauded by McClellan for its conduct on the Chickahominy, having "covered itself with glory at the desperate battle of Gaines' Mills..."--regimental history at civilwardata.com. Uneven at blank lower right edge where opened, postal handling, printer's ink drip on word "to," rust spot on "Traitors," else good plus and attractive. Patriotics with Michigan usage are uncommon. $70-90

4-32. Example of an Official All-Over.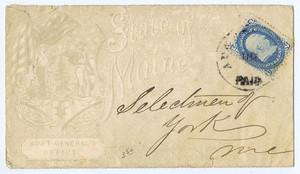 "State of Maine" design in palest moss, with oversize, detailed Seal and ornate typography. In frame below, "Adj't.-General's Office." To Selectmen of York. Scott #63, 1¢ blue Franklin, affixed at artistic angle, corner perfs just touching edge. Tied by "Augusta / Jul / Paid" c.d.s. Lacking flap, tears at upper left and top repaired inside with old hinges, left tip bent, some soiling, else good. $65-90

4-33. Preprinted Cover for Incoming Army Mail.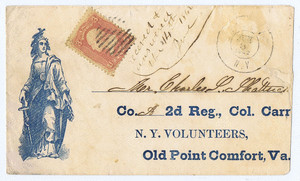 Attractive military reply cover, with partly printed destination, completed by sender in ink: "Mr. Charles H. Shattuck, Co. A 2d Reg., Col. Carr, N.Y. Volunteers, Old Point Comfort, Va." With large, rather unusually elaborate interpretation of Miss Columbia in azure blue. Scott #65, rich rose, 10-bar round fancy. At right, black N.Y. c.d.s. (city lightened by waterstain), June 3, 1862. A Pvt. from Troy, N.Y., Shattuck's unit had an active summer, recently returned from Young's Mill, losing heavily at Bristoe Station, then fighting at Fredericksburg. Slightly reduced and triangular sliver lacking at right where opened, toning, interesting offset of printer's blue ink both sides, else about very good. $80-110

4-34. On Seldom-Seen Laid Paper.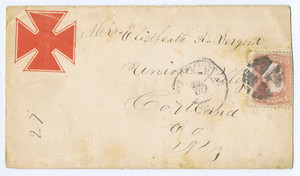 Red Maltese cross of (5th Corps, 1st Division, Army of Potomac) on unusually high quality, pale ivory laid cover. Scott #65, judged rose pink, with four-slice pie fancy, and very light Washington, D.C. c.d.s., June 30. To "Mrs. Elisebeath A. Sergent, Union Valley, Cortland Co., N.Y." The V Corps boasted a series of top commanders, including Banks, Porter, Hooker, Butterfield, Meade, Sykes at Gettysburg, et al. Edge wear, some soiling, several perfs trimmed where cover opened at right, else satisfactory. A seldom-seen paper stock for a patriotic, suggesting this was privately printed. Old pencil on verso, "Sold in Walcott 1934 Sale for $4.00." A Pvt. John Sergent of Taylor, N.Y. - neighboring Union Valley - served in the 10th N.Y. Cavalry, wounded at Richmond. $60-85

4-35. "The most famous corps of the Civil War"
--Boatner. Large red and blue St. Andrew's cross insignia of "6th Corps, 1st Division." Imprint of Magee, Philadelphia, 1864. Horizontal pair of Scott #65, judged a very early appearance of dull red (the closest shade in McClung), each with 3-ring bullseyes, and black Washington, D.C. c.d.s., Dec. 2, (1864). To Mrs. Chas. A. Reynolds, Forestville, Conn. Reynolds served in 2nd Conn. Heavy Artillery. On the very date of the postmark, following a year marked by Cold Harbor, Petersburg, and Cedar Creek, his unit "moved (by rail) to Washington, and by boat to City Point, thence over 'Grant's railroad' to Parke Station, to comfortable winter quarters..."--Connecticut Record of Service of Men during War of the Rebellion. Stamps affixed as a pair, end perfs then interrupted on cover as adhesive cured or in postal handling, right stamp perfs just touched when envelope neatly cut open, address a trifle light but a lovely shade of milk chocolate, light toning, wear at blank upper left, else very good. $120-150

4-36. Cross of the Mystery Corps.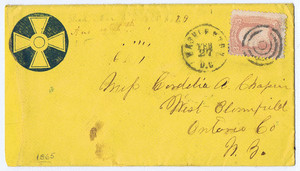 Intriguing midnight blue stylized Maltese cross, in solid circle, with hub, perhaps a printers' variant for 5th Corps, 1st Division, on yellow cover. Scott #65, a pale dull red not shown in McClung, 4-ring concentric, Washington, D.C. c.d.s., Feb. 27, "1865 No. 29" in period pencil at top. To "Miss Cordelia A. Chapin, West Bloomfield, Ontario Co., N.Y." Stamp with fast and high perfs into design at left and top, very wide margins at bottom and right. Some postal wear, two ink blots in blank area, clever old repair at left where irregular strip lacking at opening, with inlaid yellow sliver, exactly matching in shade and texture, edge of circle redrawn, else satisfactory. $45-65

4-37. "The less Government is felt and seen the better for all concerned...."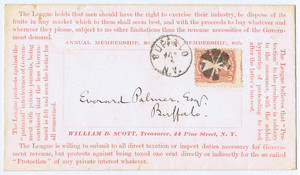 Excessively rare commercial-propaganda cover, larger 3 3/4 x 6 1/2 size, with runaround text both sides, in Christmas red. Printed 1866 or '67 by American Free Trade League, William B. Scott, Treas., 44 Pine St., N.Y. Detailed globe logo on flap, with clasped hands. To Everard Palmer, Buffalo. Scott #65, rose family, perfed off-center with part of stamp below. Curiously postmarked at destination, Buffalo, Jan. 1. Imprinted: "The League protests against the 'paternal' interference of Government with private pursuits, being convinced that the less Government is felt and seen the better for all concerned...Men should have the right to exercise their industry...to buy whatever and wherever they please...'Protection' to the producer is robbery to the consumer, with the added hypocrisy of pretending to look after the latter's interest...'Alas! we have tried everything - when shall we make trial of the simplest thing of all – Liberty?...'--Bastiat." Far from a group of fringe eccentrics, the League's early members included John Quincy Adams (fils), William Cullen Bryant (an early Pres.), John A. Dix, Ralph Waldo Emerson, Cyrus Field, William Lloyd Garrison, Draft Riot-era Mayor George Opdyke, James Roosevelt, and other luminaries. 1 1/4" tear at flap, touching edge of globe, small triangular fragment lacking at flap, light edge toning and wear, else fine. The only other example located appeared in the Jarrett Collection of Propaganda Covers, Robert A. Siegel, in 2009, termed "a rare and desirable propaganda cover," notwithstanding that stamp covering two blocks of text, ours nicely affixed. Items of any description relating to the League are elusive. $550-650

4-38. Free Frank of Reformer of Ireland.
Black-bordered mourning envelope in hand of the Viceroy of Ireland, Earl of "Carlisle" (George W.F. Howard), to "Mrs. Powell, 14 Upper Temple St." Signed "Carlisle" at lower left. Dark red c.d.s., "Official Paid / Dublin / Au(g.) 12 (18)62." His ornate monogram, with miniature crown, exquisitely steel-engraved in black on back flap. Carlisle did much to better Ireland, including establishment of a juvenile reformatory on his estate. A talented poet, he exchanged sonnets with Wordsworth. Album mounting evidence at bottom of verso, postal handling, else very good and scarce. $55-75

4-39. A Lincoln Assassination Conspirator – and the Vatican.
Envelope in hand of Union Gen. Rufus King, while postwar Minister to the Vatican. To "J.F. Howe, Esq., 284 Pearl St., New-York, Un. States." Green 1-shilling English stamp, tied by "traffic signal" round-bar fancy, and London c.d.s., Apr. 21, (18)66. Light red handstamp "Paid 5 Cents." Old mounting glue on verso, some stains and toning on front, else V.G., with sound stamp. King had first been appointed Minister to the Papal States before the war; just as he was about to sail, Fort Sumter was bombarded. Organizer of the celebrated Iron Brigade, King had an epileptic fit at Second Bull Run, and was replaced by Abner Doubleday. Resigning the Army in 1863, Lincoln reappointed King to Rome. Ironically, it was King who apprehended Lincoln conspirator John Surratt, having fled to Italy after the assassination: Surratt was nearly under King's nose, as a member of the Pontifical Zouaves, but it took Lady Luck and an old schoolmate to spot him. Triggering a series of adventures, King returned Surratt to the U.S. to stand trial in 1867. Rare usage. $80-110

4-40. A "Stamp" unlisted in Scott.
Bright yellow cover with locally printed "school postage stamp" attributed to Jamestown Union School and Collegiate Institute, Chautauqua County, N.Y., c. 1874. Pink "stamp," printed in black "Three Cents," with simulated perfs. School-cancelled with black c.d.s. Addressed by a student in florid hand, to complete this lesson in business letter-writing. With copy of article solving the mystery of this "stamp," in The American Philatelist, July 1938. Long thought to be an unrecorded local label, the writer describes his sleuthing of the mystery, concluding, "With all this historical background...they certainly have just as much place in philately as Christmas Seals...." Address nearly faded, but bold strokes closely match the cover illustrated in article, suggesting both were the work of the same student. The Institute became Jamestown's public High School. Some rippling, light wear, else about fine. Also with copy of appearance of an example in a 1969 auction of noted Manhattan dealer Sylvester Colby, and modern research. No further examples found in search of modern auction records. A charming conversation piece, long regarded as rare. $55-80

4-41. With Drawings of Cattle Brands on the Texas Frontier.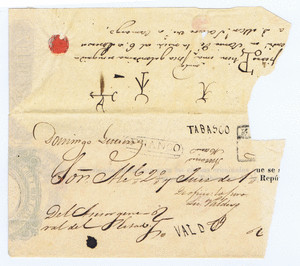 Portion of printed Mexican "causas criminales" form fashioned into an (incomplete) envelope, postally used, 1850. Attributed to Camargo, (Matamoros), in vicinity of the Rio Grande, between Laredo and McAllen, Texas. 3 1/4 x 5 3/4, torn at right, affecting one of two postal markings. "Domingo Gutierrez" at upper left. Bearing ink drawings of six distinct designs for cattle brands to be used in the Camargo area: Tabasco, stylized Vald(es), and four pictographs, one within manuscript Spanish text. It is judged that the envelope was either torn upon opening, as was common, and then used to draw the brands, or torn by the rancher to pen the drawings, to conserve paper. Two red wax seals. Very fine thus. In the years before Anglo settlement of Texas, Camargo family cattle roamed freely without brands, throughout southern Texas and northern Tamaulipas. Upon arrival of Anglos in the 1850s, the need to brand cattle soon became apparent. A rich literature may be found on the area's early ranching: "Texas' famed longhorn cattle are thought to have originated from Spanish and Mexican stock that ranged north of the Rio Grande. Some interbred with stray Anglo-American cattle from the southern states to produce, by the early 1800s, the true longhorn - lean in carcass, long in horn, and tough enough to thrive in south Texas' rugged environment...The Spanish Colonial ranching traditions still remain strong. They have pervaded our culture and remain in the form of language and music, clothing, saddles, tools, round-ups and rodeos, cattle drives, and the mythic image of the American cowboy"--texasbeyondhistory.net. An unusual Texas-related curiosity, from the nominal birthplace of the American cattle industry. $150-190

4-42. The World of 20th-Century Local Posts.
Splendid collection of 99 varied covers and 5 postcards, all sent through U.S. Mail via local posts, 1956-90, majority 1970s-80s. Almost all with both private "postage stamps" and handstamps, together with U.S. postage. Nearly all different, some enthusiastically decorated, variously with multiple handstamps, cancels, and colorful and fanciful designs, others plainer, but fascinating dual usage. Some with aviation and space themes. Including: "Upper Slobbovia" lookalike Credo "postage stamp," "There's one born every minute," 1961. • "Anonymous Dispatch," cartoonish George Washington stamp, 1976. • Antarctica Local Post, Scott Base N.Z., carried by truck, Italian Expedition, cartoon "stamp" showing walrus greeting a penguin, 1974. • Bucket of Blood Saloon, Arizona Territory Local Post, cachet "100th Anniversary Shoot-out at OK Corral," 1981. • Boca Raton Bicycle Post, pictorial rubber stamp, 1978. • Bow Wow Local Post, saluting Truman's birthday 1881-1971. • Cadillac Local Post, Wildwood, N.J., facsimile of classic Washington 10¢ stamp, 1962. • Cape Kennedy Local Post, postmarked Cape Canaveral, Nov. 22, 1964. "We Shall Reach the Moon" label showing Alan Shepard and J.F.K. • S.S. New Jersey, label showing the Cape May-Lewes, Dela. ferry, "Cadillac Post," 1973. • Postcard, Colorado Ghost Post "Ghostage," official postmark "Colorado Centennial 1876-1976," orange label "Clear Creek County - No Mining? No future!..." • Convair Stamp Club Local Post, Ft. Worth, Texas, purple sketch of Convair fighter jet, 1960. • Confederate Letter Express Local Post, facsimile of C.S.A. postage stamp, Alameda, Calif., 1972. • Czyl's Penny Post, Posen, Ill., 1976, showing "Evolution of the Penny," 1797 cent obverse and reverse. • Doc's Local Post, "Last Day of Operation," Stellacoom, Wash., 1973. • George's Letter Dispatch, commemorating Hindenburg flights of 1936, Zepellin on handstamp and orange "postage." • FMF Travel Local Post, Ascension Islands, Festival of Stamps, two British and one local, 1976. • Grand Duchy of Barre Local Post, Phoenix, with Ariz. map label, 1979. • Howard Local Post, "North Carolina / Tarheel State," 1975. • Local Courier Post, two old-time N.Y.C. horse-drawn trolleys, Jamaica, N.Y., 1981. • Marian's Loco Post, Merry Christmas, postmarked North Pole, Alaska, Dec. 25, 1976. • NASA Local Post, "Apollo 11 Moon Mail," 5th anniversary, two "stamps," two handstamps, two postage stamps, two postmarks, Cape Canaveral and Patrick A.F.B., 1974. Nice. • Nick's Local Post Runners, Sanibel Is., Fla., 1986. • Purple Sage Local Post, "First Day of Summer," Pearblossom, Calif., 1983. • "Moon to Mars Rocket Post," ship-postmarked U.S.S. Guadalcanal. • Rocky Run Local Post, Chantilly, Va., Merry Christmas, 1961. • Snake Hollow Local Post, Crooksville, Ohio, cachet photo of town's namesake, 1974. • Texas Letter Express Local Post, First Day of Issue/Last Day of Operation on same cover, Dallas, 1970. • Texas Letter Express, small purple car c. 1915, Grand Prairie, 1969. • AFA Local Post, Lindbergh pictorial label, 50th Anniversary First Contract Air Mail Flight, Lindbergh Sta., Brookfield, Ill., 1976. • Two postcards, Lindbergh Local Post, 50th Anniversary Graf Zeppelin, Brookfield, 1979. • and many, many more. With F.D.C. "Inaugurating the Independent Postal System of America...," 1971. One Apollo Island, Grand Bahamas Tracking Station with top and tip postal damage, else all others fine to excellent. Many are now very scarce. In Showgard padded-cover album, very fine. Much fun, sure to entertain non-philatelists too. $650-950 (104 pcs. in album)
TO FIND OUT CURRENT HIGH BIDS,
OR TO PLACE BIDS,
JUST CALL 1-914-476-8500
OR e-MAIL info AT cohascodpc.com
(We do not currently use online bidding)
5. Civil War
5-1. The Celebrated Irish Brigade - New York's Fighting 69th.
Dramatic L.S. of Union Capt. Edward F. O'Connor, Comdg. Co. I, 69th N.Y. Vol. Infantry, "Late 2d Lt. Comdg. Co. B, 69th N.Y...," "Camp in the Field, Va.," May 18, 1865, 8 x 12 1/4, 1 full p. To Quarter Master General, Washington. "During the month of Aug. 1864 while at City Point, Va. awaiting transportation to Deep Bottom, Va., I received from 1(st) Lt. and Regtl. Q.M. L.F. Sullivan, 69 N.Y.V.V.I. some clothing...After reaching and evacuating our position at Deep Bottom, the Corps (2d) to which my company and regiment belongs, was ordered to proceed at once to the Weldon Rail Road, where at Reams Station, the most advanced position then held by our Corps, a battle ensued on the 25th of Aug. during which I was taken Prisoner of War. After being captured I was robbed of everything I possessed by the rebel authorities at Richmond. The memorandum of issue of clothing, camp and garrison equipage, which I carried in my Pocket Book, was taken from me which leaves me unable to render the necessary returns...." The 69th New York became - and remains - one of the most conspicuous and storied regiments of the war. Fighting, often with appalling losses, their battles also included Fredericksburg, Gettysburg, Spotsylvania (where O'Connor was wounded), and many others. "The 69th lost the greatest number of men killed or wounded of any of the New York regiments..."--The Union Army, Vol. 2, p. 101. Only two other Union regiments endured more combat deaths. 69th New York material is key to a Civil War collection; it is one of the few specific units to be the subject of a motion picture (starring James Cagney and Pat O'Brien). Light edge toning and handling, else about fine. Suitable for display. $200-275

5-2. The Portal to Hell.
Manuscript pass issued by Capt. M. Cassleman, signed for him by Col. Comdg. William H. Christian, 2nd Regt., '26th N.Y. Infantry], Barracks No. 3, Elmira (N.Y.), May 13, 1861, 5 x 7 3/4. "The Bearer Daniel R. Phelps is hereby permitted to go to Utica to be absent 10 days, at the end of which time...he will report himself at the Barracks No. 3 at Elmira or be considered a deserter." "Barracks No. 3" became widely known - and dreaded - as another designation for the Elmira P.O.W. camp. Docketed. Interesting blind-embossed stationer's crest; evidently the Union offices here had not yet received delivery of stationery, and were using locally-procured plain paper. Light parallel folds for carrying in pocket, else fine. Excessively early Elmira military usage – in fact, records show that Christian did not enlist until four days after the date of this document (modern copy, with photograph, accompany). He was Breveted Brig. Gen. in 1865. The eponymous prison camp became known as the "Portal to Hell," rivaling Andersonville and other forsaken destinations. Elmira had the highest death rate of any prison camp in the North, almost 25 percent. Comparatively, the overall death rate of all Northern prison camps was just over 11 percent; in the South...15 percent. Clearly, something went wrong in Elmira..."--Review of Elmira: Death Camp of the North, by Michael Horigan. Very scarce thus. $120-150

5-3. A General's 23-Year Fight.
Significant A.L.S. of Union Gen. F(itz-)J(ohn) Porter, on letterhead of Central Rail Road Co. of N.J., Office of the Receiver, N.Y., June 22, 1880, 5 1/2 x 8 1/2, 1 p., with conclusion "Believe me, Yours truly..." on verso. To Gen. Gilman Marston, distinguished N.H. commander, and Porter's ally in clearing his name. "I recd. from Gen. Sargent (now very ill) the printed circular signed by you & him - and give my sincere & hearty thanks. Whether used or not, I shall ever be most grateful. Should the written one signed by Gens. Slocum, Smith & Chamberlain reach you, I will thank you to send it to me direct. Gen. C'hamberlain] says he sent it to you some days ago. I sent you my letter to the 5th Corps & I beg you to consider yourself as one I esteem as a 'true friend.'" Porter had been cashiered from service in 1863 "for disobedience, disloyalty, and misconduct in the face of the enemy" at 2nd Bull Run. It took fifteen years for a board to reexamine the evidence; in 1882, the original sentence was reversed by Pres. Arthur. Finally, in 1886, Porter was reappointed, but without back pay; he resigned two days later – the "battle over the battle" having gone on for some 23 years. Anticlimactically, in 1887 "...the Schofield Board concluded after a year's investigation that Porter was relieved, tried, and professionally ruined for failure to obey an impossible order. The Board stated that Porter's attack order...'was based...upon expectations which could not possibly be realized'...The Board...commended him for not needlessly sacrificing his own troops (in order to protect his own reputation). As for Steele's accusation that Porter '...ought not to have stood idle with 10,000 men during the whole afternoon, while a battle was raging close at his right hand,' the Board reported: 'The display of troops made by Porter earlier in the afternoon had...all possible beneficial effect...'"--Boatner. Original mailing folds, light tip and handling wear, else fine. $450-600

5-4. Rare New Hampshire Hymn.
Variant printing of small song sheet, "Army Hymn - As sung by the 2d Regt., N.H. V.M., June 20, 1861," readying for their march to 1st Bull Run. By Oliver Wendell Holmes. 5 x 6 1/4. Imprint of "Balch, Printer, 34 School St., Boston." "...And when the battle thunders loud, Still guide us in its moving cloud...From treason's rent, and murder's stain, Guard Thou its folds till Peace shall reign...." Possibly an early printing, without the words "Soldiers will preserve this for future use." Some staining, mostly on blank verso, likely from careful folding in knapsack or pocket, else good plus. The 2nd N.H. was led by future Sen. Gilman Marston (see preceding and following lots), who had his arm shattered at 1st Bull Run, refusing amputation. At Gettysburg, the regiment endured two-thirds casualties in under three hours. Noted for their grey uniforms with "spiketail" dress coats trimmed in red, the 2nd refused to switch to Union blue for the entire war. WorldCat locates only three examples. Blanck Bibliography of American Literature 8805. A seldom-seen item. $200-275

5-5. The "Fighting Congressman's" Countdown to Bull Run.
A.D.S. of Col. (later Brig. Gen.) Gilman Marston, the "Fighting Congressman." From "Head Quarters, 2d Reg. N.H. Volunteers," Camp Sullivan, (N.H.), July 16, 1861 – beginning their advance on Bull Run this very day (according to New Hampshire Regimental Histories). 6 1/4 x 7 3/4. "Lieut. Herbert B. Titus of Co. A is hereby appointed Lieut. Commanding at Camp Sullivan, and all inferior officers and soldiers are...required to yield entire obedience to his orders." Attached to Burnside's Brigade, the 2nd N.H. - recruited then led by Marston - clashed at Bull Run on July 21, the writer's arm shattered. A bloody battle, it was at 1st Bull Run that Confederate Gen. Jackson acquired the moniker Stonewall. Later commanding in the Peninsular campaign and at Fredericksburg, Marston would be wounded several times more. The 2nd N.H.'s other engagements comprise a rather staggering chronology (research accompanies), including Fredericksburg, Gettysburg, Manassas, Cold Harbor, Petersburg, and the occupation of Richmond. Marston enjoys the rare distinction of serving in combat while a sitting Congressman: his initial terms ran from Mar. 1859-Mar. 1863, then reelected to another term 1865-67. Lt. Titus was wounded at Antietam. Docketed in another hand. Evidently penned in haste, small ink blotter spots, minor edge toning, else very good. A dramatic item. (Also see Lots 5-3 and 5-4.) $325-425

5-6. Gen. Howard Prepares for Centennial of Washington's Inauguration.
A.L.S. of Maj. Gen. O.O. Howard, "Headquarters Div. of the Atlantic," Governor's Island, N.Y., "5th 1889" (no month but before May), on lettersheet 6 x 9 1/4, 1 1/4 pp. To Gen. Tompkins. "Will you have the kindness to let your clerks furnish me with a copy of: 1) Orders or instructions issued from your office for evacuation of our troops for the Centennial; 2) A brief (the mere substance) of each contract for ditto; 3) When you used orders from this office, simply give number & date that I may look them up. I want this information to enable me to write a few lines on the subject of mobilization." A magnificent occasion in N.Y. that Spring, the Centenary included descendants of great American founding families, together with Presidents Harrison, Hayes, and Cleveland, and innumerable luminaries. Interesting use of thin vellum strip on verso, for mounting in Tompkins' letter-book, 1"-wide glue toning at left vertical margin p. 1, from vellum of letter once bound in front of this, uniform cream toning, else about fine. A storied officer, Howard lost his right arm at Fair Oaks, for which he was given Medal of Honor over thirty years later; led at Antietam, Fredericksburg, Gettysburg, and many other battles. A commissioner of Freedman's Bureau, founder and Pres. of Howard University for Negroes, Supt. of West Point. He published extensively on history, except for one subject – the Civil War. $300-400

5-7. "...betting on how many men our army will lose in the first fight...."
Superior letter of Union officer "Robert," "Head Quarters 69th P(enna.) V(ols.), near Stevensburg, Pa.," Apr. 8, 1864, 7 1/2 x 9 3/4, 2 1/2 pp. The 69th - known as "'Paddy' Owens' Regulars" and "The Forgotten Irish" - fought gallantly at Gettysburg, losing all of its field officers by July 3. Despite homage in Ireland, the unit remained underappreciated in America for some 140 years - until 1999, when it received its home town's highest honor, the Philadelphia Medal of Honor. To his brother. "I have just received your letter. And it is just like sitting in a court room awaiting for a Jury to return a verdict upon you. You cannot expect any kind of an answer for there is nothing but drills going on & we are just awaiting a verdict of Meade & Grant to move. It is all that we talk about, think about & dream about, each one of us saying to the other, I wonder whose wind is to be cut this Summer, & then we get to surmising where we will move...& betting on how many men our army will lose in the first fight...Oh what a short distance $100 goes in this army. A person would scarcely believe it but such is the fact. I only hope that you may be able to quit square with them. God damd blood suckers...If they ever happen to fall across my path I will give them to understand that I have shot better Rebels than what they are...You are killing yourself by it. Take heart & face the drill. By God if you were in the Army I almost think that you would worry yourself to death at the approaching fight, for it seems as if all of us has made up our minds to die, but we are going to live to the last minute and if we can we will take a good breakfast of raw pork hardback...Then farewell to the service of Uncle Sam. I will be one of the tongue defenders of the Union around 6th & Chestnut St. 'Philadelphia]. I would have left the Army this week, only by my staying in it keeps you exempt from the draft. I am getting more & more disgusted with the red tape every day, for the Government thinks a volunteer officer good enough to stand up & be shot at, but they are nowhere when compared to a regular Army officer...P.S.: Gen. Grant has ordered a Review 5 times now of our Corps & each time it has come on a heavy rain & he has been disappointed. All the superstitious persons in the Corps look upon it as a bad omen for the success of his career while with the Army of the Potomac." Original folds, very light handling evidence, else about very fine. Scrutiny of the 69th's roster narrows the writer down to one of four Roberts; summary accompanies. $140-180

5-8. Prelude to the Draft Riots.
Printed Union General Orders, War Dept., Washington, June 25, 1863, 4 1/2 x 7. "For Recruiting the Regular Army," following Lincoln's appeal ten days before, offering bounties for enlistments of one or two years. Here, the offer was extended for up to five years service, detailing a $2 premium on enlistment, plus $13 advance pay, and almost $400 bounty to new soldiers, spread out at $50 per year. Evidently Washington anticipated the war to go on til at least 1868! Responses to these appeals were less than enthusiastic; within three weeks the bloody New York Draft Riots erupted, its suppression requiring the Army itself. Irregular blank left margin where removed from binding, very light edge toning, else fine. $45-65

5-9. With Scarce Provost Marshal's Handstamp.
Manuscript Union pass, Washington, D.C., May 22, 1865, 5 x 6 1/4, with seldom-seen black circular handstamp, "Provost Marshal General's Office / Defences North Potomac / Approved." "Guards & Patrol: The bearers hereof Pvts. Yowers & Fuller and one other are Orderlies to Genl. MacDougall and are in charge of Hd.Qr. horses now in town." Signed by "Johnston, Capt...." Folded into sixths, to be carried in pocket or wallet. On verso, contemporary list in pencil, with weight and price of sugar, butter, flour, tea, pepper, pork, potatoes, and beans, perhaps purchased for the General and his men. One fold reinforced on verso with short strip of white gummed paper, wear at two fold junctions, toning on verso, else good plus. Technically, the war still continued: it was not until four days later that Southern resistance on land ended in New Orleans, and on sea at Galveston, on June 2. $50-70

5-10. A Civil War Ambulance Driver.
Union soldiers letter from Jarvis General Hospital, Baltimore, Oct. 5, (18)63, 5 x 8, 3 pp. From "L.H.C.," to his "Coz 'Cousin] Ed." "How is the weather in old K(ansa)s today. If it is anything like it is here it is pretty cold and it blows a perfect Gale today. I had a pretty hard ride after I left you in N.Y. The cars were crowd(ed)...a perfect jam all night. Besides we had a little breakdown on the way...I have just come in from an Ambulance ride out to Druid Hill Park. It is a splendid place...It is considered one of the best National Parks in America. It is about 4 1/2 miles from the Hospital. Just a nice drive. We can go out there three times a week. We also have musical concerts once a week...It will be hard...for a discharge this winter. There has been 2 discharged out of our ward...I hope the good work will go on, for Old Ks. has long wanted an overhauling in these matters. Has Oliver Chadwick got Exempt yet? I hope he won't as well as all the rest...." Chadwick, of Oscaloosa, Iowa, enlisted in Jan. 1862 – and deserted that July. Minor handling evidence, else very good. Letters and documents of ambulance drivers are among the Civil War's more elusive occupations. $75-100

5-11. "It's like the fourth of July here" in Washington, N.C.
Dramatic letter of Union soldier Augustus Chapman of 27th Mass. Volunteers, taken P.O.W. at Drewry's Bluff, Va., 1864, dying in Andersonville. From Washington, North Carolina, Apr. 13, 1863, in neat, legible pencil, 5 1/2 x 7 1/4, 1 1/2 pp. To his parents. "A steamer ran the blockade below this place, bringing reinforcements and the mail... The rebels have us blockaded so closely that no mails can reach us. My position as I write this is at the rear of a fort which is a stronghold. On the hills around the fort are seven rebel batteries which have been erected since our arrival. They commenced to bombard us ten days ago...a continual fire on this place. The batteries on the hills are a short mile from here and we can plainly see the traitor flags and the men at work...The rebels generally open upon us about sunrise, and the way that they pair shot and shell into us for an hour is a caution. It's like the fourth of July here and we hunt for our holes pretty lively when they open fire. We have had many narrow escapes and I have had shot strike within ten feet of me. I hugged the ground for dear life as the shells exploded around me. When the grand fight comes off, it will be a great slaughter and whether or not we are whipped, I can assure you that the rebels will get a belly full, for we will make it a very hot time for them. Reb shooters killed one of the boys last week and it was a sad time indeed. He left a wife (and) a new baby behind, but such are the fates of war...The rebs are shelling us just now as I write. Sounds like thunder...." Few lines along folds light but legible where smudged by writer's hand, else about fine. $90-120

5-12. Rare Mention of Indians during the Civil War.
Superior letter of Union soldier Oscar Sheldon, 37th Ill. Vols., Co. A, Newtonia, Missouri, Oct. 6, 1862, 5 x 8, 4 pp. On patriotic lettersheet edged in red and blue, with large, handsome blind-embossed crest "Union and Constitution" over eagle, shield, and laurel. To his cousin. "...We have drove secesh out of this town on a devil of a run at that, and they still continue to keep on the run. It's rather a hard thing to catch them yet we came very nigh. There is about 15,000 of them and about the same of federal troops and we can clean them out and not half try. I am in hope they will...try us a fight for I think I could give about a dozen of them a wee bit of thrashing myself indeed, do I...Poor fools, they can only run...Please give my respects to all of the young ladies...and you can tell them you have as fine a cousin as any of them...I was on picket guard last night way off in the woods and a lon(e)some time it was for we had to keep still for fear the d(amn) Indians would creep up on us and shoot...I think I will come out all right if the war should last 10 years...Have not got hurt yet...Good day my Girl." Original quarter folds, else fine and attractive. $140-180

5-13. A Hotelier in 1861: "I hope there will be no fighting...."
Romantic letter of Civil War era civilian "Theodore," evidently an innkeeper in Bedford, Pa., June 7, 1861, 4 1/2 x 7 1/4, 4 full pp. On early patriotic lettersheet with large red and blue eagle atop shield, "Our Whole Union." To his girlfriend Maggie. "...I fear you are not as well as you say you are...Oh, Maggie, you are not aware how often I think of you. Oh, could I be in your Sweet company just a few moments, I would love to clasp you in my arms and press you to my heart, which beats so warm and true for you. There is a love so fond, so true, No art the Maggie tie can sever, Tis ever beautious, ever new, Its claim once linked, is linked forever...The Springs are open now and folks will soon come. There will be 2 or 4 Gentlemen & Ladies from Washington City this Evening...We have about 25 Boarders now. These are brisk times in Chambersburg now. Capt. John H. Hill'?] came through your place to Bedford yesterday. He looks well & says there are twenty thousand men at Chambersburg. He is going back tomorrow in the 'coach.' He thinks they will be sent to Harpers Ferry soon. I think they will not have much trouble to drive the Secessionists away from there. I hope there will be no fighting...I have sent to Chambersburg for some magazines. The papers did not come for 2 weeks past...Your Friend & Lover...." Very light toning at one fold, else very fine. $70-90

5-14. "Capt. Allen believes in the Catholic Religion...."
Letter of Union '1st Lt. Benjamin F.] Cook, "Camp of 12th Regt., Mass. Vol., near Seneca Mills," Nov. 3, (1861), 4 3/4 x 7 1/2, 3 pp. To Mrs. Julia F. Cook, Gloucester, Mass. "...The worst storm that we have had...our tent was wet through and mud up to our ankles in our tents. Everything was wet that was not locked in our Trunks. The wind blows in our tent so that I can hardly write. I have to hold the paper with one hand and write with the other. If I have the opportunity I will have my Picture taken and sent to you. If we go into winter quarters I shall make arrangements for your coming out here. I have just come in from Church Service. He had a very small attendance. The Capt. tells the men that if they do not want to go they need not, so they did not come out, only about 20. Capt. Allen believes in the Catholic Religion and Saunders does not believe in the Bible, so he says, but he is such a queer fellow that one does not know how to take him. I was the only Officer of our Company present. I am in command of the Company now. Capt. Allen is on detached service for a few days...learning to throw up entrenchments and fortifications...We did (not) carry more to Church was because the mens clothes were wet...." Trivial foxing, else fine. By 1864, Cook rose to Lt. Col. There was considerable anti-Catholic sentiment in the nineteenth century; mention of Catholicism in the military is seldom encountered. $130-160

5-15. Manhattan "looks very much like war...."
Letter of Chas. R. Carmer, N.Y. (City), previously a 90-day Sergeant in the 71st N.Y. Infantry. July 20, 1863, 5 1/4 x 8 1/2, 1 full p. To his sister. "...Everything is quiet here again now, it looks very much like war though, so many soldiers in the streets. Madison Sq. has been turned into a Cavalry Camp. Several Batteries of the 5th Artillery have been sent here. Ver Planck's Battery is at Fort Hamilton. He was here this morning & looks as though he had a pretty rough time of it lately." Two smudges from writer's pen, remnant of glue used to seal envelope at margin of p. 1, thin spot on blank page from envelope gum, else very fine and clean. $65-85

5-16. "Barney the Baron" and Irish Theatre in Civil War Gotham.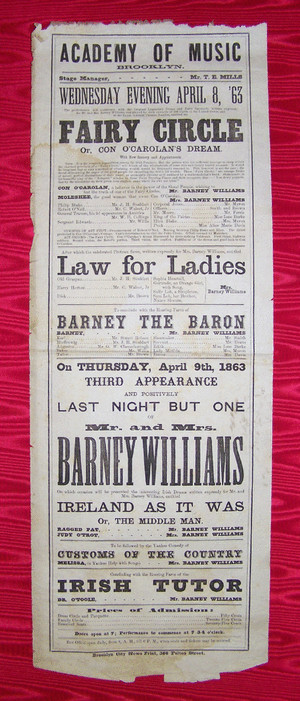 Civil War-date theatrical broadside, Brooklyn Academy of Music, Apr. 8-9, (18)63, for a program of Irish drama, "fairy spectacle," and "roaring farce." 7 3/4 x 22. Local imprint of "Brooklyn City News Print, 368 Fulton St." The evening began with "Fairy Circle, Or, Con O'Carolan's Dream - It is the common superstition among the Irish Peasants, that the person who has sufficient courage to sleep within the charmed precincts of a 'Fairy Circle,' will dream of the whereabouts of some rich and deeply buried treasure...These 'Fairy Circles' are strange freaks of nature...." Starring internationally-famous stars of the stage Mr. and Mrs. Barney Williams, the latter as "the good woman that owns Con O'Carolan." In the following spectacle, Mrs. Williams plays five different roles, male and female, including "Gertrude, an Orange Girl, with Song." "To conclude with the Roaring Farce of Barney the Baron." Lower half of broadside offers, "...positively last night but one...the interesting Irish Drama...'Ireland As It Was,'" the Williamses portraying Ragged Pat and Judy O'Trot, plus "Customs of the Country" and "Irish Tutor." Now the height of trendiness (and expensiveness), waterfront Brooklyn then had large populations of Irish, most having immigrated during the Potato Famine. Still running strong today, the Academy of Music offered them splendorous surroundings for as little as 25¢. Light waterstains, tear at upper left corner, tears and tattering of blank edges, usual fine wrinkles, but good, and delightful for display. Civil War date theatrical broadsides, especially with exclusively-ethnic programs, are desirable. Lacking in Brooklyn Historical Society collections. WorldCat locates no examples. Perhaps a unique survivor. $250-325

5-17. "The Enemy is approaching...."
Prescient telegram during the Vicksburg Campaign, in clerical hand, from Confederate Lt. Gen. Comdg. J.C. Pemberton, who had the ignominious fate of losing that marathon clash - and effectively, the Civil War. Jackson (Miss.), Apr. 20, 1863, 5 3/4 x 6 3/4. On partly printed form of South-Western Telegraph Co. To Gen. Ruggles. "I hear from Several Sources but not your Head Quarters that Enemy is approaching Pontotoc. This is a mere raid but should not be unmolested by you." A Pennsylvania-born Quaker, Pemberton had advised abandonment of Fort Sumter in 1862. Here in the thick of the Vicksburg Campaign, it was later observed, "placing Pemberton in command in Mississippi must rank as one of Jefferson Davis' major mistakes"--The Army of Tennessee, Stanley F. Horn, 1941. "Harrassed and bewildered" at Vicksburg, Pemberton's capture - choosing to surrender on July 4th - compounded their defeat at Gettysburg, leading the South to suspect treason. "Coming the day after the Federal victory at Gettysburg, the fall of Vicksburg sounded the death knell of the Confederate cause...Grant had achieved one of the most brilliant military successes in history"--Boatner. Exchanged the following year, Pemberton resigned, though history records that his sole offense was "mediocre generalship." Docketed. Old paper hinges at corners of verso, uniform cream toning, else fine. In old, plain file folder, pencilled title, believed ex-Thomas J. Madigan. Telegrams from Pemberton, certainly from his last campaign, are very scarce. His nephew, a druggist and Confederate officer, is regarded as the inventor of Coca-Cola. $475-575

5-18. "Rebel hordes are scattered to the four winds."
Letter of Union soldier W.J. Green, Fort Halleck, Columbus, Ky., Oct. 8, (18)62, 4 3/4 x 7 3/4, 2 1/2 pp. To his brothers in Big Prairie, Logan County, Ill. "Old Co. B is all right and anxious to meet the Enemy in the Field again. There has been a great deal of hard Fighting down at Corinth within the last few days, and great loss on both sides but Ill(inoi)s has been tried again and found equal to the emergency. Our Regt. has been in the Fight and I hear that they have sustained a heavy Loss...Gen. Ord and Gen. Oglesby are both dangerously Wounded and Gen. Hackleman is Killed, and Price, Van Dorn, and Lovell's Rebel hordes are scattered to the four winds, and I hope our Troops will take them all Prisoners...You wrote about the Cowards getting married upon the Prairie and I expect that you Chaps will be getting married next. You must pick me out a woman as I have not got time myself and report who she is and where she lives...There was a good many Cakes sent down but there was none for me...." For a brief period, Columbus, Ky. became one of the new Confederacy's most strategically important locations. Captured by the Union, this "Gibraltar of the West" was renamed Fort Halleck. For both sides, Columbus was the "most heavily fortified and armed fortress on the Mississippi River during the entire war"--rosswar.blogspot.com. Columbus "also became a major refugee center for runaway slaves...." Two caramel dampstains in centerfold, else fine. • With orange cover, Columbus, Ky. c.d.s.; postage stamp likely fell off as little evidence of its adhesive; creases, wear, and spotting, but satisfactory, and giving identity to the letter. $120-150 (2 pcs.)

5-19. "If it is our lot to fall, we will fall in a good cause...."
Two letters of brothers Jacob W. and Henry H. Otto, privates in Co. C, 205th Pa. Infantry, penned by the more literate sibling on behalf of both. Camp near Hancock Station, Va., Mar. 10 and 18, 1865, 7 3/4 x 10, 4 pp. in all. To parents (in Altoona). "...She heard that we were in a battle. We were not in a battle yet but we was near getting in several, but as luck happened we did not get in any...I don't want to get in any. When we came out I expected to do some fighting and so if we get in a fight we won't be disappointed. But if it is our lot to fall, we will fall in a good cause war. Thousands before us fell. We hant no better than them and maybe thousands more fall, but I hope and trust that this wicked rebellion will be crushed down and peace and union be restored, and we must stand by our glorious flag, so we must all put our trust in God and live as if today was the last, for tomorrow we don't know what will bring forth...Father, you did not say whether you got religion, yet if you did not...there is a service going on in Altoona...for religion is something that every person (ought) to have...We have lots of rain and mud. The Army of the Potomac is laying quiet. They can't move for the mud...There are still deserters coming in our lines every night...." • "...We expect a big fight here soon. We have orders to be ready to fall (out) in a moment. We look every minute for the ball to open...The sooner the better...They can go home...once more and live in peace. The next thing you will hear that Richmond will be taken and Petersburg. There are still deserters come in our lines. Our boys is ready for the Johnnys any time. I think in the course of a month this rebellion will be all union, so you can see all of the Soldiers coming home again and then the gals must take it...If George Linsey is about...tell him...if I live to get home and he is about, the dirty mean lowlife rascal, he has been telling lies on me...I suppose he is just like his sister, the dirty mean scamp. Let him come to the army and then he will find out what Soldiers is...If he lives and I live, he must give an account of himself...." Second letter with some soiling of top half, else both darkly penned and very good. $120-150 (2 pcs.)

5-20. "It is difficult to obtain any position at Washington...."
Letter of Union (Maj. and future Bvt. Brig. Genl.) James A. Hall, (1st Maine Light Artillery, 2nd Mounted Battery), Camp Barry, D.C., Feb. 1, 1864, 7 1/2 x 9 3/4, 1 full p. To hometown friend H.W. Metcalf, Damariscotta, Maine, on obtaining a job for the addressee in Washington. "I saw Mr. Blaine yesterday who desired me to say that there were so many ahead of him when he came here that he had not yet been able to obtain the place for you, but that he was still trying and hopeful...He would do all in his power to bring it about. Anything I can do in the matter I shall...It is difficult to obtain any position at Washington just now. There are so many applicants who have had their claims on file for a long time...." Light edge dust-toning, else fine and darkly penned. Hall was a grizzled veteran of 2nd Bull Run, Fredericksburg, and following this letter, Spotsylvania, Cold Harbor, Petersburg, and other battles. With modern photograph and lengthy regimental history, including his vivid after-battle reports from Chancellorsville and Gettysburg, as Commander at both. A very scarce name. $130-160

5-21. Penned Aboard a Noted Union "Tinclad" Gunboat.
Letter of Union sailor Jas. L. Dawson, "Gun Boat Hastings, Mouth of White River, Ark. / Miss. Squadron, Via Cairo, Ill.," July 8, (18)64, 5 x 8 1/4, 2 full pp. To his sister. "Sorry to hear that Ma is unwell. I know I did wrong in going away as I did. But it can't be helped now. I should be ashamed to come home so soon. You all would laugh...I am well and tough at present...Tell me what mother is going to do if I do not come home...I think I had better stay away...I expect we will leave here soon for up White River where we had the fight before. Old Shelby is up there with 3,000 waiting for us to come up, so he can attack us...." Toning at two horizontal folds, else very good. Confederate Gen. Joseph Shelby played a key role in the Arkansas Campaign; rather than surrendering in Missouri several months after this letter, Shelby led his men to Mexico. The Hastings was among the light-draught gunboats dubbed "tinclads," which "bore the brunt of the war on the Mississippi River tributaries..."--accompanying ship's history and modern research. A converted sidewheel steamer, the ship patrolled Confederate waterways ranging as far as Louisiana and Mississippi, also convoying Union troops and gleaning intelligence. A rich literature mentions the Hastings and exploits of the Mississippi Squadron. Letters of Union sailors are uncommon and desirable. $225-275

5-22. A Homefront Doctor on "Abe and all of his imps."
Letter of civilian physician M.B. Peters, Kingston (N.Y.), May 24, 1864, 5 x 8, 3 1/2 pp. To brother on Flatbush Ave., Brooklyn. Mentioning his black helper, Lincoln, and Frederick Douglass. "...Prefer this Spring and Summer weather to the slush, rain, snow, and cold of winter...Everything looks green but gay. Buds and blossoms promise a bountiful crop of fruit next fall. I am sure that looks well if the great victories of the war don't. The world w(as) stop(p)ed a few days ago by old abe but the war went on. Now I see the world moves again as well as the war. I guess Old Abe won't tax his fingers with that little thing again but let the world move on as usual. Don't think he made many points that time. He dug the ditch for the world, but got in it himself. I see that pulp of Beecher's, who used to be after me on the 'Brooklyn] heights with his flag rowdies, instead of getting me in the Hotel de Lafayette, got a berth there himself...The power of the house of the Beechers will prevail over Abe and all of his imps, and then they don't want to suppress Howard...I guess they made about 25,000 votes over the left next Fall out of the bogus baby proclamation. Wonder what they will try next. Think A. Lincoln better appoint Fred Douglas(s) pope of East New York, and suppress the colored population. I have all I can do with my practice. It is increasing every day...I get enough to live on...I do now over $100 a month...Guess my practice is larger than any other doctor in Village. Of course I don't do as much out in country, for I have got no horse yet and it don't pay to hire. I go out some. When I do, I make them pay down each visit...Have got my nig yet to help me round store and receive calls, but he can't do much with drugs &c. and it won't pay to hire anyone who is competent to run the store, as goods are now. I can make more out of practice and let the store stand...." Small semicircular mousechew at one right fold affecting three words in all, uniform cream toning, else about fine. With envelope, postmarked Hoosick Falls, apparently with postmaster's error, the date "May 15"; fancy cancel tying 3¢ postage stamp with unusually wide margin at top, lacking portion at bottom likely when hastily torn from sheet, postal wear, else good. $120-150 (2 pcs.)

5-23. "...Saw the shell descend among about 30 negroes...."
Vividly descriptive, lengthy letter of Philadelphia soldier Robert Stewart, including two mentions of sharpshooters, and much more. "3/4 of a mile from the Rebel works in the woods, Camp Winfield Scott, near Yorktown, Va.," Apr. 22, 1862, 7 1/2 x 9 3/4, 4 very full pp. To his brother. "Calling this a camp (re)minds me of walking on the pavement to imagine its raining only in the middle of the street. After waiting patiently for 2 weeks for a Battle we are just about as near to it as the day we came here...We keep up a Shelling them & our Sharp Shooters keep picking them off & they return the compliment by killing about a dozen of our men every day. I believe that they have killed more of our troops by this way than if we had charged them. Batteries you cannot hear anything hardly, but 'Bang Bang' all the time & we have laid here in the woods 2 weeks supporting Rickett's Regular Battery & the 3rd Rhode Island alternately. I tell you it's fun to stand behind a tree & watch a shell come down among them. Yesterday, Sun., we were throwing up earth works & the rain was falling fast...when I heard a Lieut. of the R.I. say 'by God I have got a splendid shot' & we all took a peep from behind our earth works & saw the shell descend among about 30 negroes who were at work mounting a heavy gun on the Rebels works. Bang went the shell & up went the niggers. When the smoke cleared, not one was to be seen...One day last week one of the Vermont Regt. charged on a Battery but...the Rebels was waiting for them with grape & cannister & laid about 100 of the brave Yankee Regt. out & wounded about as many. Its fun although a great many can't see it, but our boys & in fact the whole line of our army...about 130,000 men, are wishing for the ball to open right, for here we are with dam little to eat & of course dam little sleep & no shelter but the trees. So you see that all hands think the sooner it comes to a close the better. We see a great many amusing sights here. Last Sun. when we was at work, the boys would sing out every minute or so, 'come boys, knock off & get your egg nog,' when we had not even coffee & crackers. We sometimes work all night clearing trees...The Rebels tried 3 times in one night to drive us back...but we gave them plenty of grape & cannister mixed with minnie Rifle Balls, & we soon gave them to understand that we are looking out for them at midnight...Mid day this morning one of the Regts. of our Div. had been blazing away at them pretty freely when all at once they let a volley come into them, killing 11 & wounding some more. It is known as the Tammany Regt. 42nd New York. One of the dead men was just in the act of lighting his pipe, the Ball going through his hand & mouth. It is laughable to hear some of the boys talk about the Rebels. Some will talk of leniency towards them, others will say, 'well the first that comes into my hands I will pay him up for such a day's march...shortness of rations...losing a night's sleep & getting wet'...This afternoon a flag of truce came in saying if we did not take our Sharp Shooters away, they would give us no quarter in Battle. Well I guess we won't take them in & as for quarter by God we expect none...It's like starving a tiger & then letting him out...They can't haul enough government stores in the wagons & you may bet they will not trouble themselves about Boxes. If you sent me any tobacco I never got it...A sutler charges 50¢ for a pie 2 or 3 weeks old, 25¢ for 6¢ worth of chewing tobacco & he sells papers for smoking tobacco for 25¢ that the tobacco stores throw out in Phila...Our Brigade so far has been very lucky. The only loss we have had yet has been 6 or 7 of Owens' 69th Reg. A couple got outside of the pickets & were taken, I guess the others shot while on picket. Our Reg. is to(o) damd hard to get hurt. They are all anxious for a big fight. I hope by the time I get an answer to this I will be able to give you the details of the Battle of Yorktown...." The writer was likely Sgt. in the 72nd Penna. Infantry, which "suffered much from sickness at the siege of Yorktown, as its camp was in an unhealthful location and the constant rains and exposure in the trenches bore heavily on the command..."--Official Records: Series I, Vol. 27, Part I (modern copy accompanies). At Gettysburg, the 72nd suffered "grievously on the third (day), both during the great artillery duel, and in Pickett's historic charge," fighting "immediately behind the 69th," mentioned in this letter. Dust-toning and moderate wear at p. 1 folds, else darkly penned and very good. $250-325

5-24. So much Mule Meat that "our ears have grown three inches...."
Letter of Union Lt. 'Thomas R.] Mead, Co. I, 10th Regt. Connecticut Vols. Scion of the prominent eponymous Connecticut family, Mead was promoted to Capt. for his gallant service, dying in 1862 of typhoid fever at Washington, N.C. "Camped at Annapolis, Md.," Dec. 27, (18)61, 4 1/4 x 7 1/2, 3 1/4 pp., in pencil. To his father in Greenwich, Conn. "...This morning we was called out on skirmish drill...Who did we find there but Col. Mead and the Captain's Wife...Charly Holbrook 'of his Co.] is not going to be with us again...We got took in about our tirky (sic) & chicken Christmas. He could not get them and he was mad. Last night he got a goose. It lays on the box...Will has wrote today home for a pair of Boots. I think you had better send me a pair...double soles...You can tie them up in a bundle and send them that way. If you like skirmishing we need a pair of boots...We were to go target shooting this afternoon but the wind was blowing so strong...It is lonesome here...There was a piece of paper that said the Comissary had fed the troops so much on Mule Meat since we have been encamped at Annapolis that our ears have grown three inches and a half in length...." Light handling, else very good. • With orange cover, good black Annapolis c.d.s. tying 3¢, affixed with perfs just overhanging edge. Some postal wrinkles, but very good plus. The writer appears in History and Genealogy of the Mead Family...from A.D. 1180 to 1900. Modern research accompanies. $120-150 (2 pcs.)

5-25. A New Hampshire Rifleman Prepares to Fight.
Letter of Union soldier Charles Wilkins 'believed in 2nd N.H. Infantry], Camp Constitution, Portsmouth (N.H.), June 3, (18)61, 5 x 8 1/2, 2 pp. To brother James. "I shall come up to Concord on Thurs., Election day, if nothing happens...Don't know as I can go to Manchester but should like to see you before we leave. I have joined the Goodwin Rifles as a private, not so good a chance as I expected but I am in the best company in the Regt. The Contoocook Co. is to be split to five other companies. Patterson is to be a Lieut. Think he has played rather a mean game. Can explain it better when I see you...Almost ready to go on Parade & must close." Unusual blind-embossed stationer's crest of a fierce weasel-like creature. Very fine. Service record accompanies. $60-85

5-26. A Civil War Schoolboy Sketches "Jef Lincon."
Scarce and charming letter of a Civil War-era schoolboy, James Bowe, Dale Township, McLean County, Ill., Feb. 23, 1865, 5 x 8, 3 pp., penned in bright blue ink on pale-blue-lined lettersheet. To cousin Joseph Shade. Hand-drawn oval frame around "When this you see / remember me," with his cartoon of "Jef Lincon," presumed a composite Jeff Davis and Abe Lincoln. "At school I take my pen in hand...I am going to school and we have a good time...I have had a good deal of fun this winter a going to spelling and singing and uncle sam is having a good time shooting prairie chickens and he is enjoying himself very well, and he likes this country very well...He thinks that he could live here and there is several girls coming to school here and we have a good time with them, and I hope that you have a good time with the girls there to(o). I suppose that you are thinking about going with the gals as the rest of the boys have all gone to the army...." Novelty diagonal folds into diamond-shaped panels, break along one short fold, some soiling along others, else good plus, and delightful for display. $90-120

5-27. "You boys are in a rather hard place...Times look rather dark."
Poignant homefront letter on patriotic stationery, with large eagle and shield in red, blue, and simulated brown. From Lucretia Kass, West Almond (Allegany County, N.Y.), Apr. 9, 1862, 5 x 8 1/4, 2 pp. To V(aranes) B. McHenry (of 86th N.Y. Infantry, also known as the Steuben Rangers and "The fighting regiment of the Southern Tier"). "We are once more admonished of the shortness of life. We received the news of Henry's Death on Mon. evening ...which created sadness within...Henry had lived with us part of two years and we esteemed him as a friend very highly. Please to write to us about his sickness & death & burial. Give us all the particulars...From what I learn I think that you boys are in a rather hard place, but we are hoping that the time will not be long before you will be at home...Times look rather dark...." Inconspicuous repair of short tear on verso with tape, inlay at edge, touching one word and last name of signature, light toning, else V.G. With modern copy of McHenry's photograph and service record; just six weeks later, he would be discharged for disability. He was fortunate: the 86th lost a quarter of its men. $70-90

5-28. Shootings in East New York, Brooklyn – 1862.
Letter of Union soldier J.Q. Lovrien, Co. F, 15th N.H. Vols., "N.P. Banks' division," dated Brooklin 'sic], (N.Y.), Dec. 9, 1862 - the day before he was mustered, 4 1/2 x 7 1/2, 2 pp. "...We have been here with the expectations of going away every day for a fortnight and are not gone yet, but expect to go tomorrow morning on a(n) iron clad steamer...We are not informed where our destined place is yet...There has been some trouble in Camp at eastern New York since we left among the soldiers and traders. One or two was shot and some of the buildings burned. I don't know of anything worth writing...." Fine wrinkling from tenting when originally folded, soft crease at blank top, light toning, else very good. Service record accompanies. $90-120

5-29. "...Fried beef and fried fresh pork and fried liver and fried sausage and...."
Letter of gourmand Union soldier Allen M. Munro, '2nd Rhode Island Infantry], Camp Brightwood, Washington, D.C., Jan. 19, 1862, 7 1/2 x 9 1/2, 2 pp. To his cousin. "...It rained hard all right. I was out on grand guard last Sun. and had a good time...and then in the morning I went over across the road and got a good breakfast for 20¢. The first place had a white table cloth...and then we had white dishes and white knives and forks... and we sat down and they had white bread and butter and cheas and fried beef and fried fresh pork and fried liver and fried sausage meat and boiled potato and tea with sugar and milk in it...and some beer...and then we came into camp and had a good time. All day when I was out I was about 5 miles from the camp and 5 miles from the rebels...I hope we shall go afoot of them before long and clean them out...I shall know how to do all kinds of work when I git home. I should like to be home today if this thing was settled...I wish we could go in and ban the south right (now)...." Penned in a diminutive hand but decipherable; toning along two vertical folds on verso, short edge tear, some wear, else very good. $80-110

5-30. The "really magnificent" view from Fort Delaware.
Early letter of Union soldier "R.D.C.," evidently a 90-day soldier, at the soon-to-be-dreaded Fort Delaware, May 25, 1861, 1 A.M., 5 1/4 x 8, 4 full pp. To his aunt. "I write you from the Guard Room, having just been relieved from guard at 12 o'clock. It hardly pays to go to sleep, since I am to go on duty again at 4 o'clock for two hours...The night is one of the most beautiful I have ever witnessed. The moon is at the full, and the view from the wharf where my post is, is really magnificent, so that I was really sorry when I was relieved by the new guard. I was visited on my post by a part of the officers, including our Capt. Gibson (the Commanding officer of the Post)...I was questioned closely but got off creditably. I have been here nearly three weeks and have got quite used to the life of a Soldier, not that I mean to imply that there is much fascination about it. I enter into it as a matter of duty and when I can do so honorably I shall leave it for a more congenial pursuit. I never thought until now that I...could so easily undergo so many privations & so much discomfort...three times only have I slept without my pantaloons; almost every night I turn in, in my overcoat and my blankets...Our present barracks...is a miserable old barn of a place, fitted up with bunks in the most primitive style...We are kept constantly at work - drilling, doing guard duty, police duty...We have four drills a day with the prospect of a fifth. The early morning drill at half past five is artillery practice, as the Guns is the most interesting & instructive. The position of Fort Delaware is a very commanding one and manned with a well drilled and competent garrison it will always be able to prevent any attacking force from passing it. The Fort is situated on the Pea Patch Island at the head of Delaware Bay opposite Delaware City. Fort Mifflin is further up the River in Tinicum Island at the mouth of the Schuylkill. The former is one of the finest structures of the kind in the Country. Ellery is on Guard duty today with me. He has just finished his pipe & turned in for a snooze...." Some postal or handling wrinkles at right portion, light toning on p. 4, else darkly penned in a bold hand, and about very good. Perhaps the earliest substantive first-person account of Fort Delaware during the War to reach the market. The largest fortification of its type in America in 1861, all told it would come to house some 33,000 Confederate and political prisoners, privateers, and convicts. Fort Delaware held most of the Confederates captured at Gettysburg, as well as those who came to be remembered as the Immortal Six Hundred. $175-225

5-31. A Soldier's Dental Problems during a Petersburg Christmas.
Letter of Union Pvt. W.B. Durie (30th and 39th N.J. Infantries), "Camp near Fort...front of Petersburg, Va.," Dec. 27, (18)64, 5 x 8, 4 full pp. To sister. "...I had a tooth pulled the day before Christmas. My gumbs 'sic] are still sore and trouble me a good deal when eating which makes me feel cross like. I believe the rest of my teeth are good but there seems to be a kind of grumbling about them yet which I hope will be over when the gumbs heal. I wrote a letter to the Division Christmas which may be read at the next meeting directed to J.P. Bonnell...I am in great want of some paper as I have but four sheets left...I have no money to pay you at present, only the 25¢ left...I will be upon camp guard tomorrow...." Very minor marginal toning, else about fine. Dental content in Civil War letters is very rare. $130-160

5-32. A Future P.O.W. Pens "...I wish that some more of our prisoners could make their escape."
Letter attributed to ill-fated Union soldier Lawson H. Rogers, (Co. H, 122nd Ohio Infantry), "Army of the Potomac, Sabbath Morning," Apr. 3, (18)64, 5 x 8, 4 full pp. To Mother. "...I am still improving but I think slow...I need not expect (to) get all my strength at once. I done no duty yet. We was ordered to move Camp Thurs., the distance of about 3 miles. I was almost give out when I reached the Camp...The reorganization of this Army, it is over. We are in 6th Corps...instead of the 3rd...I would (have) liked very much to been at breakfast with you Easter morn. We can get Eggs here for 50¢ per doz...." Listing full names of "the boys of our Mess," 18 in all. "We had 21 at Winchester, Va. Two are dead, Sergt. Rea & Cpl. Thompson., both worthy members of Co. H...You also stated that Yammy Morrison & Alex. Laughlin had arrived at home, from 'Danville?] prison. I wish that some more of our prisoners could make their escape...." Some handling stains on pp. 1 and 4, center fold wear, else about very good. The prison named is misspelled and not recognized as one of the major Confederate sites, nor one of some two dozen Richmond prisons. However, based on the regiment's engagements (modern copy accompanies) it may be identifiable; the unit's fighting in the period preceding the letter's date was in Virginia. The only Morrison in the 122nd died at Annapolis in 1863; its only Laughlin was a James. Rogers too would be taken prisoner, succumbing to disease at Charlottesville, Va. just before Christmas 1864. $110-140

5-33. A Soldier Plans a Christmas Feast of Pickles and Pies – in October.
Letter of Union soldier Cpl. Philip Crewell, (Co. F, 34th N.Y. Infantry), Camp Falmouth, Va., Dec. 7, 1862, 7 3/4 x 9 3/4, 2 1/2 pp. To his brother, possibly in Columbia, N.Y. "...As to any onward movement there won't be any this winter. In the 48 hours there has fell between 3 and 4 inches of snow, and this morning we have orders to build winter quarters. So I thought I would have me a Christmas feast sent down and a pair of boots in the same box, but never mind the boots. The winter will be too far gone by the time I get them...Send me 1 shirt, 1 pair of drawers, and 3 red shirts for Isack White and send me...some butter, bread, cakes, and mince pies and maple molasses and about 25 of the strawberry apples and some sour crout...and some pickles...Isack wants...some mince pies, some nut cakes, 5-6 lbs. of butter, some apples, some cheas and just such as a soldier would like to have to revive him for a happy Christmas. Now send all this together...It we get paid before Christmas we will send money for the express charges...Tell Dave to send a Stuft turky sewed up in a Sack. It is so cold that it won't spoil if it is well salted...I will send you a letter...but you musn't open it til you get alone...I may rank higher before I return home. There is a vacancy of first lieut. in our company...If I had anyone...to go with my papers to the governor I might get them...P.S.: and also some weading cake." Original folds, very light toning, else fine and entertaining. 75-100

5-34. "...which leaves my bed about ten ft. from the floor."
Letter of Union soldier P.H.(?) McClain on handsome patriotic lettersheet with large terracotta-red woodcut "Our Union Defenders," depicting soldier in greatcoat on sentry, holding bayoneted rifle as tall as he is, a caisson, tent, and flag behind him. From Camp Denison, Dec. 28, 1861, 4 3/4 x 7 3/4, 1 1/2 pp. To his brother. "...I intend to enjoy myself every day that I can, and that I hope will be every day...We have moved in the new barrack and now the hoal 'sic] Co. is in one building, which is 125 ft. in length, and about 28 ft. in width. There is three tier of bunks on one side, one on top of each other, and my bunk is the top one which leaves my bed about ten ft. from the floor, which puts me in mind of sailing every time I go aloft...every two hours, for when I am on guard I am only two hours out at a time. I should like to write more but my horse has broak lus and left, so I must go and try to hunt him up...." Minor very light toning from remnants of six old mounting hinges on blank verso, else fine and attractive. $70-90

5-35. "The bugle blows...."
Pair of letters of Connecticut officer and future P.O.W. A(ndrew) Upson, (20th Conn. Infantry). His men among the last to retreat at the disaster at Chancellorsville, Upson was captured, but quickly paroled. One of the first to arrive at Gettysburg, the 20th Conn. stood at the front of their line of battle for seven hours, sustaining heavy losses. Fairfax Court House (Va.), Dec. 14 (1861), 5 x 8, 1 1/4 pp. In pencil. To his wife in Plantsville, Conn. "We have just arrived here on our March from Harpers Ferry. I seize a few moments while we are halted to drop you a line. We have got along pretty well though it has come pretty tough on some of the boys. I stayed with Uncle Lancelot's people Fri. night. We happened to encamp within 4 miles of his place...Got permission to go on & remain until the brigade came by next day. They are well and much more cheerful than would be expected considering all their trouble...This (letter) I shall give to a Vermonter whose regt. is encamped here ...Don't know where we are going. Some day(s) Dumfries on the Potomac, others to Fredericksburg...The bugle blows." Some lighter passages due to his pencil, but entirely legible, some pocket stains at right portion, else about very good. • "Camp near Fairfax Sta.," Jan. 31, 1862, 4 3/4 x 7 3/4, 4 full pp. In rich brown ink. Complaining of the postal "servants of Dear Uncle Sam. We had 3 mails yesterday & out of all I got at last one...We learn that Smith's body reached home...Where are all my correspondents? Seems to me I have written enough to receive more letters...H.D. Smith has put us in a rather tight place. Gifts are strange things in our experience. You will have to apologize to him, I guess for some of your jollys & pokes at him. I hope the children will show proper respect for him...It did me good to hear so favorable a report of your management in business matters...Tell me how much the big hog weighed & whether you have laid in enough for your own use. Also how many oats are carried to Dea Fairchild & whether you will have any corn left after fattening the hogs...Confound it, I should like to lie down on the lounge & have a good chat with you. You can't imagine how strange men from home look in citizens clothes. We see nothing but military rigs & anyone dressed as at home is a curiosity...I hope you may have a blessed happy new year...I wish it were possible to send you some tokens & also the children. But there is nothing here save old poor pine cones...Good night. It would be a good one if we could unite in bidding the old year farewell & commence the new one with our country's cause triumphant & all things settled." Upson didn't see the end of the war; wounded in 1864 at Tracy City, Tenn., he succumbed to his wounds. Service history accompanies. Uniform file toning of last page, else very fine. • Dark cream envelope to his wife, apparently from a local correspondent, Plantsville c.d.s., Jan. 6 (1863), postage stamp sound, some toning, else about very good. $275-350 (3 pcs.)

5-36. A Union Rarity.
Ornate signature in pencil of (Rev. and Capt.) Samuel Fisk, clergyman, author, and soldier. A Pastor in Madison, Conn. at war's outbreak, Fisk enlisted as a private, as an example to his flock. At Antietam and Gettysburg; he was captured at Chancellorsville, imprisoned in Richmond, and actually reported as killed. Returning to the battlefield at The Wilderness, Fisk was wounded and died. On white glazed card, 1 1/2 x 2 3/4. On verso, probably in his hand, "Cedarvill(e), Herkimer Co., State N.Y. / C.L. Institute." Rare. With modern research and copy of flattering photograph. $110-140

5-37. "I hope to live to see you all again."
Letter of Union soldier Henry Blears, Camp near Patrick) Station 'south of Petersburg], Jan. 27, (18)65, 7 3/4 x 9 3/4, 1 1/2 pp. To sister. "My health is not very good at present. I have a very bad cold...I have made me a new house and I moved into it when it rained and everything was wet and cold...I left St. Johnsbury on Tues. morning and believe me it was hard to leave one so dear to me after so short a stay but I hope to live to see you all again. I was some lonesome when I first got back...The news of the fall of Fort Fisher was hailed with Cheers. I think the thing is about played. I see by the Papers that Blair has gone to Richmond again. I hope that he will do something this time to bring about Peace...There is a man locating land Bounties for Soldiers in Minnesota. I am agoing to have him locate mine. It will cost only $20...and that is cheap enough for 160 acres and if I live to get out of this war I shall have a home to go to. Don't you think it is a good plan?..." Coffee-and-cream ink but entirely legible, minor handling, else very good. $70-95

5-38. "...Card playing and other games that are pernicious and injurious."
Letter of Union soldier "Daniel," in a hospital in Chestnut Hill 'Mass.?], Dec. 9, 1864, 4 1/2 x 8, 4 full pp. In rich brown ink on unusual golden-sand laid lettersheet. To sister Esther. "...There is nothing that gives me more satisfaction and delight than to know that all is well at home...When anyone is away from home and amongst strangers, he is thrown up on the resources of his own wits for something to while away the tedious hours. Some resort to card playing and other games that are pernicious and injurious in their nature. Others pass a portion of their time in reading while others devote considerable time in writing letters...and thus keep up a mutual feeling of love and friendship necessary for the enjoyment of this life, and a more perfect enjoyment of a life to come. Here in this Hospital is a large Chapel where is held divine services, prayer meetings, temperance lectures and a Bible class...Miss Biddle (the lady that teaches or talks to us in the Bible class)...devotes her whole time and a large amount of money for the benefit of the Soldiers that happen to come to this Hospital...Had my likeness taken which I send 'not present]...." Minor creases at two tips, else fine, attractive, and engaging. $65-90

5-39. On Uncommon Patriotic Lettersheet.
Lengthy letter of civilian farmer Alfred Rice, Dement (Ill.), July 5, 1862, 5 x 7 3/4, 1 1/2 pp. Red and blue woodcut of seated Miss Columbia leaning on shield, a sword and the scale of justice lying at her feet. "...The wheat looks very well out here. Corn is very small. Ezra has yet the best wheat around...He could get the plowing as soon as we get through harvesting...Myron my Brother talk(s) of coming home from the war...He has been very sick. He has got two yoke of oxen...." Myron Rice was a Pvt. in the 8th Ill. Cavalry, discharged in Oct. of that year. Lightly and delicately penned, bottom three lines on p. 1 faded but legible, minor wear, else good plus. $50-70

5-40. The Emancipator of Wisconsin.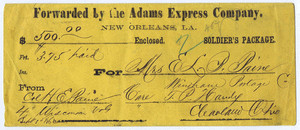 Two items relating to the fascinating Col. (and later Maj. Gen.) H(albert) E. Paine, 4th Wis. Vols.: Signed, large partly printed envelope, "Forwarded by Adams Express Co., New Orleans, $500.00 Enclosed, Fr(eigh)t $3.75 paid / Soldier's Package...." Both the address to his wife and his return address in his hand, Sept. 3, 1862. To "Mrs. E.L.P. Paine, Windham, Portage Co., Care (of) T.P. Handy, Cleavland 'sic], Ohio," this technically comprising a second "Paine" signature. Three months earlier, Paine had been arrested for refusing to return fugitive slaves to their masters. 3 1/2 x 8 1/4, black on sulfur yellow, five large red wax seals. Transit marking in blue pencil, understand-able handling evidence, light soiling, four later philatelic hinges and tear where opened on verso, else good plus. Carl Schurz' antebellum law partner, Paine was "described as an idealist and a crusader. He had his own ideas of how to run a war, refusing to return 'contrabands,' and declining to obey Butler's orders to burn Baton Rouge"--Boatner. A Brig. Gen. by 1863, he lost a leg commanding at Port Hudson, La. A Radical Republican Congressman after the war; chairman of committee on contested elections and sometimes forced to answer Thaddeus Stevens' question, "Which is our rascal?" Later Commissioner of Patents, Paine instituted a then-revolutionary change: the use of typewriters by office clerks. • With patriotic cover bearing Paine's large oval portrait, hand-coloring probably of the period. Printed at top, "We swear to stand around that flag, in the battle's wildest storm." Few spots, very light toning, collector's notation in pencil c. 1970, else V.G. Weiss FP-PM-205 var. Rare. $120-160 (2 pcs.)

5-41. "...Another communication from the old man of the Sea."
Letter of Union sailor Byron P. Drown, U.S. Bark Midnight, Daboy Sound, Ga., Mar. 17, 1864, 5 x 9, 4 full pp. To his father in Plattsburgh, N.Y. With splendid Navy content, on blockade duty in the West Gulf Squadron. "...I charged $4.00 for the calf brogans...$8.00 for the boots...I did not want to make too much as I did it more for a favor as our ship shoes are worthless...The Paymaster arrived here yesterday on the Mass(achusetts) & brought a bountiful supply of Greenbacks. You need not be afraid about the pay for if they do not (pay), I can bring them to the mast & the Capt. will make them do it. I expect I will get the money in time to send in this letter 'not present!] for you want it bad...I have sent you another communication from the old man of the Sea...You must not think I composed all of it, for we have fellows aboard here that can keep up to our own best Editors. This piece is a response to a Sailor('s) wife, a letter which appeared in the Eve. Post of Jan. 28. I believe it is the first & best move I have seen for the Sailor. I hope the vessel will be ordered home this Spring for she need(s) repairs. Her deck leaks like a riddle. I expect you have recd. my letter telling you about the capture of our Prize. She is going to Philadelphia...Mother wrote me that Joe Baker was getting to be a very bad boy. Why don't you take him to work in the shop...We have been working ballasting a schooner all last week, which brought the Huron. We are expecting the Oleander every hour. She has a mail for us and will take a mail north for us...I guess the expedition I spoke of is all a fizzle...I hope the Republicans will run Old Abe again. Did you see that editorial in the N.Y. Herald about Bunsy Welles, the boat jockey 'the Midnight's Acting Master, J.C. Welles]. It hits pretty hard on matters about his slow 2 Dogpower steamers...." Early in the war, the Midnight was "patrolling off the coast of Texas - independently for a large part of the time - ...bombard(ing) Confederate positions ashore"--Naval History and Heritage Command. The ship was not relieved in Georgia until July 1864. File creases at lower right corner, else very fine and clean. • With envelope, manuscript marking "Ships Letter / U.S. Bark Midnight, "Due 6," black Port Royal, S.C. c.d.s. Stamp removed, light dust-toning, tear at blank upper left, else good plus. Civil War Naval letters are uncommon for good reason: there were millions of soldiers, but "the total number of seamen, landsmen and boys in the Navy at present is estimated at 50,000"--The Sailor's Magazine, May 1864. The Midnight appears in dozens of contemporary sources; late in the war, it was wrecked near Key West, catching fire. With modern research, including lengthy first-hand account of the ship's inland Florida foray, using a black slave guide to capture Confederate soldiers, and liberating some thirty slaves from plantations. $275-350 (2 pcs.)

5-42. A Soldier with his Personal Cow.
Letter of Union soldier Benjamin Hurd, "Co. G, 1st O(hio) V(ol.) A(rtillery?), Army of the Cumberland," Murfreesboro, Tenn., May 5, 1863, 4 1/2 x 7 3/4, 2 1/2 pp. To his brother. "...When I received your letter I was on a Scout. I wrote to you about our going in line of Battle. We had orders to leave at 9 P.M. with 2 days cooked Rations and we went in advance 12 miles from Murfreesboro. We saw nothing of the Rebs...stayed 3 days and then came home. I got a good cow. She gives lot of milk...I received that Frank Leslie's...You say you do not know what made Jennie go back on you nor do I. I know she thought a good deal of you for we have talked together...and they were no crocodile tears, but this world is subject to change...." Several foxed areas on p. 3, two areas with ink drops at blank margin, some handling wear, else about very good. The writer is evidently unrecorded in civilwardata.com. $55-75

5-43. A Premonition: "Don't look for me home till you see me coming."
Letter of ill-fated Union soldier L(awson) H. Rogers, Co. G, 122nd Ohio Vols.,"Camp Zanesville, Ohio," Oct. 11, (18)62, 4 3/4 x 7 3/4, 3 pp., in pencil, its point varying from dark to very light but legible, as the lead wore down. To "sisters one and all." "Thanks to you for your nice treat you sent us...We treated the whole Company that Evening. We had plenty of pies, cakes, apples, potatoes, cabbage, buturs (sic) of all kinds & molasses. I thought that all Hartford was coming. I look for some of you girls...Girls, I am going to send you my likeness...Just after breakfast we had butter & molasses...like being at home...Don't look for me home till you see me coming. We have marching orders for Tues. The regt. is organized...." Rogers never made it: he was taken P.O.W., succumbing to disease at Charlottesville, Va. just before Christmas 1864. Light honey-colored stains more likely food than foxing, some wear, else about very good. $90-120
TO FIND OUT CURRENT HIGH BIDS,
OR TO PLACE BIDS,
JUST CALL 1-914-476-8500
OR e-MAIL info AT cohascodpc.com
(We do not currently use online bidding)
6. Civil War Autographs
From a Major Collection of Confederate & Union Signatures
– Part I, "A-B" –
BETWEEN THE 1890s TO 1920s, William M. Shaw, a Sherman, Texas merchant,
formed a collection of autographs of Civil War Generals. In many cases,
despite the paucity of autograph dealers in those early days,
he was successful in locating examples of officers killed in action.
For others, he sought their signatures by mail. Shaw precisely mounted each item on a rigid white
linen-embossed card, 3 1/2 x 5, usually with a typewritten biography mounted on verso.
Some cards are toned; the signatures are almost invariably unaffected.
Such magnificent collections seldom come to market at this late date;
whether you are beginning a collection, or filling in names,
the Shaw Collection represents a special opportunity.
Letter of provenance accompanies each Shaw item.

6-1. James Lusk Alcorn.
Of Miss. Confederate Brig. Gen., captured in Ark., 1862. A fascinating and tragic figure, Reconstruction Sen. and Gov. of Miss., leader of Scalawags, and founder of Miss. levee system. Bitter rival of Adelbert Ames (see following lot). A.N.S., Eagle's Nest, Miss. (his plantation), May 18, 1889. "In response to the request, I take pleasure in presenting this, my Photograph 'not present], to Trinity Historical Society, at Dallas, Texas." Penned on unusual glazed sheet with embossed polka dots on verso! Mount toned to tan, holograph card with minor colorless waterstain evidence at blank upper left, else fine. "Although a former slaveholder, he characterized slavery as 'a cancer upon the body of the Nation' and expressed the gratification which he and many other Southerners felt over its destruction"--Congressional Globe, 42nd Congress, p. 3424. $150-190

6-2. Adelbert Ames.
Of Maine. Union Maj. Gen. Medal of Honor for Manassas, badly wounded but refusing to leave his guns; hero of Ft. Fisher, fought at Gaines' Mill, Malvern Hill, Fredericksburg, Chancellorsville, Antietam, and Gettysburg, fighting hand-to-hand in Jubal Early's assault on Cemetery Hill. Carpetbag Provisional Gov., then Gov., and Sen. of Miss., in his gubernatorial post literally battling Democrats trying to keep Republicans from voting, driving them from the polls with shotguns and cannon. Facing impeachment, Ames was forced to resign, to yield to a Democrat. Moving to Northfield, Minn., the town's bank was targeted by Jesse James and his band of ex-Confederate guerrillas because of the money held there by Ames and his father-in-law, Ben Butler. The last surviving full-rank general officer of either North or South(--Warner), living til 1933. Very fine signature, centered on eggshell white card. $120-150

6-3. George T. Anderson.
Of Ga. Confederate Brig. Gen. Wounded at Gettysburg; distinguished at The Wilderness, Cold Harbor, Seven Days, 2nd Bull Run, Antietam, Fredericksburg, Richmond, and Petersburg. Surrendered with Lee at Appomattox. Postwar Police Chief in Atlanta. "One of Lee's hardest-fighting subordinates"--wikipedia. In coffee-and-cream ink, with "Brig. Genl., C.S.A." in his hand. Very light toning, else excellent. "Rare"--Seagrave, 1994. $375-525

6-4. Richard H. Anderson.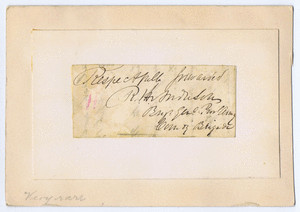 Of S.C. Confederate Lt. Gen. Signed with Confederate nomenclature "Prov(isiona)l Army...," very rarely encountered in context of a general officer's signature. Present at Fort Sumter – bombarding the adversary sharing his name (see following lot), and commanding Charleston Harbor following fall of Sumter. Served gallantly throughout the war, including at Gettysburg; wounded at Santa Rosa Island, Fla., Antietam - while in command at "Bloody Lane," and at The Wilderness. Attempting to grow cotton after the war, but lacking agricultural experience, Anderson lived in poverty, reduced "at one period virtually to the status of a day laborer"--Boatner. Closing portion of military document, in his hand: "Respectfully forwarded, R.H. Anderson, Brig. Genl., Prov(isiona)l Army, Com. of Brigade." (Anderson was appointed to this rank on July 19, 1861; this signature is probably between Feb. 1862, when he commenced command of a brigade, but before his further appointment to Maj. Gen. on July 14.) Uniform dark cream toning, faint red file notation "11" at left, mount with some edge wear from long-time file box, else about fine. Old pencil notation, "Very rare," this certainly applicable to his official use of the term "Provisional Army." $550-700

6-5. Robert Anderson.
Of Ky. Union Maj. Gen., defender of Fort Sumter against bombardment by Beauregard, his former student at West Point. During the Black Hawk War of 1832, Anderson had personally mustered in a young soldier - twice - by the name of Abraham Lincoln. (He was also assisted in transporting Chief Black Hawk by ... Jefferson Davis.) Becoming an instant national hero, Anderson's stand at Sumter has been credited with "forging the modern meaning of the American flag...During the war the flag was used throughout the North to symbolize American nationalism and rejection of secessionism. 'Historian Adam] Goodheart explains the flag was transformed into a sacred symbol of patriotism: 'Before that day, the flag had served mostly as a military ensign or a convenient marking of American territory...and displayed on special occasions like the Fourth of July. But in the weeks after Maj. Anderson's surprising stand, it became something different. Suddenly the Stars and Stripes flew... from houses, from storefronts, from churches; above the village greens and college quads...That old flag meant something new. The abstraction of the Union cause was transfigured into a physical thing: strips of cloth that millions of people would fight for, and many thousands die for.'"--1861: The Civil War Awakening, Vintage Books, 2011. Present at Sumter upon re-raising of the Stars and Stripes on Apr. 14, 1865, just hours before Lincoln's assassination. With "Bt. Gen. U.S.A." in his hand. Minor glue spots at blank right edge, light toning, else very fine. A key name for Civil War collections. $160-220

6-6. Frank C. Armstrong.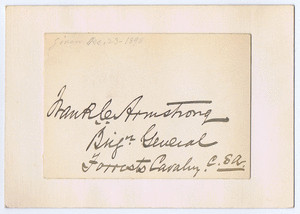 Born on Choctaw Agency, Indian Territory. The only Confederate General to fight on both sides during the Civil War – and technically on both sides at the same time: a Union officer at 1st Bull Run, then fighting with the South at Pea Ridge and the clash at Chustenahlah, Cherokee Nation. Armstrong joined the Confederate Army on Aug. 10, 1861, however his resignation from the Union Army did not take effect until the 13th, thus placing him on both sides simultaneously. Commanded Confederate cavalry at Courtland, Ala., Iuka, Corinth, Tullahoma, Chickamauga, Atlanta, and others. With "Brigr. General, Forrest's Cavalry, C.S.A." in his hand. In light pencil, "Given Dec. 23, 1898," probably in Shaw's hand. Light marginal toning, else excellent. $450-600

6-7. C(hristopher) C. Augur.
Of N.Y. Union Maj. Gen. Commandant of cadets at West Point at outbreak of war; commanded force that captured Fredericksburg; severely wounded at Cedar Mountain. With a highly interesting postwar career, Augur headed Depts. of the Platte, Texas, Gulf, and of the South, and instrumental in negotiating Treaties of Medicine Lodge and Fort Laramie. With "Maj. Genl., U.S.V." in his hand. Darkening at left and right portions, evidently old fingerprints, else bold and very good. $80-110

6-8. W(illiam) W(oods) Averell.
Of N.Y. Union Maj. Gen., and inventor of asphalt pavement, insulated electric cable, and a process to make cast steel directly from ore, amassing considerable wealth. "After the capture of Fort Sumter, Averell made a risky solo journey across the country to the New Mexico Territory with a message to summon his old mounted rifle regiment back east to join the fighting"--wikipedia. Pursuing Jeb Stuart after his raid on Chambersburg, Averell later led the first engagement in which Union cavalry were victorious over their Confederate opponents, at Kelly's Ford. Twice relieved of command, Sheridan claiming lack of aggressiveness in Averell's pursuit of Jubal Early. Breveted for the action at Droop Mountain, known as Averell's Raid to Lewisburg, W. Va., and Moorefield, surprising the Confederates in a sunrise attack. With "B(reve)t Maj. Genl., U.S.V." in his hand. Octagonal border toning from card stored in front, else darkly penned and fine. $75-100

6-9. R.B. Ayres.
Of N.Y. Union Brig. Gen., promoted for his performance at Gettysburg's Peach Orchard. "Baldy" Smith's Chief of Artillery at Seven Days and Antietam; led at Fredericksburg, Chancellorsville, The Wilderness, Five Forks, and Weldon Railroad; wounded at Petersburg. Asked after the war if any of the regular troops he had commanded were still serving, Ayres replied, "I had a division of regulars once. I buried half of them at Gettysburg and the other half in the Wilderness...." Bold early signature, with "Lieut. Col. 3rd Artillery" in his hand. Very fine. $90-120

6-10. O(rville) E. Babcock.
Of Vt. Union Brig. Gen. and engineer, overseeing construction of defenses around Washington, grappling with widespread fears that the Confederates would attack the seat of power. Aide-de-camp to Grant at The Wilderness, Spotsylvania, Cold Harbor, and siege of Petersburg. Babcock delivered Grant's demand for surrender to Lee, and escorted Lee to Appomattox Court House, which had been selected for the occasion by Babcock. As postwar private secretary to Grant, embroiled in scandal, indicted in the Whiskey Ring, involving forged revenue stamps on bottles, and implicated in a plot to corner the gold market in 1869. Signature with "Secty." in his hand, in close of letter to Vice Pres. Schuyler Colfax, this in clerical hand in purple. Masthead of letter mounted on verso of card, "Executive Mansion, Washington, D.C., Mch. 17, 1871." Toning of mount, else very fine and attractive. $50-70

6-11. Adam Badeau.
Of N.Y. Union Brig. Gen. Wounded at Port Hudson, on U.S. Grant staff 1864-69 with Babcock (see lot above); postwar Consul Gen. to London and Havana; accompanied Grant on travels through Europe. Helped Grant write his Memoirs, becoming embroiled in a payment dispute with Grant and his son. In his hand, "U.S. Army." Trivial mount toning, else choice. Very scarce. $65-90

6-12. E(dward) D(ickinson) Baker.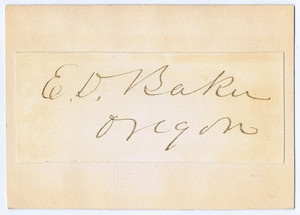 Born in England. A fascinating character, the second Union officer killed in action, and the only U.S. Senator killed in action in the Civil War. Close friend of Lincoln from pioneer days in Ill., serving in Springfield and as Congressman, in fact defeating Lincoln in an early race. Abe named his second son for Baker. Moving to San Francisco, Baker became leader of the California Bar; relocating to Oregon, elected Sen. - one of the few in history to serve in Congress from two different states. Declining appointment as Brig. Gen. at outbreak of the war, his 71st Penna. was named the "First California" in his honor. Baker was killed on Oct. 21, 1861, while leading a "desperate charge" at Ball's Bluff, Va. "Authorized to make a 'slight demonstration' against Confederate forces...in a brave but tactically inept operation Baker got his command ambushed...Total Federal losses were 921..."--Boatner. Ironically, Baker had foreseen his demise on July 4, 1860, speaking before an Oregon campaign crowd: "If it be reserved for me to lay my unworthy life upon the altar of my country in defending it from internal assailants, I declare here today that I aspire to no higher glory than that the sun of my life may go down beneath the shadow of freedom's temple and baptize the emblem of the nation's greatness, the Stars and Stripes, that float so proudly before us today..."--The Contest for California: How Col. E.D. Baker Saved the Pacific States for the Union, Elijah Kennedy, 1912. A sprawling example, with "Oregon" also in his hand. The first example we recall handling. Rare. $400-500

6-13. N.P. Banks.
Of Mass. Union Gen. Prewar Gov. of Mass., elected to Congress in 1854 Know Nothing landslide, serving in ten Congresses in all. Chairman of first Republican convention, bringing together antislavery advocates. Banks' arduous election to Speaker of the House – taking 133 ballots – is considered the first national victory of the Republican Party. Declined Know Nothing nomination for Pres., the nod going to Fillmore. Defeated Stonewall Jackson at Kernstown, though "ill-advised reorganizations ordered from Washington helped make Banks a victim of Jackson's brilliant strategic diversion...At Cedar Mountain he was outgeneraled and defeated again by Jackson"--Boatner. Active in purchase of Alaska (Banks also sought to buy Canada and Caribbean islands), and promoter of women's suffrage. In his hand, "Waltham, Mass." In storm-grey ink. Trivial light edge toning, else choice. $80-110

6-14. Francis C(hanning) Barlow.
Of N.Y. Union Maj. Gen. First in his Harvard class, entered the Army as a private - leaving his new bride, ten years his senior, after just one day of marriage - becoming one of a rarified group who began as enlisted men, and ended the war as generals. Rapidly rising to command, twice wounded at Antietam's "Bloody Lane," and again in Gettysburg's first day's fighting, left for dead on the battlefield. "There is a story that Confederate Gen. John B. Gordon found him, gave him water, and put him in a building for safety."--Boatner. Back in service after ten months in a hospital, his health failed, returning once again to command in the latter part of the war. His division at Spotsylvania saw 21 hours of hand-to-hand fighting - the longest recorded such combat in the entire war. Postwar, a founder of American Bar Association; Attorney Gen. of N.Y., prosecuting Boss Tweed and his ring. A monument to Barlow stands at Gettysburg. In his hand, "Believe me, Very truly...Maj. Gen." Pleasing ivory toning, and excellent. A superior example. $110-150

6-15. James Barnes.
Of Mass. Union Maj. Gen. Antebellum French and tactics teacher at West Point; 18th Mass. Vol. Infantry; commanded at Antietam, Fredericksburg, Chancellorsville. In a controversial incident, Barnes, the second-oldest Union general present, could not be found in vicinity of his troops at Gettysburg; he was subsequently wounded there. Commanded District including P.O.W. camp at Point Lookout, Md. Close of A.L.S., "With much respect, I remain Col., Ever Yours, J.B. Barnes, B.G. / (To) Col. W.S. Tilton, Com(mandin)g 1st Brigade, 1st Div., 5 Corps." Tilton was made Col. in Oct. 1862, following his wounding, capture, and exchange from Gaines' Mill - bloodiest of the Seven Days' Battles. Barnes was appointed Brig. Gen. in late Nov. of that year. Light toning, else very fine and attractive. Scarce. $80-110

6-16. J(oseph) J. Bartlett.
Of N.Y. Union Maj. Gen. 27th N.Y. Vol. Infantry, then commanding extensively in Dept. of Potomac through end of war. Noted for his attack up the steep mountainside at the Battle of South Mountain. Losing more than a third of his 1,500 men at the pre-Gettysburg Battle of Salem Church, he also led at the Siege of Petersburg. Surprised by Jeb Stuart at New Baltimore, Va., Bartlett was obliged to fight in his underclothes. Close of A.L.S., to "Col. Tilton, Comdg. Brig." (see Barnes lot above). Edges toned, else fine. $60-90

6-17. Wm. B. Bate.
Of Tenn. Confederate Maj. Gen., once a Private in the U.S. Army during Mexican War. Advancing from a Mississippi River boat to the state legislature, Bate was an early and strong advocate of secession and states rights, and supporter of Andrew Johnson. Wounded thrice during the war - and having six horses shot from under him (three in one day at Chickamauga) - he declined the governorship of Tenn. in 1863, choosing to fight as long as the enemy was in his state. Postwar Gov. and Sen. In his hand, "Tennessee." At top, in another contemporary hand, "U.S.S. Chamber, Feb. 17, 1904." Mount toned, else excellent. $130-170

6-18. Edwin C. Bennett.
Of Mass. Union Lt. Col., 5th and 22nd Mass. Vol. Infantries. Wounded at Fredericksburg. Closing of letter, "Yours most truly." Light edge toning of card, else excellent. With modern copy of photograph and service history. $40-60

6-19. H(erman) S. Biggs.
Of N.Y. Union Brig. Gen., West Point Class of '56, much of his war service as a Q.M. Signature with "Brig. Genl." in his hand, clipped from letter, 1 1/2 x 2 1/4, "Washington, D.C., Aug. 1, (18)6(5)" in red below, probably the same hand as the red double-ruled border around signature. Horizontal tear just touching base of "H," else very good. Very scarce name for the completist. Sufficiently obscure to be lacking in Shaw, and added from another old collection in 1970s. With modern copy of photograph and service history. $55-75

6-20. J.C.S. Blackburn.
Of Ky. Confederate Lt. Col. Worked in 1860 Presidential campaign of John C. Breckinridge. Aide-de-camp to Brig. Gen. William Preston, fighting at Chickamauga; commanded cavalry in District of Miss. and East Louisiana. Five-term Ky. Congressman, Sen., a Democratic nominee for President in 1896, then supporting William Jennings Bryan and Free Silver. Gov. of Panama Canal Zone 1907-09. Years later, Blackburn told a reporter the remarkable story of his first appearance in a U.S. court:
"I was a very young man, beginning the practice of law, and for the first time, I was appearing in a United States court in Chicago. The opposing counsel was Isaac N. Arnold, one of the most distinguished men of Chicago. When the case was reached I was so nervous that I became bewildered and made only a feeble effort. I was about to sit down and let the case go by default, as it were, when a tall, homely, loose-jointed man sitting in the bar, whom I had noticed giving close attention to the case, arose and addressed the court in behalf of the position I had assumed in my feeble argument, making the points so clear that when he closed, the court sustained my demurrer. I didn't know who my volunteer friend was, but Mr. Arnold got up and attempted to rebuke him for interfering in the matter, when I, for the first time, heard that he was Abraham Lincoln of Springfield. Mr. Lincoln, in his good-natured reply to Mr. Arnold's strictures on his interference, said that he claimed the privilege of giving a young Kentucky lawyer from the State of his birth a boost when struggling with his first case, especially if he was pitted against an experienced practitioner. Of course, I thanked him, and departed the court as proud as a young field marshal. I never saw Mr. Lincoln again, and he probably never recalled the young struggling lawyer that he so kindly assisted and rescued from defeat in his maiden effort before a United States tribunal."--kentuckyancestors.org.
Blackburn finally was able to reciprocate - in 1914 - when as Pres. Wilson's Special Resident Commissioner of the Lincoln Memorial, he was the sole speaker at its groundbreaking, echoing his devotion, notwithstanding their opposition during the war. The fifth-highest mountain in the U.S. is named for Blackburn, in Alaska. Bold presentation signature on ivory card. Lacking in Shaw, and added from another old collection in 1970s. $100-130

6-21. Frank P. Blair (Jr.).
Of Mo. Union Maj. Gen. Founded and led Free-Soil Party in Missouri, 1848; commanded division under Sherman at Vicksburg, in assault on Chickasaw Bluffs, and in March to the Sea. Financially ruined by spending his own funds to support the Union, Blair was Democratic candidate for Vice Pres. in 1868. Congressman, postwar Sen. From close of A.L.S., "I am very Respectfully Your friend...Washington City, Mar. 23, 1861" - about six weeks before he directed capture of the St. Louis Arsenal. "In the confused situation preceding outbreak of war he organized the Wide-Awakes, and was instrumental in saving Missouri and Kentucky for the Union..."--Boatner. Minor edge toning, smudge by his hand where he corrected two "f"s in "Respectfully," else fine. $60-90

6-22. Chas. S. Boggs.
Union Navy. Sank six Confederate gunboats and two rams during attack on Forts St. Philip and Jackson, in the capture of New Orleans. In his hand, "Rear Adm(ira)l, U.S. Navy." Edge toning, creating pleasing halo effect, else very fine. $65-95

6-23. Edw(ar)d S. Bragg.
Of Wis. Union Brig. Gen., serving in 6th Wis., part of Iron Brigade, for entire war; wounded at Antietam and Chancellorsville. Delegate to numerous Democratic National Conventions 1860-1896, nominating Stephen A. Douglas, Horatio Seymour, Winfield Scott Hancock, et al, his only victorious candidate coming in 1884. Upon seconding Grover Cleveland's nomination for the Presidency, Bragg remarked, "We love him for the enemies he has made." Minister to Mexico, Consul Gen. to Havana and Hong Kong. "With the compliments of...Fond du Lac, Wis." Soft corner crease, toning, light glue traces from original mounting by Shaw, else fine. $60-80

6-24. L(awrence) O'B(rien) Branch.
Of N.C. Confederate Brig. Gen. Declined Buchanan's appointment as Sec. of Treasury. The senior Brig. Gen. in A.P. Hill's Division, Branch fought under Stonewall Jackson at Hanover Courthouse, Seven Days, Cedar Run, Second Bull Run, and Harpers Ferry. Having saved Lee from a crushing defeat at Antietam, "soon after this victory, Branch stood talking with fellow Brig. Gens. Gregg, Pender, Archer, along with Hill and General Lee, when a Federal sharpshooter, seeing the group, fired a shot that hit him in the right cheek and exited behind his left ear, killing him instantly. He fell dead into the arms of a staff officer"--wikipedia. Signed as antebellum Congressman, probably a leaf from an autograph album, with "Raleigh, No. Ca." in his hand. Very light uniform cream toning, else excellent. $225-275

6-25. J.B. Briggs.
Of Tenn. Confederate Gen. In his hand, "Major & A.Q.M., Dibrell's Brig. Cavalry, Forrest's Corps." Lacking in Shaw, and added from another old collection in 1970s. With modern copy of article about Briggs in 1898 issue of Confederate Veteran: "Briggs was with Forrest at the siege of Knoxville, and with Gen. Dibrell at the surrender of Washington, Ga., May 12, 1865, where he paid off the brigade with the last gold and silver in the Confederate treasury, paying each man $26.25 - officer and private the same...." Darkly penned and choice. Rare. Unlisted in Reese or Seagrave. $350-425

6-26. John R. Brooke.
Of Pa. Union Gen. First discharged in Apr. 1861, his unit found itself marching home to Pennsylvania on the very same morning that the rest of the Army headed in the other direction, to Va., just before 1st Bull Run. Led at Antietam, Fredericksburg, Chancellorsville; wounded at Gettysburg's Wheat Field; severely wounded at Cold Harbor, taken unconscious from the field of battle. Distinguished at The Wilderness; later Military Gov. of Puerto Rico and Cuba. Signed as Commander, Dept. of the East: "Majr. Genl., Governors Island, N.Y., Apr. 18, 1907." Mount browntoned around margins, card excellent. $70-100

6-27. N(apoleon) B(onaparte) Buford.
Of Ky. Union Maj. Gen. Prof. of philosophy at West Point, engineer, Pres. of Rock Island and Peoria R.R., bankrupted when Southern bonds defaulted at outbreak of war. Commanded "Flotilla Brigade" during Battle of Island No. 10; in command of Cairo, Ill., fighting at Belmont and Columbus, Ky., Fort Pillow, and Corinth. Headed District of East Arkansas. Half-brother of Gettysburg hero Gen. John Buford, and cousin of Confederate Gen. Abraham Buford. In mid-brown on Dutch blue, "...Brig. Genl., U.S. Vols." Light toning, else fine. $80-110

6-28. Mason W. Burt.
Of Mass. Union Maj., 4th and 22nd Mass. Vol. Infantries. "Fraternally Yours...." Edge toning, else very fine. With modern copy of photograph and service history. $35-55

6-29. Benj. F. Butler.
Of Mass. Union Gen. Controversial occupier of Baltimore, then New Orleans, Butler "showed a genius for arousing adverse criticism at home and embarrassing his government in Europe...Although an incompetent general, Butler was so influential that Lincoln could not relieve him until after the 1864 elections"--Boatner. Postwar Presidential candidate. Close of letter, "Yours truly...." On cream, lined in pale blue. Vertical mailing fold just shy of initial "B," diagonal fold at blank right, uniform toning, else very good. $55-70

6-30. Dan(ie)l Butterfield.
Of N.Y. Union Gen. Composer of "Taps." Wounded at Gaines' Mill, for which awarded the Medal of Honor decades later, in 1892. Butterfield was the Army of the Potomac's Chief of Staff during Chancellorsville and Gettysburg, where he was wounded again. In charge of Sherman's funeral, the Washington Centennial in 1889, and Dewey's 1899 return after Manila, Butterfield also found the time to design the system of corps badges. His tomb the most ornate in West Point Cemetery. With "For Col. Badeau" in his hand (see Badeau, Lot 6-11, above). Pale mocha toning, light blotter traces(?) just above "Danl.," else fine. $75-100
– Shaw Collection to be continued in next Auction –

TO FIND OUT CURRENT HIGH BIDS,
OR TO PLACE BIDS,
JUST CALL 1-914-476-8500
OR e-MAIL info AT cohascodpc.com
(We do not currently use online bidding)
7. The Big Band era and Age of Jazz
A remarkable archive
compiled over decades by a musicologist
COMPRISING OVER 235 VINTAGE ITEMS • 1926-1966


7-1. Collection of Vintage Music Autographs and Ephemera.
Few modern American genres evoke the instant associations of the Big Band era and the Jazz Age. From Basie to Ellington, Goodman to Miller, and the scores of styles and musicians who created the sound of America, Big Band material has often been the realm of the specialist. Many of its keepsakes - the ephemera that marked the memories of its fans - have actually become elusive.
The present collection offers a wide panorama of the cultural artifacts underpinning the era. Spanning 1927 to 1966, but principally dated in the 1930s and 1940s, the assemblage includes concert ticket stubs, show programs, handbills, record store posters, nightclub souvenirs, period autographs, lobby cards, movie stills, postcards, fan and record industry magazines, sheet music, an oversize RKO theatre owners' advertising book for the 1942 sensation "Syncopation," starring Charlie Barnet, Benny Goodman, Harry James, Gene Krupa, et al, and curiosa such as matchbook covers and novelty promotional pieces. Including broad representation of both the bands and their individual artists, male and female, instrumental and vocal.
Artists represented on unsigned items include Ray Anthony, Louis Armstrong, Charlie Barnet, Tex Beneke, Les Brown, Dave Brubeck, Cab Calloway, June Christy, Nat King Cole, Tommy Dorsey, Duke Ellington, Ella Fitzgerald, Erroll Garner, Stan Getz, Dizzy Gillespie, Benny Goodman, Glen Gray, Fletcher Henderson, Woody Herman, Harry James, Louis Jordan, Sammy Kaye, Stan Kenton, Gene Krupa, Kay Kyser, Frankie Laine, Peggy Lee, Guy Lombardo, Vincent Lopez, Jimmy Lunceford, Gordon MacRae, Freddy Martin, Billy May, Johnny Mercer, Glenn Miller, Vaughn Monroe, Gerry Mulligan, Red Norvo, Patti Page, Buddy Rich, Artie Shaw, Dinah Shore, Frank Sinatra, Charlie Spivak, Rudy Vallee, Sarah Vaughan, Fred Waring, Chick Webb, Ted Weems, Lawrence Welk, Paul Whiteman, Margaret Whiting, and others.
Signed items (some in pencil) include Benny Goodman, Gene Krupa, Jess Stacy, and Teddy Wilson, on a Hotel Pennsylvania drink menu • Blue Barron on contract • Eddie Duchin and Shep Fields on Aragon Ballroom postcards • Ziggy Elman and Benny Goodman on 1938 recording contract • Glen Gray band member autographs on Palladium Ballroom Café menu, 1941 • 1943 letter of Milton Gabler (famous Decca Records producer and founder of Commodore Records; worked with Louis Armstrong, Lionel Hampton, and Billie Holiday; signed Bill Haley and the Comets to Decca; inducted into Rock and Roll Hall of Fame by his nephew, comedian Billy Crystal) • Horace Heidt on hotel drink menu, with band signatures on verso • Dick Jurgens on postcard • Kay Kyser (signed with full name James K. Kyser) on letterhead, with original envelope, 1928 • Waldorf-Astoria Starlight Roof Supper Club menu signed inside by Guy Lombardo, printed cover art by Xavier Cugat • Hal McIntyre on contract • Art Mooney on contract • Buddy Morrow postcard • and numerous vintage signatures of artists and band members, including Harry James and "Tiny" Timbrell who later appeared on Elvis records and soundtracks.
Capturing the golden era of Big Bands, some of the historic nights - and days - represented are 1937's Benny Goodman vs. Chick Webb Battle of Swing, 1954's landmark Festival of Modern American Jazz, Glenn Miller at CBS Radio Theatre, and many, many more. Additional venues represented include the Apollo (an early Louis Armstrong appearance), the Capital, Paramount, and Roxy Theatres, the Famous Door, Palomar Ballroom, Savoy Ballroom, Steel Pier, and more.
It is important to note that much of the unsigned ephemera is very scarce - often magnitudes more so than signed material - and found only by chance. Duplicating such a collection would take many years and inordinate labor. Understandably in varied condition, with some wear and defects, mostly minor, and satisfactory to very fine, most items in the superior range. Offering a wealth of materials, themes, and graphic choices for an all-encompassing display - or rotating exhibitions in a club, restaurant, performance space, academic music department, or favorite room of a home or office. Request free detailed prospectus. Color montages on website and by e-mail. $5400-6500 (collection of over 235 pcs.)

7-2. Record Store Posters.
Four 1940s Victor Red Seal Classical record store advertising posters. 15 x 20 each. Showing Lauritz Melchior, Yehudi Menuhin, Gladys Swarthout, and Leonard Warren. Much worn, with edge chipping and tears, but satisfactory for display and very rare. From the same collection as Lot 7-1. $75-100 (4 pcs.)

7-3. The Man of a Thousand Songs.
Sprawling signature of I(rving) Berlin, in pencil, on square yellow album leaf, 4 x 4, called by Gershwin "the greatest songwriter that has ever lived." Composer of some 1,500 tunes, including "God Bless America," "There's No Business Like Show Business," "White Christmas," and scores for 19 Broadway shows and 18 Hollywood pictures. Light handling evidence, else fine. From his only childhood memory - watching the Russians burn their house to the ground - to the Bowery and on to Hollywood, the Irving Berlin story is incomparable. $120-160
TO FIND OUT CURRENT HIGH BIDS,
OR TO PLACE BIDS,
JUST CALL 1-914-476-8500
OR e-MAIL info AT cohascodpc.com
(We do not currently use online bidding)
8. Presidents & Politics
8-1. Lincoln's Address at Gettysburg.
Supremely rare newspaper of major importance, New York Weekly News, Nov. 28, 1863, 13 1/4 x 20 1/4, 8 pp. On p. 6, nearly two full columns headed "From Gettysburg - Dedication of the Soldiers' Cemetery," with detailed reporting, in three dispatches, on the ceremony, full text of Everett's oration, and Lincoln's conspicuously shorter speech. "This famous little town is overflowing...Special trains have brought thousands of people...Pres. Lincoln said he was happy to see so many of his friends present to participate in the ceremonies; but he would make no speech, as he had nothing particular to say. Sec. Seward...anticipated forty years ago that the battle of freedom would be fought upon this ground, and that slavery would die...The area between the stand and military being occupied by civilians comprising about 15,000 people...Although a heavy fog clouded the heavens in this morning daring the procession, the sun broke out in all its brilliancy. The assemblage was gathered within a circle around the stand, which was located on the highest point of ground on which the battle was fought. The entire scene was one of grandeur due to the importance of the occasion. So quiet were the people that every word uttered by the orator...must have been heard by them all...The Pres. then delivered the following dedicatory speech: 'Fourscore and seven years ago our Father brought forth upon this continent a new nation, conceived in liberty, and dedicated to the proposition that all men are created equal.' (Applause)...Three cheers were given for the Pres. and the Governors of the States...." With a wealth of war news, "The Designs of the Abolition Radicals," "The Emancipation Panacea - ...a panacea for all our ills...We warn the country to beware of these execrable political philosophers, whose only object is to produce chaos and confusion...," "The Enemy Falling Back from Chickamoga" (sic), Siege of Charleston, voluble address of "the patriot and scholar" Vallandigham, "Alleged Confederate Inhumanity," editorial mentioning the "Black Republican Party," and much more. Uneven spine where removed from bound volume, folded to display Gettysburg article, some edge tears, handling creases, very minor marginal toning, else very good. "Cheapest Paper in the World - Only One Dollar a Year," its ephemeral nature underscoring its rarity; its parent newspaper was the New York Daily News, still published today. One of the landmark events - and newspapers - in American history. WorldCat locates only one example (N.Y. State Library). $1350-1750

8-2. Civil War date Lincoln Autograph Album - with Noted Provenance.
Autograph album compiled early 1863, with magnificent, uncommonly large "Yours truly, A. Lincoln" centered on the first leaf after gilded title page, in cocoa brown on ivory. Such is the superiority of this album's Lincoln signature that it was the sole illustration on outside back cover of the momentous Roy P. Crocker Collection of Important Lincolniana by Sotheby Parke Bernet, N.Y., 1979 (original catalogue accompanies); this album was lot 220 therein. Lincoln followed by some 183 signatures of his wartime Cabinet, Congressmen, Senators, and other luminaries. Full mocha suede, deeply blind-embossed with floral spray motifs, "Autographs" gold-stamped. 5 x 7 3/4, all edges gilt, matching title page in metallic gold ink, "Autographs / Hayes & Zell, Philadelphia," on white clay-coated.
With Judaica association: bookseller's label on inside board, "Metropolitan Book Store, Philp & Solomons, 332 Pennsylvania Ave., Washington, D.C." Adolphus Solomons was a leading Jew of Washington, D.C., and publisher for famed Civil War photographer Alexander Gardner, whose similarly-named Metropolitan Gallery was located above the bookshop. An associate of Brady, among Gardner's vast body of work are iconic photographs of Lincoln. A friend of Presidents - from Lincoln to McKinley - Solomons served as a link between Lincoln and the Jewish community. Stationer to Congress and the Armed Forces during the war, "when the Volunteer Act of 1861 mandated that only Christians could be military chaplains, the Board of Delegates of American Israelites sent Rabbi Arnold Fischel to Washington to lobby for change. Using Solomons's bookstore as his headquarters, Fischel succeeded when Lincoln signed a law on July 17, 1862, for the first time permitting rabbis to become chaplains."--Jewish Historical Society of Greater Washington. Solomons declined the Governorship of D.C., as it would have required working on the Sabbath. Instrumental in early funding of today's Mt. Sinai Hospital, established as a Jewish hospital in New York City, he co-founded the American Red Cross with Clara Barton.
On individual leaves following Lincoln, in order: M(ontgomery Blair, P(ost) M(aster) G(eneral) • "Edwin M. Stanton, Sec. of War, Feb. 23, 1863" • Gideon Welles, 'Sec. of Navy], 3d Mar. 1863 • J.P. Usher, Sec. of Interior • William H. Seward, 'Sec. of State] • Galusha A. Grow, Glenwood, Pa. 'Speaker of House] • Balance generally three per page, including: F.C. Beaman (Mich.); R.E. Trowbridge, Birmingham, Mich.; John Hutchins, Warren, Ohio; Wm. Morris Davis, Milestown, Philad(elphi)a; William Wall, N.Y.; G.W. White, Stockwell, Ind.; Robt. McKnight, Pa.; A.B. Orin, Troy, N.Y.; William Windam, Winona, Minn.; James F. Wilson, Fairfield; J.P. Chamberlain, Seneca Falls, N.Y.; A.A. Sargent, Cal.; W.A. Wheeler, Malone, N.Y. 'Vice Pres. 1876-84]; Wm. Kellogg, Canton, Ill. 'of Kellogg Cereal family]; R(oscoe) Conkling, N.Y.; Schuyler Colfax, South Bend, Ind. 'Vice Pres. 1869-73]; Thaddeus Stevens; Erastus Corning, Albany, N.Y.; J.J. Crittenden, Kent(uck)y; Clement Laird Vallandigham, "Dayton, Ohio, Feb. 27, 1863," in sprawling blue ink; A.J. Hamilton, Brig. Gen.; and many, many others. Ten blank leaves at rear.
Interestingly, those signatures with dates suggest that much of the album was compiled, by its enthusiastic and diligent collector, within the short time between Feb. 23-Mar. 3, 1863. Congress was exceedingly busy during that period: on Mar. 3 alone, they granted Lincoln the power to suspend habeas corpus, adopted the Conscription Act with its exemption leading to that summer's Draft Riots, increased the number of Supreme Court Justices, authorized raising $810 million in loans, notes, bonds, and currency - and, before the sun set on that same day, adopted a resolution opposing foreign intervention in the Civil War.
Spine largely perished but binding tight, minor interior daylight between gatherings at spine, wear at board tips and edges, else internally clean, bright, fresh, and very fine. Of the mouth-watering number of Lincoln exemplars in the vast Crocker Collection, this album's signature was evidently chosen by Sotheby as the most flattering, to grace their catalogue's back cover. For both advanced Lincoln collectors and generalists, this example is worthy of consideration. Off the market since the Crocker sale in 1979. $14,000-18,000 (with Crocker catalogue, Sotheby envelope, and lot bookmark)

8-3. The First Woman to Run for President – 1884.
Flamboyant signature with paraph of Belva A. Lockwood, the first woman admitted to practice before U.S. Supreme Court, in 1879, and leader in the suffrage, temperance, and world peace movements. Also in her hand, "Barrister, 619 F St., Wash. D.C." 2 1/4 x 4. Denied her diploma as a woman upon completing law school, she appealed directly to Pres. Grant; within one week, she received her sheepskin. The first woman to appear on an official American ballot, Lockwood twice ran for President, on the National Equal Rights Party ticket, though garnering just 4,100 votes - all cast by men, since women could not vote. Thin spot at blank top margin, mounting trace at lower left, minor handling evidence, else very good. An utterly inspirational personage, subject of a recent book, ...The Woman Who Would Be President. Scarce. $250-325

8-4. Rare Same-Day Memorial Program for Pres. McKinley.
Dramatic group relating to McKinley's assassination: Same-day "Memorial Meeting - A Tribute to Hon. William McKinley...," Aryan Society, West Chester, Pa., Sat. evening, Sept. 14, 1901, 6 x 6, 4 pp., deckled edge. A program of surprising elegance in both format and content, considering the brief time between arrival of the sad news, and its printing. • Folder, "Memorial Services - A Tribute to Hon. William McKinley...by the Citizens of West Chester (Pa.)," Sept. 16, 1901, two days after his assassination. 5 1/2 x 9, 4 pp., photo on front. • Oversize sheet music, signed by composer, "McKinley the Immortal - 'It is God's Way' - Song with Refrain, by Emma Magruder, Dedicated to the Devoted Wife of our Martyred President." 10 1/2 x 14, 6 pp. (3 printed), unusual funereal typography and large photograph. With lyrics. Pub. by Marclay Music Co., Boston. Bold inscription inside, to "Eliza Russell, Compliments of the writer, 521 N. Charles St." Right edge with tears from considerable use, break but no separation at horizontal fold, else satisfactory, and dramatic for display. WorldCat locates no examples; Google finds no reference. • Headlines of West Chester Morning Republican, Sept. 14, 1901, trimmed and neatly mounted on old page, 7 3/4 x 10 1/2. "The Nation's Chief is Dead! Spirit of Pres. McKinley Has Taken Its Final Flight...One of the Greatest Statesmen That Lived in the Dawn of the Twentieth Century." On verso, "President Dead...," with photo. • Mounted clippings from a different newspaper, "President McKinley Expires at Buffalo...," with 43 col. inches of black-bordered article mounted both sides. "...The creature Czolgosz, extending his hand in a peaceful guise, uncoiled the serpent in his heart...." • Apparently from a third paper, "Col. Roosevelt Is Now President...," datelined Buffalo, Sept. 14. Woodcut portrait. Dramatic account of Roosevelt's swearing-in in a "quaint old mansion" in Buffalo. All clippings fine. $140-200 (6 pcs.)

8-5. Advocate of Legislature Choosing Chief Executive.
Attractive partly printed D.S. by "His Excellency Caleb Strong, Gov. and Commander in Chief of the Commonwealth of Mass.," a much-underrated personage of America's early years. Nov. 21, 1812, 9 x 14 3/4. Large wafer seal. Commissioning William Burns "Ensign of a Co. in the first Regt. of Infantry," 2nd Brigade, 7th Div. of Militia. Docketed by Maj. Oliver Sawyer. A member of the inaugural U.S. Senate, Strong "played an influential role in the development of the Constitution...(and) in passage of (the 11th Amendment) and Judiciary Act of 1789, which established the federal courts...Strong opposed the idea of the Electoral College as a means of electing the president, instead supporting the idea that the legislature should choose him..."--wikipedia. His involvement in a series of court cases established that slavery was incompatible with the Bay State's new constitution. Opposing the War of 1812, Strong's weak defense of Massachusetts' northern border resulted in Maine's successful bid for statehood. Expertly conserved, with vertical center fold backed on verso with linen strip, second fold reinforced with 5" sheer tape, and ends of two horizontal folds infilled with matching paper. Inlaid in cream leaf, hand-ruled border. Fine thus and attractive. $120-160

8-6. New Year's Eve 1942.
T.L.S. of Herbert Hoover, The Waldorf Astoria, N.Y., Dec. 31, 1942, 7 1/4 x 10 1/2. To Grace Cornwall, Chicago. "Thank you for your letter and your friendly remarks. I do appreciate them. I enclose herewith 'not present] the letter which was sent to me. And this gives to me the opportunity to wish for you every good thing in 1943." Attractive Waterman-blue signature. "Cranes Clarus" watermark, a rare paper even then. Fold at upper left tip, uniform edge toning, very light handling evidence, else fine. $200-275

8-7. On the Nixon Wedding.
T.L.S. of Patricia Nixon, on White House letterhead, blue on ivory. June 23, 1971. 6 1/4 x 9 1/4. To Dennis Warren, Sacramento. "Both of us deeply appreciated your warm good wishes on the occasion of Tricia's wedding. To know that our friends shared with us this special day added to its joy and meaning...." Trivial pale pencil(?) smudge at blank left margin, else choice. $85-115

8-8. "Flowers for Friday" from the First Lady.
A.N.S. of Francis F. Cleveland on her cambric-embossed ivory notepaper, engraved in gold "F.F.C." "Sunday Afternoon," n.y., 3 3/4 x 5 3/4. "The President sends very cordial messages, all sorts of them. I sent you a few flowers for Friday. I hope they reached you in time. With much love. Always your friend...." Light mounting evidence at corners on verso, original soft half fold, else very good. Ex-Mary A. Benjamin ("unusual" pencilled in her hand). • With cabinet photograph of Mrs. Cleveland, curiously removed from its mount. Two thin spots, wrinkles, but warm sepia contrast and still attractive. $160-220 (2 pcs.)

8-9. Roses for the First Family.
A.L.S. of Edith Kermit Roosevelt, Paris, "Wed., Sept. 'no day], 1904," 5 1/4 x 8 1/2. To Mr. Bryan. "We came home last night, my tale to be greeted by your lovely roses. We had been at Mont St. Michel and after the long railway journey we were tired enough...." Removed from an old frame, narrow wedge of brown tape on verso along top, semicircular fragment lacking at blank bottom margin with traces of tape stain; considerably wrinkled, one diagonally touching "K" of "Kermit," else satisfactory, and darkly penned. $100-140

8-10. An Orchid for Eleanor.
T.L.S. of Eleanor Roosevelt, interestingly on "White House, Washington" stationery, but while away. Steel-engraved in gold on eggshell white. Oct. 26, 1938, 6 x 9 1/4. To Mrs. Woodring, wife of the Postmaster Gen. "I am so sorry our itineraries did not coincide. I loved the orchid and wore it with a great deal of pleasure. It is my desire that I shall see you soon after we all return to Washington." Tap at upper left tip, very light handling, else very fine. $225-300

8-11. Mamie Eisenhower's Texas Attire.
Lengthy A.L.S. of Mamie Eisenhower, signed with initials "M.D.E.," mentioning "the General" twice. On lettersheet of The Gunter, San Antonio, elegantly engraved in red, gold, and black, 5 1/2 x 7, 3 1/2 pp. "Thursday," probably early Sept. 1951-52. To Mrs. Lent, apparently her personal assistant. "This large box is the China I spoke to you about. The other box is personal for me. Just put the latter in my dressing room...The Caffeys landing in N.Y. Sept. 17...They would be welcome to stay at 60th 'St.]. I only tell you this so in case you would have some girl Army 'as written] at this time. I still do not know exact date the General plans to leave here. Write and tell me just when you thought you might take off...Very cool here...My pinafores look very coolish. The General leaves tomorrow for St. Louis to make Labor Day speech. Back again next Tues...The white slips arrived and are lovely. The black ones I told Maj. Schelly to ask you to order me can just stay there. Hope none of the China is broken...Hello to all in the house. I'll bet it looks lovely and clean once more ...Bye." Wrinkled at upper right corner, pleasing uniform cream toning, else very fine. $190-250

8-12. With a Five-Inch Signature.
T.N.S. with sprawling signature in black felt-tip, "Mamie Doud Eisenhower." On her gold-engraved letterhead, Gettysburg, Nov. 22, 1967, 6 1/4 x 9. To Mr. and Mrs. George Brock, Jr., Washington. "I am deeply grateful to you for your good thoughts of me on my birthday...." Six square paper mounts on verso, likely from an album, else very fine and clean, with a signature probably unsurpassable in size. $90-120

8-13. A Fashion Crisis for Mamie Eisenhower.
A.L.S. "Mamie Eisenhower," on printed notepaper "Villa St. Pierre, Marnes la Coquette, Seine Oise," (France), Jan. 27, 1952, 4 1/2 x 7, 2 pp. To Mrs. Lent, her personal assistant. "The sun flower came in to-day and thanks for finding the...dresses. The one from Russels is fine with exception of shortening. The suit could be made to fit but the color is not pretty - too light & cheapens it. Am hoping Mr. Douglas Black will take it back this P.M. so you will have it pronto for returning. There was no sales slip in the box. Col. Davidson may have removed. All tags are on tho...If it had been a more moderate price I could have disposed of it here...Big scene here last nite and the Pond & garden look like fairy land...." Very fine and attractive. $225-300

8-14. Unrecorded Campaign "Poster" of 1868.
Oversize mezzotint portrait of "Hon. Schuyler Colfax, Speaker of the House of Representatives," believed intended as a campaign poster in his successful 1868 race as Grant's running mate. Pleasing original light cream underprint; facsimile signature in black. 17 x 22 3/4. Published by John Smith, 710 Sansom St., Philadelphia. Considerable handling evidence, average soiling on front, more so on blank verso, tear at lower left tip, old number "17" at lower left on tiny label and in red and blue pencil, "17 'of?] 17" in blue crayon-pencil on verso, else very satisfactory. Its complete absence from all searches – we find no mentions, Google finds no citations, and WorldCat locates no examples – suggests that it may have been a trial imprint, possibly a salesman's sample, the old number "17" pertinent. A unique survivor? $225-300

8-15. Signed in Silver Ink.
Glossy photograph of a younger Gerald R. Ford with Gen. William C. Westmoreland in uniform, signed by both, 8 x 10. The two standing in front of a framed drawing of a pensive J.F.K., possibly in Ford's office while a Congressman. Ford has signed in silver marker against his charcoal pinstriped suit; Westmoreland in black marker, against mid-tone uniform, both signatures bold and striking. Excellent, and a very scarce combination. Request copy. $170-220

8-16. Large Albumen Portrait of Grant and Family.
Large-size albumen photograph of wash portrait of "Pres. U.S. Grant and his Family," possibly prepared for the 1868 campaign. 5 1/4 x 7 1/2 oval, within gold-leaf double border, on original 7 3/4 x 10 ivory card mount. Showing Grant in uniform, seated with Julia and their four children, Romanesque arch behind them, the Capitol dome in distance. Evocative coffee-and-cream tones. Light tap at three tips, minor toning, about a dozen dark brown spots, believed from developer's bath, else fine and attractive. Any mid-nineteenth-century albumen image this large is desirable. $130-160
"The deed is done and the American people are to be cheated
out of their choice for the Presidency."


8-17. "If the voice of the people of the whole United States is to be stifled and set aside by three or four rascals, why go to the trouble of holding elections at all?"
Important group of five A.Ls.S. of James William Denver, namesake of the eponymous Colorado city, three of the letters - consuming about 9 pp. - with his scathing insider's views of the bitterly contested 1876 Presidential election. All from his law office in Washington, D.C., Jan. 5, 25, Feb. 2, 18, and Mar. 5, 1877. In the final letter, penned on Inauguration Day, Denver has especially vituperative observations on the state of politics, and the future of America. 8 x 10, 19 pp. in all. To his wife in Wilmington, Ohio. Four signed "Will," one signed "J.W. Denver." One with envelope, bearing his printed cornercard, 1115 Penna. Ave., addressed in his hand to "Mrs. L.C. Denver...." Jan. 5, 1877: "Yesterday a very sad event occurred next door. A gentleman from Philadelphia was here visiting a friend who is engaged in the auction of silver plated ware. They were in the store and wanting a drink of water, without asking any questions, he took a draught from a vessel containing, as he supposed, drinking water, but in reality a mixture of the most deadly chemicals, and which are used as a bath for cleansing the silver ware. He was hurried over to the drugstore... physicians called...but...two hours after...he was dead...A great deal of amusement with Eliza and Connie about their purchases. They think everything they got better than that bought by anybody else. It was very funny...The counting of the Presidential vote is going on slowly. It is thought the Florida question will be settled tomorrow or the next day, and if it is decided in favor of Tilden as most people, Republicans as well as Democrats believe, there will not be much further serious contest. 'Cataloguer's note: In fact, the winner - by a vote of 185 to 184 - would not be announced til Mar. 2.] The investigation into the Louisiana crookedness is still going on, and much damaging testimony is being taken against the returning board. Since writing the foregoing I have been up to the Capitol and find that nothing in the way of business...will be acted on until the Presidential question is settled. Poor Mrs. Nutt! I fear she will go crazy when she learns this...The Presidential question is most undoubtedly of more importance to the country at large than any private matter...."
Jan. 25: "Tonight I went to the meeting of the Burns Club at Masonic Temple...to celebrate the 118th anniversary of Robert Burns. After the bagpipes had screamed and screetched through several airs, we had the 'Welcome' then (of) some very good music and singing, then as poor an address as I ever listened to by the Hon. John Wilson, M.C. from Iowa. It seems he is terribly bothered to understand the rules of the House of Reps., of which he is a member...Then he went off to Longfellow so as to be able to inject into his address a paraphrase on the troublesome rules, after the style of Hiawatha. It was a most lame and impotent address - without spirit, without imagination, without the slightest comprehension of Burns...Last night the Senate was in session all night on the Electoral Bill and did not get to a vote until after 7 o'clock this morning...Willie 'Denver's son] has again neglected writing to me. Now one thing is certain, he must attend to his studies and write to me regularly as he promised, or I must find another school for him where he will be compelled to study. If when I return home I find he has not advanced, as he should, he shall not go to school in Wilmington 'Ohio] any more. I am determined that he shall not be a dunce if I can help it, but if he is determined that he will be a dunce then he had better dispense with schooling all together, and go to work on the farm...." • Feb. 2: Lengthy description of fancy fruit dish centerpieces and items he has sent by express. "...The clock is an eight day clock for your room. I got several things that I did not intend to buy, for instance the smaller soup tureen, but I made a bid ($8) and nobody bid more...All these articles are of the very best quality of silver plated ware. That they are being sold at auction does not detract from them in the least. They are all triple plated and made by the Taunton Silver Plating Co. of Mass...No better plated ware can be had anywhere, and fearing that such bargains might not be had again I have made the purchases in advance of your silver wedding day...Politicians are all on the qui vive, watching every turn in the Presidential muddle. The opinion seems to be gaining ground that Mr. Tilden will be our next President. Within the past two or three days developments have been made of a kind very damaging to the Republicans, and it seems impossible for them to escape. The count of the Electoral vote was begun by Congress yesterday and they stopped on Florida. It may require a week to decide this case, and should it be decided in favor of Tilden that will settle the question...."
Feb. 18: "The deed is done and the American people are to be cheated out of their choice for the Presidency. Fraud and rascality are to be made respectable. Three judges of the Supreme Court of the U.S. have declared that no evidence shall be introduced to uncover and expose election frauds, but that the most infamous frauds that were ever perpetrated shall be legalized. It was well known that the evidence offered was sufficient to prove the most outrageous frauds, and to establish the fact conclusively that the people of Florida and Louisiana had elected the Democratic electors, and the only way the Commission could avoid so declaring was to refuse to receive the evidence, and they did it. The Democrats are simply dum(b)founded at the audacity of the act; while the Republicans are too much surprised even to rejoice at it, for they did not expect it. All or nearly all the testimony taken had been published, and it was well known to have established the Democratic majorities in those two states, and thereby established the election of Tilden and Hendricks...I have not yet seen a single Republican who had the face to stand up and defend the act...They act more like a pack of rogues who have escaped the penalty of their crimes through some unexpected quibble of law...If the people do not rise up in their might and rebuke this outrage...there will be no use in ever again holding an election. If the voice of the people of the whole United States is to be stifled and set aside by three or four rascals, why go to the trouble of holding elections at all?...The best of Republicans have no regard for oaths, laws or moral obligations...I wish I could get this thing out of my mind, but I greatly fear it is the beginning of the end of all elections by the people." • Mar. 5: "I have delayed writing until the completion of the great fraud - the inauguration of Hayes as President...Occasionally someone would 'hurrah for Hayes' as the carriage containing Grant, Hayes and Sen. Morrill passed along, when off would go the hat of his fraudulency and a profound bow in response...The only outburst from the people along the street was occasioned by a dog that got into the street...It is the first time in the history of the country that the inauguration of a President was a purely partisan affair, and it was the first time that the people looked on with indignation...There is now a very bitter feeling against Tilden. Had he asserted his right he would have been inaugurated, but after having been elected he sat down tamely and allowed the conspirators to set him aside...(I) cannot go as far as to renounce all connection with the old Democratic party. That our leaders have shown imbecility in this instance is not a sufficient reason for abandoning the party...It is confidently asserted that (Hayes) will appoint two of his cabinet from among the leading Confederate generals...while the rascals who made him President are to be ignored...." One letter with some smudges on p. 4 from folding while ink still damp; another letter with light soiling along outer folds; one with split at a fold; envelope soiled, tattered, triangular tear, stamp sound. Else darkly penned in an eminently neat hand, and fine to very fine. Though having 250,000 votes more than Hayes, Tilden was fearful that a second civil war might erupt, had he not conceded. Retiring to his 99-room house in Yonkers believed by the same architect as the considerably smaller Cohasco Building, he bequeathed his fortune to the New York Public Library. $4000-6000 (6 pcs.)

8-18. The Half of 1%.
Fascinating advertising envelope of the obscure United Greenback Labor Party, demanding U.S. paper money be made legal tender over private banknotes. C. 1878-80. Imprint of E.M. Davis, Walnut Pl., Philadelphia. Postally unused. Lengthy, closely printed screed filling most of front, in about 5-point type, leaving only room for address and a stamp, advocating restoration of fractional notes as the "poor man's bills of exchange," and remonetizing silver. "...It is unjust to make 40 millions of people pay additional taxes, so that less than 210,000 may pocket them...Banks pay taxes, but why should they not? If prosperous and money-making institutions are not taxed, what enterprises should be?...Their profits have been enormous...We must have United States paper money, and not bank paper, as our currency. The volume must be regulated by the demands of trade...and not by bankers, who now inflate and contract at pleasure...." The umbrella party's 1880 Presidential candidate, James B. Weaver, failed to garner a single electoral vote; his "message of racial inclusion drew violent protests in the South"--wikipedia. Uniform eggshell toning, some handling evidence, else about very good. Items relating to this party are rare. WorldCat locates nothing of any description. $70-100

8-19. Future Pres. Garfield Oversees Court Martial of a Union Rogue.
Lengthy printed Union General Orders, H.Q., Army of the Ohio, "In Camp, Huntsville, Ala.," Aug. 6, 1862, 5 1/4 x 8 1/4, 5 1/2 pp. Lively proceedings of a court martial presided over by Brig. Gen. J.A. Garfield. Charging a colonel of 19th Regt. Ill. Vols. with stacking the arms of his regiment in the streets of Athens, Ala., and allowing his men "to plunder and pillage the inhabitants." With exhaustive recitation of their crimes: "A party entered the dwelling of Milly Ann Clayton, and opened all the trunks, drawers and boxes...consisting of wearing apparel and bed-clothes, destroyed, spoiled, or carried away the same. They also insulted the said Milly, and threatened to shoot her, and then proceeding to the kitchen, they there attempted an indecent outrage on the person of her servant girl. A squad of soldiers went to the office of R.C. David...and destroyed a stock of books, among which was a lot of fine bibles and testaments, which were torn, defaced, and kicked about the floor and trampled under foot...For six or eight hours that day squads of soldiers visited the dwelling house of Thomas S. Malone, breaking open his desk...acting rudely and violently toward the females...Went to the plantation of Malone, and quartered in the negro huts for weeks, debauching the females and roaming with the males over the surrounding country, to plunder and pillage...Several soldiers came to the house of Mrs. Charlotte Hine and committed a rape on the person of a colored girl, and then...plundered it of all the sugar, coffee, preserves...Before leaving they destroyed or carried off all the pictures and ornaments they could lay their hands on...Spoiled the parlor carpets by cutting bacon on them, and the piano by chopping joints on it with an axe, the beds by sleeping in them with their muddy boots on...." The officer was found guilty of most charges, and drummed out of the Army, noting that "similar disorders...have marked the course of Col. Turchin's command wherever it has gone." Uniform eggshell toning, light marginal wear, else fine. Orders bearing Garfield's name are very scarce. $120-150

8-20. Paycheck for a Future First Lady.
Double-size check of Harding Publishing Co., "publishers The Marion Star," Marion, Ohio, Jan. 29, 1923. To "Mrs. F'lorence] K'ling] Harding" for $50. Boldly signed by her on endorsement flap. Opening to 7 x 8 1/4, allowing both face of check and her endorsement to be displayed. On verso, purple and green handstamps, the latter "Pay to the Order of any Bank or Banker...Federal Reserve Bank of Cleveland." Amount in red checkwriter. Neatly perf cancelled "...Paid" in center, far from signature. Smudge on "Mrs.," certainly by her own hand, two parallel folds, else very good. Pres. Harding died in office that August. $130-170
TO FIND OUT CURRENT HIGH BIDS,
OR TO PLACE BIDS,
JUST CALL 1-914-476-8500
OR e-MAIL info AT cohascodpc.com
(We do not currently use online bidding)
9. Mediæval & Religion
The Roots of Faith

A Collection of Manuscripts and Fragments
Related to Religious Devotion in the Middle Ages & the Enlightenment
C. 1150 - 1753


9-1. A Curated Gathering
of twenty-three leaves and fragments from a wide range of Western European countries, regions, scriptoria, and hands. Comprising the essence of Christian life in the Middle Ages to Renaissance and beyond, including representatives of antiphonals, Books of Hours, graduals, hymnals, missals, psalms, and other liturgical artifacts. Most on vellum. Varied sizes, from modest cuttings to full leaves, with uses of black, brown, red, orange, pink, yellow, the rare blue, and other pigments, together with burnished gold. Each item has been attributed. Demonstrating a variety of eccentricities, oddities, and curiosities, including differences between weights of parchment, clues to ink and sizing formulation, shades of colors, including proprietary mixes of reds, blues, and browns, ruling conventions, intended uses from miniatures to tomes of massive proportions, and more. The proximate dating of some items allows interesting comparisons, for both scholars and students alike. Including:
– Manuscript fragment executed at the famed Monastery of Citeaux, Burgundy, France, mother house of the Cistercian Order, c. 1150. Two lines on each side, in a fine Cistercian Romanesque script. From patristic text, Florus of Lyons' Expositio in Epistolas Pauli. Known as the "White Monks," for their habits of undyed wool made from their flocks of sheep. One of the Monastery's members was St. Bernard of Clairvaux, who entered in 1112; the Order followed strict rules on silence and manual labor, emphasizing solitude and simplicity of life. Cistercian scribes were noted for the quality of their parchment, formation of letters, and proportions. Rich brown ink. Rare and significant. Choice condition.
– Leaf from Bible, Oxford, England, c. 1240, produced in the workshop of William de Brailes, one of the few thirteenth-century English illuminators known by name. His illuminations included the Oxford Bible. 5 x 7 1/4. Micro-miniscule script – 10 lines per inch – comprising 51 lines in two columns. Two-line initial in blue, and a seven-line initial in red, each adorned with flamboyant extenders in both colors. Text from Book of Kings IV: chaps. 6-8. Light, pleasing ivory toning, else fine. Such attribution of specific leaves to a specific illuminator's workshop is seldom possible. His work is the subject of De Brailes Hours: Shaping the Book of Hours in Thirteenth-Century Oxford, by Claire Donovan, University of Toronto Press, 1991. In Aug. 2002, a de Brailes leaf realized $1,725 on eBay. See sister leaf in Cleveland Museum of Art's Blackburn Collection, plate 4.
– Distinctively styled leaf from Book of Hours, France, Amiens(?) (site of Cathedral of Notre Dame), c. 1240 – a very early Book of Hours during the first period of transition from psalters and psalter-hours. 4 1/2 x 6. On one side, two especially elaborate initials, extensively burnished in gold, with unusual sky blue, red, and pink flowers. On verso, three single-line initials burnished in gold, each on sky blue ground with red. Text principally in brown, with several lines each side in red. With enormous character, reflecting the ravages of time, with patches of brown scorching - perhaps from storage near a hot chimney or fireplace, and moderate soiling from handling, but still striking and very satisfactory.
– Fragment of a French Folio Bible, Paris, c. 1247. 4 1/4 x 4 1/2. Text from Kings III: chap. 15. In an exquisite hand. The bottom corner of a leaf, with interesting blind-ruled margins. Small triangular wedge thin at bottom edge, some handling toning, else about fine.
– Very scarce complete leaf from workshop of Johannes Grusch, Paris, c. 1247. 7 1/2 x 11 1/4 – an unusual size for thirteenth-century scriptoria. Text from Joshua. One initial in brilliant orange, one in blue. Each side with nearly full-height riser of ornamental brackets in the Grusch style, in alternating orange and blue. An important lay scriptorium noted for their miniatures and music, Grusch's work is illustrated in Manuscript Painting in Paris during the reign of St. Louis (Berkeley, 1977). The workshop has also been the subject of an article, "The Johannes Grusch Atelier and the continental origins of the William of Devon Painter," by Robert Branner, Art Bulletin, Mar. 1972, as well as much other scholarship. From a Bible probably owned by and used at the celebrated and ancient Abbey of Sainte Geneviève in Paris, established in the sixth century. Its windows are said to be the finest in Paris, after those of the Sainte Chapelle. Sainte Geneviève became an esteemed seat of learning, and with St.-Victor's and Notre-Dame, became the cradle of the University of Paris. It is exceptional for a mediæval manuscript to be attributable to both a specific scriptorium, and to a specific owner. Bean-shaped hole at blank bottom, judged from natural stretching of vellum. Some minor, very fine ink erosion, only discerned when held to light, else very fine.
– Leaf from pocket Bible, France, probably Paris, c. 1250. In Gothic miniscule, 11 lines per inch, comprising 59 lines of text in two columns. Portion of Deuteronomy: chaps. 20-23. Four two-line initials, in alternating marine blue and orange-red, each with charming tracery, the blue of these extenders a highly unusual aqua. Inscrutably tiny marginalia in brown, several of these passages arranged in delightful contoured cones of text. Some bookworming at upper right margin, barely affecting marginalia on verso, part of one column on each side lightened, though evidently a paper-and-ink anomaly, edge toning, else fine and delightful.
– Pair of leaves, believed consecutive, from a traveling Bible of the years of the Eighth – and last – Crusade, France, probably Paris, c. 1260. 4 x 6. Extraordinary for its micro-miniature Gothic textura script – 9 lines per inch – on notably sheer vellum, with a surface like fine suede. Ornamented with four "pheasant plumes" in orange and bright blue (two on the same page). Rubricated initials and marginalia in red and blue. With the end of the last Crusade, "the kingdom of Jerusalem came to an end. The Franks evacuated Syria, leaving behind them only the ruins of their castles and churches to bear witness, to this very day, of the crusades they had waged and of the kingdom that they had founded and lost."--Encyclopædia Britannica, 1958 ed. Perhaps this leaf was carried to the Holy Land. Darkening from handling to porcelain-like ecru, each leaf with a single tear repaired with tissue tape, presumed archival, else about good. Provenance: From a Bible once owned by William Foyle of Beeligh Abbey.
– Fragment from a psalter, Flanders, c. 1290-1300. 2 x 2. With three initials in blue, embellished with red, plus "P" in burnished gold with suggestion of a simple figure - perhaps an angel - drawn in blue. In Gothic liturgical book hand. Oval stain atop gold letter, judged a drop of moisture, perhaps on the finger of an admiring reader, stain at blank top edge, else very fine.
– Leaf from Book of Hours, northern France, perhaps Paris, c. 1415. 4 3/4 x 7. Versal initials subtly highlighted in yellow. Ruled in palest pink, and penned in warm brown. Loss of crescent corner at blank upper right from old dampstain, else fine.
– Leaf from a Book of Hours, Low Countries, c. 1420. In Dutch. 4 x 5 3/4. Twenty lines per side. Undoubtedly a costly creation, with seven initials each in shimmering liquidy gold, and the rare blue - this appearing with a lovely lapis hue - highlighting text in unusual copper-brown. One word heightened in red. Expert older inlaid strip at blank margin, mid-brown scorching: a notation on the remains of the binding (not present) stated in French that it was damaged by fire in 1914, perhaps in the dawn of World War I. Else very satisfactory, and very scarce.
– Leaf from a miniature prayer book, Low Countries, c. 1440. 2 1/2 x 4. In Dutch, on watermarked paper. Penned in a lettre bâtarde script, brown with two letters touched in red. Recovered from a small prayer book which contained both paper and vellum leaves, the use of paper for this purpose at this date rather unusual. Waterstains, mostly at blank margin, else good.
– Fragment from Book of Hours which contained illuminations in the style of the Maitre François, Paris, c. 1440-50. 1 x 4 1/2. Ruled in red, brown text in Gothic textura script. Toning at two blank edges, else very fine.
– Leaf from a miniature Book of Hours, England, c. 1450. 2 3/4 x 4. Fourteen lines of ruled text, in fine Gothic textura script. English Books of Hours are very uncommon: in 1533, Henry VIII decreed that books relating to the practices of the Church of Rome should be destroyed. Most of the remaining examples were held secretly, in private hands. Concluding on verso, "Amen." Irregular 1/4 x 1 fragment lacking at blank lower left margin, some handling soiling, else very good.
– Fragment from a Flemish gradual leaf, Flanders, c. 1450. (Graduals contain the musical chants for the proper of the Mass.) 1 3/4 x 6 1/4 irregular. Music both sides, red staves and text, Lombardic initials and notation in red. Mousechew removing most of one quadrant, else very fine.
– Leaf from a Book of Hours, Netherlands, c. 1450. In Latin, with four-line addition of a prayer in Dutch. 4 1/2 x 6 1/2. Verso blank. An interesting example, ruled in pale pink, text in coffee-and-cream brown, three letters touched with red, and addition in dark brown (with smudge, almost certainly by scribe's hand). Minor damp evidence at left binding edge, else about very fine.
– Leaf from a superior Book of Hours, southern France, attributed to Aix or Marseilles, c. 1460. 4 x 6. Fifteen lines per side in simulated golden brown, with seven large, one-line initials, alternating in marine blue and burnished gold in bas relief. The seven initials each with microfine – and fairly spectacular – penwork tracery in alternating red and blue. Together with eight uses of end-of-line flourishes in tandem blue and burnished gold, and heightening of some initials in yellow. An unusually round, flowing Gothic hand, perhaps due to the Italian and Spanish influences in the area where produced. A worthy example indeed.
– Fragment from an antiphonal gradual leaf, Spain, c. 1480. 5 x 6 1/4. Elongated rectangular neumes in milk chocolate, on five-line red staves. Ink erosion of one note (only), considerable wear imparting much patina and character, else good.
– Leaf from a breviary, Germany, 15th century. 5 1/4 x 7 3/4. Interestingly scribed on thick paper, rather than vellum. In Latin, in a distinctive precursor script to German Blackletter. Penned in brown, with many initials in a Christmas red unlike any we've seen on such a manuscript: The red pigment was undoubtedly made within the walls of this German scriptorium, from berries, clay, and other local ingredients, imparting its unique and evocative vibrance. Double column both sides of wheat-colored handmade paper. Recovered from use in old binding, with stains corresponding to brushstrokes applying paste; brown somewhat light but legible, red prominent; minor defects and few bookworm holes, else good. Attractive conversation piece. Early manuscripts from Germany are many fewer on the market than those from France or Italy. Provenance: Sotheby's, London, 2002, possibly from a distinguished Norwegian collection.
– Large fragment from monumental antiphonal, Spain, c. 1550. 8 x 8. On one side, diamond neumes in cocoa brown, on two staves, originally five lines each; on verso, parts of five lines of text in ruby red, intended to be legible at a distance. Interesting contrast between hair and undersides of vellum, both unusually supple for such a heavy skin. Some waterstaining of music side, else very good.
– Fragment of Gregorian chant leaf, by an Italian scribe, c. 1606. 5 1/2 x 6 3/4, oversize notes and text, intended for reading in darkened churches. On thick vellum. Rotunda script both sides in brown-black, square neumes on red four-line staves. From an antiphonal attributed to Dominican Order of St. Mary Magdalene in the Quirinal, Rome. Intriguing golden undercolor on verso, reflecting formulation of sizing and pigment; some ink erosion, else fine, with two extremely wide margins, suggestive of scale of book.
– Manuscript missal leaves from a choirbook, France, c. 1753, one with music both sides, on four-line staves. 3 1/2 x 6, on paper. In French and Latin. Large initials in plum red, text in brown. From manuscript, Livres d'Eglise Pour les Vespres qui Commence le Premier Dimanche de l'Avant...& Finie a La Trinite. Music with ink erosion; light handling, else very good.
A superb teaching collection, gift for a favored religious or academic institution – or for oneself. In an age characterized by physical destruction of venerable religious structures, this assemblage preserves the vital evidence of the role of Christianity in the history of the world. Some items understandably with imperfections, but generally very good to very fine. Color photocopy set, front of each item, by postal mail, 20.00. $2800-3600 (collection)

9-2. Penned on a Sunday – Jan. 25, 1333.
Manuscript bearing complete date in 1333, France, in Latin, on vellum, 8 x 13 3/4 oblong. Surprisingly, Jan. 25, 1333 was a Sunday, and day of the Feast of the Conversion of St. Paul. Concerning a deed which Grimaldus, Notary Royal, received by the late Pierre Bernardonis. Bernardonis is mentioned in a book translated from Latin to French in 1585, ...Roy de Navarre Henry III (King of Navarre, later known as Henry IV, King of France). Ancient thread reinforcement at bottom; heavily dampstained in bottom area about 2 x 11, about four lines of the coffee-and-cream ink mostly faded in this portion, balance very good and clean. A stalwart survivor of centuries of war, heat, cold, and elements – and of King Philip VI's Hundred Years' War, triggered four years later. Mediæval manuscripts with full dates are uncommon. $275-350

9-3. The Leper House and the Vineyard in Old France.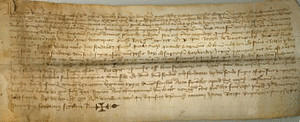 Mediæval document, 1393, France, in Latin. On vellum, 4 1/2 x 11 3/4. A grant by Raimundus athonis, Lord, of Caylus, to Poncius debossaco, of Caylus, "at rent &c. of a piece of land in the calsere of Caylus near the domu(m) lep(ro)sie (lazar house), adjoining the vineyard of magister Arnaldus de trilhia, notary of this deed, and other properties...." "Lazar" referred to poor and diseased persons, especially lepers. "Calsere" was a rare term, only noted by the translator in deeds of this particular notary. Stylized Maltese Cross-with-spear signum. A highly interesting manuscript, from the reign of King Charles VI (Charles the Well-Beloved), who served for 42 years; his epic defeat at Agincourt in 1415 changed military history, showing the effectiveness of England's archers against Charles' heavily armed feudal array. Some darkening at left sixth, average wear, one ancient horizontal fold, else about very good. Caylus is located in the Midi-Pyrénées, in southern France; it lent its name to a modern, award-winning board game, whose goal is to construct the castle and buildings in Caylus. $325-450

9-4. The Queen of American Bibles.
Massive tome featuring folio copperplates by American engravers, The Columbian Family and Pulpit Bible, being a Corrected and Improved American Edition of the Popular English Family Bible. "With Concise Notes and Annotations, Theological, Historical, Chronological, Critical, Practical, Moral and Explanatory...Containing also, Sundry Important Received Various Readings, from the most ancient Hebrew and Greek Manuscripts, and the most celebrated Versions of Scripture...." First American Edition, published by Joseph Teale, Boston, 1822. "Embellished with numerous Superb Engravings." 10 3/4 x 17 3/4, unpaginated but 3 1/2" thick, weighing over 15 lbs., full calf, black-stamped shell motif border. Lovely brown, yellow, pink, and blue hand-marbled endpapers. Red morocco spine label, "Holy Bible," with matching cover label, decorated in gold, "Eliza Ann Rowe," presumed one of the publisher's subscribers. Over 30 crisp copperplates, by noted American engravers, including Annin, Bowen, Chorley, Kelly, Throop, et al, drawn specially for this edition: map depicting "Geographical Illustrations of Scripture Histories, Particularly Journies," Noah's Ark, The Angel appearing to Hagar, The Finding of Moses, and many more, all to an exquisitely high standard of both artistry and printmaking. In this copy, the Apocrypha does not appear, though the extra-engraved title leaf mentions it; this is also the case in some other identified copies. Some rubbing of covers, corner wear, outer hinges exposed but binding sound, two postage-stamp-size fragments lacking at top of spine and one at tail; old tape repair of leaf in Genesis V; generally uniform toning to mellow ivory, occasional minor handling evidence, some plates foxed, else text remarkably clean and excellent, many sections crisp, suggesting only occasional and partial use. Representative of a very high quality antebellum Bible, pronouncedly American in annotation, typography, illustration, and presswork. Exuding wonderful character and patina, and suitable for display in a home of the period. Scarce. Hills, English Bible in America, 434. Wright, Early Bibles of America..., p. 427. $475-675
TO FIND OUT CURRENT HIGH BIDS,
OR TO PLACE BIDS,
JUST CALL 1-914-476-8500
OR e-MAIL info AT cohascodpc.com
(We do not currently use online bidding)
10. Black History
10-1. "So the children were taken away...."
Heartrending Narratives of the Sufferings of Lewis and Milton Clarke, sons of a soldier of the Revolution, during a Captivity of more than Twenty Years, among the Slaveholders of Kentucky, one of the so called Christian States of North America. "Dictated by themselves," Boston: 1846. 4 1/2 x 7 1/4, 144 pp., gilt stamped title on ornately blind-embossed caramel cloth. Steel-engraved frontispiece portrait. A shockingly vivid - and violent tale of the writers' experiences in the belly of the slavery beast: "...I saw one slave mother, named Lucy, with seven children, put up by an administrator for sale. At first the mother and three small children were put up together. The purchasers objected; one says, 'I want the woman and the babe, but not the other children'; another says, 'I want that little girl'...So the children were taken away...the mother looking on in perfect agony; and as one child after another came down from the auction block, they would run and cling, weeping, to her clothes....She fainted and fell, with her child in her arms...." Descriptions of their stop in Oberlin, Ohio, a station on the Underground Railroad, a Kentucky "slave-prison," where the owner "tried to keep up 'slaves'] spirits by employing one or two fiddlers to play for them, while they danced over and upon the torn-off fibres of their hearts," and more. Some cover darkening, shelf wear, broken at inner front hinge, portrait leaf loose, some stains and foxing, occasional marginal tears, but in all, good. "The slave narrative, a form of literary memoir that developed as a result of American slavery practices in the 18th and 19th centuries, was used to support abolitionist movements by sympathetic publishers and was popularized by the narratives of prominent African-Americans such as Frederick Douglass and Harriet Tubman"--Credit: B&B Rare Books. III Clark 288. Coleman 3031. Dumond 39. LCP 2367. Howes C457. Work 311. An uncommon classic of the genre. $120-170

10-2. A Captain of Slaving Ships – and Composer of "Amazing Grace."
Rare memoir of John Newton, mariner - from age 11, captain of slavers, sailing the Triangle Trade, convert to Evangelicalism as his ship filled with water in a storm – and composer of "Amazing Grace." Captured at age 18 by the Royal Navy and forced into service, he tried to desert; flogged with eight dozen lashes, he transferred to a slave ship bound for West Africa. Cast off the ship there, the white sailor was left with a slave dealer, actually becoming a slave of other slaves. An Authentic Narrative of Some Remarkable and Interesting Particulars in the Life of John Newton, "communicated in a series of letters to Rev. Mr. Haweis," 1796 N.Y. printing. 3 x 5 1/2, 248 pp., original full calf, stamped hubs on spine. A dramatic timeline of Newton's travels - and travails - of the 1740s, much of it by sea. "...They brought me back to Plymouth. I walked through the streets, guarded like a felon. My heart was full of indignation, shame, and fear. I was confined two days in the guard house, then sent on board my ship, kept awhile in irons, then publicly stripped and whipped, after which I was degraded from my office, and all my former companions forbidden to show me the least favour, or even to speak to me...Every hour exposed me to some new insult or hardship...." The writer is lifted from his unenviable predicament by his faith, the latter portion of the book a rich epistle to his rediscovery of and faith in the Lord. Newton is credited with inspiring the young William Wilberforce, later becoming his ally in promoting Britain's abolition of the slave trade. Many of Newton's hymns crossed the Atlantic, sung in the Old South during the Second Great Awakening. Contemporary inscriptions on flyleaf, "Newport Library" and "William Osgood's Book." Evidently lacking half-title leaf and final endleaf, average cover and tip wear, with pleasing texture and deep mahogany patination, lower halves of most leaves with toning and eccentric smudging, from a reader's evident habit of following the words with his fingers, but generally satisfactory, and a tome with enormous character and patination. The book, filled with elegant prose, was read repeatedly, as suggested by its period library provenance. No examples on abebooks; WorldCat locates only six copies of this edition. An important, exceptional story. The 2006 motion picture Amazing Grace depicts Albert Finney as Newton, haunted by the ghosts of twenty thousand slaves. $350-425

10-3. "Manner with Slaves, kept chained to their Oars..."
Rare English promotion of the Colonies' value, with frequent mention of slaves in the Americas. The Present State of the Revenues and Forces by Sea and Land, of France and Spain. Compar'd with Those of Great Britain. "Being an Essay to demonstrate the Disadvantages under which France must Enter into the present War, if the natural Force of Britain is vigorously Exerted...(With) An Appendix: Containing a View of those Countries of the Spanish West Indies that will probably be the Seat of the present War." London: Tho. Cooper, 1740. 5 x 7 3/4, 62 pp. (pp. 55-56 misnumbered 47-48 but bound correctly), two engraved headpieces and printer's device on last page. Original printed wrappers, bound in late 19th cent. 3/4 morocco and lilac-rose boards. British propaganda designed to create public optimism in the projected War of Austrian Succession (1740-48), including material promoting England's ability to meet Spanish-American colonial offensives, and French and Spanish dependency on imports from American colonies. Including some 20 pages devoted to description of Spanish America, Fla., N.M., and other colonial locales – and the first mention in English of the place-name "the City of Angels" (Los Angeles, Mexico, not yet Calif.). "...The Soil and Air of Florida are both exceedingly good...The chief Spanish Gar(r)ison is that of St. Augustin...The Natives are an ingenious, brave and honest People, who live in Clans, like the Scots Highlanders...In the South Sea, there is only Calif...and it is, as yet, not half discovered...." "Our Gallies thus manned with such brave People as the Americans are, will beat 5 French or Spanish Gallies... because their Gallies are manned with Slaves, kept chained to their Oars without Arms...." Welcoming destruction of "those great Branches of Trade" of France and Spain, including "The Fishery in Newfoundland, The Sugar Trade, The Negroe Trade, and The Levant Trade. And likewise we should be able to possess ourselves of their Settlements in Newfoundland, Miss. and Hispaniola...If we suffer France to continue 20 Years longer in Peace, they will unavoidably... steal into the greatest part of the Trade which the English are now in possession of...What gives us the greater Certainty of Success in this War, is, the great Strength and vast Trade our Plantations in American have acquired since the last War: The Province of New England alone employs above 15,000 Sailors...N.Y., Penna., Md., Va., and Carolina deal in the same Manner...The Slaves in Cuba are 7 in number to every white Man (as they are all over the Spanish West Indies) who will readily come over to us upon Promise of Freedom...(Spanish) Buccaneers... in small Numbers are able to do the utmost Mischief. And thus throughout all these vast rich and noble Provinces, the Inhabitants seem inspired with a Spirit of Dissension, which renders them continually restless and uneasy, making almost useless those Blessings indulgent Providence has conferred upon them...." Outer front hinge wear, some cover shelf wear, minor break at inside front hinge, pencil notes of noted 20th-century collector on front endleaves, else internally fresh and very fine. A fascinating item, suitable for a comprehensive collection of early Americana, elucidating the realpolitik which prevailed as the clash between England and the colonies simmered, exploding some three decades hence. ESTC T711. European Americana 740/253. Goldsmiths 7445. Sabin 65330. $275-350

10-4. "Even you can plead with men, That they buy not slaves again."
Anti-slavery newspaper, The Pennsylvania Freeman, published by Penna. Anti-Slavery Society, Philadelphia, Apr. 5, 1849, 13 1/4 x 21, 4 pp. Period name in margin in ink, "L. Lewis." Lengthy page-one plan of Henry Clay, with eerie prediction of civil war in 1860: "Under such a scheme of emancipation, slavery would certainly disappear from Kentucky, but it may well be doubted whether a hundred slaves or their offspring would be liberated ...(Kentucky) might relieve herself...of the danger of becoming the theatre and bearing the brunt of a war waged for its extinction...If the day for the beginning of the system of gradual emancipation be fixed for the year 1860...we can see no other result than their banishment from Kentucky to other slave-holding states. The evils which would flow from such a course to the extreme South...we should be exposed to more vigorous attacks...That slavery will be abolished in Kentucky by the coming Convention there is now no doubt...It becomes the duty of other states...to protect their soil from this new and dangerous invasion of 190,000 of the population which Kentucky finds so worthless that she will no longer tolerate it within her borders...." "How dare Henry Clay or any one else undertake to decide where an equal brother man shall live?...If we could speak to the colored people of Kentucky, we would counsel them not to dream of leaving Kentucky...to prefer death in Kentucky rather than be driven to Liberia or elsewhere...." Nearly full-column account of the "Aerial Steamer...now being built by R. Porter & Co., of N.Y., which seems to promise better success in navigating the airy regions than has heretofore been experienced...We have learned from the past not to ridicule or disbelieve the possibility of such an invention. This is no time to place limits to the progress of art, when the sun is made our painter, and the lightning our docile messenger." Including lengthy description of the "air vessel's" construction. "To our Little Readers," the "Anti-Slavery Alphabet": "Listen, little children all, Listen to our earnest call; You are very young, 'tis true, But there's much that you can do. Even you can plead with men, That they buy not slaves again...And you can refuse to take Candy, sweetmeat, pie or cake, Saying 'no' - unless 'tis free - 'The slave shall not work for me'...." Old quarter folds, light foxing and wear, some corner creases, else about very good. Only one example of this issue found in Library of Congress' Chronicling America database (N.-Y. Historical Society). Very rare. $175-250

10-5. Black-Dialect Play, featuring "An Extravagantly Dressed Dude...."
Printed play, "The Nigger Boarding-House," "A Screaming Farce in one Act and one Scene for Six Male Burnt-Cork Characters," by Oliver Wenlandt, with directions for its performance. Dick & Fitzgerald, N.Y., 1898, 4 3/4 x 7 1/4, pale yellow wrappers, 24 pp. Cast including Pompey and Zeke, "fairly well dressed flashy niggers," and Masher, "an extravagantly dressed dude...A vacant giggle, commencing with an open-mouthed stare, a grin gradually spreading over his face, ending with a rapid titter, 'He, he, he!' on a high note, then suddenly serious." Entirely in dialect, landlady Mrs. Fizzy exclaiming, "Dear me! The imperdence ob de lower classes is something abdominal." Pomp remarks about Zeke's sister, "Well, next time I saw me, give her my complaint, and tell you she saw me, and she was asking after you, and was quite well, only you had an attack ob de chicken-box." For dinner, one describes "two or free pickled eels' feet, an' den herrin'-bone soup...." Listings of other plays for sale, including "Nigger Night School," "Darkey Wood Dealer," and "Pickles and Tickles," military plays including "Prisoner of Andersonville" (running 2 1/4 hours), comedies and dramas ("Girl from Porto Rico"), and Western plays ("Golden Gulch" and "Stubborn Motor Car," an excessively early reference to the horseless carriage). Text signature pulled at staples, quarter folds, some cover scuffing and wear, internally very good. Rare. $120-160

10-6. "Colored Schools" for Freed Memphis Slaves.
Partly printed document imprinted "The Freedmen Department," Memphis, Tenn., May 31, 1865, signed by Capt. T.A. Walker, "Capt. 63d U.S. Colored Infantry, Supt. and Pro(vost) Mar(shal) of Freedmen, District of West Tenn.," and Chas. Warren, "Asst. Supt. Colored Schools." 7 3/4 x 10. Disbursing payment to Warren "as Asst. Supt. of Colored Schools, at Memphis...$125 a month...." Walker also served as Acting Mayor of Natchez, supervising Freedmen activities in the city that once had more millionaires than Manhattan. Trivial toning, else Exc. $90-120

10-7. Suppressor of the New York Slave Conspiracy of 1741.
Scarce D.S. of New York's Royal colonial Gov. George Clarke, "Pres. of his Majestie's Council and Commander in Chief of the province of New york" (note lower case usage), and Archibald Kennedy, "Collector & Receiver General," "Commiss(ione)rs appointed by his majestie's Instructions for Setting out of All Lands to be Granted within the Said province." Clarke's estate the site of Hyde Park, Long Island, he was involved in suppressing the controversial New York Conspiracy of 1741, in which slaves and poor whites attempted to level Manhattan with fire; Clarke's owner's quarters were burned. (In all the Thirteen Colonies, New York City was second only to Charleston in slave population.) Apr. 6, 1736, 14 1/4 x 18 3/4, on vellum. Describing subdivision of 4,000 acres granted to Joseph Sacket(t) and Nathaniel Hazard in Orange and Ulster Counties. "In obedience therefore to his majestie's Royal Instruction We the Comm(issione)rs...have sett out for them...two Tracts of Land in Orange County...and have taken Care that the Length of the said two tracts do not Extend Along the Banks of any River...." Also headed (but not signed by) Cadwallader Colden, "Surveyor General"; author of History of the Five Indian Nations (1727), Colden was Lt. Gov. of N.Y. in 1776. Waterstains on verso only, feathering of lower right corner, just touching "y" of Kennedy's signature, bean-sized hole in blank area, but leaving generous margins around Clarke's signature; one path of fine nibbles within text, two large nibbles at top, one barely touching part of one letter on first line, considerable handling wear and toning, but satisfactory. Fascinating association. Scarce. $275-375

10-8. "Oh! ny name is Darkey Sam...."
Civil War period pro-abolition songsheet, "The Contraband's Adventures," printed by Charles Magnus. Judged pre-Emancipation Proclamation. 5 x 8, hand-colored in seven colors, showing two nattily attired blacks, one wearing cream stovepipe hat, the other in red and blue kepi. Four lengthy stanzas, in black dialect, sardonically describing his imaginary diversion to an abolitionists' meeting, and their attempt to "wash" him white: "Oh! my name is Darkey Sam, I'se a black-eyed contraband; Down on de Chickahominy I was born; But old massa run away, When de Linkum sogers 'Lincoln soldiers] play; So, I started for de Norf in de morn. I soon met wid a man, And he took me by de hand, And brought me to de bobolition meeting...And show dey could wash a nigger white...Leave de colored man alone; For, you're only makin' trouble in de nation...." Quarter-size waterstain at blank top center, very light toning, else fine. Describing Magnus' workshop, "Pre-cut stencil patterns were laid over the black and white designs and women and children, paid at the rate of 8¢ per day, painted the cutouts. These workers seemed to use colors at their own personal whim, so each handcolor design may be unique."--Patriotic expert William R. Weiss. $90-120

10-9. Lament of a Southern Black on "Bobolition."
Civil War period songsheet intended for the Northerner craving peace but not necessarily abolition. "Young Eph's Lament," combination of letterpress and stone-lithography by Charles Magnus. 5 x 8, hand-colored in seven colors, showing a Union soldier conversing with a black carrying a walking stick, beside a palmetto tree. Four lengthy stanzas, in black dialect: "Oh, where will I go if dis war breaks de country up, And de darkeys hab to scatter a-round...De bobolition here, de sesession dare, And neather one nor t-other of 'em's right... Why don't dey tend to bussness making boats and building rail-roads, While de niggers raise de cotton and de corn. But Massachusetts dare and South Carolina here, Disturb dis happy Union wid de growl... Oh, I wish dat de white folks of dis great confederation, Would only...stop dar cannonading, marching, shooting and bombarding...Dar's a scarcity it seems, ob cabbage, peas an' beans, Kase dar's nobudy home to send 'em...." Upper right tip feathered from old, pale waterstain, not affecting design, else very fine. A fascinating example of the panoramic scope of patriotic publishing during the war, intending to offer stationery for every shade of Union ardor or Southern sympathy. (Magnus' Manhattan was a hotbed of Southern sympathizers.) $80-110

10-10. Satirizing Blacks' Tools as Contraband of War.
Unusual pair of Union patriotics, postally unused, with same multi-color artwork and fine text - but different titles and subtitles. One entitled "Contraband of War": "...Massa Butler, we's jest seceded from Harper's Ferry...If yer wants anything done in dat ar line ob bisness, we's de Niggers to call upon...," anticipating "de close ob horsetilities." Text in light pink, possibly printer's trial, adjusting ink so that faces of the five blacks would not be too dark. • Other titled, "Volunteer Sappers and Miners from the F.F.V...." Full red and blue. Both depicting five black laborers addressing Butler astride a white horse, holding their picks and shovels. Light handling evidence, else both very good. Interesting for display. $90-120 (pair)

10-11. "Prince Sauce-pan."
Satirical Union patriotic, with full-height pseudo-ambrotype of a plump black soldier, with epaulettes, sword dragging on the ground, "C.S.A." belt, holding a whiskey bottle - barefoot. In brown. "A King for the South. They want a King down South - King Dahomey sends Prince Sauce-pan of the royal blood - This is his nigger-otype - from life." Imprint of D. Murphy's & Son, 65 Fulton & 372 Pearl Sts., N.Y. Minor toning, else fine. Weiss 1125. $50-70

10-12. A Cry for Freedom.
Union patriotic cover, postally unused, with blistering cameo-like anti-slavery woodcut of kneeling slave, in chains, being whipped by his master in tophat and tails. In midnight-blue ink. No imprint. Tip of flap folded, creases at upper left and lower edges, light toning and handling, else very good. Dramatic. $45-65

10-13. Guaranteeing the Eyesight of a Teenage Slave.
Manuscript bill of sale for $550 for "Negro Girl Edny, aged about Sixteen Years, the sight and title of Said girl I warrant and defend against the lawful claims of all persons...," J. Vanderveer, July 1, 1858. In pencil at bottom, "N.C.," possibly in hand of old-time N.Y. autograph dealer Ben Bloomfield c. 1961. Irregular 5 1/2 x 7, in brown on lined slate-blue. Very fine. Uncommon language in the lingo of slavery. $140-180

10-14. Rare Volume of Black Poet.
Advance copy of Survival, by Herbert Simmons, twentieth-century black poet and one of the earliest black genre crime writers. Self-published by his Watts 13 Foundation, 1974, 5 1/4 x 8 1/4, 64 pp., softcover. Simmons' original verse on black pride, religion, and freedom, composed at the melding of the eras of civil rights and black power. Born in St. Louis in 1930, as a young man Simmons took journalism and writing courses, deciding to become a writer. Inspired by his friendship with trumpeter Miles Davis, he went to Washington University in 1953. His first novel, Corner Boy, was released in 1957, winning the Houghton Mifflin Literary Fellowship Award. His second work, Man Walking on Eggshells, appeared in 1962, about a jazz trumpeter - a character not unlike Miles Davis. His two novels offered a vivid view of black ghettos at the dawn of the civil rights movement, his characters moving between music and a life-on-the-street existence. Simmons' use of speech rhythms and prose was said to evoke the feel of bebop and cool jazz. After the 1965 Riots, the Watts Writers Workshop was founded by famed filmwriter Budd Schulberg, with Simmons playing a significant role (along with Yaphet Kotto and others). Minor edge yellowing, else fine. Unrecorded by Library of Congress Online Catalogue and WorldCat. Perhaps a unique survivor. $150-225

10-15. "Mother of the Modern Civil Rights Movement."
Printed "Biographical Sketch" of Rosa Parks, boldly signed in blue at top. 8 1/2 x 11, on cream linen. Possibly prepared by Rosa and Raymond Institute for Self Development, Detroit, in 1988 - the triumvirate year of her 75th birthday, 25th anniversary of the March on Washington, and 125th of the Emancipation Proclamation. Parks' refusal to relinquish her bus seat in 1955 triggered a 381-day boycott, and brought the young Rev. Martin Luther King, Jr. onto the national stage. Two original mailing folds, else excellent, and splendid for display. A core item for collections of both black and twentieth-century Americana. $140-180

10-16. The Revered - and Forgotten - Protectors of Rights of Newly-Freed Black Plantation Workers.
Printed Circular No. 4, Headquarters, Beaufort, N.C., Apr. 1, 1864, issued by Brig. Gen. and Military Gov. R(ufus) Saxton. The personal copy of his aide-de-camp Capt. E.W. Hooper, signed at bottom by Hooper, with "Official" in his hand. 5 x 7 1/2. "Every person employing laborers in cultivating the soil this year upon any plantation within Dept. of the South...is hereby ordered to present himself to the Gen. Supt. of the Div. in which such plantation lies...and make a distinct statement of the agreement... existing between himself...and the laborers...Each Gen. Supt. is here ordered, as soon as practicable after receiving each statement, to visit personally the plantation...to call together all the laborers, and read and carefully explain to them the statement of their employer. When he thinks they all fully understand the agreement, he shall ask if any one of them objects...If the employer shall refuse to amend it, the Gen. Supt. shall warn the laborer to leave his employer...Any employer...failing to appear ...will be liable to arrest...The burden of proof...will be upon the employers to show that they have faithfully carried out their agreements...." Apparently trimmed at top where removed from old letterbook, but believed with no loss of text; old soft vertical fold, light waterstains and edge tears at bottom, else about very good. The work of Saxton and Hooper in protecting former slaves figured conspicuously in the freedmen's movement. First sent to South Carolina in 1862 with a group of teachers from the New England Freedmen's Aid Society, Hooper played a significant role in aiding blacks' transition to freedom, notwithstanding his 1863 testimony leading to formation of the Freedmen's Bureau: "I came to this department without any knowledge of the negro character, prepared to meet a race of savages...quite ready to tear me limb to limb unless I could succeed in making myself agreeable to them. I have since found them...almost too gentle in many cases to stand up for their own rights." Postwar, Hooper became Military Gov. of the South Carolina Sea Islands, and Treasurer of Harvard for over twenty years. It was at the old plantation site which included Camps Saxton and Shaw, that the first Federally-authorized black unit to fight for the Union, the 1st S.C. Volunteers, was encamped. On Jan. 1, 1863, Gen. Saxton assembled a large group for one of the earliest readings of the Emancipation Proclamation. An annual reenactment of the reading is held at the Camp Saxton site to this day. A seminal document in protecting black labor rights in America. $300-400

10-17. "The problem of the Negro."
Printed playbill for small-town screening of D.W. Griffith's "The Birth of a Nation," Gardner (probably Mass.) Theatre, Apr. 3-5, 1916, 5 x 12, black on ivory. Likely displayed on exterior of theatre. "By Arrangement with American Feature Film Co., Louis B. Meyer, Pres. and Gen. Mgr...A Historical Drama in Two Acts, Founded on Thomas Dixon's Story, 'The Clansman'...." With synopsis of storyline, and cast, including Lillian Gish; characters include Lincoln, Booth, Grant, Lee, "Gus, a renegade negro...Generals...Abolitionists, Ku Klux Klansmen, Plantation Crowds and Mobs." Local imprint, with sponsoring advertisement at bottom for Renew-It Polish, available at town pharmacy for 90¢. Wear at parts of parallel folds and blank bottom edge, light toning, some wrinkles, else V.G. plus. Despite its inflammatory content, Griffith's film - pioneering panoramic shots, night photography, and battle scenes - became a seminal production in modern entertainment history. Rare ephemera. $90-120

10-18. Civil War Black Caricatures in Postwar Pulp Amusement.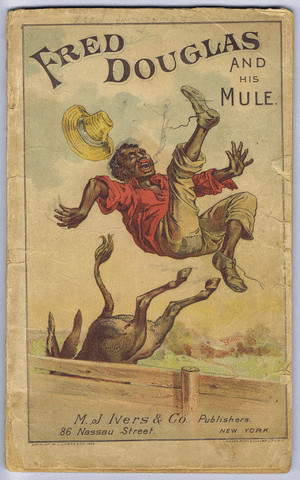 Satirical Black humor set in Civil War, Fred Douglas and his Mule; A Story of the War, by Bricktop, published by M.J. Ivers & Co., N.Y., 1888, 5 1/2 x 9, (96) pp., color lithographed cover showing the titular character being thrown into the air by a mule's kick. Numerous full-page cartoonish woodcuts, showing rather outrageously stylized scenes of blacks and whites engaged in the book's story: foraging for food – mules! Told by a white enlisted man, describing his fictional, Keystone Kops-like wartime misadventures with Corporal Clam, and blacks including Pvt. Jack Strap, Charlie Brown, and of course, the company's contraband servant, renamed by them Fred Douglas. "Fred was a character, a real Virginia darkey, who didn't care a fig who got whipped as long as he had an easy time of it himself...If there was anything that he did understand in this world, it was the science of mules...Our brave and careful leader marched with drawn sword at least two yards in advance...." Cover and first several leaves with short edge tears, last leaf somewhat tattered but complete, uniform toning, some foxing, handling wear, but still good plus, and suitable for display. Fascinating exemplar of American popular entertainment a quarter-century after the war's end. Elusive on the market. No copies on abebooks. $150-190

10-19. "The signal for the uprising of the Southern States."
"Soldiers & Sailors Almanac for 1869, and History of the Late Rebellion from 1860 to 1865," Soldiers' & Sailors' Publishing Co., 150 Fulton St., N.Y., 5 1/4 x 7 3/4, (32) pp., sewn. All-over pictorial mocha cover, showing soldier and sailor shaking hands, a camp scene in background. Advertisement for H.T. Helmbold's Drug and Chemical Warehouse, 594 Broadway; large woodcut scene on inside back cover showing Hottentots clad only in loincloths "gathering buchu leaves at the Cape of Good Hope," bales neatly addressed to 594 Broadway, N.Y. Chronological history of the Civil War, from Lincoln's first election - "the signal for the uprising of the Southern States" - to Andrew Johnson's declaration of war's end on May 9, 1865. Plus tables of "Remarkable Events" in world history for each day of each month. Light wear, some foxing, fine hole at upper left where once hung on a pin, else very good. No copies on abebooks. WorldCat locates only four copies. Rare. $170-220

10-20. "To divide the negroes...."
Manuscript document dated midpoint between the Emancipation Proclamation and fall of the South. Alabama, Feb. 13, 1864, 6 x 7 1/4, on Confederate-grey paper. Receipt for "negro woman Zilpha, aged about 22...valued at $2500, and Josephine, aged about 13 years, valued at $1800, also $25 in Cash to equalize the share of John E. Lewis, a minor heir...which said negroes & money were allot(t)ed...to divide the negroes of said estate." Signed by guardian Sarah S. Malone and witness. Old soft folds, else very fine. $70-100

10-21. Colored Infantry to a Freedmens Bureau Outpost in Arkansas.
Scarce, somewhat crudely printed Special Orders, Head-Quarters, District West Tenn., Memphis, Aug. 1, 1865, 7 x 8 3/4. Listing men relieved from duty in Freedmen's Dept., to "report in person without delay to their Co. Commanders...." Including three officers and 28 privates, all of the noted 63rd U.S. Colored Infantry - formed the previous year from the 9th La. Infantry (African Descent). Most or all of the enlisted men presumed black, including Neelay Valentine, Moses Hill, Moses Woods, Anderson Newbern, James Shivers, et al. (Curiously, none of the preceding are recorded at civilwardata.com.) Sprawling signature of Capt. John E. Simpson. Purple address, to "Capt. (T.A.) Walker, Thro(ugh) Gen. Tillson"; Walker was Capt. of the 63rd, and Supt. and Pro(vost) Mar(shal) of Freedmen, District of West Tenn. Holograph endorsement at side, "Transportation furnished to Sergt. Fayette Valentine & 18 men...from Memphis to DeVall's Bluff, Ark., by L.S. Van Vliet, Capt. & A.Q.M." Interestingly, a tiny light pencil checkmark or line appears above each soldier's name, presumably denoting those transported. In the latter years and aftermath of the war, not only did such black troops protect and assist fellow former slaves - but also poor whites. Light toning, fingerprints at right margin, soft creases along fold, else very good. Documents relating to outposts - "contraband camps" - of the colored troops in Arkansas, albeit just postwar, are scarce on the market. $110-140

10-22. "Bobb a slave" Jailed for 244 Days.
Highly unusual manuscript document, Cahaba (Ala.), May 17, 1854, 7 x 8. Bill for keeping "Bobb a slave...244 Days in Jail at 30¢ pr. Day...Connvictting 'sic] & Releasing 1.00...Clothing furnished 4.80. Recd. from Wm. Jones administrator of Estate of R.S. McLean...in full...." Signed by Dallas County Sheriff C.A. Keanes. On pale blue lined sheet. Old folds, some wrinkling, else very good, and dramatic for display. $160-200

10-23. Big Charlotte and Little Charlotte – for hire.
Manuscript "Account of the hire of the negroes for the year 1837, belonging to Jas. C. Irving'?], dec(ease)d...," listing ten slaves and nine names of employers. (Ala.), 8 x 10. "...Charles & Ishmael at 320.00...Big Charlotte 142.50...Isaac 132.50...Bill 131.00...Harriet 51.00...Siney 25.00...little Charlotte 72.50...." Signed by Jos. A. Hall, Jr. Penned in brown on rich cream. Sharp fold through one name but flattenable, fraying at part of right margin affecting two numerals only, file creases at bottom, else about fine. $90-130

10-24. Disapproved for Freedmens Hospital!
A.L.S. of Asst. Surg(eon) W.H. Miles, 63rd U.S. Colored Infantry, Freedmens Hospital, Home Farm, La., Mar. 1, 1865, 7 1/2 x 9 3/4. To Lt. Col. A.L. Mitchell, Supt. & Provost Marshal of Freedman. "I have the honor to request that Pvt. Aleck Boles, Co. A, 8th N.H. Vol. Inft., be detailed for duty as Act(ing) Hospital Steward of Freedmens Hospital at Home Farm, La." Lengthy forwarding docketing signed by Mitchell on verso of lettersheet – with reply: "Respectfully returned - Disapproved, By order of Brig. Gen. M. Brayman," signed by Lt. J.H. Marshall, Vidalia, La. Very fine and unusual: orders of declination relating to freedmen activities are rare from any location. $130-160

10-25. "The Pinetown Darky Debating Society."
Pulp book of popular literature of the Gilded Age, including black, German-, and Irish-American parodies – and Shakespearean excerpts! Dick's Recitations and Readings No. 8, ed. by Wm. B. Dick, Fitzgerald Publishing Corp., N.Y., 1878, 4 x 6 1/2, 178 + (16) pp. publisher's advertisements (in 4 point type). Ornamental cover with type in beaded ribbons with floral sprays, red and black on cream. "A carefully compiled Selection of Humorous, Pathetic, Eloquent, Patriotic, and Sentimental Pieces in Poetry and Prose...excluding everything that is not eminently appropriate either for Declamation or Public Reading." Including "Parody on Barbara Frietchie," "The Charge of the Light Brigade" by Tennyson, "Christmas Day in the Workhouse," "The Irishman's Panorama," "The Pinetown Darky Debating Society," and much more. Clean 1" tear at spine, opening to horseshoe tear on cover, both repairable, light cover dust-toning, else a New Old Stock example, unread and very fine. This Number excessively rare. WorldCat locates only one copy (University of Penna.). $100-130

10-26. Congo Chocolate Cards.
Scarce group of 11 different color candy cards, "Notre Congo / Onze Kongo," issued c. 1948 by Jacques Superchocolat, text on verso in French and Flemish. 2 x 2 3/4. Including "Tatouage Bena-Mama" (a woman of the Congo's Sankuru River region, with tattooed face), conelike hut near Stanleyville, black Sabena Airline mechanic working barechested at a grinder on airfield, black locomotive repairman in Elisabethville, harvesting tobacco, Sudanese porter carrying enormous vat (probably water) on his head, native guard of Leopold II, Congolese musician playing xylophone locally made from gourds, and others. Varied handling, six with creases, some with traces of melted chocolate(!) on verso, but satisfactory to very good, the gravure colors on all evocative, with its characteristic watercolor quality. The Belgian Congo, today's Zaire, focused early attention on Black Africa through its exploration by Stanley and Livingstone. $40-60 (11 pcs.)

10-27. "Their Voodoism and magic charms...."
Two interesting pamphlets: "Slave-Conversion in South Carolina, 1830-1860," by Susan Markey Fickling, issued as a "Bulletin of the University of S.C.," Columbia, Sept. 1, 1924, 6 x 9, 59 pp. On religion among slaves in antebellum S.C. "...Most of those in the South were only two or three generations from barbarism...(and) clung to their Voodoism and magic charms...Most of the coast negroes utterly lacked initiative, but mulattoes were eager to learn. Superstition and deceit were leading traits...." Front cover separated, cover edge fragments lacking, toned, else very good. • "The Negro in the Abolitionist Movement," Herbert Aptheker, white Communist observer of black history, N.Y., 1941, 5 1/4 x 7 3/4, 48 pp. "The history of the American Negro is filled with deeds of unsurpassed heroism...This is true from 1526, the year of the first slave rebellion in present-day S.C., to the C(ivil War)...." Some cover soiling, else V.F. and evidently unread. $50-70 (2 pcs.)

10-28. From Slavery to "Zip-A-Dee-Doo-Dah."
Varied assortment of black Americana, suitable for display: Lithograph captioned "The Negro," judged c. 1850-60, 4 1/2 x 6 3/4, showing a pensive young man with curiously Eurasian eyes, wearing white robe. Solid cream background panel and ruled border. Stylized contemporary manuscript title at top margin, "The Negro," in brown ink. Ink spot at blank lower left corner, else fine. • Playbill for just-opened "Cabin in the Sky," Martin Beck Theatre, N.Y.C., Jan. 17, 1941, 32 pp. Ethel Waters on cover. Also with Katherine Dunham; staged by George Balanchine. Light wear. • Glossy promotional still for radio series "Peggy's Doctor," presented by Blue Coal, c. 1934-39, 8 x 10. Cast photo, including black actor Ernest Whitman. Written by Himan Brown, remarkably prolific producer of "Dick Tracy," "Bronx Marriage Bureau," "Mystery Theatre," and other hit radio shows. V.F. • Realphoto advertising postcard for Zeno Bakery, caramel sepia, postmarked Bellows Falls, Vt., 1937, showing black guitarist at studio microphone, grand piano behind. Printed sig., "Zeno's Singing Baker, Jimmie Packard." Postally used. Postal creases, stamp with internal snag, else image V.G. • Oversize souvenir pub. "Walt Disney Presents Song of the South," the revolutionary live action-cartoon movie, 1946, 9 3/4 x 12 1/2, (20) pp., color and apple-green on cream. Cast photos, including Hattie McDaniel. Songs include "Zip-A-Dee-Doo-Dah" and "Let the Rain Pour Down." Some cover toning at top and bottom margins, scuff and moderate soiling at bottom, else internally fine and clean. • Steel engraving, "Prayer Meeting in a Contraband Camp, Washington, 1862." 5 1/4 x 8 1/2. V.G. $80-110 (6 pcs.)

10-29. Slavery Continues – in Puerto Rico.
"Registro de esclavos" (registration for slaves), the person listed as "property" on "island of Puerto-Rico," c. 1870. Partly printed, in Spanish, including slave's stature, skin, hair, and eye color, and other descriptors. Signed by owner, commissioner, and registrar. 6 x 8 1/4. Ornate anti-counterfeiting typographic masthead, "Registro de Esclavos." Revenue and rubber stamps. Bookworm holes, mounted on looseleaf paper, else about very good. Originally brought to Puerto Rico to toil in the gold mines and ginger and sugar plantations, slavery persisted there til 1873, after some twenty revolts over a 350 year period. $100-125

10-30. Slaves Seized by the High Sheriff.
Large partly-printed writ of High Sheriff Samuel Whitaker, Wake County, N.C., July 26, 1821, 12 1/4 x 16. Seizing Raleigh property - including "...the following negroes 'sic] slaves...Cooke, Denby & Charles..." - to satisfy $3,000 debt of John Holloway, Edmund Lane, and Thomas Cobb. Oath dated May 1822 on verso. Honey-colored stain at upper left affecting some names of plaintiffs and defendants, uniform browning, nearly separated at horizontal center fold but easily matted, else good plus. Member of a prominent old family, not only of Wake County but claiming descent from King Edward III, Whitaker was elected nine times to the N.C. House of Commons, and five times to the State Senate. $80-110

10-31. A Buffalo Soldier, back from the Philippines.
Partly printed discharge of black Spanish-American War Pvt. Frank Allen, Troop H, of the celebrated black 9th Cavalry - the Buffalo Soldiers - which had earlier saved the white 7th Cav in the aftermath of Wounded Knee. The 9th helped tame the Western frontier, later fighting alongside Teddy Roosevelt's Rough Riders at San Juan Hill, and serving as his honor guard. Issued aboard "U.S.A.T. Kilpatrick at sea," Dec. 11, 1901. 9 x 11, finely engraved eagle vignette. Signed by Captain of the 9th, and twice by Capt. E.D. Deasey, 30th Infantry. On verso, Allen's military record, including "...Expedition to Jovellar, Albay, P(hilippine) I(slands) and other minor engagements...Service honest & faithful." Born in Georgetown, Ky., Allen is described as 39 years old, "Colored complexion...by occupation a Laborer." Purple Paymaster's Office handstamp, Angel Island, Calif., "paid in full $81.93." Two weeks later, a large handstamp, recording Allen's reenlistment in the 9th, signed by Capt. Jno. Stafford, 8th Infantry, Recruiting Officer. Toned to deep cream, and much worn, especially at parts of two folds, but miraculously affecting almost no text. Evidently carried for years in his pocket, a source of great pride. $90-120

10-32. Lincoln's Rules of War: "To return such a person into slavery would amount to enslaving a free person...."
Printed Union General Orders, War Dept., Washington, Apr. 24, 1863, 4 3/4 x 7 1/4, 26 pp., sewn. "Instructions for the Government of Armies of the U.S. in the Field," approved by Lincoln, reflecting treatment of slaves in wartime, in the long shadow of the recently enacted Emancipation Proclamation. Extensive discussion of martial law, military necessity, retaliation, "public and private property of the enemy; protection of persons, and especially women, of religion, the arts and sciences." Lengthy philosophy of granting freedom to slaves; deserters, prisoners, hostages, battlefield booty, prohibitions against killing a wounded enemy combatant, torture; partisans and armed prowlers, spies, traitors, captured chaplains, nurses, and messengers; flags of truce, armistice, capitulation, assassination, and much more. "Sentences of death shall be executed only with approval of the chief executive...War is not carried on by arms alone. It is lawful to starve the hostile belligerent...Private citizens are no longer murdered, enslaved, or carried off to distant parts, and the inoffensive individual is as little disturbed...as the commander of hostile troops can afford... Classical works of art, libraries, scientific collections, or precious instruments, such as astronom-ical telescopes, as well as hospitals, must be secured against all avoidable injury, even when they are contained in fortified places whilst besieged or bombarded... Slavery, complicating and confounding the ideas of property...(that is of humanity), exists according to municipal or local law only. The law of nature and nations has never acknowledged it... Fugitives escaping from a country in which they were slaves, villains, or serfs, into another country, have, for centuries past, been held free...Therefore, in a war between the U.S. and a belligerent which admits of slavery, if a person held in bondage...to return such person into slavery would amount to enslaving a free person...Neither the U.S. nor any officer can enslave any human being...The law of nations knows of no distinctions of color, and if an enemy of the U.S. should enslave and sell any captured persons of their army, it would be a case for the severest retaliation...Modern wars are not internecine wars, in which the killing of the enemy is the object...The use of poison in any manner...is wholly excluded from modern warfare...Civilized nations look with horror upon offers of rewards for the assassination of enemies as relapses into barbarism...." Very minor edge tear at margin of first leaf, cream toning, else V.F. Fascinating and scarce. $160-220

10-33. "I am very pleased with the condition I find the Klan in."
Five letters (two retained carbons) on letterhead "Knights and Women of the Ku Klux Klan Inc.," Hermitage Farm, Canastota, N.Y., with rubber-stamped signature of H.W. Chapman, "Great Titan." 8 1/2 x 11, 1929. Four with large, detailed blind-embossed seal "Herkimer / Klan No. 72"; another on pictorial letterhead, "Imperial Palace, Invisible Empire...Inc., Atlanta." "Pardon the hurry, but...why not bring your boys up here, as a body?...Keep on your good work! You are doing fine!" • "...I have attended some fine meetings since I was at the fine Pre Klonverse meeting the 12th at Herkimer. Watertown is coming fine...This is a Klonverse, and we want to make it a real meeting...at the Red Men's Hall...Utica...." • "Concerning the tin can, be advised that this was jokingly written...I was advised that your reports were buried at the time when it was said the Klan was illegal...I am very pleased with the condition I find the Klan in. I visited Oneonta the other evening... Before much time has passed, you will find the Ku Klux Klan on its feet again, ready to go...." • Two others. Evidently rescued from a fire (or pulled from one once the police sirens receded!), with some brown toning of edges, but still good plus. $90-120 (5 pcs.)

10-34. "What Refugees should be sent North...."
Contemporary clerical copy of letter from H.Q., District of Natchez (Miss.), Feb. 24, 1865, from Brig. Gen. J.W. Davidson, to Surgeon in Charge F.V. Dayton. 1 full p., 7 3/4 x 10. "Official" endorsement in hand of 1st Lt. C.W. Clarke, Actg. Adjt., 63rd U.S. C(olored) I(nfantry). "In the report of the inspection of the sanitary condition of the City of Natchez, now making by the Board of which you are President, I desire you will point out what Refugees should be sent North, and what Contrabands should be sent to the Home Farm...Col. Mitchell, Supt. of Freedmen & Refugees is associated with this Board...." A.L. Mitchell was commander of the famous 63rd Colored Infantry, and Provost Marshal of the Freedmen's Bureau, established to protect the interests and security of newly-freed slaves in Natchez. Although slaves were free in Mississippi by this date, some still referred to them as "contrabands." Descriptive docketing. Several ink blots, else very fine. $110-150

10-35. "The effect of Lincoln's proclamation upon our slaves...."
Splendid, lengthy letter of former Gov. of Virginia John Rutherfoord (note unusual spelling), discussing reuniting husband and wife slaves, fear that his servants will escape in the expected siege of Richmond, a visit from Confederate Secretary of War Seddon - and his stolen dog. Richmond-born, Princeton-educated, Rutherfoord became Acting Gov. of Va. in 1841-42, and served as Pres. of the state's oldest fire insurance firm for three decades. Part of Virginian nobility, Rutherfoord's children variously married Patrick Henry's grandson, and the son of Confederate Gen. Bradley Johnson. A long-time correspondent of Presidents James Madison and John Tyler, Rutherfoord's portrait presides at the Virginia State Library. From Richmond, Dec. 3, 1862, 7 3/4 x 12 3/4, 4 very full pp. Integral address-leaf bearing very fine example of Scott #2 Confederate stamp, 10¢ blue, faintly postmarked in black, wide at left and top, ample at bottom, hairline margin at right; no imprint. To his son J.C. Rutherfoord, P.O. Lock Lomond, Goochland County, Va. "...thanking you for the sundries brought down by Philpotts - the sausage, apples, potatoes, turnips, butter &c. The beef marrow too was very acceptable to all...We sent down to Philpotts Boat on Mon. two Bags, each containing 10 Bales of Cotton...We continue here very much in status quo...We trust that we shall very soon be relieved from our anxiety by the cheering intelligence that (Ann) has passed safely and well through her impending ordeal...As to John 'one of the writer's slaves], I shall have no use for him while the war continues, for I really cannot afford at the present prices for everything to keep horses. I doubt whether my income will suffice to 'make both ends meet' thereafter, certainly not if the inflation of the currency & of prices of everything for man & beast shall continue to increase. If John were here & our city closely besieged, whether captured or not, I should calculate upon losing not only John, but others who might otherwise not be induced to escape. The effect of Lincoln's proclamation upon our slaves will be extremely demoralizing, I think, especially where they may be located at no great distance from the enemy's lines. I should therefore be reticent to hire John in Richmond, tho' he would probably hire well & readily here. I suggest therefore, that you say to him that Rachel is now only on trial here, but that if she will answer our purpose we may keep her permanently as our cook, in which event, if he is not willing to remain at Rock Castle, I will bring him down here, when the war is over, to be my carriage driver, & that until the war is over I cannot afford to keep horses...This I think would be enough to say to him...for it is certainly my present intention to reinstate my carriage & horses (unless too much impoverished by the war) as soon as peace is restored, & rather than separate man & wife, if they wish to live together, I would be willing to bring John down. I have conveyed to John the idea (when he vexed me very much by running off formerly from your overseer Smith) that you were his master...I did not wish him to be running to me for protection...His desire to be with his wife - and vice versa - would be the main inducement with either of us...I would not object to occasioned visits between them, if convenient in all respects to us both. As to their children, I desire that they shall neither be a tax or trouble to you. I suppose they would hire for something here & cost me nothing to feed or clothe them. But you are welcome to their services... The war might unexpectedly terminate sooner than present appearances could indicate. The hope of such an event, with occasional visits, might keep the servants content & patient...I have called to see Mr. Seddon...He has since been here, and spoke with great satisfaction of his very charming visit to Rock Castle...I am much pleased that he is Secy. of War...His quick & clear mind, industry & evergy will enable him in a short time to master the subjects...I do not know the merits of the difference (if any) between the President & Randolph. The subject is not understood by the public...a mere matter of principle, involving the right of the Pres. to supervise commissions to be signed by him, was the origin of the difficulty...Many are looking out for a battle daily. I do not look out for anything but important skirmishing until the enemy shall have effected another change of his base. They will not hazard a battle against the joint forces of Lee & Jackson unless they consider themselves overpowering in number & armament. Much calmness & equanimity prevail here at present in regard to the expected siege of the City, with unbounded confidence in our Army & its Commander...We are greatly in want of a Watch Dog on our lot. I met with a great loss when Rocco was stolen...I will thank you to get one for me & send him down by Philpotts...." Moderate soiling at peaks of folds on address leaf, tears at fold junctions, small internal hole where opened at red wax seal, affecting two words only, else very good. A substantial letter, with added philatelic interest. The extensive John Rutherfoord Papers reside at Duke University. $600-850
TO FIND OUT CURRENT HIGH BIDS,
OR TO PLACE BIDS,
JUST CALL 1-914-476-8500
OR e-MAIL info AT cohascodpc.com
(We do not currently use online bidding)
11. Maps & Atlases
11-1. Superlatively Rare Antebellum Atlas with Original Color – The Pioneering Work of the Father of the American Market Society.
Significant milestone in both cartography and American economic development, The Popular American Atlas or General Guide to Geography, Chronology, Commerce & Statisticks, New-York: Freeman Hunt & Co., 1835 - predating his nation-changing Hunt's Merchants' Magazine by four years. 10 1/4 x 12 3/4, original ink-blue marbled boards, calf spine and tips, contrasting sapphire marbled endpapers, unpaginated but 3/4" thick. (18) pp. text section, plus complete suite of 56 plates of full-page, crisply engraved, blind-paneled maps of the states and the world, each with lovely original hand watercolor, variously in pale green, raspberry, and golden yellow. An elaborate, ahead-of-its-time compendium, exhibiting innovative and fascinating charting and graphic styles to show comparative sizes, extents, and relationships (depicting how, for example, Naples' population was then almost twice New York's, and Boston's dwarfed by Palermo, Sicily). American maps include U.S., Maine, N.H. and Vermont, Mass., R.I. and Conn., N.Y., N.J. and Penna., Dela., Maryland and Va., District of Columbia, Carolinas and Georgia, Florida, Miss. and Ala., La. and Ark., Tenn. and Ky., Mo. and Ill., Ohio and Ind., and Mich. and Great Lakes. Some showing canals and railroads, finished, chartered, and proposed. Together with British America, "Mexico, Guatemala and West Indies" (including "Coahuila & Texas" as one expanse), Central and South America, various maps of Europe, Africa, and Asia, "Caucasian Countries and Turkey in Asia," Persia and Arabia, China and Japan, "Farther India or Chin India...," "Oceanica and Oceania," and the Pacific.
Freeman Hunt is credited with pioneering, if not transforming, the United States into a market society, through economic journalism. By transforming population statistics into market statistics - as included in this atlas - his work "not only reflected the dramatic economic changes which were taking place in American society...but rather played a crucial role in bringing them about by shifting America's wealthiest businessmens' attention away from foreign lands and towards the vast potential profits which could be reaped from the energies of the American people and the resources of American land."--Draft monograph on Hunt, by Eli Cook, Harvard; complete copy accompanies. In 1836, "suddenly self-conscious of his statistical ramblings, Hunt made a point to explain to his editor the reasoning behind his writing style: 'I consider the general diffusion of the statistical, commercial and geographical knowledge of interesting portions of our widespread republic, of vast importance to enterprising Yankees.' Hunt had discovered his life's calling: To assist American merchants and financiers by serving them a healthy dose of facts, figures and charts...to supply American businessmen with all the information they needed to capture new markets, make smarter capital investments, take advantage of novel financial instruments such as manufacturing or railroad securities, follow their real-estate holdings and, in short, maximize their profits. For the next two decades, Hunt's became the magazine that no serious financier, merchant or manufacturer could afford not to read. And at the heart of this periodical lay not colorful anecdotes or moralistic catechisms, but statistical reports. In the early decades of the nineteenth century, most Americans not living on slave plantations did not depend on commodities for their sustenance and had only limited encounters with markets. Most of the materials they ate, wore or used as shelter had not been procured through a market exchange. By the time of the Civil War, this was no longer the case. Throughout the 1840s and 1850s, a process that had begun in the early nineteenth century began to expand tremendously and the U.S. was transformed from a society with markets, to a market society, in which nearly all aspects of Americans' everyday life had become embedded in the mechanisms of private, profit-seeking, market exchange...."
Lacking upper 2" of spine covering, and all but "...Atlas" of leather cover label, spine covering loose but remountable, two older strips of brown tape, inner hinge weak but holding; likely lacking front marbled endleaf; frontispiece and title page each lacking fragment approximately 2 1/2 x 2 1/2 at upper right, the latter with repairable tear in Baltimore miniature map and loss of about a third of Philadelphia (the title page's other 10 miniature city plans unaffected); considerable foxing of text section on groundwood paper, but the entirety of the map plates with some very light toning, else surprisingly fresh and clean, colors true, and very fine and better, owing to their superior paper. Abebooks locates no examples. WorldCat states two copies (Portland, Maine Public Library and Western Reserve), however their respective catalogues do not include this title. Perhaps the only survivor in private hands. $3800-5000

11-2. The Thirteen Colonies at the Door of Revolution.
Lovely map showing America as it was in the decade leading up to revolution: "A Map of North America by J. Palairet with Considerable Alterations & Improvem(en)ts from D'Anville, Mitchell & Bellin, by L. Delarochette, 1765," published by John Bowles, London. 19 3/4 x 25 1/2. Beautifully hand-colored in yellow, golden orange, peach, raspberry, and water blue. Floral cartouche. Highly interesting chart, from the northern coast of South America to Arctic Canada, with much detail of the Thirteen Colonies, extensive annotation, and a lengthy text key. Identifying new discoveries in the American West, including the theorized River of the West, emptying into the Pacific, and divisions following 1763's Treaty of Utrecht: British colonies, with Va., the Carolinas, Georgia, and Fla., all extending to the Mississippi, French Louisiana a vast central territory, and the West held by Spain. Locating Indian tribes, including "Apaches of Seven Rivers," "White Padoucas," "Kansez Osages," "Land of the Eskimaux," and more. Wear, short light waterstain, and toning at horizontal fold, expert old backing with fine glazed linen, minor tear at blank top margin, soiling mostly around periphery, else good plus, rather larger than other recorded examples, with one ample and three generous margins, and suitable for display. Sellers & Van Ee 115. $950-1250

11-3. Marshall's "Life of Washington."
Five-volume set of the quintessential work, The Life of George Washington...Compiled under the Inspection of The Hon. Bushrod Washington, From Original Papers bequeathed to him..., by John Marshall, Chief Justice of U.S. Supreme Court. First English printing, published concurrently with the Philadelphia edition. London: Richard Phillips, 1804-07. Original 3/4 calf, loden green pebbled boards, dark green spine labels. All edges marbled. 5 1/4 x 8. With 13 of 16 engravings, including folding maps and a splendid frontispiece portrait of Washington. Bindings with some scuffing, moderate shelf wear, outer front hinge of Vols. I and V cracked, Vol. V spine covering loose, worn and cracked, with blank fragment lacking at tail; else internally fine and clean. In all, a good ensemble, with appealing patina and character. A perennially popular foundation for collections of Americana and Washingtoniana, this London edition said by Howes to be the best version. Howes M-317. Sabin 44788. $1400-1900

11-4. Excessively Rare Atlas – by America's First Stationer.
A landmark work in cartography - and American publishing, A General Atlas containing distinct Maps Of all the known Countries in the World..., published by Fielding Lucas, Jr., c. 1823, Baltimore's earliest successful map publisher, and founder of the first stationer in the U.S. Folio, 12 x 15, polished crimson calf with intricately blind- and gilt-stamped ornamentation. Typographically extravagant title leaf, copper-engraved by Jos. Perkins of Philadelphia. Hand-colored frontispiece plate of "Comparative Height of the Principal Mountains...," with detailed key and text inside. In all, 104 items cited in Table of Contents, of which 98 are full-size, blind-paneled maps, with original hand-watercoloring, in exquisitely delicate shades of pink, green, yellow, and blue. Many individual state maps double-page.
Regarded as the "finest general atlas produced in the U.S. at the time, setting aside the Tanner and Finley atlases as specialized productions"--David Rumsey Historical Map Collection, Stanford. "As an artist, Lucas helped publish one of the first color plate books 'c. 1837]..."--wikipedia. Comprising 7 maps of the ancient world, 3 of the modern world, plus 19 of Europe, 6 Asia, 5 Africa, 31 North America - including individual states plus "Arkansa" and Northwest and Michigan Territories, 21 West Indies, and 6 of South America. Scuffing of boards, moderate corner wear, covers detached, lacking about 20% of spine, principally fragments at top, center, and bottom; internally, some offset of copper-engraved image to facing leaf, these usually blank, uniform marginal toning to warm cream, foxing varying from none to moderate but generally insignificant to minor; Pennsylvania map with two old parallel creases, probably from binding; left leaf of Va. map tattered and waterstained at bottom, with insect residue on verso, when tip stub's glue dried and sheet extended from book in storage. In all, internally very good to fine plus. "In essence (Lucas) was a precursor of the modern publisher; he selected, produced, and sold books, but he did not print books himself. All printing was farmed out..."--Marylandia Collection, University of Maryland Libraries. (Astonishingly, the Lucas printing firm still exists. For some years, they printed the Cohasco catalogue.) No copies on abebooks. Unlisted in Sabin. WorldCat locates only five examples (plus Osher Map Library and Stanford). Four single maps (none of North American subjects) appear on the market for 65.00-125.00 each. $7500-11,000

11-5. A Complete, Boxed Set of Remarkably Detailed City Maps.
Charming set of six oversize, folding Parisian maps, in original box, 1841, a tour de force of the cartographers' and printers' art in precision and execution - as only the French could do it. Comprehensive charts showing political, military, administrative, and ecclesiastical features. Each map comprised of 18 fine-linen-backed paper tiles, unfolding to 20 3/4 x 30 wide. Total size, when all six maps aligned, an astonishing 66 x 60 3/4 wide. Entitled, "Département de Siene-et-Marne, / Extrait de la Carte Topographique de la France, Levee par les Officiers d'Etat - Major / et grave au Depot general de la Guerre / sous la Direction du Lt. Gen. Bos. Pelet, Pair de France, Publie Avec l'Autorisation du Ministre de la Guerre." Map sections comprise No. 1 Dammartin, No. 2 Meaux, No. 3 Melun, No. 4 Provins, No. 5 Fontainebleau, and No. 6 Montereau. Remarkable detail, lithographed in brown-black, arguably superior in fineness of texture to some of the U.S. Geological Survey maps of the past century. Tables listing population changes from 1801-36. Each map bearing exquisitely copperplate-engraved label of Charles Simonneau, "Graveur, Editeur de Cartes géographiques...Globes, Spheres, Atlas...Anciens et Modernes...," with globes at four corners; within each label is penned that map's contents. Published by Chez Kaeppelin et Cai., Paris. All enclosed in two-part box 5 1/2 x 7 3/4 x 2 deep, unusual petrified-wood-style paper over boards, lovely turquoise paper lining, gilt stamped glazed caramel calf spine labels. Original ownership label on box front, "Mr. 'Jules] Botot, membre du Conseil-général." Modern research describes him thusly: "Jules Botot, gros propriétaire à Claye, conseiller général et conseiller d'arrondissement 'roughly, 'borough councilor']...." Box with some shelf wear and rubbing, breaks at two flaps, else good plus. Maps with minor handling evidence, else in superior condition, showing little use. WorldCat locates no examples, including search for variant French conventions. Unrecorded by Bibliothèque Patrimoniale Numérique, containing a master list of 352 departmental geological, agricultural, commercial, and other maps of nineteenth-century France. Excessively rare. $350-550 (6-map set in original box)

11-6. The Year of Spindletop – 1901.
Two pamphlets: Bulletin(s) of the U.S. Geological Survey, Dept. of the Interior, No. 184. Washington: 1901, 5 1/2 x 9 1/4, (68) pp. "Oil and Gas Fields of the Western Interior and Northern Texas Coal Measures, and...Western Gulf Coast," by George I. Adams. Part-color geological maps, some folding, including Louisiana and Texas, oil and gas in Iowa south to Texas, and "Map of Beaumont and vicinity, showing the location of oil wells in Spindletop Heights." In Jan. of that year, a well at Spindletop struck oil, gushing 100,000 barrels daily for nine days. The find – the world's largest gusher up to that time – led to a Texas oil bonanza, boom towns, and a frantic rush for riches. Extensive discussion of Kansas-Indian Territory and other fields. Browning at top quarter of cover, minor thumbing evidence, else fine and little-used. • No. 198, 1902, (48) pp. "Berea Grit Oil Sand in the Cadiz Quadrangle, Ohio." Large part-color folding map, imprinted with 200 benchmarks described within text. Tear at blank back cover, light edge toning, else very fine and unused. Fascinating and timely geological coverage from the year that led to American supremacy as the world's number-one oil producer. $140-180 (2 pcs.)

11-7. 2,600 Pages of Map Reference.
Group of antique map reference works: Antique Maps, Sea Charts, City Views, Celestial Charts & Battle Plans - Price Record & Handbook, 1991 edition, compiled and ed. by David C. Jolly. Blue cloth, 311 pp. • Six editions of Antique Map Price Record & Handbook..., 1993, 1994, 1995, 1996, 1997-98, and 1999-2000, compiled and ed. by Jon K. and Bernice M. Rosenthal. Later eds. also including globes. Blue, black, brown, and green cloth, variously, 6 x 9 1/4, 344, 360, 376, 360, 408, and 470 pp., respectively. Some illustrations. Supplemental content variously including "How to Start a Collection," "Index to Regional Maps of Ptolemy's Geography," "Cumulative Frequencies of All Makers Listed," indices, multi-language dictionaries of map terms, and much more, in addition to acres of price information. Useful not only for their wealth of mapmaking and map collecting information, but for pricing of especially scarce and rare items, for revealing price trends, and forecasting the future. Occasional trivial evidence of gentle use by professor and collector, else generally excellent to near new. Originally published at about 46.00 each. $65-90 (7 vols.)
TO FIND OUT CURRENT HIGH BIDS,
OR TO PLACE BIDS,
JUST CALL 1-914-476-8500
OR e-MAIL info AT cohascodpc.com
(We do not currently use online bidding)
12. Numismatics
12-1. 1809 Half Cent.
Rotated dies. 2013 ANACS AU 50. Obverse with notably sophisticated, uniform mahogany tone, with smooth surfaces and reflective devices. Closeup color photographs of obverse and reverse of all coins on website and furnished by e-mail. $275-325

12-2. 1793 Cent.
2013 ANACS F 12 details. "Corroded." Flowing Hair, Wreath, Lettered Edge. S-11C. R3. Warm caramel toning, with chocolate overtones on reverse. Stippling of obverse, some ancient abrasions (else planchet striations) and soft pitting of portions of wreath, date very much softened (request photograph) but successfully attributed, and still an iconic coin, the wreath type produced for only three months. S-11C was the last of the wreath cent varieties, the dies well worn by then--Numismatic News, July 21, 2008. Off the market since about 1960s. Estimate discounted. $3400-4400

12-3. 1798 Cent.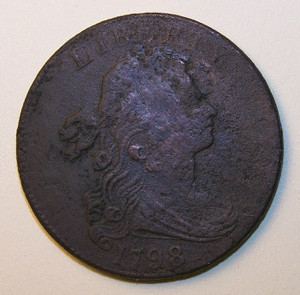 2012 ANACS VF 20 details. Corroded; tooled. Style 2 hair, extra curl near shoulder. Deep warm mahogany, with hint of olive. Granularity and some pockmarking seen in enlarged photograph, else an affordable example of this early Draped Bust cent. Acquired by consignor c. 1960s. $400-490

12-4. 1853 Cent.
2013 ANACS MS 65 Brown. N-25. A strikingly pretty example, with warm cinnamon devices and cartwheeling sunset orange fields. An enormously pleasurable coin, the dual hues seemingly unimprovable in the grade. $375-425

12-5. 1857 Cent, Flying Eagle.
2012 ANACS AU 50 details. Corroded, judged superficial metallurgical pocket toning; not dug. Medallic-bronze patination with crisp brushstrokes of dark chocolate shadows on obverse, and on ribbon tie and blank field on reverse. A charismatic example of this short-lived, significant type. $140-180

12-6. 1922-D Cent.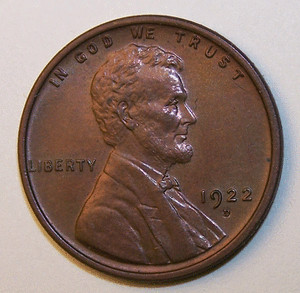 2012 ANACS MS 64 Brown. An immensely satisfying example, the enamel-like rich cinnamon with sophisticated orange-bronze desert sunset undertone. Splendid eye appeal, with more nuance than some "Reds." $250-350

12-7. 1845 Half Dime.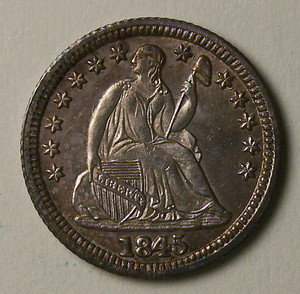 2012 ANACS MS 63. A high quality specimen, with delightful warm pink flashes both sides, combining both a superb surface and inviting eye appeal. $325-400

12-8. 1868 Nickel.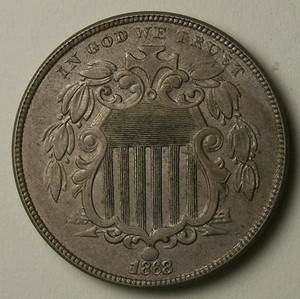 2012 ANACS AU 50. Shield. FS-901. Reverse of 1868. Slight optical darkening of microfine horizontal lines at top of shield, very light shading at upper right quadrant of obverse, black spot on "n" of "United" on reverse, else very satisfactory. $115-135

12-9. 1883 Nickels, Original and "Gold" Finishes.
An interesting duo for display. Original finish: 2012 ANACS MS 63. The short-lived, controversial "no cents" variant, also known as "racketeer nickel." The new Liberty head style, with only a "V" to indicate denomination. Its resemblance to a quarter-eagle inspired a notorious ruse: when plated in gold, it was passed as a five-dollar piece! Its most infamous distributor was a Bostonian named Josh Tatum. "He linked up with a friend who gold-electroplated thousands of the new 'V' nickels. Tatum successfully passed many of these off as $5 gold coins, buying small items to receive at least four real dollars in change. Eventually, the law caught up with Tatum... but was found not guilty...It seems he never told merchants the gold-plated coin was worth $5, nor did he ask for any change; he simply presented the coin and happily accepted the money offered in return. The court accepted Tatum's argument that he did not speak falsely of the coin – for as a deaf mute, he couldn't talk!"--coinsite.com. Two tiny dark spots on legs of "V" on reverse, else a superior example, with modest cartwheels and elegant lightly frosty toning. • "Gold" plated. Raw, judged MS 61. From an old collection of the 1950s-60s, remaining in its period 2 x 2 holder; it does not have the reeded edge cut by hand into the coin to further the fraud. However, noted numismatic researcher and author Roger W. Burdette has observed, "According to contemporary newspaper stories and Mint documents, the plating of new nickels, and sometimes reeding them, was an ad hoc affair, with jewelers and others in the metals trades at the forefront. Considering the variety of producers, it is likely that many different variations existed in 1883...." Microscopic spots on blank field left of chin and contour of neck, likely from imperfect "gold" plating, else a superior example. $80-100 (2 pcs.)

12-10. 1900 Dime.
2012 ANACS AU 55. Band of topaz toning around peripheral portions both sides, and across part of reverse, else a relic of the turn of the twentieth century. $55-75

12-11. 1892 Quarter.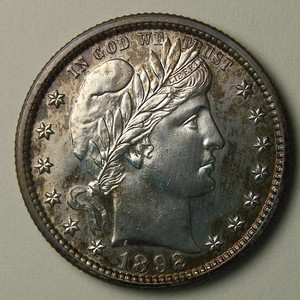 Barber. 2012 ANACS MS 60 details. Repunched date. Cleaned before 1970s. Handsomely patinated with plum tones complementing blazing white central figure on obverse, soft topaz halo on reverse. Pleasing, unusually blemish-free surfaces, and details judged solid for the grade. $190-230

12-12. 1893 Quarter.
Isabella, Columbian Exposition commemorative. 2012 ANACS AU 55 details. Cleaned before 1970s. Coppery peripheral toning both sides, two small spots in smooth field just left of figure on reverse, else a well struck example of this historically significant coin. $325-400

12-13. 1916-D Quarter.
2012 ANACS MS 60 details. Cleaned before 1970s. Last year of Barber design. Some old oxidation traces, from silver to dark grey, around periphery both sides; one golden-orange spot just right of laureate head, else historically significant date, marking the end of a design era for American coinage. $140-180

12-14. 1812 Half.
2012 ANACS AU 50. O-109a. R2. Highly pleasing coin, with relatively few marks, affording a satisfying example. Palest gold and purple toning around portions of periphery of both sides, else attractive. $550-675

12-15. 1813 Half.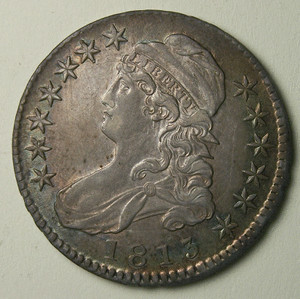 2012 ANACS AU 53. Striking example, with elegant peridot-green toning around periphery of obverse and part of reverse. Antique pewter surfaces with undertone offering hints of purple, orange, and yellow. A coin for the connoisseur of color; nicely toned halves of this decade are desirable. $750-1050

12-16. 1823 Half.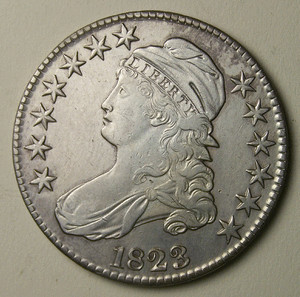 2012 ANACS AU 50 details. Cleaned before 1970s. O-111a. R2. Unusual lilac-to-palest-emerald-mist iridescence, especially on obverse. Patch of mid-grey at edge above cap, else a fine representative of this variety, with subtly frosty surfaces. $350-450

12-17. 1824 Half.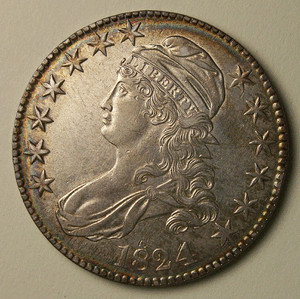 2012 ANACS AU 50. O-109. R2. 1824/4. A bold coin, evidently with original surfaces. Two small nicks above "8," edge band of orange and cobalt bluing just above cap, and on reverse beneath eagle, else a satisfying example of this variety. $375-450

12-18. 1832 Half.
2012 ANACS EF 45 details. Cleaned before 1970s. Pale coppery toning around edges, else attractive. $170-220

12-19. 1854-O Half.
2012 ANACS EF 40 details. Cleaned before 1970s. Just the right degree of wear imparts a hard gloss, with a whisper of pale red undertone, the obverse especially offering statuary silver reflectivity. $90-120

12-20. 1928 Gold $20.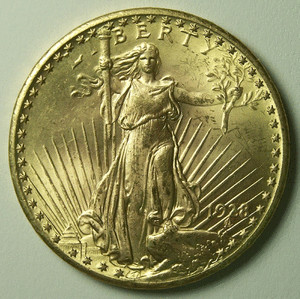 2012 ANACS MS 64. A premium-grade but affordable example of "the most beautiful United States coin"(--Red Book), from the last good year of the Roaring Twenties. Trivial characteristic superfine marks under magnification, else a rewarding coin, with cartwheels obverse and reverse. $1625-1775
TO FIND OUT CURRENT HIGH BIDS,
OR TO PLACE BIDS,
JUST CALL 1-914-476-8500
OR e-MAIL info AT cohascodpc.com
(We do not currently use online bidding)
13. Newspapers
13-1. The State of Franklin secedes from North Carolina, Dangers of Employing Foreigners - and Explosion of a Montgolfier Balloon.
Action-packed issue of The Pennsylvania Packet, and Daily Advertiser, printed by Dunlap and Claypoole, Sept. 21, 1785, 11 1/2 x 18 1/2, 4 pp. On p. 3, "His excellency Alexander Martin, gov. of North-Carolina, has published a long and spirited manifesto, directed to the inhabitants of the counties of Washington, Sullivan and Greene...having received letters from brig. gen. Sevier, under the style and character of governor; and from Messrs. Landon Carter, and William Cage, as speakers of the senate and commons of the state of Franklin, informing him, that they, with the inhabitants of part of the territory ceded to Congress, had declared themselves independent of the state of N.C., and no longer considered themselves under the sovereignty and jurisdiction... stating their reasons for their separation and revolt...." Letter from Salem, Mass.: "...There was a schooner in the Bay...I having a fast sailing brig at the wharf, thought it best to go out after her. I have the pleasure to say, that we have...the pirates in this gaol...." From Boston: "...It is impolitick and dangerous to employ foreigners in our navigation...We can have no confidence in nor dependance on to act in the defence of our country...In case of war with any marine power we should...labor under the mortifying misfortune of seeing...those very seamen who we have so imprudently nursed up in our bosoms, as it were, armed in the service of our enemies, to destroy us and lay waste our country...." Full column on death of French aeronaut de Rozier in explosion of a Montgolfier Brothers balloon: "...I was an advocate for a union of the two ruinous principles, the idea that a large envelope, filled with inflammable air, was to be exposed to the action of fire...," with dramatic eye-witness account of sudden, spectacular explosion of the silk balloon at some 3,000 feet. From N.Y.: "John Benson, a free mulatto man, a noted robber, and lately a terror to many of the inhabitants of this city, convicted of burglary, received sentence of death, and his execution is appointed to be on Fri...William Morton and Samuel Horner...printers, indicted and convicted of publishing a certain vile, wicked, impure and obscene pamphlet...and impiously tending to bring the Christian religion into scandal and contempt...to pay a fine of £40 each...." Philadelphia ads include "A very elegant Chariot...back of the City-tavern," and General Post Office request for bids for "conveyance of the different mails, by the stage carriages, from Portsmouth, N.H., to...Savannah, Ga., and from the city of N.Y., to...Albany...," with lengthy recitation of postal rules and regulations. Uniform toning, nearly separated at spine, short tears at horizontal fold, tips creased and fragile, else about very good. WorldCat locates about nine copies. $250-325

13-2. In Boston Massacre's Aftermath, "all the inhabitants shall be deprived of their fire arms...."
Excessively rare issue of The Boston-Gazette, and Country Journal, July 2, 1770, with crisp impression of Paul Revere's first newspaper masthead design. 9 3/4 x 15 1/2, 4 pp. Showing seated Britannia freeing a dove of peace from its cage (Brigham plate 67). The Boston Massacre of March 5 still fresh, reporting news from a London newspaper nearly two months on the seas: "It is asserted that the parliamentary enquiry into the late disturbances at Boston in New-England, must be suspended till the arrival of some papers...We are informed that Gov. Bernard will embark for his government of Massachusetts-Bay on board of one of the men of war appointed to convey four Regiments to North-America...We are assured...with regard to the present state of affairs in America, very coercive means were advised, and adopted, and are now preparing to be employed. The future resources of the Bostonians, by calling in the people from the neighboring towns to assist them in their late adopted measures, is we hear, to be prevented, by cutting off the communications of the town and country by a fort...In case any further violence shall have been committed at Boston, before the arrival of the fresh troops, that all the inhabitants shall be deprived of their fire arms...We cannot give our Readers any thing that can be dependent on as to the Article of the Duty on Tea...." Proclamation of the King's Commander-in-Chief of Massachusetts-Bay, referring to threat to "fire" the shop and tar the body of a Marlborough, Mass. storekeeper in retribution for importing goods. "Such Practices are an open and flagrant Violation of the Laws...and if not seasonably suppressed will tend to subvert all Civil Order and Government, and to bring a general Ruin and Desolation on his Majesty's Subjects...." Lengthy letter from "A Fox Hunter": "This doctrine, that taxation and representation upon the true principles of government must go together, is so well calculated to capture the multitude in this country, and so flattering to the Americans, as it intirely abrogates the authority of parliament to tax the colonies...," yet claiming that the idea of no taxation without representation is actually alien to America, citing forty townships now taxed, which have no distinct representatives. "The argumentative use made of this wonderful American discovery of taxation without representation, falls to the ground." Front-page Message to Lt. Governor: "...With regard to the clause of the Charter that relates to the Governor's power over the Militia, and the Inhabitants of the Province in general, it is so far from giving him an uncontrollable military power, that the power is limited...." Gov. Hutchinson responds, "Although... Powers may be necessary for a Colony different from those of a Corporation in England, yet it by no means follows that the Crown is excluded from its Right of Control in the exercise of those Powers... Your observation upon the Power vested in the Judges does not prove a distinction between the Civil and Military, but between the judiciary and ministerial Power...." Intriguing, cryptic filler, "The Cabal (like the Jews) are almost out of patience in waiting for the great things that are to be done for them...." Advertisements include "Auction of Books...Lovers and real Practisers of Patriotism are requested to observe that all the Books in the Catalogue are either American Manufacture, or imported long before the Non-Importation Agreement," "Buried in the Town of Boston since our last, Five Whites, One Black...," "Rich sprig'd Sattin, purple, pink and crimson...," "Lisbon Lemmons and a few Casks of Olive Oyl," runaway "Negro Fellow called Boston...Brass Buckles in his Shoes," runaway "Negro Wench named Philis," and runway "Negro Man named Prince...his Jaw Bone broke, it is an obstruction to him in Eating...." Two leaves rejoined with tape, tape reinforcements on two horizontal folds, fold wear affecting one line each in several columns, blank right margin tattered, some waterstains, else satisfactory with pleasing toning, the masthead a very good example, and suitable for display. This newspaper was called the "voice of resistance and mouthpiece of the Revolution"--dissertation by Sandra Moore, University of Houston, 2005. Notwithstanding the simmering content, newspapers with Paul Revere's illustrations are now scarce on the market. Of the eight Revere "newspaper and periodical cuts in lead" recorded by the American Antiquarian Society, this design, dated c. 1769, was his first (and evidently the first state -- a later appearance of this first design shows subtle differences). The Library of Congress' Chronicling America database locates only one possible example of this issue (within a run at Yale with "scattered issues missing"). $1200-1600

13-3. Deportation of Foreigners, "to...prevent this State from becoming a receptacle for the outcasts of America...."
Passionate appeal to prevent immigration of "enemies of our independence," who "feasted with a malevolent satisfaction on the horrid catalogue of murders and devastations...." Salem (Mass.) Gazette, July 3, 1783, 10 x 16, 4 pp. Front page table, "Estimate of the National debt," with obligations variously in dollars and French livres, including Revolutionary War loans from Holland and Spain, the latter "borrowed...by Mr. Jay." "Loan-office Certificates reduced to Specie value, $11,463,802...Army Debt...Unliquidated Debt...Bounty due to Privates...(and) Deficiencies in 1783, suppose $2,000,000," the national debt, in all, totalling some $42 million. Plus two full columns of "Recommendations to the several States, by the United States in Congress assembled...necessary to the restoration of public credit...." Listing 25-year duties on imported goods, expressed in "90ths of a dollar," including "all rum of Jamaica proof," Madeira wine, pepper, brown sugar, molasses, cocoa, coffee, and other items, to pay down "debts contracted on the faith of the U.S., for supporting the war ...All charges of war...shall be defrayed out of a common treasury, which shall be supplied by the several states in proportion to the whole number of white and other free citizens...including those bound to servitude...and three fifths of all other persons...except Indians...." Inside, 1 1/2-column "Proceedings of Freemen of the City and Liberties of Philadelphia...Whereas in the course of the late war with Great-Britain, many persons, inhabitants of the U.S., lost to all sense of decency, virtue and public spirit, abandoned their country in the hour of her distress, and joined the armies, aided the measures, and incited the cruelties employed by the King...to reduce and to enslave us: And whereas... our struggle for peace, liberty and independence, hath been glorious & successful...it is appre-hended that they will endeavor to introduce themselves into the U.S., and solicit the restoration of property, justly forfeited for their treasons...To...prevent this State from becoming a receptacle for the outcasts of America...," those who withdrew from any state since Apr. 19, 1775 are banned from returning to Pennsylvania. "...(We) mutually pledge ourselves to each other, to use all the means in our power, to expel, with infamy, such persons who now have...come among us...Our momentary exultation changed to extreme anxiety, lest by the return of the unnatural enemies of our independence, the smiling prospects which now present themselves...should be clouded. We are actuated against this class of men...Many of them actually perpetrated...barbarity, and feasted with a malevolent satisfaction on the horrid catalogue of murders and devastations committed upon the Whig inhabitants of the U.S...It is unnecessary to designate by any particular appellation the persons referred to...We consider ourselves as acting...for those who may live after us...Justice, policy, and the obligations to perpetuate the freedom we possess, forbid us to permit the return of those degenerate and apostate sons of America, who hold principles incompatible with our republican government...." From London, reflection on "being plunged into the American war, the granting independence to America, and, to crown all, the late dishonorable, and ruinous peace...." Notice from citizens of Portsmouth, Va., pledging to "do all we can to prevent all traitors from effecting a settlement among us...." Description of "the new-erected town of Refugees...in Nova-Scotia." A rash of "mad dogs" in Adams, Mass. From Boston, "It is now confidently reported that the British army will leave N.Y. in the course of the month of Aug...." Ad for "New-Emission Money To be disposed of," silk handkerchiefs, and more. At top, in two contemporary hands, "Royalists" and "Mr. Lemuel Wood," possibly the Revolutionary War captain of that name. Clean 3" diagonal tear, varied foxing, toning, and light stains, wear at fold junction just below dateline, affecting few words, edge fraying, but still about good. Today's news - including immigration and the debt - as reflected over two centuries ago. WorldCat locates four copies. $225-325
"This Congress doth now declare, that they will...adhere to him
the said George Washington with their lives and fortunes...."

13-4. George Washington becomes Commander-in-Chief, First Command Structure of the U.S. Army – and Benedict Arnold.
Significant issue of Dunlap's Pennsylvania Packet or, the General Advertiser, Philadelphia, Dec. 11, 1775, 12 1/2 x 19, 4 pp. With elaborate masthead woodcut. Rich in historic, fascinating content. Lengthy page-one letter from Englishman Cassandra: "The acts of our national tragedy is begun: A horrid scene is opened...Instead of softening towards each other by degrees, we rush headlong to war...A civil war must now determine whether the authority of this country over North-America must be maintained or subverted...Whether the enthusiast of America bleeds, or British and Irish valor fall, the national strength is impaired...A system of lies dressed up to deceive the nation...has been invented. But where are now those wretched flatterers, those false prophets, who told us the Americans could not fight?...When we found that the Americans were preparing and arming, we gave them a twelvemonth to discipline their troops...No man can dispute our generosity in allowing them so much time, and such fair play...Had that force been dispatched speedily...perhaps this revolt might have been prevented...Instead of arming properly before we declared our intentions, we showed our intentions before we armed; were ready with nothing but our pens and tongues, and news-paper valor...We cloath and arm the Canadians and Savages, make them the arbiters of North-America...."
At top of p. 2, "Extracts from the Journal of the Congress...June 15, 1775" (with notice of the just-published text in book form), appointing George Washington Commander in Chief of the "Army of the United Colonies," and establishing the first command structure of the U.S. Army:
"Resolved, That a General be appointed to command all the Continental Forces, raised or to be raised for the defence of American Liberty.
"That $500 per month be allowed for the pay and expences of the General.
"The Congress then proceeded to the choice of a General by ballot, and George Washington, Esq. was unanimously elected."
June 16, 1775: "...The President informed Col. Washington that the Congress had yesterday unanimously made choice of him to be General and Commander in Chief of the American forces, and requested he would accept of that employment; to which Col. Washington, standing in his place, answered: 'Though I am truly sensible of the high honor due me in this appointment, I feel great distress from a consciousness, that my abilities and military experience may not be equal...If however, as the Congress desire it, I will enter upon the momentous duty...and for support of the glorious cause...I do not think myself equal to the command I am honored with...As to pay...I do not wish to make any profit from it. I will keep an exact account of my expences....'"
June 17, 1775: The famous letter from "the Delegates of all the Colonies from Nova Scotia to Georgia," to Washington: "We reposing especial trust and confidence in your patriotism...and for repelling every hostile invasion...," then repeating the text of Washington's appointment, his name in all-capital italics. "This Congress doth now declare, that they will...adhere to him the said George Washington with their lives and fortunes...."
Setting the number of America's first Major-Generals, Brig.-Gens., and one each Adjt.-, Commissary-, Quarter-Master-, and Pay-Master-Gens., with their names and pay. Letter from Congress to the Lord Mayor of London, asserting that "A cruel war has at length been opened against us...We still hope that the mediation of wise and good citizens, will at length prevail over despotism...." Lengthy speech to the Six Confederate (Indian) Nations, explaining in detail the oppressions of the King. "...We are now necessitated to rise and forced to fight...Since the King's wicked counsellors will not open their ears, and consider our just complaints, and the cause of our weeping, and hath given the blow, we are determined to drive away the King's soldiers, and to kill and destroy all those wicked men we find in arms against the peace of the Twelve United Colonies...." Seeking nonintervention of the Indians, "we wish you Indians may continue in peace with one another, and with us the White People...." Separately, "Gen. Schuyler had left a garrison in Ticonderoga, and was in full march into the heart of Canada...." Three letters from Bene(dict) Arnold, including one to John Hancock, mentioning Washington; somewhat premature statement by Philip Schuyler: "...Col. Arnold's march does him a great honor. Some future historian will make it the subject of admiration to his readers." News from Watertown (Mass.): "Wed. evening about 1,000 troops of the United Colonies of North America broke ground on what is called Cobble (or rather Miller's) Hill, about one half mile...from the enemy's encampment on Bunker's Hill...." From N.Y.: "that his Majesty has ordered one quart of porter, and one quarter pound of cheese per man, for the Ministerial troops at Boston...From the preparations in England there is not the least prospect of a reconciliation for some time to come." Correspondence to William Franklin, "Commander in Chief" of N.J., vowing to "join you in the promotion of peace, order and good government...(and) restoring this province to its former state of happiness...We cannot imagine that your Excellency could have had any just reason to fear...from the people of the colony...or well-grounded apprehensions of violence... We know of no sentiments of independency that are by men of any consequence openly avowed, nor do we approve of any...We have already expressed our detestation of such opinions...We have already resolved to support his Majesty's Government...." Late-breaking account, in larger italic, of the Continentals encamped near Bunker's Hill, and 300 poor Bostonians evicted by Gen. Howe, "destitute of every necessary of life...Gen. Washington, with his usual humanity, ordered provisions to them immediately...but the apprehensions of the Small-Pox, which prevails in Boston, made their relief infinitely difficult...." Tortoise-shell foxing, semicircular waterstain at bottom of first leaf, edges browned with some chipping, leaves essentially separated at spine, else good, with enormous character for display. A perfect storm of fateful news, launching America inexorably toward independence. WorldCat locates about four copies. No newspaper reporting Washington's appointment was among the Caren Treasures sale at Bonhams, 2014. $2200-2800

13-5. "A Wail of Genuine Sorrow from the South."
Newspaper, The Cleveland Herald, Sept. 20, 1881, 19 x 25, 8 pp. Untrimmed at top, opening into a vast press sheet measuring 38 x 50! Dramatic black-bordered reporting of Garfield assassination, here the Fifth Edition of 4:45 P.M., with the sad news "In Mourning - The Nation Sheds Bitter Tears of Grief At the Death of Its Heroic President - A Wail of Genuine Sorrow from the South...Sectionalism Wiped Out by Garfield's Blood - The Remains to Lie in State at Cleveland - Lake View Cemetery to be the Final Resting Place...." Large portrait at top center of page one. Exhaustive coverage of the crime of the postbellum century, including Garfield's life and suffering, with accounts from cities and towns throughout Ohio, the nation, and overseas, including a message of sympathy from Queen Victoria. Fascinating printing error caused by foldover of edge of sheet while at high speed on press, comprising a 4 x 9 triangular wedge of text belonging on p. 2, appearing at an angle atop different copy on p. 1. Some fraying and creases at horizontal fold, and tears at right margin, uniform toning but believed actually slight rubbing of printing ink while "hot off the press," else good. Likely a unique example of this paper: printed at breakneck speeds, the urgency of getting this latest edition onto newsstands resulted in the errors - and prevented their detection. Probably the largest newspaper on Garfield's death. In all, a conversation piece for the Garfield or Ohio completist. $90-130

13-6. America's First President Congratulated by Fellow Virginians – and the Second Revolution of the Century.
Gazette of the United States, N.Y. - at this time the seat of government, May 1, 1790, 10 x 16 1/4, 4 pp. Much news evoking today's landscape. Front-page report from London on the French Revolution: "...I had frequent opportunities to see and converse with that truly great young man the Marquis de la Fayette. I did not think he could be so popular as I find he is. He is almost idolized by his countrymen...The Count De E–... began on a warm eulogium on the courage, skill, and virtue, with which, he said, from the commencement of the Revolution, the Marquis had uniformly conducted...I asked the Count if he knew how old the Marquis de la Fayette was? With that lively enthusiasm so natural to the French, he replied, 'were we to calculate his years by his works, it might be asserted that he has lived centuries; but, in fact, he is but three and thirty'...." Lengthy front-page extract of (Edmund) Burke's speech on the French Revolution: "The French have proved themselves the ablest architects of ruin that ever existed in the world. In one summer they have done their business for us, as rivals, in a way more destructive than twenty...Blenheims. In this very short space of time they have completely pulled to the ground their monarchy - their church - their nobility - their laws - their revenue - their army - their navy - their commerce - their arts - and their manufacturers. They are now lying in a sort of trance...in wild misrule, and ridiculous convulsive movements...Yet they are so very unwise as to glory in a revolution which is a shame and disgrace to them. They have made their way to the very worst constitution in the world, by the destruction of their country...They first destroyed all the balances and counterpoises which serve to fix a State...into one incongruous mass of mob and democracy...laid the axe to the root of all property, of all national prosperity, by confiscating the possessions of the Church. They next proceeded systematically to destroy every hold of authority...on the minds of the people, by making and recording a sort of institute or digest of anarchy, called the rights of man...as would disgrace the imbecility of school-boys...How would any of you gentlemen like to have your mansions pulled down and pillaged - your title deeds brought out and burnt before your faces - your persons abused, insulted and destroyed - and families driven to seek refuge in every corner of Europe ...Let us beware of being led thro(ugh) an illegitimate admiration of successful fraud and outrageous violence to an imitation of the excesses of...tyrannical democracy." Investigation of a plot to murder Lafayette and the Mayor of Paris. Inside, extensive two-column news from Congress: "...North Carolina must be confessedly a sufferer, unless the accounts of the several states within the union should be settled...Congress, being in possession of all the funds, ought in justice to pay all the debts of the individual States...As to the debt of America, it is two fold: one part was incurred for the general defense...the other...for local purposes...perhaps sometimes to lay the foundation of future grandeur and pre-eminence amongst the states, which...were separate, sovereign and independent... Must we not weaken the credit of the new government, and perhaps to such a degree as to injure the very states which suppose they will be benefited by the assumption proposed?...There is not a State in the union which, under the fostering hand of the general government, cannot pay its debts in a reasonable time...." Belated, eloquent message of congratulations to newly-elected Pres. Washington, from the General Assembly of Virginia: "...That you were a citizen, was never forgotten by you, whilst a soldier...yes, Sir, you have been called to your present high station, by the unanimous voice of a free people...." With Washington's equally florid reply to Virginia, repeating his new title as "Chief Magistracy," and somewhat obsequiously forseeing "a prayer for the temporal and eternal felicity of those, who have not only endeavored to gild the evening of my days with unclouded serenity, but extended their desires to my happiness hereafter in a brighter world." Commentary from the nation's capital - New York City: "...The debts are older than the government...The national habits which are daily forming and will be first established in Congress...The fears of the States of danger...from Congress will be more and more perceived as groundless...." Advertisement for "East-India Goods" including "Humhums." Uniform warm cream toning, edge tear affecting two words inside but with no loss of text, few nibbles at upper margin, else fine. WorldCat locates about eight copies. $275-350
TO FIND OUT CURRENT HIGH BIDS,
OR TO PLACE BIDS,
JUST CALL 1-914-476-8500
OR e-MAIL info AT cohascodpc.com
(We do not currently use online bidding)
14. Transportation
14-1. Stagecoach Tickets.
Interesting quintet, printed on buttercup yellow, bright orange, buff, and slate blue (two), about 1 1/2 x 3. North Brookfield Stage, Boston. "Stage Ticket / East to N. Brookfield" and "...Depot to Village." Two blue with dated handstamp cancels on verso, "Boston & Albany R.R...," 1870 and 1871. Varying moderate wear, yellow a bit scuffed, buff with triangular corner stain, else good to very good. Ephemeral artifacts of a lost world. $45-65 (5 pcs.)

14-2. The Car of "Unlimited Guarantee."
1912 sales catalogue of Clark Motor Cars, Shelbyville, Ind., 7 3/4 x 10 3/4, (16) pp., black on eggshell enamel."The Luxurious Car of Economical Upkeep and Unlimited Guarantee." "We do not limit our guarantee but agree to stand back of our cars as long as they are in service...." Possibly a post-June 1912-bankruptcy offering, featuring models unmentioned in Standard Catalog of American Cars: Model E "40" Torpedo Roadster, G Five-Passenger Fore-Door Touring, "33," Q, and T Torpedo Roadster, all with handsome side views and exhaustive specifications. "In determining our policy for 1912 we must confess at first we were sorely tempted to join the maddening rush... throw it together in a hasty manner...call it a car and pass it on to the purchaser...The prospective purchaser in 1912...can no longer be fooled...We have not maintained a racing team...as we preferred to put every cent...into construction...." By the following year, the marque demised. Some handling evidence, minor toning and wear, else very good. Excessively rare. $225-275

14-3. The Regal in the Rain.
Sales folder of (1913) "Storm-Proof Regal Coupe," Detroit, 4 3/4 x 6, 4 pp., black on cream. Artwork of the stylish, curved-glass closed car weathering a driving winter sleet, as pedestrians push against the wind, their umbrellas pointing forward. "If You Wait You Lose - Thinking of getting a car in the Spring? Right now is the time you need it most...." Makers of the famed Regal Underslung, one of their stock cars created a sensation by racking up 22,000 miles – crossing the country six times. The firm was among the leading automotive exporters. Stains, some wear, but satisfactory and very scarce. $55-75

14-4. With Twenty Coats of Paint.
1917 sales catalogue of Marion-Handley, "The Six Pre-Eminent," (Jackson, Mich.), 4 x 6, 32 pp., olive and black on light grey cover, black and palest mint on eggshell matte enamel text. (The cars were exclusively offered in "dark olive green, striped with gold.") Profusely illustrated. Red cover imprint of dealer "Chicago-Briscoe Co...." J.I. Handley's message at front, terming his car "a hand-made piece of art...an abundance of tone, style, and little niceties which discriminating motorists like...." Describing twenty coats of paint and varnish on the body, and nine on the chassis. Center signature pulled from rusted staples, few light ink(?) drops on outside back cover, light wear, else fine plus. Once boasting John Willys among its investors, the impressive plant - illustrated in centerfold - was sold at auction in Feb. 1918. Likely the final catalogue issued. Very scarce. $100-140

14-5. Short-Lived Ohio Marque.
1911 Ohio sales catalogue, Cincinnati, 3 1/2 x 6, 16 pp., deep purple, yellow, and powder blue opaque inks on dark brown linen cover, black on cream text. Penultimate-year effort of this ephemeral nameplate, with nine full-page photographs of models, from their three-passenger roadster to limousine. "So staunch, speedy, silent, stylish, trouble-free, and economical...." Water staining, cover darkened, top edge and upper right corner with erosion, previous light adhesion of two leaves affecting several words, else satisfactory and rare. $100-130

14-6. The Gaeth Goeth.
Elusive sales folder of (1907) Gaeth Type XII Touring Car, Cleveland, 6 x 9 1/2, 4 pp., cocoa and black on cream. Crisp halftone of the $3500 car, and three smaller photos of motor. That same year, a Gaeth scored 997 out of 1000 points in the Glidden Tour, and a perfect thousand the following year. "As late as the Twenties, (Paul Gaeth) was still driving his personal Gaeth as regular transportation...He was among the earliest restorers in the burgeoning antique car hobby"--Standard Catalog of American Cars. Dust-stains at two outer margins, printer's mistrim at blank lower right affecting no text, old vertical fold, some wear, but good plus, and rare. $80-110

14-7. Victor at the First Indianapolis Speedway Race.
1907/08 "Instruction Book for The Great Chadwick Six," Philadelphia and Pottstown, 4 1/2 x 7 1/2, 42 pp., rich-gold-leaf script logo on green cover, black on cream text. Numerous photos. Charming text: "Let car alone, unless you are sure of what you are doing. Tinkering is sure to cause you trouble...Don't condemn the car until you are sure that the fault is not your own...." One of the great automobiles in motoring history - with a 706 cu. in. engine - the 1907 Chadwick Six was "America's first great high performance production car (and) the first car in the world to have a supercharger...The Chadwick...beat Barney Oldfield and his Big Benz at the 1909 inaugural races at the Indianapolis Motor Speedway..."--Standard Catalog.... Only two Chadwick cars survive. Tear at blank fore-edge, staple rust, else probably unused and V.G. $200-275

14-8. First-Year Chrysler.
Scarce 1924 Chrysler Six owner's manual, "Instructions and Description," 4th ed., "Cars 17001 up," 6 x 9 1/4, 60 pp. + large folding lubrication chart tipped at rear, black on brown leatherette cover, black on cream text. Profusely illustrated. Carburetor revision sheet pasted at rear. On prefatory "License Data" page, the first owner has proudly pencilled "New Oct. 4, 1924, Car Serial No. 23158, Engine Serial No. 47392...," plus key number, and computations of bore and stroke. The 201 cu. in. motor was a formidable one at the time: with a high compression head, "the new Chryslers were only 5 m.p.h. slower than the Packard eight..."--Standard Catalog.... Cover soiling, occasional marginal fingerprints inside, else surprisingly clean - speaking well of the car's freedom from repair - and very good. $90-120

14-9. The Original "Low Emissions" Car.
Sales catalogue of Stanley Steamer, evidently 1919, 4 3/4 x 8, 20 pp., several line drawings, brown on tan cover, caramel on ivory text. Handsome artwork of Stanley touring car on cover, by now closely resembling a gasoline car. (In fact, the Stanley could burn any combination of crude oil, kerosene, or gasoline, to make its steam.) Comprising some 98 questions about steam cars, with answers in plain English. Boasting only 15 moving parts in its engine, and 37 in the entire car. Even then an expensive car, a factory sticker updates prices to as much as "$5,449.60" for the Sedan. Old soft fold, some cover soiling, blank tip of first leaf lacking, else good. Perhaps this technology will return. $80-110

14-10. Motor Oil Sign.
Original enamel-paint advertising sign, "Wakefield / Castrol Motor Oil." Canadian, c. 1940-50 but possibly just prewar. 12 x 13 3/4, two-sided, on heavy steel. Logo in Christmas red, border in forest green, on bone-white. Metal grommets at two of three original mounting holes. Charles Wakefield founded Castrol in 1899, ten years hence finding that castor bean oil added to auto and airplane engines gave superior results. Driven by their advertising, the world land speed record was broken by Castrol-lubricated engines in the 1920s and '30s – eighteen times. Rust at upper vertical edge each side, with paint loss in irregular 1 1/2 x 4 areas; about 15% subsurface blistering one side, about 10% on other; edge drips of red, blue, and yellow, where wall flange evidently painted while on garage wall, lending character, else good plus, and displayable. A slightly larger but similar Wakefield Castrol sign, dated c. 1930, was sold by Christies in 2005 for £188 ($335). Provenance: rural Newfoundland, Atlantic Canada. $85-125

14-11. An Obscure Wisconsin Marque.
Sales folder of (1916) Vixen, final year of the endearing and uncommonly high quality Milwaukee-built cyclecar. Opening to 4 x 25 1/2, deep chocolate on ivory. Crisp photographs of uses of the Davis Mfg. Co.'s motors, including steel-wheeled farm tractor, stationary and semi-portable engines, massive marine motor, and electric light unit, the latter using the same powerplant as their "light car." On outside back panel, complete car, white coachwork, "the car with a record for speed and endurance...price only 395.00...." Very minor wear, two thin spots on front panel, possibly from envelope gum, else very fine. Rare. $75-100

14-12. Early Southern California Prototype.
Preliminary sales folder seeking distributors for 1924 L. & E. Floating Six, showing their vast but unbuilt Long Beach, Calif. factory, for their "Car Without Axles." 6 x 9, 4 pp., black on ivory. In style of a house organ, "The Speedometer - Tomorrow Never Comes...": "There is probably no greater romance in the business world which offers as many real thrills as does the reading of the history of the Automobile industry...The opportunity presented to you by the Lundelius & Eccleston Motors Corp...is the same kind...which made such vast fortunes for those who could visualize the future." Photo of founders, and a prototype in Los Angeles traffic, with "traffic jams whenever the car appeared"; large full side view on p. 4 of another car, slightly different from that photographed in traffic, powered by a Franklin air-cooled motor. Endorsement of Los Angeles' City Engineer: "I...believe the same to be a revolution in automobile manufacture...." Minor corner wear, original fold, else very good. • With reply postcard for investor information. In all, only six cars were made over some eight years. Rare. $120-150 (2 pcs.)

14-13. Cadillac and LaSalle.
Set of 1939 Cadillac Sixty Special and Sixty-One, and 1939 LaSalle V-8 sales catalogues. Both 6 x 9 oblong, (12) and (20) pp. respectively, color covers. Cadillac proclaims "The Newest Cars in the World," with up-to-the-minute stylish woman in green alighting from topaz-yellow sedan, in front of Art Moderne home. Illustrations include Convertible Coupe and Convertible Sedan, and the immortal 346 cu. in. engine, soon to be used in tanks, severe-duty military trucks, and other special applications. • LaSalle cover features a green convertible. "Cadillac engineered and built...in the Cadillac factories, by the self-same workmen who fashion the finest Cadillac-Fleetwoods...." (Indeed, til as late as 1949, and perhaps later, Cadillac took great pride in allowing only senior assemblers to build the Fleetwood bodies.) Both once bound by National Automobile Chamber of Commerce, Madison Ave.; binding evidence at left spines, occasional signatures shaken, neat library stamps, else fine and clean. $90-120 (2 pcs.)

14-14. Last Year of the Model A.
Fascinating study group of three different 1931 Ford Model A sales catalogues, from final run of the perennially popular car: "Adding New Beauty to Outstanding Performance." 5 1/2 x 7 1/2, (12) pp., lovely combinations of camel, cocoa, and pistachio green. Old soft half fold. Form F-27. • (Early 1931), "The New Ford is a Value far above the Price." 5 1/2 x 7 1/4, (16) pp., extensive use of silver metallic ink, including heavy solid coverage, with duotone photographs surprinted in pale simulated gold. Form F-49. • (1931), introducing "The New Ford De Luxe Body Types," including De Luxe Coupe, Town Sedan, Phaeton, Sedan, Convertible Cabriolet, and Roadster, which "reflects the spirit of youth." 5 1/2 x 7 1/4, (12) pp., extensive use of silver metallic ink. Picture captions largely match previous catalogue, but body copy different. Bronx dealer's handstamp. Form F-50. All once bound by National Automobile Chamber of Commerce, Madison Ave.; stitches evident at left spines, first item shaken, neat library stamps, else very good and clean. $140-190 (3 pcs.)

14-15. California Steamin'.
Original blueprint of Doble Steam car, 1927-31 style, at this time made in Emeryville, Calif. 6 x 10 oblong. Showing full-side view of a stately Series E four-door touring car, coachwork likely by Murphy of Los Angeles. By now renowned for its customized exclusivity, one-off Dobles were designed for an Indian maharajah, Howard Hughes, and Hollywood stars. Price tags were as high as $11,200, a staggering sum then for any automobile. "The most technologically advanced steamer in the U.S., and the world, for all of its days...Probably no more than 45 Dobles were ever built"--Standard Catalog.... This blueprint may depict a car never built. Minor soft crease, else fine. Probably ex-John Peckham. $70-90

14-16. Auto Chronicle of the Classic Era.
Group of fourteen Roaring Twenties issues of Automobile Trade Journal, Philadelphia, 1925-28, here still the preeminent American motor vehicle periodical, at least in weight. Comprising: 3 issues of 1925, 4 issues 1926, 3 1927, and 4 1928 (including National Shows special issue). 6 3/4 x 9 3/4, 218-290 pp. ea., variously. Trademark apricot, sunset orange, and black covers, profusely illus., voluminous advertising. Reflecting every aspect of the automobile industry, from new models, to engineering advances, sales techniques, manufacturing, accessories, and much more. Some with waterstains, one cover damp-spotted and defective, else generally very satisfactory to fine. Invaluable for research, and splendid for the enthusiast. $140-220 (14 issues)

14-17. 1959 Oldsmobile Showroom Album.
Splendid dealer-only ring binder containing full- and part-color glossy sheets, illustrating and describing every aspect of the '59 Olds "models, features, (and) facts." 98, Super 88, and Dynamic 88. Padded black imitation leather, hot-stamped and embossed in pebbled silver, opaque white, and red. Contents 8 1/2 x 11, 116 pp. on heavy enamel text + Dec. 1958 printed letter from Olds General Merchandising Dept., instructing dealers on how to use the album, with replacement leaf bearing corrected specs. Diecut tabs including Equipment and Accessories, Engines and Transmissions, Chassis, Body, Specifications, Other Facts, and Index. Much Space Age artwork and graphic design created for this album, presenting the all-new "Linear Look - so totally new - so typically Olds!," at rakish angles, with admiring men and women. "Roomiest Rocket every built! New Magic-Mirror finish...Famous Jetaway Hydra-Matic...Wide Stance Chassis that produces a new 'Glide' Ride...." Some white paper transfer and three blind impressions on padded cover from another album once resting on top, probably improveable with an ordinary damp tissue, else contents remarkably fresh, clean, and excellent, perhaps never used. An indispensable item for Fifties fans. Scarce, and a memorable automotive year. $225-350

14-18. 1963 Ford "Colors and Upholsteries" Album.
Substantial showroom album for all '63 Ford cars, as of Apr. 1, including Falcon (plus Falcon "Station Bus" and "Club Wagon" - forerunners of the Econoline), Fairlane, Galaxy, and Thunderbird. 10 3/4 x 12 1/2, gold on padded black buckram ring binder, unpaginated but 1 1/4" thick, weighing 4 1/2 lbs. With actual samples of upholstery (Thunderbird samples include genuine leather), landau and soft top material, and paint chips, with exhaustive detail. The seat fabrics with metallic threads and Fairlane's plaids are especially evocative. Made in very limited numbers, with as few as one book in a small-town dealership, to be used when customer was ready to select color and fabric for their new car. Ringbound "Color Demonstrator" drawings of each model to be overlaid on each color paint, previewing appearance of complete vehicle, and to specify two-tone effects. Six Thunderbird overlays provided, including Rangoon Red. Charts of "Two Tone Selections" for most carlines. All interiors are notable for their absence of seat belts, still years away. Binder with minor storage dust, average desk use, else colors and fabrics bright, and generally very good. $140-180

14-19. World War I era License Plates.
1918 Maine. Forest green on palest mint green. Painted. "7-336." Surface rashes, most prominent at top and bottom horizontal portions, but remarkably straight, holes and slots sound, and collectible. • 1917 Ohio. Black on sulphur-yellow. Long, 5 1/2 x 16. Fairly crude, possibly prison-made, the yellow applied very thickly, the black apparently stencil-painted. Some portions discolored to mustard, fine edge abrasion and very minor corrosion, else about very good. Somewhat scarce. $75-110 (2 pcs.)

14-20. Automotive Reference.
Cars Made in Upstate New York, by James F. Bellamy. Red Creek, N.Y.: 1989. First (and only) Edition. Gilt-stamped black cloth, about 300 pp., d.j., 9 x 11, heavily illustrated. Extensive treatment of this singularly specialized subject, embellished with many photos and illustrations, divided by region of the State, and alphabetically by maker within each. (Discussion of each car is understandably concise, but much original research, and some information not seen in other reference works.) Brand new and unread, in original clear shrink wrap. Long O.P. Now elusive. $80-110

14-21. Jaguar's Last Race.
Original victory poster issued by Jaguar upon their 1957 conquest at Le Mans, in which their sports cars set the motoring world afire, winning 1st, 2nd, 3rd, 4th, and 6th places! "The Fifth Jaguar Victory in Seven Years / Le Mans...1957...." 29 x 39 3/4, red and black on white. Printed in Leicester, England. Made in very limited numbers for display in showrooms and windows. Jaguar had actually placed their factory racing team on holiday after the '56 season, planning to modernize their D-Type. The marque's astonishing conquests at Le Mans were all the more miraculous following the spectacular factory fire in Feb. 1957, destroying vital tooling and jigs needed for the racing cars. "All things relating to competition were forgotten - had to be. The main object was to get the factory going again with all possible speed, back into profitability, which was done very quickly... Thus ended Jaguar's own competition career, and although support lingered in America and the company was to remain in touch with the racing scene right up until 1966 when the XJ13 prototype was secretly finished, Jaguar were never again to enter the sport officially themselves."--Paul Skilleter, at Mike-Hawthorn.org.uk. Minor storage evidence, else fine, never hung. With interesting letter of provenance. Long unlisted in Jaguar World Price Guide. $650-900

14-22. New York City Bus Badge.
Bus driver's and subway conductor's badge, "NYCTS" (New York City Transit System), c. 1955. "Operator" and background in avocado green, chrome plated, large numerals in copper. Maker's mark on reverse. Some fine storage scratches, else unused and fine plus. The exact type of badge used by real-life peers of Jackie Gleason's Ralph Kramden. Before this could be issued, the system's name was changed to MABSTOA (Manhattan and Bronx Surface Transit Operating Authority) in 1962. Ex-New York Transit Museum. With letter of provenance. $60-80
TO FIND OUT CURRENT HIGH BIDS,
OR TO PLACE BIDS,
JUST CALL 1-914-476-8500
OR e-MAIL info AT cohascodpc.com
(We do not currently use online bidding)
15. Americana
Provoked by Persecution,
as Jews searched for Safe Havens,
One of the Most Elusive American Literary Figures is Stirred


15-1. Emma Lazarus refers to her landmark work in which she became the first well-known American to publicly make the case for a Jewish State.
Significant, evidently unrecorded A.L.S. of the poetess, whose words "Give me your tired, your poor, your huddled masses..." are immortalized on the base of the Statue of Liberty. 18 West 10th St., (N.Y.), "May 22" (no year, but 1883-87), 2 pp., 4 1/4 x 7. To Mr. (Philip) Cowen (co-founder and editor of influential weekly, The American Hebrew), who shared her struggle to grasp the evil in the world, and create bridges between Christians and Jews. In sapphire blue, on eggshell-cream lettersheet. "Do you think any good might be effected by re-publishing in pamphlet form my 'Epistle to the Hebrews?' I have been looking it over, & think if it were put together & perhaps partially revised, it might arouse true thinking interest. Please let me know what you think of it, & believe me, Very truly yours...." In old pencil on verso, "OK," presumed by the recipient. Light uniform toning, else excellent.
In 1883, the same year in which Lazarus wrote "The New Colossus" to help fund the Statue of Liberty's pedestal, she completed publication of "An Epistle to the Hebrews," a suite of fourteen weekly essays in Cowen's newspaper. Outlining her vision for Jewish centers in both America and Palestine, their republication sought in this letter did not take place until 1900 - thirteen years after her untimely passing - when they would be issued in book form by the Federation of American Zionists.
It is possible that Lazarus' desire to revise and republish the essays was triggered when "her crisis came in the 1880s, when news broke of anti-Semitic violence in Russia. Lazarus responded strongly. In 1882, as 2,000 Russian Jewish refugees were arriving in New York monthly, she worked for the Hebrew Emigrant Aid Society and became, 'her Princeton biographer Esther] Schor writes, 'the first well-known American publicly to make the case for a Jewish state' in Palestine."--The New York Times book review, Dec. 31, 2006. Lazarus was further distressed by an anti-Semitic article appearing in the New York Sun c. 1883; one of her letters to Cowen (now in an institutional collection) took great umbrage at the article's coarseness, and how she was "perfectly conscious that this contempt and hatred underlies the general tone of the community towards us..."--Jewish Women's Archive, jwa.org.
In all events, Prof. Schor has noted that "Theodor Herzl was still sitting in cafés and dreaming of Zion – and the word 'Zionist' had not yet even been coined – when Lazarus took up the cause in the early 1880s. Schor writes that it was in 'Epistle to the Hebrews,' a column in The American Hebrew in 1882'-83], that 'Emma Lazarus became the first well-known American publicly to make the case for a Jewish state' (quoted in New Jersey Jewish News, Nov. 2, 2006). Lazarus suggested that 'assimilated American Jews should recognize their privileged status as well as their vulnerability in America, that all Jews should understand their history, in order not to be misled by anti-Semitic generalizations, and that Eastern European Jews should emigrate to Palestine'" (Hyman & Moore, 1997)--Unattributed description at abebooks.com.
Both Cowen and Lazarus shared all-consuming passion for improving living conditions in New York City, for understanding the influence of America on the Jews, Jewish assimilation, countering anti-Semitism, Zionism, and more. They both wrestled with the heady problems of immigrants' education, labor, culture, education, and interdenominational relations. Born on the Lower East Side, the young Cowen cultivated a group of fellow young writers (they would not divulge their ages to readers until the newspaper had reached the 33rd anniversary of its publication!). Rising to the vanguard of New York Jews and advocacy for immigrants, he authored Prejudice Against the Jews and other works. In 1905 Pres. Theodore Roosevelt appointed Cowen Immigration Inspector on the Board of Special Inquiry; the following year, Roosevelt "commissioned him to travel to Russia to examine the conditions that spurred large mass migrations to the United States and to investigate reports of pogroms. Cowen reported that the Russian government was responsible for the pogroms, by encouraging officers through promotions and other benefits to partake in such massacres..."--Guide to the Papers of Philip Cowen, American Jewish Historical Society. His Papers contain not a single letter of Emma Lazarus (though her sister Josephine is represented). The only Cowen correspondence in the Emma Lazarus Papers is a transcript in his hand of an unremarkable 1884 letter from her (but evidently not the letter itself).
Lazarus was not only the most prominent American Jewish writer of her generation, but she was "an impassioned supporter of her people, of the downtrodden of all nations, and of her country and its literary accomplishments"--American Women Writers. Her death brought forth a procession of tributes from notables, lamenting the loss to American literature, Jewry, and the world of women. Lazarus autographic material in any form is seldom seen on the market, and is one of the most elusive nineteenth-century American autographs, in part due to her death at the age of just 38. • With 1935 newspaper clipping, "Miss Liberty Greeted Fifty Years Ago Today": "...The Statue of Liberty became a symbol of American freedom, and because of its setting, where mighty and small ships of all nations pass in perpetual review, is one of the most widely-known memorials in the world...." • Copy of biography Emma Lazarus, by Prof. Esther Schor. Clean ex-lib. • Also with inventory card believed of old-time N.Y. autograph dealer Ben Bloomfield, c. 1960. Comparables are scant. Even Charles Hamilton's venerable 1961 classic observed, "Not many autographs are so desirable as that of Emma Lazarus...Her autograph is extremely rare." Off the market for some 55 years. $22,000-32,000 (4 pcs.)

15-2. A White Rhode Island Pioneer sold at Auction.
Fascinating large manuscript land contract, rich in the history of "Portsmouth 'Newport County] on Rhode Island in the colony of R.I. and Providence Plantations in New England in America." "The one and twentieth day" of Mar., 1698/99, 12 x 14 3/4. For 1/60th of a lot in Pocassett. Signed by Thomas Durfee; witnessed by John Coggeshall, Giles Slocum, and John Anthony. 1711 signature of John Cary, Recorder, Bristol. Thomas Durfee, believed the signer, was "the first emigrant known by that name who came to America before 1664...In early times emigrants came over frequently as redemptioners; that is, the ship took them without prepayment of passage, and on their arrival sold them by auction, for the lowest term of years for which anyone would take them, and pay the passage money. He was admitted a freeman of the town of Portsmouth... 1673. 'Died 1712.]"--The Descendants of Thomas Durfee of Portsmouth, R.I., Reed, introduction and p. 14. Durfee variously served as constable, overseer of the poor, and tavernkeeper and licensed seller of rum. Around the date of this document, Durfee began managing the Bristol Ferry. • Coggeshall was Deputy Gov. of the Colony of R.I., his father its first President. One of ten Assistants named in the Royal Charter of 1663, he helped procure boats for the colony's defense during King Philip's War. • John Cary was one of the first two deacons of Bristol's first church (though a brewer by trade), first Recording Officer of the County, and representative after Plymouth County united with Mass. Remnants of red-brown wax seal. Three-inch vertical tear at top repaired with tape on verso, wrinkling, else good plus, the hand of the document quite unusual, nearly every letter individually rendered, imparting an almost mediæval aspect. Colonial manuscripts with the full Rhode Island designation, and certainly with such an ensemble of personae, are rather scarce on the market. $225-300

15-3. Missionary to the Indians of Plymouth – and a Unique Form of Signature.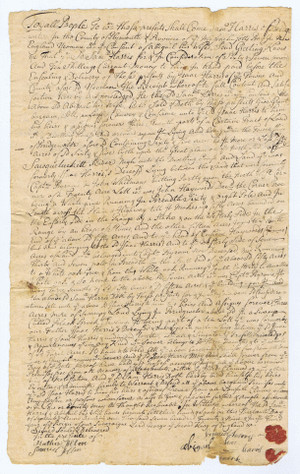 Charming manuscript land contract, Bridgewater, Plymouth County, "Province of ye Massachusetts Bay in New England," Sept. 13, 1729, 7 1/2 x 12 1/4. Signed by Mathew and Samuel Allen, and Abigail and Samuel Harris, the latter with "his mark": two parallel lines, the first such "signature" we have seen on an English-language document. Signed on verso by Registrar Josiah Cotton, noted for his pioneering Vocabulary of the Massachusetts Indian Language; Cotton was a missionary to the Indians around Plymouth, delivering sermons in "Indian and English"--Address to the Members of the American Antiquarian Society..., 1819; his father was pastor of Plymouth's first church. Remnants of red wax seals. For "3/7 th Parts of a Certain Tract of Land w(i)th a Dwelling House and orchard...Containing Sixty & five acres...on ye North Side of Sawquetuckitt River...the Corner Tree being a White-pine...by a heap of Stones...Three acres more...In a Swamp Called Black Brook Swamp...." Horizontal center fold carefully repaired on verso with strip of yellow-orange paper, triangular stain at bottom signatures, chipping just touching "m" of "mark," average wear, else good and attractive. At least some of the signatories to this document had lived under the Mayflower Compact, which governed the Pilgrims' "Colony of New Plymouth" until just 38 years before. Cotton appears in a wide body of literature, including the Smithsonian's Bureau of Ethnology Bulletin, 1891 (modern photocopies accompany), Native People of Southern New England, 1650-1775 (Bragdon, 2012), The Storm of Witchcraft: The Salem Trials... (Baker, 2014), and other works. $160-220

15-4. Olde New England.
Group of nine New England legal documents, 1722-1819. Comprising Andover, Frederick Town, and Methuen, Essex County, Mass., 1722, 1739, 1746, 1767; Seabrook, N.H., 1807; Thornton, Grafton County, N.H., 1810; and Epsom, Rockingham County, N.H., 1815, 1817, and 1819. 6 1/4 x 7 3/4 to 7 1/2 x 12, mostly larger. Principally for land, with the usual quaint property descriptions; one bill of sale, including "a large Oval Walnut Table & a large Copper Kettle." Some signatories of local history interest. Earliest item mounted to old sulphite sheet, toning; others variously with minor fold wear and minor defects, else generally V.G. to V.F. A suitable teaching collection. $60-90 (9 pcs.)

15-5. First Governor of Alabama.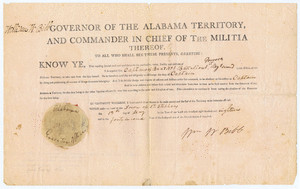 Attractive D.S. of Wm. W. Bibb, imprinted "Gov. of the Alabama Territory, and Commander in Chief of the Militia," St. Stephens (Ala. Territory), May 13, 1818. 10 x 16, crudely made but original plain round grilled paper seal, affixed with red wax, circular manuscript endorsement "Alabama Executive Office." Appointing Capt. Powers to "Beat No. 1, Battalion 1st, Regt. second, in the Militia of the Alabama Territory...." A physician, Bibb became Congressman and Sen. from Georgia. Appointed by Pres. Monroe as Gov. of Ala. Territory - carved from the larger Mississippi Territory - Bibb became the State of Ala.'s first Gov. His portrait appears on the 1921 Ala. Centennial commemorative silver half dollar. Some fold wear, handling evidence, minor stains, light round shadow of seal on "Bibb" of signature, cream toning, else good plus. Suitable for display. Very scarce, especially with Territorial date. Ex-Charles Hamilton, 1979. $650-900

15-6. Cigar Band Collection of the Roaring Twenties.
Delightful pocket expense notebook, datestamped Mar. 30/Apr. 6, 1923, containing about 270 cigar bands. 3 1/4 x 6 x 1 thick, coffee linen over board, darkest brown cloth spine. Neatly mounted five per page, with mucilage; pencilled number for reference above each band. Period signature of Al Handy, "Local Mgr.," possibly amassed as a record of all brands sold by his tobacco warehouse at that time. A splendid profusion of design and printing artforms of the genre, with still-blinding gilt and brilliant reds, together with appearances of opaque white, black, brown, yellow, pink, blue, copper - and uncommon use of green, suitably for "Green Star Inn" brand. All diecut and embossed. Numerous "Habana" and "Havana" markings, at that time undoubtedly denoting genuine Cuban cigars, together with Tampa, Philadelphia, N.Y., Reading, Pa., Detroit, and other cities. Both popular and obscure names, including Masonic theme, Edgewater (N.J.?) Golf Club, tobacco field pictorial, "Virginia Seal," "Almighty Dollar Rothschilds," Manhattan Cigar Co., and a seemingly unending variety of graphic treatments and creative approaches. Some bands were understandably defective at time of mounting, others with minor adhesion to blank facing page from still-moist glue, varying from satisfactory to excellent, a slight majority in the best range; moderate cover wear, pencil doodles on covers, uniform page toning, and occasional light edge tears, not affecting cigar bands, suggesting this was a working wholesaler's encyclopædia of cigar bands on the market in 1923, carried in the manager's coat pocket, not intended at the time to be a sterile "collectible." The highly specific date range of these cigar brands make them a fascinating design, marketing, and research cache. $125-175

15-7. The "Ever Growing Tide" of Americans invading Mexico!
Bitterly anti-Texan pamphlet, "A Letter to the Hon. Henry Clay, on the Annexation of Texas to the U.S.," by William E. Channing, Boston, 1837. Fifth ed. 4 1/4 x 8, 72 pp. Eloquent but savage discourse, siding with Mexico on Texas' annexation, asserting that the true American motives were land speculation and expansion of slave territory. "The subject of Texas weighs heavily on my mind, and I cannot shake it off...The Texan revolt...is criminal...The emigrants from this country to Texas went with open eyes, and full knowledge of the unsettled state of affairs, into this region of misrule and agitation...Some of the grounds on which the Texans justify their conflict for independence, are so glaringly deficient in truth and reason...The Texans must have been insane, if, on entering Mexico, they looked for an administration as faultness as that under which they had lived. They might with equal reason have planted themselves in Russia, and then have unfurled the banner of independence near the throne of the Czar...nothing less than the robbery of a realm...Can Mexico look without alarm on the approaches of this ever growing tide? Is she prepared to be a passive prey, to shrink and surrender without a struggle?...Have we counted the cost of...making perpetual these hostile relations with Mexico?..." Disbound segment; title page soiling and light waterstain, old orange pencil filing mark, very light edge toning of text, else internally fresh and very fine. Rader 654. Raines p. 48. Sabin 11912. Streeter Texas 1266. $80-110

15-8. Immigrants "caught up in the meshes of our cities."
Campaign pamphlet, "The Tariff - Address by Gov. Woodrow Wilson...at National Democratic Club, N.Y., Jan. 3, 1912," printed by G.P.O., Washington: 1912. 6 x 10, 13 pp. Discussing at length familiar issues - protecting domestic production against foreign imports, immigration, and wages. "One of the peculiarities of the tariff question is that it never seems to be settled...which has come up in every generation, to vex and perplex the American Nation again and again...Why has the Republican Party habitually been associated with the policy of high tariffs?... Because the bills of the Republican Party were paid by business men who wanted a high tariff...I for my part agree to withdraw from troubling business if business will withdraw from troubling politics... How does it happen that when immigrants come to this country from agricultural regions they do not go to the farms, but are caught up in the meshes of our cities?...I'd like to know how many gentlemen voluntarily share the profits of production with their workingmen...Now, what is really the source of wages?...We talk about American laborers competing with the pauper labor of Europe...I...hope that our grandchildren could indulge in free trade, but...they can not, because they have to pay the bills of the Federal Government...." Dampstain erosion at bound side of outer wrap, lesser waterstaining at inside gutter, old vertical soft fold, else good plus. WorldCat locates only seven copies. $55-70

15-9. A Unique Passport for the State that Never Was.
Manuscript passport, signed by J(oseph) W. Fabens as Gov. of Samaná & Samaná Bay Co. of Santo Domingo. May 4, 1873, 8 1/2 x 13 1/2, 1 p. A remarkable document in the wake of Fabens' collusion with Seward and Grant to acquire the Dominican Republic, in a saga which split the Republican Party: in this passport, Fabens states, "Permission is hereby accorded to W.O. Bartlett to pass from this to any foreign port or place beyond the jurisdiction on his personal business and the authorities and all others whom it may concern are hereby requested to permit... Barlett safely and freely to pass...." Fabens, a Massachusetts expatriate, after acquiring lands and concessions, aided and abetted plans of Santo Domingo's Pres. Báez for that country to be annexed by the U.S. The plan had the backing of Secs. of State Hamilton Fish and predecessor William Seward, who had just acquired Alaska. Fabens convinced Grant of the desirability of annexing Santo Domingo, playing on his fear that a European power could secure the island first, and particularly of leasing Samaná Bay - for $7.5 million over half a century - as a naval base to protect the planned Nicaragua canal. Grant also believed that U.S. annexation would provide a migration opportunity and jobs for blacks suffering discrimination here, and would hasten the end of slavery in Brazil, Cuba, and Puerto Rico. Grant thought that such a safety valve for Southern blacks would weaken the K.K.K. A treaty of annexation was drafted, but the U.S. Senate effectively rejected it, with a tie vote of 28-28. The objection was made against Fabens et al of harboring corrupt interests, and that such annexation would be an imperialistic act. Grant sent a committee, including abolitionist Frederick Douglass, to Santo Domingo, returning home with a favorable report. But "the defeat of the treaty in the Senate directly contributed to division of the Republican Party into two opposing factions during the election of 1872: the Radical Republicans (composed of Grant and his loyalists), and the Liberal Republicans (Schurz, Sumner, Horace Greeley as Presidential candidate, and other opponents of Grant)..."--wikipedia. Despite failure of the grand plan, Fabens still tried to maintain personal control over Samaná Bay, as shown by this passport. Bartlett was a prominent N.Y. attorney. Tattered at blank bottom margin, two old glassine hinges on verso, uniform ivory toning, else good plus. At least six books have been written on this affair, dubbed by one historian as "the moral miasma of the tropics." Rare and notable. $650-900

15-10. Lawyer for the Defense in Dred Scott and Mary Surratt Cases.
A.L.S. of celebrated lawyer and politician Reverdy Johnson, Astor House (N.Y.), Oct. 2, (18)58, 7 3/4 x 10, 2 full pp. To a correspondent in Troy (N.Y.). In a sprawling, hieroglyphic hand, rivaled only by Horace Greeley's: "...Yours of yesterday...puts me to no inconvenience...I thank you for the argument in the '?] case...Say to Mr. Pickett & his son that it could have given me a true pleasure to have spent a day with them, & our friends in Troy, & would have done so...." Light toning of cream sheet, evidently of some importance as removed from contemporary letterbook, else very good. Admitted to the bar at age 19, Johnson was a legal colleague of future Chief Justice Roger Taney. Owner of the Baltimore townhouse built for James Buchanan, Johnson served as Pres. Taylor's Attorney Gen., soon after representing the slave-owning defendant Sandford, in the Dred Scott case, though personally anti-slavery. Defending Maj. Gen. Fitz John Porter in his complex court-martial for cowardice, as Senator his committee drafted the 14th Amendment, though he voted against it. In 1867 and 1868, he became the only Democrat to vote for a Reconstruction measure. Johnson defended Lincoln assassination conspirator Mary Surratt; he was portrayed in the recent movie, The Conspirator. $90-120

15-11. "Mountains of golden and silver ore...."
Significant Western Americana: booklet, "The Heart of the Continent - An Historical and Descriptive Treatise for Business Men, Home Seekers and Tourists of the Advantages, Resources and Scenery of the Great West," pub. by Passenger Dept., Chicago, Burlington & Quincy Railroad, Chicago, 1882. 4 1/2 x 6 1/2, (64) pp., railroad map at rear. Spectacular cover lithograph of scenic mountains towering over a fertile valley; large, detailed woodcuts within text. Breathless narrative of the Midwest to the Pacific. "...Does he seek for gold and silver? The greatest mines of earth are yet to be opened in the American Great West. Mountains of golden and silver ore, beside which all the famed riches of the Comstock lode will some day sink to beggars' pence, yet rear their proud heads to heaven, untouched by pick or spade. The veritable treasure-houses of the gods yet await the enterprise and muscle of the sturdy miners, who are destined ere long to fire the avarice and envy of the world with their Midas-surpassing wealth of solid ducats. The surface dirt of Colorado, Arizona, New Mexico, California, Montana and Idaho mines is hardly broken; the glittering hoards are scarcely touched...." Two light purple rubber stamps on cover: "From General Eastern Agent...306 Washington St., Boston...For information, call or write...," and "Leve & Alden, Removed to 296 Washington St. 'Boston]." A superb example, with only one slight internal tear of paper covering a stitch on front outside hinge, believed a bindery blemish, trivial occasional evidences of handling, else a new old stock copy, fresh and nearly as issued. Its condition is all the more exceptional in view of its rarity. Herd 714 ("Rare"). Rader 1181. WorldCat locates only two examples. $375-525

15-12. Scion of Dutch West India Company's Founder.
Manuscript bank check entirely in hand of K.K. van Rensselaer, signed with paraph. Albany (N.Y.), Sept. 2, 1839, 4 1/2 x 8. To "Cashier of the N.Y. State Bank / Pay to Jacob S. Glen...$41.64." van Rensselaer's namesake, Kiliaen, was a founder and organizer of the Dutch West India Co., chartered 1621, and a precious stone merchant in Amsterdam, later purchasing from the Indians the vast Hudson River Valley expanse which became Albany, Columbia, and Rensselaer Counties. The signer, secretary to Revolutionary War Gen. Philip Schuyler, a Federalist Congressman, and pioneer American glassmaker, appears in James Fenimore Cooper's The Deerslayer. Endorsed in blue on verso by Glen, descendant of an early New York fur trading family, and leading landowner in the Mohawk River Valley, marrying Maria van Rensselaer. Two "X" slit cancels, minor edge wear and toning, feathered upper right tip, old folds, else about very good. $75-100

15-13. "A power which none can resist...."
The Falls of Niagara: "being a Complete Guide to all the Points of Interest around and in the Immediate Neighbourhood of the Great Cataract," Nelson's Pictorial Guide-Books, N.Y., c. 1865. 4 x 6 1/2 oblong, 45 pp., grape cloth elaborately stamped in black, gold shield, large inlaid pistachio and cream paper label, butter-yellow endleaves. Text entirely printed in water-blue. With 11 (of 12?) lovely mezzotint plates on stiff bristol leaves, in simulated-color, including "Three Sisters & Goat Island, from Canada side," "American Falls," "Terrapin Tower & Horse Shoe Fall...," dramatic view of "Niagara in Winter..." with massive blocks of ice, "Niagara Cast Iron Bridge," "Suspension Bridge & Rapids above the Falls," "Whirlpool near Niagara," and others. Possibly lacking map, however the components of this guidebook varied slightly over its numerous printings. Old whitish dampstain at spine and left portion of cover, not affecting label, inner hinges broken, slightly shaken, else internally fine and clean. Sabin 55116. $60-80

15-14. "$100 Reward."
Small broadside, "Burglary last night and following Stolen...," fancy fabrics taken from Springfels & Weil, Buffalo (N.Y.), Nov. 12, 1887, 5 x 8 1/4. Listing thirteen different items, including "5 pcs., 25 yds. ea., Fire Plush...2 pcs., 25 yds. ea., Peacock Blue Plush...1 pc., 50 yds., Royal Blue Satin...Canary, Orange, Purple, Blue, White Satin...Address all communications to Martin Morin, Supt. Police." Ink blot at blank upper right, some lesser blotter mottling, else very fine. $45-65

15-15. The Summer of '91.
Trio of original sepia photographs dated the first day of Fall, 4 1/4 x 6 1/4, on original 8 x 10 mounts, shell-grey card, with contemporary printed labels on versos: "Outing of Riverside Yacht Party, Nahant 'on Mass. Bay], Sept. 21, 1891, Cliffs and Rocks, from the Yacht," "...Rocks and Surf, off Bass Point," and "...The Group on the Lawn, Bass Point House." Latter showing stylishly dressed group of six women and seven men in bowler hats, posed beside the small beached rowboat Penguin. Two others depicting waves crashing onto craggy shore, a modest house perched atop a rise. One mount toned across bottom, not affecting photo; very light tip wear, else images generally dark (with some typical marginal haloing as developed), good contrast, overall fine plus. $75-100 (3 pcs.)

15-16. "...To enlarge the Canal Erie...."
A.L.S. of Philadelphia steamboat inventor and Oliver Evans contemporary Dr. A(nthony) Plantou, Washington, May 8, 1836, 7 3/4 x 10, 2 pp., red "City of Washington..." c.d.s. on integral address-leaf. To "Mr. Flagg Esq. and the Members of the Canal Board, at Albany." Two years earlier, Plantou had patented a novel steamboat design, exhibiting it on New York's Broadway in 1835. "When last year I showed you my Model of Steamboat particularly adapted to the navigation of Canals, it had a Wheel at the Bow, and the other at the Stern, both watertight cylinders. I have since considered that for Canals...it was very important to save space, and for that purpose I have suppressed the Stern Wheel...The same model...goes nearly twice as fast. By that I create no waves front, sides nor back of the Boat; a strong current under it, is the only sign of my velocity...I prevent all Kind of reaction, such as that from the sides of the Canal against those of the Boat, and also the Suction which takes place between the bottom of the Canal and that of the Boat, the two unsurmountable obstacles to the navigation of Canals by the present Plan. I doubt not, Sir, that you have at heart the interest of your State, that it will prompt you to patronize so usefull invention as mine...If what I have hearded 'sic] is true, that the Canal Board is already authorized to make any necessary expenses for the Canals, and even to enlarge the Canal Erie, why should you not expend about $4,000, to build a Boat on my Plan, which by more than doubling the commerce upon Canals, and preserving their Banks from injury, will save...many hundred thousand dollars every year...." Tear at blank portion of address leaf where opened at wax seal, tears along folds at right margin affecting few words, else darkly penned and very good. Part of the Philadelphia-area beehive of steam experimenters, Plantou's "steam engine without a boiler" was endorsed by Oliver Evans et al, hoping to sell stock "to build a boat of 60 or 80 tons to ply from Philadelphia to Salem and Cape May..."--History of Philadelphia, Scharf & Westcott, Vol. 3, p. 2263; (modern research accompanies). Much of the work of steam pioneers such as Plantou was built upon by land transport tinkerers, some of their inspiration - if not principles - evolving into horseless carriage application. Indeed, some early automakers made both marine and land engines, unconvinced that the newfound automobile had a future. Charles Duryea, in his 1930s Philadelphia workshop, eked out a few dollars by building models of ancient steam machines. Rare thus. $175-250

15-17. The Seats of Power – 1817.
A.N.S. of DeWitt Clinton, Federalist and Peace Party Presidential candidate in 1812 (his uncle the Vice Pres.), Mayor of N.Y.C., Senator and Governor of the Empire State, and head of the People's Party. Promoter of the Erie Canal, "Clinton believed that infrastructure improvements could transform American life..."--wikipedia. Penned in first year as Gov., Albany, Aug. 22, 1817, 7 3/4 x 9 1/4. To G. Mumford. "I beg leave to introduce Mr. Leahie'?], a friend of ours from Niagara County." Gurdon Mumford, Sr. and Jr. were members of the leading mercantile family on the East River waterfront, their trade including tea from the Orient: "In the old times there was no name more eminent among the merchants of New York city than that of Mumford...--The Old Merchants of New York City, Scoville, Vol. 5, 1885. Gurdon, Sr. was private secretary to Benjamin Franklin in Paris, returning with him to America in 1785; a Congressman from N.Y., his colleagues included George Clinton, Jr. A Presidential elector in 1812 - voting for DeWitt Clinton - Mumford helped found the New York Stock Exchange. The Mumford family lent money to the U.S. government, even supplying ships to the Navy when the Treasury was bereft of funds. Unusual original folds to sixteenths, with some fold wear, marginal toning, and wrinkling from placement in a wallet or pocket; two small, old cellophane tape reinforcements on verso, else good-plus. Fascinating association. $160-200

15-18. Stagecoach to Strawberry Valley.
Carte photograph of "'Schuyler] Colfax & Party" on "The Stage from Carson, Arriving at Strawberry Valley," Calif., likely carrying mail, money, and gold. Rich chocolate brown tones, showing five men aboard, pulled by two handsome, white-maned horses, posed on wide dirt road. Three men brandishing poles - perhaps eight feet high - stand in front of a peaked building, probably the inn. Imprint on verso, "Album Views of California / Photographed and Published by Lawrence & Houseworth, 317 & 319 Montgomery St., San Francisco." Orange 2¢ revenue stamp, black cancellation "Feb'?] 3, 1866 / (San) Francisco." Printed strip caption affixed to verso by issuer; contemporary manuscript caption on front margins. Then-Speaker of the House Colfax introduced a bill for a daily overland mail route from St. Louis to San Francisco, reaching mining camps where delivery of letters had previously cost $5 an ounce. Two of Colfax's fellow passengers may be identifiable: "In 1865, Colfax, along with author Samuel Bowles and Lt.-Gov. of Illinois William Bross, set out across the western territories from Mississippi to the California coast to record their experiences in the new land. They compiled their observations in a book called Our New West, published in 1869...thus making Colfax a published author the same year he was inaugurated 'as Vice Pres.]. Included in their eyewitness accounts were views of Los Angeles, with its wide panorama of vast citrus groves and orchards, and conversations with Brigham Young..."--wikipedia. In Yuba County - named by John Sutter - Strawberry Valley was a tiny frontier stop on the main road between the mines of Virginia City and Sacramento, the round trip taking about three weeks. "Wayside houses developed to accommodate this traffic, mostly of a large barn and a log cabin, which was as a rule a long room or hall with a kitchen at one end, a long table in the center and bunks along the side. In most cases the drivers carried their own blankets for sanitary reasons. One of these stations was run by a man named Berry, who cut the grass from a meadow, and as an inducement to the patronage of these teamsters gave each one an allotment of this dried grass for his bunk. Hence the name 'Straw Berry's.'"--San Francisco Call, Apr. 9, 1909. Diagonal crease, not immediately apparent from front, passing only through background trees, and with no break in emulsion; very minor tip wear, else very good. A modern "art print" of this image is offered by Granger Historical Picture Archive. Very rare. $400-525

15-19. Check of a Supreme Court Justice.
Check in hand of U.S. Supreme Court Justice William R(ufus) Day, Canton, Ohio, Dec. 9, 1874. Sec. of State during Spanish-American War; chaired U.S. commission to arrange peace with Spain; Supreme Court Justice 1903-22. Partly printed in formal script, 3 1/4 x 7 1/2, 2¢ Washington revenue stamp precisely affixed at left. Interestingly, bearing imprint of N.Y.C. stationer. Thumbprints at top and lower right, two punch cancels, not affecting signature, else very good. Uncommon. $70-100

15-20. Theatrical Broadside.
Broadside-style playbill for "Naughty Naught," Old Knickerbocker Music Hall, Second Ave. at 54th St., N.Y., c. 1946. 6 3/4 x 21 1/2, black on green. Orchestral direction and arrangements by Leroy Anderson, his recording of "Sleigh Ride" still a perennial favorite today; lyrics by Ted Fetter, best known for writing "Taking a Chance on Love." Edge wrinkles, some creases, soiling, but good plus. An ephemeral survivor of this far-off-Broadway venue - with an open bar and waiters - which not longer before had been in the shadow of the Second Avenue El. Rare thus. With modern copy of its Billboard review. $55-75

15-21. America's Industrial Age.
Attractive group of superior billheads, all but the Stanley with detailed woodcuts and ornamental typography, 1874-76, most 4 1/2 x 8 1/2 to 7 x 8 1/2, all for purchases by Fuller & Parrish, Norwich, Conn.: Ames Plow Co., N.Y. • Bramhall & Co., factories at 421-423 W. 42 St., N.Y., and Brattleboro, Vt. "Children's Carriages, Velocipedes, Sleds, Sleighs, Spring and Rocking Horses...Doll Carriages, Toys, Games, Ryder's Toy Steam Engines and Mechanical Figures...." • Bridgeport Brass Co. "...Clock and Toy Movements...Tobacco Boxes...Corset Hooks...." • Charles M. Clapp & Co., Boston. Rubber goods, including "Carriage Ducks, Wagon Aprons, Piano Covers, Car, Coach and Locomotive Steps...." Entirely in raspberry pink. • R.F. Dietz, N.Y., check-size, entirely in moss green, showing "Catchemalive Mouse Trap" and a kerosene lantern. • Fairbanks, Brown & Co., Boston, "Manufacturers and Dealers in Railroad, Hay, Coal and Store Scales, Money Drawers, Coffee Mills...E. & T. Fairbanks & Co...." "By the time of the Civil War, Fairbanks' scales were the best known American product in the world"--fairbanks.com. • E. Remington & Sons, N.Y. "Manufacturers of Fire Arms and Ammunition." For "6 Brushes, 20¢...." • S. Roebuck & Co., N.Y., "Roebuck's Patent Umbrella Mosquito Canopies for Beds...," red and black. • Stanley Rule & Level Co., New Britain, Conn. "Mfrs. of Boxwood and Ivory Rules...Warerooms, 35 Chambers St., N.Y." 8 1/2 x 14. A sizeable order for a range of Stanley's famous hardware, entirely filling the invoice, with descriptions and prices in a florid hand. • Wilson Mfg. Co., New London, "The People's Mowing Machine...." Penned in bright purple ink. Very light occasional wear, else all fine or better. Splendid for display, individually or together. $110-160 (10 pcs.)

15-22. Early Brownie Camera Catalogue.
Sales catalogue, "Brownie Cameras - They work like Kodaks," (1906), Eastman Kodak, "The Kodak City," Rochester, N.Y. 4 1/4 x 6, (16) pp., orange and black on tan linen cover, black on dull cream text. Fifteen crisp photographs taken by Kodak users, including pine woods, a performing dog, lighthouse, "a dusty highway," portrait, and more. Detailed views of four Brownie models, with exhaustive specifications and prices for attachments, cases, and accessories. The basic camera was $1, the Stereo Brownie a substantial $12. "...Hundreds of thousands of amateurs are now enjoying the wealth of pleasure that photography has to offer...Made in our perfectly appointed factories...." Lilac rubber stamp on cover of Derby, Conn. dealer in "Phonographs, Records, Photo Supplies, Sporting Goods." A N.O.S. example in mint condition of this iconic standard of the good old days. Rare, especially in this condition. Neither abebooks nor WorldCat show any copies. $150-200

15-23. Excessively Rare Kansas Stock.
Stock certificate of Fort Scott Coal & Mining Co. of Kansas, low serial number 198. Unissued, c. 1870, 8 x 10 3/4, Major & Knapp Engraving, N.Y. Exceptionally elaborate security design, radiating from lilac eagle in center, creating a flowing effect not seen elsewhere. Black vignettes of Capitol Building, and of miner wielding pick, as another pushes a coal car on rails. "Topeka" surprinted "Fort Scott" in red; underprint of light orange 25¢ revenue, Scott #RN-T4, 1865-72. Once pinned at upper left, considerable wear at parallel vertical folds, apparently where bundled over a thick group of other documents; edge wear, one tear at top, some toning, but still almost hypnotically attractive, and good. Bankrupt by 1877, the firm reappears fleetingly in literature in the 1920s. The only other example of this item we find is offered by Eric Jackson, preeminent revenue stamp specialist - at 1,250.00. $650-900

15-24. Poem to her Sister, Amelia Earhart.
Typescript poem "To A.E.," boldly signed by her accomplished sister, Muriel Earhart Morrissey, educator and author. Only two years apart, the sisters were inseparable growing up in Kansas. 8 1/2 x 11, dated in her hand Mar. 20, 1989. "Earthbound, we watch, ent(h)ralled, As unafraid you climbed the cloud strewn sky...'Own your soul!' your voice rings clear, So gaily began your last long flight, Circling the globe Electra's gallant crew...For me, A.E., you'll never die, The world, fleetingly, became less sad and drear, For the courage and concern we saw, In your brief, joyous sojourn here." In 1963, Morrissey wrote a biography of her sister, Courage is the Price, and on the fiftieth anniversary of her disappearance, Amelia, My Courageous Sister. Excellent. • With greeting card, unsigned, with onlaid color photograph of Atchison, Kansas birthplace of the Earhart sisters. Very good. Wonderful association. $55-80 (2 pcs.)
TO FIND OUT CURRENT HIGH BIDS,
OR TO PLACE BIDS,
JUST CALL 1-914-476-8500
OR e-MAIL info AT cohascodpc.com
(We do not currently use online bidding)
16. World Wars I & II
16-1. The Most Notorious Book of the Modern Era – Signed.
Fatefully dated edition of Mein Kampf, Munich, 1933 printing - the year Hitler seized power. Milk chocolate-sepia photographic portrait plate, facing title page, of a young Adolf Hitler, genuine signature in blue, beneath printed signature. 4 3/4 x 7 1/2, 781 + (10) pp. advertisements at rear of large assortment of other Nazi books for sale by this NSDAP printer. Eagle atop wreath enclosing swastika brass-stamped on black linen, top edge green. 1996 authentication by H. Keith Thompson, Jr., important pioneer autograph dealer, Third Reich expert, longtime cataloguer and partner of Charles Hamilton in the years of their incomparable sales at the Waldorf-Astoria (and member of Adm. Byrd's Antarctic Expedition). Signature plate detached from binding, the enamel plate and vellum text papers absorbing binder's glue differently, minute tears at outside edge, else fine, with original tissue guard leaf; inner hinge broken at flyleaf (only) facing title, minor cover warp, shelf rub at bottom fore-edge, else internally clean and fine plus. With copy of Thompson's article on Hitler signatures in Pen & Quill, 1995: "Having handled thousands of Hitler documents over a period of more than 40 years...." • With, first complete American edition, "Unexpurgated - Annotated - Complete and Unabridged," published by Reynal & Hitchcock, N.Y., 1939. 5 1/2 x 8 1/2, 993 pp., red cloth. "Publishers' Note: Both the international situation and certain publishing exigencies have dictated the preparation of this book at a far higher rate of speed than we should have liked...A book which is likely to remain the most important political tract of our time, and which is now for the first time available in complete form to the American reader...Crises...culminating for the moment in the pact of Munich, have awakened the American public as never before to the seriousness of the world and to themselves of the Nazi program...There are undoubtedly passages of great importance, which now appear in English for the first time...." Hitler's "Conclusion," written in 1926, on the final page: "...A State which, in the epoch of race poisoning, dedicates itself to the cherishing of its best racial elements, must some day be master of the world. Let the adherents of our movement never forget this...." Few neat pencil notes of an alert reader, light wear, else very fine. Parallels to modern times are inescapable. Evidently a variant binding; the "People's Edition" was bound in blue. No Hitler-signed books of any edition on abebooks. An early two-volume edition, each signed by Hitler, sold in 2014 for 64,850.00; in 2015, a first edition realized 43,750.00. Hitler-signed books of any edition are now elusive on the market. $5500-7000 (2 pcs.)

16-2. The American Caesar Honors the Army's Emissary to the Indians.
Superior T.L.S. of Douglas MacArthur, "General, Chief of Staff," on War Dept. letterhead, Washington, May 21, 1934, folded lettersheet 6 3/4 x 8 3/4. To Mrs. Hugh L. Scott, Princeton, N.J. "I am sending you a copy of the General Order 'not present] announcing the death of your distinguished husband. Throughout the many years which he so faithfully and successfully devoted to his country's service, Gen. Scott discharged the various responsibilities entrusted to him with characteristic skill and efficiency. His family and the Army may justly be proud of his record of conspicuous achievements. In extending to you my sincere personal sympathy, I feel that I express also the sentiment of the entire Army." Gen. Hugh Lenox Scott was Pres. Wilson's Chief of Staff during World War I. Superintendent of West Point, Scott had earlier interviewed many of the Indian participants in Little Big Horn, in time becoming proficient in Indian languages of the Great Plains. From 1892-97, Scott organized and commanded the last Indian unit in the U.S. Army, comprised of Kiowa, Comanche, and Apache, and was in charge of Geronimo's band of Apache prisoners. One diagonal crease from original fold, else excellent. • With formal-size envelope. Some edge toning, else fine. $475-600 (2 pcs.)

16-3. American Caesar on Patriotic Cover.
With blue and red photo cachet of Gen. Douglas MacArthur, signed below, while Supreme Commander for Allied Powers and Military Gov. of Japan. Postmarked MacArthur, W. Va., Mar. 28, 1946, tying 3¢ olive Scott #934, U.S. troops passing the Arch de Triumphe, Paris. Addressed to Mrs. E.E. Snow, Philadelphia. MacArthur's portrait on base of flag, sword, ribbon, and laurels. Three soft vertical creases, some fine handling evidence, else very good, with unusual association postmark. Very scarce thus. Anointed the American Caesar, MacArthur's impact was immeasurable; he remains revered in The Philippines. $275-350

16-4. V-E Day Handbill.
Boldly signed in black marker by Gen. Mark W. Clark. 1970s reprint on ivory laid paper, 8 1/2 x 11. "To the soldiers of the 15th Army Group...With a full and grateful heart I hail and congratulate you in this hour of complete victory over the German enemy...Yours has been a long, hard fight - the longest in this war of any Allied troops fighting on the Continent of Europe. You men of the Fifth and Eighth Armies have brought that fight to a successful conclusion by recent brilliant offensive operations which shattered the German forces...They had nothing more to fight with in Italy ...A huge fighting force composed of units from many countries with diverse languages and customs, inspired...with a devotion to the cause of freedom...." Clark was one of the few five-star Generals in American history. Few wrinkles from postal handling, else never folded and very fine. $100-150

16-5. "I Want You!"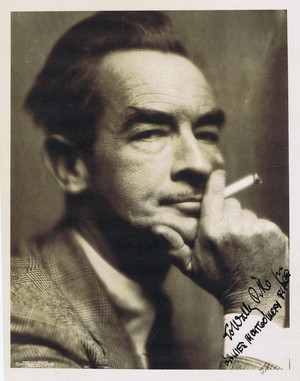 Arrestingly charismatic vintage sepia photograph of James Montgomery Flagg, artist immortalized by his World War I recruiting poster of a stern Uncle Sam (believed to be his own face, with goatee!) pointing at the beholder. Poignant, pensive pose, in hounds-tooth jacket, smoking cigarette. Inscribed to Wally Pike, signed in Flagg's trademark illustrator's hand, darkest mahogany ink complementing the image's rich coffee tones. Dated on verso July 5, 1937. By "Pirie Mac Donald, Photographer of Men, N.Y.," 7 3/4 x 10 1/4. Large red rubber stamp on verso, "A National Broadcasting Co. photo...Compliments of the Press Relations Dept...711 Fifth Ave...." Lacking upper right tip, blank upper left tip bent, very light handling evidence, else fine and wonderful for display. Uncommon. A contributing artist to Life magazine by age 14, at his zenith Flagg was the highest paid magazine illustrator in America. $325-425 F

16-6. An American Hero.
Wonderful signed photo of "Sgt. Alvin C. York," World War I Medal of Honor awardee, killing 32 German soldiers, and capturing132 others plus 32 machine guns. 8 x 10, olive-greentone glossy. Showing him later in life, in weathered hat, holding rifle, licking his thumb as he eyes a shot off camera. In medium-light blue ballpoint, on mid-grey background at lower right. Short crease at lower right, away from signature, else about V.F. Having had a religious conversion in 1915, he claimed to be a conscientious objector. Joining the Army he remained conflicted between his newfound pacifist beliefs and the realities of war. On Oct. 8, 1918, the die was cast: "I didn't want to kill any more than I had to. But it was they or I..."--diary. He remained obscure, even in Tennessee, until a 1919 article unfolded his saga, laying out "the themes that have dominated York's story ever since: the mountaineer, his religious faith and skill with firearms, patriotic, plainspoken and unsophisticated, an uneducated man who 'seems to do everything correctly by intuition'..."--Saturday Evening Post. York's life story became the top-grossing movie of 1941, garnering eleven Oscar nominations. $275-350

16-7. The Wild Blue Yonder.
Color photograph of combat and test pilot Chuck Yeager, in flying suit, holding helmet, as he stands on airfield with Stealth Bomber just behind him, its cockpit open. Judged c. 1982. 8 x 10 1/4. Inscribed in dark blue, "To Phil - Good Luck!..." Trivial handling evidence, else excellent. First to break the sound barrier, Yeager earlier made "ace in a day," downing five enemy aircraft in a single mission, in 1944. His last flight in an Air Force jet was at age 89. $80-110

16-8. Part of a Distinguished Navy Destroyer.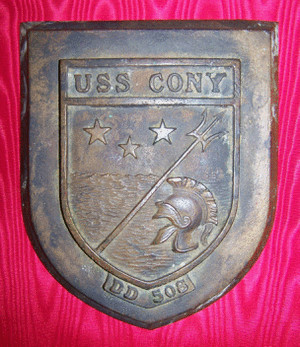 A fascinating relic: heavy solid bronze plaque bolted to bridge of the storied World War II destroyer U.S.S. Cony, recipient of 11 World War II and 2 Korean War battle stars. Tapered and beveled shield, 5 3/4 x 7. Weight 7 lbs. In ultra high bas relief, "USS Cony / DD 508," depicting three battle stars floating over sea, Centurion's helmet, pitchfork bisecting. Said to have been forged and affixed at Mare Island at time of the Cony's combat repairs in 1943. Commencing her service in patrol and escort in the South Pacific, and bombardment of New Guinea, the Cony returned to San Francisco for overhaul that April. Returning to Guadalcanal, the destroyer brought fire support and was flagship for landings on Vella Lavella in the Solomon Islands. Covering the landing on the Treasury Islands, "complete surprise was achieved, but Japanese reaction came quickly, and later that day about 25 enemy bombers attacked Cony and another destroyer. Aided by American fighter planes, Cony and her sister splashed 12 of the enemy planes, but Cony received two bomb hits on her main deck...(and) killed 8 of her men, wounded 10, and caused considerable damage" (modern history accompanies). Once again overhauled at Mare Island, she returned to the red-hot Pacific in early 1944, hunting Japanese barges and subs, was present at the assault on the Palau Islands, and provided fire support for underwater demolition teams (forerunner of the SEALs) at the epic Battle for Leyte Gulf. "Joining in the furious firing of night action, and pursuing and constantly dueling with Japanese...," she participated in the Mar. 1945 landings in Manila Bay. After the war, the Cony sailed round the world, operating in the Korean war zone in 1951, continuing in service til 1960. Whitish oxidation at portions of three sides, patinated from her trials by fire, from burnt umber to mahogany, and very good. With three (of three) original mounting machine bolts. Seldom seen class of naval artifact, and superb for display. • War-date booklet, "Restricted - Fighting on Guadalcanal," G.P.O.: 1943, 4 1/2 x 6 3/4, 69 pp. Foreword by Gen. George C. Marshall: "to secure the view of the fighting men in the Solomon Islands...We must cash in on the experience which these and other brave men have paid for in blood." Filled with dramatic advice from named soldiers and officers in the Solomons, describing Japanese ruses and deadly tactics, including trap doors in trees, suicidal approaches with white flags - hiding hand grenades in their other hand, and many others. "...Weak individuals who cannot be trusted to act correctly without supervision must be weeded out...The prowess of the enemy must not be overemphasized. American soldiers and marines can whip the Jap and they are doing so every day...." Title page creased and torn but intact, wear, waterstain pp. 27-44, else good. • "Picture Version" of Guadalcanal Diary by Richard Tregaskis, issued to complement Twentieth Century Fox's eponymous motion picture. Published by David McKay Co., Philadelphia, c. 1943, 7 1/2 x 10 1/4, 56 pp., on comic book-style pulp, profusely illustrated with drawings, coated cover. Pull at staple, some handling, else good plus. Rare thus. $275-350 (3 pcs.)

16-9. Advice to a Young Woman from "Black Jack."
T.L.S. of John J. Pershing on his letterhead steel-engraved in dark blue, Washington, Dec. 10, 1928, 7 x 10 1/2. To Miss Betty Brookes, Baltimore. "...It is my opinion that life yields no greater compensation than the contentment resulting from the faithful and efficient performance of work which we like to do. My advice, therefore, is that you select a vocation which appeals to you and for which you are suited. This step taken, success will follow your enthusiastic concentration on the duties involved...." Excellent. A lovely example for display, combining content and condition. • With envelope, nicely postmarked, "Mail Early for Christmas." Lacking flap, stains on verso, very light soiling, else about fine. With a storied career, from the last of the Sioux uprisings, to San Juan Hill, and Pancho Villa, Pershing's life changed when his wife and three of his four children perished in a Presidio of San Francisco fire. The only General in American history to be promoted within his lifetime to "General of the Armies," Pershing had sought to continue World War I and occupy Germany, to permanent destroy its militarism. Ironically, Persching's family roots - the name's original spelling - were German. $225-300 (2 pcs.)
TO FIND OUT CURRENT HIGH BIDS,
OR TO PLACE BIDS,
JUST CALL 1-914-476-8500
OR e-MAIL info AT cohascodpc.com
(We do not currently use online bidding)
17. Naval & Military
17-1. A Sea Captain's Last China Voyage.
Fascinating manuscript relating to the China trade: statement of "Estate of Capt. G.M. Patrick in Account Current with Owners of Bark Nabob," Boston, Apr. 30, 1866, 8 1/2 x 16. Showing amounts in gold, "currency," "Mexicans," and "Taels" (a Chinese unit of weight, usually linked to silver), the captain demised toward the end of a long trading journey from the Orient - and evidently interred there. "...Recd. by him in N. York in Jan. 1864...Cash recd. by him at Hong Kong in Jan. 1864, unaccounted for...at Shanghai...His washing bill paid by Capt. Pettingill, $7.64...bill of Funeral expenses, Taels 75; Cost of tombstone in Olyphant & Co.'s acct., Taels 35; Freight on effects sent home, Taels 5...Allowance for use of Chronometer for 17 mos. at $5/mo...Wages from Jan. 6-Nov. 29, (18)64 at $125/mo...." Signed by John L. Gardner, Jr. for Joseph P. Gardner - the ship's consignee for tea and silk according to a New York Times item (copy accompanies). Short break at fold affecting no text, some toning, else very good. Unusual. Research finds references to the Nabob at Calcutta, the Hawaiian Islands, and black-tea port Foochow, the latter account dated just two weeks earlier than this document, bringing "a full cargo of 13,430 packages of China tea, the first direct importation for several years." $130-160

17-2. Silk and Satin Souvenir of a Ship Lost in a Typhoon.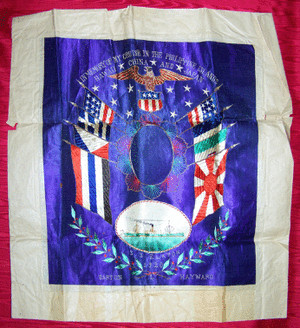 Magnificent - and dramatic - tapestry, "In Memory of my Cruise in the Philippine Islands / Hawaii - China - and - Japan / S.S. Elkton /1920 / Barton L. Hayward," comprising embroidered and hand-painted silks, inlaid panels of quilted color satins, and nautically-striped braided cord. Believed made proximate to that year. 16 1/2 x 19 1/4 visible, with original 3"-wide pasted paper frame sandwiched over Japanese-style exotic long-fibered core. A superb creation, evidently made to his specification in the Orient, probably Japan. With silver and copper-embroidered eagle atop American shield, two American flags, and flags of six other nations. Remarkably detailed rendition of his ship - a cargo freighter - even its curling smoke delicately painted in black on ivory satin background. The Elkton plied the Pacific to Hong Kong, Hawaii, The Philippines, and other Asian ports. All hands were lost in a 1927 typhoon, as she carried coconut oil and sugar from Iloilo to N.Y. Responding to her S.O.S., another ship "found only an extensive oil patch covering an area of about two hundred square miles...No wreckage was located..."--The Guam Recorder, Mar. 1927 (modern copy of account accompanies). Barton Hayward, who commissioned this tapestry, probably served with Capt. Frank Swift, later founder of Maine Windjammer Cruises. Old soft folds, some tears, wear, and wrinkling of paper backing and borders, almost all mattable, the live fabric area strikingly beautiful, lustrous, vibrant, and very fine. Request color photograph. $180-250

17-3. One Week before the "Star Spangled Banner" Written.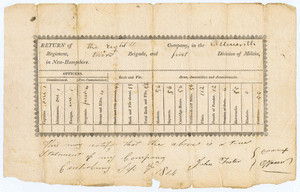 Partly printed "Return of the Eighth Co., in the 11th Regt., 3rd Brigade, and 1st Div. of Militia, in New-Hampshire," Canterbury, Sept. 7, 1814 – seven days before Key penned the words of what would become the national anthem. 7 1/2 x 12. Signed by John Foster, "Comm(issa)ry Officer," listing numbers of officers, the latter including "Drums and Fifes, 4," rank and file, and arms, ammunition and accoutrements. For 56 men in all, there are 56 each of muskets, bayonets, cartridge-boxes, and scabbards and belts, 112 flints, 12 pounds of powder, 6 balls, 55 haversacks, 55 canteens - but no blankets. Some fold wear and toning, irregular bottom margin with blank 1/4" section lacking, else good. Somewhat unusual ornamental border. • Another Return, "Fourth Co...," Sept. 7, 1814, 7 1/4 x 12. Signed by Capt. Benjamin Wells. His roster of 51 men is short on muskets and bayonets, but boasts 100 flints and 45 "brush & wier" (sic). Stain at top, some foxing, fold wear, but satisfactory. • A.N.S. of Capt. Benja. Wells, Loudon (N.H.), Sept. 27, 1814, 7 x 11 1/2. To Maj. Asa Foster, Canterbury (see following lot for fascinating biographical information). "...I have Detach'd from my Company Rufus Sleeper, Elijah Osborn, Ebenezer Clough & Jewet Sanborn & have Notifyed them to 'report to] Chamberlins Mills, Equipt according to Law...." Some toning and wear, else satisfactory. • Elongated, partly printed Subsistence Account of "Putnam Farrington, Lt. Col. of a Regt. of Detached Militia 'of Delaware County, N.Y.]," n.p., Dec. 3, 1814, 7 x 16 1/2. For a total of 311 rations at Camp at Greenwich 'New York City], over a period of 103 days, at 20¢ each. Signed twice by Farrington, and once by Paymaster Isaac Q. Leake. Accompanying research describes Farrington's exploits in these weeks: "...After about a week 'in Brooklyn Heights]...they were transferred to New York and stationed at Camp Greenwich, above the old State prison, occupying tents until cold weather drove them into empty houses. They were discharged on the 2nd of Dec., after an uneventful campaign, in which the only battle was between an old sailor and a landsman; no one was killed..."--History of Delaware County, N.Y..., 1880, p. 64. Camp Greenwich was used during both the Revolution and War of 1812, and was likely in the Greenwich Village vicinity. Farrington became a Gen.; during the War of 1812, his son served as an orderly on his staff – at the age of 13. Interesting marginal "strings" from papermaking, miraculously intact; one panel previously separated at fold, repaired with tape on verso; wrinkles in one panel, else fine and clean. • Manuscript receipt signed by Jonathan C. Prescott, place undeciphered but from same collection, Sept. 13, 1814(?), 2 x 8. For "my back pay as a Soldier in the United States Army," received from Jacob Cutter, District Paymaster. Fine. $275-350 (5 pcs.)

17-4. An Un-Court-Martialed New Hampshire Officer writes to a Benedict Arnold Staffer.
Trio of unusual War of 1812 items: Manuscript "Return of Capt. Jona(than) Rollins' Company of Cavalry in the 11th Regt., 3rd Brigade, and 1st Div. of Militia in New-Hampshire, Loudon, Oct. 13, 1812" – the day the Americans were badly beaten in an attack on Canada, losing 1,000 men. 7 3/4 x 12 oblong. Enumerating "1 Captain, 2 Lieutenants, 1 Cornet, 4 Serjeants, 1 Trumpeter, 40 Rank and file present...100 Pistols, 50 Holsters, 50 Sabres, 50 Scabbards and Belts, 100 Flints, 10 Pounds of Powder, 'number not written] of Balls, 50 Valise, 50 Blankets." In January 1812, Rollins had been court martialed and cashiered from the Militia. A contemporary source (copy accompanies) records that he "was tried by a partial and improper tribunal...," and granted a rehearing in June. Rollins was successful in being restored to duty and to his rank. Some tattering at edges, just affecting initial "R" of "Return," toning, else darkly penned and attractive for display. • A.L.S. of above Rollins, Loudon (N.H.), Sept. 10, 1814, 6 x 7 1/4. To Maj. Asa Foster, Canterbury, of the distinguished N.H. family. "I recd. a line from you requesting me to detach 4 privates from my Company. I feel willing to comply with any reasonable request from you Sir, but if it is necessary for my assistance, I hold myself in readiness to go with my whole Company at a moments warning, but I shall not detach one soldier, as I wish to command my soldiers myself." Some toning, tear at blank left margin where lettersheet opened at red wax seal, else very good. Foster was "one of the officers at West Point with Benedict Arnold, and a member of his staff at the time his treason was discovered...." Reaching the age of 96 in 1861, Foster "declared that if he were younger he would shoulder his musket and again march to the defence of his country"--The Spirit of '76, Apr. 1897, p. 502. • Manuscript receipt signed by Jona. Kittredge, Surg(eo)n, Canterbury (N.H.), June 24, 1812, 3 x 7 1/4. "...John S. Lovering is invalid in body and for the present excused from military duty." Once folded into a tiny rectangle, likely in the subject's wallet, else good plus. $200-250 (3 pcs.)

17-5. "Your journey may be highly conducive to the safety of our country."
A.L.S., probably retained clerical copy, of Maj. Gen. Elijah Wadsworth, 4th Div., O(hio) Militia, "Head Quarters, Cleveland," Sept. 10, 1812, 8 x 13 3/4. To Gen. Findlay (for whom the Ohio city named). "I think it of the utmost importance to the military service of the country that you should proceed to Niagara, & communicate to the officers commanding verbally; & I deem it my duty to request you to go there & also to see Gen. Dearborn if practicable in a short period of time. With my best wishes that your journey may be highly conducive to the safety of our country." Penned on grey ledger sheet, ruled in brown-red, some handling wrinkles, edge toning, else about very good. Rising from cornet to captain in the Continental Dragoons during the Revolution, Wadsworth "served from Bunker Hill to Yorktown..." --Lineage Book, D.A.R., Vol. 35, p. 319. An important figure in early Ohio Western Reserve history, he appears in Lossing's Pictorial Field Book of the War of 1812, William Henry Harrison and the Conquest of the Ohio Country (Skaggs, 2014), and Ohio and its People (Knepper, 2003). His Papers reside in the Western Reserve Historical Society. • Attractive partly printed War of 1812 enlistment document, Johnstown, Montgomery County, N.Y., June 14, 1813, 6 1/2 x 7 1/4. For Obadiah Spencer, born in Paulding, Dutchess County, "of ruddy complexion, blue eyes, sandy hair," enlisting "as a Soldier in the Army of the U.S., for...five years...and that I will serve them honestly and faithfully against their enemies and opposers...and obey the orders of the President...." Signed by Spencer and Justice of Peace. Fine. $80-110 (2 pcs.)

17-6. Old Ironsides Relic.
Pleasing collection relating to the Queen of American warships, the U.S.S. Constitution: Large chock-shaped block of richly textured, hewn wood, with bronze plaque, "This material was taken from the original hull of the U.S. Frigate Constitution - Keel laid 1794 - Rebuilding 1927." 4 x 4 1/4 x 2. One short and one long surface fissure on each of two sides, from normal aging, else very fine, and highly displayable. • Copper medallion, 1920s, 1 3/16", beaded edge. On obverse, the Constitution under sail, "Old Ironsides / Launched 1797 - 1804 Tripoli - 1812 Guerriere, Java - 1815 Cyane, Levant." Reverse: "This token represents my contribution of 25¢ to the Save 'Old Ironsides' Fund - A deposit in the National Bank of Patriotism." Holed at top for suspension, few stains on reverse, else pleasing milk chocolate tone, and very good. • Pair of celluloid pinbacks, "Save Old Ironsides / 1797-1925," red, white, and blue. Showing the ship at sea. 13/16". Printed paper insert in back, "Victorious in War and a Protector of Peace...From Washington to Coolidge, a patriotic inspiration / The 'Old Ironsides' Fund, Boston." Both very fine. • Booklet, "The Story of the U.S. Frigate Constitution...," John Hancock Mutual Life Insurance Co., 1927, 4 1/2 x 6, 16 pp., colorful covers. Back cover with corner creases and edge tear, else good plus. • Souvenir writing tablet, U.S. Naval Institute, with rendering of the ship handsomely blind-embossed in deep plum leatherette, "Old Ironsides" in gold ribbon. Turned over rigid boards, 5 3/4 x 8 1/2, opening to period pad of perforated notepaper. Judged c. early 1940s. Lynchburg, Va. maker's imprint. About fine. $110-150 (6 pcs.)

17-7. The Frigate Constitution Marks F.D.R.'s First Inauguration.
Rare cover, flag-blue cachet "U.S. Frigate Constitution / Commemorating the Inauguration of Franklin Delano Roosevelt...Mar. 4th, 1933." Postmarked aboard the storied ship, with circular "U.S. Frigate Constitution / Mar. 4, 1933 A.M. / San Pedro, Calif.," tying 3¢ purple Gen. Oglethorpe postage stamp. Fine stylized cachet in pumpkin orange, showing the ship leaning into the wind, as a dirigible and aircraft fly in the skies, all within rope border. Signed by "Harry Moore, Navy Mail Clerk." Backstamped San Pedro Naval Sta., Mar. 4. Uniform toning, else very fine. $80-110

17-8. Plumes and Frocks for Soldiers in the "United States Service."
War of 1812 manuscript list of clothing received by some 35 soldiers of Lt. Perez Loring, of whom about two-thirds have signed, some with an "X." Sackets Harbor (N.Y., on Lake Ontario), Aug. 6, 1813, 12 1/4 x 14 1/2. A member of a Mayflower family, Loring was a member of Duxbury, Mass.' Committee of Correspondence during the Revolution, later commanding New Hampshire's Fort Constitution. Listing number of plumes, "cockades & eagles," cords, and swords given each; only three men were issued swords! Two signers, Jesse Smith and Jonathan Simonds, died at Fort Erie on Aug. 16 and 17, 1814, respectively. Once much dampstained, several silver-dollar-size sections eroded with loss of text, names at left somewhat lightened but mostly legible, facing signatures generally dark. Professionally backed with heavy nylon, (re)folded to six panels, else satisfactory. • With another manuscript list of clothing received by 49 soldiers under the same Lt. Loring, with their signatures, some with "X." "United States Service - We the Subscribers...have received of Lt. Peres 'sic] Loring of the Army of the U.S. the following Articles of Clothing as set against our names." Two sheets joined with old spot glue, oversize 12 1/2 x 21. N.d. but related to first item. Signed by some 49 soldiers, enumerating number of coats, overalls, vests, shirts, stockings, shoes, caps, cords, plumes, stocks & clasps, frocks, trowsers, and blankets. A number of men are from the same family, including Eavins, French, Heath, Latham, and Kimball (Asa, Levi, and Pusiel'?]). One full-width and three shorter reinforcements with acid-free tape on verso, mousechew at upper left margin and two fold junctions, the latter backed with matching cream paper, docketing oddly abraded, stains, but quite satisfactory, suitable for display, and the largest War of 1812-era document we've handled in years. $140-180 (2 pcs.)

17-9. "Large Tinn Kettels" in Old Whaling Center.
Manuscript receipt for "2 Large Tinn Kettels with Covers (and) 2 Quart Potts and 12 Pint Cups..." purchased by Town of Newbury Port (Mass.) from Joseph Johnson, Aug. 1778. Signed by Johnson Jan. 22, 1779. 3 1/4 x 8. Upper portion of large crown watermark. Docketed. Some damp toning, short tear at bottom, else about very good. Newburyport was a prominent shipbuilding and whaling center, and focus of privateering during the Revolution. "The captains of old Newburyport had participated vigorously in the triangular trade, importing West Indian molasses and exporting rum made from it."--wikipedia. $70-90

17-10. "Candles for the Guard."
Manuscript order of Capt. Thomas L. Campbell, U.S. Ordnance, 4 x 8. "The Contractor will deliver Six lbs. of Candles for the Guard at the Arsenal for the Month of Dec. 1813." In older pencil, "Albany," and a citation, likely linking this document to an entry in an official publication. Campbell also served as first Commander of the Watervliet Arsenal, America's oldest, established in the year of this document. The New York-based founder of the Colgate empire launched his fortune by supplying candles and soap to the Army in the War of 1812; perhaps he was the supplier here. Fine. • A.L.S. of Capt. John L. Prescott, Norridgewock 'on Kennebec River, Maine], May 10, 1813, 6 1/2 x 6 3/4. To Amasa Davis, Q.M. Genl. "Please to send the usual quantity of ammunition matchrope...for the Company of Artillery at Norridgewock, 2d Brig. 8 Div. by such conveyance as you shall judge expedient. Please to send the quantity of shot allowed by Law." Docketed Boston, June 7, "order for Powder &c...." Blank upper right tip lacking, else fine. Prescott "was a tall, well-formed man, of some strength of character, and would seem to have been quite popular in town..."--Memoirs of Members of the Social Circle in Concord...1795-1840. $90-120 (2 pcs.)
TO FIND OUT CURRENT HIGH BIDS,
OR TO PLACE BIDS,
JUST CALL 1-914-476-8500
OR e-MAIL info AT cohascodpc.com
(We do not currently use online bidding)
18. Old Letters
18-1. Escape from New York.
Dramatic, eloquent letter lamenting the fearful cholera epidemic raging in New York. From William N. Chadwick, who has fled to Greenfield Hill (Conn.), Aug. 2, 1832, 2 pp., 8 x 9 3/4. Chadwick was an officer of New-York Fire Insurance Co. with Cornelius Vanderbilt, and, with John Quincy Adams, William Colgate, Peter Jay, Francis Scott Key, John Marshall, descendant Peter G. Stuyvesant, et al, an officer of American Bible Society. To Henry Leverich, Pearl St., N.Y., merchant in brandy, gin, sugar, ginger, tobacco, gunpowder – and cotton financier for the vast Dr. Stephen Duncan Plantation in antebellum Natchez. By 1850, Duncan became perhaps the largest cotton planter in the world; Natchez boasted more millionaires than Manhattan. Docketing by Leverich or his secretary. Integral address-leaf with red Fairfield, Conn. c.d.s. "...I hope it will prove...that this most afflicting dispensation of Providence will soon leave our devoted City & we shall all shortly be permitted to return to our homes. The accounts from various parts of our country exhibit a most melancholy picture. It seems as if no portion of it is to be exempt from this dreadful pestilence...The appearance of our City must indeed fill the mind of the beholder with gloom...at the scenes of such heartrending distress & misery...The extent of affliction, incident to such a calamitous event, must be great indeed... Those who have left the City are alarmed at the breaking out of the disease, in places all around them... It is the opinion of many that it will spread over every part...I regret to hear that Mr. Remsen has had symptoms of another attack, and it has been found necessary to bleed him...My best respects to all in the counting room...." Very fine. $160-220

18-2. "I have now no ambition for fame...."
Superb, profoundly moving A.L.S. of James William Denver, namesake of Denver, Colorado, to his wife, on their eighteenth wedding anniversary, looking back at their years together. Denver laid out the eponymous Western city, then part of Kansas Territory, of which he was Governor at the height of the slavery debate. His exciting life captured the flavor and excitement of America's formative century: A Virginia-born adventurer, he was a Shakespearean actor, fought in the Mexican War, and traveled overland to California early in the Gold Rush. A rapidly rising political star, he prevailed in an 1852 duel with a California critic, which in Denver's own estimation cost him the nomination for the Presidency. Fighting at Corinth in the Civil War as a Brig. Gen., his later visits to Denver were met with disappointment at the "little affection" shown him by the inhabitants of the city bearing his name. From his law office in Washington, D.C., Nov. 26, 1874, 7 3/4 x 9 3/4, 3 1/4 pp., signed "Will." To his wife. "I write you again on this the anniversary of our wedding day. Eighteen years have passed... eighteen most eventful years - eventful not only to us but to the whole world. We have seen many of the ups and downs of life in that time...If we have not obtained everything hoped for or desired, we have been much more successful than the great majority of people, both in honors and wealth, and certainly few have been blessed with more domestic happiness, which is worth more than honors and wealth. The only drawback to our genuine happiness has been the necessity that existed compelling me to be so often and so long away from you. I can truly say that there has never been a time when I for a moment regretted having asked you to cast your fortunes with mine. I may have disappointed you in not having achieved as much distinction as you could have desired, but you have never disappointed me...For your sake and for the sake of our children I wish that I could have achieved greater successes in fame and fortune, but Providence ordered it otherwise and I must be content...the greatest of all being that of a good wife and good children - blessings that few have in equal degree. I have now no ambition for fame, and my only desire is to provide for and take care of my family properly. If my children should turn out good and useful members of society I shall feel that I have not unworthily filled the position allotted me in life...In everything I have ever attempted to do I have tried...to do it better than any body else could do - to take good care of my good name - never for a moment to let there be a doubt of my integrity...and I trust no one has ever yet had to apologize for any thing I have ever done involving honor, integrity or fair dealing. These things may be of service to my sons to know as they grow to manhood. I have to go to take a Thanksgiving dinner with Mr. Kendall, M.C. of Nevada now...." Light dust-toning at blank top edge of p. 1, else very fine. $1100-1400

18-3. "...told me I might have his Daughter & I rather think I shall take her."
Letter of physician A.H. Smith, "New Burgh" (N.Y.), Sept. 12, 1807, 3 pp., 8 x 12 1/2. To noted Dr. Charles Smith, New Brunswick, N.J. Integral address-leaf, manuscript "12." "...The report of my ill health is untrue...I can walk up our long hills more expeditiously & with less fatigue than any man in N.Burgh. I never have been a day unable to attend to my business since I arrived here from Jersey. In the month of Aug. I booked nearly $300 worth. I have this day charged 3 patients, & visited several that were in a state of convalescence. Dr. Burch, Mr. DeWitt's son-in-law is here. He did me the favor to visit a patient with me that is singularly affected. It is a ch(il)d of Capt. Griswold's of 9 m(on)ths old. He was attacked with the influenza which seems to assume the form of Pleurisy. The symptoms were extremely urgent. I bled, blistered, gave several emetics, & the fever & cough continued, together with an apthous affection of the mouth... larynx, if not lungs. Demulcents 'soothing ointments], nauseating med. & at last calomel were administered with affording anything but temporary relief. A few days since I was alarmed by the appearance of a large tumor that filled the space between the sternum & inferior maxilla, which appeared to be of the Emphysematous kind...Air could not have escaped from the lungs, as respiration was perfectly free & easy...Dr. D(avis) also happened in town & visited the ch(il)d with me. They approved of my treatment...Doubtful whether the patient will recover. I have another interesting case of a burn from gun powder. Capt. Solomons, who commands a coasting Schooner belonging to this place was taking in a cargo of G. Powder at W(est) Point to take to Wilmington...Some damaged powder was burned from his toes to his hips in a most shocking manner. I was for a time doubtful whether his life could be preserved. However as his habit was good, by the u(se o)f Turpent(ine), Linseed Oil & White Lead, the parts destroyed sloughed off & the ulcers assumed a kindly appearance. I have lately made use of nothing but a wash of Lime & water...He will soon be well...Judge Gardner started last night for Baltimore...He is a warm friend of mine & moreover has told me I might have his Daughter & I rather think I shall take her - but not in less than a year...She has gone to Catskill & Troy...Be a little polite to him. You will find him to possess a strong but rather uncultivated mind...Dr. V. Kluck remains at his lodgings patiently waiting to attend any in distress...." Two words affected where opened at red wax seal, some soiling address panel, light wear, else very good. A splendid medical letter. $110-150

18-4. "She was a fool to have taken a job under a woman...."
Three dryly humorous T.Ls.S. of Boston architect Albert M. West, 266 Washington St., 1893, 6 pp., on early typewriter, blue ribbon on handsomely watermarked ivory, 8 x 10. Each with holograph postscripts. To "My Dear Little Girl," apparently his sister in Nantucket. "...The Wattles family came up here...Tonight we promised to go down there and play fan-tan...It seems however that a Swede girl whom they had up to two weeks ago wants to come back again, and there is something of that at the bottom of it all too. I was mending these striped pants with that gum tissue when Jane came over here...I presume that Jane goes to Waltham now, and she says that she was a fool to have taken a job under a woman anyway, as she liked to boss things pretty well...Dwyer's Henry, Jo Wag(ner)'s brother suggested a brilliant scheme to me the other day...to take John's picture with a flash light when he was full...Of course he is full all the time now...I am going to make a sort of a pistol arrangement to touch off the powder with...I really don't care whether I get a picture of him or not, so long as he knows that I have been trying...Liza says tell you that we are living on the fat of the land...Today I had a letter from Milford, N.H. about hurry up sketches for a school...I got my coat today by going after it. They said they would send it, but saying so and doing it are two very different things...Sometimes I wonder what you girls are doing down there, and I only get the faintest idea from your letters...I had another chance to put in a sketch blow in, and that makes three in a heap. The last one is for a Club House at Rockland, Me., and Granger...also has a sketch to make for his grocer or butcher, and I told him that was a more sure thing...I had a constant string of visitors all day yesterday, and did not accomplish a thing for the entire day, except to make out a contract for Finkelstein...I had to do a very wicked thing today. I had made up my mind if the Wattles asked me over to dinner, that I should plead a previous engagement...It began to sprinkle a little just as I got on the electric to come home...." Minor creases, one from his original fold, else very good. • With 3 envelopes, each with 2¢ Columbian. Some postal soiling but good plus and better. $60-80 (6 pcs.)

18-5. "These high power rifles are too dangerous to use in the streets."
Letter of firearms salesman E.S. Parmenter, Utica, N.Y., June 23, (18)97, 2 pp., 7 3/4 x 10. To Percy Bowker, Wakefield, Mass. "I have severed my connections with the Savage Co. but will notify them that you want a catalog. Even with the factory loaded full charge c(ar)t(rid)g(e)s the powder does not all burn. You will find little square dents in some of your shells made by an unturned grain staying in the chamber where fired shell is extracted...Try 6 grs. weight of Walsrode shot gun powder, or 12 to 15 grs. weight of Savage #1 with your 130 gr. bullet cast 1 to 10...New York State is being armed with the Springfield. The best gun for the National Guard is the Win(chester) Repeating shot gun loaded with Buck Shot. These high power rifles are too dangerous to use in the streets and would not have the effect on a mob that the buck shot would have. I have seen both used against as desperate a mob of men as could be found in the U.S. and the shot started them, you bet." Ten years earlier, an E.S. Parmenter had been a teacher (preceptor) at the University of Michigan. Uniform browning, else about fine. Splendid content. $65-80

18-6. "I do not like the west very much...."
Length letter of Mississippi River town settler N. Lynch, Rock Island (Ill.), Apr. 17, 1849, 8 x 9 1/2, 4 full pp. + 2 pp. postscript on half-size blue sheet. "...The peach business, they brought from $1 to 2 per bus(hel) last summer in this place...I do not know that I can tell you what they brought in St. Louis and other towns on the river, but when I came out here peaches was selling for $250 to 300 per bus(hel) in St. Louis and Quincy 'Ill.]...Land...can be bought for $5 to 10 per acre I believe almost anywhere within a short distance..., but to plant an orchard I prefer it near Alton and then you would have the advantage of St. Louis and Quincy both...The peach business... would pay first rate. I am told that land can be bought already improved...A long and cold winter here... The river is very snowy and the ice stopped there and the water raised so fast that it piled the ice on the shore from 15 to 30 ft. high...The whole shore was covered and the little boats was paddling on Water St. and some of the families moved out of their houses. Our town was entirely surrounded with water, but not so much damage done on Rock River at Camden...Today the snow has been falling ...so you may judge what this country here would be for fruit...We have some delightful apples come here from the south part of this state...$1.87 1/2 to 2.00 per barrel...and in the fall of the year they bring about $2 to 2.50...and peaches $4 to 5...." Recites prices for corn, wheat, pork, "beaf," eggs, and butter. "Everything is high here but bread and wages...I have made nothing since I came out here. I have just about kept clear of the world...I have seen many things that I should not of seen...but I do not like the west very much, at least this part...I have worked at the harness business...I am at this time driving a team for a man in town...Wonder if I ever shall see you again, perhaps not on Earth...." Toning of two panels of p. 4, fine wrinkling of postscript leaf, else very good, and darkly penned. 80-110

18-7. Arresting an Unmarried Father-to-be.
Manuscript legal A.D.S. of Justice William Imlay, stating that "Martha Blackwell of the Township of Upper Freehold...single woman, hath by her voluntary examination...declared herself to be with child, and that the said child is likely to be born a bastard and chargeable to the said Township and that Richard Potts, Jr...tanner, is the father...And whereas Gilbert Hendrickson, one of the overseers of the poor...hath applied unto me to issue out my warrant for apprehending the said Richard Potts, Jr...." Monmouth County, N.J., Apr. 2, 1832, 8 1/4 x 13 1/2. The following day, bold docketing on verso: "Returned the within with the defendant in Court. Samuel Bunting, Constable." Light toning, else fine. Imlaystown is named for the eponymous family, "the area's major landowners in the colonial period"--wikipedia. A William Imlay is mentioned in Slavery and Freedom in the Rural North: African Americans in Monmouth County by Hodges. • With companion document in Imlay's hand, 3 1/2 x 8, stating that Martha is 18 years of age, and "the child was begat at the residence of VanRoom Robbins...." Fine. Research shows that Martha (Margaretta) married Robbins, Jr., bearing five (more?) children; he may have become the father to the child in these documents. $110-130 (2 pcs.)

18-8. "Yellow Jack" Epidemic in New Orleans.
Letter on pictorial stationery from G. Rundle, local agent of Singer Manufacturing Co., "89 Canal St., Opposite the Fountain," New Orleans, Sept. 17, 1873, 1 full p., 8 1/2 x 11. To New York office. Charming large woodcut of sewing machine. "We are entirely closed in by Quarantine, as Galv(eston) & Mobile have Quarantined N.O. & Jeff & Dallas has Quarantined Shreveport, which prevents us from making shipments into Texas...Houston is Quarantining Galveston & we cannot get mac(hine)s to Houston from N.Y. ever...This Yellow Fever will play mischief with us. Our collections & remittances from Tx. will be delayed & business is knocked in the head for the next sixty days. We have considerable 'Yellow Jack' here, and it is on the increase and no doubt will be declared 'Epidemic' in less than ten days. We have two of our employees down with the fever." Brown paper remnants on blank verso where tipped in Singer letterbook, tears at lower right tip repaired with three pieces modern tape, edge dust-toning, else very good. Dramatic for display. $60-80

18-9. "If not, we are done with you."
Letter with splendid Grange Movement content, from Theodore Seinscott, Eagleport, Morgan County, Ohio, Jan. 9, 1875, 6 1/2 x 7 3/4, 2 full pp. To Singer Sewing Machine Co., N.Y., requesting price list. "...As I have been elected Agent for our Subordinate Grange I want to know what discount from Price list you will make to Patrons. We want to deal direct with you and not through agents...as our money is as good as his and we ought to have them as low. Please write and state whether you will deal with us that way or not: if not, we are done with you, as other Co. have already agreed to deal with us, and we will patronize those Co. who will give us terms. It is not the intention of the Grange movement to inquire the Manufacture(r) but to bring the Manufacture(r) and Producer closer together and trade, thus save the expense given to the middle men and agents...We have been warned by the State agent for the Grange, W.H. Hill, to keep the terms...confidential from outsiders...See that the Grange seal mark is upon each letter you receive before you give them terms." Large blind-embossed seal "West Bloom Grange No. 716...." Characteristic 7/8 " brown paper strip on verso where tipped in Singer letterbook, covering some letters and words, fragment lacking at blank lower left but believed removed at time the thrifty writer trimmed a larger sheet to save paper, else very good. An agricultural movement born in 1867, the Grange advocated for establishment of rural free mail delivery, the Cooperative Extension Service, Farm Credit System, and regulation of railroads and grain warehouses. Still active today, members have included F.D.R. and Harry Truman. Early Grange material is scarce. $120-170

18-10. A Gun Dealer in Old Savannah.
Group of six letters from Cyrus Stedman, the first penned aboard ship departing Boston harbor, "Sat. Night," postmarked Oct. 1, (1836), and five from Savannah, Ga., Dec. 4, 1836 to Jan. 20, 1839. 7 x 9 3/4 to 8 x 10. 9 1/2 pp. in all. To his pregnant wife Mary, in Medfield, Mass., with news of his Savannah business plans and new gun shop, filled with fascinating Southern and human interest content; evidently he found himself in the midst of fellow New Englanders in Georgia. "...Verry cold 'sic] here...I have set down by my furnace to write to you...I have taken a shop 2 doors from Wm. Lovell in the same block & I have enough work to do. William has taken a fellow into Company with him by the name of Stibbs...I went up to Brother Ralph tonight & took tea with him...James Foster arrived here last week & his Brother, he & his Wife are at Loggerheads again. He licked his wife within 48 hours after he landed. She has got a terrible black face. She tried to kill him with the carving knife. Foster brought my hymn book...from Medfield in such a hurry that I never brought my Shaving apparatus nor clothes brush...I have a chance to sell Miss Chenery('s) pistols at 8 dollars. As quick as I get the money I will send it...The Brig Rome sailed...I meant to send on some homany, pee nut & potatoes... Your (letter)...stated that you was quite unwell...I am afraid that you will have a hard time of it...I do want very much to settle my business here so that I shall not have to come back again. I know that the winter season is worse for you to be alone...I will make it all up to you when I see you again...I hope in one month to leave this place...The indian war is said to be over but I have heard since that they have begun again...." Still in Savannah in Apr. 1837, he continues, "I suppose that your time now draws nigh for you to be delivered & I am very sorry that I cannot be there to assist...My intention now is to start from Sav. about the last of this month...If you want anything at all for your comfort you must get it on my Credit. I expect you can get trusted on my account...You must not deprive yourself...." Back in Savannah in Nov. 1838, Stedman pens, "John has got good steady employment and gets $3.50 a pair for making Boots. He works for Brother Meldrum...I am now at work in Foster's shop...Lovell is going to buy back his shop again. He is very sorry that he sold out to Stibbs...Lovell is going to send to Wethersfield for his Wife. He thinks of living in Savannah all together...This is a dull market for Cramberries 'sic]. There is not many that knows anything about them...I want to see my little Joseph & Mary very much. I do not forget them. My Prayer to God is that they may be brought up in the right way...I have not made up my mind yet whether I shall stay here...Tell Mr. Davis this is no place to sell Window sash. They ship it in plenty from N.Y...." In Jan. 1839: "...Going into the country to look about & sell my guns...It is about 200 miles where I am a going...I expect to stop & work 3 or 4 weeks after I get there. I shall carry part of my tools...to get along with my work. I have bought me one horse & wagon now. I expect tomorrow to buy me another horse & wagon for I cannot carry all my guns & tools with one horse. Ephraim will drive one & I the other...I expect to camp out in the woods most every night...I have about 30 guns to carry with me. I bought 5 guns here in Sav...My Dear Wife...you must trust to the Lord...I hope to be home by the first of April...but I cannot possibly come home yet. I want to get rid of my stuff first...." One with red Boston c.d.s., four with red Savannah c.d.s. and manuscript markings. Boston letter with signature curiously removed. Dec. 4, 1836 letter split along vertical fold, neatly repaired with acid-free tape; lacking half of blank integral leaf. Varied wear on others, but generally about very good. It is unclear when the writer did return home to see his wife and new children – though he did: records reveal he had eight in all, three of them born during the span of these letters. A grandson, Joseph Cyrus Stedman, born 1867, was a noted physician. Modern research accompanies. $325-425 (6 pcs.)

18-11. Physician to the Elephant Man reports from Monte Carlo.
Highly interesting A.L.S. of Sir Frederick Treves, English physician and surgeon to Royal family, physician to and friend of the Elephant Man, author of The Elephant Man and Other Reminiscences and other books. Hotel Windsor, Monte-Carlo, Dec. 19, 1919, 2 pp., 5 1/4 x 8 1/4. To Lord Sudeley. "...My best wishes for Christmas and the New Year...For over a fortnight we have had bright sunshine all day, without either cloud or wind...Monte Carlo is already very full, mostly with English people who have given up their houses in England. There is a lack of nothing, except matches and tobacco. Wood fuel is plentiful but as the weather has been hot it is unpleasant to think even of coal...Owing to the exchange, living is much cheaper here than in England. Indeed our Hotel bills are less than they were before the War. The gambling rooms are not quite so full as usual and no doubt feel the scarcity of money. Our daughter is still with us as her husband remains with the army of occupation in Austria. The war has not touched the Riviera in any way and everything is as trim and as smart as it was in the old days." Marginal toning, left margin a bit deckled where removed from letterbook but with no loss of text, else good plus. Treves made medical history, treating King Edward VII's appendicitis in a novel procedure two days before the 1901 coronation, saving his life. Ironically, Treves' great-nephew, an actor, played a role in the 1980 Elephant Man movie. Treves material is now uncommon. $325-425

18-12. Antebellum Alabama.
Splendid lettersheet "Merchants and Planters Prices Current," Mobile, Feb. 21, 1846, 9 x 11, 2 pp., closely printed with exhaustive information on ships in port, cotton, lumber, and other exports and imports, including destinations, "Review of the Mobile Market," and "Comparative Statement of...Cotton..." at New Orleans, Mobile, Savannah, Charleston, Florida, Macon, and other ports. Inside, letter of Mobile merchant Geo. Bowlind, to Eben(ezer) Chadwick, Boston: "...Our Cotton market is in such a state that I cannot execute your order at present satisfactorily. I do not look for any lower prices this season. The truth is, there appears to be a very good feeling in favor of Cotton at present prices & you will observe that the daily sales are quite liberal. If your limits would allow me to pay 7-7 1/2¢ I could send you an article which I know would please you. However I will keep watch of our market until I can hear from you again...." Red Mobile c.d.s., red square "10." Light wear at fold junctions, loss of few letters where opened at wax seal, else very fine and highly attractive. Chadwick appears in Elite Families: Class and Power in Nineteenth-Century Boston (1993). $80-110
TO FIND OUT CURRENT HIGH BIDS,
OR TO PLACE BIDS,
JUST CALL 1-914-476-8500
OR e-MAIL info AT cohascodpc.com
(We do not currently use online bidding)
19. Antiques & Curiosa
19-1. Rare Memento of the "Talkies."
Tall glass-domed radio broadcasting tube, salvaged from one of the first radio stations in America. Made c. 1925, one foot high, Western Electric #212D. Broadcasting power triode tube #212D actually had a profound influence on the development of communication: it was the standard piece of transmitting equipment in most of the nation's earliest radio studios. Bell Telephone Laboratory literature of the period describes this very tube: "When talking motion pictures came in 1926, its popularity was further extended. It gave a voice to the screen in every one of the country's leading theatres until 1930...." Actually contains platinum coatings. Some silvery frosting at top of the heavy clear glass. Tube cost $350 back in 1925! (Those were days when radio receivers were priced as high as $600.) Untested but clean and appears sound; purchased in lower Manhattan in mid-1970s, ironically blocks from RCA headquarters. A fascinating display piece, actually used to send some of the earliest radio programs over the air. "Western Electric's audio equipment from the 1920s and 30s, designed to be used in movie theaters, is now prized by collectors and audiophiles due to its quality construction and sound reproduction..."--wikipedia. $700-1100

19-2. Decorative Dagger.
Old handmade dagger, 16" long, carved bone handle, hand-engraved steel. Probably mid-nineteenth century, North African origin. Blade tooled within raised spear-shaped perimeters, on one side with chevrons in geometric array; other side with rows of five triangles each, beaded divisions, milled rules at ends. Handle chipped, visible one side only where blade inserted, else with pleasing original patina, and about very good. $70-100

19-3. Antebellum American Pocket Pistol.
Petit "Allen Thurber & Co." double-action bar hammer percussion muff pistol. An interesting example, with uncommon, original cream ivory grips and triple markings. Patent 1845, .36 caliber. 3" long. Simple scroll engraving. Screw-off barrel allowing breech loading. Serial (or batch) no. 645, dateable within the brief time in 1854-56 that the firm used this transitional name, in their Worcester, Mass. period. Their factory had been destroyed by fire in 1854; this was believed produced in their new facility. Total production of this model range, in all of their locations from 1830s to Civil War period, estimated at "several thousand"--Guide to Antique American Firearms, 9th ed., ref. 5A-006. Some examples did not bear maker's name; this has three markings: "Allen Thurber & C(o.)," "Patented April 16(?)," and "Allen's Patent / 1845." (Their co-namesake Ethan Allen, the celebrated gunmaker, was likely named for the patriot.) Likely reblued long ago, now about 85%, lacking trigger guard, mainspring screw in grip replaced, tight age crack of left grip, very minor crack of right grip, else fine, well-marked, mechanically good, and pleasing for display. (Not warranted safe to shoot.) Ivory grip examples from this narrow period of the firm's production are very uncommon on the market; they are unmentioned in the standard encyclopædia cited above. $375-525

19-4. Horseless Carriage Artifact.
Camshaft assembly from 1905 Reo, 2-cylinder engine, their first model, made by Ransom E. Olds, namesake of Oldsmobile. With large gear and some fittings. High quality bronze and steel. Overall length approximately 10 1/4. Gear 8" diameter, six spokes, 62 teeth. Almost certainly made by hand in their Lansing, Mich. factory. Probably correct for 1906 and 1907 also. Corrosion of short steel shaft and core end; bronze parts fine, all teeth sound and unbroken, but best suited as conversation piece for display. Interesting Canadian Maritimes provenance. $45-70

19-5. From a "Glass House."
Solid bronze nameplate from a greenhouse "Built by Lord & Burnham Co., Irvington, N.Y." Judged c. 1900-10. 1 1/2 x 10 1/2. The preeminent maker of "glass gardens," bird habitats, aquaria, and all-glass structures in the Gilded Age and beyond, for many of America's finest conservatories, estates, and mansions. (The firm's other business - boilers - continues to this day.) Excellent. $60-85
TO FIND OUT CURRENT HIGH BIDS,
OR TO PLACE BIDS,
JUST CALL 1-914-476-8500
OR e-MAIL info AT cohascodpc.com
(We do not currently use online bidding)
20. Encore Items just received at Presstime
20-1. Including an Original Drawing of Sutter's Mill – by a Recorded Artist of the Gold Rush and Pioneer Settler in Coloma.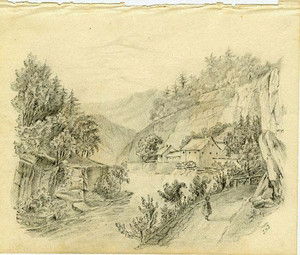 Significant suite of five original, antebellum drawings (four signed), by John Henry Dunnell, one of the Forty-Niners, adventurer, California's first Justice of the Peace upon Statehood - in Coloma, El Dorado County (which rose around Sutter's Mill), and a trained fine artist.Having studied at the National Academy of Design, upon discovery of gold, in early 1849 Dunnell took the first steamer of the Pacific Line from New York. As Coloma's Justice, it was Dunnell who heard a lawsuit against two men who had bought out Sutter: James Marshall, who had discovered the gold at Sutter's Mill, and his partner John Winters. Despite Dunnell's successful "Dunnell & Nickols' New York Store" in Coloma, he returned East at the close of 1850. In June 1857 he revisited Gold Country as an agent for Singer sewing machines, still drawing and painting; the Sept. 1857 Report of the First Industrial Exhibition of the Mechanics' Institute of San Francisco, records, "Before leaving the oil paintings, the judges desire to notice several admirable productions of artists not residents of this state...," citing Dunnell's work, a landscape of the Catskills, "the other an original composition worthy of study." Early in the Civil War, Dunnell again returned to Gotham, volunteering as a 90-day Private in the 7th N.Y. Infantry. A member of the American Artist's Union and intimate friend of noted landscape artist George Innes, Dunnell's landscapes were exhibited in the National Academy of Design, and sold there during several exhibitions. A founder of Rutherford, N.J., and later living in Brooklyn, Dunnell was a member of American Artist's Union and Sons of the American Revolution. Comprising:
• Dreamy stream meandering through mountain canyon, wooden buildings with mill wheel perched at shore, c. 1849-50, pencil on cream, 6 1/4 x 7 1/2, initialed "J.H.D.," no place marked but believed Sutter's Mill, on American Fork of the Sacramento River, based upon comparison with similar river landscapes identified as Sutter's Mill, in the University of California-Berkeley's celebrated Honeyman Collection of Western American Pictorial Material, including the Gold Rush era. The only located signed artwork of Sutter's Mill by Dunnell (albeit with initials); the Honeyman Collection includes one Dunnell, evidently unsigned, from a different perspective. Judged drawn earlier in the Gold Rush than the Honeyman's three other original views of Sutter's Mill by various artists (one of whom was only four years old in 1849): the present Dunnell sketch shows the bank of the river with its flat rocky rise facing the mill; artwork by an unidentified, undated artist in Honeyman shows a modest wood-frame structure atop that bluff. Top edge indicates once in Dunnell's sketch book, some toning on verso, else fine.
• Sketch evidently done while in California, c. 1858, of Dr. J.F.G. Mittag of (Lancasterville), S.C., 5 1/2 x 5 3/4, pencil, unsigned. As Gen. Sherman neared Mittag's town, word spread that he planned to burn it. Hearing this, Mittag collected a group of letters that had been written to him by the popular N.Y. doctor John W. Francis. When Mittag showed these letters to Sherman's dreaded Gen. "Kill Cavalry" Kilpatrick, the general was so taken by them that he ordered the town be spared. Uniform light toning, else fine.
• Signed and titled in his hand, "From Weehawken Hill, Hoboken 'N.J.], June 1847 / John Henry Dunnell," 7 x 10. Pencil, with foliage accented with golden brown wash. Contemporary with his 1847-48 exhibition at National Academy of Design. Minor stain left margin, else very good.
• Signed and titled in his hand, "Catskill Mtn. House," (and on verso, "...June 28, 1844, J.H. Dunnell"), 5 3/4 x 7 3/4. Evocative sepia wash. Minor handling evidence, else fine.
• Initialed sketch, titled on verso, "Tannery in the Clove, Catskill Mtn.," c. 1840s, 6 3/4 x 10. Pencil, on light grey sheet. Charmingly detailed. Minor edge wear, small marginal stains and toning, else good.
Mentioned in Artists of the Gold Rush (Oakland Museum of California), Artists in California, 1786-1940 (Hughes), Days of Gold: The California Gold Rush and the American Nation (Rohrbough), and The First Hundred Years of Painting in California, 1775-1875 (Van Nostrand, 1980; very fine copy accompanies lot), Dunnell's work is rare on the market: "...But it was the obscure amateurs whose names are not to be found in the scanty art annals of the period who produced the major portion of the extant Gold Rush images: John Hovey, Daniel W. Nason, John Henry Dunnell..."--Van Nostrand. The 1956 exhibition catalogue of the Oakland Art Museum contains several of Dunnell's paintings. Neither the Library of Congress online database, WorldCat, nor abebooks contain anything by Dunnell; the Smithsonian locates several of his works, most or all of which are at Berkeley. Dunnell's artwork is distinguished for having been drawn by one of the most important characters of Coloma, birthplace of the Gold Rush. Both through his general store and position as Justice of the Peace in the lawless epicenter of Gold Rush fever, Dunnell undoubtedly encountered Marshall and Sutter, as well as the desperadoes, bandits, posses, and fortune-seekers converging on the area depicted in his drawing. A superb find, collected by a N.Y. art dealer in the 1930s, believed unpublished and unrecorded, reflecting one of the most storied chapters in American history. $5000-8000 (5 drawings + book)

20-2. From Buffalo Bill's Gold and Tungsten Mine – and the Edison Connection.
Splendid A.L.S. of colorful Western swashbuckler, mining stock promoter and engineer John D. ("One-Eyed") Burgess, on his professional letterhead, Tucson, datelined in his hand Campo Bonito 'Old Hat Mining District, Arizona Territory], Aug. 30, 1910, 1 1/2 pp., 8 1/4 x 11, purple on blue. To his business partner, "Dear Buffalo Bill!," traveling with his Wild West Show. "Your letters from Winnipeg and Fargo are received and read with mixed feelings of pleasure & unpleasure! Say Bro(ther) Bill. I don't worry Getchell. I don't bother him at all. I keep my eyes open & write you about them, as you have requested me frequently. I don't believe in him on the Kidney process. I threw away the same process 12 years ago!! The only thing that bothers Getchell is - this: He is awfully afraid he isn't going to get in on everything here. That's all!! I am sending you the long night letter, giving the salient points of this enterprize as they appear to me! I couldn't get it in to either Miles City or Billings, but you got it at Great Falls...No stage on Sunday! We have much new ore on Wilfley Claim! I am cross cutting, trenching the surface, to show ore in width. One truck on the summit, one 100 ft. down the hill, & one 180 ft. down the hill. Gee Old Man - If we show 1,000,000 tons of ore worth $20 to 30 per ton, at an expense of $500 to 600, that will be almost as good work & as cheap as Getchell could do! Well, I'm off for Leyner Mine. Lovely rain...Be a good boy Willie & you'll find it pays. God Bless Pahaska 'Buffalo Bill's nickname]. Lovingly, Jack." Light postal wear, one smudge by Burgess' hand, else fine. A Lieutenant at age 15 in the 6th Indiana Cavalry, Burgess was twice wounded, captured at Sunshine Church, and imprisoned at Andersonville. A West Pointer in 1870, Indian fighter, scout, and adventurer, he was acquitted in an Arizona saloon shootout, later losing an eye when shot by a drunken Indian named Kit Carson.
In a 1938 thesis, a University of Arizona graduate student wrote of Burgess: "No character analysis of the Old West was complete without a word picture of an old-time mine promoter. Such a character was Capt. (One-Eyed) Burgess. Given by nature an exceptionally fine personality, he did not hesitate to use it to convince the purchasers of mining stock that they were certainly insuring their future if they invested in his propositions. Immaculate clothing, carefully trimmed moustache and beard, and the most winning of smiles went to make this romantic personality. It was said that he always kept a new buggy and a fine horse with which to drive his clients to his various holdings. Never did he spoil his record by promoting a mine of value."--"The History of the Lower San Pedro Valley in Arizona," by Bernard W. Muffley. The sizeable Papers of noted Western mining developer Noble Getchell reside at the University of Nevada, whose library is named for him; the Getchell discussed here, Col. L.W., was partner of Burgess and Cody. Buffalo Bill invested heavily in Campo Bonito, his Wild West Show visiting the camp in the year of this letter; in addition to gold and silver, it bore tungsten, which Cody personally sold to Edison for his light bulb filaments. In Cody's richest deal to date, Edison purchased the entire output of the mine in 1911.
The ruins of Campo Bonito are believed to hold forgotten secrets; Treasures of the Santa Catalina Mountains... (Zucker) treats the subject. A sixteen-pound gold nugget was reportedly found in Campo Bonito, but the discoverers were murdered. Cody stone found in his mines, quartz flecked with jewelry-grade gold and silver, is named for him. The 1936 movie, "The Mine with the Iron Door," starring Richard Arlen, was based on Campo Bonito. With fascinating modern research. $325-400
End of Auction - Thank You!